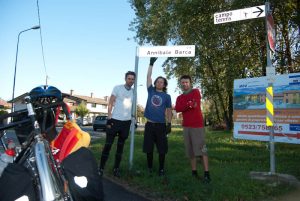 In 2018 we are updating the Hannibal – Barcelona to Rome Bike Tour. After 7 years of running this cycling odyssey and with 2019 being the 10 year anniversary of riding this journey for the BBC it seems to be the perfect time to take a step back and look carefully at every aspect of the journey. On stage 3, we have made a large adjustment to the tour. This one has been coming for a while and it will be great to implement it both from the history's point of view and the quality of the ride, accommodation and experience.
The history – Hannibal in the Apennines
From Hannibal's victories in the north at Trebbia he finished his winter with the Boii tribe to both strengthen his ties to this powerful tribe but also to rest up after his amazing entry into Italy. As spring broke in 2017 BCE he heading along the north side of the Apennines through the fertile Po Valley. He knew he had to cut south at some stage over the spine of Italy to avoid hitting the Roman's main highway, the Via Flaminia. Carefully considering his choices, according to Polybius, Hannibal led his army south of Bologna through the Collina/ Poretta pass over a relatively low point of the mountain range and then past modern day Florence (which was basically a swamp at this stage 2000+ years ago!) toward Arretium (Arezzo).
The route update:
With the 2019 Hannibal, we have decided to update our tour route and follow this historic path through the Apennines as stated above. What makes this even better is that as well as riding a historically accurate route we also improve other aspects of our journey.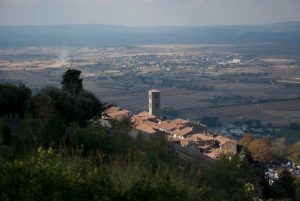 From Reggio Emilia we head to Porretta Terme, a beautiful spa town nestled in the Apennines, then to Fiesole, overlooking Florence and what was previously the Arno swaps where Hannibal lost an eye due to disease! Now Fiesole is spectacular and our day off is spent either relaxing and admiring the views over the vineyards all the way to Florence or exploring Tuscany's capital and the great Renaissance city of Italy, a short 10 minute cab away. We then head south through Chianti to Siena and Cortina, exceptional places to visit in Tuscany and huge highlights on any tour.
This replaces some of our lower rated hotels and routes in both Garfagnana and Pisa which were busy and touristy, as well as being much more historically accurate. It also gives the tour a better balance kms wise as some of the final days of tour got a little out of hand as we tried to get to Rome in good time! It also follows the route we road back 10 years ago for the documentary so we are looking forward to getting back on Hannibal's trail!