European Bike touring at its best....Cycle from Spain to France and into Italy in the footsteps of Hannibal, one of history's greatest military commanders. From Barcelona to Rome, experience some of Europe's most beautiful and breathtaking routes and infamous climbs. Dive into the diverse gastronomy of Spain, France and Italy, cultures famous for their cuisine. Sommeliers, picnics sourced from local fromageries, boulangeries and boucheries, and hand-picked restaurants will excite your taste buds daily.
Immerse yourself in the landscape, history and culture of the places we visit as we ride this inspirational trail. The terrain is best seen from the small roads we hand pick, maximising cycling pleasure and safety. Staying in monasteries, castles and agriturismi you will relax and refresh each evening in unique and exceptionally interesting places with a masseuse on hand.
We created this route for the BBC back in 2009 and have run this tour since 2012 - it is an amazing journey. However, it was time for an update so we have reviewed, re-shaped, revamped and rescouted every section of the journey - routes, restaurants, sites and experience. There are better locations to visit - Costa Brava specials Girona and L'Escala, Les Plus Beaux Villages de France such as Olargues, Saint-Guilhem-le-Désert, Gordes and La Grave and Italian greats Florence, Siena, Modena and Cortona. We still have all the great climbs from Mont Ventoux to Col du Galibier but we've added a few more options - Col du Télégraphe, Lacets du Montvernier and more of the Chianti hills and Val d'Orcia.
Better rest days - UNESCO Carcassonne and Avignon, Spectacular La Grave, Food heaven Modena, Renaissance Siena. Lastly, better history - In consultation with the L'Association HANNIBAL BARCA we have adjusted our route - we now ride ever closer to Hannibal's route - our Apennine crossing now reflects this and as ever you will have historians to accompany your journey and create the epic atmosphere!
"Swap pachyderms for pedals...
....the Hannibal ride is the brainchild of Sam Wood, an Australian archaeologist....after creating the BBC Documentary On Hannibals Trail, Wood devised this challenging route...."
says Author and Cycling Commentator
Felix Lowe.
Read the full article here

HANNIBAL
BARCELONA TO ROME
Enter your details below to receive the full Hannibal Odyssey Itinerary:
Francesca is the ultimate host. Nicknamed 'The Duchess', she ensures every tour she leads is done with class and style! With support in Fabiana (Giro d'Italia winner and Domenico sommelier and historian) You will certainly enjoy the best support and picnics as you traverse Spain, France and Italy! Read about the team here.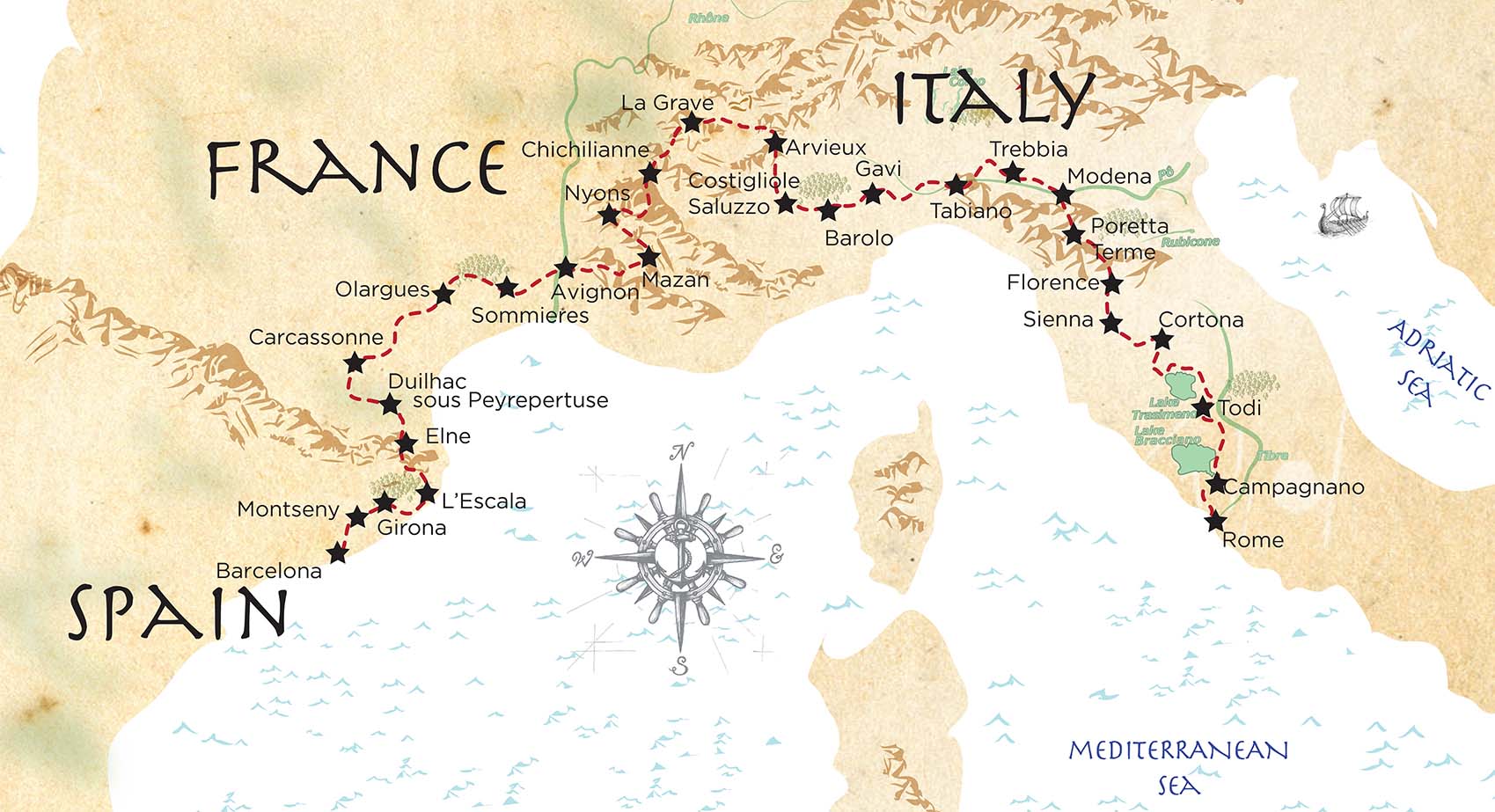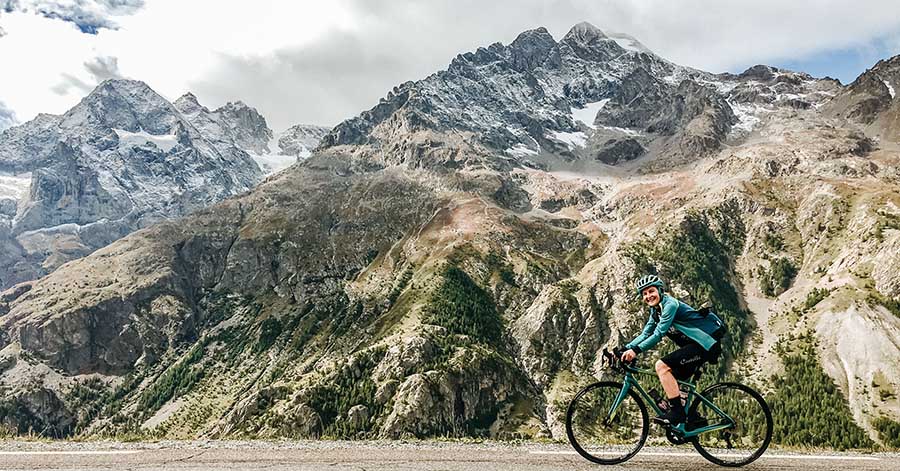 Start the tour by descending from the Montseny National Park at 1000m elevation all the way down to Girona, centre of cycling in Europe
The Costa Brava... beautiful Spanish Pueblos as we roll across Catalonia to the Mediterranean and our iconic class hotel, Hostal Empuries
The lower Pyrenees, climbing with views of the Med, then descending on beautiful Elne, a great first stop on the French leg of this Odyssey (new route in 2024!)
Experience the essence of the road less travelled as we cycle through Cathar country past the atmospheric ruins of Chateau Queribus and Peyrepertuse
Rest day at the stunningly epic medieval castle Carcassonne!
Villeneuve-les-Avignon - an idyllic location to prepare for the Alps.
A gastronomic and wine connoisseurs dream as we traverse from Catalonian Spain over the Pyrenees through southern France between the vines of some of European's great wine producers
UNESCO heritage listed Avignon, once home to the Popes and location of the stunning Papal Palace
Ride into the Alps on Hannibal's trail and find out why and how he crossed this immense mountain range
Iconic climbs through the Alps - Mont Ventoux, Alpe d'Huez, Col du Galibier, Col d'Izoard and the option of Col du Télégraphe, Col de la Croix de Fer and Col du Glandon
An interlude in the stunning 'Les Plus Beaux Villages de France' La Grave and one of our favourite hotels, with access to some of the best riding in the Alps and also one of its best wine lists!
A 50km descent from Col Agnel into Italy to spend our first night under Italian stars in a castle eating some of Italy's best pasta and drinking local Nebbiolo - a just reward after crossing the Alps!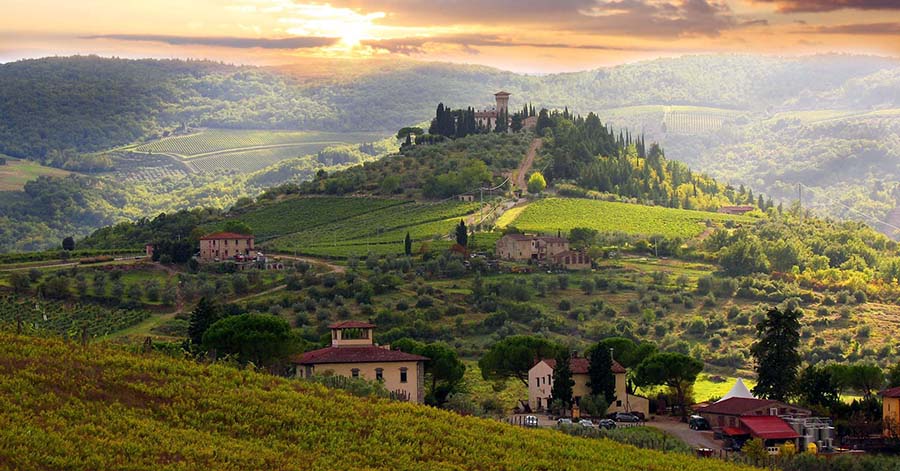 Italy's most renowned regions - Piedmont, Emilia Romagna, Tuscany, Umbria and Lazio! Magic cycling, food, wine and hotels all the way
Follow the tire tracks of the greatest Italian cyclist, Fausto Coppi through the Langhe and Monferrato riding stunning ridge lines through the Langhe hills
Rest in Barolo/Alba, home to Italy's finest wines and chocolates! Ferrero Rocher and Nutella, Barolo / Nebbiolo and enjoy a wine tour on our rest day here.
Traverse the spines of Hannibal's most likely route over our 3rd mountain range towards food centre, Modena for Balsamic Vinegar, Parmigiano-Reggiano.
Then turn into the Apennines for a final mountain challenge before descending into the beautiful but lesser-known Mugello at the tip of Tuscany.
Challenging riding between historic locations and culinary delights - each night we sleep with history - castles, monasteries and borgo's among our accommodation choices
Food haven Modena and spectacular Siena for our stage interlude.
Tuscan and Umbrian hilltown gems - UNESCO recognised Siena, exceptional Cortona, Idyllic Pienza and Umbria's best - Todi. Every stop is special and unique, a true highlights of Italy Odyssey as we descend on Rome!
Atmospheric Lake Trasimene where Hannibal's superior tactics destroyed a complete Roman army, even today, 2300 years later, the locals live the history with streets and towns named after the devastating events of that day
Cycle into the heart of Rome along the banks of the River Tiber to sleep and dine amongst the emperors at one of Rome's finest restaurants - the Michelin-starred, rooftop delight that is the Mirabelle.
In 2023 after running Hannibal Odysseys for over a decade we will be running a different version of this tour of tours. What started as a custom tour request we are now offering to the public. Hannibal 'Barebones' will have the same epic cycling experience but with a simpler support package. What this means is cheaper hotels, less meals, staff and acroutrements. This version of the Odyssey is for the cycling focused!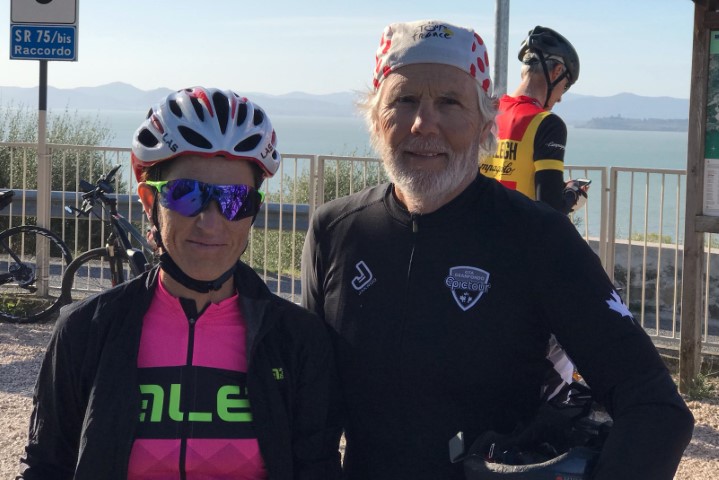 Guest Charles Morgan is pictured here with guide Fabiana Luperini who happens to have won the Tour de France and the Giro d'Italia a record 5 times! However enough on Fabi who joins us on Hannibal in Stage 3! Charles wrote a fantastic blog on the Hannibal Odyssey in 2019. You can read Hunting Hannibal right here.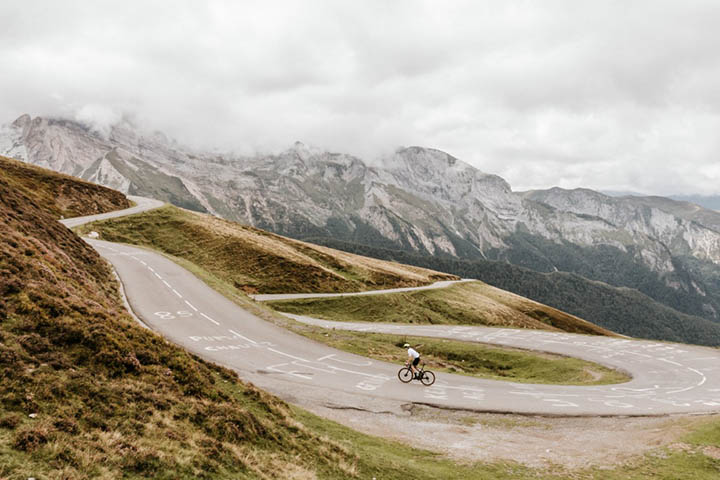 This alternate Pyrenean Stage 1 is for the dedicated climbers and is run on demand. Please get in touch if this is of interest to you: [email protected]
A true climber's start to Hannibal as we take on the best the Pyrenees has to offer - Col de Pourtalet, Col d'Aubisque, Col du Soulor, Col du Tourmalet, Col d'Aspin & Col de Peyresourde
Spectacular scenery across Tour de France routes through Cathar country including the amazing fortresses Chateau Montségur
In 2009 Sam rode the Hannibal tour route for the BBC making the documentary On Hannibal's Trail. From this the Hannibal tour was born....
On Hannibal's Trail is a six part BBC documentary filmed in Spain, France, Italy and Tunisia. The adventure involved Sam, Ben and Danny Wood bicycling more than 3,500km / 2,200miles on the trail of the Carthaginian commander who fought ancient Rome. The show was broadcast on BBCFour in 2010 and on BBC2 in 2012.  The first episode aired on BBC2 in January 2012 it was viewed by more than 1.5 million people. Due to its popularity, it has been broadcast in over 70 countries by National Geographic Channel and Viasat.
Watch the introduction to the documentary below. Note that on the tour there are no panniers or races this was just for entertainment! If you'd like to watch more get in touch with us - [email protected] or the check out the BBC On Hannibal's Trail page here.
On my BBC documentary, we pitched tents every night….. as much fun as that was, I really wanted to make this tour as comfortable as it could possibly be. After a day in the saddle, I think a fantastic dinner and a very comfortable place to relax and sleep is essential to getting the most out of a tour. Thus, we have chosen places which are authentic and unique. They are always commented on as an exceptional part of the tour. Whether it be a castle, a monastery or an agriturismo, I guarantee you will love the places we stay in each night as much as the rides we do in the day. Here are a few to whet your appetite...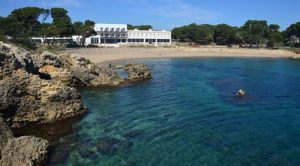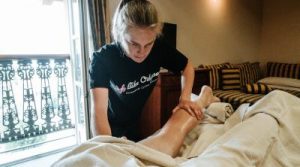 The Hannibal is more than a European bike tour, it is a true culinary odyssey, our samples coming from the great foodie regions of Catalonia - Spain, Languedoc - France and Emilia Romagna - Italy. So much great and well earned food to enjoy!
Read more about the regions we ride through and the food and wine they offer us on tour
Spain: Catalonia
Catalan food, on the whole, is excellent and very healthy. It is part of the famed Mediterranean diet that is rich in beans, pulses, fish (sardine, anchovy, tuna, and cod), pork prepared in as many ways as you can imagine, vegetables (especially tomato, garlic, eggplant, aubergine, capsicum, artichokes and mushrooms), and olive oil. The essence of all good Catalan food lies in its range of exceptional sauces for fish and meat. And there is always paella. This dish famous all along the coast, is presented in a different way every single time you have it. It is filling and delicious, whether you like it with fish, meat or just vegetables.
The Catalan region of Spain has a long winemaking tradition and was the birthplace of the sparkling wine Cava. It was invented in the early 1870s by Josep Raventos of the Codorniu Winery in Sant Sadurni d'Anoia. At the turn of the 20th century, the Catalan wine industry led Spain's emergence as a world leader in quality wine production. The area is also an important cork producing region, with output aimed primarily at the local Cava houses. Who does not love a glass of bubbly at the end of a day's ride?
France: Languedoc-Roussillon & Provence
A strong Catalan influence can be found in the Languedoc-Roussillon region, so you will see a lighter style of eating here than in the rest of France. This influence can be found in the regional dishes here such as Brandade which is made from a purée of dried cod wrapped in beet leaves, Crème Catalane (cream with lemon, vanilla and fennel seed) and Morue à la Catalane, a cod dish served with tomatoes, pepper and anchoïade (anchovies with garlic and olive oil). Snails are plentiful and are also prepared in a specific Catalan style known as a Cargolade – grilled in their shells with salt, pepper and herbs.
Seafood forms an important part of the local diet, especially sea bream, mussels, red mullet and squid. and are usually flavoured with locally produced olive oil, tomatoes, garlic, onions and aromatic herbs. A regional delicacy from the Languedoc-Roussillon include oysters from Etang de Thau, a spicy fish with aioli, which leaves your mouth tingling with pleasure. For the heartier meal, Gardiane is popular, a beef stew with red wine and served with rice. Fabulous goats cheeses, mushrooms, chestnuts, berries, honey, lamb, game, sausages and pâtés are all local and fresh produce from this area, perfect for picnics on a bike ride!
Provençal cooking is naturally tasty and flavoursome, due to the sun-kissed produce that is readily available in this region. The food here resembles more closely the sumptuous cuisine of Italy than Parisian meat-and-potatoes bistro fare. With emphasis on super ripe fresh vegetables, seafood, fresh herbs and a liberal helping of olive oil in every dish, traditional Provencal cuisine blends intense flavors and simple ingredients. Provence is the birthplace of three world renowned dishes: salade Nicoise, bouillabaisse and ratatouille. The first, literally meaning "Nice-style salad," is an elaborate, layered entree with crisp greens, tomatoes, boiled potatoes and haricots verts dressed with vinaigrette, hard-boiled eggs, olives and seared tuna steak. Bouillabaisse, a saffron-infused seafood stew, combines freshly caught Mediterranean fish and shellfish in a luscious tomato broth. It is usually served with a toasted baguette slathered in aioli, a traditional creamy garlic sauce. Ratatouille is simply stewed vegetables, but there is nothing simple about its taste. Usually tomatoes, eggplant, zucchini and onion softened in fruity, garlic-tinged olive oil, it is a dish bursting with thr deep rich flavours of the vegetables.
In both these regions, you will have wine aplenty to accompany the delights of their gastronomy. The Languedoc-Roussillon wine region has around 700,000 acres (2,800 km2) under vines and is the single biggest wine producing region in the world, being responsible for more than a third of France's total wine production. In 2001, the region produced more wine than the United States.
The history of Languedoc wines can be traced to the first vineyards planted along the coast near Narbonne by the early Greeks in the fifth century BC. Along with parts of Provence, these are the oldest planted vineyards in France. Aesthetically, Languedoc- Roussillon wines have a personality of their own - wild, unpredictable, characterful, ripe, and lush, with some of the headiest and most captivating aromatic profiles in France.
The Provence region sits along the Mediterranean coast of France and is blessed with a fantastic climate for grapes. The region gets lots of sunshine and not too much rain with warm days and cool evenings. The Mediterranean moderates the temperatures and the famous "Mistral" wind keeps the vineyards dry, free of pests and the skies clear. Wine has been made here for over 2600 years with their focus on Rosé and is home to the only research institute dedicated to the style.
Italy: Piedmont, Lombardy, Emilia Romagna, Umbria, Tuscany and Lazio
Piedmont's cuisine is famous for the immense variety of antipasti. The famous bagna càuda begins the meal with pieces of raw vegetables served with a heated sauce of garlic and anchovies in mixed olive oil and butter. The local variation of fonduta is an egg yolk enriched fondue made with Fontina cheese, milk, plenty of butter, and sometimes garnished with shaved white truffle. There is no better way to start a meal.
Moving into Lombardy, you will find its cuisine has roots in many different cultures, resulting in extravagant dishes. Lombardia cooking traditionally uses generous amounts of butter, cream and lard, making everything exceptionally yummy! To counter this richness, they eat lots of rice, both in risotto and in soups. The classic dish for Lombardy is the decadent Risotto alla Milanese. This creamy rice dish is heavily enriched with plenty of dairy butter and grated Parmigiano Reggiano cheese and its golden tint is provided by saffron, the most expensive spice in the world.
The Emilia Romagna region is considered by many to be the culinary heart of Italy. Wheat is grown in abundance here to make a soft wheat, the base for the highest quality homemade pasta. Tortellini, lasagne verdi, gramigna and tagliatelle in Emilia Romagna is unparalleled throughout Italy. You can eat this pasta all by itself, but if you want a local speciality, try Garganelli pasta drizzled with Modena Balsamic and a sprinkle of beautiful Parmigiano Reggiano cheese. You cannot imagine how amazing this simple dish tastes here.
In Umbria you have the opportunity to gorge on gelato, and I mean real gelato. Gelaterias using natural products, no artificial flavors, preservatives, or colors. The gelato here is not going to be bright red or purple, unless it is due to fresh fruits. "Gelati d'Italia ("Ice cream in Italy") is a festival in Umbria that runs for 4 months, celebrating the Italian tradition of homemade ice cream, hosting tastings, cultural events, exhibitions and social events in the streets. Match that enthusiasm with a morning on the bike and I know what will be the perfect cool pick up at coffee time.
When you arrive in Tuscany you will be faced with only one doubt about the food and that is "What are the foods I can't miss, what will I regret not having eaten?" So, this is the one dish that is an absolute non-misser for me: Castagnaccio. It is a traditional cake made by a dough of chestnut, water, olive oil, pine nuts,and raisins and baked and is best served with ricotta, chestnut honey or sweet wines such as Vin Santo. It is very common to the Apennine mountainous area of Tuscany. It can be eaten all year round because it's good both warm and cold, but is a typically autumnal dessert, perfect for our trip through on Hannibal. Do not miss this!
The hills in Lazio are rich and fertile, making it easy to grow vegetables of all types, which make up an important part of the cuisine in this area. Wild vegetables and herbs are gathered eagerly in the countryside along with snails which are a popular dish. They are cooked with liberal amounts of oil, herbs and garlic and more often than not a good portion of anchovies. Pasta features strongly but the bigger, chunkier types such as bucatini and conchiglie are favoured and are not to be missed. The popular pasta sauce arrabbiata, which means 'angry', comes from this region also and is so named because of the flakes of hot peperoncino that are in its rich tomato sauce. If you have tried it elsewhere, try it here too, it will surpass any before it.
Italy is home to some of the oldest wine-producing regions in the world, and Italian wines are known worldwide for their broad variety. Romans started the winemaking and it was prolific and well-organized, pioneering large-scale production and storage techniques like barrel making and bottling.
Over 2000 years later, Italy is still leading the way. It is the world's largest wine producer by volume, representing about ⅓ of global production. Grapes are grown in almost every region of the country and there are more than one million vineyards under cultivation. The sun-drenched North-South peninsula embodies pockets of geographical, geological, and climatic perfection for the production of quality wine. Over the last thirty years, some of the best wines ever produced anywhere have come out of Italy: Amarone, Barolo, Brunello di Montalcino and Passito di Pantelleria.
Hannibal Barca is one of the greatest military commanders of all time. As a leader of the ancient superpower, Carthage, he waged a lifelong war against the Romans and nearly destroyed them. And yet, today we know very little about Hannibal or his people: the Carthaginians. What we do remember is one of his amazing feats: to fight the Romans on their own turf, leading an army that included nearly forty elephants over the frozen mountain tops of the Alps and into Italy.
That achievement, leading the largest land animal over one of the biggest mountain chains, was just part of an incredible journey that took Hannibal and his force of sixty thousand men from southern Spain, through France, into Italy via the Alps and finally, over the sea and back to the now Tunisian city of Carthage. For Hannibal Barca this was a very personal conflict - a family affair. As a boy he'd sworn to his father Hamilcar that he would fight Rome to the death, and his top generals were his two brothers, Hasdrubal and Mago. Their struggle was the main event during the biggest and bloodiest conflict of ancient times, the century long Punic Wars (264-146 BC). With Hannibal as commander, it really looked as if Carthage was going to win. European civilisation came so close to being something very different – Rome-free, and yet Rome totally dominates our imagination when we think about the ancient world. When Hannibal lived, things were very different.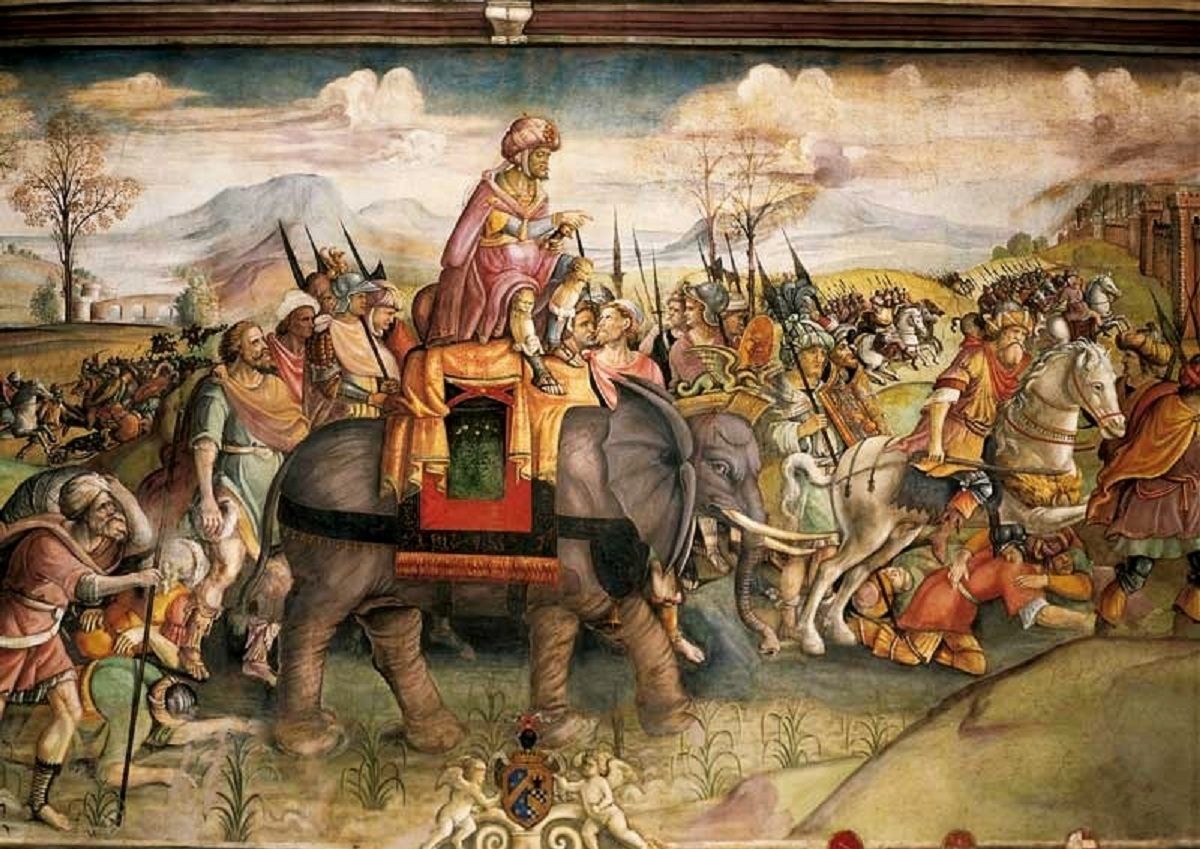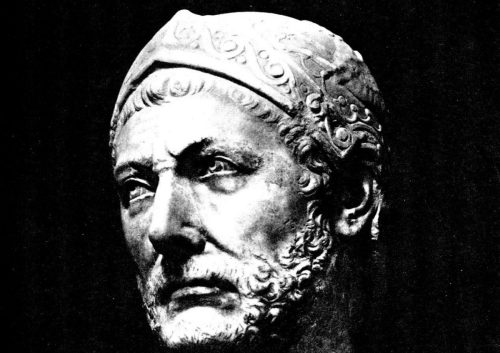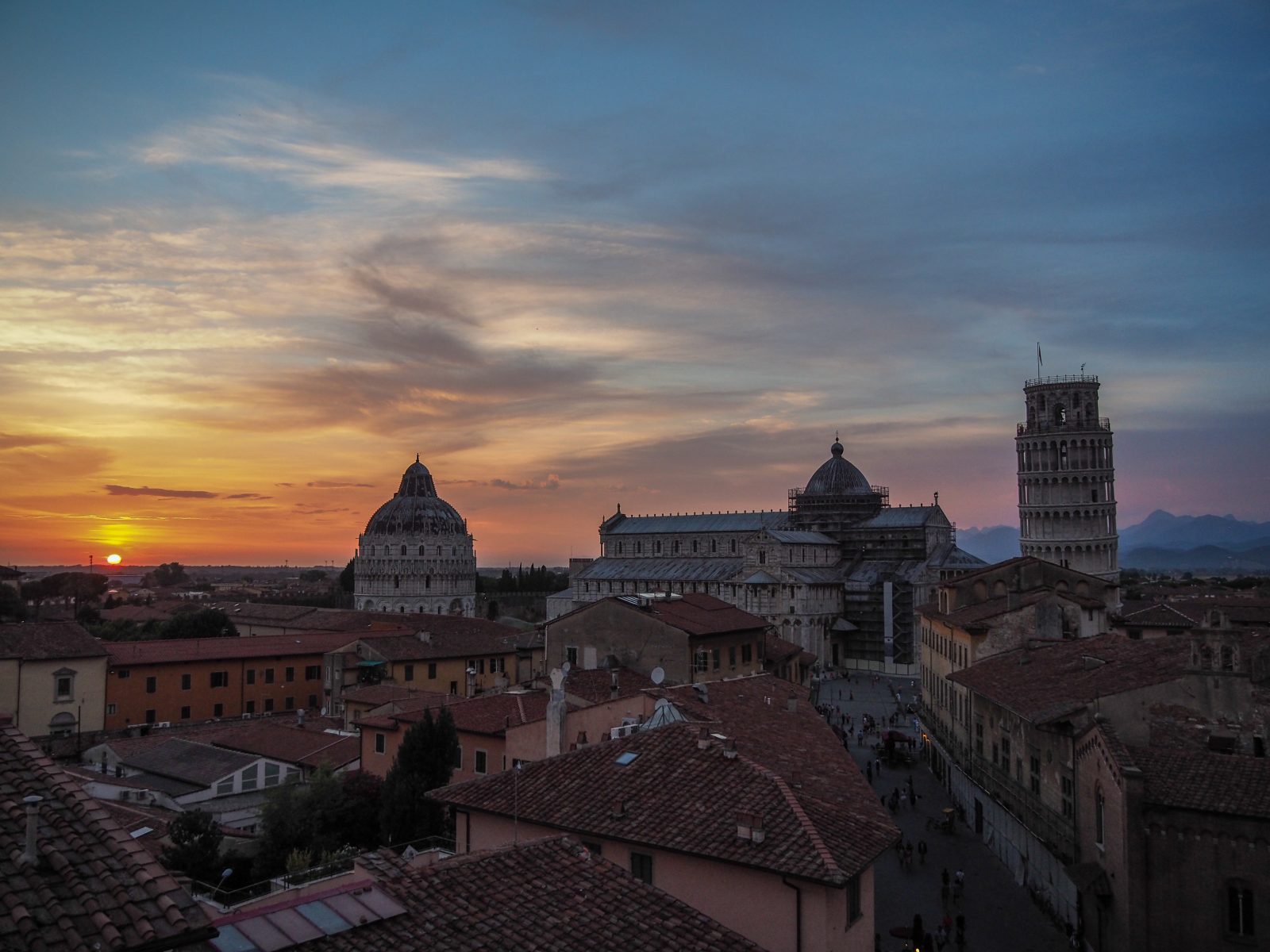 A trip of a lifetime cycling through Spain, France & Italy – Pyrenees, Mediterranean, French Alps, iconic climbs, renowned wine regions, medieval villages and most importantly new friends from the Hannibal Odyssey.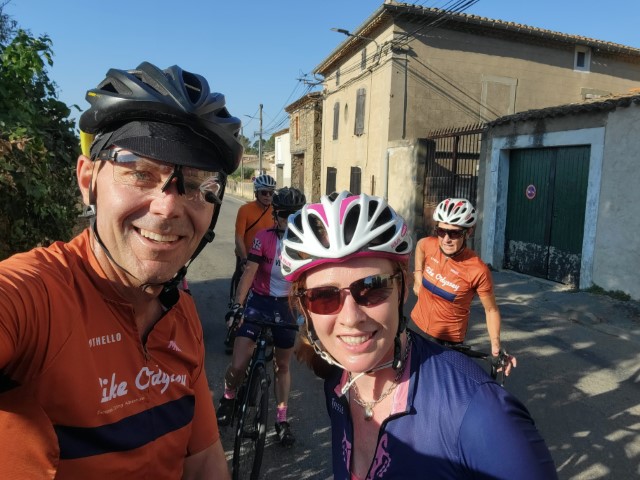 Adrian Amelse, Hannibal 2022
I did this trip on an ebike as I am not a cyclist. It was a tough ask but the organisation by Bike Odessey made life a lot easier. Everything was done for us other than having to pedal every day. Our route was plotted, our coffee was planned and the picnic lunches set us up perfectly for the afternoon. The guides were professional and motivating. The lead guide Max has a real gift with people and inspired us every day to do more. We had our bikes expertly maintained and our bodies too with a professional massage every few days. The entire team were fantastic.

We had amazing food, saw places we would never have known about, made new and special friendships and had experiences and memories that will last a lifetime. Would I travel with Bike Odessey again? I'm already planning it.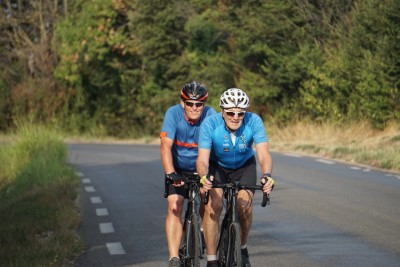 Linda Nairn, Hannibal 2019
I enjoyed my 10 days as a non-riding partner for the stage 2 on Hannibal 2019. Whilst my husband was riding through the Alps following Hannibal's footsteps, I was hiking to a lake, enjoying a wine tasting or two and taking part in an Italian cooking lesson. We also had time to wander through local markets and enjoy the fabulous grounds of our accommodation in Castles and Villa's in vineyards with magnificent views! The Bike Odyssey crew are welcoming, informative and friendly, they are quite flexible with the day to day plans. I have no hesitation in recommending Bike Odyssey for the non rider, although I will definitely be riding next time on an e-bike! My husband was thrilled with his ride and is already planning the next one!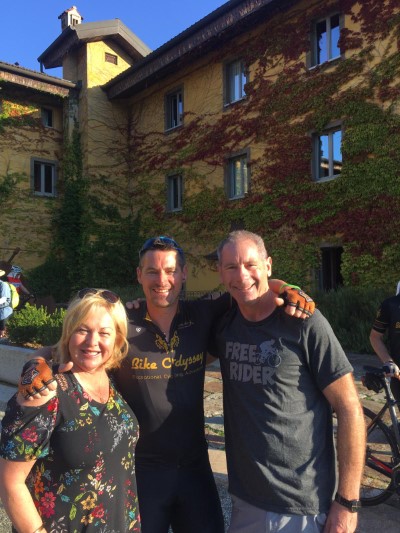 Karen Cunningham, Hannibal 2019
THE trip for serious cyclists who also appreciate life après-ride.

Bike Odyssey's Hannibal trip has it all: challenging cycling (including the most noted climbs of France and some very spiky ascents in Italy); outstanding support; fine dining; quality accommodations.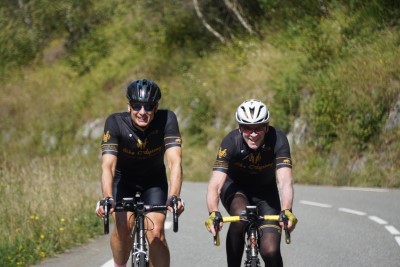 Bruce Libin, Hannibal 2019
This was a very challenging cycling trip, riding in the Pyrenees of Spain and France, the French Alps and Apennines of Italy. If you want the best cycling Europe has to offer, this is the trip to take. Bike Odyssey provided expert support and knowledge, found super accommodations and excellent cuisine(both with their picnic lunches and tremendous restaurant choices) and new friendships created made this trip an epic experience. Look forward to my next Bike Odyssey trip!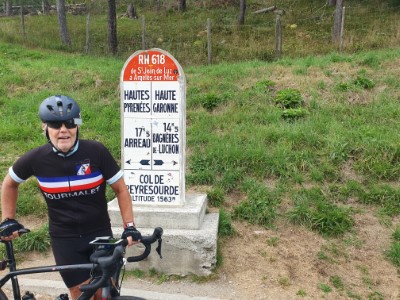 Charles Morgan, Hannibal 2019
Having toured with Sam and team on Hannibal in 2017 we signed up again for 2019 for another custom tour. The quality of the whole experience was impressive, from the route choice on the most scenic and quiet roads to the exceptional accommodation and regional food. All being done in a relaxed way made us feel we were in safe hands.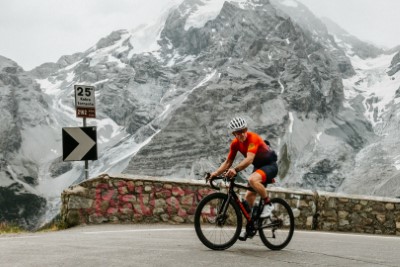 Paul Traynor, Hannibal Custom Tour
Organising a custom tour in a foreign country where you are not fluent in the language can be intimidating as you are always trying to consider your groups individual needs and abilities, Getting to know Sam and then working with Bike Odyssey is so refreshing in that they were able to provide a very high end experience, while feeling like it was effortless on our end. The team was always working hard in the background to make sure our customised Hannibal adventure unfolded seamlessly and going by the feedback from our group and the sign up for Lionheart it's clear they were effective.

Sam's approach is calm and confident and the route choice as well as accommodation was memorable. I would highly recommend engaging Bike Odyssey as your choice.

Paul Traynor, Custom Tour 2017
The cycling routes, guides, food, wine and accommodation were all great. Such a memorable trip. I highly recommend bike odyssey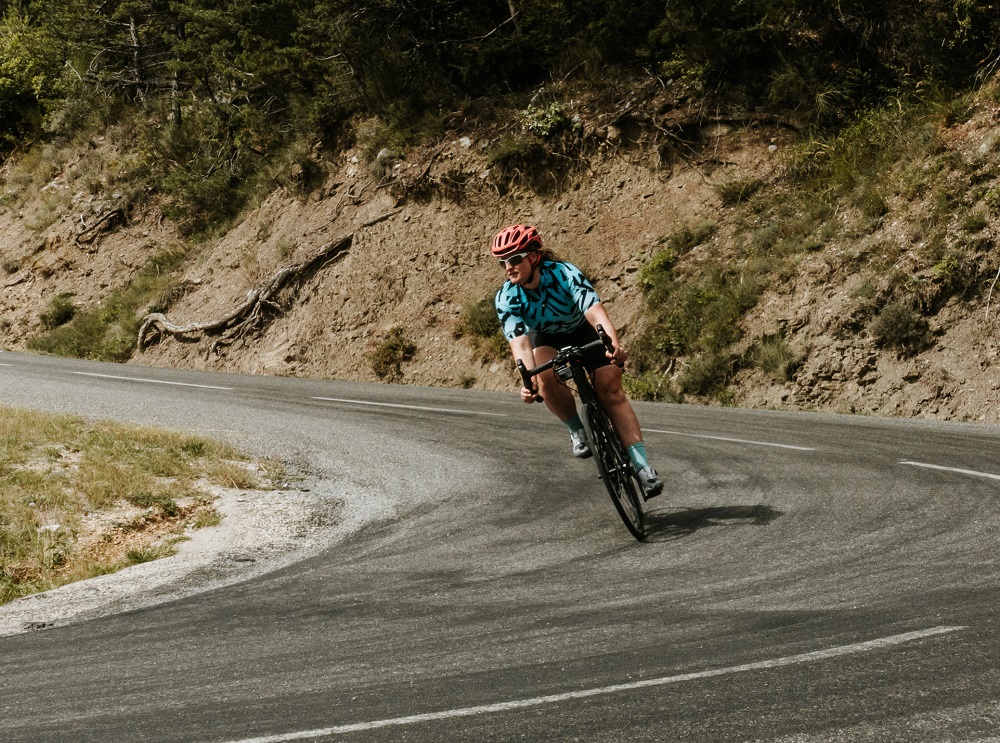 Sarah Armstrong, Hannibal 2017
Thank you Max for being such an excellent guide during our Hannibal Tour. Your infectious enthusiasm was invaluable and the way you supported the whole group throughout each day was fabulous. I felt very safe with you as our tour leader during the first few days and appreciate your motivating and fun loving personality from the beginning to the end of the trip. And last but not least, your Spanish mints (with accompanying jingle) each morning were vital to a good start to the day.

Megan Rigney, Hannibal 2017
I felt that all the guides and their contributions were extraordinary all went over and above to ensure that we were in the right place, their individual and team contributions were excellent as was their personal skill sets all were able to walk the talk with no trouble.

Martyn Smith, Hannibal 2017
The guides were amazing…..excellent in fact. Particular mention has to go to Mark. He is as solid and reliable and friendly as you could ever wish for. Nothing was too much for him – even with a stinking cold towards the end, he was ever present and friendly. The image of him at the top of Col Agnel in gale force words and horizontal rain, packing bikes into the trailer will stay with me for a long time.
The other guides were all excellent and genuinely could not do enough. They made the trip very easy and all we had to do was concentrate on riding our bikes.

Pat Marshall, Hannibal 2017
As a 65 yr old with 2 metal hips, I joined Sam's very first Hannibal tour, with some appreciable trepidation. But any misgivings I might have entertained dissipated quickly. Stunning views, friendly and ever helpful guides, scrumptious local fare and excellent accommodation more than compensated for the fading grumblings of an initially reluctant body. By the 3rd day all fatigue was forgotten as I made friends with riders from very different backgrounds, learnt some useful lingo and soaked up sights, smells and history of a most interesting part of the World.

Bob Hofman, Hannibal 2016
Sam did a faultless job running the tour from the hotels to the food, the support, the hire bikes and the incredible history of Hannibal along the way, I cannot imagine how it could have been executed any better. The guides were professional, dedicated, friendly and supportive. Their experience shone through and is their greatest asset.
I already have my next epic tour planned, and it wont be the last.

Jason Langer
The Hannibal Expedition has been the major riding highlight of my 20-year riding career. The scenery, food wine and accommodation were something I have no hesitation in recommending. For me, the greatest plus was achieving the challenge the Hannibal Expedition's thoughtfully crafted route provides. Plenty of personal challenge, in beautiful and historic countries, with almost no traffic. What more could you ask for.

Stephen Seymour
What an amazing holiday! You can eat and drink as much as you like and you still go home fitter and trimmer than when you left! Wait till Woman's Weekly or Cosmo hear about this holiday! You guys'll be booked solid till early retirement. This was undoubtedly the best long weekend of my life so far. I'll be back next year for at the very least a full stage, if not more! My legs look forward to cashing this cheque which my hand is currently writing!

Will Wetherall
The guides on the Hannibal Expedition were excellent. They are excellent organisers, who think ahead, and are always looking to make the best possible experience for the riders, whether this be making sure the bikes are in top condition, or the picnics lunch is in "the spot", or the evening meal is an experience to remember. The guides are happy to answer to questions on the route, and change things as weather or circumstance require. Sam's historical knowledge and has willingness to share this knowledge really added to the trip.
I am very much looking forward to riding with them again.

Stephen Seymour
This was by far the most fun I have had on a bike. It was a pretty stern physical test for me, and thus perfect. I eyed off the van once or twice but never had to get in it. Lovely places and lovely routes that you would never find by yourself, and all fully supported.

Ted Robinson
Hannibal Barca, the wily Carthaginian General, was a fine strategist and leader. His attempt to conquer Rome by taking war elephants across the Alps was a real feat. If you wish to ride across the Alps, in fine style, without the support of war elephants, then you should sign up for this tour. They are great operators and their tour is first class.

Roddy Johnson
It is a rare thing to experience something that changes your perspective on life permanently, even more rare when that something is a choice, and not a challenge that life has forced upon you.
The Hannibal Tour did just that, it changed my perspective on life. I started the tour with very high expectations, to see the best of Europe, to make friends, to challenge myself physically. What it achieved was well beyond this. The Hannibal Tour covered some of the most extraordinary landscape I will ever see, including times when I truly was on top of the world. Meeting the physical challenge of 26 days of cycling when I have never in my life before been a cyclist has left me with an incredible belief that anything is possible in life. I have made lifelong friends from across the globe. On this tour, I felt more alive than I had since I was a kid. We all laughed hard, ate and drank like kings, and at the top of the Alps I cried with joy. And all this, from the seat of a bicycle.

Jason Langer
Sam had obviously put a lot of time and effort into researching and organising the Hannibal Epic. The detail in the planning is obvious from the start and resulted in a magnificent experience every day. The hotels, restaurants, routes, lunch stops including several picnics, coffee breaks and extras such as wine tastings and farmhouse meals were superb. An added feature of their tours is the historical aspect which was regularly explained to us in regard to our location. I feel very lucky to have found this tour and to have been able to participate as it was challenging, unforgettable and a great opportunity to meet other like minded cyclists and create new friendships. It was hard coming home after such a unique experience. Thank you Sam.

Kay Jacob
To go on a trip that has congruency with the challenge of the ride -the epic and the history, gastronomy, the culture, the landscapes and to provide such intelligent support is amazing . I loved it, felt challenged, gave myself to the whole experience and have no criticisms, just grateful for a marvellous trip.

Bernadette Redfern
The 25 days I spent on the road with Sam was the best month I have had in my life. To be able to travel through Spain, France and Italy, and to see, do, eat and enjoy so much, was a real privilege. Sam eliminates any stress that may come with such a huge undertaking. Really, all you have to do is keep pedalling and not lose control of your bike when you pinch yourself to check you are not actually dreaming.

Felix Lowe
See all our testimonials