Ever been curious about what actually happens on a bike tour? This year Bike Odyssey has brought in cycling escapes in Australia to keep people motivated and travelling locally while international travel remains off-limits.
Our Escapes involve challenging cycling, amazing food and wine, beautiful scenery and exceptional accommodation. So here we go..
Day 4 of the Berry Escape. This is the biggest day of the tour and a great outing on the bike.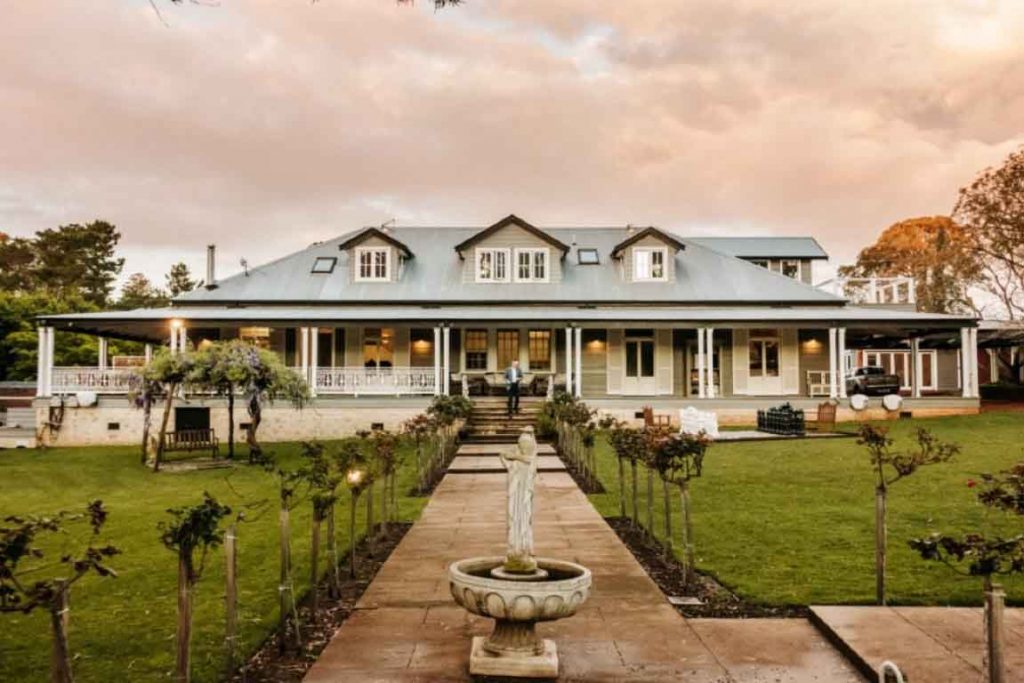 Wake up in Kalinya Estate. The Homestead here is spectacular. 5 star, award-winning and genuinely the best accommodation in the Southern Highlands. Wander down to the breakfast room where a beautiful spread of local produce awaits, from Bread and Pastries fresh from Flour Water Salt of Bowral to yoghurts and milk from The Pines, local jams, fruit, juice etc!!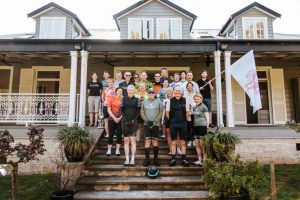 8am – Drop off your bags to the guide team who will have another spread waiting! This has fresh and dried fruit, nuts, water, cold drinks and electrolyte. You can fill your pockets for the ride ahead.
8:30am – We are off! Rolling down the highlands on backroads. The van is always about checking in. You can get a lift anytime you like, skip a hill, grab an extra coffee, sure!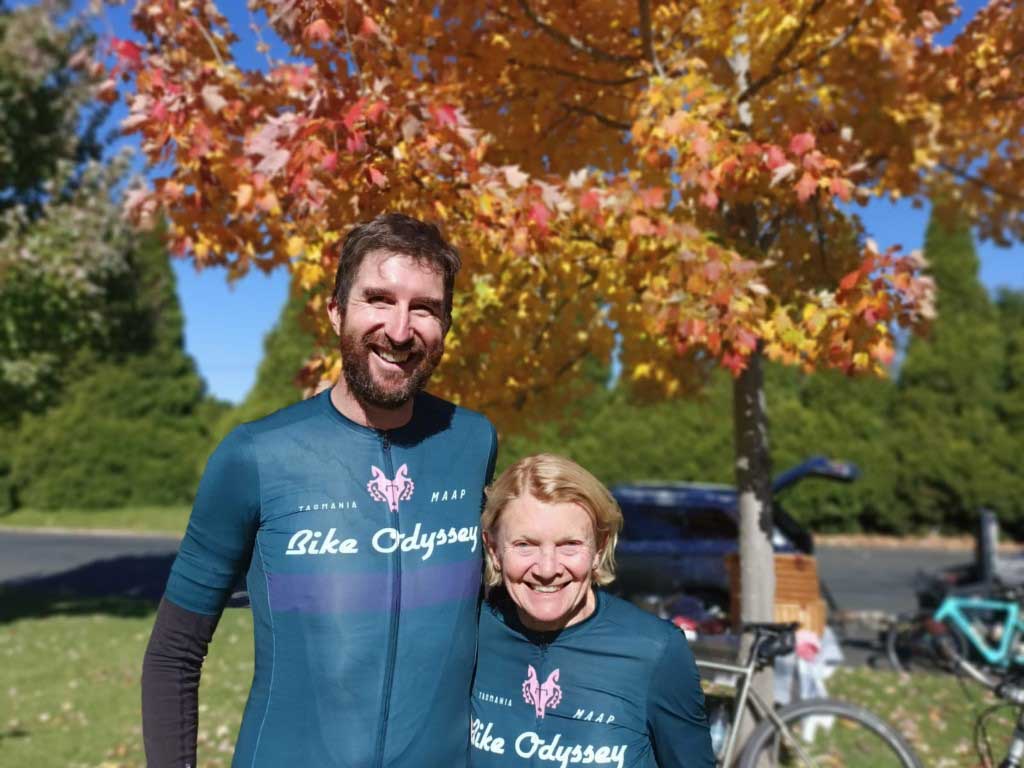 It is April so the leaves are yellow and red and the roads quiet. It is a gentle morning with a little pinch before our descent in Bowral. Bowral is a beautiful historic town and we of course know the best coffee location! We head to The Press Shop @32km for a well earned drink. The guide team will also have a few special home made treats to add to the break.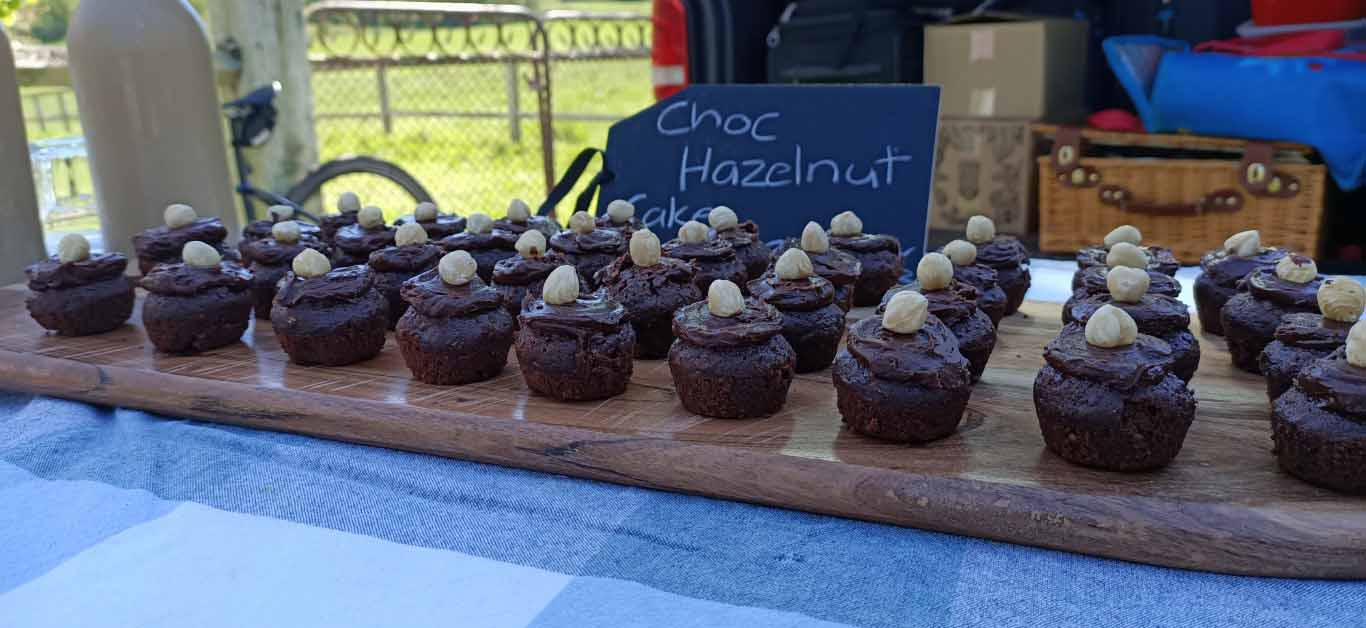 On the road again we head out of town, skirting the traffic on bike paths. Our road south today is Kangaloon Road. This is about as English as Australia gets with manor houses, high hedges and stone walls lining the paddocks! Beautiful riding all the way with views across the highlands. We reach our Day High at 823m and knowing we finish at 0m gives us a good indication of what is to come!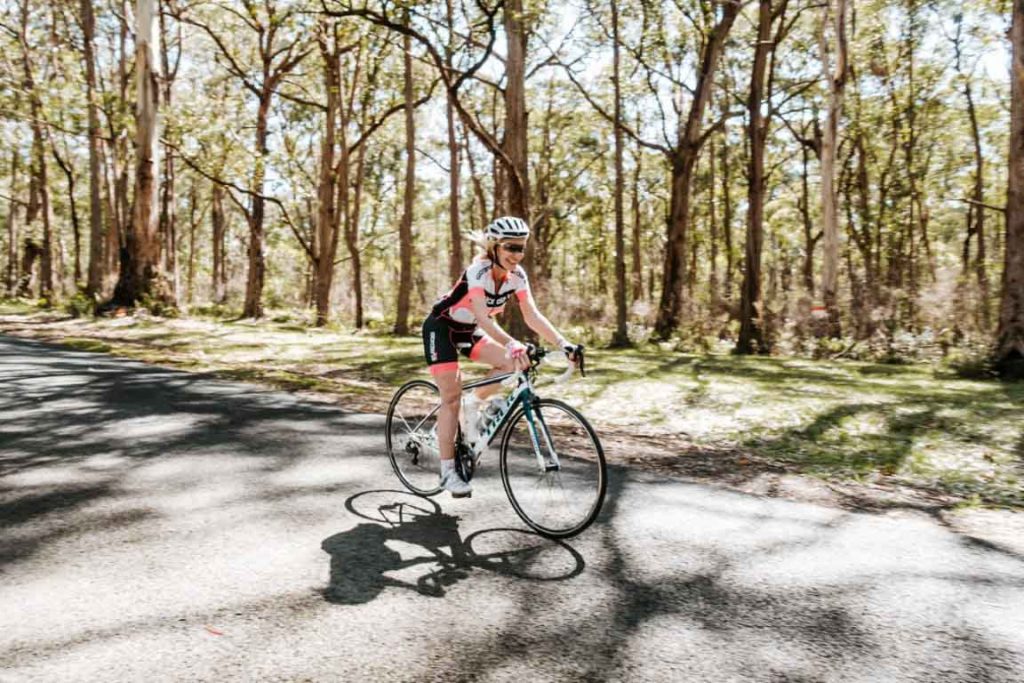 Next is Robertson and we zigzag through the town back onto back roads. Again beautiful riding as continue south – stone churches, rolling green hills. These roads are the best of the highlands. Our lunch spot today is Fitzroy Falls @73km. If you haven't been here you should go! It is spectacular and the guide team have a beautiful picnic ready. Local cheeses and meats, Fresh memorable salads, Beautiful sourdough, fruits and of course cake or sweets to finish! Every picnic we do is special, especially when an 80m high waterfall is just 200m away!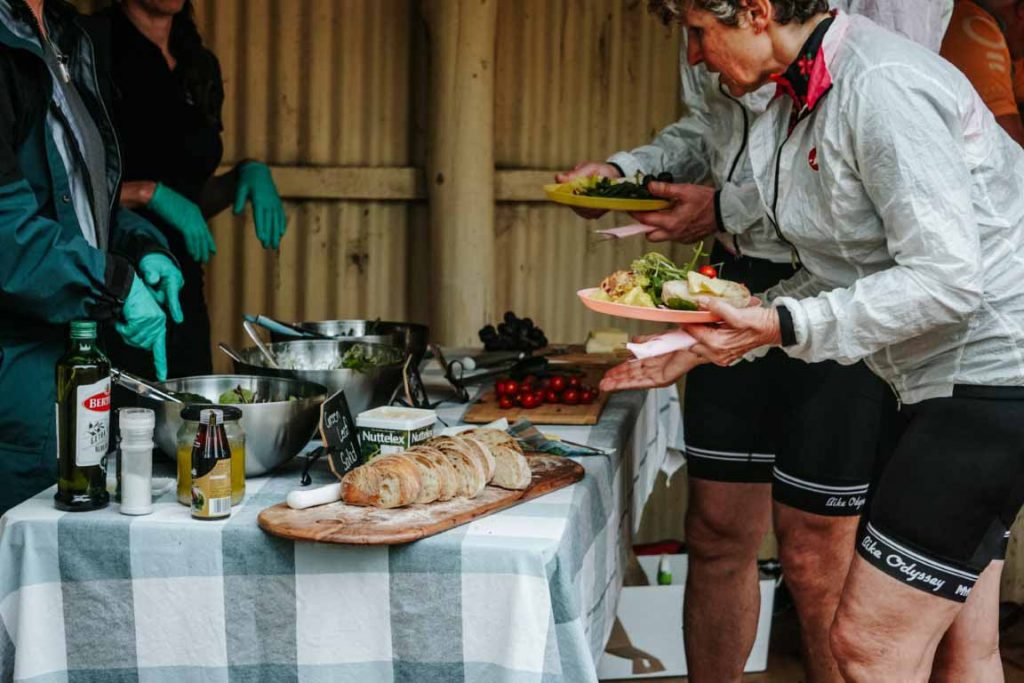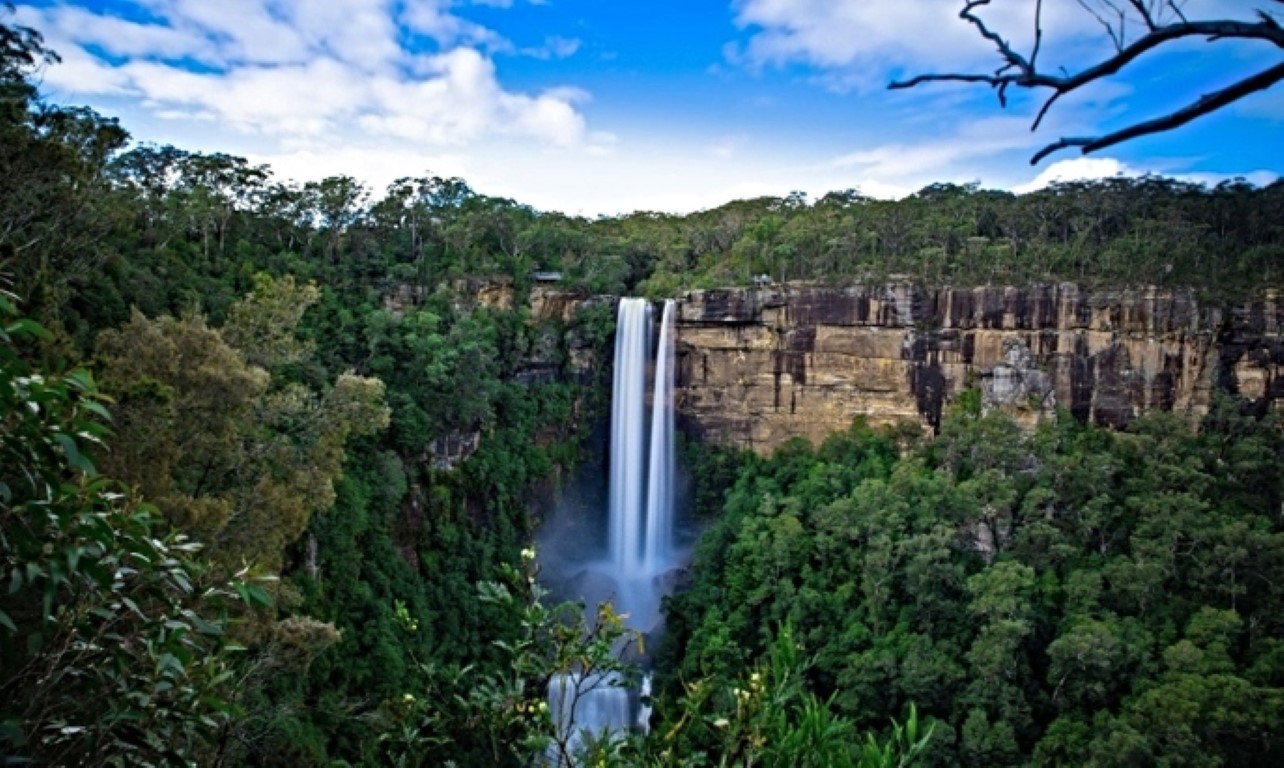 From Fitzroy Falls we roll out and start our first big descent. 8km down into Kangaroo Valley. As you wind down the switchbacks, take a second as carefully as possible to admire the views – Escarpment, green valleys, this is one of the most beautiful locations anywhere!
We roll through Kangaroo Valley @90km and although you have gone almost all downhill since lunch the scones and coffee will tempt you! The General Cafe is our pick here and with one climb to go, why not enjoy it and fuel up first!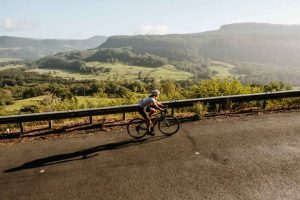 Heading out of KV we turn towards Berry to take on the back side of Berry Mountain. This is a 5km 8% climb and this is the gentle side! Climbing up through rainforest it is a beautiful ascent. From the top another switchbacked descent to Berry with views out the ocean. This is a local favourite but take care! Rolling into Berry @110km we stop at the essential, local and famous Berry Donut Van for a very well treat! Sit out front in the afternoon sun and people watch. Berry is a lovely town and we will be back tomorrow for dinner!
After the break it is a flat 12km out to the beach through farmland. Take a glance back and you will see the Wedding Cake Escarpment and Berry Mountain…which you have just climbed and descended from!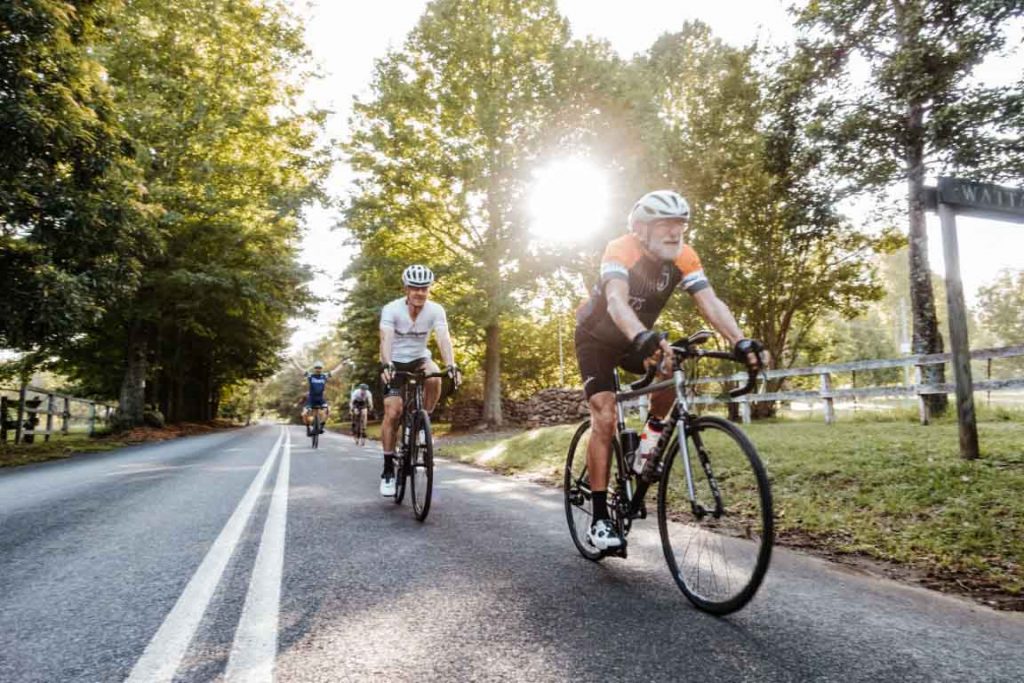 Rolling through Shoalhaven Heads, a sleepy Aussie town, you migh wonder where you are going! However, tucked next to the beach is Bangalay Luxury Villas. Grab a drink from the bar, have a swim in the pool, or wander 50m to Seven Mile Beach – you have earned a good relax after riding 122km and climbing 1804m! This is the biggest day of the Berry Escape and it is a cracker.
6:30pm This evening we will gather by the pool for an aperitif. We will chat about the day and tomorrow where there are so many options for beautiful rides from the local special 'Berry Block' to a flat ride through farmland with spectacular views. It is up to you!

7pm After a big day on the bike we choose to stay at Bangalay for dinner. After all it is the best restaurant and they offer a Feast Menu, perfect after today!
Off to bed! Tomorrow a gentler loop of the region, followed by a gourmet dinner at hatted South on Albany!