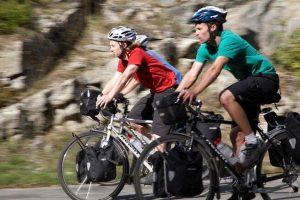 Why Bicycle Touring Without Panniers is so Much Better
Sam Wood, founder of Bike Odyssey's incredible Bicycle Tours and Roman Archaeologist, always wanted to ride the route of his all-time favourite historic commander – Hannibal Barca. If you don't know who this is, he's the guy who (about 2200 years ago) took a 40,000 strong army and 37 elephants from Spain to Italy over the Pyrenees and French Alps. He then defeated the Romans in battle after battle all over Italy, roaming the countryside for 15 years. Why he didn't then attack and sack Rome, historians never get sick of debating about. The western world as we know it would have been completely different if Rome had been taken over by the Carthaginians. An incredible journey and one Sam had always wanted to do.
So, with his brothers, he proposed to the BBC to make this journey on bikes and film it as a documentary. The Beeb loved the idea and sent a film crew along making a six-part documentary with the trio riding from Barcelona to Rome "On Hannibal's Trail". It aired in 2010 and was viewed by more than 1.5 million people on its first night and has since been broadcast in over 70 countries. Sam loved it so much he started a bicycle touring business to enable other people to have the experience he had just had.
There is one major major difference about the trip he did though and the Hannibal bicycle tour he runs for others – comfort. He and his brothers carried everything they needed in panniers and camped in their tents every night. So, here is a quick 5 reasons why bicycle touring without panniers is better!!!!!
Bicycle touring with panniers vs Bike Odyssey touring without
You need a solid (read heavy!) steel/aluminium or titanium framed bike to carry the weight of panniers.
OR ride the bike of your dreams we can source free of commission for you on our Bike Odyssey tour.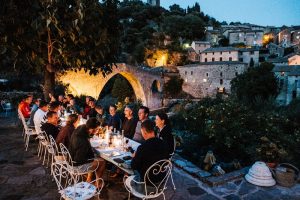 2. You can carry limited gear, so one kit for cycling in every day (ewww!) and one clean outfit for evenings.
OR Bike Odyssey will transport your luggage from stay to stay, so you can ride with multiple fresh and fabulous looking lycra outfits including an Odyssey tour wolf kit and always look dashing in a choice of evening wear!
3. Carrying your own tent and sleeping bag in panniers means campsites and pillows made from a rolled up jumper or smelly clothes!
OR stay in Bike Odyssey's hand-picked superb and unique tour stays – all high-end Paradors, castles, monasteries, lodges and chalets which ensure great rest for another exciting bicycle touring day ahead!
4. You cannot fit a soigneur/masseuse in your pannier and tired aching muscles get more tired and more aching!
OR enjoy at least 2 massages a week from our soigneur who travels with you on our Bike Odyssey tours to relax, rejuvenate and get the best out of those legs and body!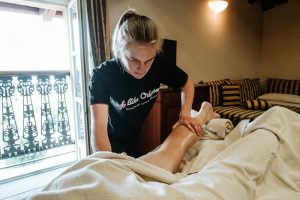 5. You can only carry small pieces of food in panniers, so need to find cafes and shops regularly to refuel.
OR Ride with Bike Odyssey tour support vehicles supplying you with snacks and drinks at any moment you need one, coffee at places our guides know and love and enjoying picnics en route sourced from local orchards, fromageries, boulangeries and delicatessens. Not to mention the evening meals being events which are organised with the greatest care to ensure you experience the best and most local delicacies each area has to offer. Some guests have described these dinners as the best meals they have had in their lives!
So, sum up – don't bicycle tour with panniers! Come with us on a Bike Odyssey tour for an exceptional adventure. You will love and enjoy every single minute of it. If you'd like more information on the Hannibal Tour with Bike Odyssey please visit the tour page here or email Sam direct by clicking here.