Sorry all this event has been cancelled due to Coronavirus…. we may reschedule, keep in touch!
It is on again, the 7th Berry Challenge. This year another new circuit! 3 rides, the 100km and 70km leaving at 7am and the 30km leaving at 9am all from the Berry Mountain Cycles Bike Shop, Albany Street, Berry, NSW.
Contact: Sam [email protected]
If you are joining us please RSVP and tell us:
Which ride you are doing
If you are coming for lunch and when you have paid.
Thanks!
First Priority is Lunch!
Served from 1pm at our place – 356 Woodhill Mountain Road, Broughton Vale.
Come and cool off in the pool, relax on the lawn and enjoy Paella cooked by Kristy our local Chef extraordinaire! Please deposit $40 into our bank account to cover unlimited Paella and soft drinks – BYO alcohol. It is always a lovely relaxed afternoon and a great way to recover after the ride. Please put your name as reference.
Bike Odyssey Pty Ltd
BSB 082 637 Account 428132565
Remember this is a casual ride. No pressure, no paperwork – just fun and we have 3 options to keep the toughest riders and the more relaxed cruisers happy!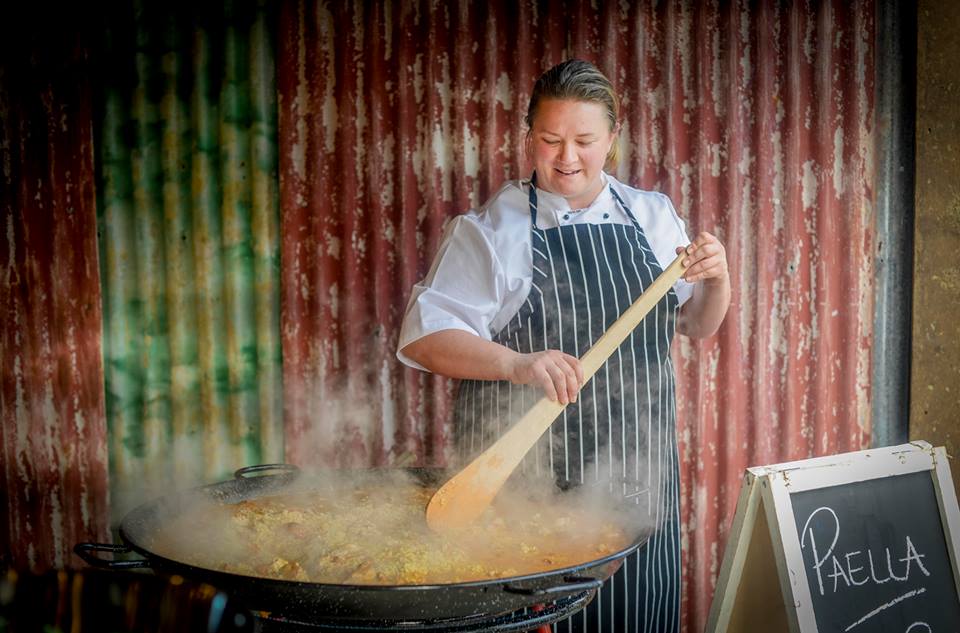 THE RIDES
Option 1: 30km with 300m of elevation
A cruisy ride around the flatlands. We meet at 9am at the Berry Mountain Bike Shop on Albany St. We will ride north with a very short section on the highway which gives us access to some previously unexplored Berry Challenge roads. We will head up into Foxground for an explore and some lovely views before returning via a short flat dirt section through Toolijooa back to Berry for a coffee.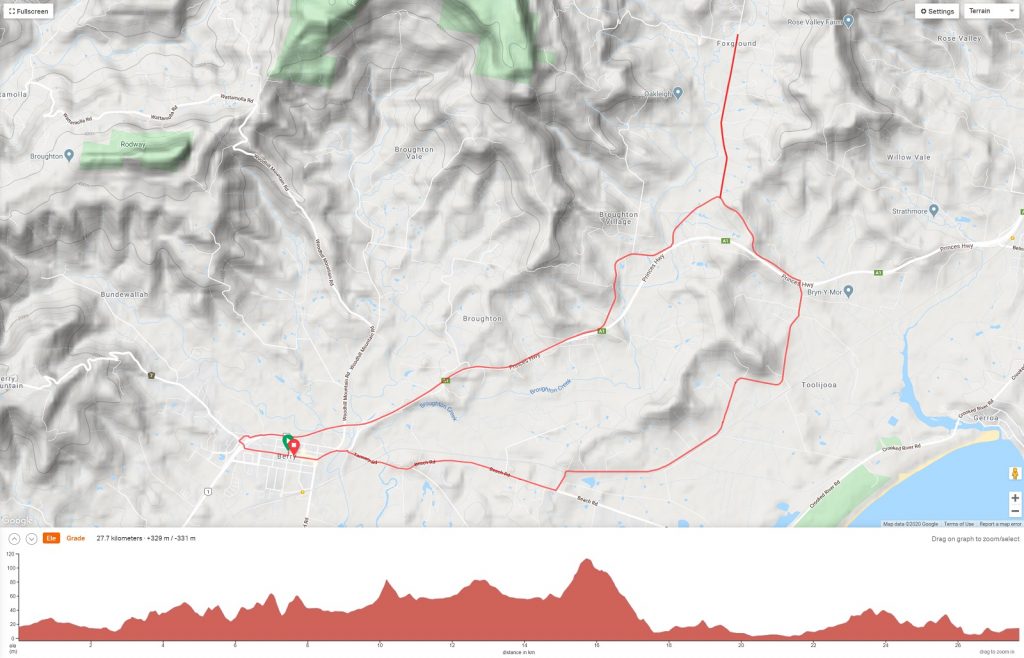 Option 2: 70km with 1750m of elevation
Departure 7am from the Berry Mountain Cycles Bike Shop. A beautiful rolling loop with everything in it. We climb Berry Mountain to start then roll across the saddle with views miles down the coast. After a fast descent down towards Cambewarra we turn and head into deep forest and where the bushfires hit just one month ago. The road here is dirt but in great condition and with overhanging cliffs, escarpment views and water crossings it is a great, great road. We descend into Kangaroo Valley for a very well earned coffee at 50km. Then heading back towards Berry we take the back route along Wattamolla down one of best roads for cycling in Australia. With another 1km dirt section and a genuine challenging finish…. The road rolls and rolls….then it steepens with a 2km climb back up to the saddle. A fast descent down Woodhill Mountain finishes this off – if you are stopping for lunch with us don't ride straight past our driveway! We will have signs out and we are 3.5km out of Berry (continue straight)
Ride Notes (only major events, not every turn)
Exit South from Berry towards Kangaroo Valley
@2.5km Berry Mountain 5.5km climb averaging 7.7% (middle section 3km avg 10%)
@15.5km Cambewarra Descent 5.2km avg 8%
@20.9km right hand turn (dont miss) towards Cambewarra
@30km hard packed dirt
@38km Water crossing over concrete bridge (rideable but take care, steep climb out)
@40km Bugong Climb 2km avg 9.5%
@42km Steep descent (pavement returns halfway down)
@50km a well earned coffee! We recommend The General for Scones, Jam and espresso!
@55km A choice here. For those wanting the more direct and main route to our place turn left, it is steeper but shorter. For those who want a more gradual climb head straight ahead which will take you to Berry (but both roads do get to Berry)
If you turn left @62km Wattamolla 2km avg 11% (and you are done!)
@70km slow and turn left up driveway 200m @avg 20%!!
NOTE: On descent keep a lookout for our place if you are coming for lunch. This is at 70km on the left. Don't fly by!
For those riding on see Option 3.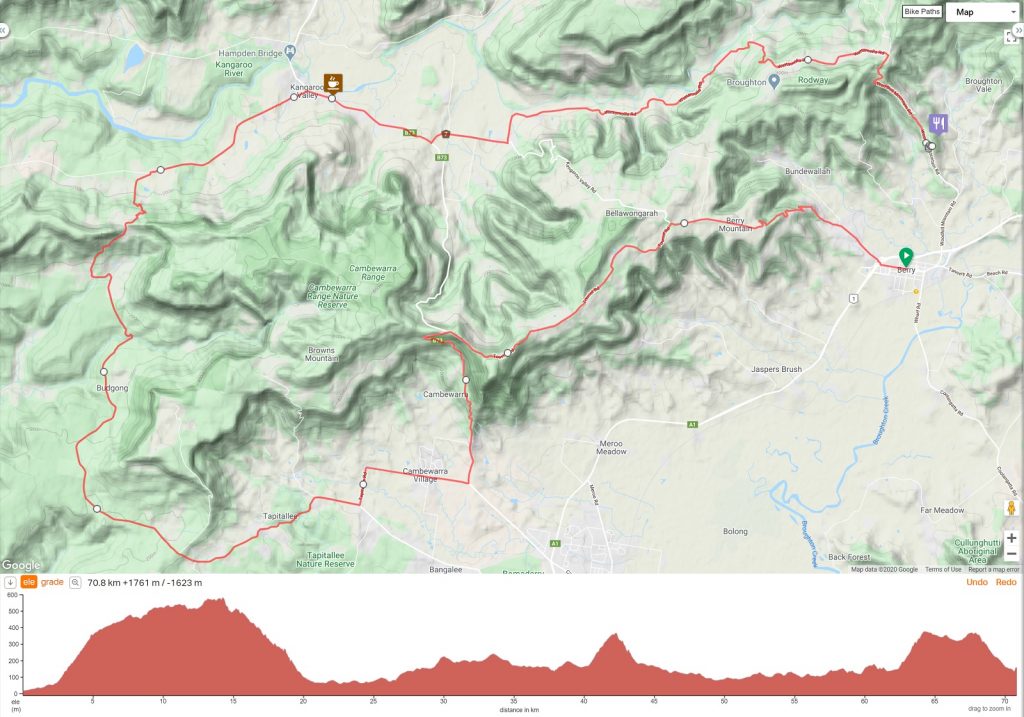 Option 3: 100km with 2000m of elevation
As above all the way to 70km where you can continue down Woodhill (past our place) and take a lovely loop around the flatter countryside to warm down the legs. Don't fear we won't finish flat! We head up an old favourite and one of Berry's prettiest (read short steep finish!) roads – Bundewallah! From there, you can roll back into town and head up to ours (356 Woodhill Mountain Road) for lunch by bike or by car.
@70km roll on by, watch out for cyclists turning up our driveway!
74-86km gentle flat roll
@86km Berry optional finish
If you wish to continue, head back out same way as morning
@89km turn right just before Berry Mountain climb starts.
@92km Bundewallah Ball Breaker 500m avg 18%…then survey the views and roll back into town (downhill all the way). If you ride up to us at 356 Woodhill Mountain Road this will take you to 100km