We strongly believe there is no better way to see a country than to bike tour through it. The two main reasons for this are the experience and achievement you feel through traveling this way.
The Experience
The experience on a bike in Europe is second to none. Rolling on your bike into a tiny French village in the Loire, Dordogne, Provence or Alsace is hard to beat. Your senses are heightened and the smells of baguette baking, coffee at the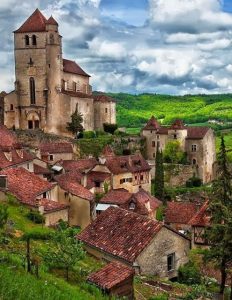 bar, farm animals on the outskirts…..  the sounds of cowbells in the hills, the wind rushing by as you descend through vineyards or the buzz of life in the village as the foreign voices carry to you or the kids calling out to you as you roll by is invigorating. What makes this more amazing is that unlike the US or Australia there are villages every 16 km / 10 miles, not every 50 or 100 so you are rewarded often!
Take our Lionheart tour which chooses a path through some of the officially recognised most beautiful villages in France (Les plus beaux villages de France). Each of these villages is spectacular and such a pleasure to experience. What is so great about these villages is that they are so French – the focus of the town is the cafes and boulangeries with so often leafy avenues just beckoning to be explored.
When you ride into a Spanish village they are remarkably different – louder, livelier, rougher but equally appealing and focused on the central church or square. The Italian villages are again different – cafes and gelaterias dominate and the Italians are the best dressed as they enjoy their passeggiata.
Whichever country you are in riding from door to door is such a luxury. No packing the car, no battling on busy roads, no queueing up for road tolls, no catching buses, trains and planes with timetables in languages you don't know! Our guides speak the languages and make your day run as smoothly as possible. We take your gear from one fabulous hotel/castle/monastery/chalet or parador to the next. Our unique accommodation is another insight into the culture of where you are travelling and you will not be disappointed.
However, no cyclists who have ridden in the hills of Switzerland, France or Germany will forget this noise!
Achievement
The sense of achievement you feel from traveling under your own steam is unbeatable, whether you are riding 20 or 100km a day. Up early (but not too early!) gets you seeing the best part of the day –  fresh air, quiet roads, wildlife about before they are all scared off, kms just pass under your wheels with ease as you are well rested and fueled. Speaking of fuel, there is no better way to enjoy and get to know a country than through its food. Europe is stacked full of mouthwatering traditional foods which just waiting to impress your taste buds! After getting to a coffee break, or lunch or dinner by bike, the food tastes all that much better as your energy spent gives you a great appetite. And the best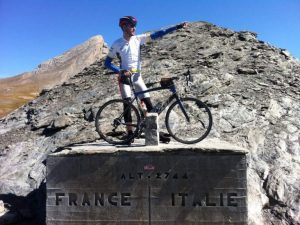 thing is that you can eat without any conscience whatsoever! You absolutely deserve every pastry, pasta dish, 2nd dessert, glass of wine or cold beer you wish to taste!
On our long bike tours, multiply this sense of everyday achievement by riding a route with a purpose. All our tours follow an historical figure or people. You are treating your body to pleasures but also your mind, learning history and culture along the way which greatly deepens your understanding and appreciation of the areas you roll through. Leaving somewhere like Barcelona on Hannibal and riding over the Pyrenees, Alps and Apennines and rolling along the Tiber into Rome a month later and you really are accomplishing something exceptional. Imagine the feeling of excitement, accomplishment and sense of wonder you will feel on finishing this tour. It has a great impact on all of our guests and this feeling keeps them coming back to ride with us year after year. See what our guests have to say about riding our odysseys….