The Rides
Note: Both the Cruise and Challenge leave from Berry Mountain Cycles and head to Foxground, a beautiful valley, only previously accessible by gravel or highway. We will have a tent at the main junction there with snacks and water (free). Riders are welcome to mill here and discuss the two optional climbs reachable from this point.
The Cruise – Distance 30km / Elevation 360m
A 30km out and back to the newly accessible Foxground Valley. The ride is 15km out on flat (ish!!) road with one 1.8km climb Avg 5% max 8%. At the 15km mark, in the Foxground Valley, we will be set up with our snack stop for a refuel. From here you can roll back to Berry for coffee and lunch or be tempted by the Challenge riders' hills ahead!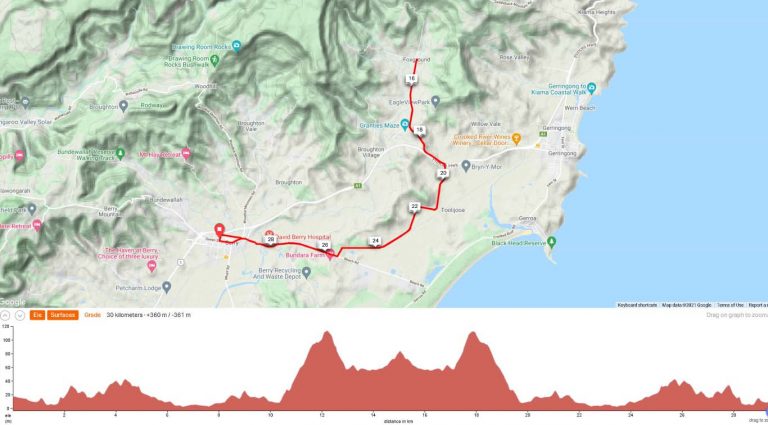 The Challenge – Distance 57km –  102km / Elevation 570m – 2000m
A ride with many options from a flatish 57km to a brutish 102km with 5 genuine Berry Special climbs. The choice is yours, we will all ride out to the 42km mark where our Bike Odyssey stall will sit and support… from which you can make the decision:
Ride 15km back to Berry for lunch, sensible, restrained and makes for a nice comfortable 57km ride.
Take on 1 of 5 climbs – yes it was 4 but why ride 93km when you can ride over 100km? Strava section in links
1. 
Free Selectors
 – 2.35km Avg 10.7% Max 22% – Beautiful climb, watch for the cattle grid and cattle. Surface rougher as we get higher, no view at the top but on the descent and a lovely little explore.
2. 
Hoddle's Doddle
 – 4km Avg 10% Max 28% – A genuine brute. The figures do not do this climb justice! Climbing up through the rainforest, don't miss the right turn onto Hoddles Road (it also turns upwards here!). Amazing view at top, ride through the gate (See pic below pointing to Hoddle's Track) to see the view all the way down the coast.
3. 
Woodhill Mountain Road
– 4.6km Avg 7.5% Max 14% – Our front doorstep and a lovely climb with a kick at the end. If you are looking for a solid challenge without the silly gradients then this is the one.
4. 
Brogers Creek
 –
 2.1km Avg 8.9% Max 16% – An extra roll from the top of Woodhill to visit another stunning closed valley. You will see it all (take huge care on descent) and know that the climb starts with a kick but eases off. Beautiful views for last section.
5. 
Bundewallah Ball Breaker
400m Avg 19% Max 27% – A tiny spike on the profile, but we will happily buy a beer for anyone who climbs this in comfort after riding the rest of the day!
NOTE: 
All of this riding is voluntary. Most normal riders will be forced to walk today at some stage on a climb – be prepared to clip out. These are genuinely challenging climbs, most with gradients rarely ridden.
We do not ride them in order of easiest (lowest gradient) to hardest. In fact, order of easiest to hardest would be, in our opinion, 4. Brogers, 3. Woodhill 5. Bundewallah, 1. Free Selectors and 2. Hoddle's Doddle. Choose wisely!
Be aware of riders around you both going your direction and the opposite. DO NOT desend fast as there are likely to be riders coming up the hill. Take care and look out for each other!
A lovely ride would skip 1,2 and 5 and you would ride around 75km with over 1000m of climbing.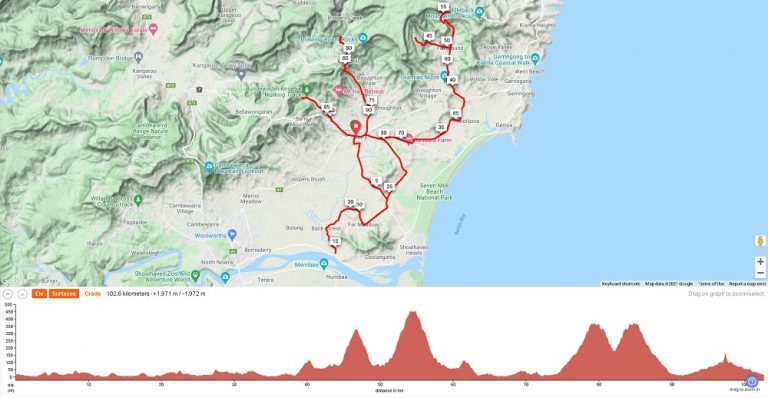 Lunch
We are taking over the latest and greatest Berry lunch location. Il Locale, the original gelato shop has expanded and moved down the main road. We are taking it over from 2:30pm, roll your bike into the back courtyard and relax for the afternoon, they have a varied lunch menu (roughly $20) and serve everything from coffee to beer, cocktails to kombucha!