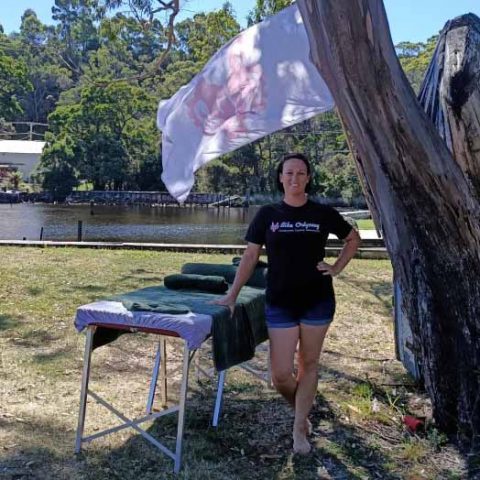 SARAH GOODSELL
aka: just Sarah
ROLE Soigneur. Paramedic. Cuisiner.
RIDE You mean on a bike? Or can I say rollercoasters - LOVE the Superman Ride at Movieworld!
RELAX Reading.
REFRESHMENT Wine. Any colour. Bubbles or not.
READ Romance and vampires.
Sarah was born and grew up in Wollongong, on NSW's south coast. Always athletic, at age 11 she took up Ballroom Dancing and over the next 8 years, competed at National level in Ballroom, Latin American and New Vogue. She was passionate about dancing and won SIX Australian titles in this time. Sarah retired from dancing at nineteen and started travelling the world while working for British Airways at Sydney Airport. By 23, she was looking for a change in career and applied to become a paramedic with Ambulance NSW, and did this for the next 15 years, while she and her husband welcomed 3 gorgeous children into their world.
Always loving the effect massage had on her dancing body, Sarah has forever been interested in massage and studied it, most recently doing her Diploma in Remedial Massage at the Australian Institute of Applied Science.
Now living in Berry on the South Coast of Australia, Sarah has been working as a massage therapist for 9 years and now runs her own business full time. Sarah specialises in Remedial Massage, Pregnancy Massage and Deep Tissue Massage while also adding the skills of Chinese Cupping and Rock Taping to her repertoire. Her massages are the whole package, best said by one of her clients "I go to Sarah and get the whole deal - serious knowledge and skill, incredible strength but gentleness where needed, a relaxing atmosphere and a beautiful caring personality to boot". If you locals haven't been to her - go!
On our Odysseys, Sarah will be keeping your legs and bodies alive - rejuvenating, fixing and preparing you for adventure every day.
Ps. How cool are these national title pics!