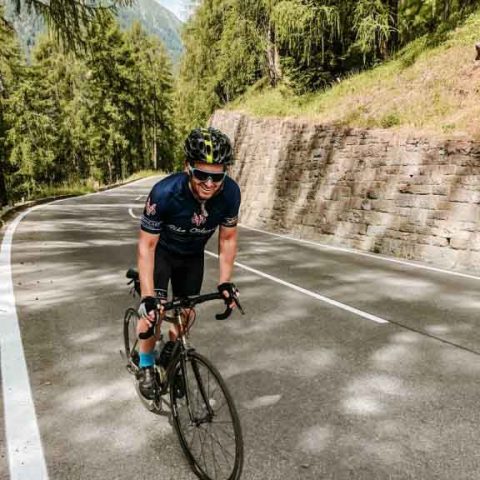 SAM WOOD
aka: Sammibal, Woody, Rodders
ROLE Founder, Archaeologist/ Historian, Tour Leader.
RIDE The gorges and ravines of the Atlas Mountains, Morocco - Spectacular stuff!
RELAX Cold swims - beaches in Scotland, Roman plunge pools, frozen rivers in Scandinavia!
REFRESHMENT Espresso, at least 4 cups per day!
READ My Love Had a Black Speed Stripe - Henry Williams. Ridiculous but that is what makes it good..
Sam was born and grew up in Newcastle, a busy Australian coastal city. His first journeys on wheels were on a skateboard, weaving through traffic as a teenager.  "My proudest teenage moment was when a policeman brought me home and told my mum that I was speeding on my skateboard. She didn't know what to do except laugh!"
From this possibly wayward teenager, Sam did his Honours degree in Archaeology at Sydney University and dug his way around the world, specialising in Roman Republican archaeology. He has excavated across Europe from Italy to Israel, England to Egypt as well as in Australia and Bermuda. From the nomadic field archaeologist's life, he moved into the academia of working in the British Museum, London which progressed to consulting for the Mellon Foundation on worldwide museum projects with the Metropolitan Museum of Art, New York and the National Gallery, London. However, after a few years of sedentary work his feet grew itchy!
Being Sam's favourite figure in history, and spending all of his spare time on the bike, Sam always wanted to cycle in Hannibal, the Carthaginian general who took on the might of Rome's, footsteps. So in 2005 he researched and plotted Hannibal's route through Europe and proposed to the BBC to fund a documentary of him doing so (which they did in 2009). See more here. Sam says "Riding On Hannibal's trail with my brothers for the BBC was an unforgettable journey which had to be shared - it truly is the ride through the highlights of Europe. Therefore, I wanted to give others the opportunity to experience what I had, so I created a tour to do so."
Sam now resides with his partner and two children in the beautiful coastal town of Berry, Australia and Barcelona, Spain where he plots new epic adventures to take you on! Super organised and bursting with ideas about where to take riders on, he is always happy to chat about tours you may want to do and how you want to do them. Read more on Bike Odyssey and Sam here