ISABEL HOFMAN
aka: Isi, Wonky, Matchstick Arms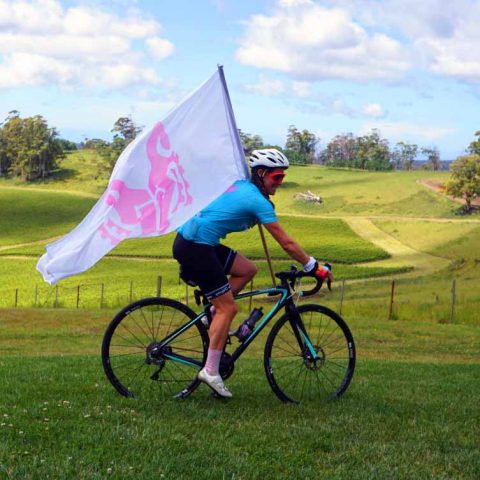 ROLE  Founder. Tour Leader. Medic.
RIDE  Riding around Ireland with my cycling kit on and one set of dry clothes in my pannier. Wet, stunning, wet.
RELAX  Massage -  any type, anywhere, anytime, by anyone!
REFRESHMENT  Vanilla milkshake with an espresso shot in it. A life saver in sleep deprived baby days, still a favourite!
READ  The Magus, John Fowles.
Isabel was born and grew up in Young, a small outback Australian town. Her first bike memory was learning to ride down the dirt driveway of her family farm. "When I was losing control I would careen off into the orchard to crash on grass and munch on juicy peaches before building confidence to try again."
Isabel studied psychology and history at Sydney University and then worked and travelled extensively through Australia, New Zealand, India and Europe, as a teachers aide, in disabilities and training racehorses, before finally settling in London. Here she trained and then worked as a Paramedic for 5 years before returning home in 2008 to have kids in Australia. She now lives in Berry, Australia, with her partner and two children, creating, managing and leading tours for Bike Odyssey. At Bike Odyssey, we take much attention to create the safest possible routes and we have rarely had a guest come off their bike. However, if you do, Isabel has ensured all guides are first aid trained and have well-kitted first aid boxes available on every tour. If you have any kind of medical situation on tour, she has a wealth of knowledge and will know exactly how to help you.
Keen to have a more active part in the company, she took on Venetians as her baby and organised every step of this logistical nightmare of a trip! This island-hopping adventure takes dedication to detail to another level, but to all the guests and it seemed to run effortlessly and like clockwork. Isabel is a real people's person and will do anything to ensure you are not just getting a magical trip but are looked after like you are her family. One guest from Venetians last year said it best - "Isabel, with the most amazing warmth and interpersonal empathy, dedicated to ensuring the happiness of everyone on tour." Avis P. If there is an enthusiast about Croatia and the Venetians Odyssey, it is Isabel, and she will ensure you experience it at its best.