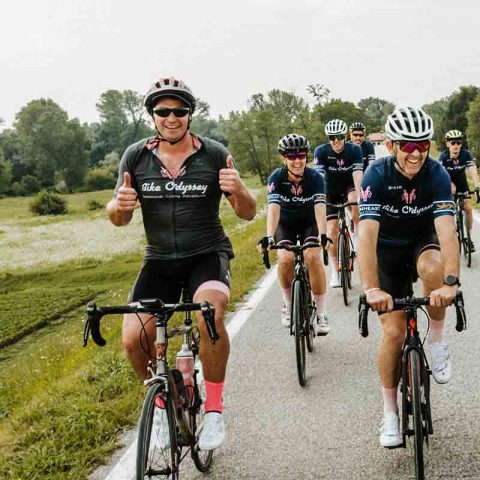 MAX HOFMAN
aka: Maxi, Rodders, Slugs, Hofo
ROLE Tour Leader, linguist, mechanic, motivator.
RIDE Mendoza, Argentina to Santiago, Chile, across the Aconcagua pass.
RELAX A post exercise warm down on the trampoline with my son.
REFRESHMENT Traditionally brewed wheat beer.
READ The Odyssey, Homer.
Max was born and grew up in Young, a small outback Australian town. His first bike journey was to school as a five year old. "My dad was a sports enthusiast who believed we should be able to get to school under our own steam. That ethos stuck with me and years on, I am still riding functionally to work, or better still, riding as work!"
Max is a highly experienced guide, who has taught the young and old how to ride and train; instilling enthusing into people to bring cycling into their everyday lives. He has guided dozens of Odysseys across Europe and the Americas. He is a serious "people's person", has amazing interpersonal empathy and gives more time and energy into riders on tour than any guide we have ever known. In Max's words: "The Odysseys are simply immense and I enjoy the challenge of completing such epic adventures. I relish the opportunity to encourage and assist our riders to reach their individual and group goals over a journey that in most cases, due to its grand parameters,  is life changing."
Max has travelled extensively in Australia, Europe and the Americas and spends six months every year living with his Chilean partner and son in her native continent of South America. "My son is my constant riding partner, keeping me honest and motivated on our daily rides!"
Having lived in South America on and off since 2004, Max has had many adventures in the mystical wilds of the Andes and is sure to enthrall you with accounts of foolhardy, nocturnal and solo crossings of a Cordilleran range! He is fluent in Spanish and was integral in the development of Bike Odyssey's Che - Bariloche to Santiago. Don't miss this tour with Max!