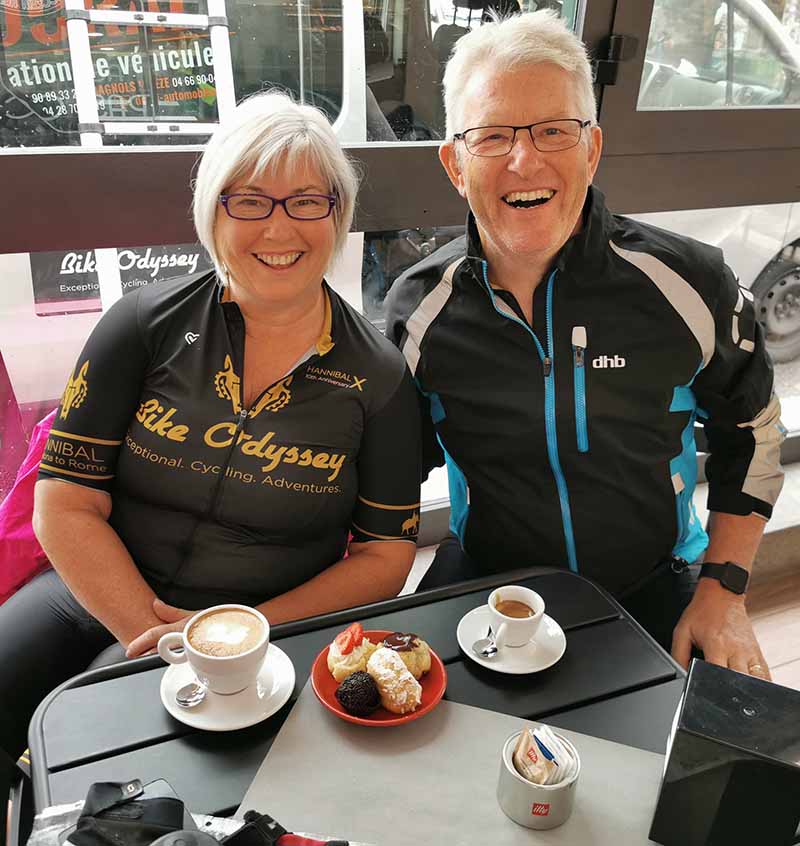 Ken Nairn
aka: Kenny
ROLE History Guy, Enthusiast.
RIDE Confession time, I did Hannibal in 2019 and arrived completely unprepared. From my early thirties I promised myself I would do Hannibal's route over the Alps when I was 55. So, 2019 saw me arrive in Barcelona, a rotund Scot with a passion for history but sadly, little time spent on my bike after the age of 17. PG Woodhouse well described my disposition early in the tour when he stated, "It's never difficult to distinguish between a Scotsman with a grievance and a ray of sunshine,"  I learned on Hannibal that cycling compels you to breathe deeply, keep your eyes open and ears pricked up. By the end I had fallen in love with cycling.
RELAX My wife Linda and I get in our RV and explore the Highlands and West Coast of Scotland. We have a two-year-old spaniel called Archie and trek around our native Ayrshire.
REFRESHMENT I'm a Scotsman with a sizable malt whisky collection, enough said! White wine would be Sancerre or Albariño, red, Barolo or Ribera del Duero.  Nothing however beats drinking cool crisp water out of a fast running mountain stream in the Highlands of Scotland.
READ All the time, and rarely anything twice. The one exception is, "The Man Who Planted Trees" by Jean Giono. The main protagonist, Elzéard Bouffier is someone who repaired and replenished the world one tree at a time. My fictional hero.
BACKGROUND
In 2006 I took my mum to see her great uncle's grave in Belgium. We were humbled when arriving at the Dadizeele New British Cemetery to find 873 Graves looked after by the CWGC, all in immaculate condition. We were the first of our family to visit his grave since he fell in 1918, maybe to us he was an afterthought but to the CWGChe was one of the fallen, never to be forgotten.
Linda and I returned there on 1 October 2018, a hundred years to the day since he fell, to honour his memory.
I was appointed a MacRoberts Speaker for the Commonwealth War Graves Commission in 2020 and carry out walks and talks for them throughout the year.