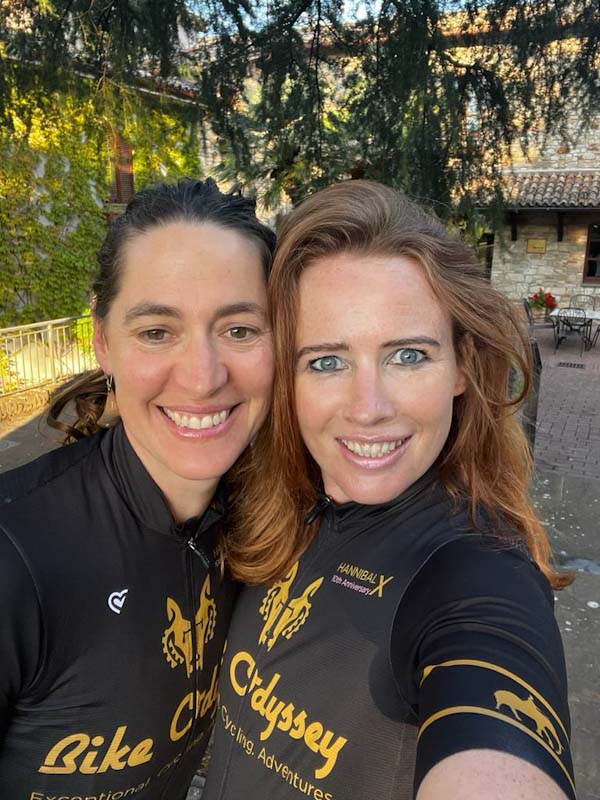 FRANCESCA SMITH
aka: Franny, Spangli, Ginge, or The Duchess (nicknamed this by a Bike Odyssey guest!)
ROLE Tour Leader. Linguist. Charmer. Fixer.
RIDE Col de la Madeleine - it is a beautiful quiet climb and not for the faint-hearted!
RELAX A massage and/or a great film with a large glass of red.
REFRESHMENT Coconut water or a glass of red - depending on what mood I'm in!
READ 'Killing Pablo"
Fran was born in England, a non-identical twin with her sister Victoria. If that wasn't special enough already, she also shared her birthday with Prince William. The London headline of the day was "Well done Di and well done Anne!"  Fran grew up dressing exactly the same as her sister but in different colours! Her first bike memory was being extremely jealous of her twin sister's pink BMX, but childhood memories of actually riding were more about the injuries she sustained trying to..... Until, post bubba, (beautiful Annie), Fran decided to buy a road bike and take up cycling to get fit. Boy did she do that - she will give anyone a ride for their money on tour!
Fran studied International Studies and French at Bristol University, becoming a high flyer in advising business development sales directors and working in London, Paris and New York. But having done that, took a sea change and planned to ski for 6 months in France. Breaking her leg, she had time on her hands and put her mind to making a chalet business in this gorgeous skiing village of Chambéry. She has done this for the last decade, with a business which went from strength to strength in its 10th winter now. In the summers, she loves cycling with her local crew - skiing instructors and men mostly which she enjoys as make her cycle harder.
Fran first came on tour with us for a couple of weeks to see if she liked it. She loved it and we loved her. Fran not only brings her enthusiasm and love of cycling to our trips but her natural ease and friendliness make her one of our most loved guides. Amazingly skilled and capable, Fran is perfect for this role and runs trips efficiently and seemingly effortlessly. Nothing is ever too much trouble, she is fluent in French and most importantly, she has fun, making it fun for guides and guests alike.  Fran is a treat on any Odyssey and you will not find a more enthusiastic and enjoyable guide.