Ait Ourier to Ait Benhaddou
On the Road – Distance 104km / 86mi | Elevation 2428m / 7966ft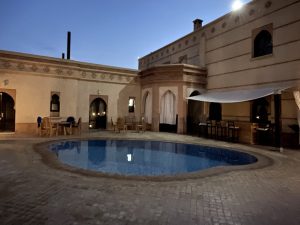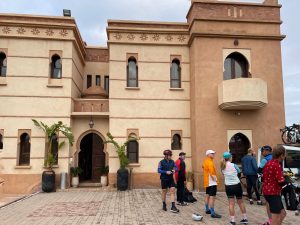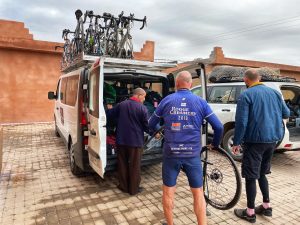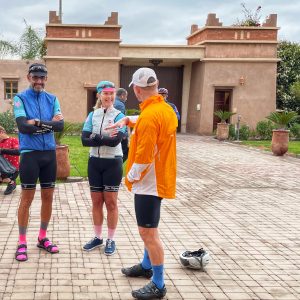 Leaving Ait Ourier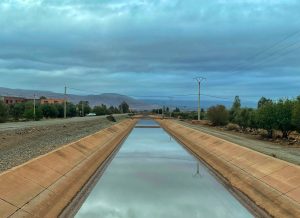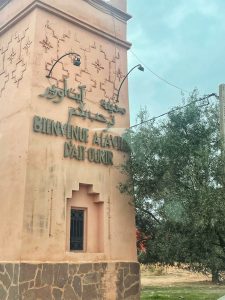 The climb is overall, 73km long ascending 1600m.  Last night before the ride, one of the guides popped up the mountain and checked its condition – it always has roadworks so with this information we will recommend a starting point. There was roadwork going on in certain spots so we shuttled part way, thus reducing the ride from 140km to 100km.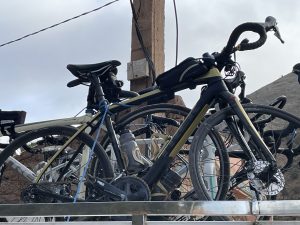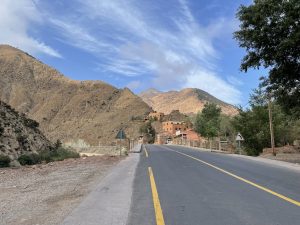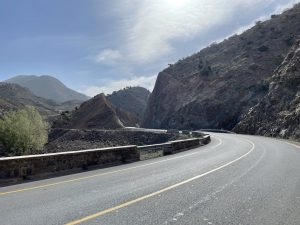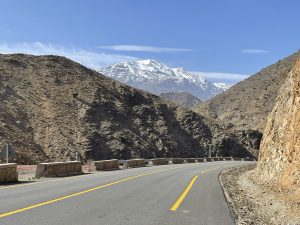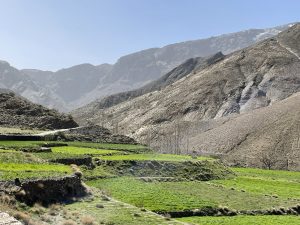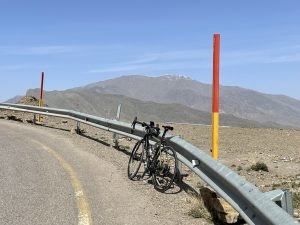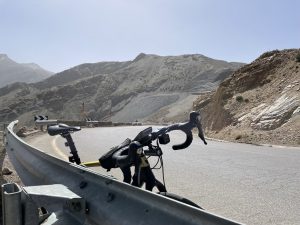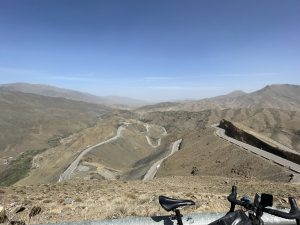 It was extremely windy today, with 35km/hr wind and 50km/hr wind gusts…and yes the majority of the time the wind was in our faces. So not only did we have a 40 km uphill climb, and smaller climbs after that, we had the wind to contend with!
The summit of Tiz Tichka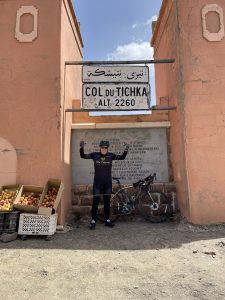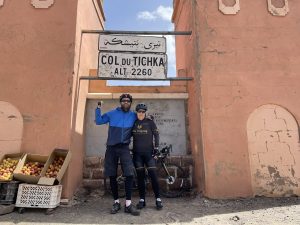 The views were astounding all the way up and with multiple tea houses.  Once we reached the Tiz n'Ticha pass at 2260m (7,415ft), the descent is one of the great rides of the world. We quickly turned off the main road with a sharp left and a perfectly paved descent winds down through rock gorges, palm groves and Berber villages – it was quiet and spectacular – perfect Morocco! Some areas reminded me of Sedona Arizona and the Badlands of South Dakota but on a much larger scale!  Our destination tonight is a tiny village called Tamdakhte, just outside of Ait Benhaddou, which has two restored Kasbahs with views over the Palms and rocky cliffs – a perfect finish!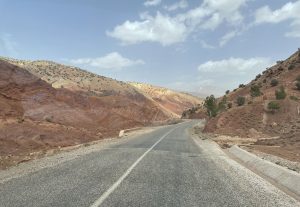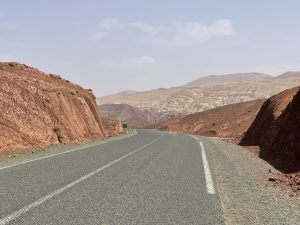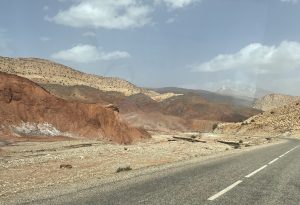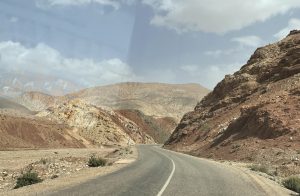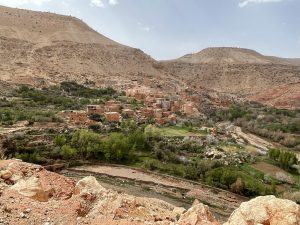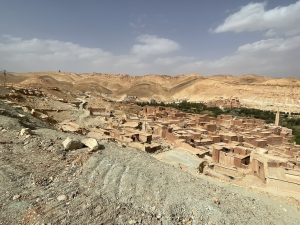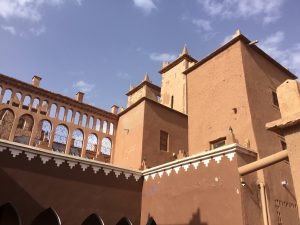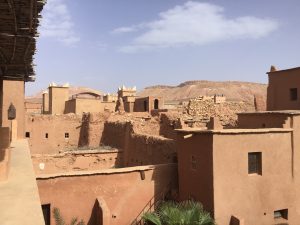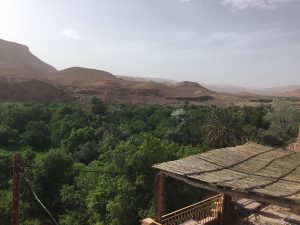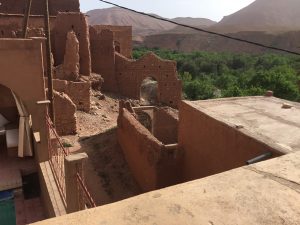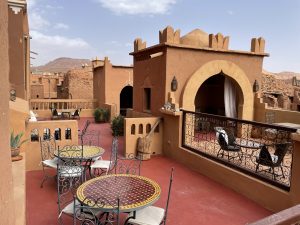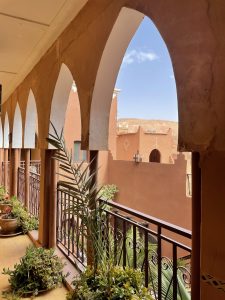 the Kasbah Ellouze where we stayed tonight…Kasbah means fortress. Chef Michel and wife Charlotte bought the old place 20 yr ago and restored it into a guest house and restaurant..quite unique!
Furthermore, for our finale before our well earned day off, Michelle, a retired French chef from Paris, who owns one of these remote Kasbahs  cooked for us tonight, along with multiple bottles of fine Moroccan red wine. The soup was a vegetable with alphalpha! and the main was tagine of chicken, figs and grapes on top of a bed of a steamed fine noodle.
Pre-dinner team meeting and the hungry awaiting dinner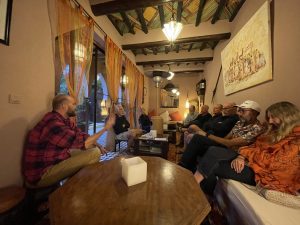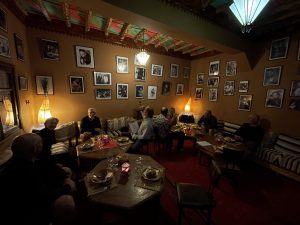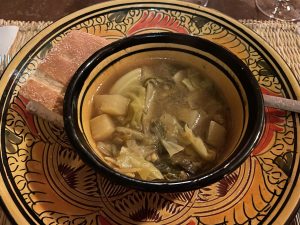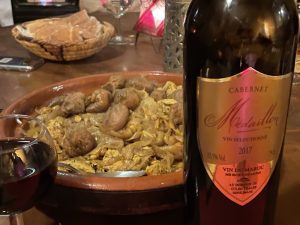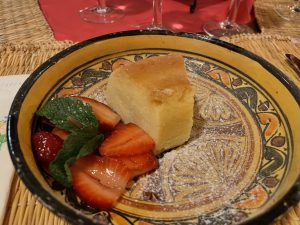 Good night from the Kasbah!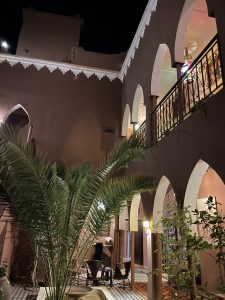 ***And some moron forgot to turn on his Strava and Relive apps, so no records for today.