On the Road – Distance 90km / 56mi | Elevation 928m / 3,045ft
CHECK OUT MY RELIVE VIDEO HERE!: https://www.relive.cc/view/vPOpZ379BEq
Today was the best ride day of the whole trip so far, sunny sky, warmer up to 28C, wind was kind for the most part, quiet open roads with some testy climbs, and the scenery was outstanding…and of course it made me think of a song!….Luka Bloom's 'The Ride' https://youtu.be/0GENQRUy6VY
We had a most calming and relaxing late afternoon, evening and then this morning, so much so we wished it could have lasted for a few days!  We arose to dense fog but it quickly burned off and presented us with an absolutely brilliant morning, mild and light wind.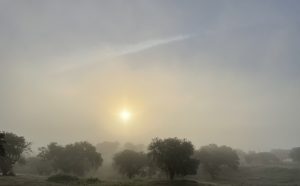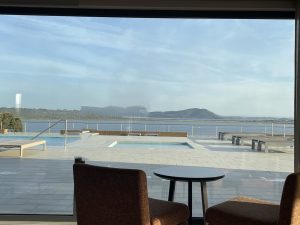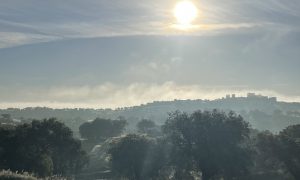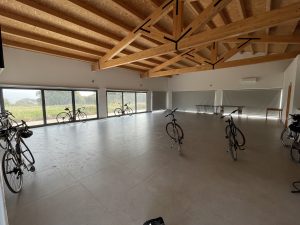 bikes in middle not ours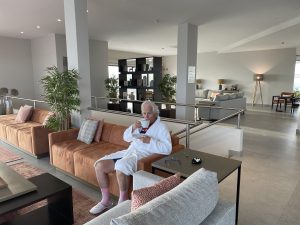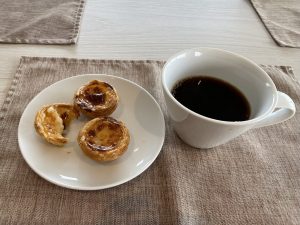 After morning coffee and pastel da natas  and breakfast,   we decided we better head out, and our first stop was the magical village on top of a steep hill, Monsaraz.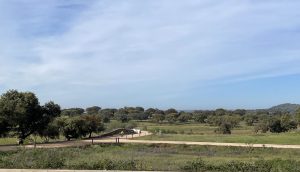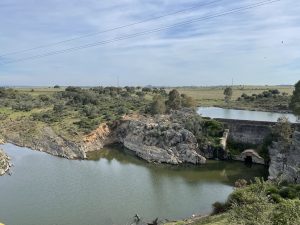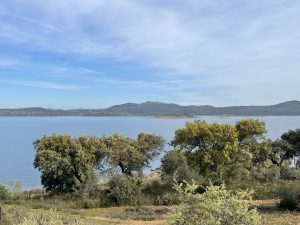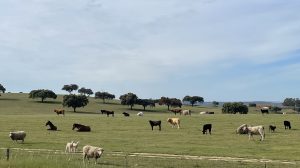 and the town's bullfighting ring!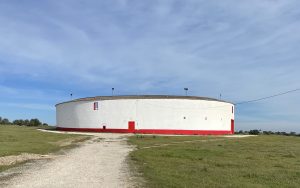 A great shorter ride today as we headed across to our well earned rest day in Evora. On the route in we cruise through the beautiful village on the hill, Monasaraz and sleepy Portuguese villages with their blue and white washed houses.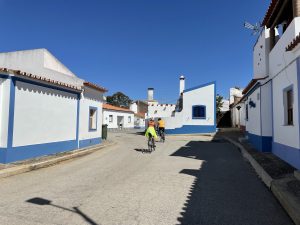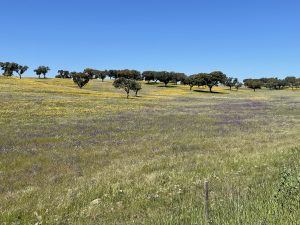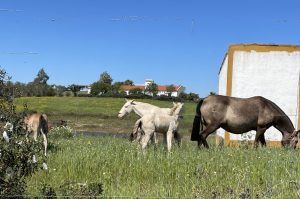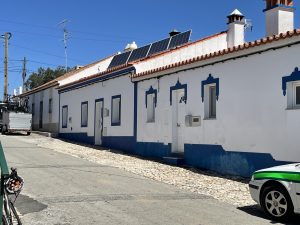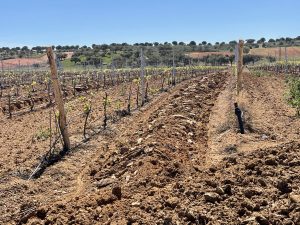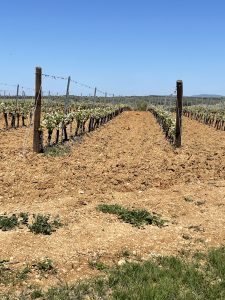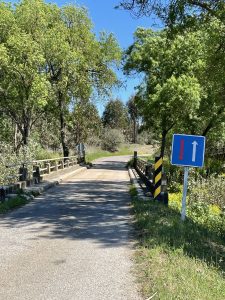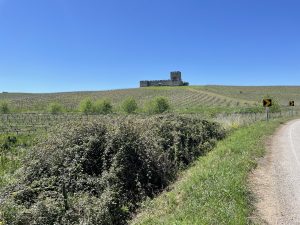 And we had a couple of genuinely gentle hills to finish the day into Evora – it is a hill town but this is by no means a steep finish! Evora is UNESCO listed and has a plethora of wonderful sites to explore.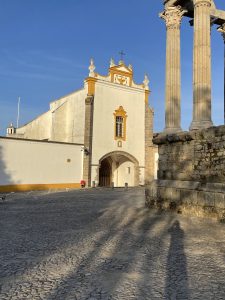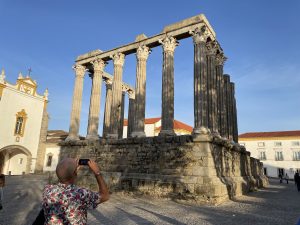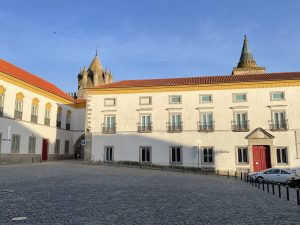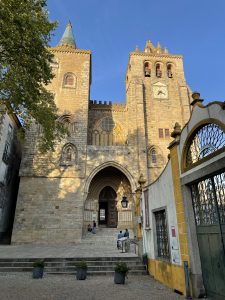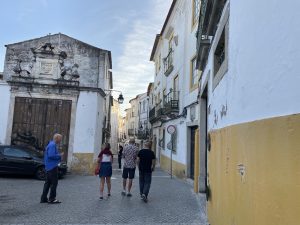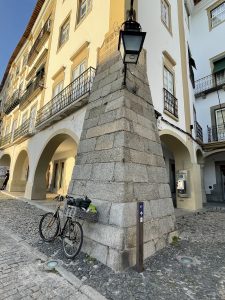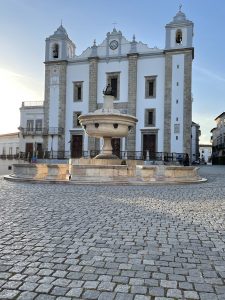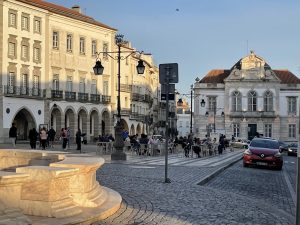 Monsaraz
Suspended in time, the historic village of Monsaraz is one of the oldest in Portugal. In 2017 it won the category of "Monument Villages" (a bit like France's Most Beautiful Villages).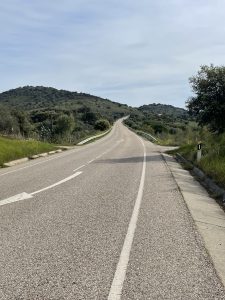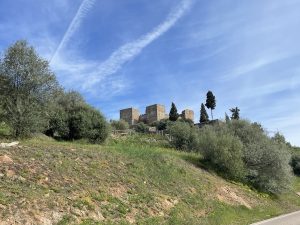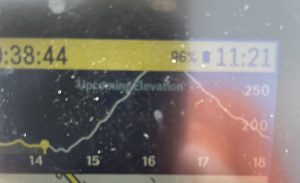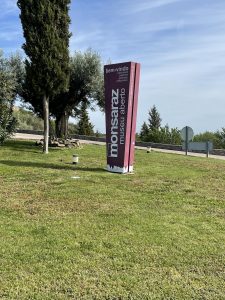 As you can see from my bike computer, it was a steep climb up to Monsaraz!
Monsaraz shows signs of having been a fortified settlement during prehistoric times. It has always had strong military and religious influences.
The privileged location of this small village, located on the top of the hill and with a view over the river Guadiana and the frontier with Spain, made it highly coveted by the peoples which disputed it. Once called Saris or Sarish, Monsaraz was taken from the Muslims by Geraldo Sem Pavor (Fearless Geraldo), in 1167, in a military incursion departing from Evora.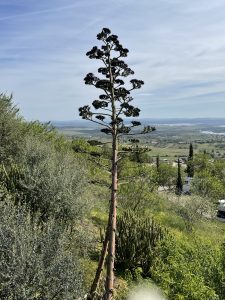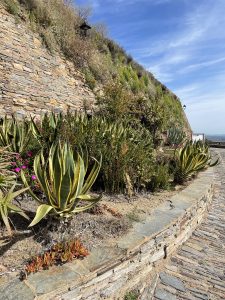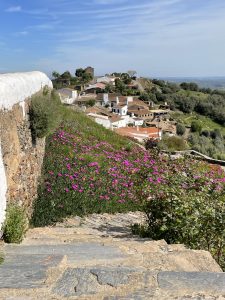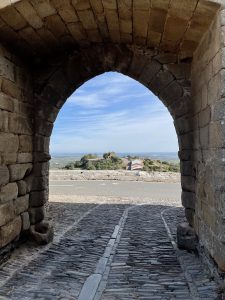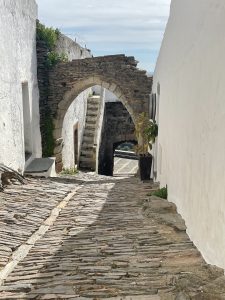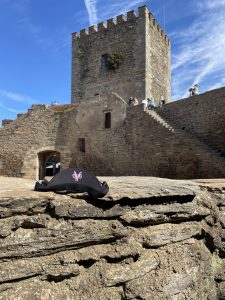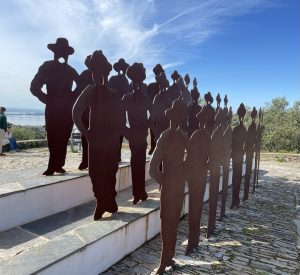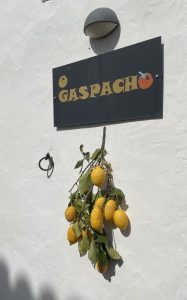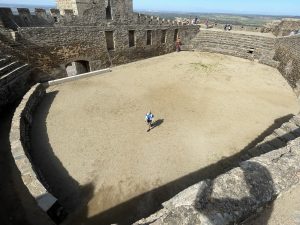 After a later defeat which occurred in Badajoz, Spain, King Afonso Henriques again lost control of Monsaraz to the Moors. However, in 1232, King Sancho II recovered it once and for all. With the help and support of the Templars, to whom he finally donated the beautiful Alentejo village – the marks left by the Templar Order still live among the castle walls.
Part of the Alentejo's montado ecosystem (cork oak forests), in Portugal, Herdade do Esporão has extraordinary conditions for agriculture. With approximately 700 hectares of vineyards, olive groves and the other crops they grow using organic methods and integrated production with around 40 grape varieties, 4 types of olive, orchards and kitchen gardens.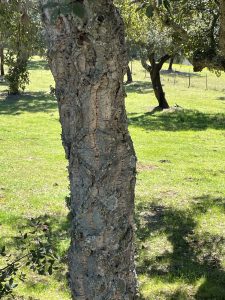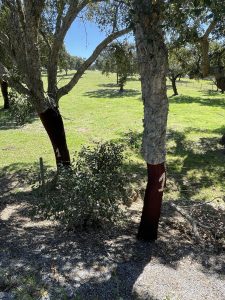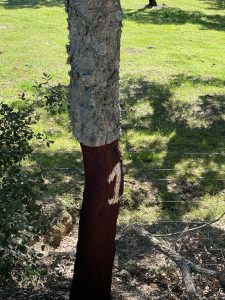 The cork tree must grow for many years to develop the unique bark, which is harvested selectively, exposing the underlying purple trunk…only some bark removed at one time…the cork then is soaked and processed. A cork for a wine bottle in 2022 costs approx. $1.50- $1.80 Cdn…an expensive part of the wine product we buy!
Beyond its spectacular landscape, Alentejo's rich past offers Paleolithic carvings, fragments from Roman conquerors and solid Visigothic churches. There are Moorish-designed neighbourhoods and awe-inspiring fortresses built at stork-nest heights. Alentejo is also the destination for traditional food – gastronomic delights are plentiful – pork, game, bread, cheese, wine and seafood.
We dined at an intimate restaurant where the owner/chef greeted us, then proceeded to show us all the food he would prepare for us in its raw form, then personally served it to us when it was ready! He said "I don't go to grocery stores ever, all food is from local farmers, I don't use salt or butter in my restaurant, but depend on local herbs and spices for flavour and local olive oil"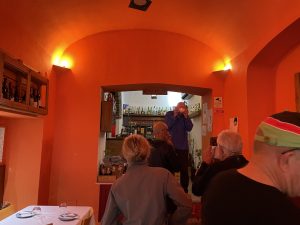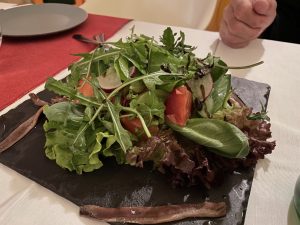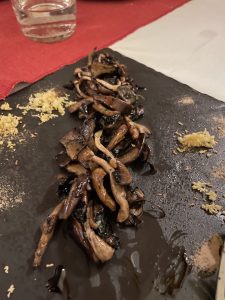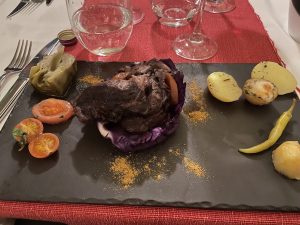 a variety of sauteed mushrooms, and black pork 'cheeks', as the video shows, it was fork tender and delicious!
So with a full tummy, I say good night from Evora Spain…more tomorrow as it is a rest day for us!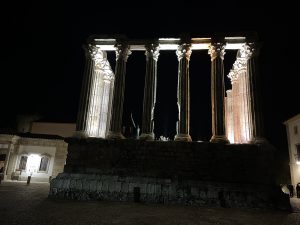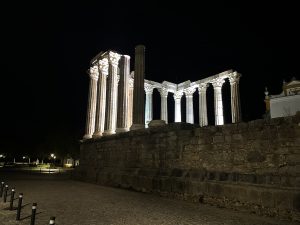 Some more Portuguese cuisine:
Açorda
One of the region's most popular soup dishes, açorda is a herb-flavored broth soaked in slightly stale country bread and (sometimes) topped with an egg. Though this is the basic recipe, variations have developed that incorporate shrimp or a mix of shellfish. The texture of the açorda will vary, depending on the cook's preferences and the ingredients used.
Cozido
Cozido is as Portuguese as it gets (with the exception of cod), and in the Alentejo, some variety of this dish of boiled Portuguese sausages and vegetables almost always makes it to the dinner table. Cozido de grão, or chickpea stew, is one of the most representative of the Alentejo region.
Carne de porco à Alentejana
This dish is so popular that it made its way to Portuguese restaurants around the world. Made of marinated pork that is then pan-fried, with fried potatoes and clams all soaked in a spiced garlic-wine sauce – it may not be the most diet-friendly dish, but who's going to complain? This dish may have originated in the Algarve region but is named after the Alentejo because of where the pork meat is sourced.
Carneiro assado
Pork may be the most popular meat in the Alentejo but lamb isn't far behind. Roasted lamb is a delicious dish served with roasted or fried potatoes and a medley of vegetables.
Sopa de tomate Alentejana
Most food-lovers and vegetarians have heard of Spanish gazpacho, but what they may not know is that the Alentejo has developed its own style of gaspacho which is not puréed, as well as different varieties of hot tomato soups made with locally grown tomatoes.
Arroz de cabidela
Adventurous diners should opt for arroz de cabidela when it presents itself – this rice dish is made with chicken or game that is cooked in its own blood. And though it's already rich in flavor as is, it's commonly eaten with vinegar, which is incorporated into the sauce.
Porco preto
Porco preto (black pork) is an ingredient that finds its way into many recipes in the Alentejo. The pigs are grey and black in colour and raised to roam semi-freely, grazing primarily on acorns. Their diet is partially to credit for their tasty flavor and plenty of Alentejano dishes use pork made with cuts from this special variety of pig.
Sericaia
Desserts are never forgotten in Portugal and sericaia is a recipe that was developed by nuns in the town of Elvas. Soft and creamy, it is made with eggs and flavored with cinnamon and (sometimes) plums.
Barriga de freira com amêndoa
Barriga de freira is a pudding-like dessert that originated north of the Alentejo in central Portugal but is popular all over the country. The name translates to 'the nun's belly' and the pudding is made with eggs and sugar. In the Alentejo, however, it is flavored with the addition of amêndoa, or almonds, and therefore called barriga de freira com amêndoa (the nun's belly with almonds).