On the Road – Distance 110km / 68mi | Elevation 1445m / 4741ft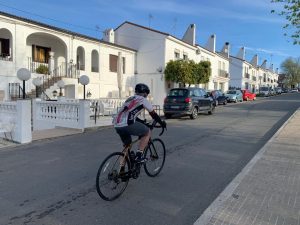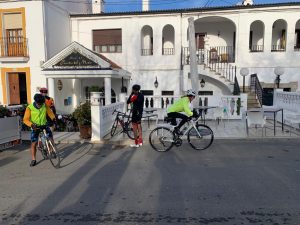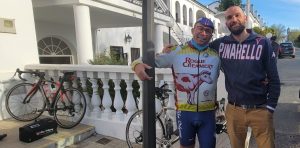 guides Bruno from France, Enrico from Italy, both huge on a bike!
A great morning's ride on a very quiet road lined by more cork trees, took us to the sleepy town of Guadalcanal where we joined a slightly bigger road as we rolled out of the national park and into Extremadura.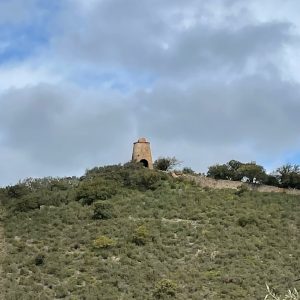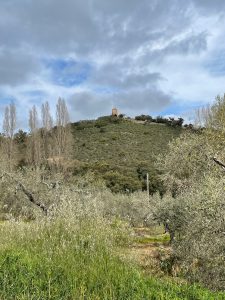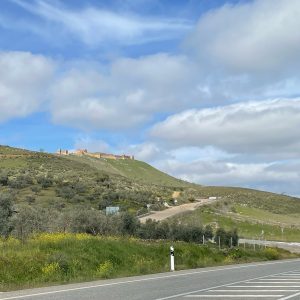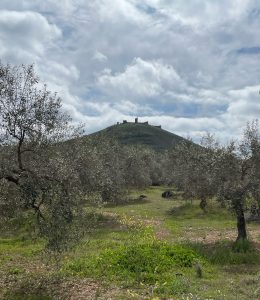 We looped around the Alcazaba de Reina, another castle of Moorish origins before heading to Fuente de Cantos for a traditional regional lunch of Chanfaina and other local delicacies.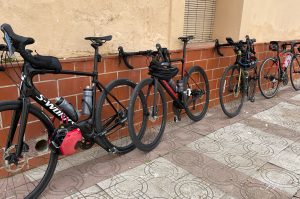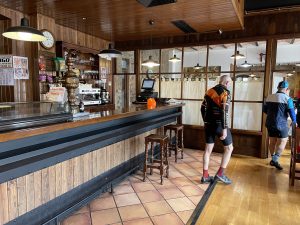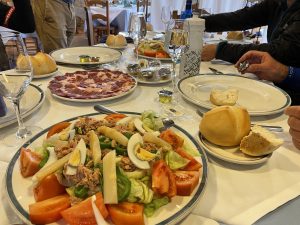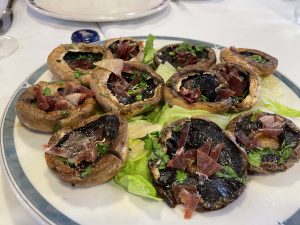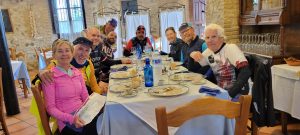 Spanish lunches are never small but with 25km and 200m of elevation to go to take us to our Parador we rolled in happily to Zafra – and sadly – our last stop in Spain!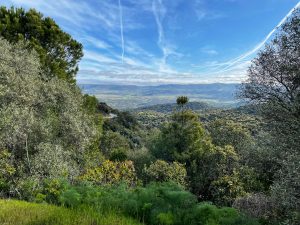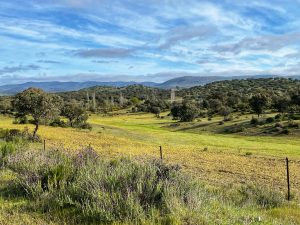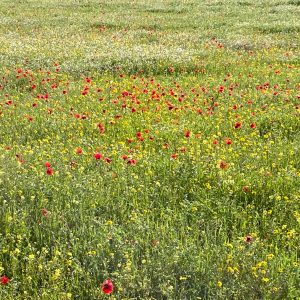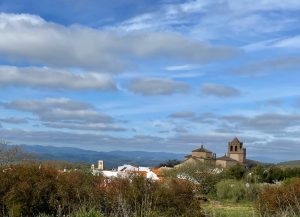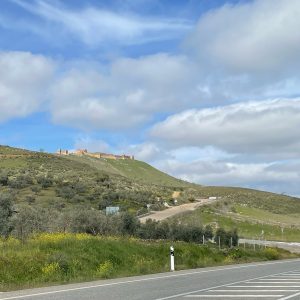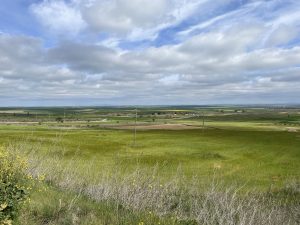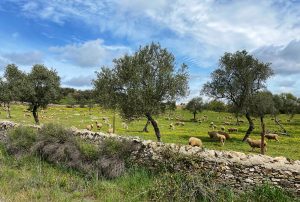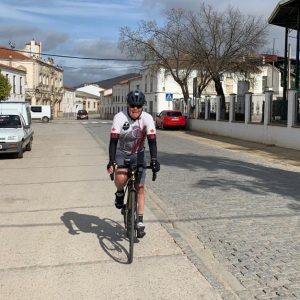 Looking for all the world like an Andalucian pueblo blanco (white village), gleaming-white Zafra is a serene, attractive stop, affectionately known as 'Sevilla la chica' ('the little Seville'). Zafra was originally a Muslim settlement. Its narrow streets are lined with baroque churches, old-fashioned shops, glassed-in balconies and trad­itional houses decorated with overflowing bougainvillea and hot-pink splashes of geraniums. The newer part of town isn't all that enthralling, but Zafra's historic core is a beauty and well worth an evening explore.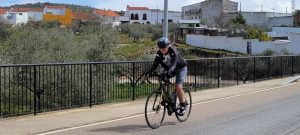 Staying in an old converted castle hotel tonight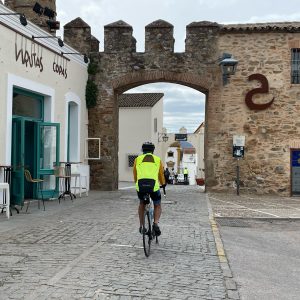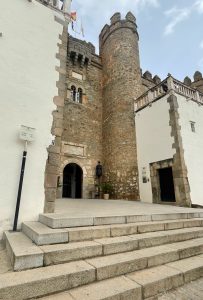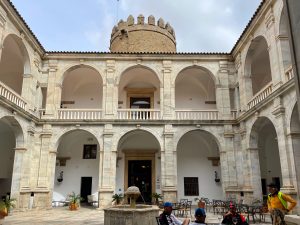 Any day on a bike is a good day, however today with its cold start and continuously nasty steep rollers and headwind, made it a 'taking care of business' transit day….maybe the km and climbing starting to take a toll?  And the hotel was nice enough to point us to the bar!…although the earlybirds always seem to find it!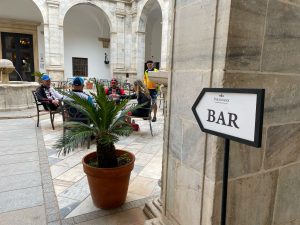 So it made me think of this old classic today!  https://youtu.be/0y-_WGjZgD8
Paradors and Pousadas…tonight we stay in our first, but it won't be our last! In 1926, King Alfonso XIII of Spain came up with the idea of restoring Spain's palaces, fortresses, convents and monasteries by converting them into hotels. He chose the site for the first parador in the Sierra de Gredos and there are now 86 paradores in the network of Paradores de Turismo de Espana.
The history of the pousadas in Portugal (the word comes from "pousar", meaning "to lodge at" or "to repose") is very similar. Established in the Forties, pousadas include castles, monasteries, palaces and some newer establishments. There are more than 60 (all sited in areas of historical significance or natural beauty, and intended to encourage interest in regional cuisine and architecture).
And of course we had dinner, you know, for a change lol…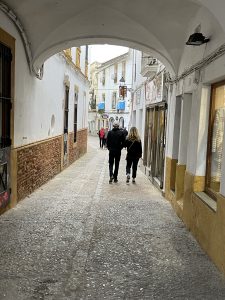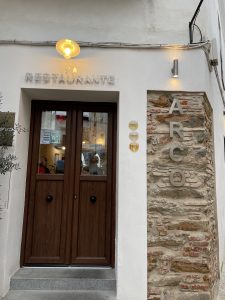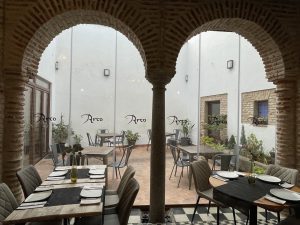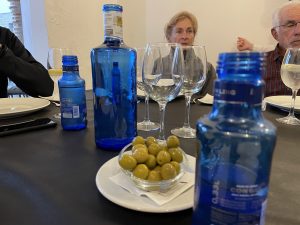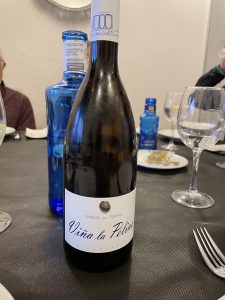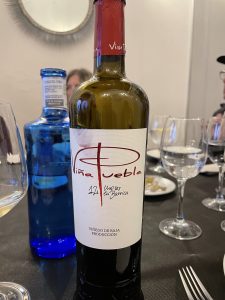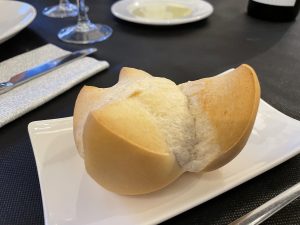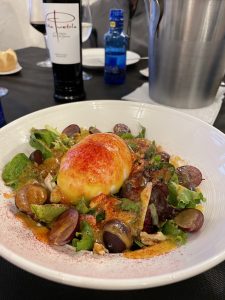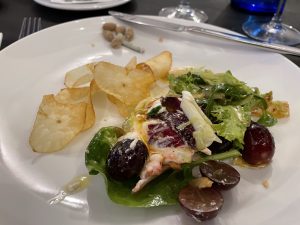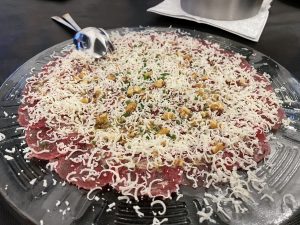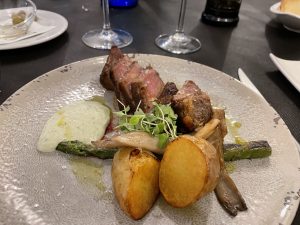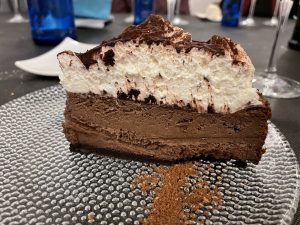 Great local wines a la sommelier Bruno, salad with traditional Spanish cheese, carpacchio, black pork, chocolate cheesecake.
And a little stroll into the Zaphra's main square where it was hopping tonight before the start of Holy Week tomorrow.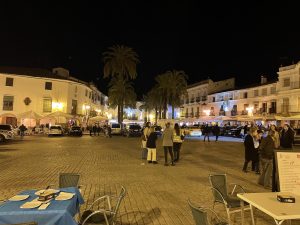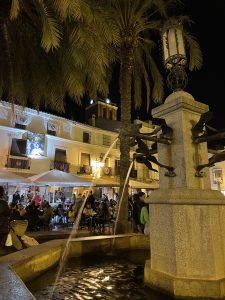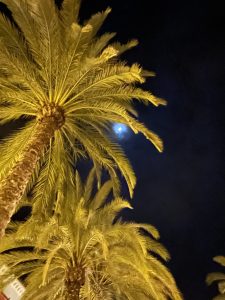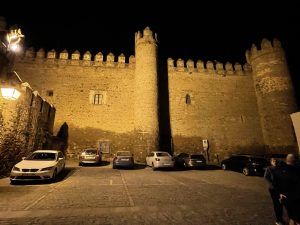 Our last evening in Spain…Buenos Noches!
Tonight a castle then into Portugal for a monastery and convent!