Last night's sunset over Granada…..another big day on the bike today!
On the Road – Distance 106km / 66mi | Elevation 1599m / 5246ft
A quick direct exit from Granada on some bike paths saw us quickly riding roads lined with yellow broom and olives with the Sierra Nevada receeding into the distance. We are now riding into the heart of Spain's olive growing district and for much of today they were visible as far as the eye can see – lucky they are such a beautiful tree! And in a lot of areas, canola was growing in between the trees, probably wild seed, but it was in full yellow bloom!
Please watch my Relive video here!: https://www.relive.cc/view/vMv8JJp2BP6
And the roads today, as has been the case in Spain, were just beautiful and while riding ,a song kept coming to mind and I sang and hummed it while fighting the incessant headwind! https://youtu.be/2Dsph5uikX0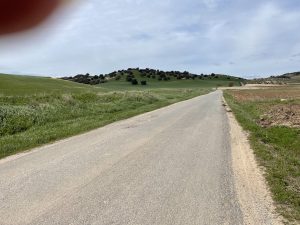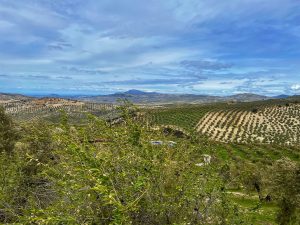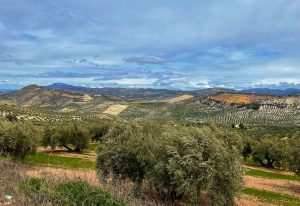 Today we had a late coffee and a little bonus @47.5km, for the castle climbing keen. Moclin sits above Tiena la Baja and there are two options here: a 5km @6% climb or a slightly shorter flatter (100m ascent) route around.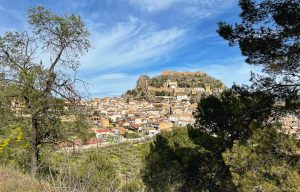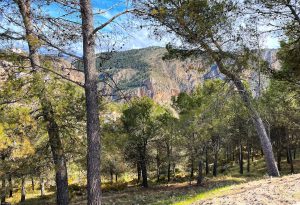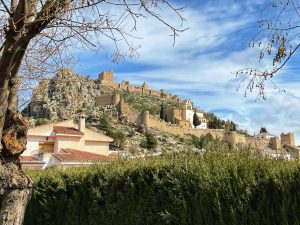 Without the climb you bypass coffee -a lovely castle and some great views. From here, despite the constant heavy headwind, we genuinely rolled  towards Montefrio, another strikingly beautiful town. A picnic lunch with the town as our backdrop was followed by the option to explore the tight streets and multiple monuments – a coffee, or at least a little rolling exploring in the town.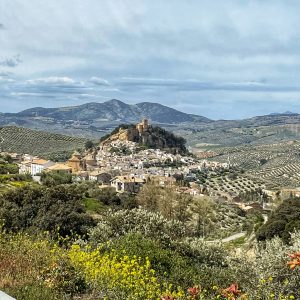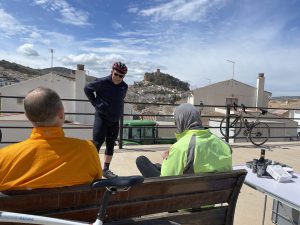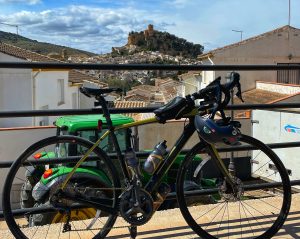 Riding on we had a wonderful 20km of cruising descent which finished in Priego de Cordoba,
This castle was built in the mid 13th century to help defend the Nasrid Kingdom of Granada. It is also known as the Hins Al-Muqlin – literally, the fortress of the two pupils. It was built to mark the frontier between the kingdoms of Granada and Castile.
The Castillo de Moclín was continuously besieged during the Hispano-Moorish settlement, falling into the hands of the Catholic Kings in 1486. It is purposely not symmetrical, as it was adapted to the jagged land it was built on.
Montefrio was selected by National Geographic in 2015 as being one of the best views in the world. It is a spectacular but luckily, still a sleepy agricultural village and the perfect place for lunch.
On top of the the rocky outcrop is the Iglesia de la Villa, which was well worth the steep climb from town to visit it and enjoy the magnificent panoramic views that often feature in the region's guidebooks and posters. The church was built on the site of a Nasrid castle. In a key strategic location, the Alcazaba(at La Alhambra) was constructed in the mid-14th century to help defend the Muslim kingdom of Granada and prevent an invasion by the Christians. It is believed to have been designed by the same architect who was in charge of the Alhambra. There was also a watchtower on the castle hill, which formed part of an extremely effective network of lookout posts used to stand guard over important routes over Granada's vega (plain).
After conquering Montefrío in 1486, the Catholic Monarchs ordered the castle to be demolished and the church built in its place. The architect Diego de Siloé later became involved in the church's design, which has Mudéjar, Gothic and Renaissance features. You can see ruined sections of the castle walls around the church. Although the church no longer holds services, there is a small history museum inside it, the Centro de Intepretación La Centinela, with interactive displays on the former castle, the church and the conflict between the Muslims and the Christians in 15th-century Granada.
Down in the centre of town is the pantheon-style Iglesia de la Encarnación, which has a huge domed roof and was designed in the 18th century by the acclaimed neoclassical architect Ventura Rodríguez.
***DON'T LEAVE YET!***
More on the Grupetto!! …and the names were not changed to protect the innocence because they are not!!
5. Adrian...is one of two riders to join our group, as he started in Almeria Spain, missing the Morocco leg. Adrian is married and lives in Wisconsin, is a retired technologist with 22 yr experience in manufacturing, product marketing. He held busines general management positions with Apple and Cisco Systems (although he prefers Samsung over iPhone ha ha). He is a roadie and has  twice cycled across America from San Diego to St. Augustine Fl, the Japan Epic and his latest was riding from London to Rome. He has never been to Spain or Portugal and Othello came calling! It is great to finally meet Adrian, we had initially planned to room together on this trip but Covid got in the way. Lot of fun to be with, and he loves to take photos just like me.  Welcome aboard the Marrakesh Express Adrian!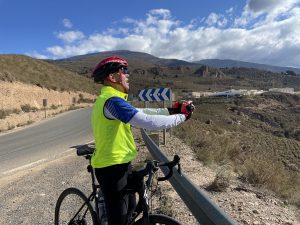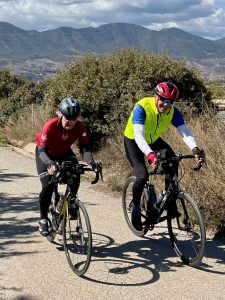 .
6. Brent…also just joined  us in Almeria, however Brent rode the Morocco leg of Othello last November and is back to finish the whole trip(last year, only the Morocco leg was run). Brent was raised in Idaho, a graduate of Harward Law, practiced law in Boulder Colorado and now lives in Salt Lake City. He is a climber, and I don't mean on a bicycle! He climbs mountains for fun, all over the world…has summited the highest peak on all 7 continents!!!…HELLO!!…he's a pretty decent rider too, he prefers mostly mountain biking. His climbing exploits started in the early 1980's, climbing every weekend if he could. This guy is for real! Lots of fun to be around, enjoys a good beer and I look forward to riding to Porto with him! Welcome aboard the Marrakesh Express Bob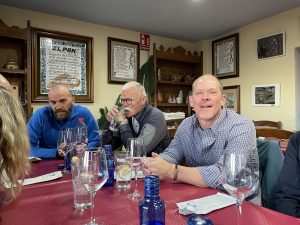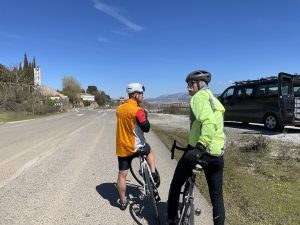 Brent in the middle left and in  the yellow jacket on the right….Mike Holmes, I mean Bob, in both lol
7. Bob, lives in New Hampshire.  Bob is one of youngest in our group. A graduate of North Carolina State University(go Wolfpack!), he served in the US Military Armored Division, in the Gulf War,  he went on to found a very successful financial business from which he retired a year ago. He is an avid mountain biker par excellence and also suffers from vertigo and so is not partial to heights, to put it mildly! But he is one of the top 3 riders in our group! with exceptional climbing and sprinting ability! His athletic and cycling exploits include  NCAA intercollegiate wrestling,  mutliple triathalons, 8 Ironman completions including 2 Canadian Ironman competitions in Mont Tremblant QC, qualifier for the Xterra World Championships for mountain biking. Bob spends as much time mountain biking in Arizona, New Mexico and Utah if he is not home with his wife and 2 daughters. Sadly, Bob is leaving us in a couple days when we reach Cordoba…he will be missed!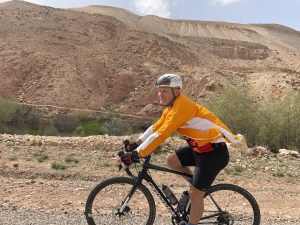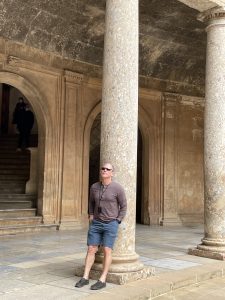 He doesn't think so but if 'Holmes on Homes' host Mike Holmes has a doppelganger, it is Bob!  Great meeting you Bob and maybe we will meet up again.!
The Marrakesh Express pulls out the station tomorrow with destination Cordoba!
Ciao