Watch my Relive video here!: https://www.relive.cc/view/v1OwQAMyjEq
It is no wonder why Queen Eleanor and son Richard Lionheart loved this region of Acquitaine and fought fiercely to keep it in the British realm. It is a fertile and beautiful country of rolling hills, and made for an idyllic ride today.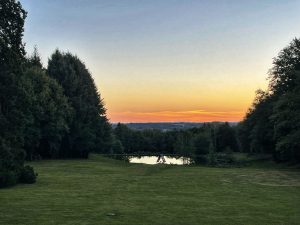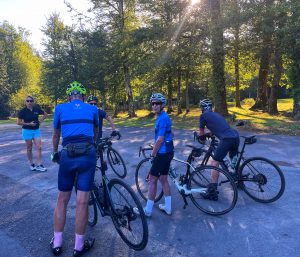 Edmonton Jim brings it big everyday!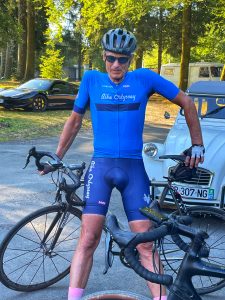 We rode a loop out of our  chateau Saint Martin in Limoges, or as Canadians might say, an ootenback. It was 97 km and so picturesque we hardly felt the 8% climbs or the 4,947ft of climbing!
Check this video clip: FullSizeRender
Four days not this trip I rode the famous Sella Ronda loop in the Italian Dolomites high mountains, one f the world's finest rides with its mountain passes…today we rode most of what is just as memorable but different, La Route Richard Coeur de Lion. This took us through rolling French countryside with lots of history. The route is actually the defensive line that Richard formed when he was Duke of Acquitaine. It is marked by special road signs of a crowned lion with its heart pierced by an arrow. ( more on that below).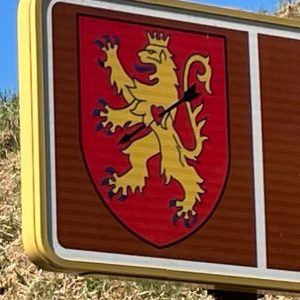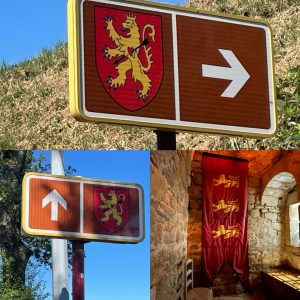 Author/historian Arthur Young described this part of Aquitaine the following: "I prefer Limousin more than any other province in France….the beauty of Limousin does not depend on any one particular aspect but the combination of many. Hills, forests, hedgerows, rivers, lakes, scattered farms form a thousand delicious landscapes that beautify the countryside".
Check this video clip: FullSizeRender
Gentle rollout down to the River Vienne and from there we were on small beautiful roads with great views and many hilltop castles. Scenery here has probably not changed since the 12th century.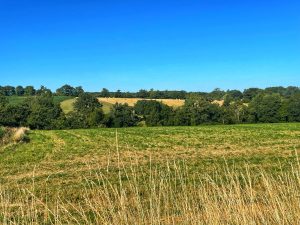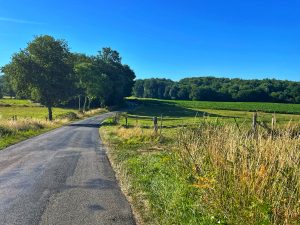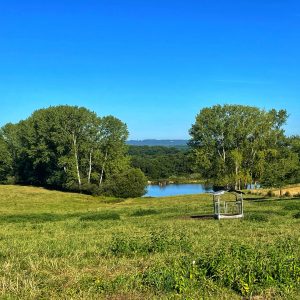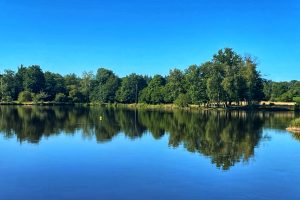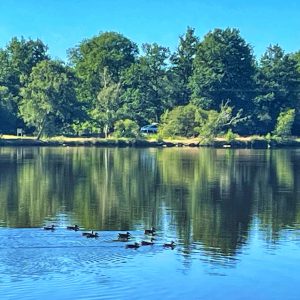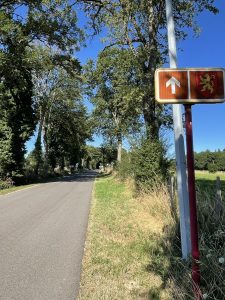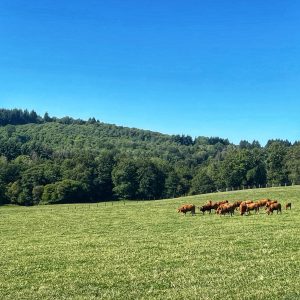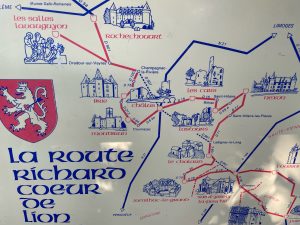 Two notable Castles were in the village of  Lastours…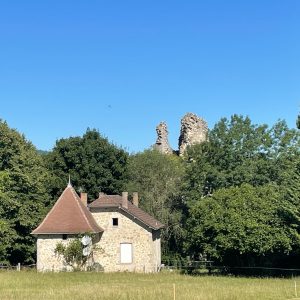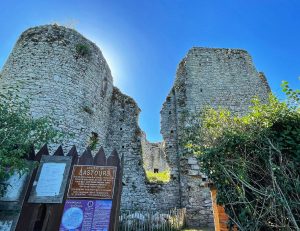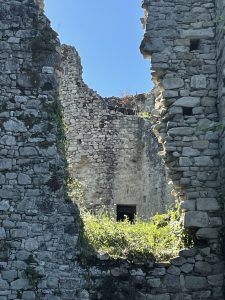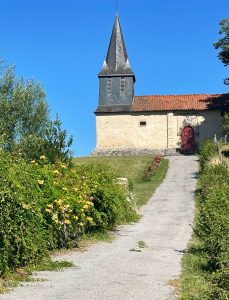 and in Chalus. This castle is famous because it is here that Richard was severely wounded by an errant crossbow arrow in the clavicle accidentally by one his own men.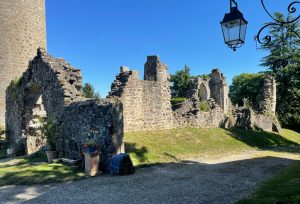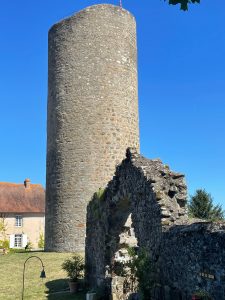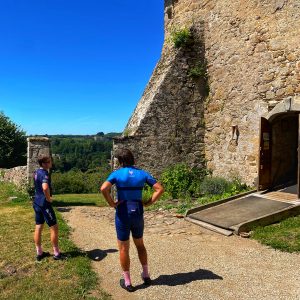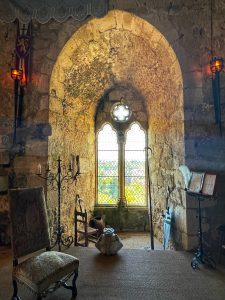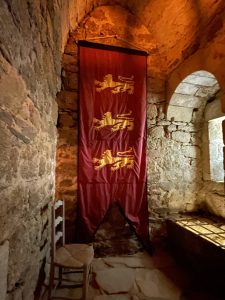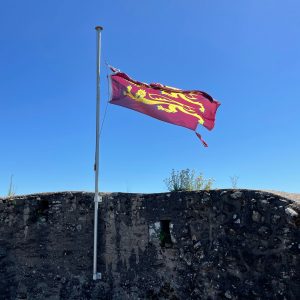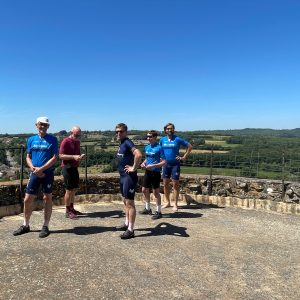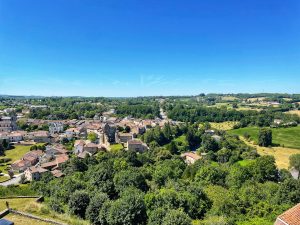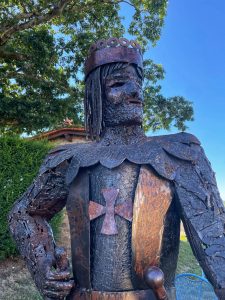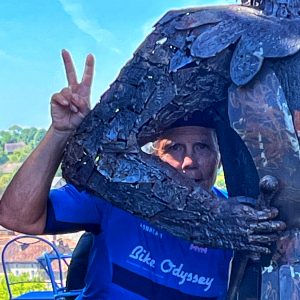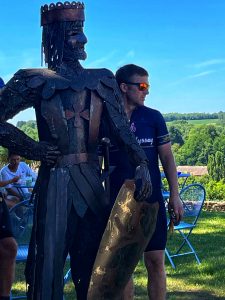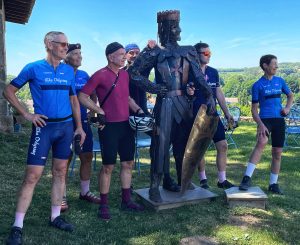 It is reported that on his death bed two days later that he told his superior officers to  "spare that man's life as he is a good shot"….they disregard him and later executed the soldier.
The Limousin area of the Acquitaine has been fought over for centuries by English and French Kings, each wanting to extend their empires not this fertile land.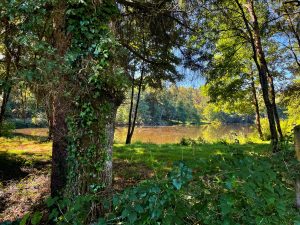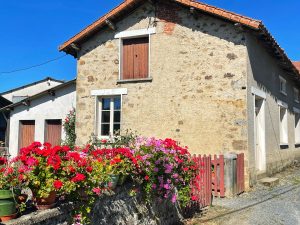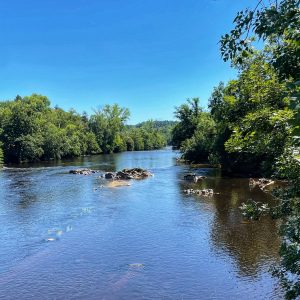 Check this video clip: IMG_5001  and this one: IMG_5002
Lunch was a typical Bike Odyssey picnic…All fresh ingredients made on site, not pre-packaged…today was mixed greens salad with pears and tomatoes, and a couscous with cucumbers and figs. Fortunately  Marjolein set up in a shady area because temperatures hovered around 40C. Ice cold drinks to go with lunch were very welcomed! 
Watch this video clip: IMG_5004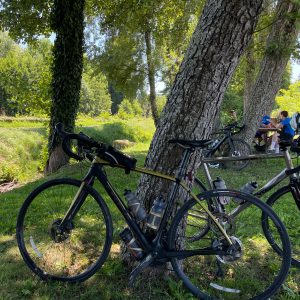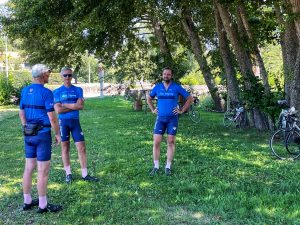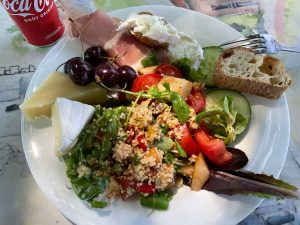 watch this video clip: IMG_5003
Back to the chateau where we all dove in the outdoor pool to cool off after a hot day, followed y dinner I the hotel' Michelin Star restaurant
Watch this video clip: IMG_5005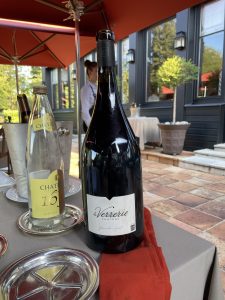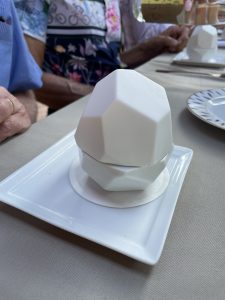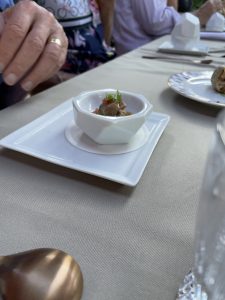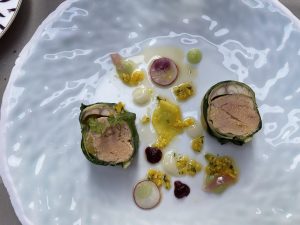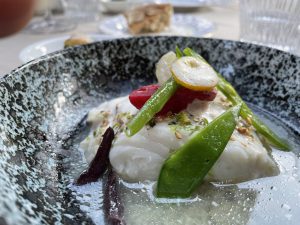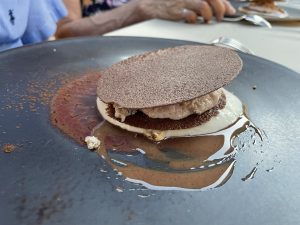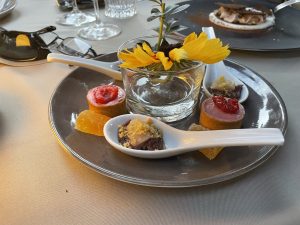 Life is good in Limoges in the Limousine region of the Acquitaine!