Was it for a moments pleasure
That brought me to your door
Was it for your darkest treasure
Could I have loved you more
– from Boz Scagg's song "Moments"
G'day from Tasmania, aka UnderDownunder!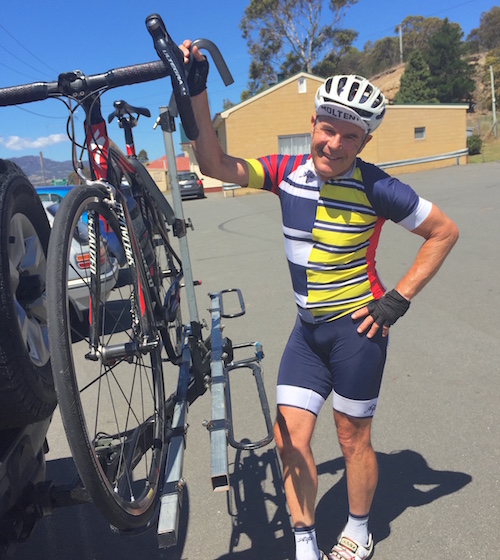 Is three really the number? Yes, that's right. It's only three months now to the day until the inaugural Bike Odyssey UnderDownunder Tour kicks off in Hobart. And what a day that will be!
This tour has been over a year now in the planning, and much longer in its conception. I first started thinking about a tour of Australia's southernmost state when Dianne and I were riding our bikes across Australia back in 2015. Lucky for me that Captain Samwise, the head honcho of Bike Odyssey had similar notions. In between my early musings and making the deal with Sam to get this enterprise up and running I ran into a road rat named Wayne in Europe who constantly picked my brain over a three week tour about riding in Tasmania. His enthusiasm for coming and riding here was a significant kick along in the gestation of this tour.
For anyone who's been following my scribbling – well, it's really tapping these days – it is clear that I love Tasmania, and I especially love riding my bike here. There is so much diversity in our state, which is about the same size as Sri Lanka, a little smaller than (greater) Ireland and about 2 ½ the size of Sicily. We're a hilly land, and our roads take "many a winding turn" – which of course means that the views are constantly changing.
To celebrate another month's passing and another month nearer to the tour kicking off I thought I'd share some recent riding images. We are actually in a bit of a funk at the moment because we're having an unusual spell of easterly weather, which is bringing rain and cold southerly winds to Hobart. Consequently, we've developed an escape plan which we're going to hatch early tomorrow morning by setting off to the west for a few days of (maybe) sunshine. It's been a couple of days now since we've been on the bikes and it's time to get the wheels spinning again!
In the meantime, here are a few pictures I hope will stir the interest of any prospective UnderDownunder Tourers, and whet the appetites of any of you who have taken the plunge of being a pioneer on the inaugural tour.
First up is the quirky little Tinderbox Vineyard, a sweet spot that looks across to the northern end of Bruny Island and which is spotted on the Tinderbox extension of the famous Commando Course south of Hobart: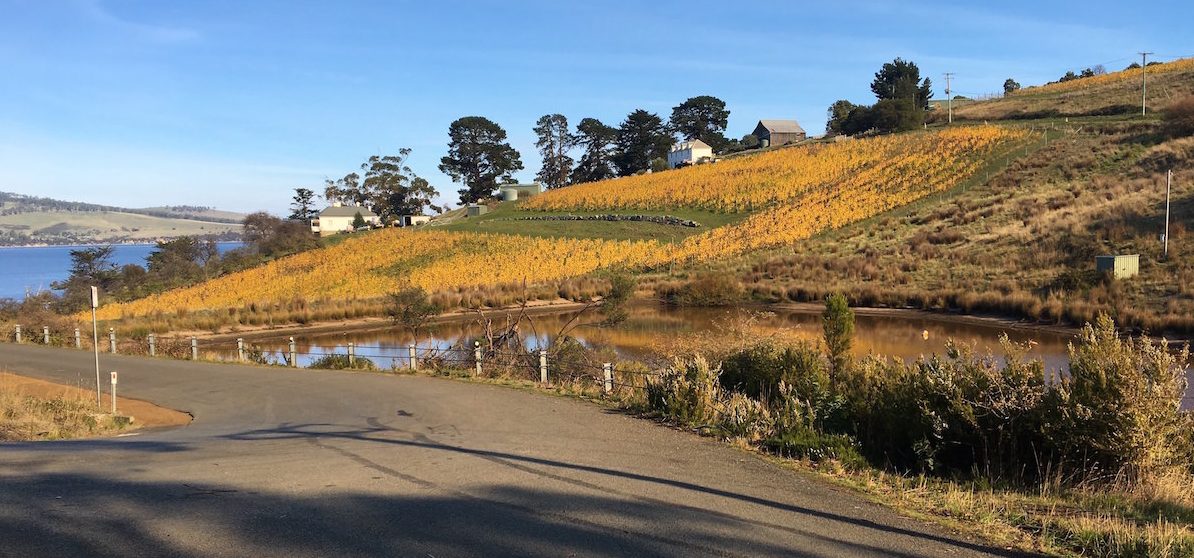 A gorgeous place for riding is alongside the Derwent River and up towards Bushy Park. In Tasmania's cultural roots – and especially footy folklore – the Derwent Valley was regularly referred to as the "Valley of Love", and that's the way I like it (uh huh, uh huh). Maybe this image, with its overtones of fertility gives hints of why that is so: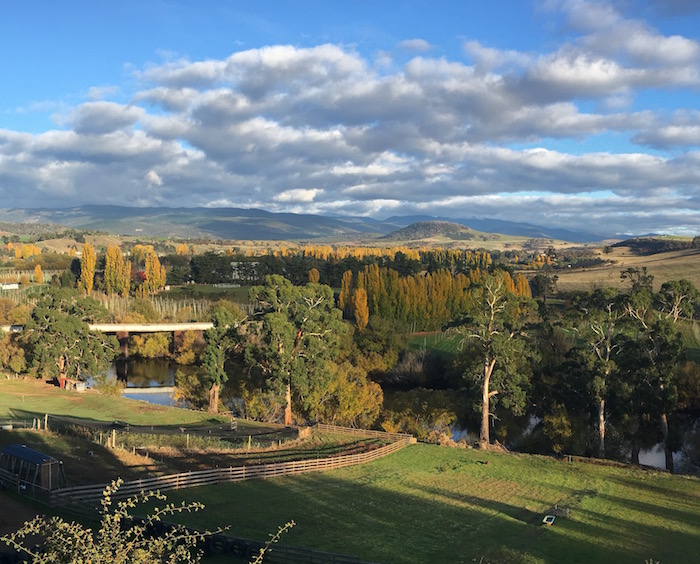 At the start of this post I inserted the opening lines from the title track of Boz Scaggs "Moments" album. In my book, one of the things that makes cycling special is the unexpected roadside discoveries one encounters. Here's a picture of a mailbox adornment beside the road just past Malbina on the way to Molesworth: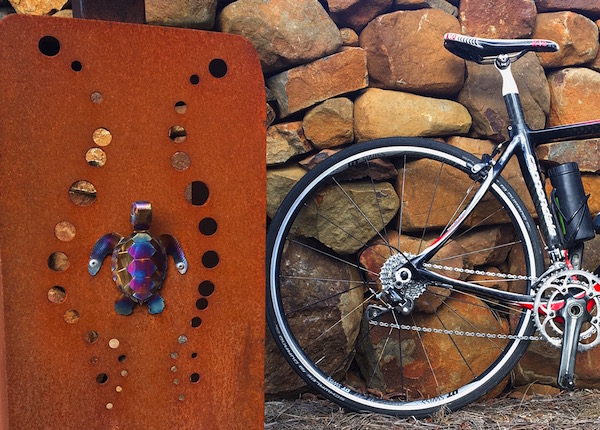 We were riding along the same road and a moment of clarity came upon us as we passed the Molesworth Cemetery. A reminder that none of us lives forever, and we need to enjoy every moment. A rainbow helped reinforce the message: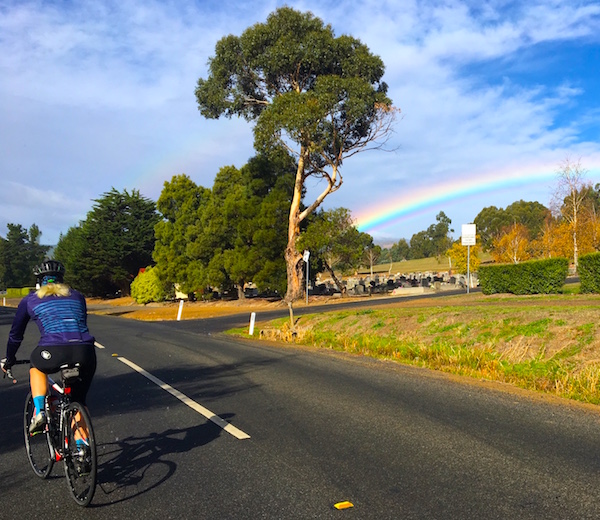 Of course the main thing about riding a bike is that sense of having the miles pass under one's tyres with beauty luring one onward. Here's an image that I think helps capture that feeling: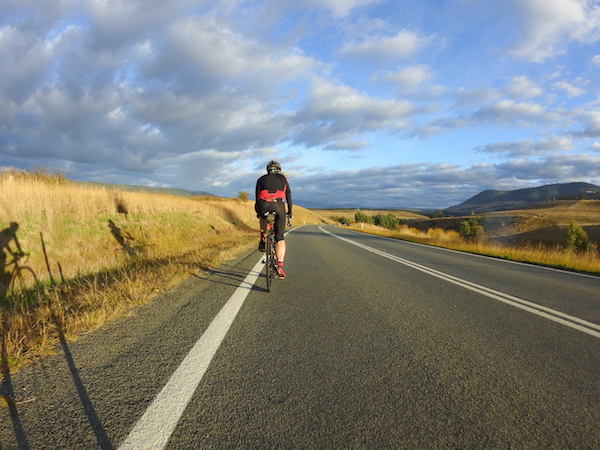 One thing Tasmania is famous for is the mythical Southwest Wilderness. There's a great ride that takes you deeeeep into this part of the state. It's a hard ride. The road is pretty dead and around every corner is another hill. But the views – and the sense of isolation – are magnificent. At the end of the pavement is the brilliant Lake Pedder and a lodge where you will eat, drink and sleep well if you ever venture out this way. Long before you get to the end you come to this spot – but don't be fooled into thinking it's all downhill from here: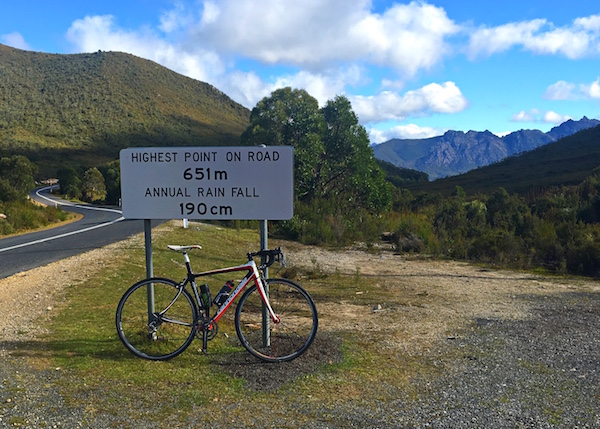 So. A reminder. The inaugural Bike Odyssey tour kicks off in just three months. It's going to be epic. We're looking forward to having you with us if you've already booked. If you haven't, but have the time free, we'd love you to join us. At the moment we've got a Brit, a few Americans and a bunch of Aussies from the North Island on board. It would be great to have a few more to help us kick off this inaugural tour. But, iff it's not possible for you to make it this time around, put UnderDownunder on your bucket list. The food is fantastic, the wine is wonderful, but what you'll rave about, what will ravish you more than anything is the riding, the riding, the riding!