… of months, to the day, until the inaugural Tasmania – UnderDownunder tour kicks off. It's going to be a great tour: memorable for the riding, the scenery, the fantastic food and superb wine. But there is something else that is quite special about Tasmania, and that's the wildlife.
Tasmania's Unique Wildlife
Tasmania – unlike the big island to the north – does not have foxes, which were introduced to Australia from England by misguided British gentry who wanted to hunt them. Therefore  a lot more of our native wildlife is still present and to be seen. Foxes are particularly deadly to small, delightful, ground-dwelling marsupials. A number of them that have been erased from mainland Australia are still thriving in Tasmania. One is the Eastern Quoll, a gorgeous little carnivore. (The good news is that it is being reintroduced to mainland Australia this year.) Check out this video to see what it's like. There are a number of other mammals found only in Tasmania, the most famous of which is of course the Tasmanian Devil. However, my focus for this blog post is something else …
Cycling … for the Birds!
One of the most memorable days I've ever had on the bike was about a quarter of a century ago. Dianne and I were riding the rigid mountain bikes we'd brought home from Canada. (We'd taken time off from our jobs to be totally irresponsible and  spent thirteen months in Canada and the USA  to hike, ski, climb and ride, but that's a different story.) A particular image from that day is still burning bright in the central synapses of my brain and I can evoke immediately.
We were cruising along a dirt road in southeast Tasmania, near Nugent, on a long swooping descent. (UnderDownunder will go right through this particular spot on the only shuttle of the tour because this section of dirt is just a little too long for skinny tires.) There was that beautiful, mottling of light that occurs when you're riding in and out of patches of sun and shade. It was just wonderful, suddenly made more wonderful when a small group of Eastern Rosellas joined the fun, darting along just in front and alongside, streaking through the trees and above the road in front of me. It was one of the first times I can remember being really appreciative of the birds around me, marvelling at their beauty and grace – and, seemingly, their sense of joy in what they were up to.
Tasmania has twelve endemic bird species (the Eastern Rosella isn't one of them) and a few other subspecies found only here. We hope that you will catch a glimpse of most of these, but can guarantee that you will see at least a few of them. For some of the others, there is a good chance that you will spot them if you are patient and on the lookout in the right places. Unfortunately, a few of the others are very rare or endangered – like the Forty-Spotted Pardalote – so it's most unlikely to catch a glimpse of them.
Four Frequently Seen Tasmanian Endemic Birds
Thankfully, we do have some birds you can't see anywhere else on the planet which are widespread are readily visible. On the day we leave Hobart – or even on the warm-up ride to MONA – you will almost certainly see some Tasmanian Native Hens. Although I don't remember hearing this expression before, apparently they are also know as "Turbo Chooks". This video explains why. In any case, they are widespread and you're likely to see them on many days of our tour around the state. Here's what they look like …
That beady red eye is pretty distinctive, isn't it?
A bird that is more common at higher elevations than anywhere else is the Black Currawong, although it does descend to lower elevations at times. We will most certainly see these at Cradle Mountain – if not earlier. It has a wonderful call, quite haunting and melodious when there is mist around. It's completely black apart from small patches of white at its wingtips.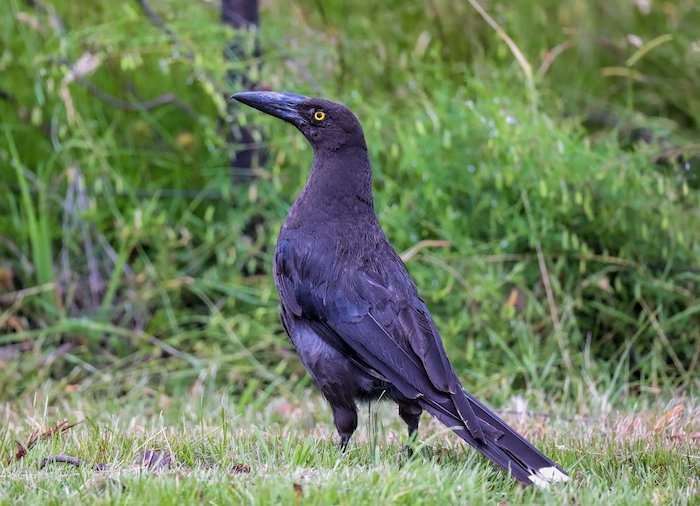 Both of those afore-mentioned birds are reasonably large. Much smaller is the Tasmanian Thornbill. It likes a wet environment: rainforests, wet schlerophyl forests and wet scrub. It is spread widely across Tasmania and you could well see some – if you look closely enough – particularly when we're passing through the southwest or on Bruny Island. It's a beautiful little bird that flits about in the bush.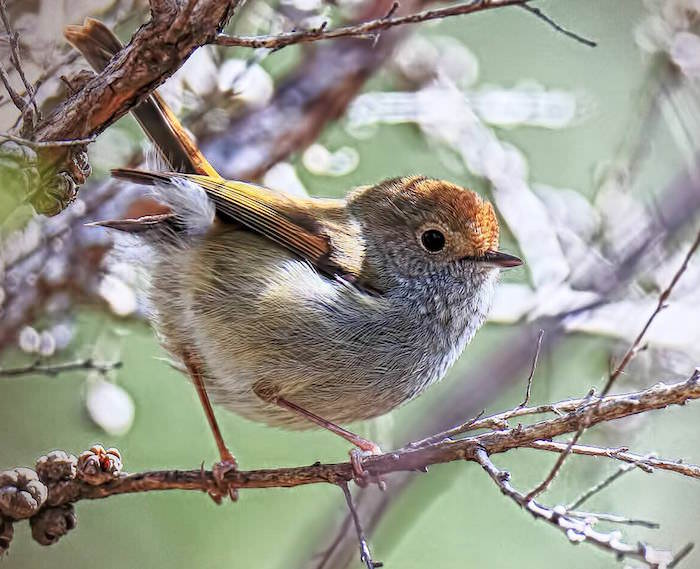 It's a little-known fact that Australia's largest honeyeater – the Yellow wattlebird – is found only in Tasmania. It's very widespread indeed. Most people who live somewhere with a bit of bush around and grow some nectar yielding native plants in their gardens will get visits from these quirky-looking creatures. (We've had visits already this Spring from common wattlebirds, but not the Yellow wattlebirds yet.) These large honeyeaters are widespread in the eastern two-thirds of the island. There could be some food for them in Freycinet National Park while we are there, so perhaps you will see them if you take in one of the walks on offer.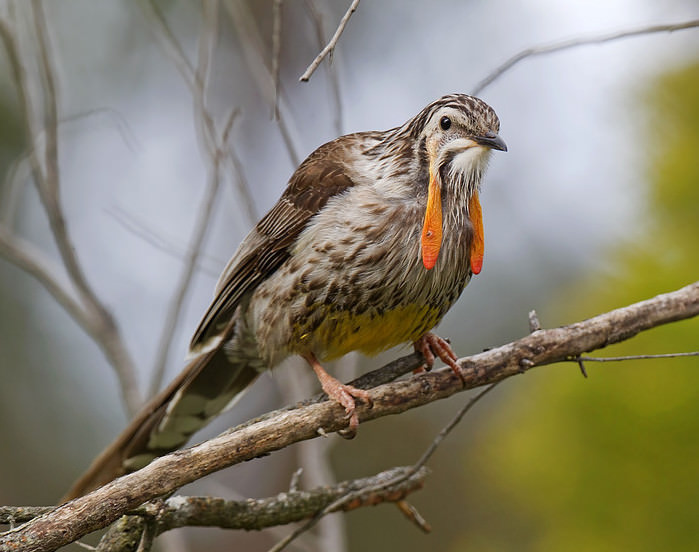 Finally, I hope you get one of those magic moments when a small flock of parrots swoop along with you as you're riding. We look forward to sharing the experience with you!