There was no blog post yesterday because WiFi at our hotel was woeful. Consequently, I've got two days crammed into one post, so I will try not to bang on too much and just give you the nitty gritty.
Vézelay to Château les Muids
Stats at a glance ~
distance: 165 kilometres
total ascent: ~ 1250 metres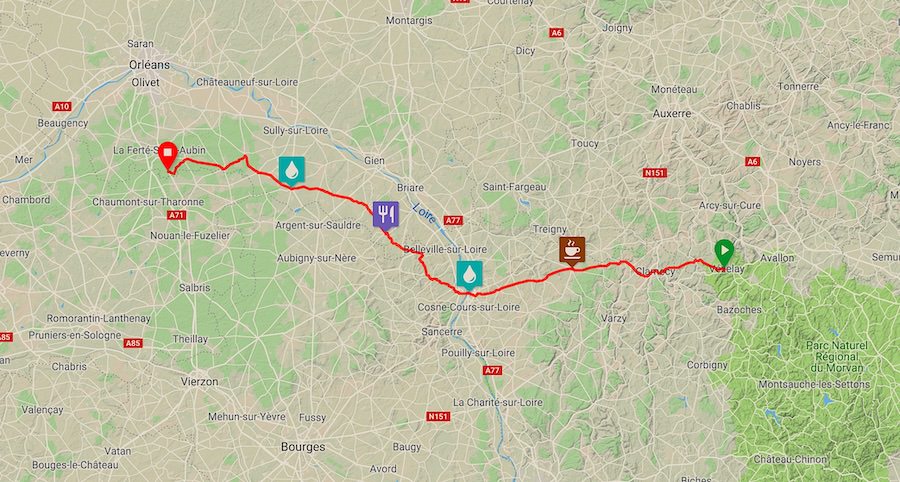 With a big day in the saddle ahead of us, Dianne and I wanted to build some momentum and didn't stop – apart from needing to pull over to put her chain back on a couple of times – until we got to morning snacks, where Francesca once again had done a great job of preparing delectables for us to consume …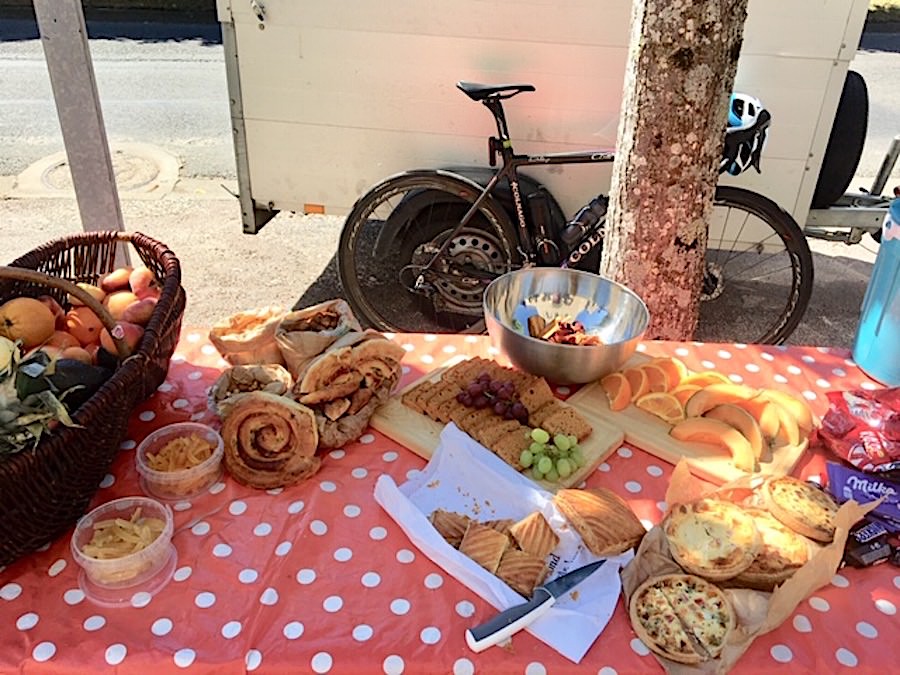 The middle of the ride became a lot more interesting and we were making good time so we started stopping for photos here and there. This set of flower boxes caught my eye …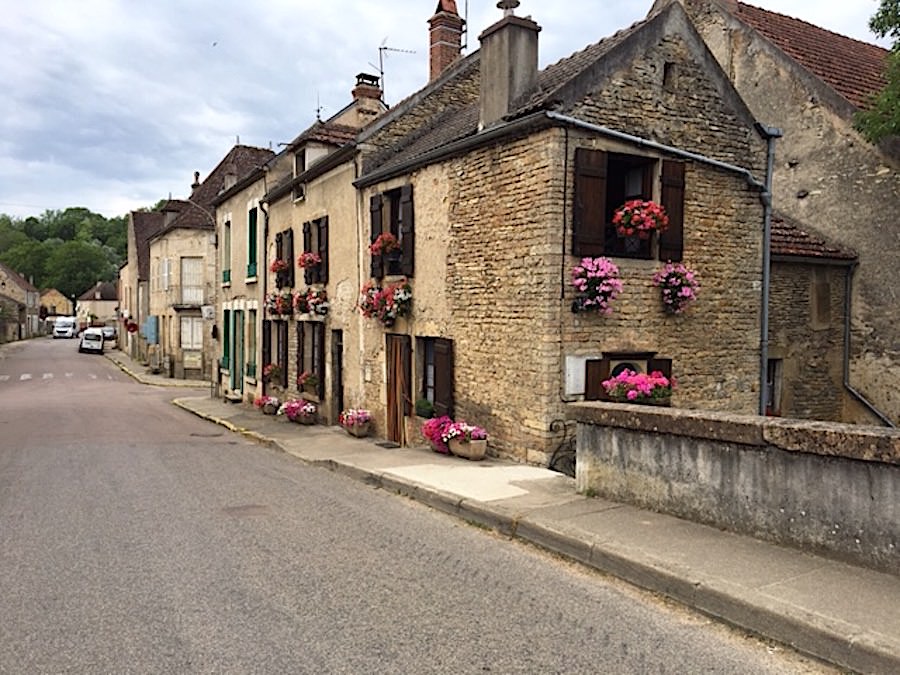 … as did these cornflowers on the edge of a wheat field …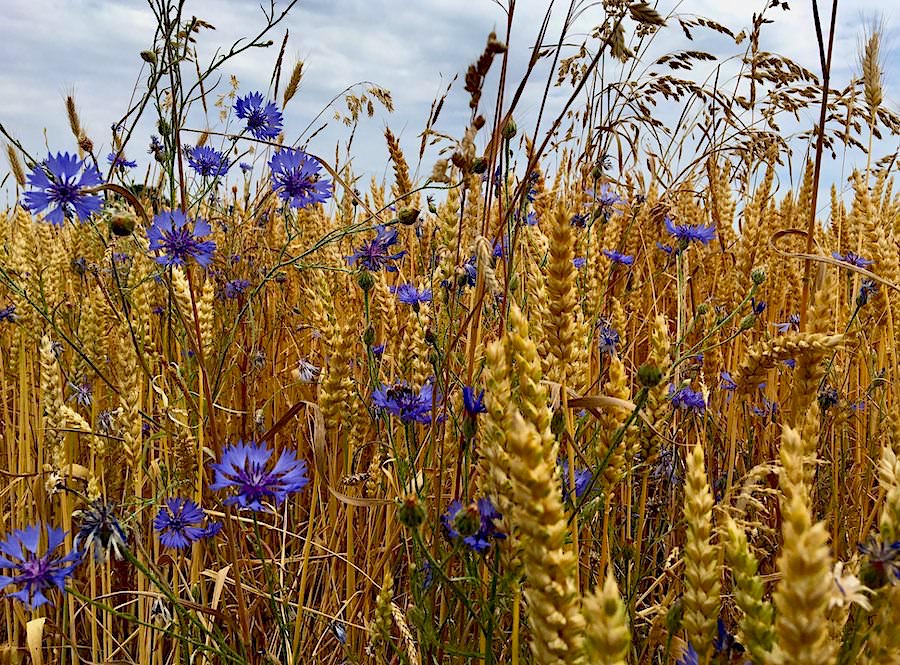 At a crossroads in a small village this well and house behind looked kind of cool …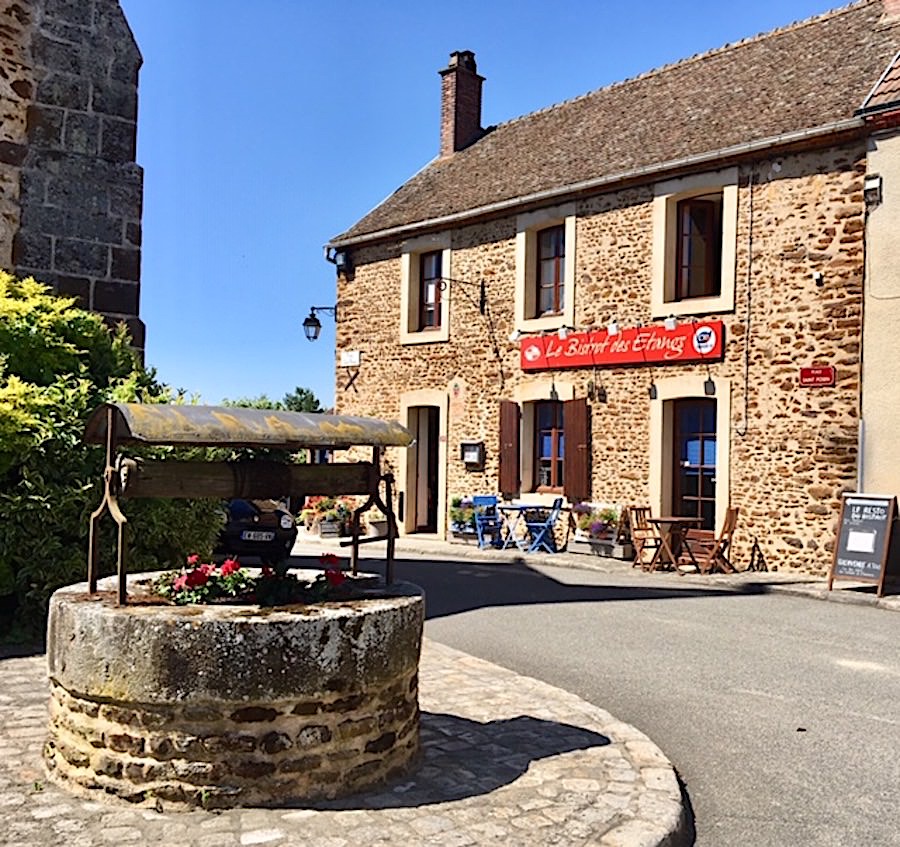 We passed quite a grand residence, where a sign indicated that it had become a hotel, but I didn't see any sign of activity …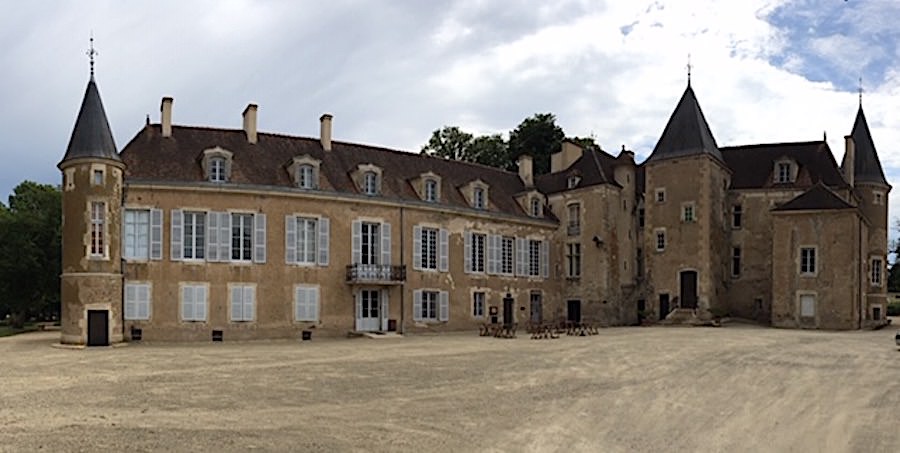 Crossing a bridge over a small river provided a lovely view …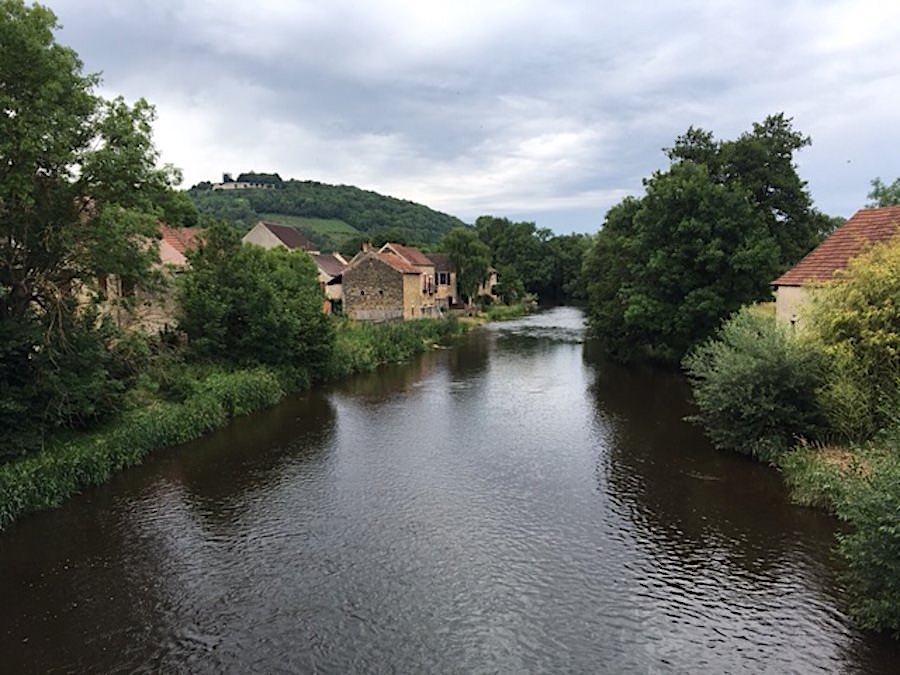 Further on, Château de Flée, a very imposing property, was undergoing extensive renovations …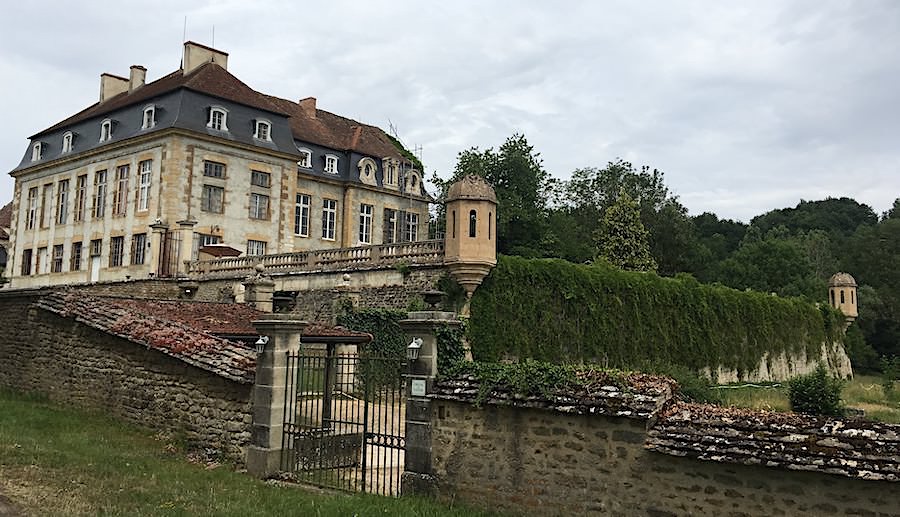 I have one more photo along this day's ride where Di and I did the little diversion into a town square (sometimes these are necessary due to one way roads, sometimes they seem to be put in just to add a little bit of architectural interest to our rides) …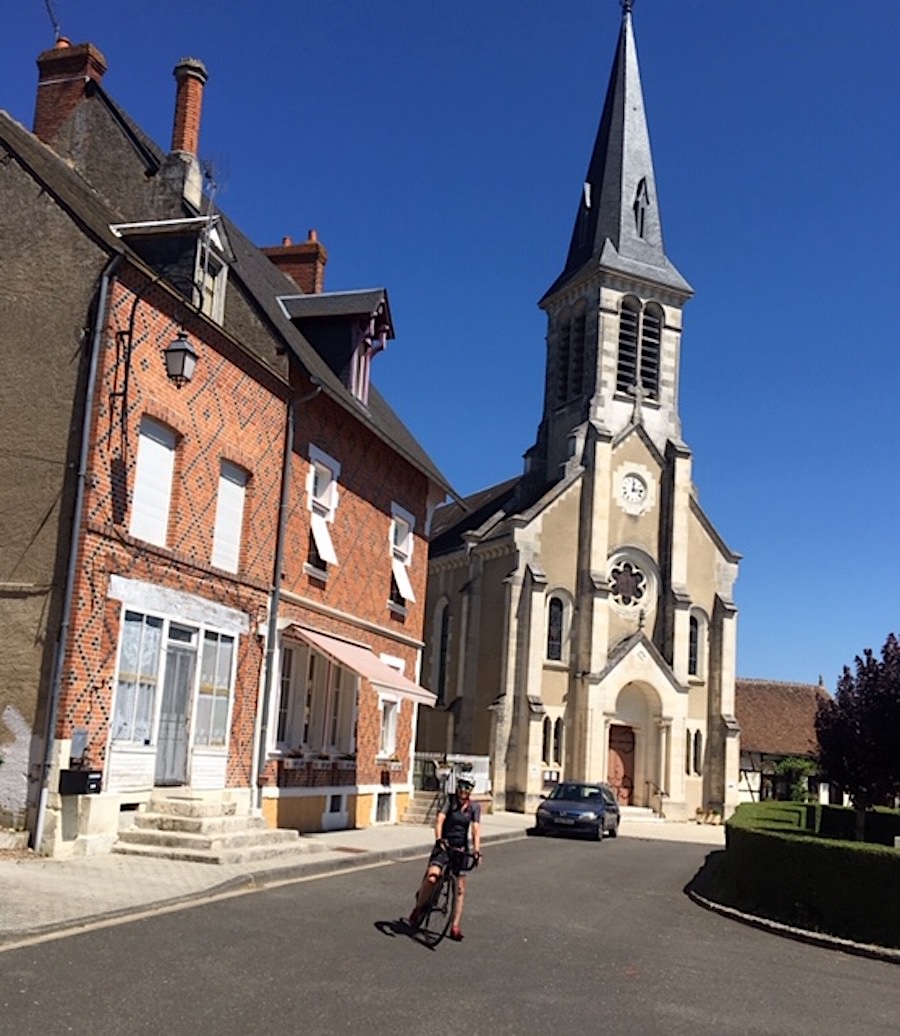 While the middle part of the route held quite a lot of interest, the last part – like the first – was not so engaging. I was quite surprised really, imagining that riding in the Loire Valley would be full of bucolic images of lush fields and vineyards. As it turned out we were riding through an extensive area of what looked like regrowth forest where, apparently, French nobility in centuries past would come to hunt. For me at least it really became a bit of a transition section: get it done, get to the hotel and put the legs up.
Our accommodation for the night was the Château les Muids, quite a lovely old abbey that has been turned into a hotel. Here's a photo of Francesca pouring aperitifs to celebrate our longest day in the saddle for the tour …
A couple of points are worth mentioning before I finish with this day. Firstly, Michael and Louise were very pleased the receive the benefits of an extensive tow from Bruno, the Stallion of Provence for much of the last section of the ride, where mostly flat terrain made it a bit easier to hang on. They really enjoyed putting in the bit of extra effort to stay on the strong man's wheel, and the prospect of getting to the hotel and a cold drink that much sooner. Also, for at least three of our riders it was the farthest they'd ridden in a day, which made for a nice bonus.
Château le Muids to Amboise
The day's stats at a glance ~
distance: 104 kilometres
total ascent: about 550 metres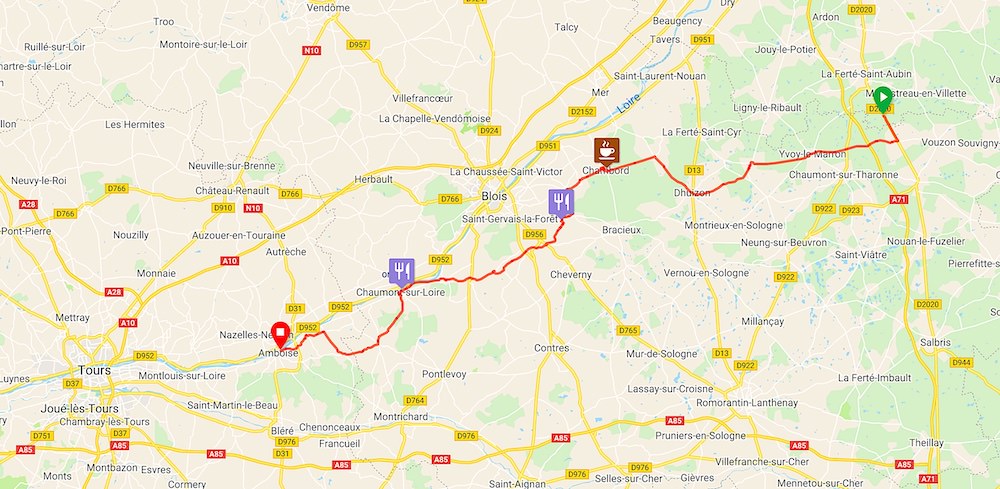 Our second last day on Lionheart 2019 looked like a real treat. Although it was good to get an Imperial Century done yesterday, it was also good to follow it with quite a flat Metric Century. This meant that we didn't have to spend a lot of time out in the heat of the afternoon.
Members of the group came down and started getting ready …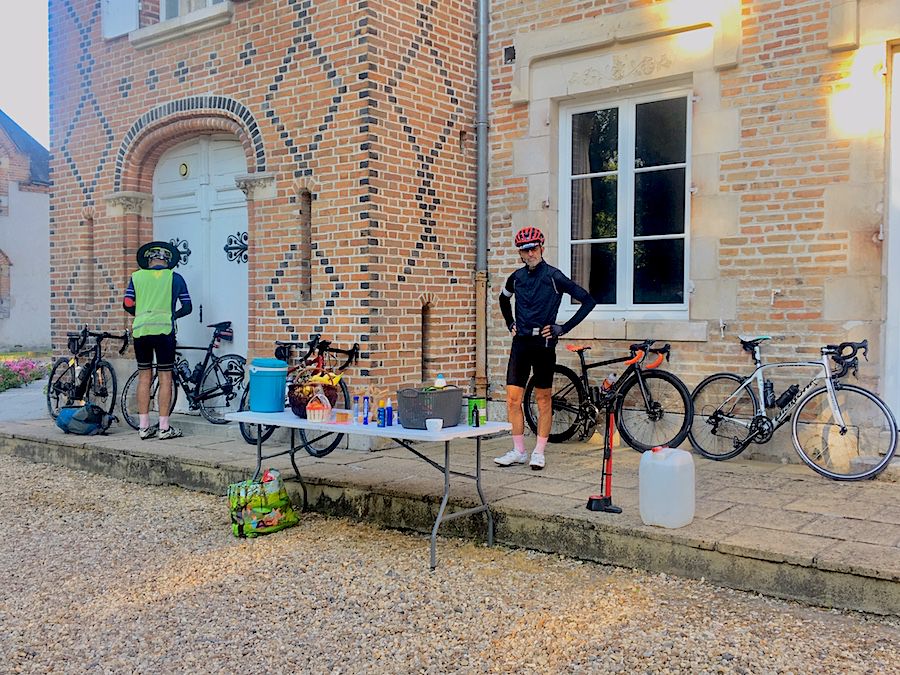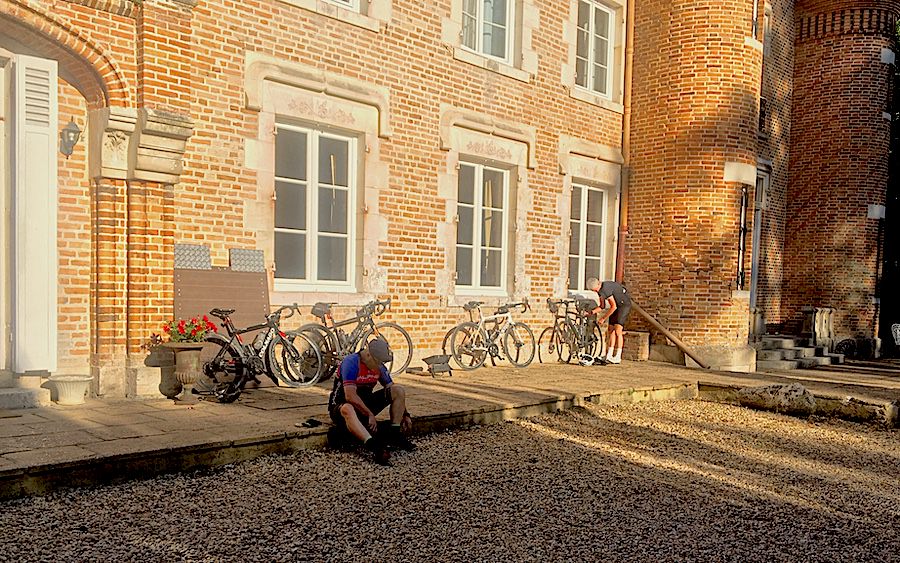 We had about three kilometres on a busier road before exiting to the sort of quiet byway we were on most of yesterday. I found the first 20 kilometres pleasant enough: the flat riding in cooler conditions was easy but a bit featureless through mostly regrowth pine forest. However, after that it changed significantly, to what seemed like quite ancient oak forest. It was beautiful! Conditions were still cool and shady and I saw a yellow bird with a red head (a woodpecker maybe?) fly past.
This forest continued for some distance and turned into a parkland of national significance called the Domaine National de Chambord …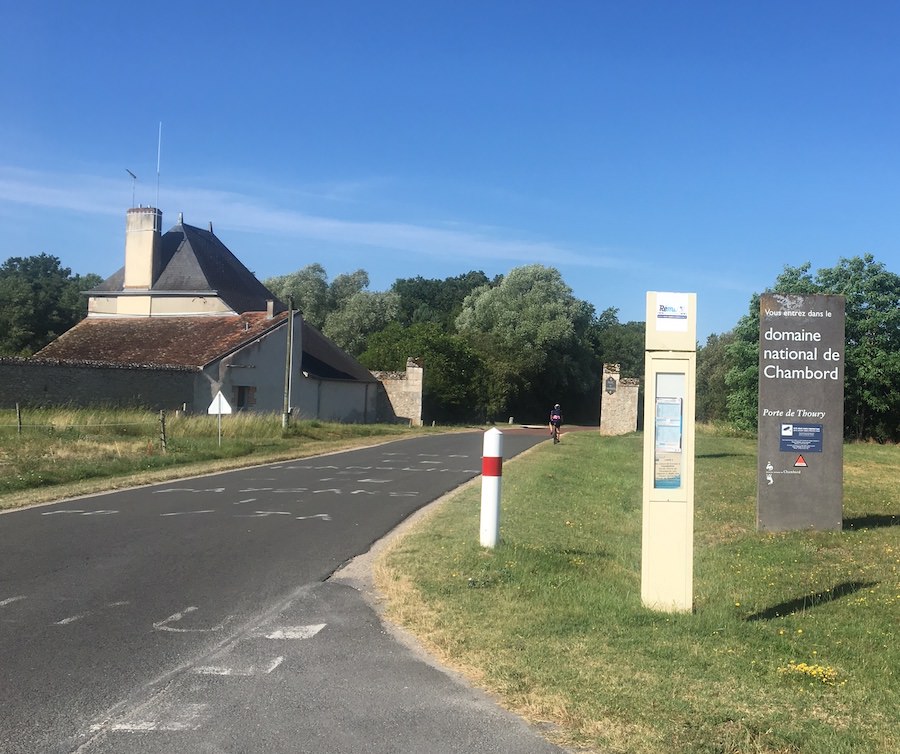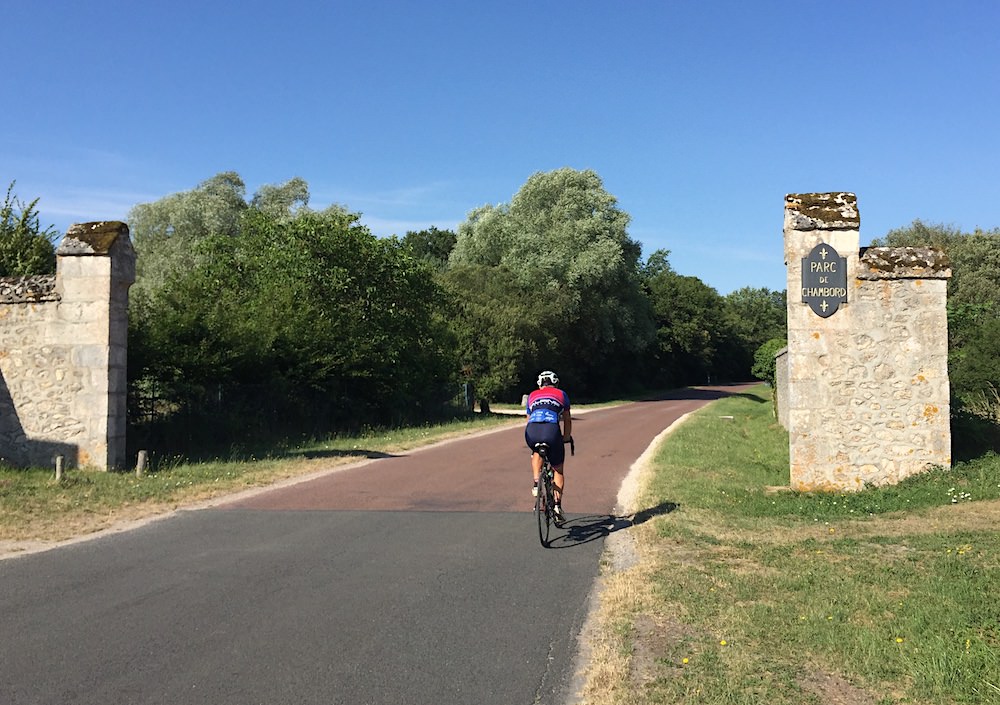 At the 44 kilometre mark we arrived at the famous, 500 year old Château Chambord …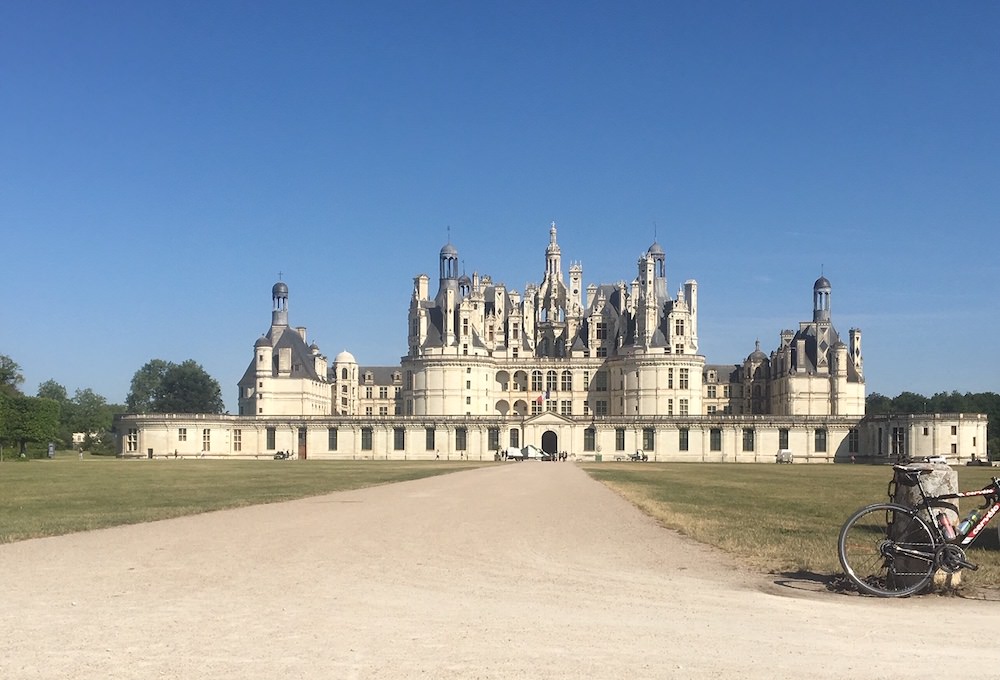 where we stopped for coffee …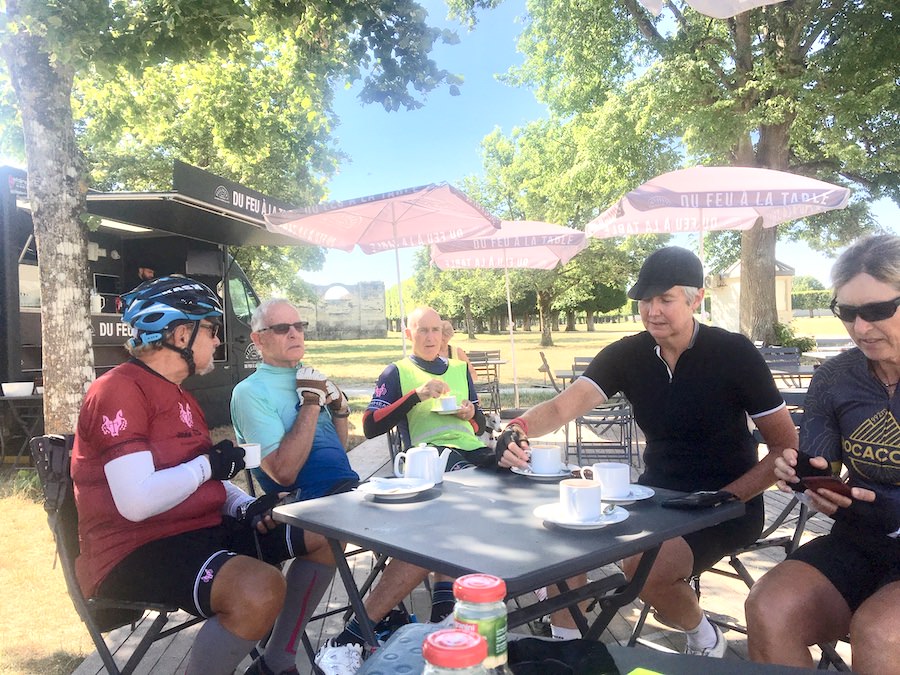 Some of our group did a tour of the castle but I think most were keen to keep moving at this point. Dianne and I got back on our bikes but got off again at 55 kilometres when we came into a nice little town with a Artisanal Boulanger (artisan baker) …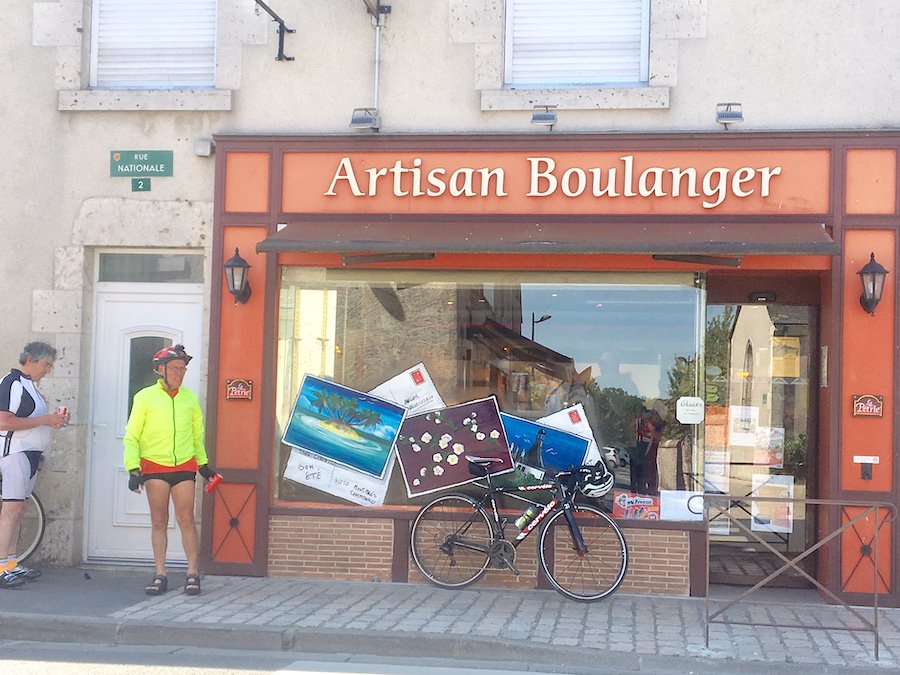 …where we enjoyed a big bottle of cold water and a couple of terrific tartelettes fraise (strawberry tarts) at a table in the shade. This was more like what we'd been hoping for as we passed through small French towns – and experienced in the past in other parts of the country!
While we munching away the Three Gentlemen of Wollongong passed by …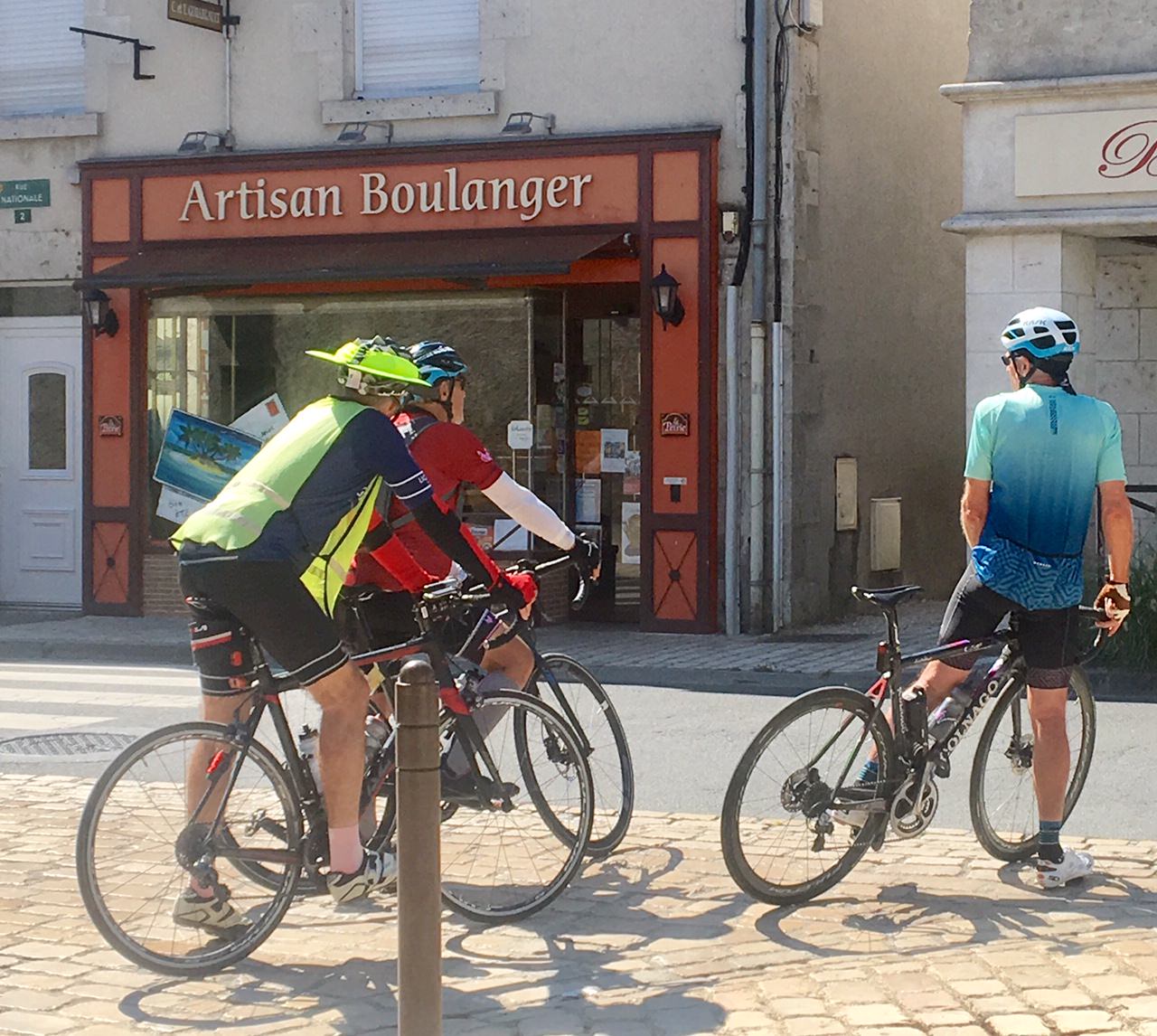 Feeling much more into it, we got back on the bikes but before I knew it I wanted to stop again and photograph these two beautiful beasts …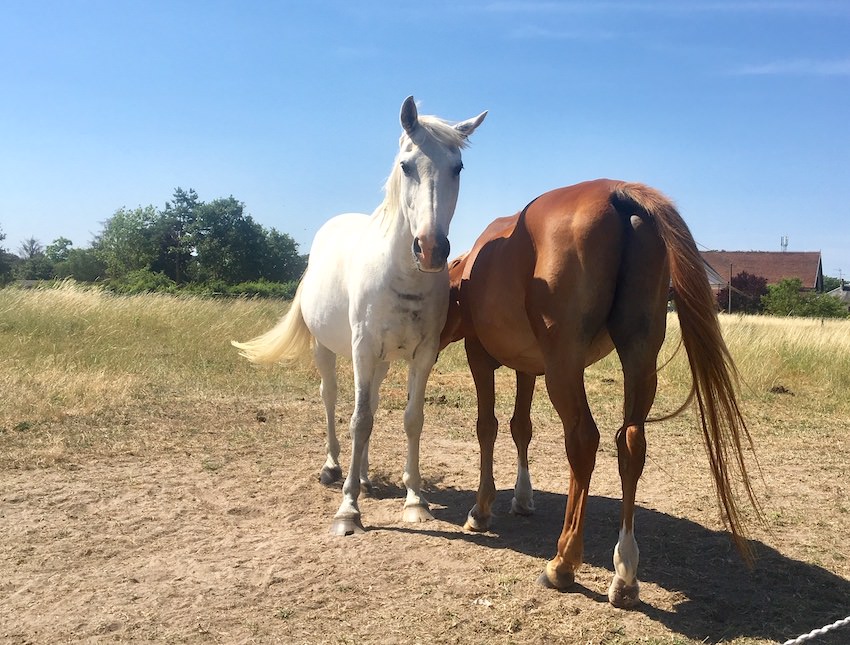 For a short period of time images kept presenting themselves that I found I wanted to record including this wine merchants' co-operative …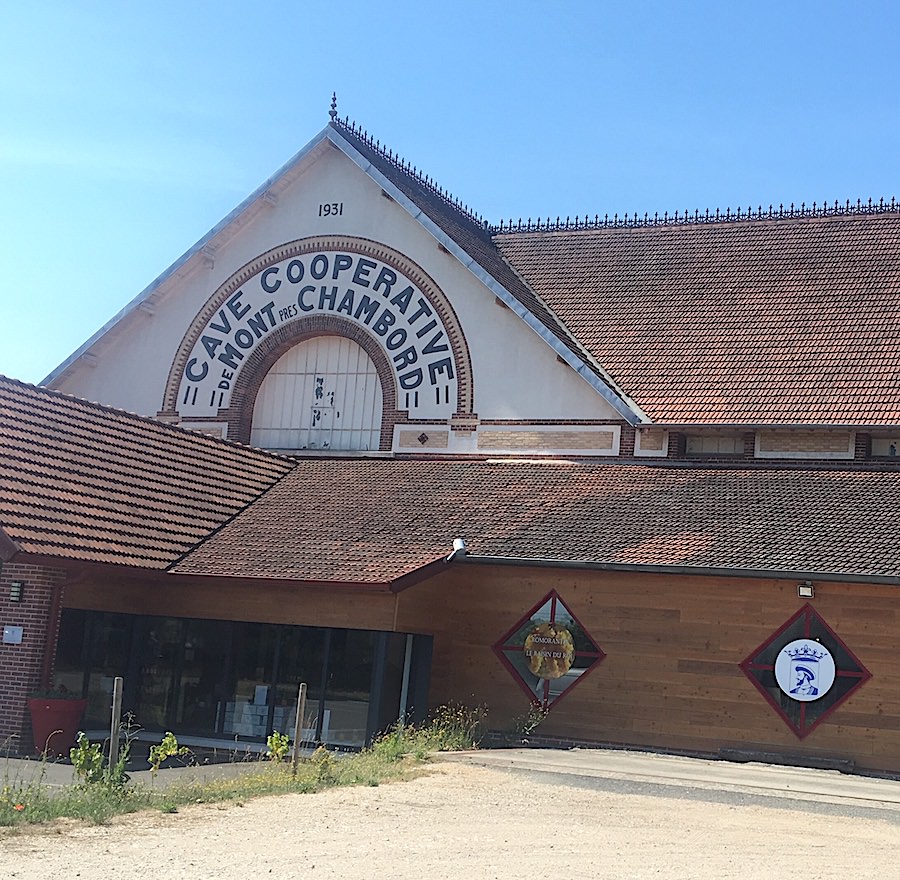 … and this house, which I couldn't work out: is it a new building made in an older style, or an older building that has had a bit of a modern makeover …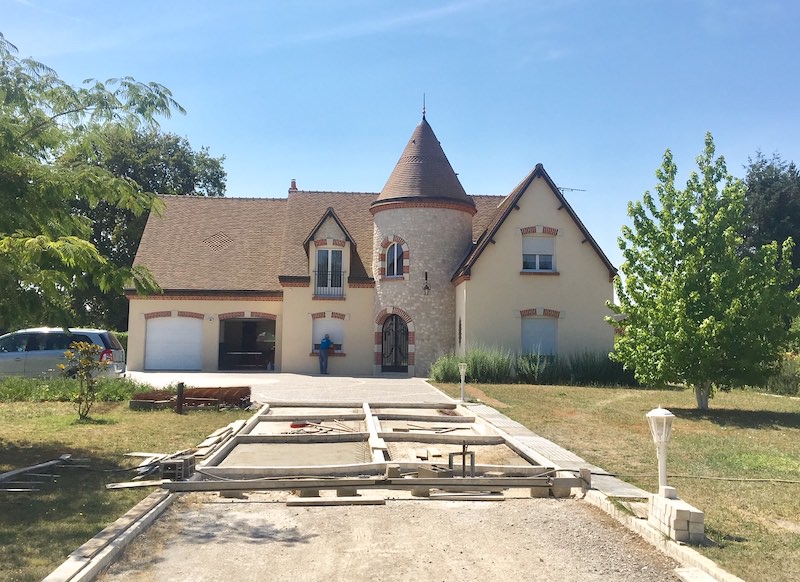 In the same town I had to turn back and capture the image of this gate-post statuette …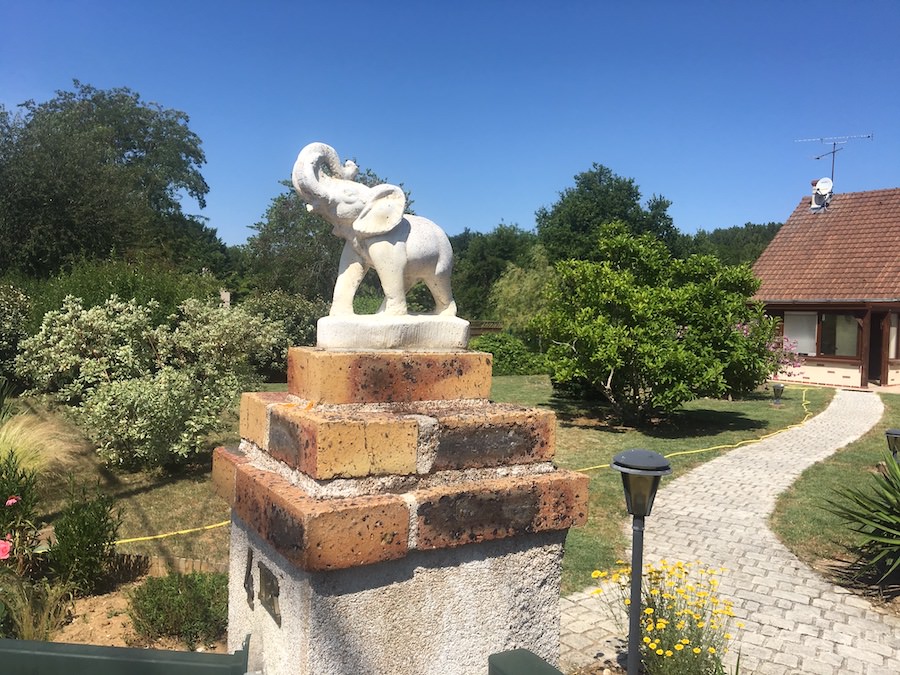 The riding continued to be very enjoyable and then we arrived at lunch on the banks of the Loire where this big bridge crosses the river …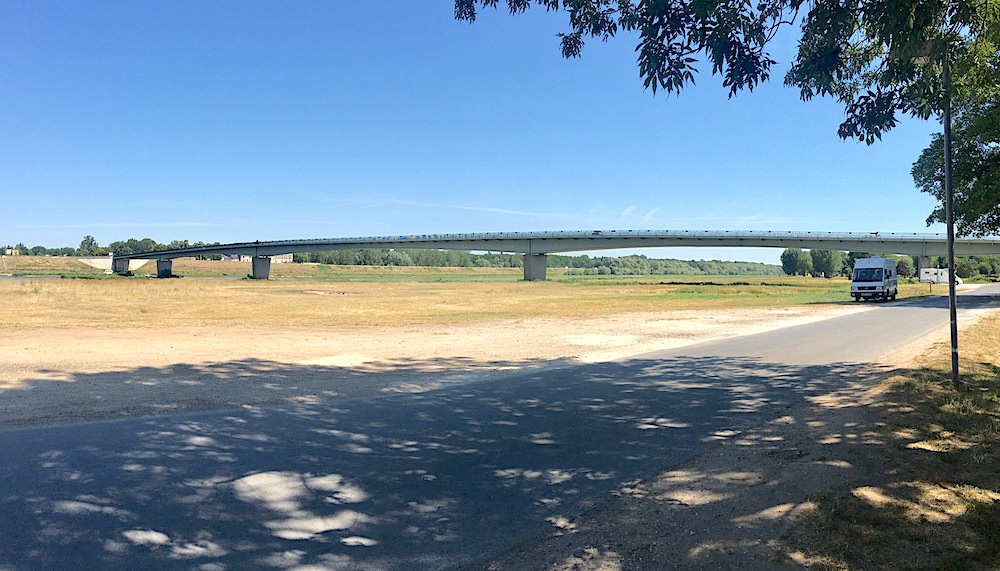 Bruno had set up a great picnic in the shade, but I missed getting a picture of it, so big "sorry" to those readers who've been enjoying the food photos. It was the last picnic of the tour, so I guess I missed my chance.
By this time we'd done three-quarters of the ride and Dianne thought we'd like to get to Amboise and have a cold drink and a snack. I made one more photo stop that I couldn't resist as I passed near a bridge on a smaller watercourse …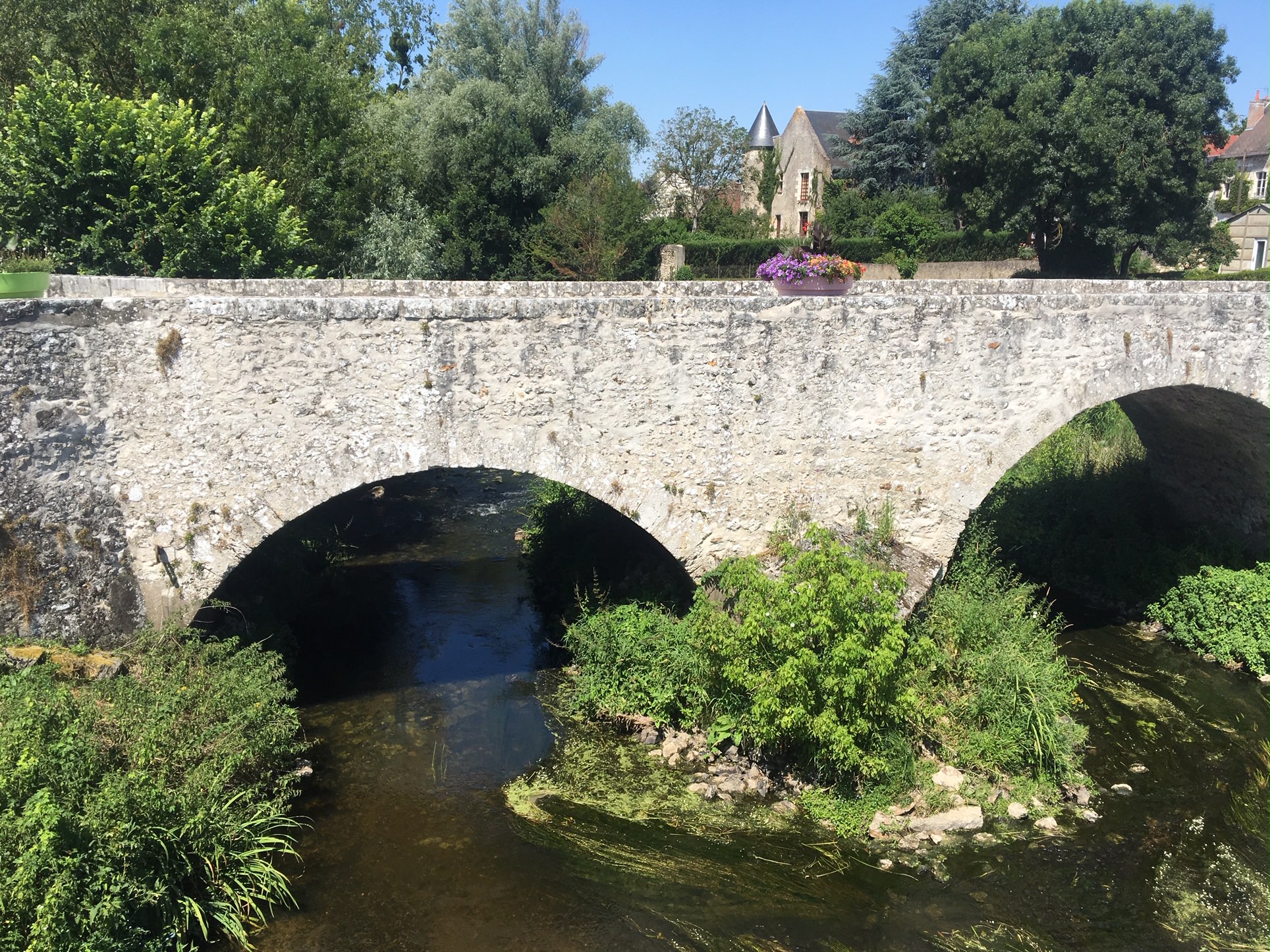 Even though we knew the hotel wouldn't be ready for us when we got to Amboise we thought we could ride past it and around to the city centre to find a bar, which we did. On the way I took this photo of the historically important Château d'Amboise …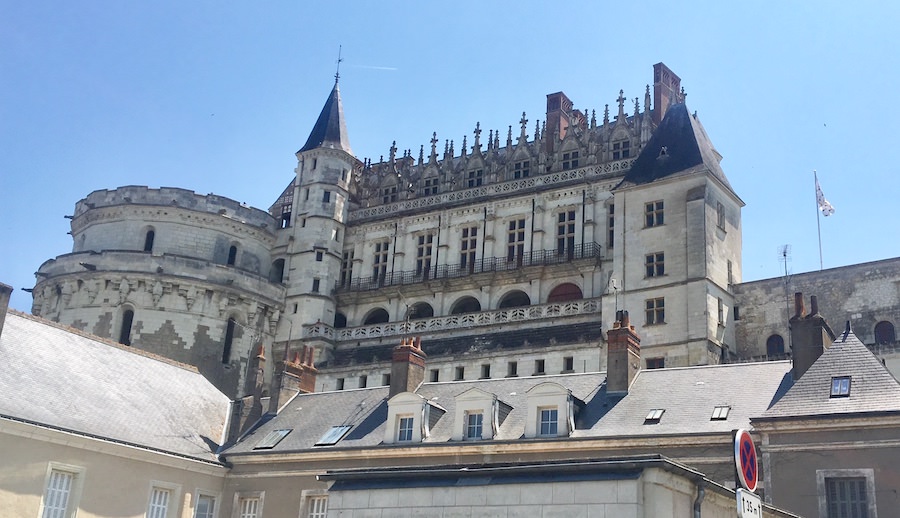 After a nice cold beer and a snack with Di, then a little extra loop to "round up" (as is my wont), passing by this riverside memorial …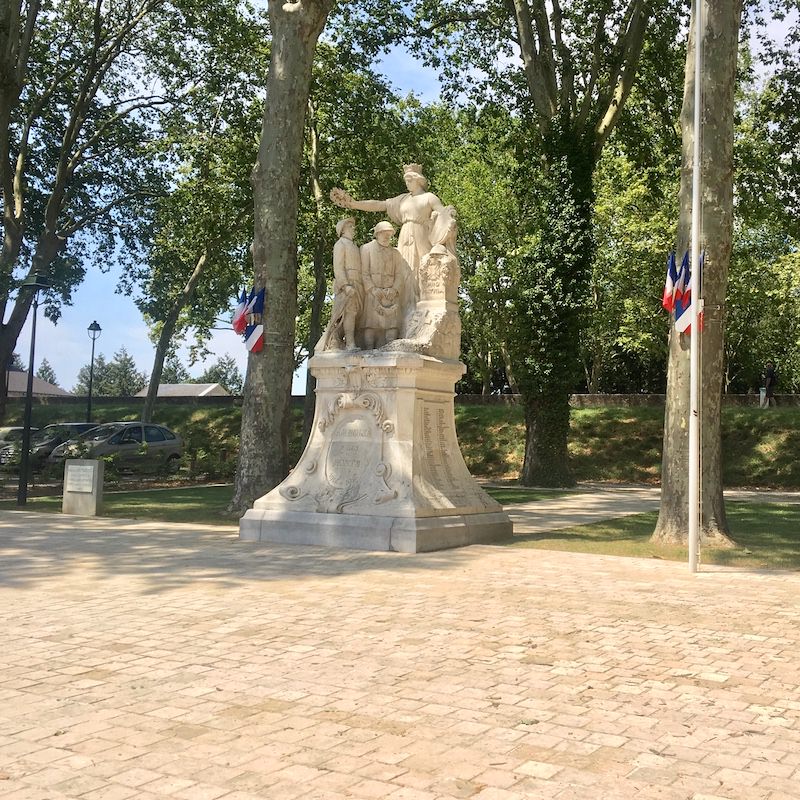 … I caught up with her at the hotel, which is a lovely place just under the walls of the château. This photo of a sculpture in the grounds and one of the outbuildings might give you a small sense of what the Hotel le Choiseul is like …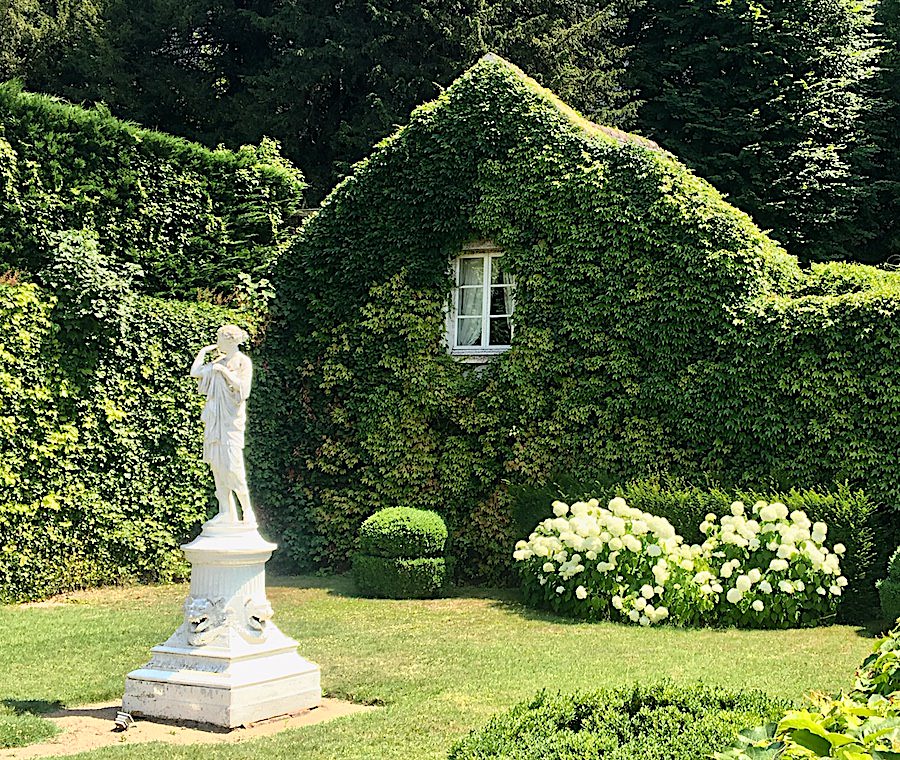 … as might this one …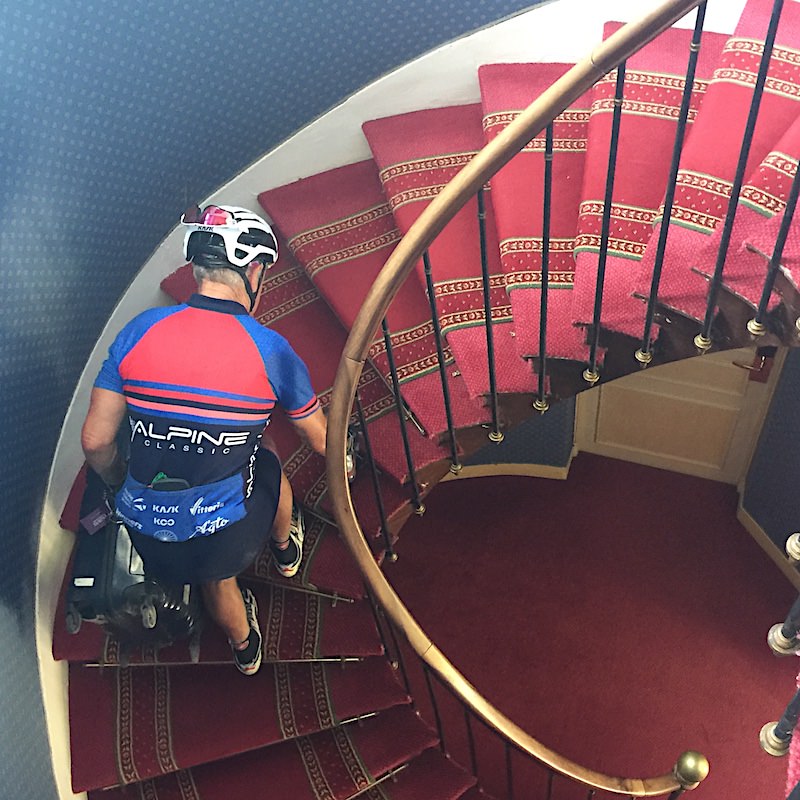 And that's if for the past two days. Tomorrow our tour will end, and I think it should be a very scenic ride, as we'll be along the south bank of the Rhine most of the day. I'm really looking forward to seeing what it's like, and getting a look at the Château de Chinon, which apparently is a genuine traditional stronghold, rather than an indulgence of an aristocrat with more money than he knew what to usefully do with. And I'm hoping to catch a glimpse of the Plantagenet and Joan of Arc memorials. It should be a great way to finish the tour.