… And Don't Tug On Superman's Cape!
"You don't tug on superman's cape
You don't spit into the wind
You don't pull the mask off that old lone ranger
And you don't mess around with Jim"
– wise words from the great Jim Croce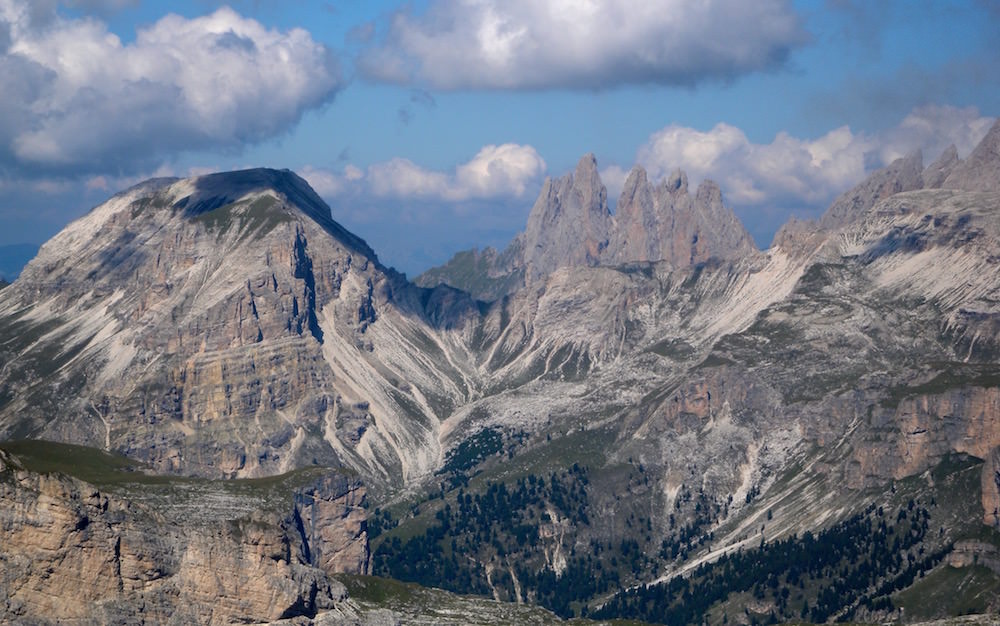 Today marks a week exactly until Dianne and I catch the big bird out of Hobart to the northern hemisphere summer and and a stint of cycling in the fabled Dolomites. We then move on through Austria, Germany, north-eastern France and finishing south of Paris at the historic Fontevraud Abbey where Richard the Lionheart is buried. It's stuff that dreams are made of, and we are dreaming of favourable winds, dry roads and good legs.
Don't Tempt Fate!
Right now we are being as careful as we can before setting off for our big Lionheart adventure. We are trying to balance a bit of last-minute training, taking pains not to get knocked off our bikes (or more specifically, I'm trying not to get knocked off my bike by one Dianne Batten – but that's an inside joke I will have to tell you about in person someday), avoiding getting sick or injured (Di hasn't managed the latter), getting packed without forgetting anything essential, catching up with friends, doing the garden …
The Wind
We got on the bikes today for a gentle ride to see how Di's inflamed lateral collateral ligament was healing up. Despite the forecast of 0% chance of rain, there were fewer folk out on the bike track than normal. No doubt that was due to the wind. On our way out of town it was blowing directly into our faces at about 30 kilometres per hour, gusting up to 50 kms/h. Given the conditions we decided that a short ride should probably be the order of the day, so we turned around at the end of the bike track. On the way back I stopped to take a photo of Di with kunanyi/Mt Wellington in the background …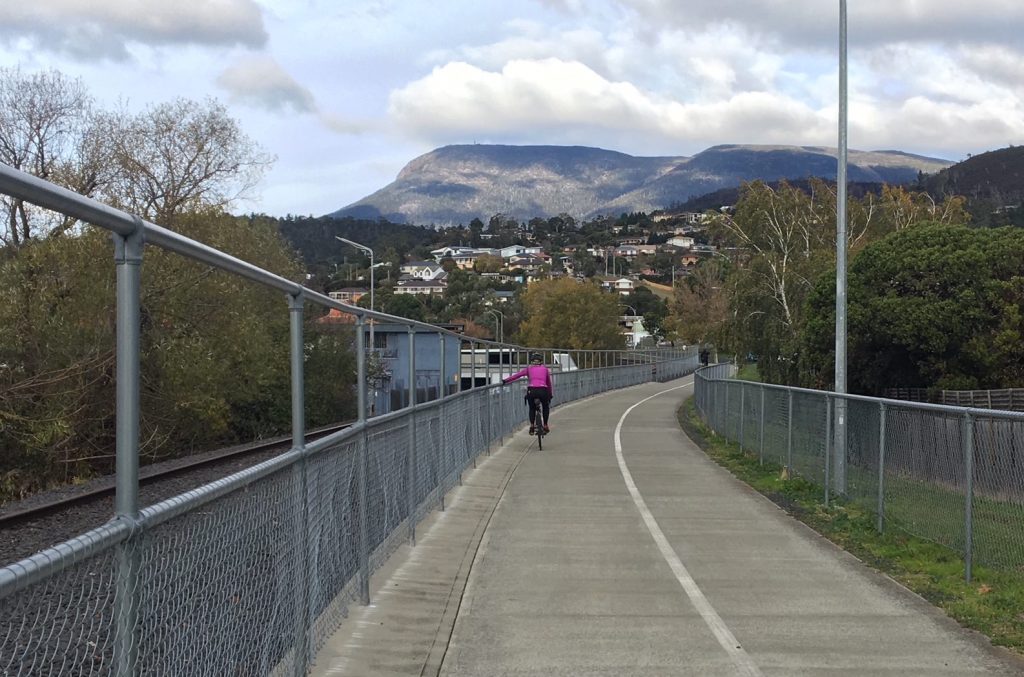 Needless to say, the ride back was much more pleasant than the ride out!
By the way, that innocuous-looking peak is where, back in 1998, Cadel Evans stamped himself as a future Tour de France winner. Famed cycling commentator Phil Liggett said afterwards, "I was in a team car following Neil Stephens, a stage winner in France, on the climb to the top of Mount Wellington when Evans not only came up alongside him, but simply rode off Stephens's back wheel and away into the distance. The manner in which he did it – against a then seasoned European based professional – simply blew me away."
Dianne and I were standing on the side of the road about three-quarters of the way up the mountain when Evans came by on his own, and we were wondering who this guy was.
I can still remember watching the highlights on TV that night, with Liggett exclaiming, "This kid could win the Tour de France one day!" The rest is history.
Trading War Stories
Anyway, back to today's ride. A few kilometres down the track we ran into Max, the man on the left of the photo below. We often see him riding past and today we pulled up for a chat. Almost immediately Andrew stopped by too for a natter. Somehow we got onto the topic of crashes. Andrew's theory is that you're not really a cyclist until you've broken a collarbone. That leaves me out I guess. I've been riding my bike for about 58 years but haven't broken a collarbone yet! (And now I'm knocking on my desk so as to not tempt fate.) While the other three chatted a bit more I fondled Andrew's beautiful, classic Colnago. It's got that wonderful fluted tubing some of us older riders remember.
Eventually we broke up the discussion and Di and I rode off towards McVilly Velo on Evans Street for a coffee before heading home. By the time we got to the door we'd done about 37 ½ kilometres of pretty flat riding. All in all a very relaxed, sociable outing and almost perfect one week out from heading off for a long overseas cycling holiday.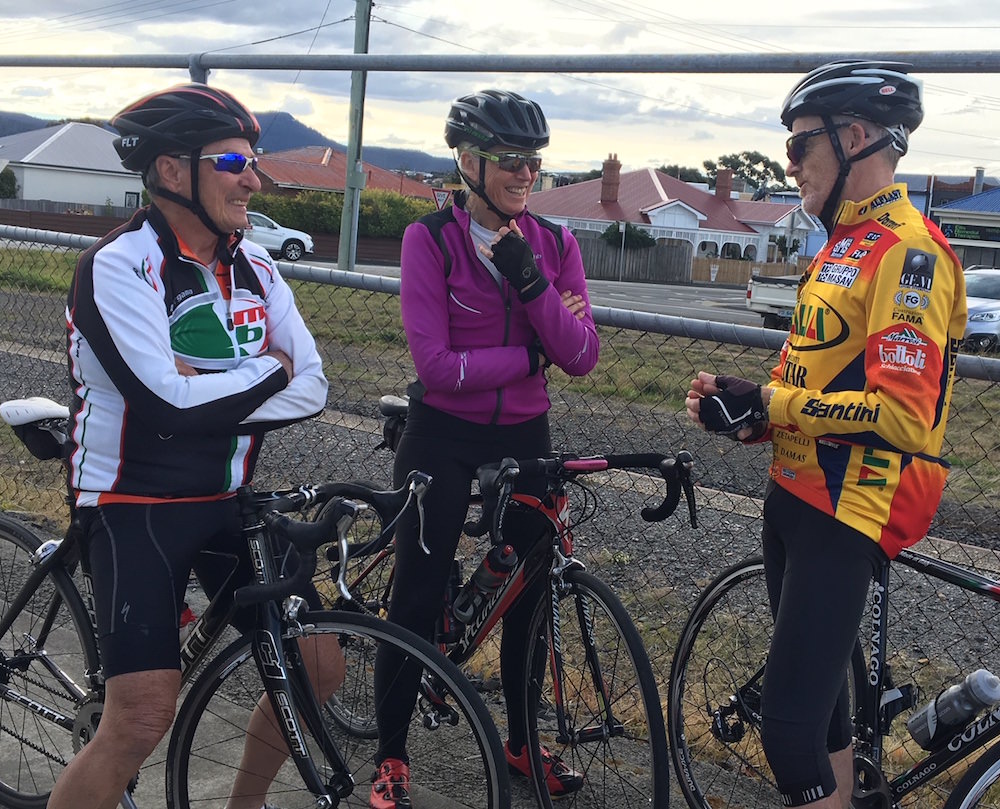 How does that work?
You might be wondering what benefit such a short and easy ride would be just before climbing lots of mountains and riding long distances day after day. A year or so ago I would have been scratching the old noggin about that myself. I'm finally starting to understand that a restful ride can be the best tonic leading up to an epic bike tour. And the risks of getting sick in transit are greatly reduced if one's body is well-rested. So taking it easy is the ticket.
As far as Di's inflamed tendon is concerned, it seemed to pull up really well after our easy ride, which is a big relief.
We are feeling pretty laid back after visiting our travel agent this afternoon, almost as laid back as this bike that I spotted in Cortina a few years ago …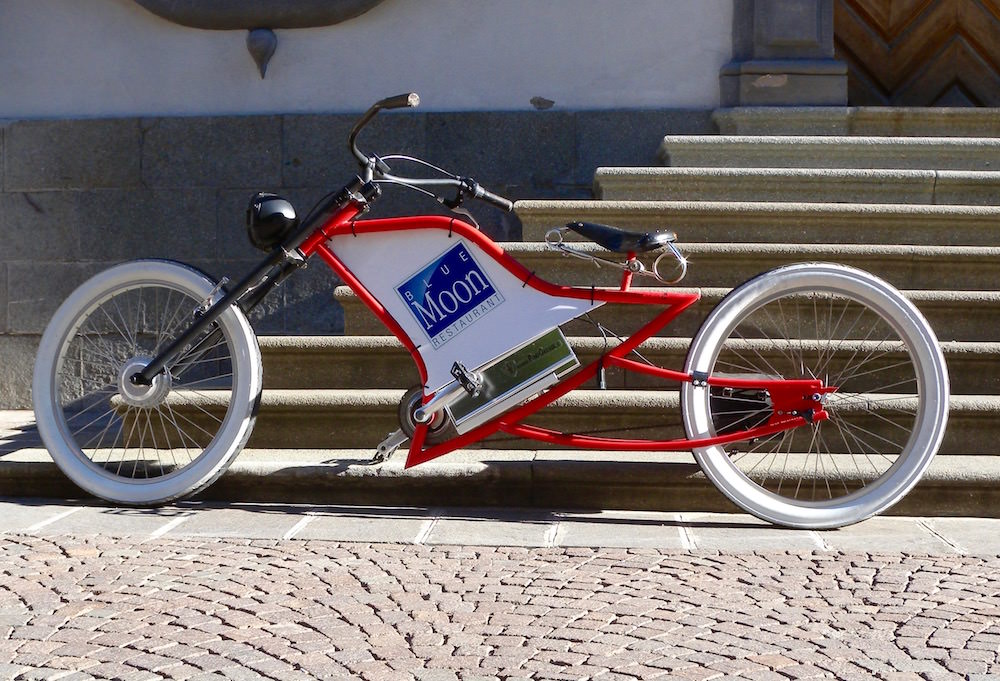 It looks like everything is coming together well. Dianne and I are really looking forward to meeting all of our fellow cycling crusaders when we all rendezvous in Venice before heading for the hills. In the meantime, we'll try to avoid spitting into the wind!