Lindau to Bräunlingen
The day's stats at a glance ~
distance 130 kms
total elevation gained: ~ 1000 metres
Breakfast
I thought breakfast was actually worth mentioning as it was one of the highlights of the day. We ate out in the square that fronts our hotel in sublime conditions.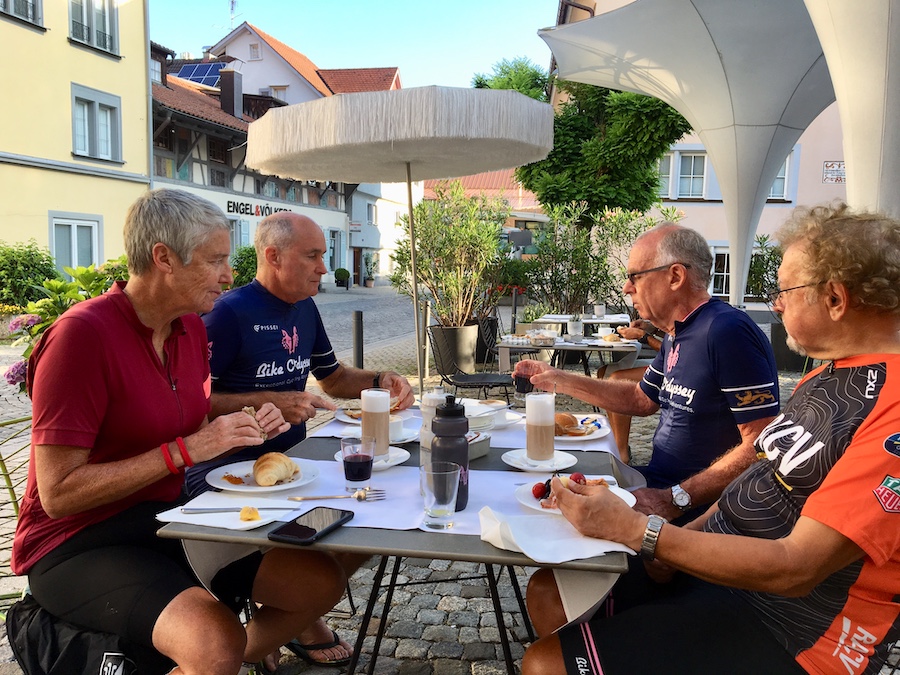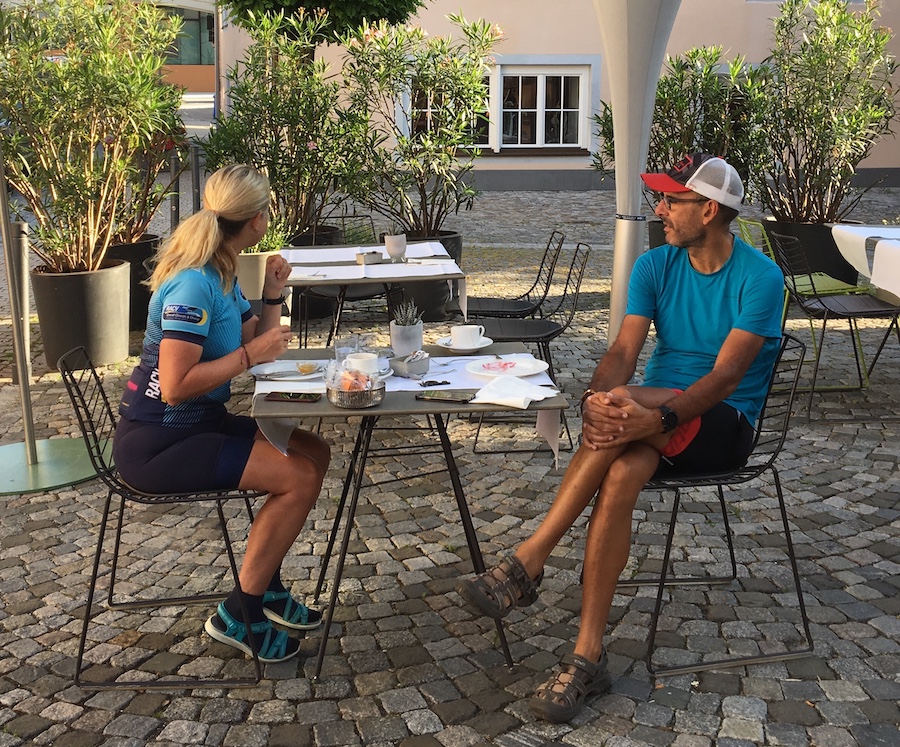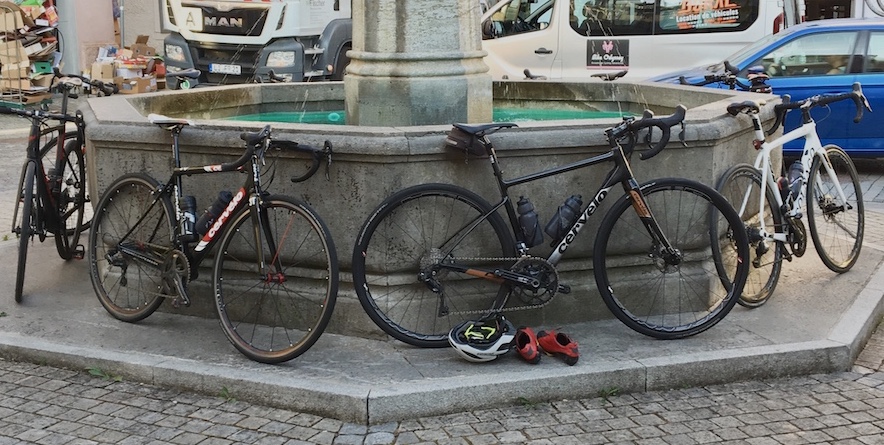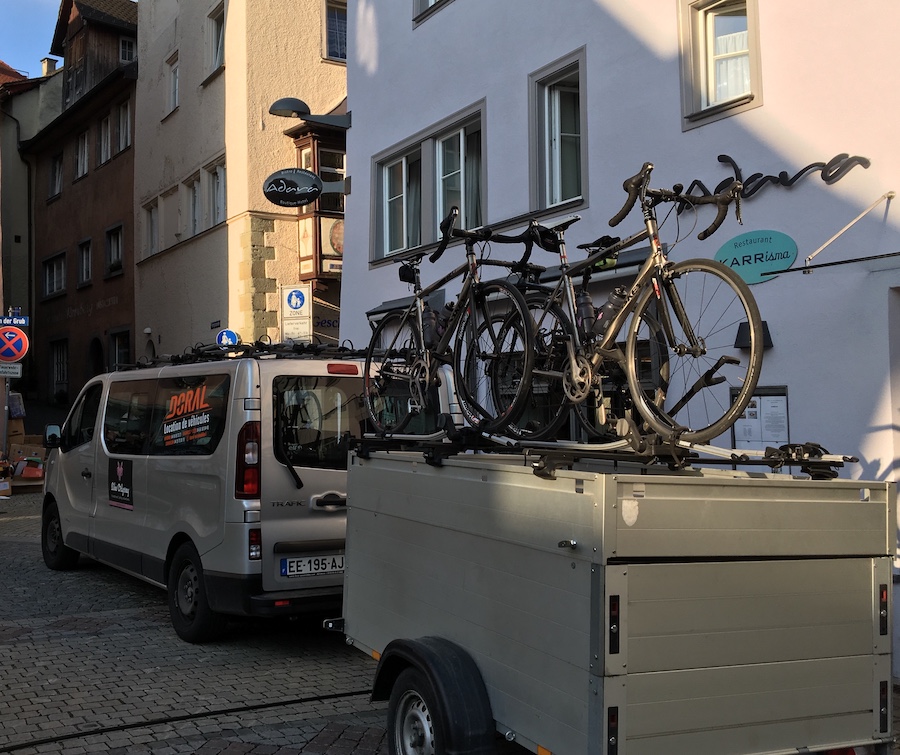 I thought Michael and Louise looked unnecessarily serious before setting off (😯)…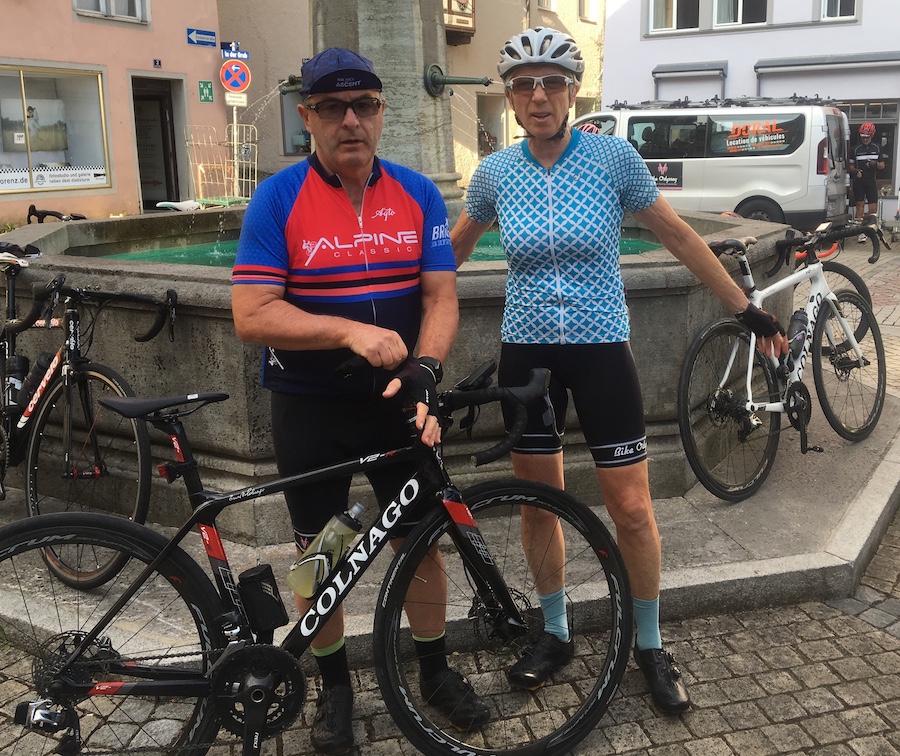 It was a very pleasant start to the day despite the looks on Michael and Louise's faces, and I even managed to successfully change Di's front disc brake pads under Bruno's supervision so will count that as a win!
As we were leaving the island we came to the railway tracks and there was a train a'coming so, along with some commuters, we had to wait until it passed …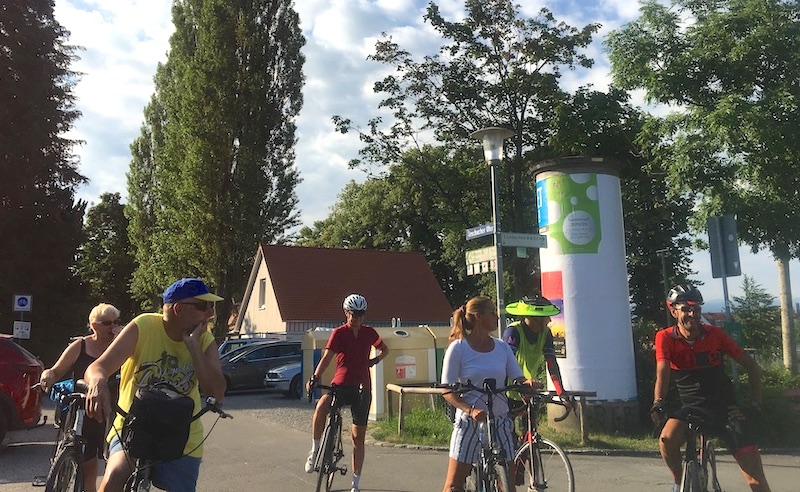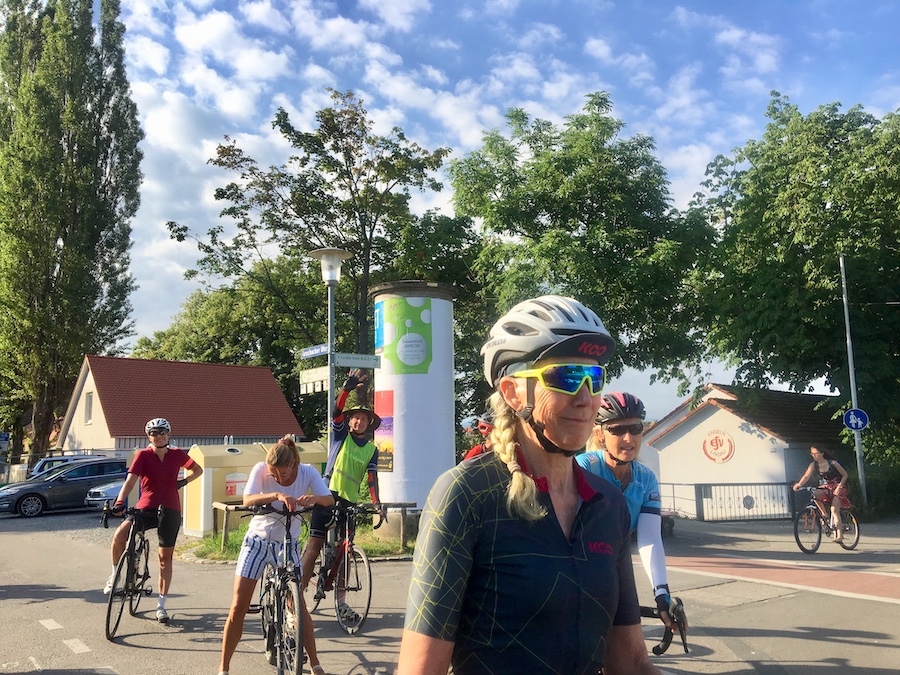 Riding alongside Lake Constance
"Interesting" is the way I'd describe the 70 kilometres we spent riding along the north shore of Lake Constance. Much of it was on bike paths and even more apparently on some sort of bike route ~ probably one that circumnavigates the lake. The route was chock-a-block with cyclists and walkers and attention was required at all times to avoid being run into or running into someone doing something silly. Here's an image of a less busy section where I felt it might be safe to remove one hand from the handlebars to take a photo …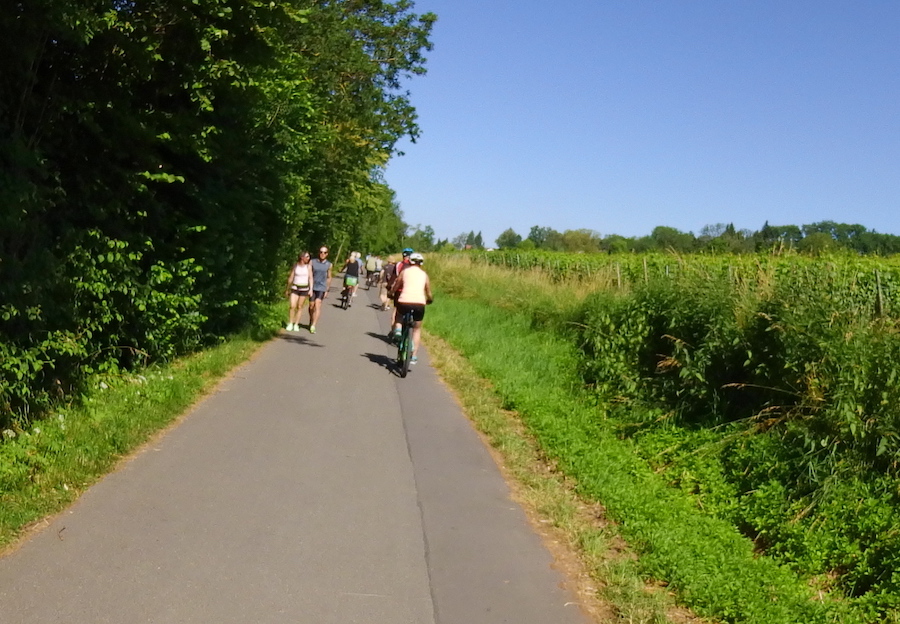 There were some impressive properties and vineyards along the way …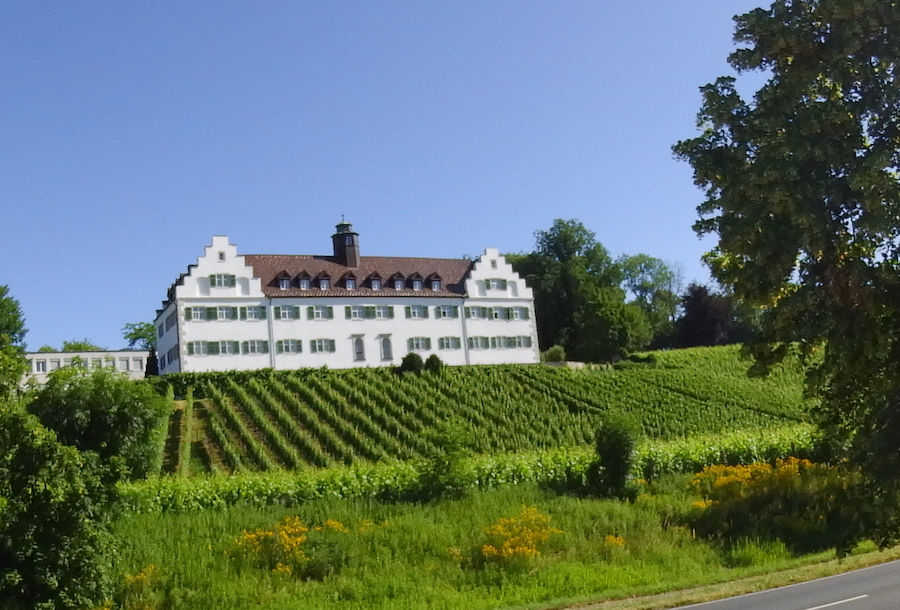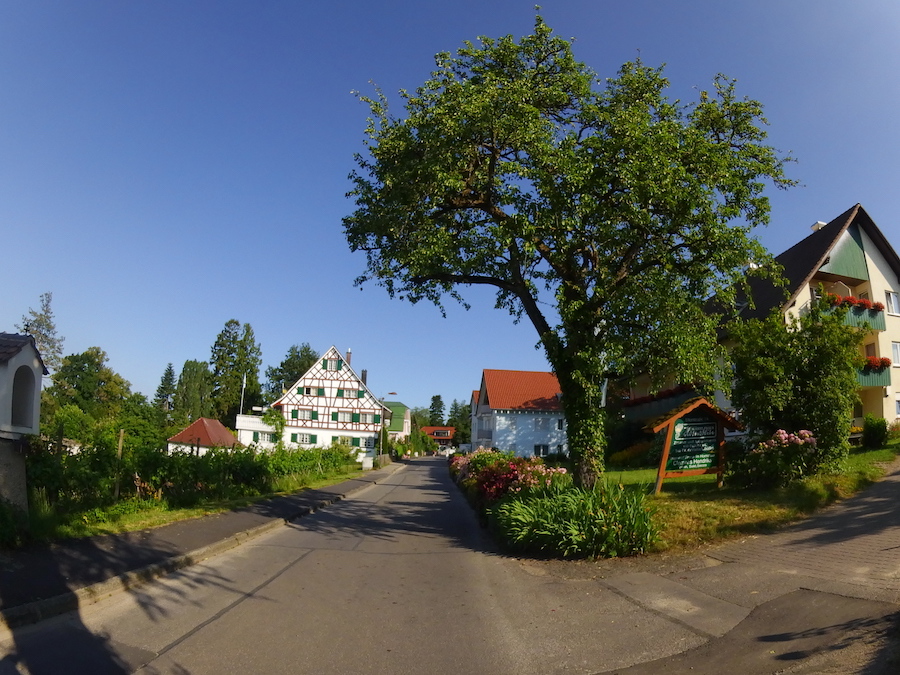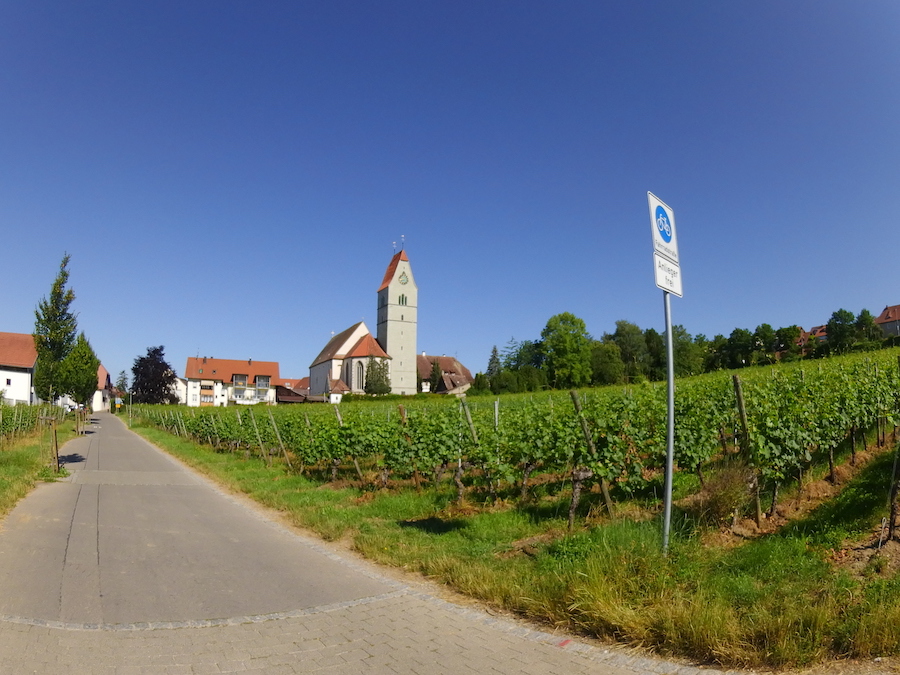 We passed over a beautiful, covered wooden bridge …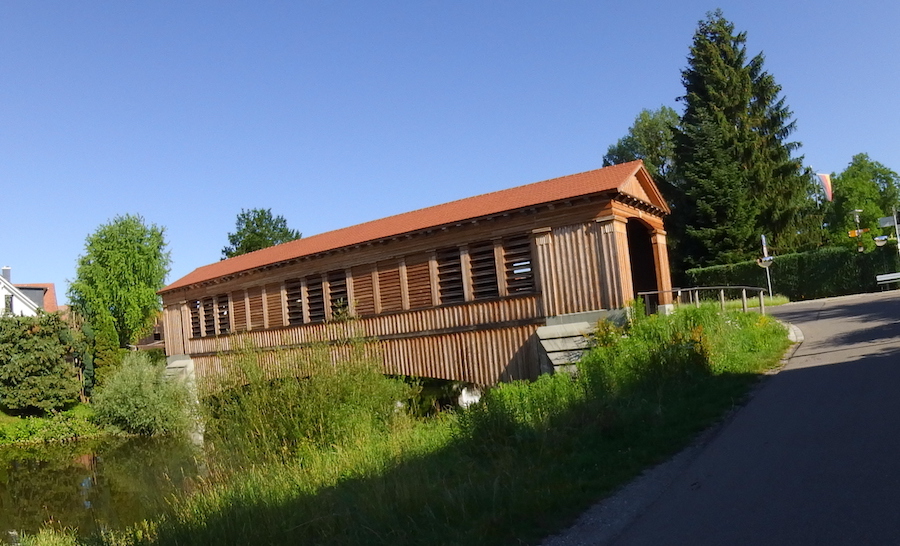 The environment was mostly semi-urban alongside the whole edge of the lake, but we did pass through some small towns too …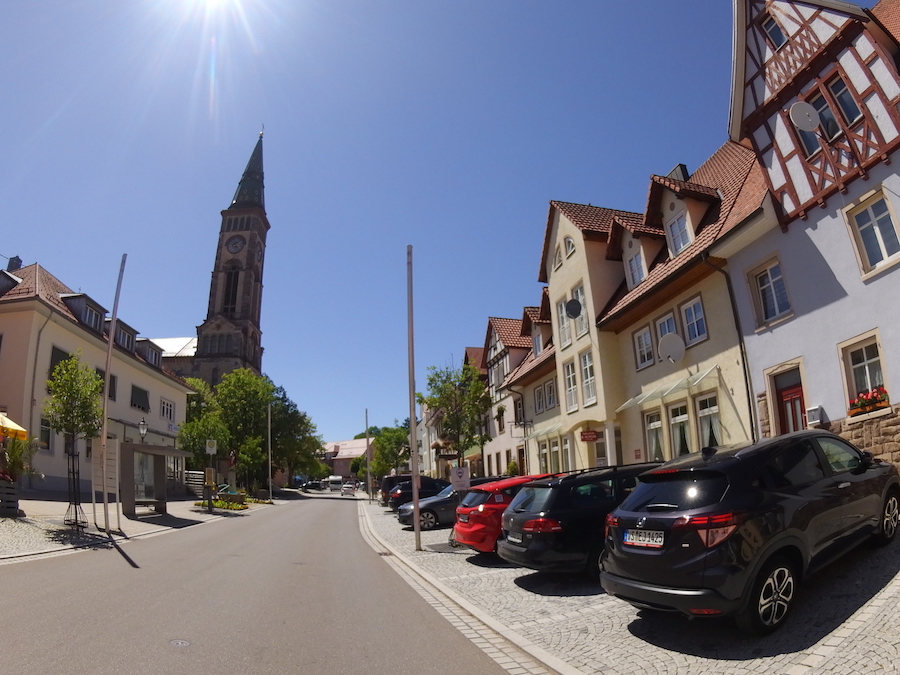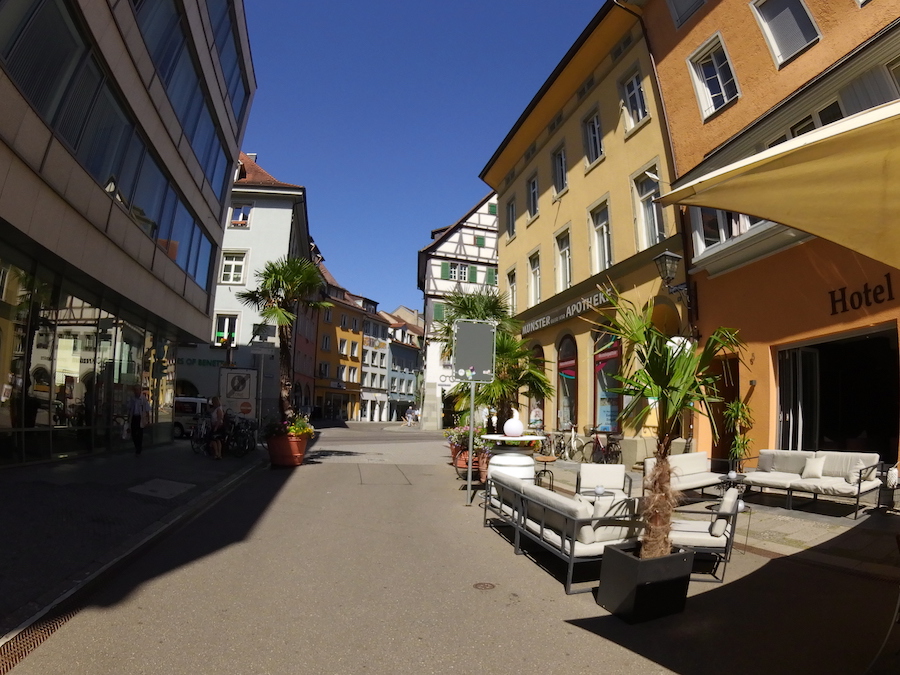 Apparently this one had a pedestrian only walkway where we were supposed to dismount a little further on from where the photo was taken but I didn't notice …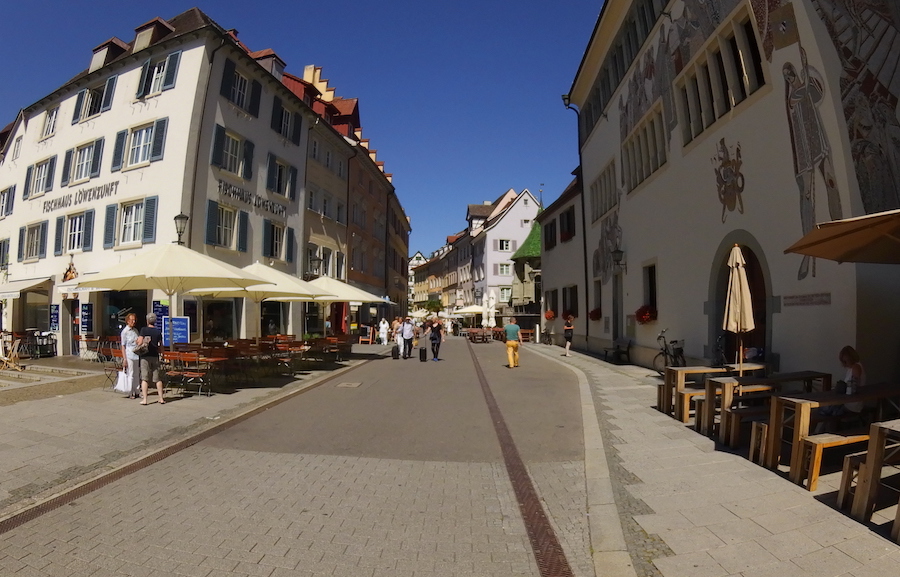 There were also a few fruit orchards along the way …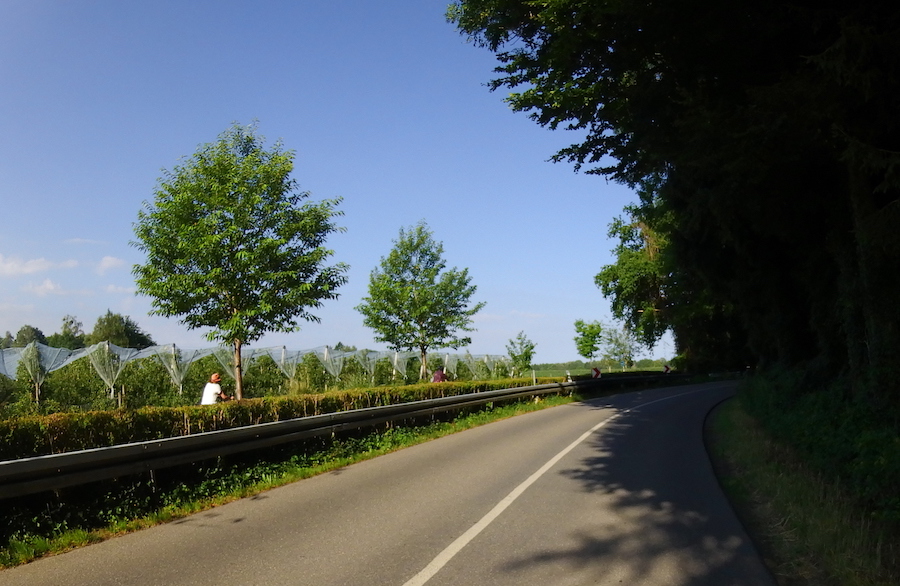 Lunch and then on to our destination
It was a relief when we left the lakeside and were out in the countryside, riding on a mixture of far less busy bike paths and small roads. We made our way through a lot of fields growing crops and hay …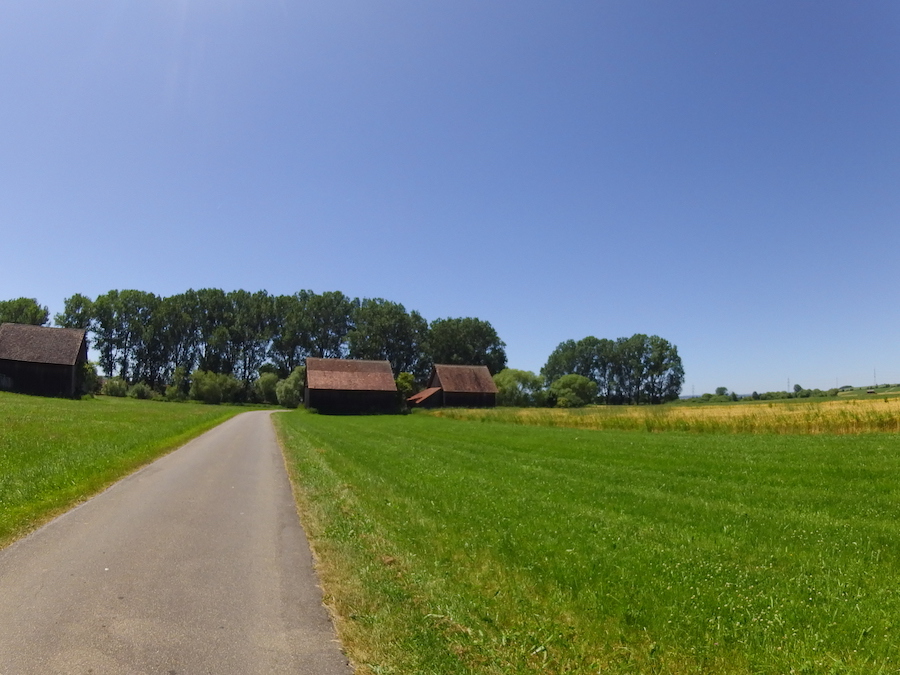 Lunch came at a spot about 10 kilometres after we left the lake behind, where Bruno had pulled into a wonderful shady spot beside a fountain. It was great to relax for a bit ….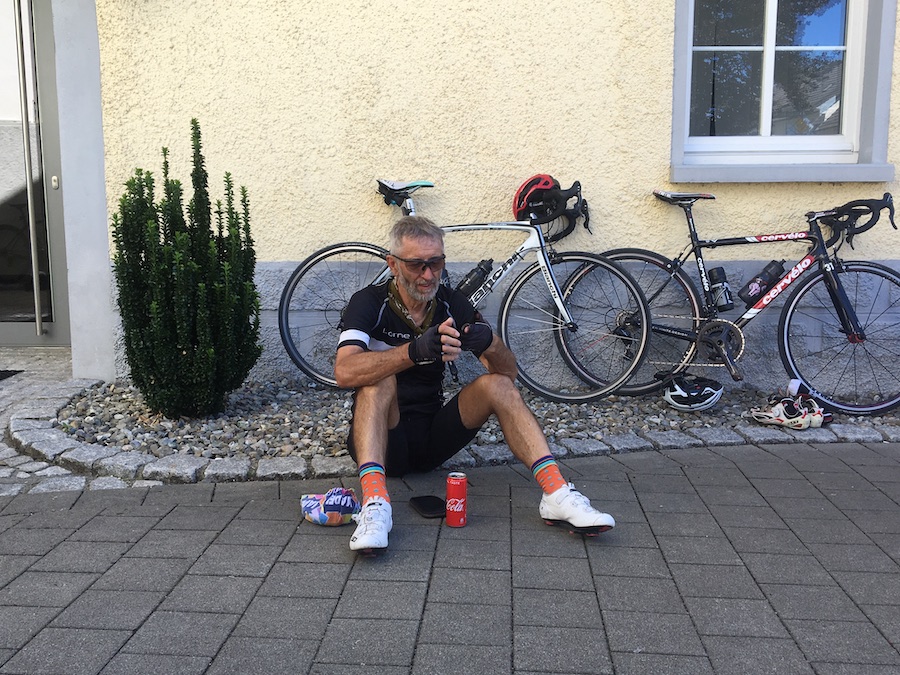 … and get some food in out of the sun, which was starting to heat things up …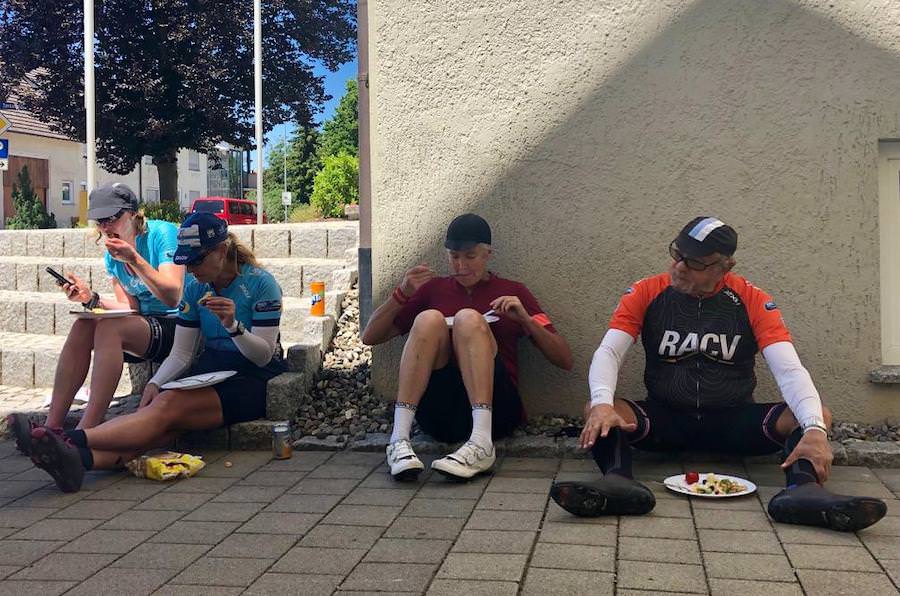 The Rider Who Shall Remain Nameless commented how much she enjoyed riding through fields where the vistas opened out a bit more …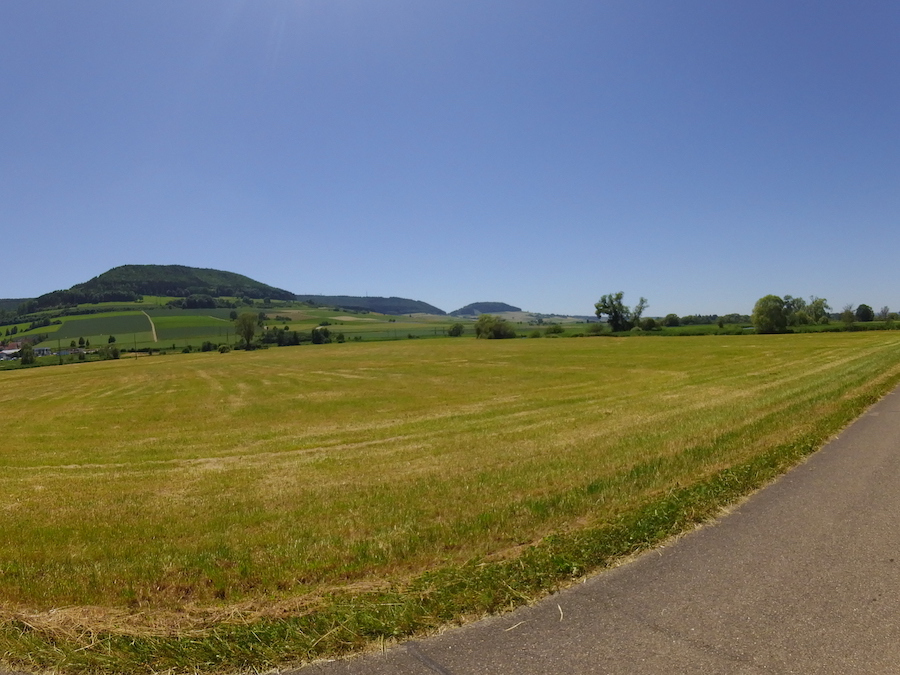 Many farmers were busy winnowing hay …
Most of our climbing came in the latter part of the day when it was getting hotter. After the first real bit of elevation gain I paused briefly in the shade under an overpass because I was quite taken with these two images that presented themselves …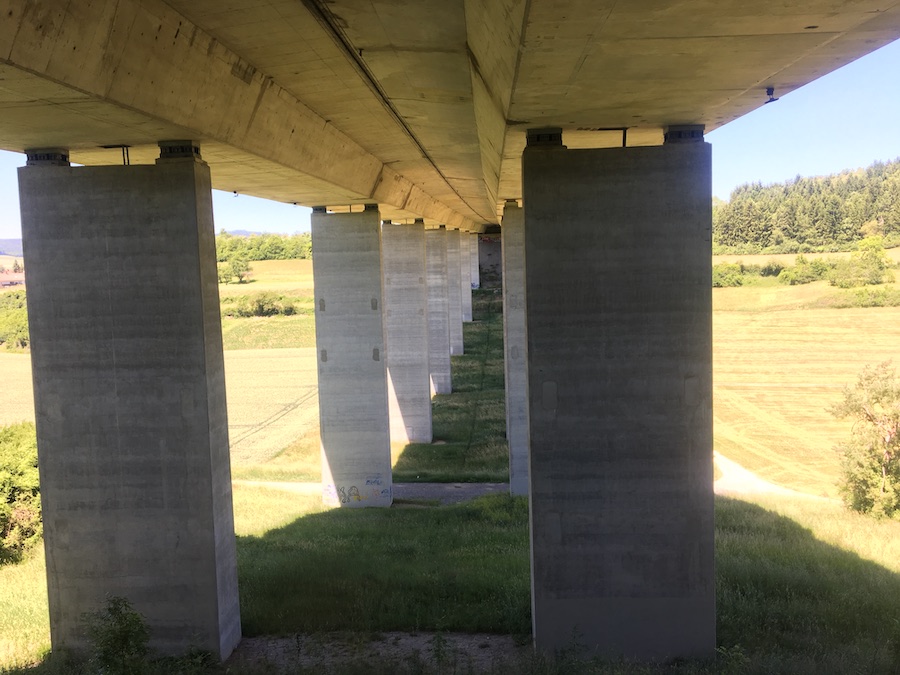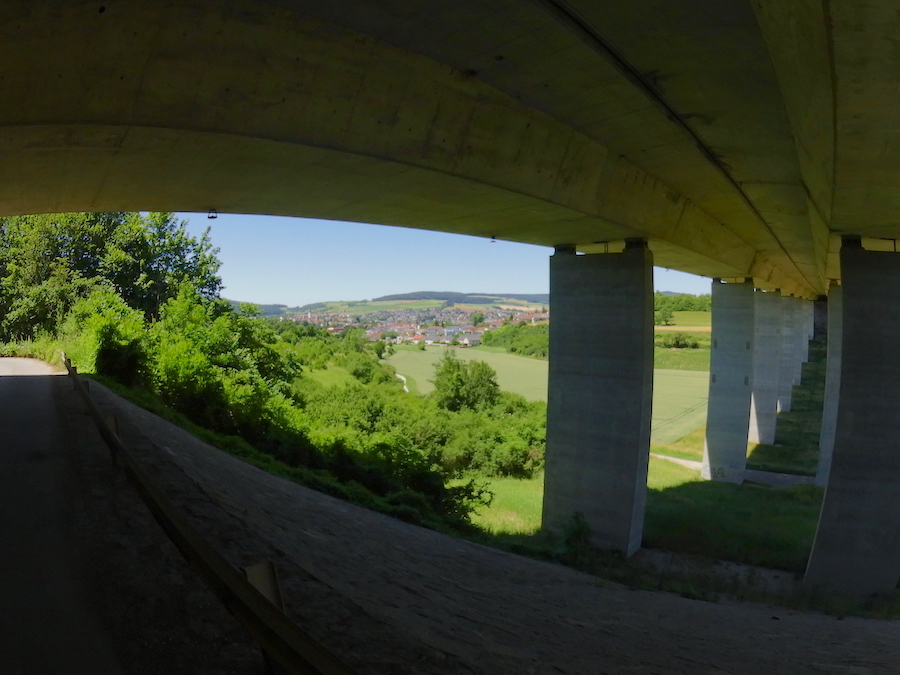 There was just one significant climb of any sort, and Dianne stopped to at the base of it to dip her hat in a handy fountain and cool her head. She took this very nice photo of her bike enjoying its bit of rest too before the hill …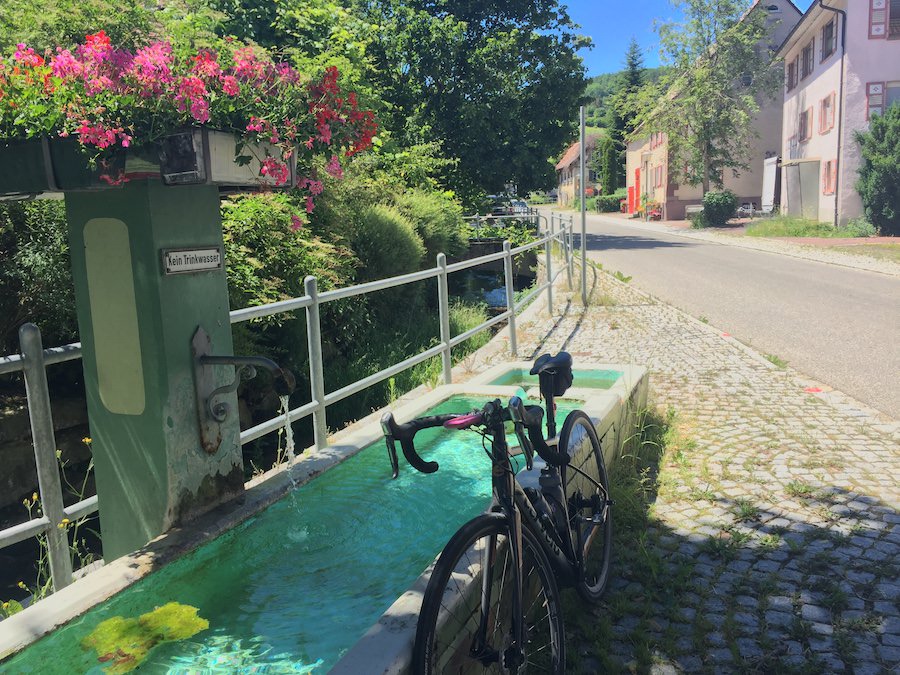 The last part of the ride was relatively flat and uneventful, except that a bunch of us stopped at Hüflingen just a few kilometres before the finish for a nice cold gelato which was a great little interlude before the final push into Bräunlingen. Just outside the entrance into town I snapped this photo …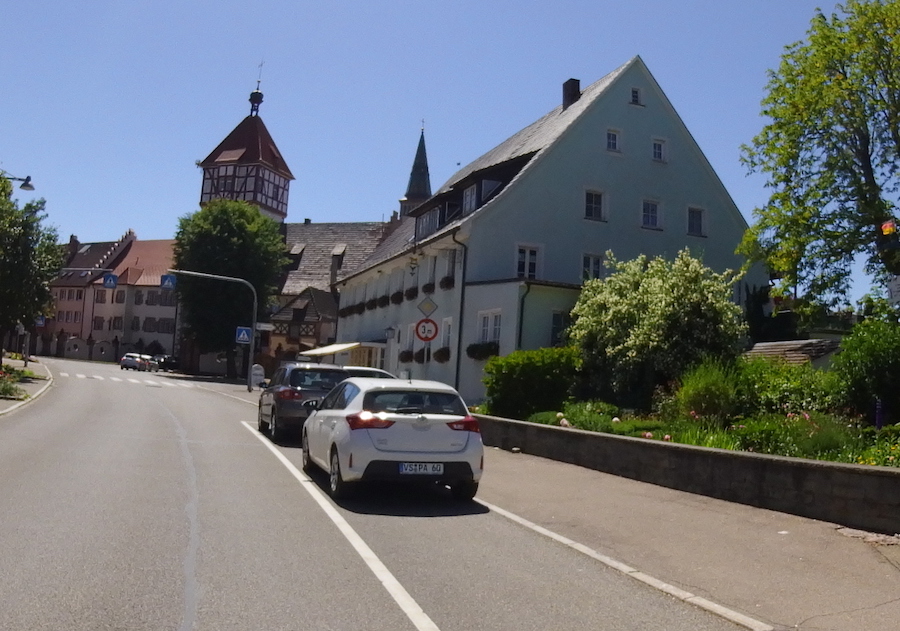 … and then another as I was about to pass under the gate into the centre …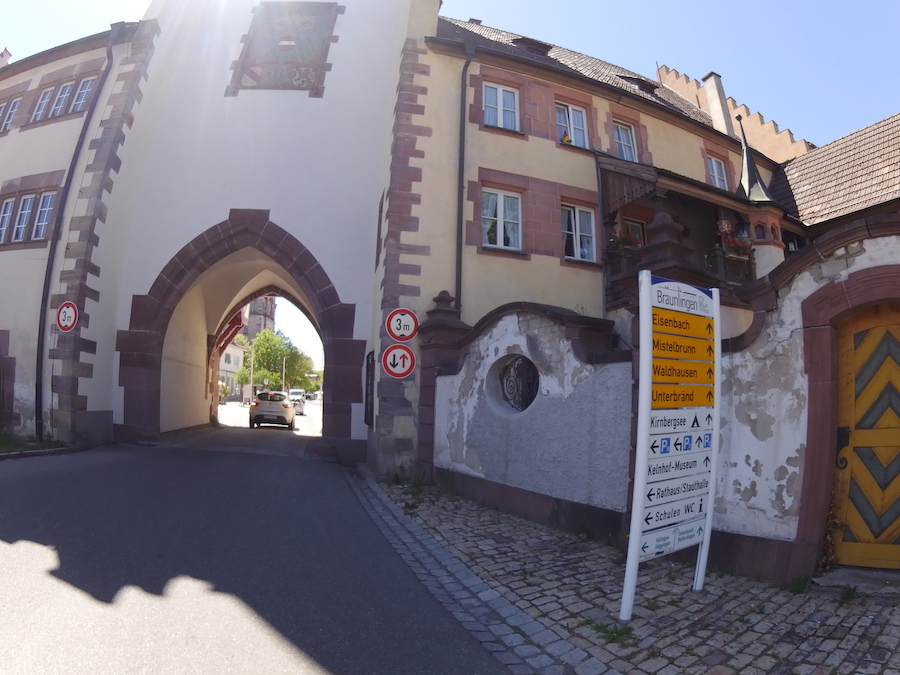 and one last one as I neared the hotel …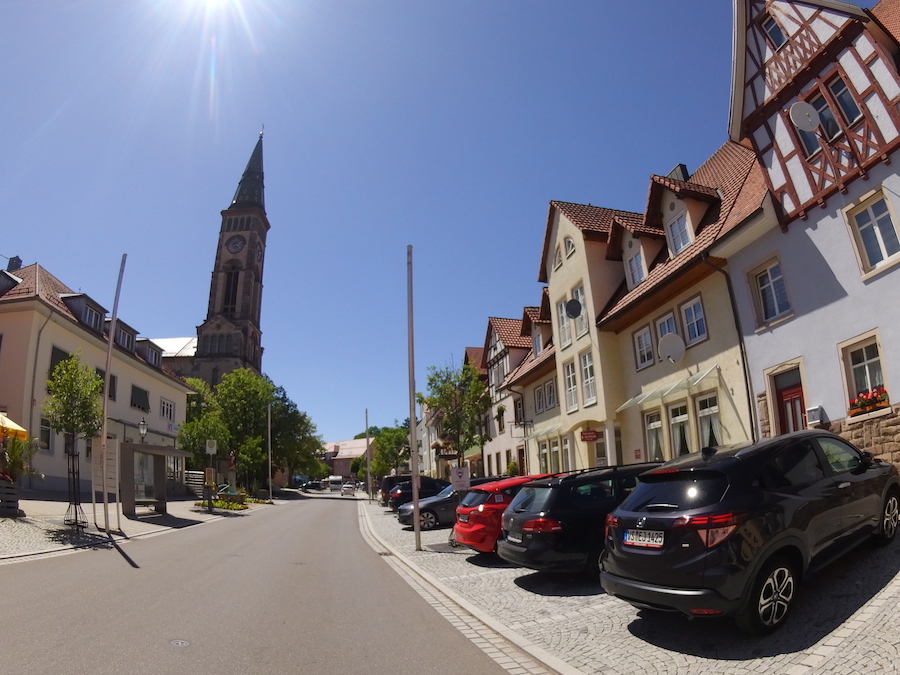 In summary, this almost felt like a transition day in that we've left the lakes of Austria and Germany behind. Tomorrow we will ride through the famed Black Forest and then into France. Now that I am really looking forward to!