Neuschwanstein to Lindau
The day's stats at a glance ~
distance: 110 kilometres
total ascent: 1400 metres
Here's a look at our route for the day. We were once again briefly in Austria just before arriving on the shores of Lake Constance …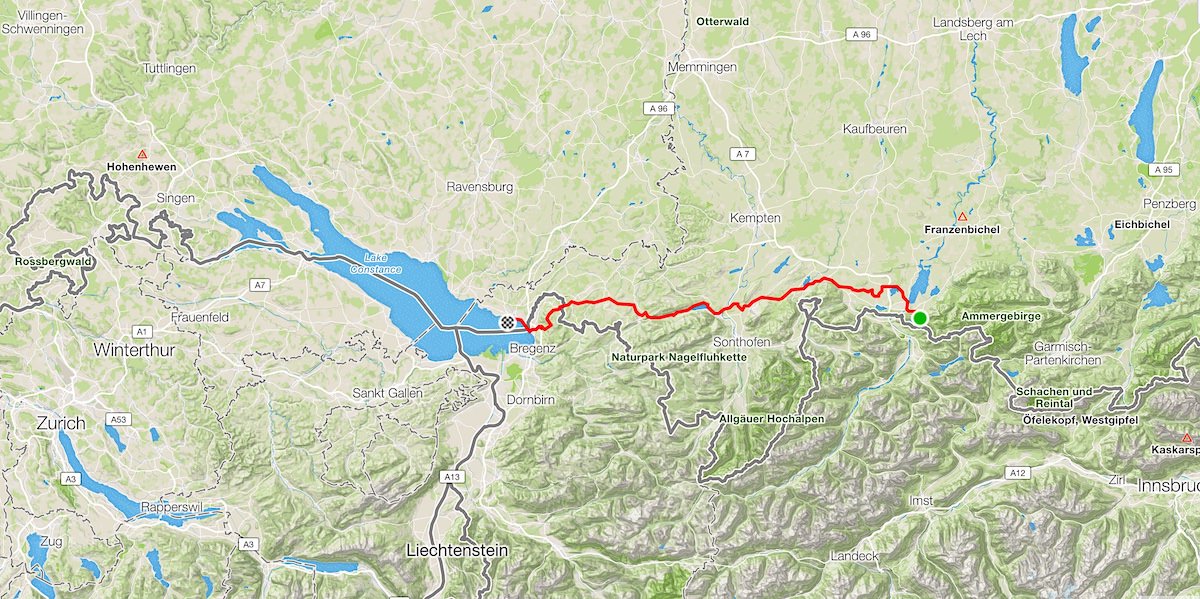 And here is the route profile …

Dianne and I made a later start today than we'd intended. Di needed new brake pads on her rear disc brake and I haven't come up to speed yet with this technology. I was hoping to do the job myself with supervision from Bruno but he was flat out like a lizard drinking this morning so I didn't want to get in his way. (More on that later.) My lesson on disc brake replacement will just have to wait for another day – perhaps tomorrow.
Thankfully for us, Jose was happy to wait and give us a bit of a tow, which was a good thing as we were a fair while behind when we finally got underway. With the weather tipped to really warm up over the next few days everyone was keen to get underway early but as it turned out it really only got hot over the last 25 kilometres or so. Early on the air was delicious, especially when we ducked in under shade from time to time.
Here's a photo of Di sort of sitting on Jose's wheel …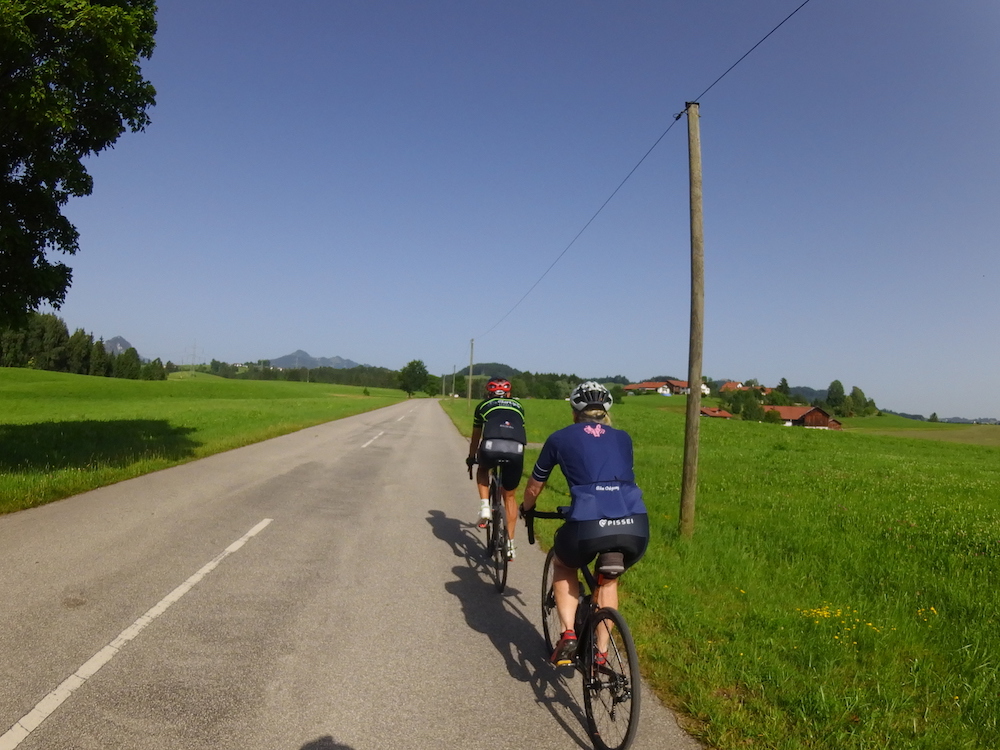 Jose did a brilliant job of managing the pace in this first section as we tried to catch up to the rest of the group. Here he is – – still leading the way with Di behind on a very small, quiet road early in the ride …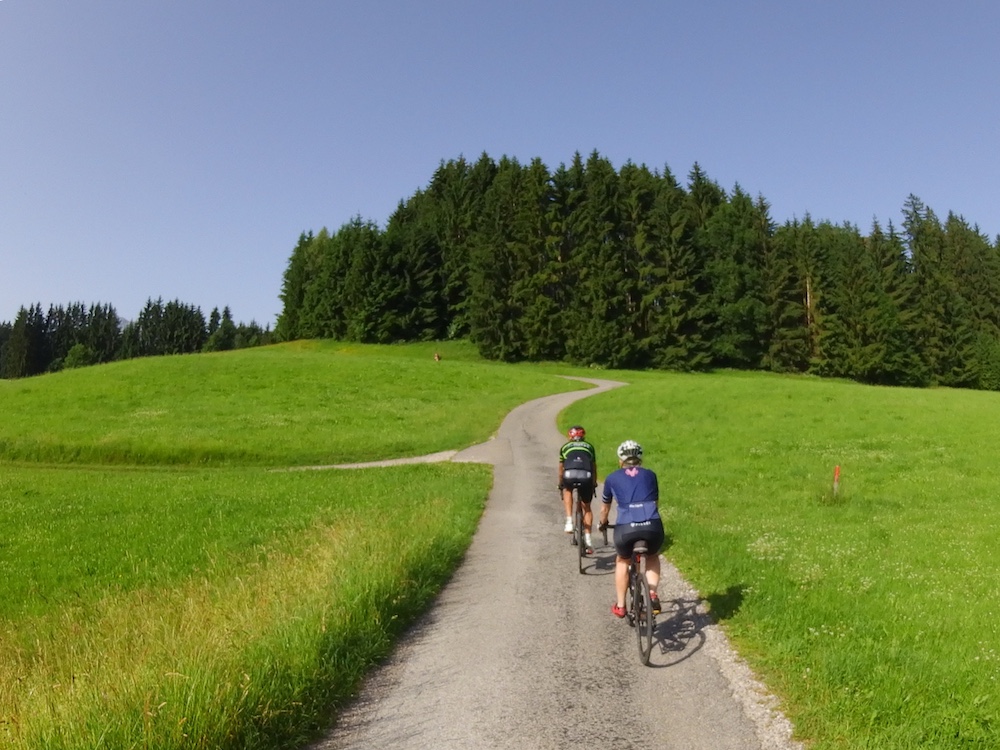 We were very pleased to catch up with Sharon and Jo not very long before our morning coffee stop …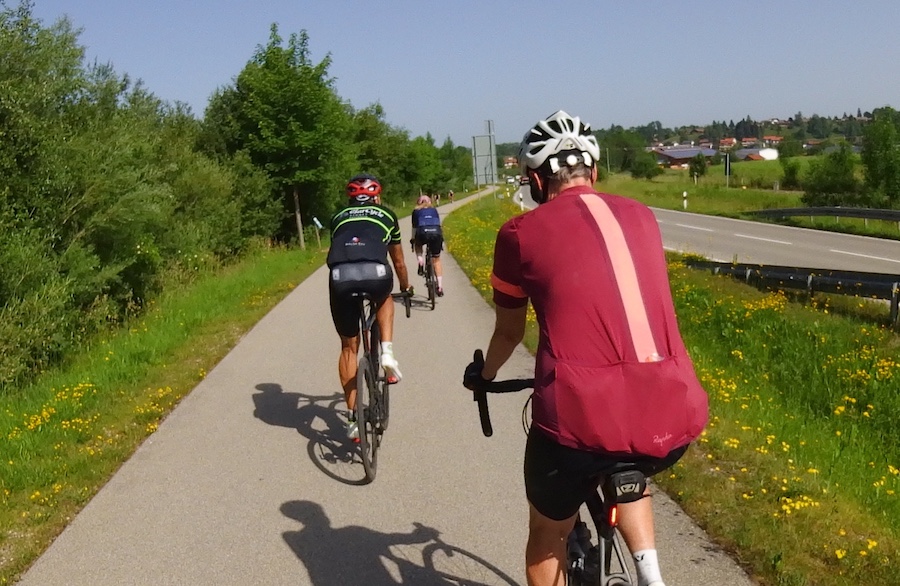 Somewhere along this section of the ride Louise stopped with Michael and took this terrific photo which I think beautifully illustrates rural life in the alpine region of Germany and Austria …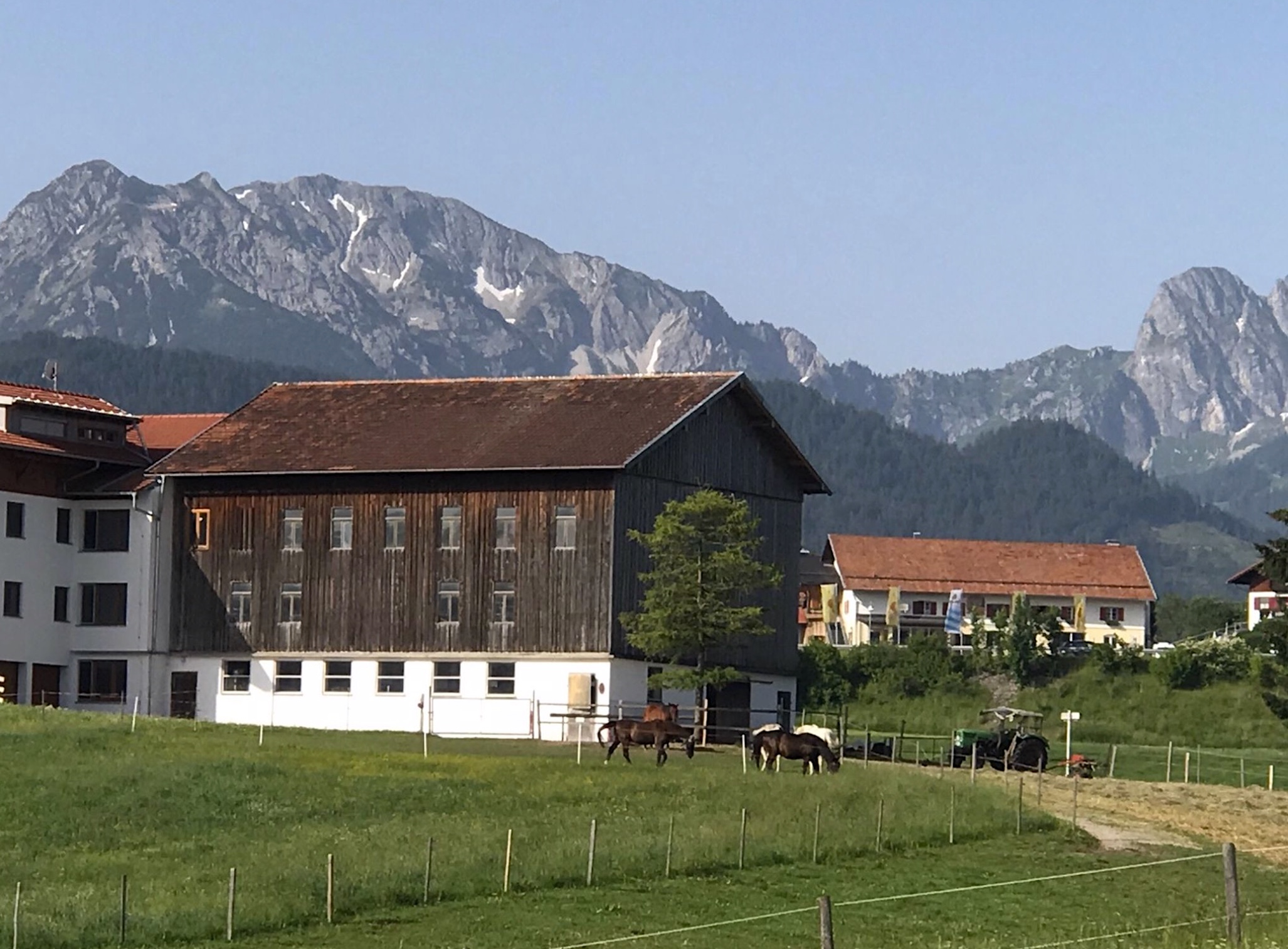 At our coffee stop Francesca has set the van up in a nifty location behind a brilliant bakery and everyone (especially Chris!) was keen to get some tucker inside themselves …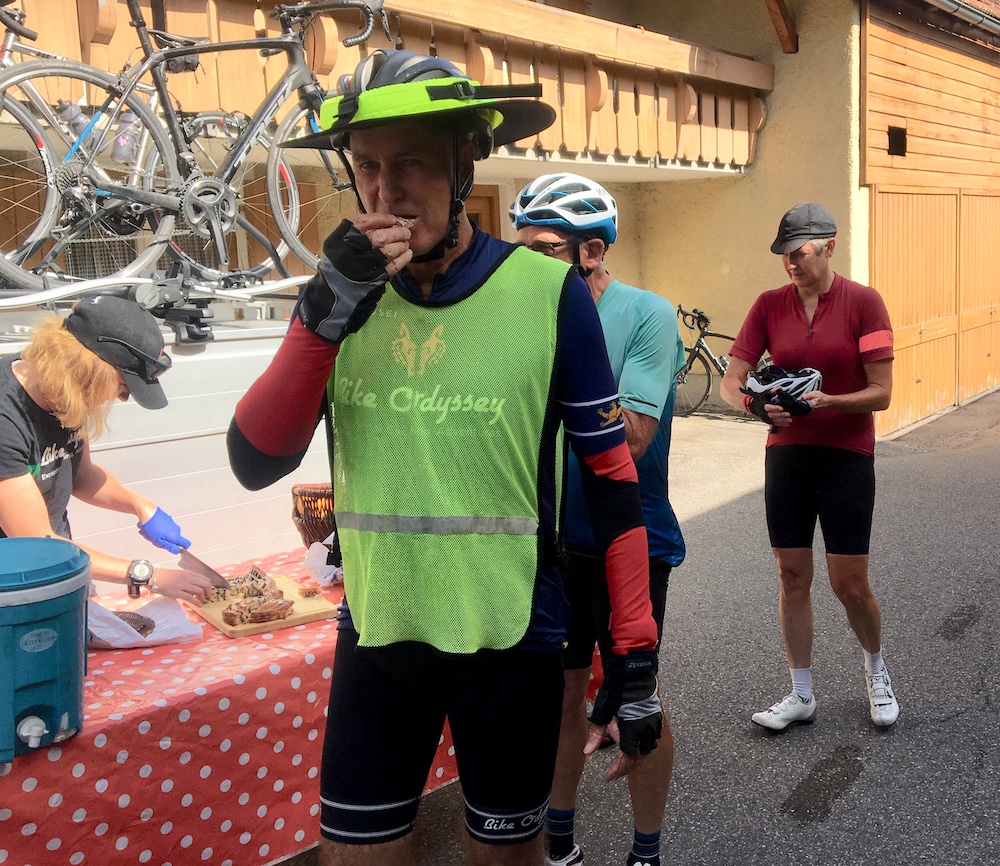 Because she'd already procured some nice pastries for us to munch I don't think anyone availed themselves of the fantastic looking fare inside the bakery itself. However, most of us had a coffee, and I recorded this lovely moment of banter between Jo, Di and Sharon – with Jose grinning in the background …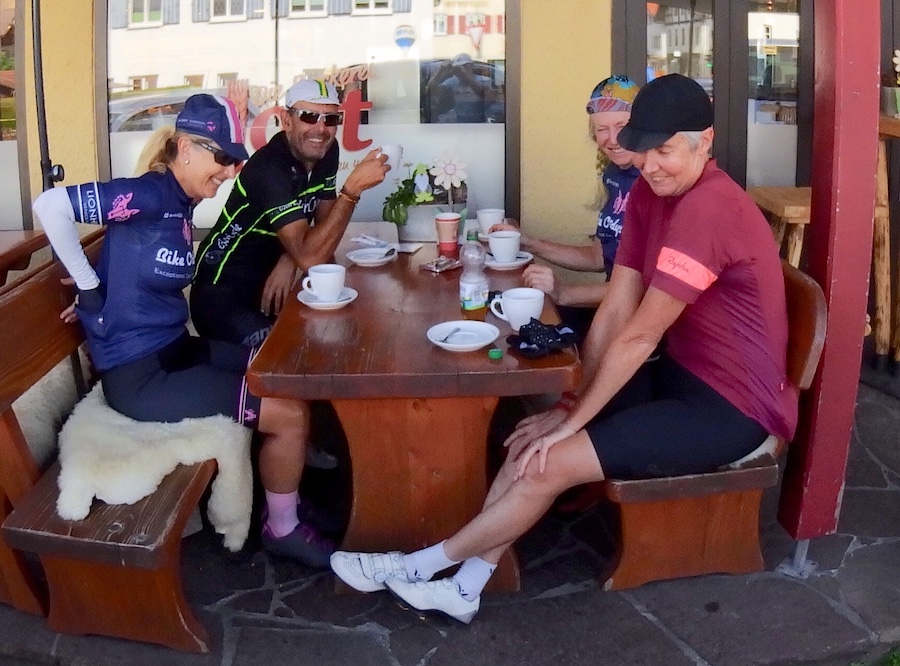 Back on the bikes the five of us got a good rhythm going. What can disrupt a group's rhythm a little bit are sections where the bike path switches from one side of the road to another, requiring particular watchfulness. Here's Jose indicating one such switch …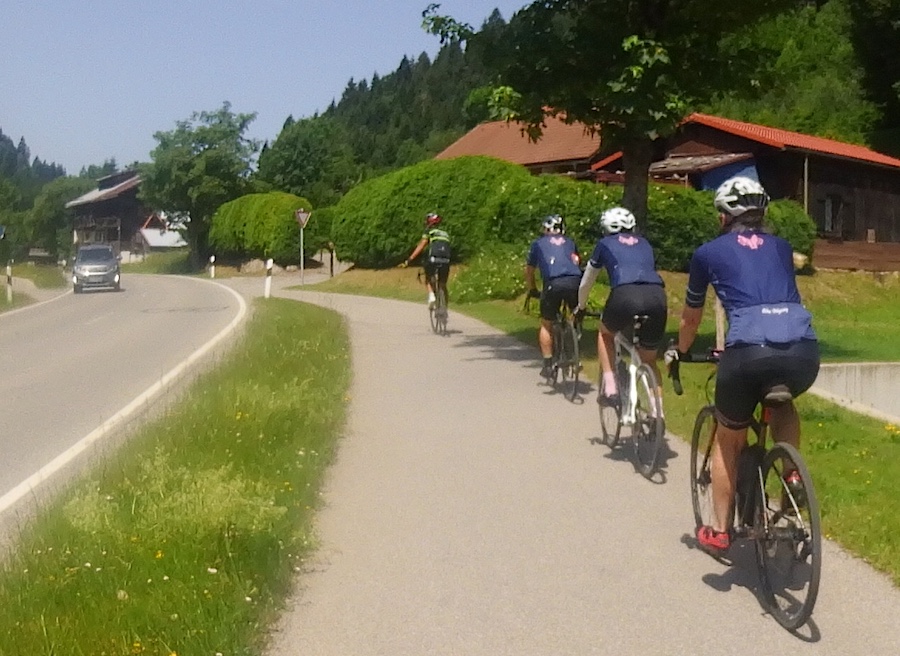 There was quite an attractive building that quite a few of us seemed to think was worth a photo. Jose paused and let me pass so he could get his shot …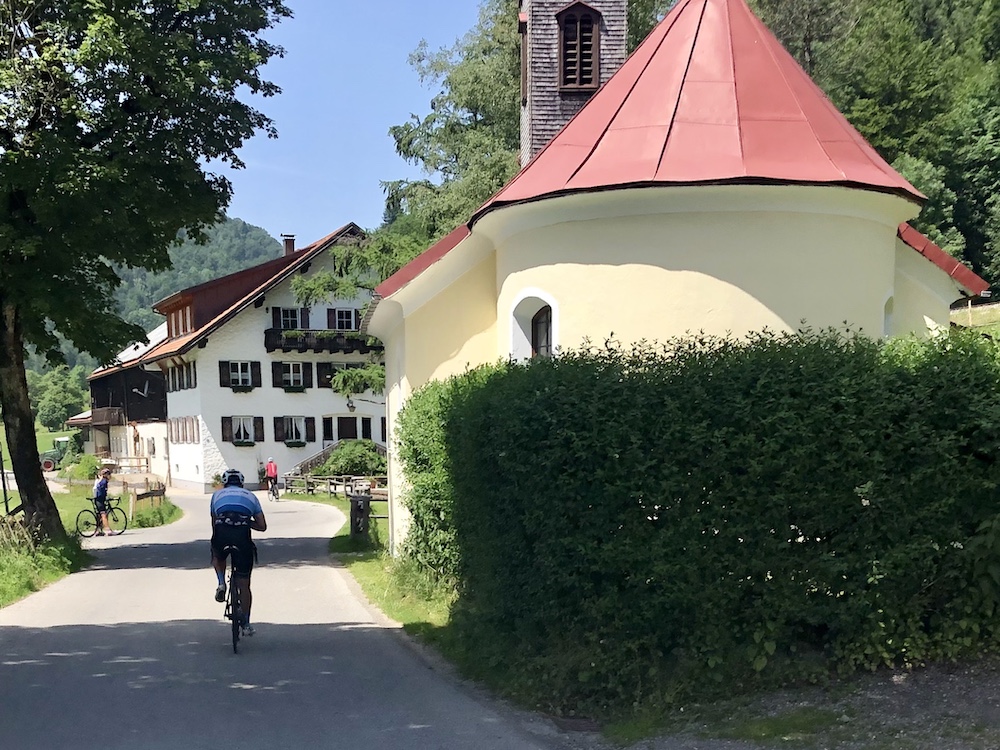 Before too much time had passed we'd caught up to the Three Cycling Gentlemen of Wollongong …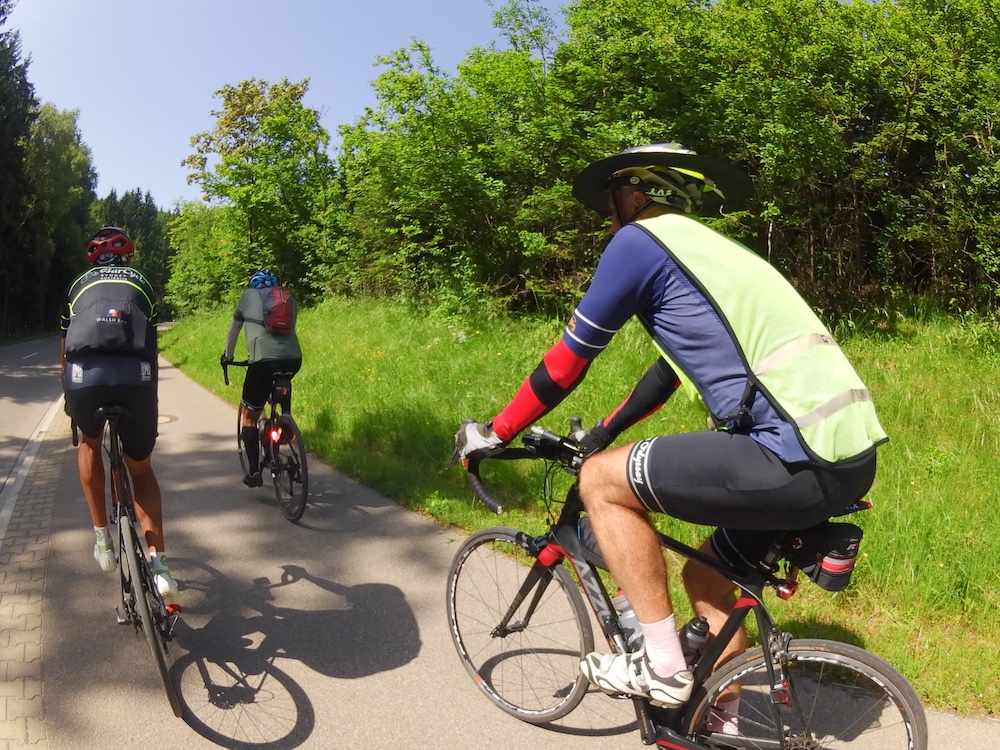 There was almost a bit of tangle just after this photo was taken, with a car coming out of a side street not giving way properly to a cyclist coming from the other way and Jose and me having to take evasive action. Di, Jo and Sharon dropped back a little at this point and when they managed to get past it was only Sharon who got past the Wollongonians relatively quickly.
Jose paused for a photo and to wait for the others while Sharon and I pushed on. I thought this sight of a passenger riding on the fender of a tractor and having a good old yarn with the driver was worth a photo …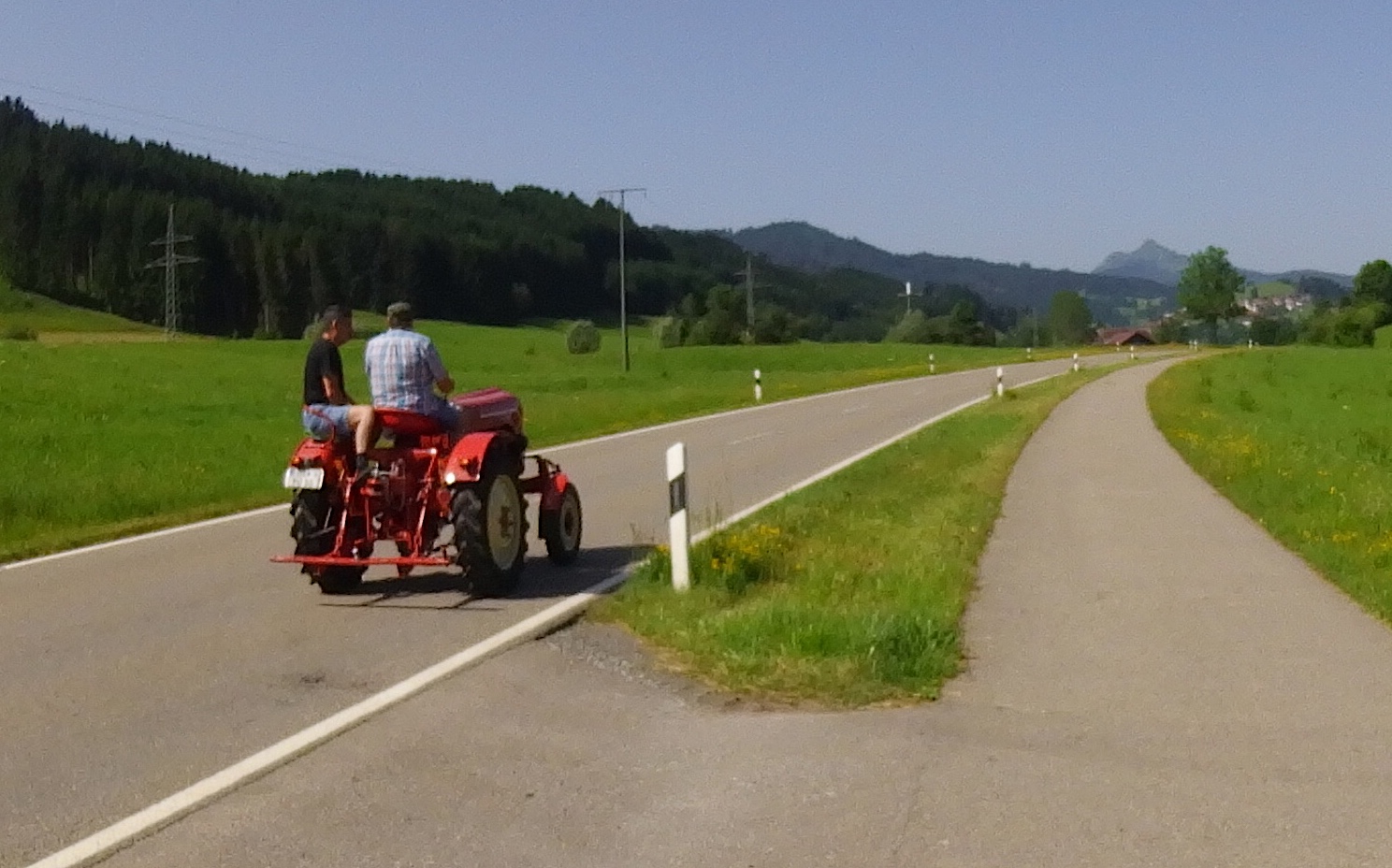 Sharon was keen to have a bit of a hit out so we scooted along together for about five kilometres towards the day's high point. Sharon said she was going to ease off as were were getting closer to the top but I heard someone breathing down my neck and thought she must have got a second wind. It turned out to be Jose and he only didn't go past because he knew there was a steep descent down the other side and thought he might as well give me a head start before he reeled me in again.
Once we had reunited we steamed along a quite a nice little pace on flat ground. This was my main view over that period of time …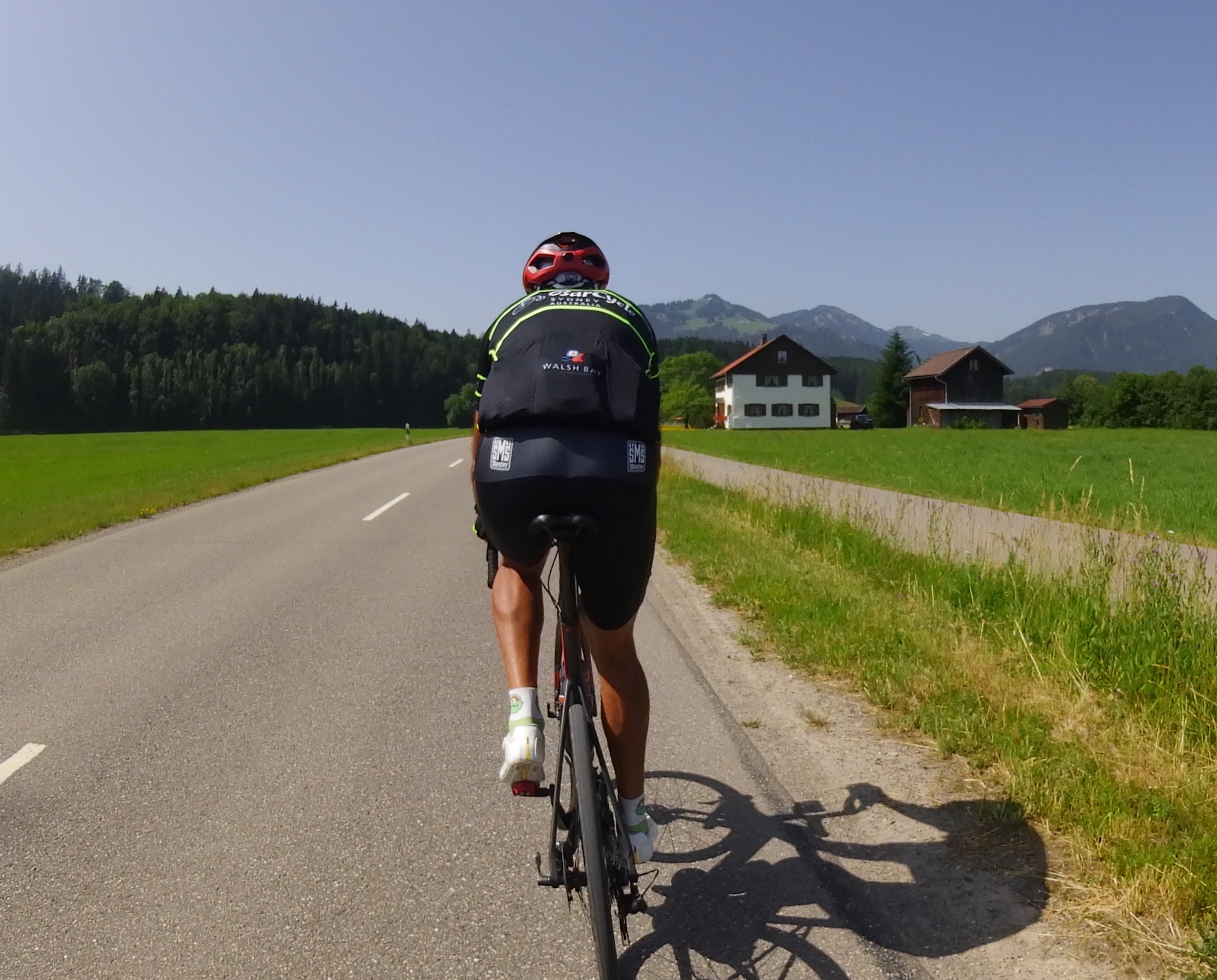 As we neared the ruins of an old castle I got the camera out and took this photo (yes, Jose is on the wrong side of the road but we are crossing to the bike path!) …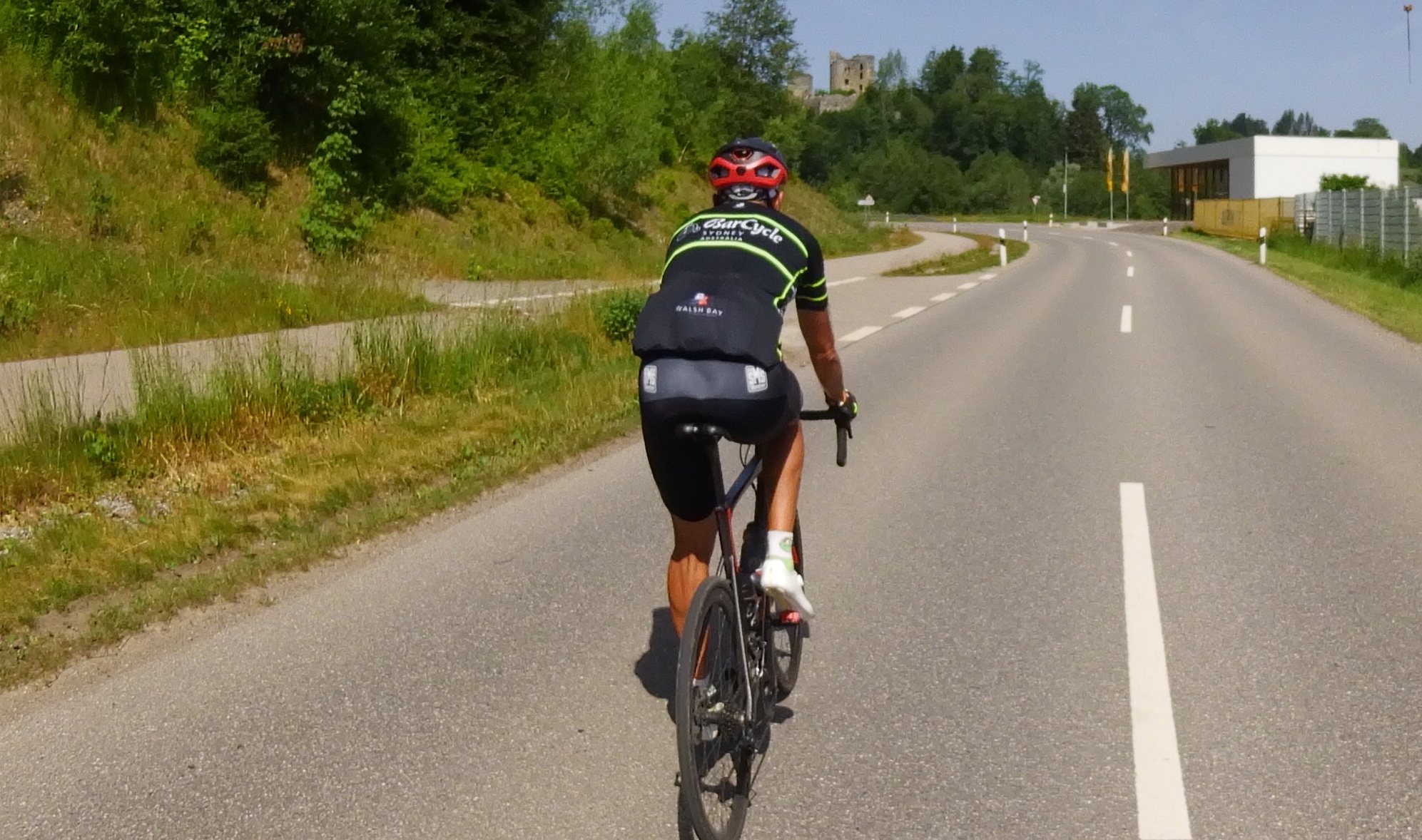 … but Jose decided to stop and got an even better shot …
As we neared lunch and the road rose up a little more steeply with a bit of a headwind thrown into the mix, Jose burned me off his wheel but was kind enough to slow down when he realised I'd folded. We rolled into lunch together to see Francesca the Magnificent putting together a magnificent spread in a patch of shade. Here she warning to stay out of her and her knife's way …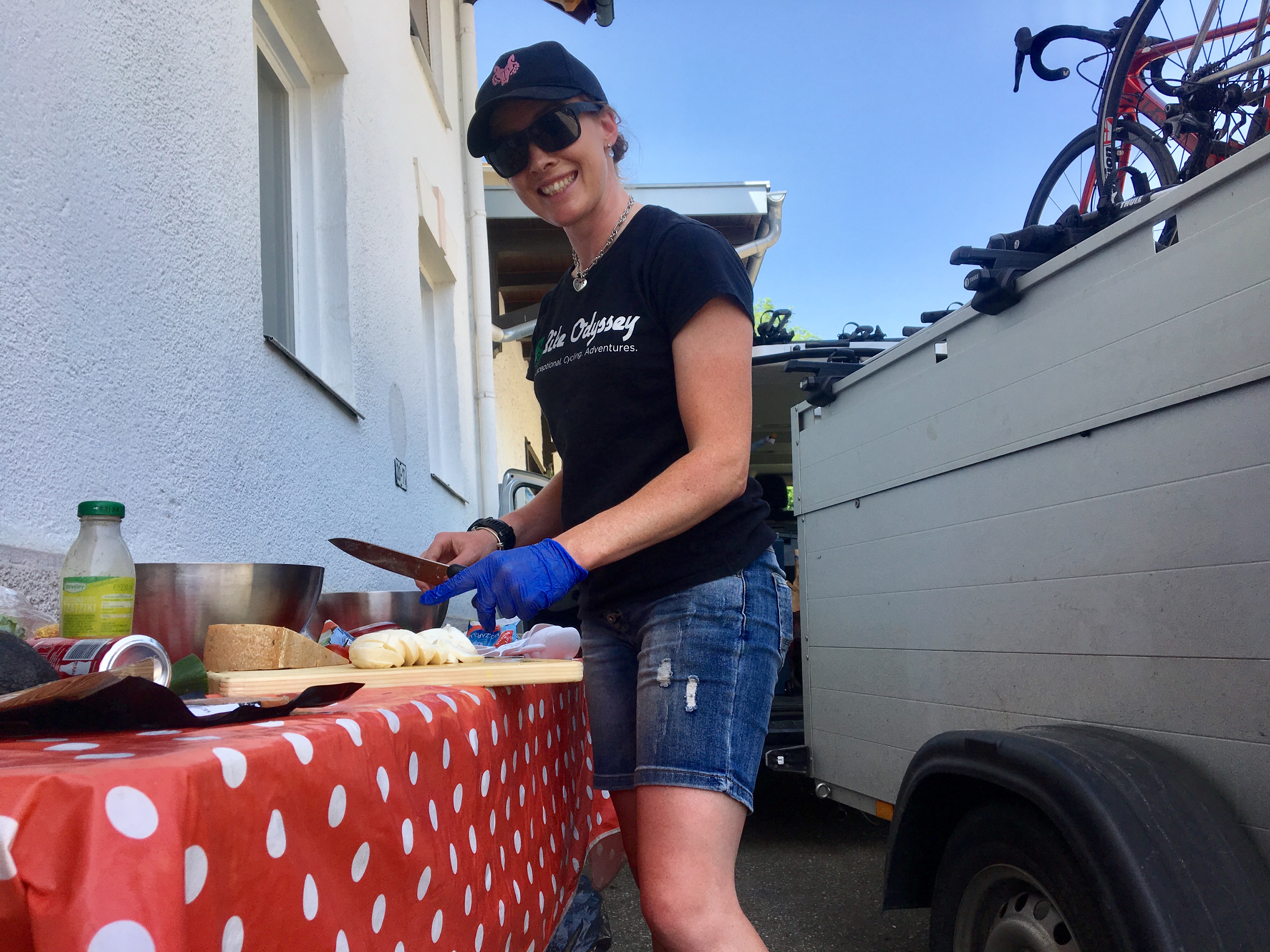 After lunch the temperature rose quite rapidly, along with the terrain. A number of us decided that we'd go a little further than the town of Simmerberg at 80 kilometres into the ride, which is where Francesca had suggested we might like another break due to the heat. We though it would be better to get over the next set of hills and leave less distance remaining to the end, so we stopped at Scheidegg at 88 kilometres instead. That worked well as we only had one long but gradual climb before starting the descent towards Lake Constance and our hotel for the night in the historic town of Lindau.
At the top of the descent Jose paused and took this shot of me starting down …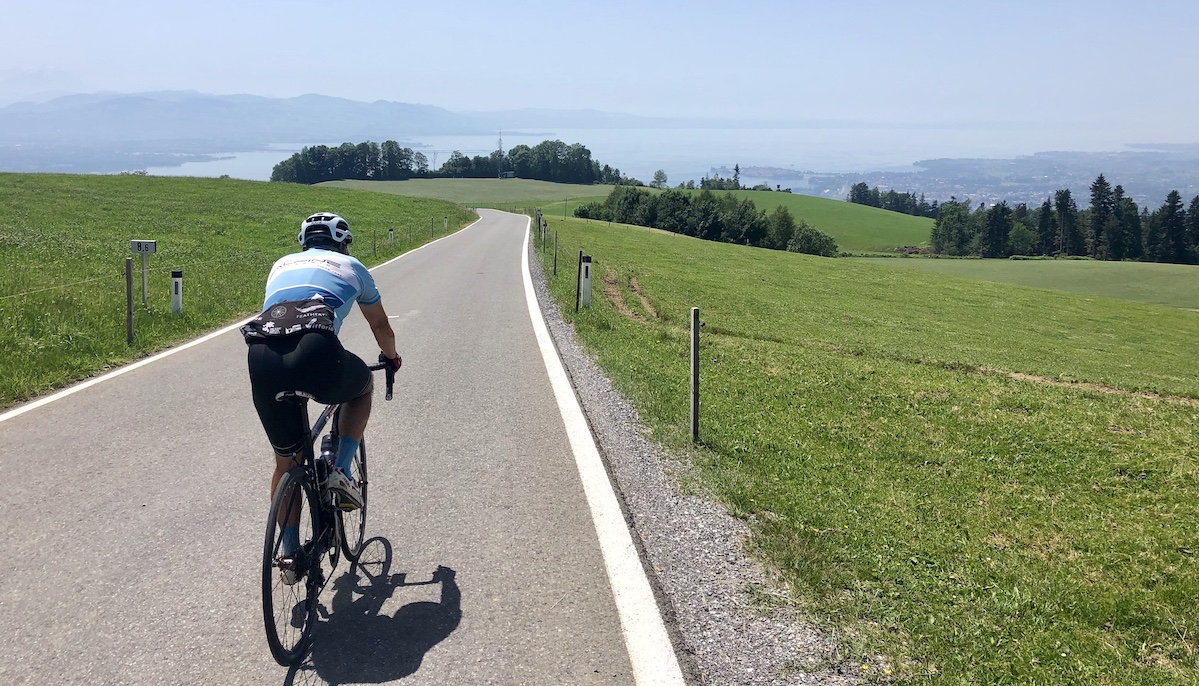 Everyone arrived pretty warm and celebrated the completion of the day with cold drinks all round. Another great day on the bike, but maybe not quite as stunning as the past few days which were just jaw-droppingly gorgeous. Don't get me wrong: it was a very, very enjoyable ride made all the better with good company along the way. But the previous three consecutive days of riding – tough as they were – really topped the charts for scenery and great riding.
We're in a lovely little boutique hotel with a very welcoming hostess here in Lindau – where we've got a rest day tomorrow. I don't plan a big day of sightseeing tomorrow but we've had a bit of a walk around to dinner and an explore afterwards. I was intrigued as to the history of this city on an island just off the shore of Lake Constance. At only 0.68 square kilometres it is a tiny area. Apparently there was a Roman settlement here dating back to the 1st century AD, and in the 13 century two things of importance happened: a monastery was founded and Lindau became an "imperial free city" under King Rudolph the 1st. Here is a picture I took this evening of the entrance to the harbour, which was built in 1854 and features the only lighthouse on Lake Constance and a large statue of a lion …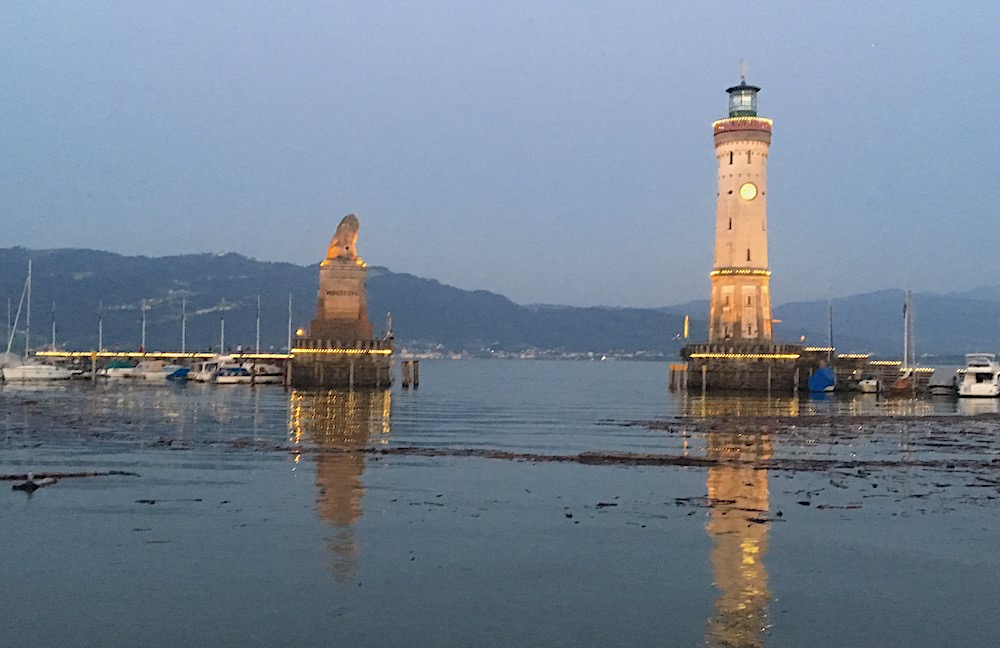 Chapeau Bruno
I want to finish with a special mention of our guide Bruno. The last couple of days he's gone above and beyond the call of duty. Because of a mix-up, after his normal working day was finished Bruno did a 7 hour round trip drive to pick up a replacement rental bike that was delivered to the wrong hotel. And then today he had significant bike issues to deal with in trying to get said replacement bike to shift gears properly, as well as a few other smaller issues to sort all before starting guiding for the day. So, chapeau to you Bruno for your great service.