Dürnstein to Steyr
The day's stats at a glance:
distance: 122 kilometres
total elevation: ~ 800 metres
Today's ride was in two very distinct parts. We spent 75 kilometres riding alongside the Danube and about another 10 kilometres moving away from the river but still on very flat ground. From that point we climbed up two fairly short hills over a distance of about 12 kilometres before spending the rest of our ride rolling fairly gently up and down over small bumps. It was very busy along the Eurovélo  route alongside the Danube with cycle tourists streaming by individually, in small groups and in quite large groups. Before I get into more comprehensive descriptions of our day though I'd like to share this photo …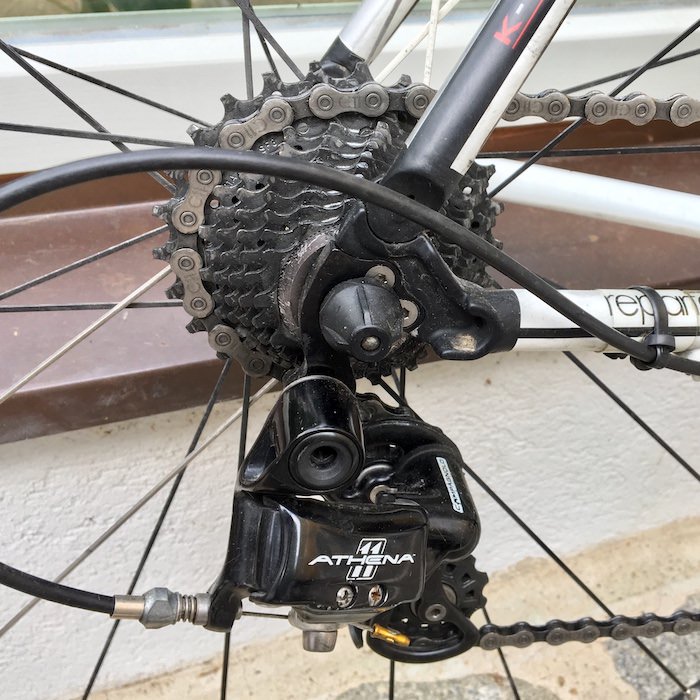 It's Tony's cassette and rear derailleur, which I noticed before we headed off this morning. First of all, kudos for running Campagnolo gear Tony: we're a dying breed. But what really struck me was how small Tony's cassette is: my guess is that the biggest cog probably only has 23 teeth – maybe 25. This is a very clear indication that he's got some real cajones regarding his power to weight ratio. No wonder he always goes speeding past me up the hills.
Now then, cycling along the Danube. It was a real joy zipping along the riverside, ducking in and out of small villages along the way, rattling through their cobbled streets and past little churches crammed in between stone cottages. Between the villages the path tends to hug the edge of the main road. Here's an image of Di, where you can also see one of those ubiquitous river cruise boats as well …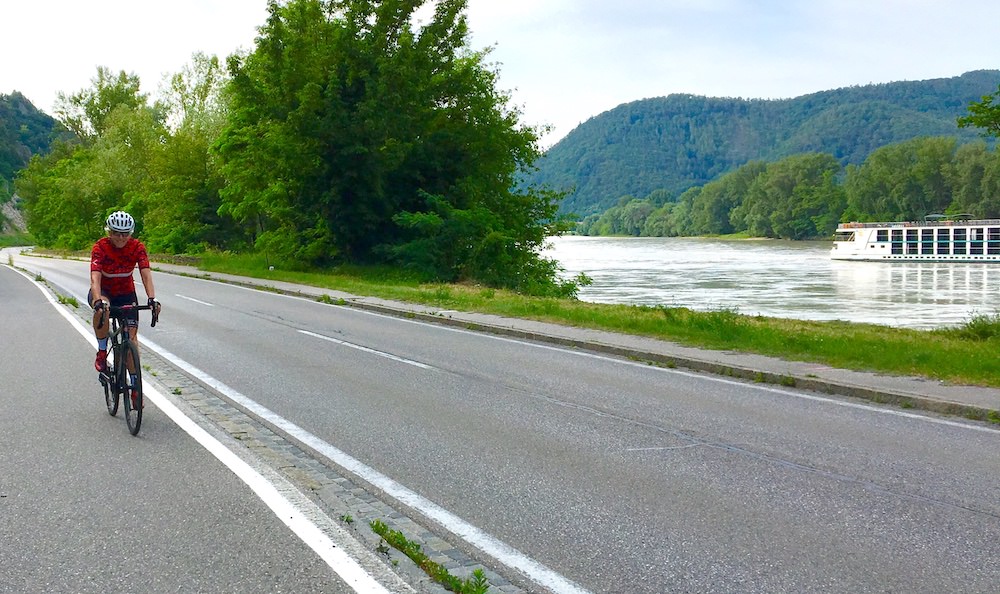 As I mentioned in the last post, there are lots of vineyards in the area surrounding Dürnstein. Not long after we left this morning I stopped to take a photo of a woman tending to the fast growing grape vines …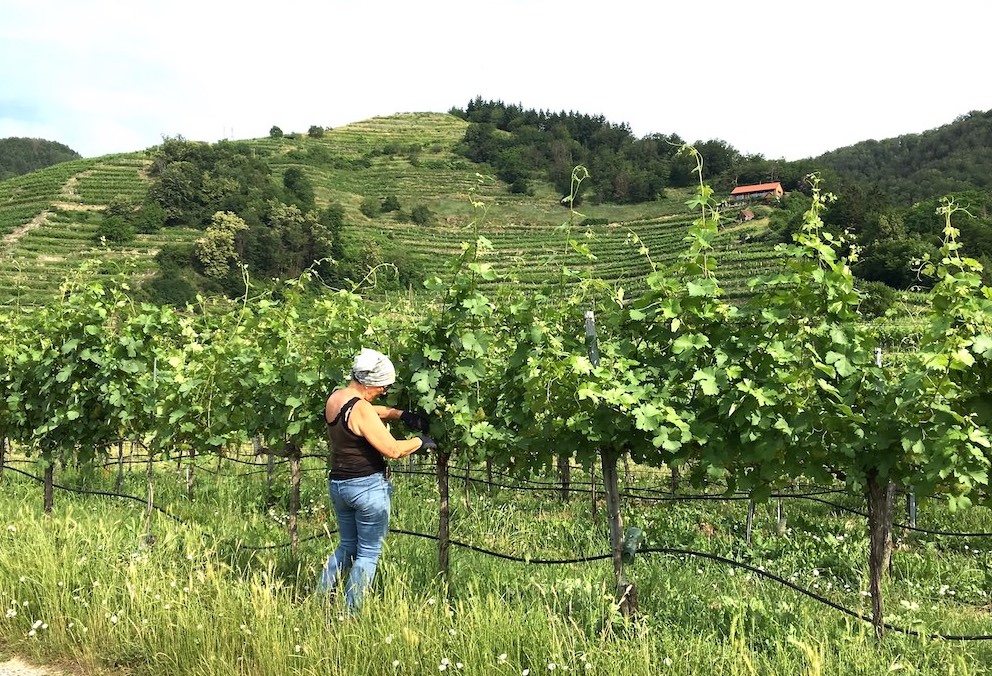 After a few kilometres Di and I found company as some of the others caught us up. Here's a photo of Fran, Mark and Di emerging from one of those little villages I mentioned earlier …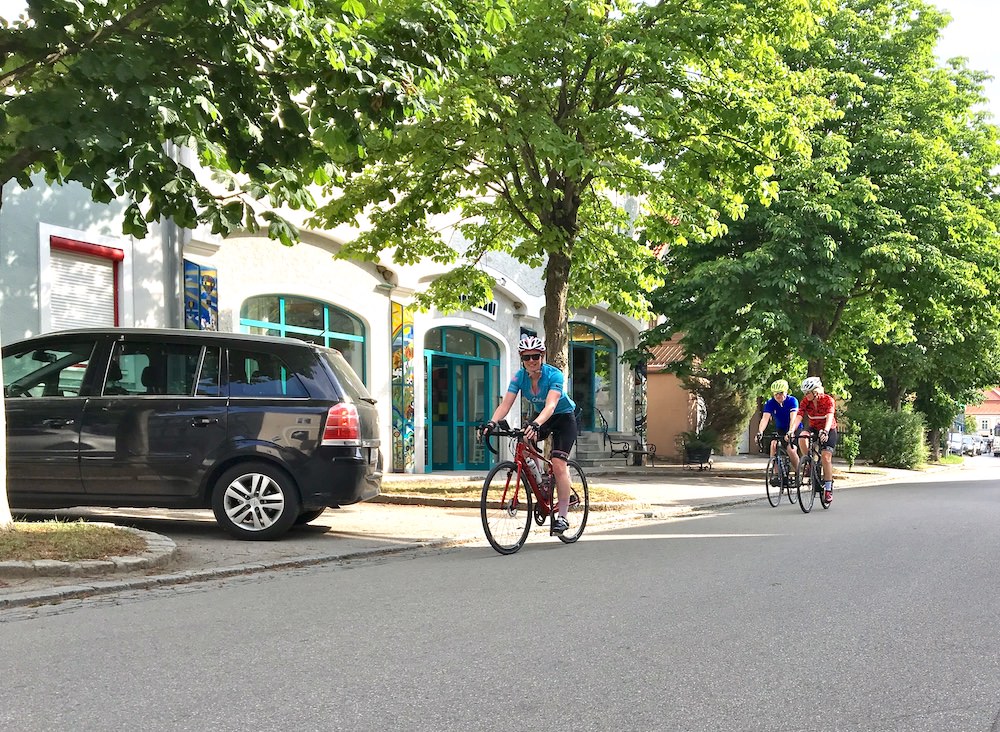 While I was readying myself to take the photo I'd leant my bike up beside a shop front which I just had to take a picture of …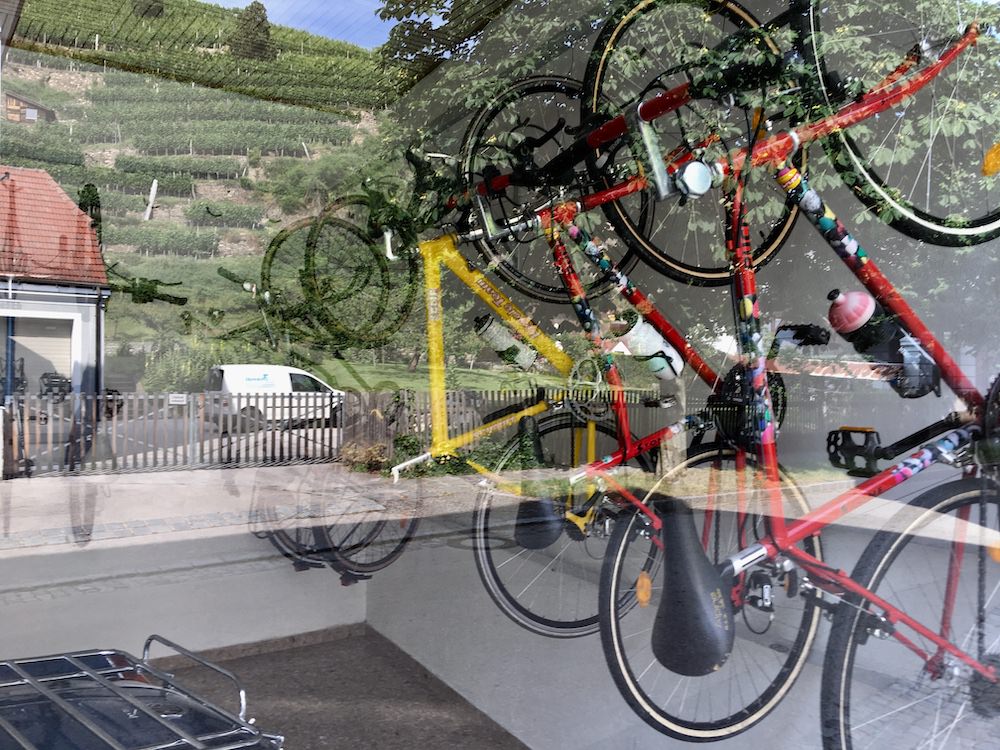 It's the corner of a showroom of classic sports cars (you can see one in the bottom left of the photo) but what I loved was that two walls were festooned with bicycles, including classic old steel-framed vintage machines. A joy to see for an old codger like myself.
We flew along the Danube this morning: the breeze was behind us and we were coming off a rest day. Before we knew it we'd done the 50 kilometres from Dürnstein to coffee at Persenbueg. Here's a look at the pretty little fountain in the small courtyard next to the cafe where we stopped …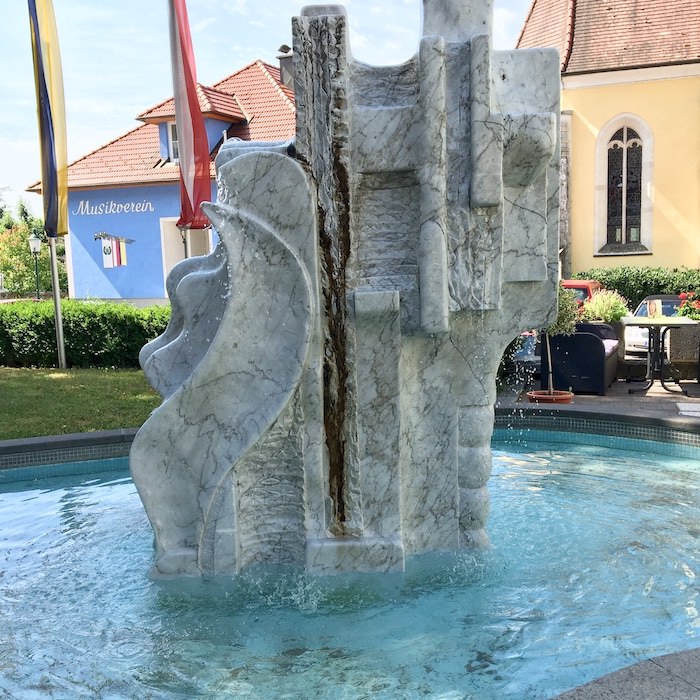 Some of the vélo route west from Dürnstein is dedicated cycle paths, some of it is small roads used mostly just by local traffic. You need to keep reminding yourself to turn away from the beautiful views on the opposite bank …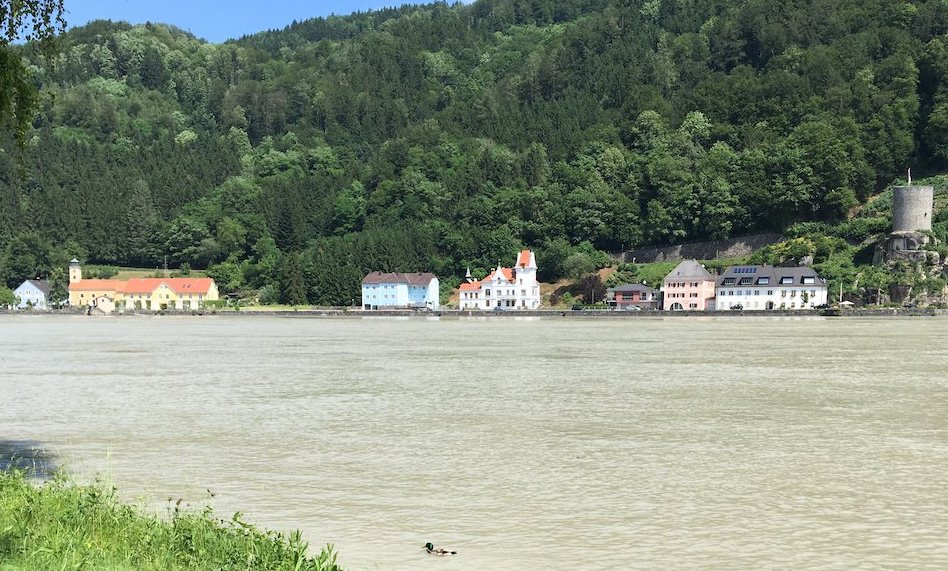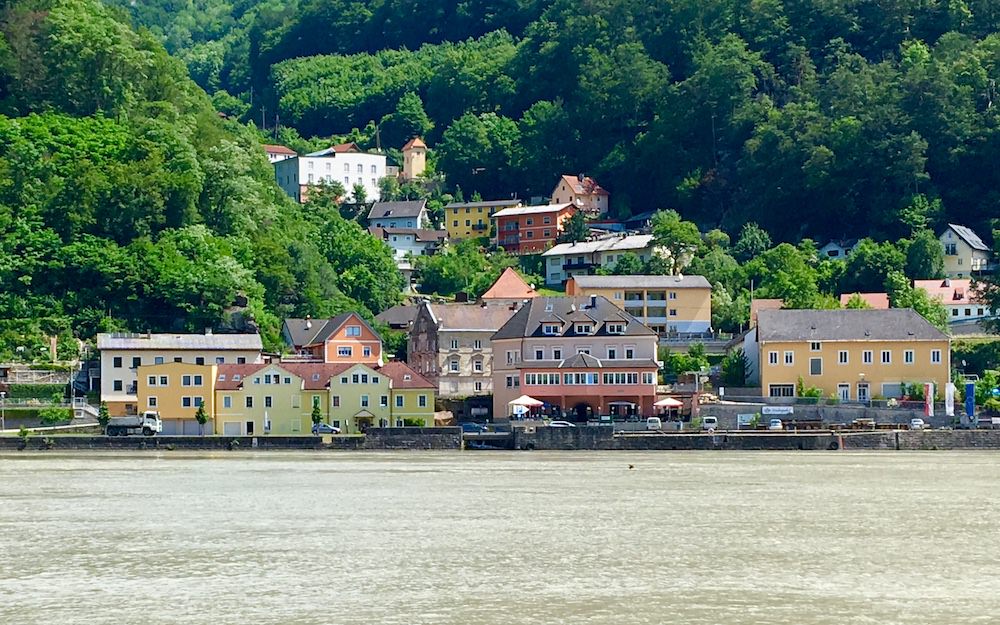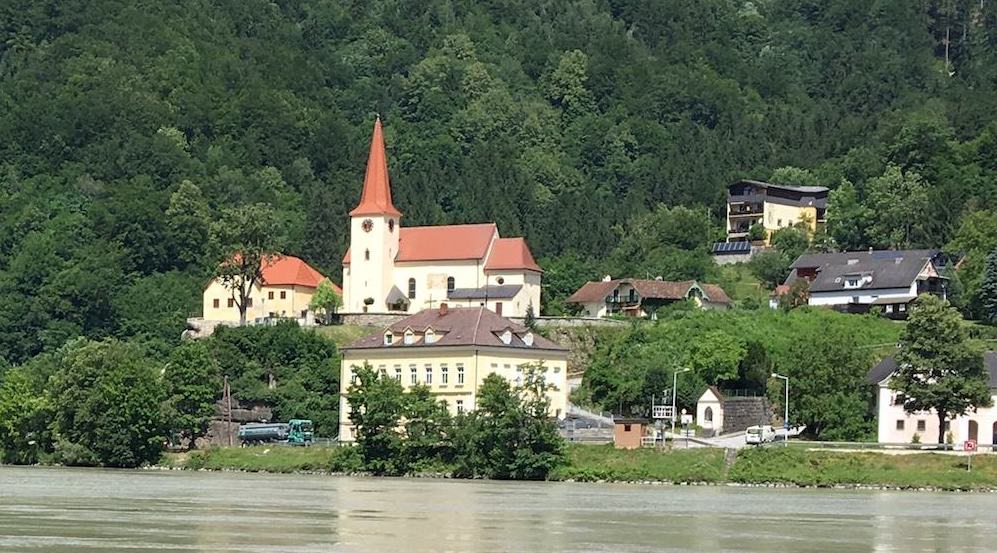 … and watch for passing traffic …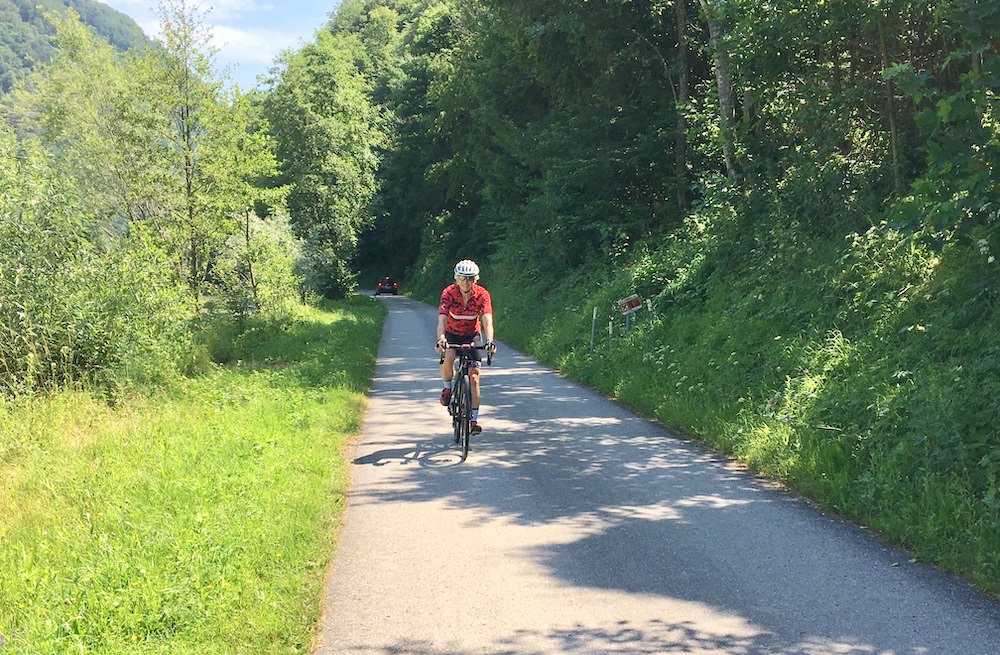 Not long before we left the Danube I passed a fisherman who had a real bend in his rod. He was fishing in a side stream or perhaps a canal next to the river itself. I went on a few dozen metres and thought, "What the heck, let's get a photo of that guy." When I got back to him he was in the process of landing a good-sized carp so I waited until he had it in his net …
… and then took a hero shot for him …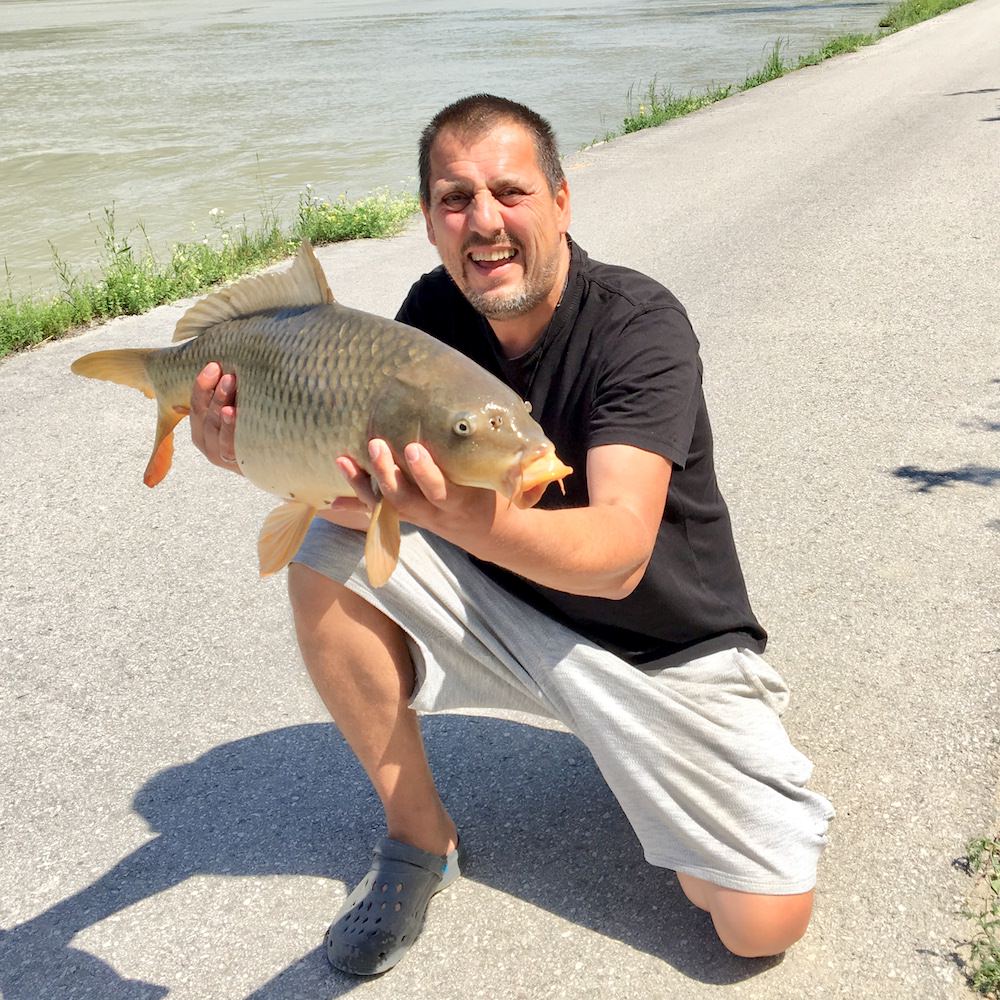 He asked me where I was from and when I said "Tasmania!" he told me he was planning a trip to Tasmania and that place across the ditch (aka New Zealand) to do some trout fishing. It's nice to stop and have a chin wag, isn't it? You never know what the result will be.
Somewhere along the river Sam took this great low angle shot of John …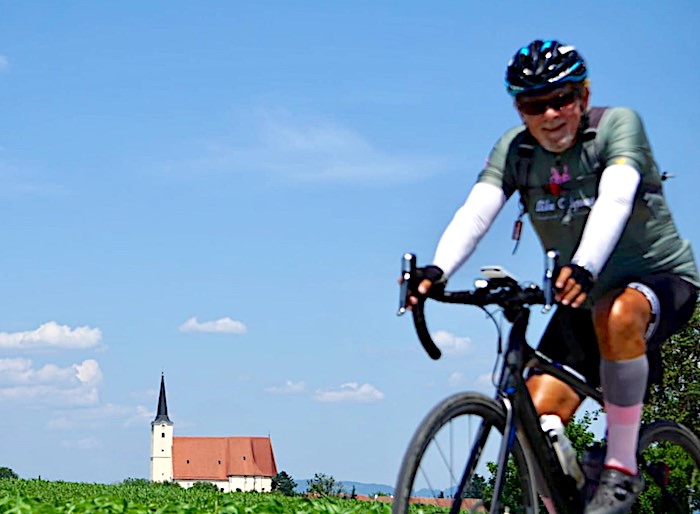 Here's my last offering of our ride alongside the river before we turned inland …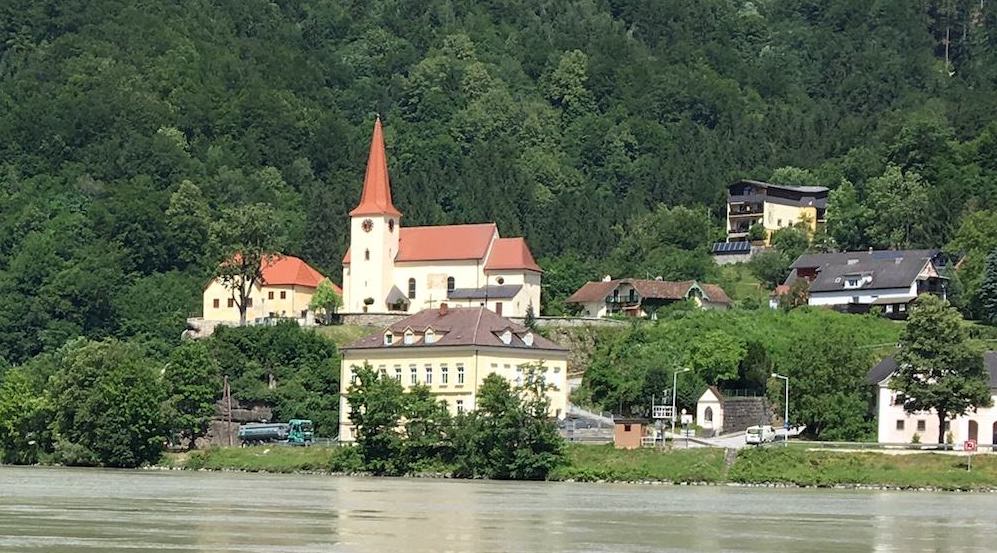 Sam had stopped the van 82 kilometres from Dürnstein at a place called Leitzing near a cafe. Francesca photobombed me just as I was taking a photo of my bike with the van and the Bike Odyssey flag …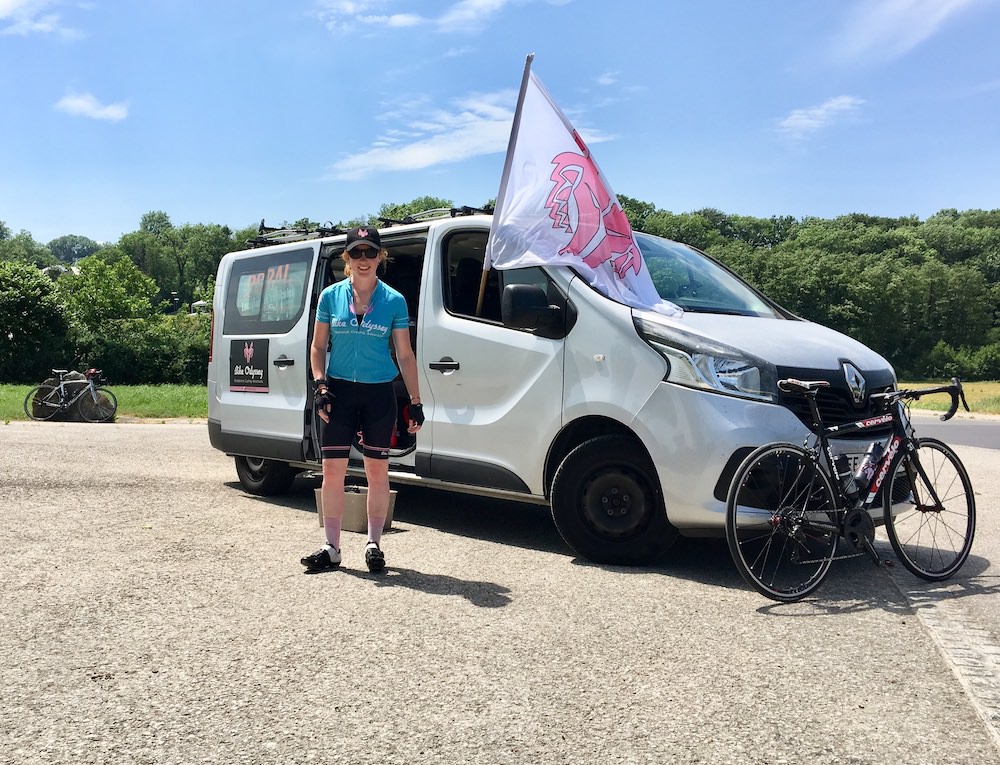 Maybe it was because Sam, on his final foray at providing a picnic lunch on this tour, was giving her serious competition for best lunch on tour …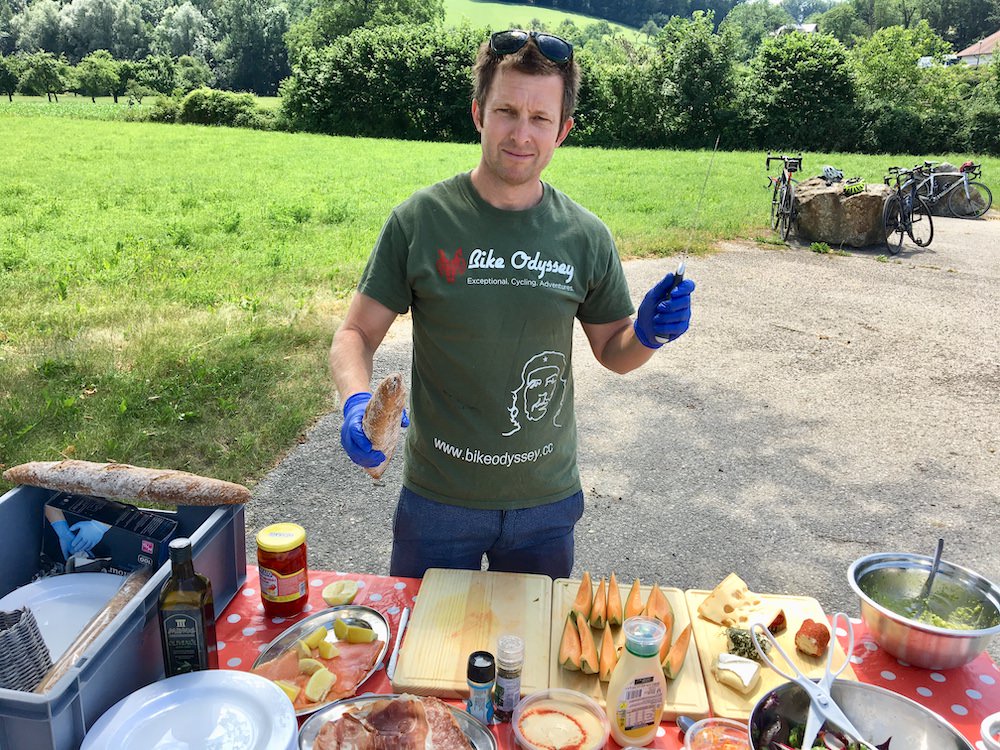 There is an edifice at the little turnoff where Sam had parked which housed this icon  …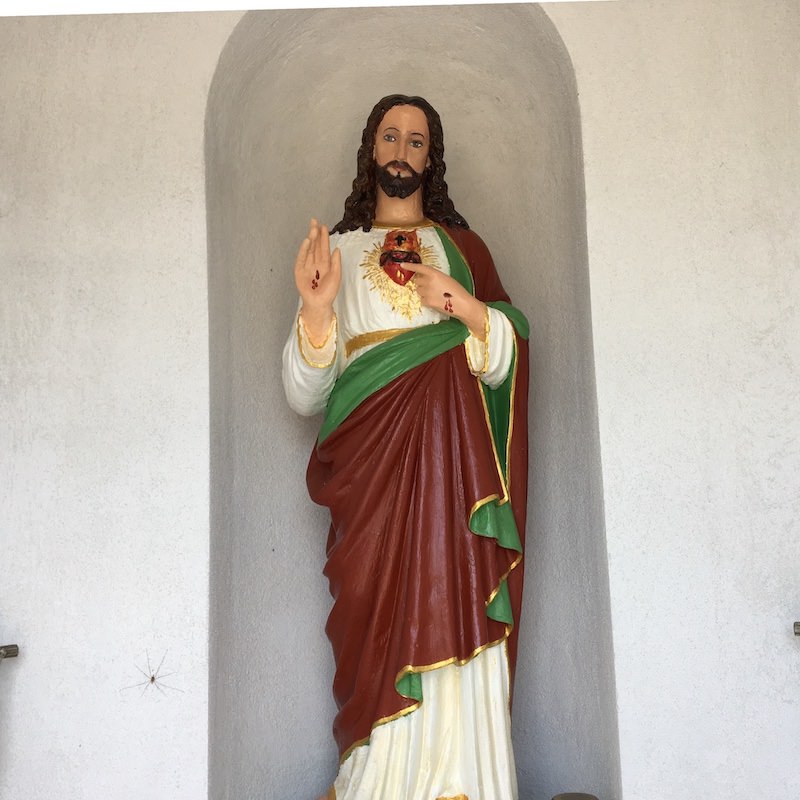 Jose rolled into lunch with a lean and hungry look …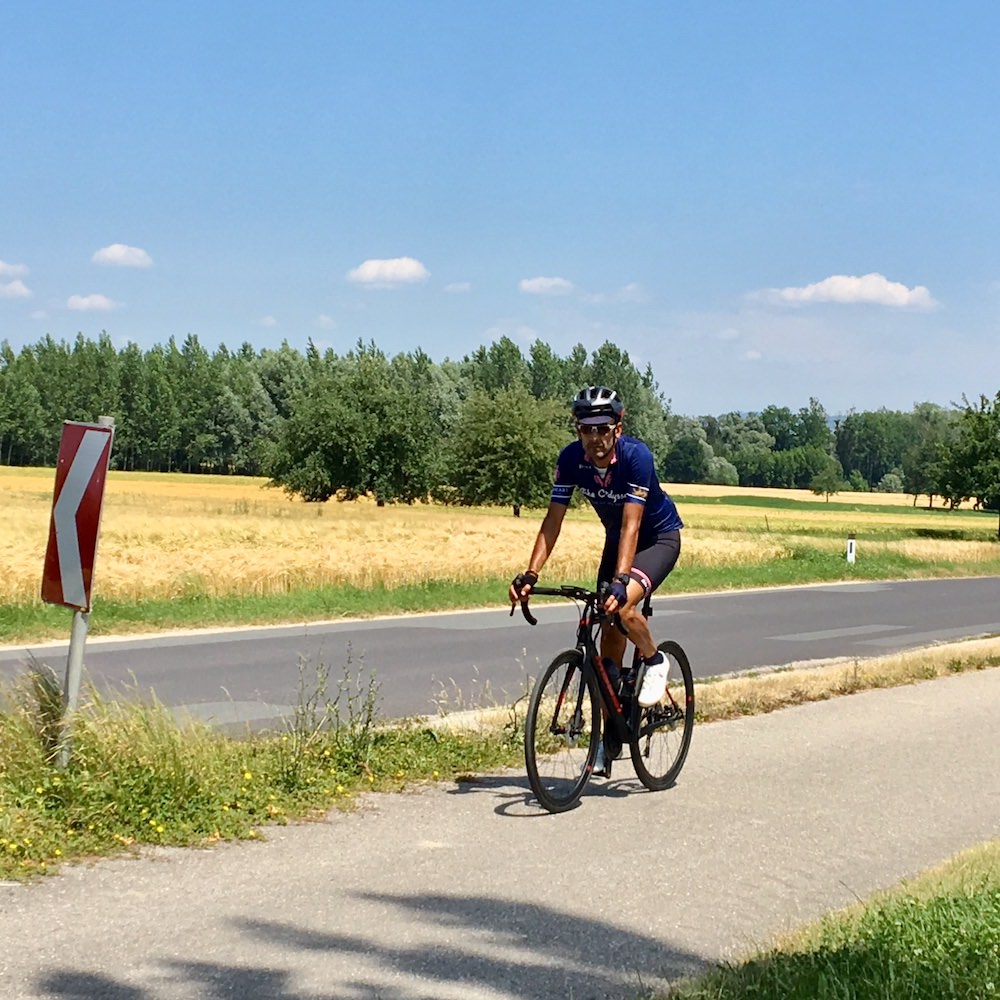 … closely followed by Sharon …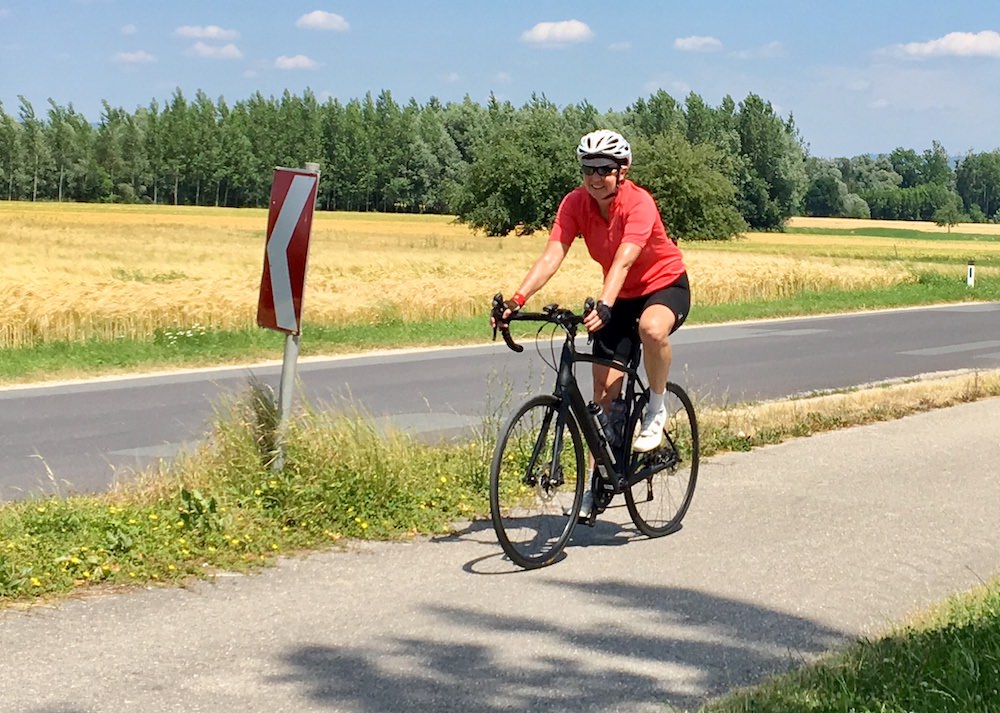 … and Jo …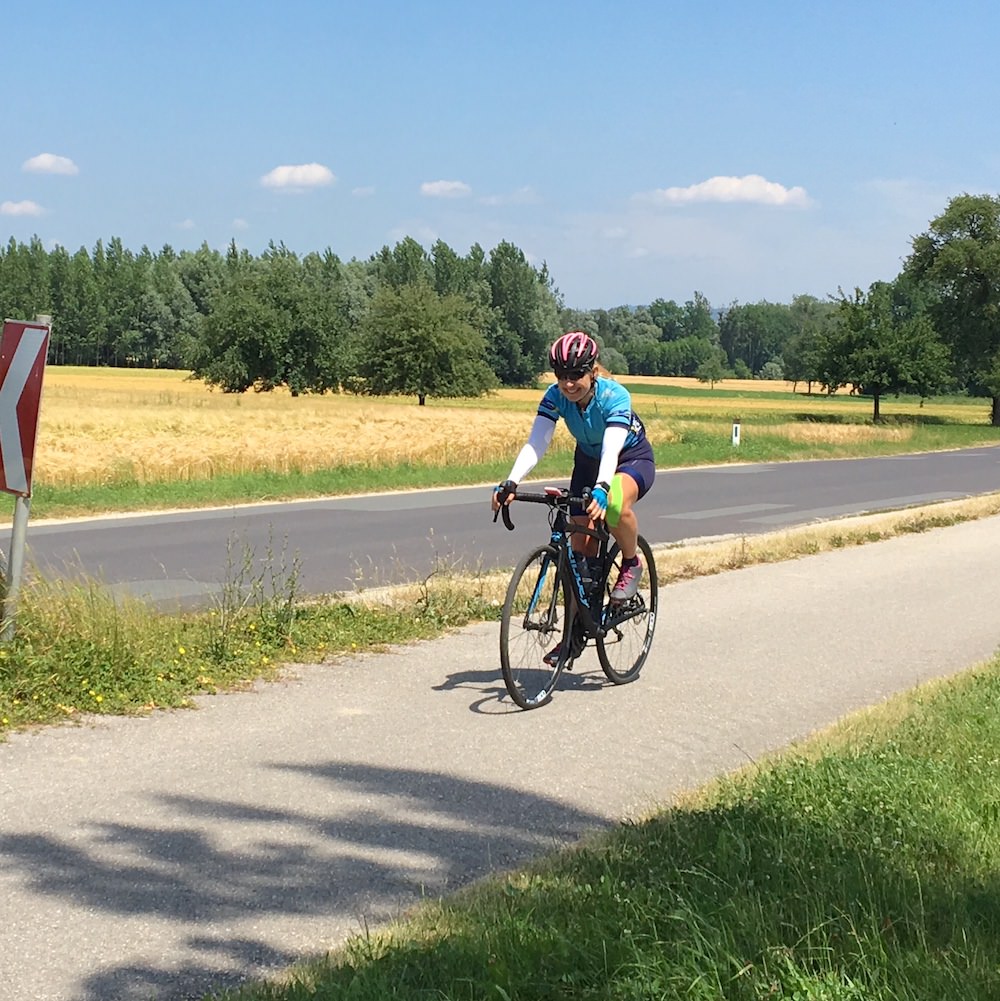 We were all rather mystified why the building had the dates 1922 – 2019 inscribed upon it. Has anyone out there got any ideas?
Before setting off for the remainder of the ride Di and I wandered up to the cafe to check out the toileting facilities. I was rather amused to spot what could only described as an attempt at the "the big pear" …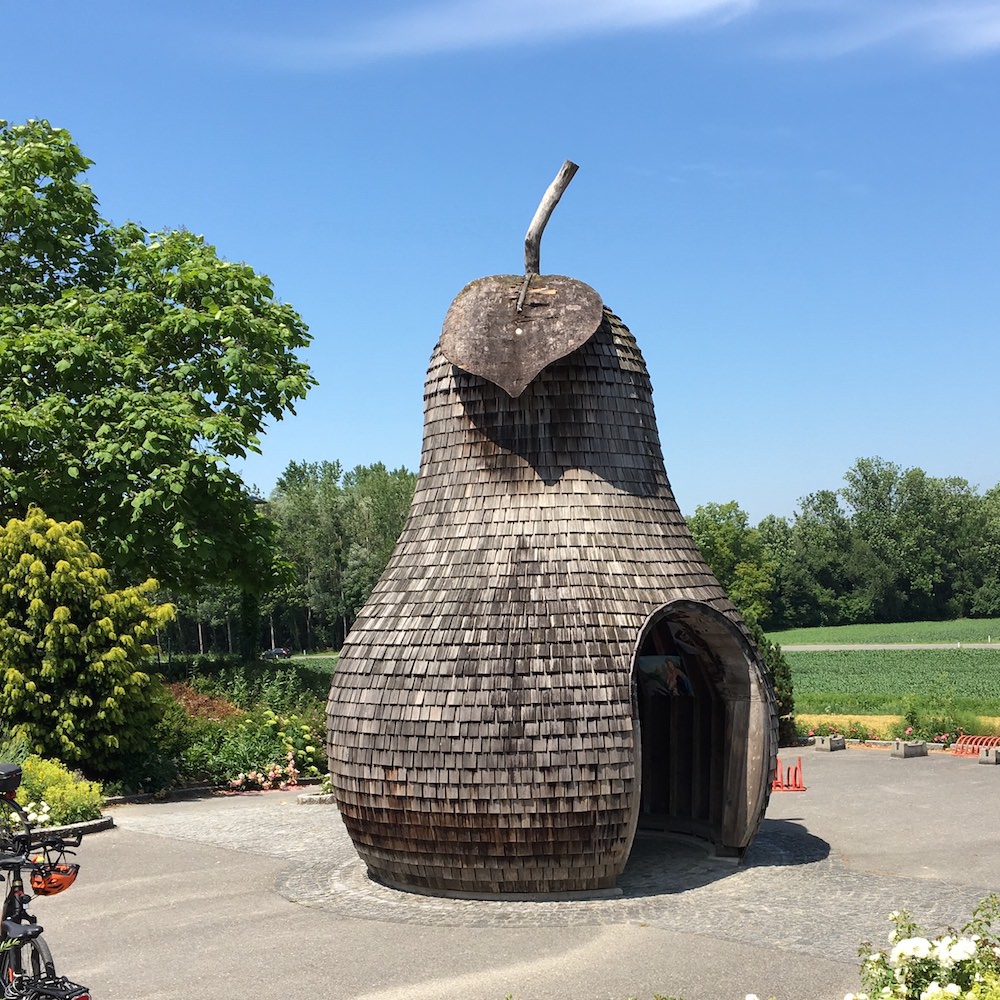 Really? Don't these guys know that Australia is the home of the big everything? You name it, we've got it big. Why, there's the big banana, the big pineapple, the big cherry (found in Young, home of one Maxibon Hoffman, Bike Odyssey guide extraordinaire), the big koala, the big prawn and the list goes on … and on … and on.
Unimpressed, we set off further inland. Soon, I was impressed (as I have been for most of the tour). Around me were crops growing so vigorously they seemed almost to be jumping out of the ground. A few days ago we saw some super lush fields of grain. As we were going past another today I decided I just had to take a picture …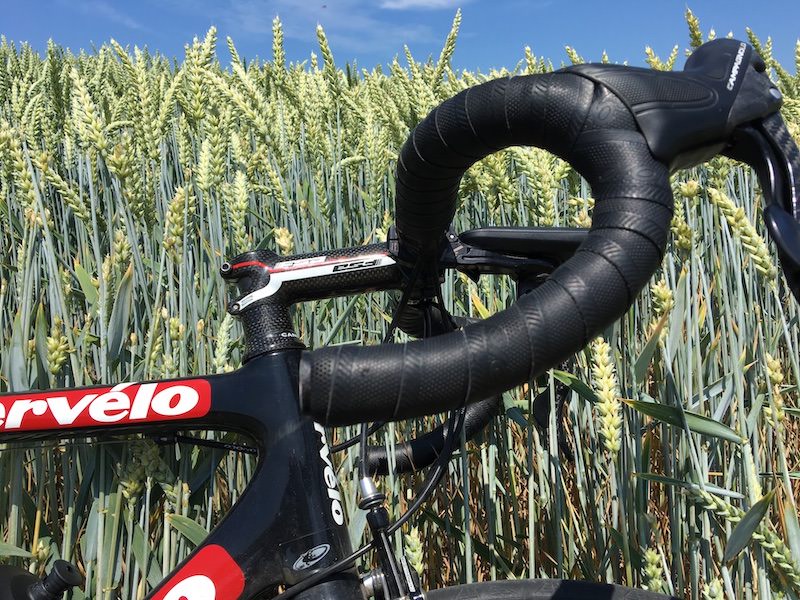 A little further on I spotted yet another roadside icon that arrested my attention, this one for its beautiful setting  …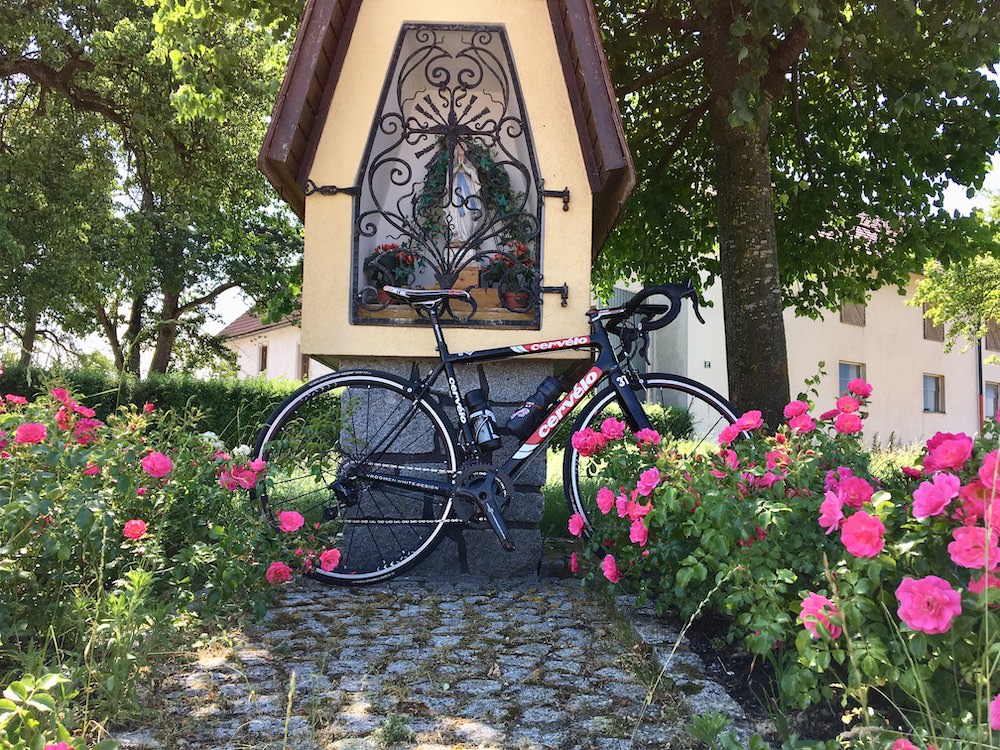 (I don't actually photograph every icon I see, but some of them have particular appeal.)
The farming lands we were riding through were incredibly rich indeed. What I found really interesting was that once we moved away from the Danube we didn't pass through any more small villages. Rather, the countryside seemed to be made up of huge estates that generated enormous wealth for their owners. This family home (there were a couple of children sitting together under  the shade structure in the right foreground) is one example of a lot of houses similar in size we rode past …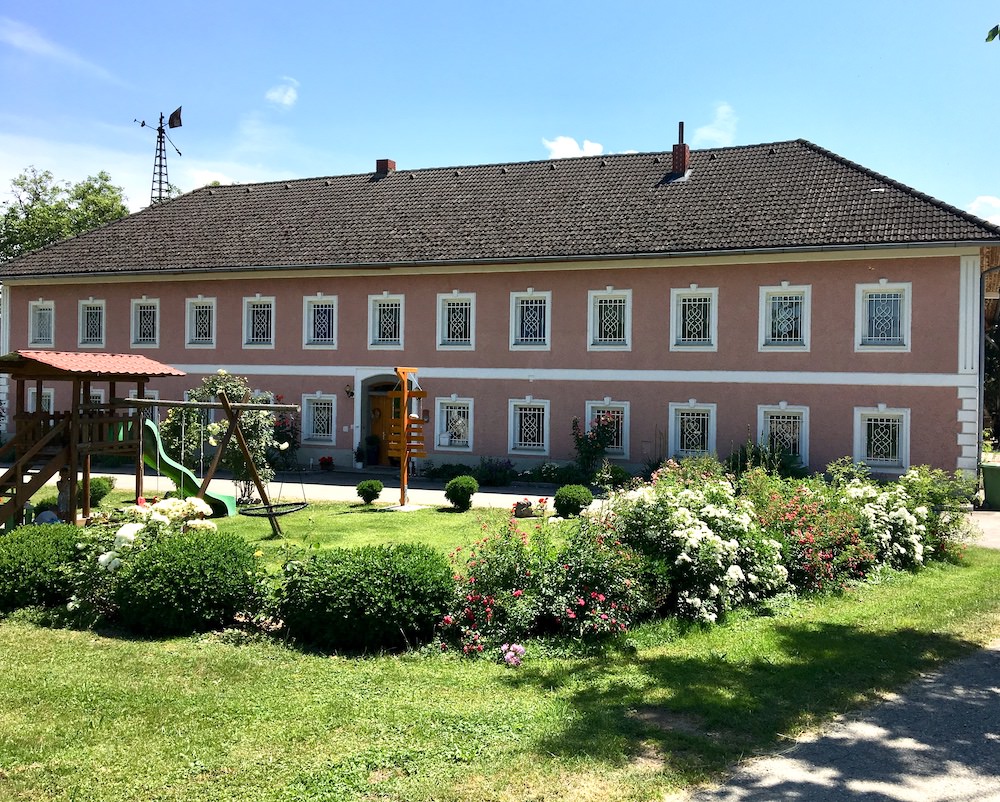 On a flatter part of the afternoon's ride we came to a level crossing where the gates had just descended …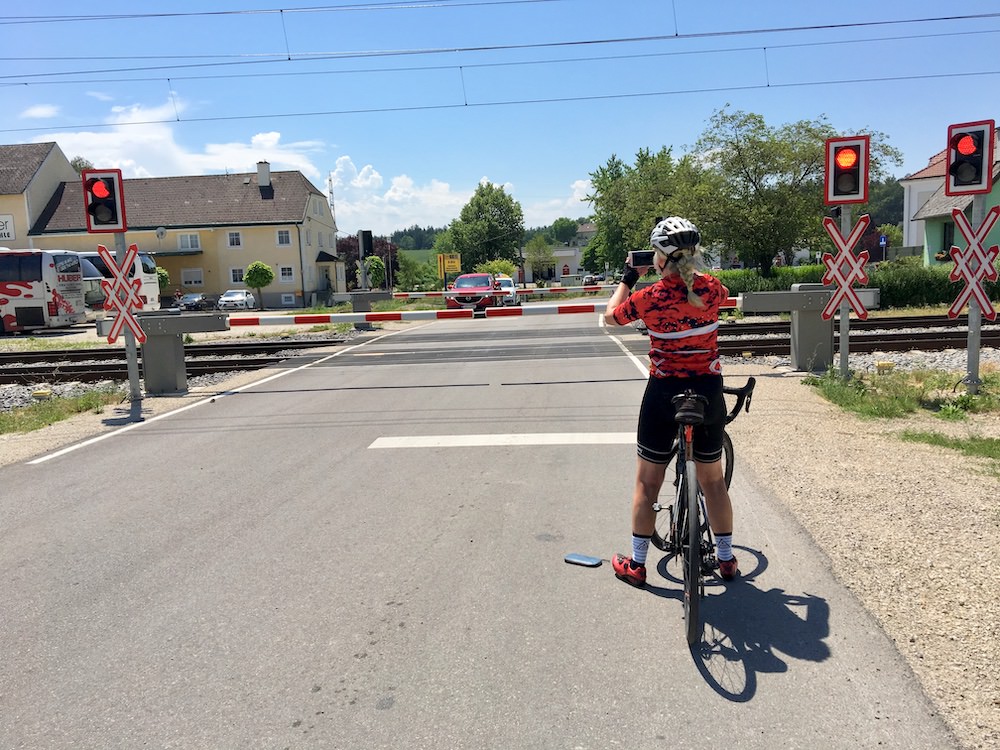 … and – surprisingly – a single carriage came speeding by …
We were getting close to Steyr by now, and after a bit of jiggery-poker entering the city I paused on the bridge leading into town to get a photo of Evan and Di …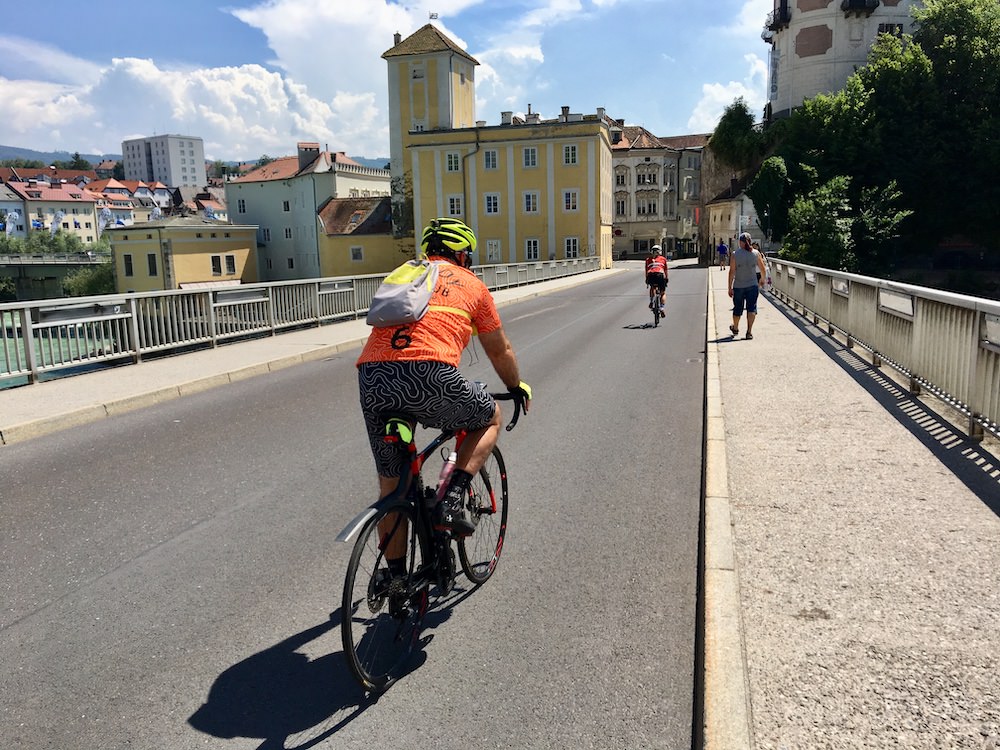 Steyr is a lovely old city, with a large, cobbled central platz. Our hotel is situated right on this platz and this is the street leading into it …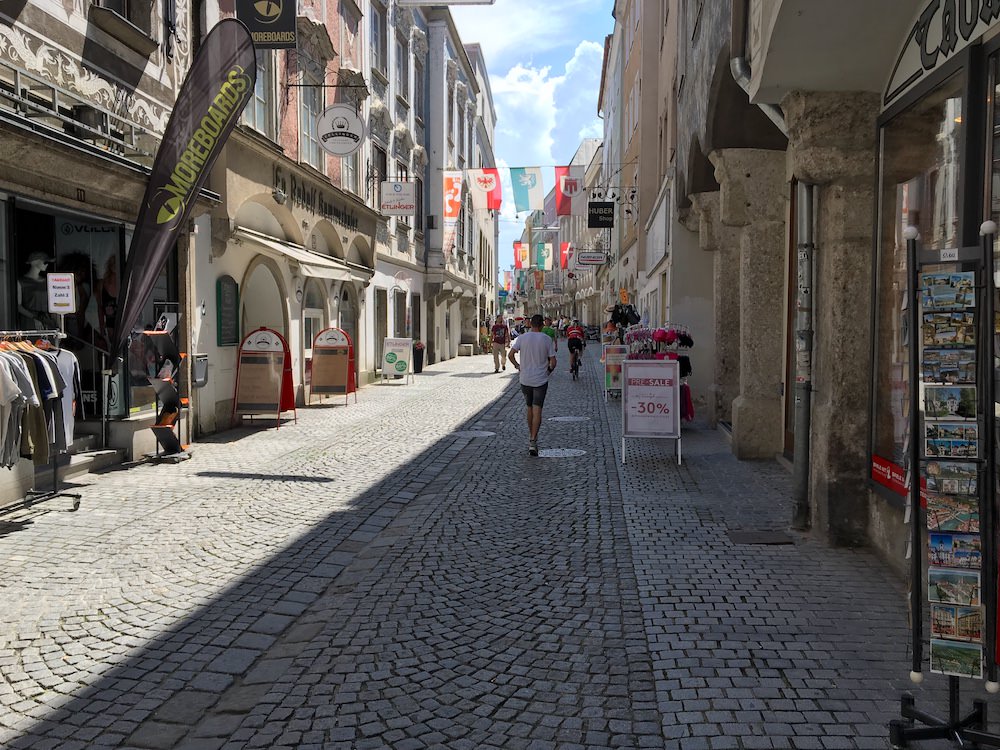 As we entered the platz Evan spotted a gelateria and we immediately stopped. This was the ideal scenario for a hot end to a great bike ride: ice cream and then beer!
Most wonderfully, our hotel has a terrace right out front on the platz where we could congregate, have a few drinks and share our stories of the day …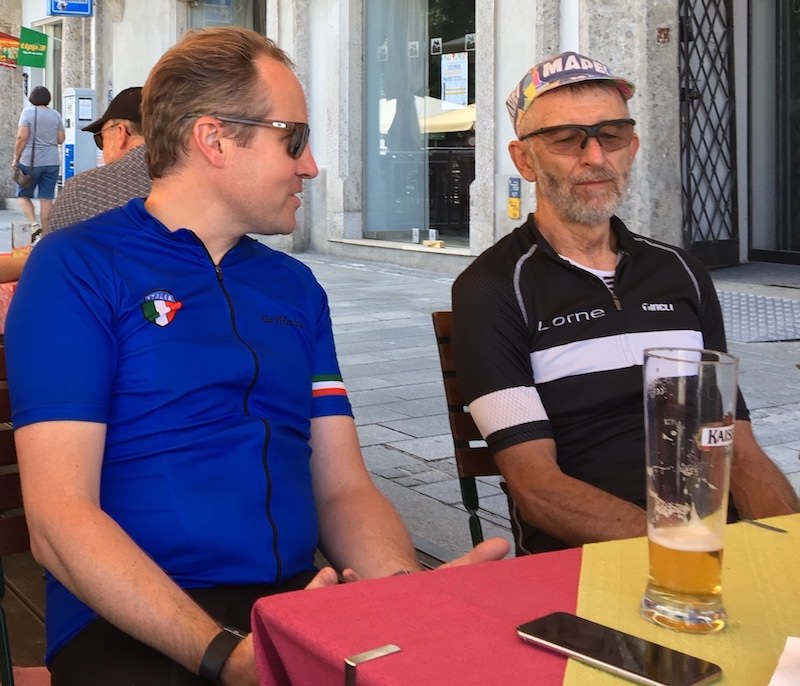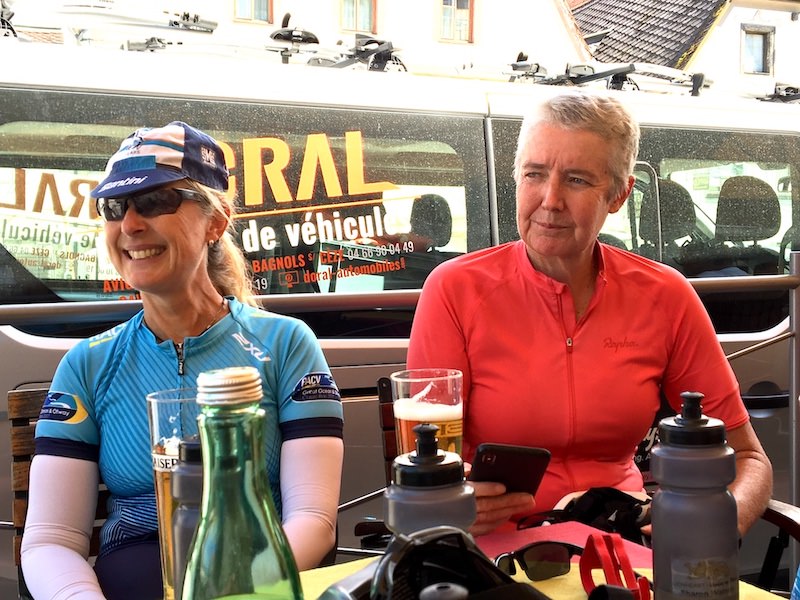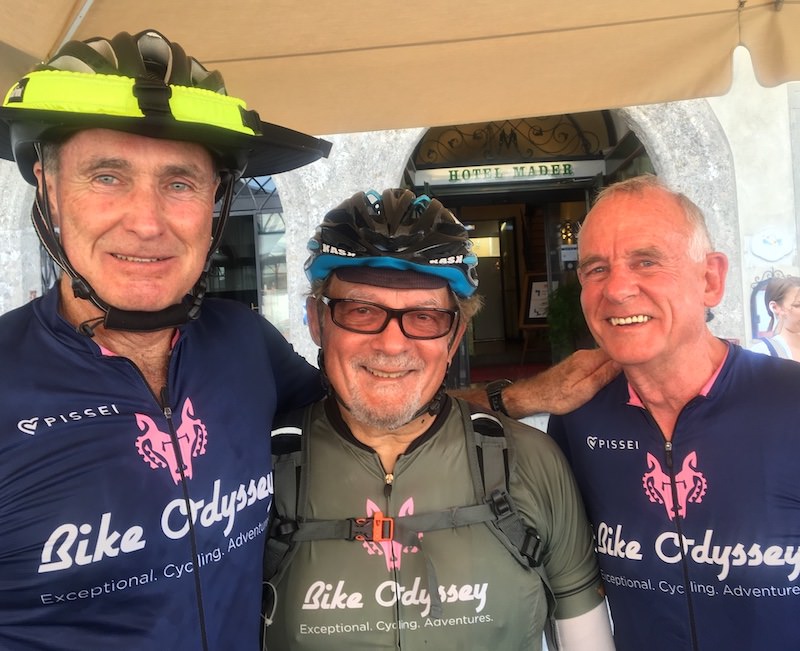 I'll leave you with an image showing our route for the day. Vienna is to the east and slightly south of Dürnstein where we started; Salzburg (where we'll be in two days' time) is in the bottom left corner of the picture …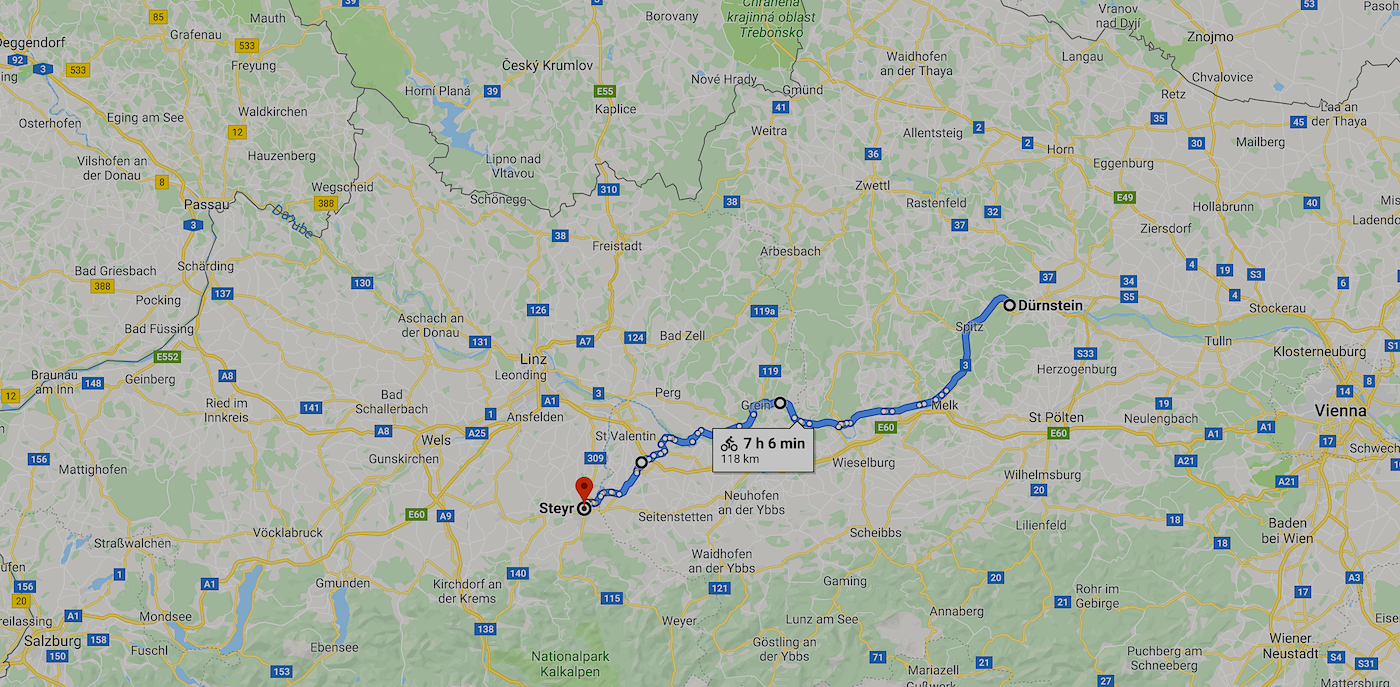 And that's it for today. Please forgive me if the post doesn't read entirely fluently: no time for editing tonight. Tomorrow might not be a long ride but it is going to be hot so I hope to make an early start. So, more than usual, I need my beauty sleep.