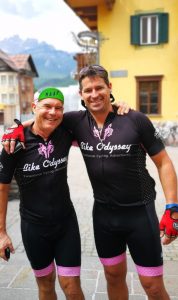 aka: Maxi, Rodders, Slugs, Hofo
Ride: Mendoza, Argentina to Santiago, Chile, across the Aconcagua pass.
Relax: A post exercise warm down on the trampoline with my 3 year old son.
Refreshment: Traditionally brewed wheat beer.
Read: The Odyssey, Homer.
Role: Tour Leader.
Want to know more about Max?
Max was born and grew up in Young, a small outback Australian town. His first bike journey was to school as a five year old. "
My dad was a sports enthusiast who believed we should be able to get to school under our own steam. That ethos stuck with me and 37 years on, I am still riding functionally to work, or better still, riding as work!
"
Max is a school teacher by trade and has taught kids all over the world. He is a highly experienced guide, who has taught the young and old how to ride and train; instilling enthusing into people to bring cycling into their everyday lives. Max has guided multiple treks (road and mountain biking) across Europe and the Americas. He is a serious "people's person", has amazing interpersonal empathy and gives more time and energy into riders on tour than any guide I've known. Here is what he thinks about his Napoleon tour: "The Napoleon tour is simply immense and I enjoy the challenge of completing such an epic adventure. I relish the opportunity to encourage and assist our guests to reach their individual and group goals over a journey that in most cases, due to its grand parameters,  is life changing."
Max has travelled extensively in Australia, Europe and the Americas and spends six months every year living with Chilean partner and son in her native continent of South America. "My son is my constant riding partner, keeping me honest and motivated on our daily rides!"
Having lived in South America on and off since 2004, Max has had many adventures in the mystical wilds of the Andes and is sure to enthral you with accounts of foolhardy, nocturnal and solo crossings of a Cordilleran range! He is fluent in Spanish and currently accessing a decade's worth of local knowledge in the set-up of  Bike Odyssey's Che Guevara epic adventure to run in 2018. Don't miss this tour with Max!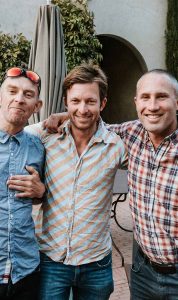 aka: Woody, Sammibal, Rodders
Ride: Col Agnel or Col Agnello - either side of the pass -  Hannibal's possible crossing of the Alps. France/Italy.
Relax: Cold swims - beaches in Scotland, Roman plunge pools, frozen rivers in Scandinavia!
Refreshment: Italian espresso, at least 4 cups per day!
Read: The Gallic Wars By Julius Caesar.
Role: Owner Bike Odyssey. Tour Leader.
Want to know more about Sam?
Sam was born and grew up in Newcastle, a busy Australian coastal city. His first journeys on wheels were on a skateboard, weaving through traffic as a teenager.  "
My proudest teenage moment was when a policeman brought me home and told my mum that I was speeding on my skateboard. She didn't know what to do except laugh!
"
From this possibly wayward teenager, Sam did his Honours degree in Archaeology at Sydney University and dug his way around the world, specialising in Roman Republican archaeology. He has excavated across Europe from Italy to Israel, England to Egypt as well as in Australia and Bermuda. From the nomadic field archaeologists life, he moved into the academia of working in the British Museum, London which progressed to consulting for the Mellon Foundation on worldwide museum projects with the Metropolitan Museum of Art, New York and the National Gallery, London. However, after a few years of sedentary work his feet grew itchy!
Being Sam's favourite figure in history, and spending all of his spare time on the bike, Sam always wanted to cycle in Hannibal, the Carthaginian general who took on the might of Rome's, footsteps. So in 2005 he researched and plotted Hannibal's route through Europe and proposed to the BBC to fund a documentary of him doing so (which they did in 2009). See more here. Sam says "Riding On Hannibal's trail with my brothers for the BBC was an unforgettable journey which had to be shared - it truly is the ride through the highlights of Europe. Therefore, I wanted to give others the opportunity to experience what I had so I created a tour to do so."
Sam now resides with his partner and two children in the beautiful coastal town of Berry, Australia and Barcelona, Spain where he plots new epic adventures to take you on! Super organised and bursting with ideas about where to take riders on, he is always happy to chat about tours you may want to do and how you want to do them. Read more on Bike Odyssey and Sam here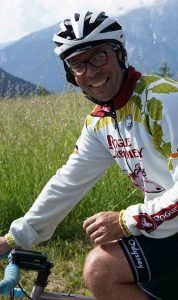 aka: Bubu
Ride: Villard Notre Dame in front of Alpe d'Huez or ride in Provence mid July when the lavender is in full blossom.
Relax: Off-road motorcycling and family time at the beach with the kids.
Refreshment: Of course - wine: Gigondas in Red, Sablet as a white. 
Read: ''Les Forcats de la Route'' by Albert Londres (A 1924 real story of the Tour de France by one of the greatest journalist-reporters). Or the classic Russian authors such as Nabokov or Dostroeivski.
Role: Sommelier. Tour Leader.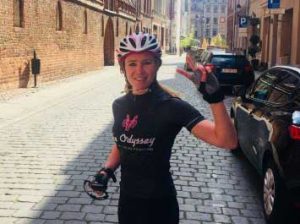 aka: Franny, Spangli, Ginge, or The Duchess (nicknamed this by one of Bike Odyssey guests!)
Ride: Col de la Madeleine - it is a beautiful quiet climb and not for the faint-hearted!
Relax: A massage and or a great film with a large glass of red.
Refreshment: Coconut water or a glass of red - depending on what mood I'm in!
Read: Killing Pablo.
Role: Tour Leader.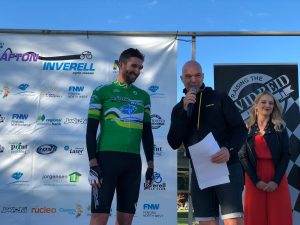 aka: No nicknames - they never stick. I don't get anything more elaborate than "Cam"
Ride: The Vercors in France. It's stupendous limestone cliffs and canyons make you feel like a kid!
Relax:  catching waves at the beach.
Refreshment: water from a mountain stream, otherwise ginger beer.
Read: Australian journalist, writer and documentary maker John Pilger.
Role: Tour Leader.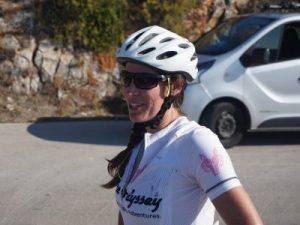 aka: Isi, Wonky
Ride: Riding round Ireland with my cycling kit on and one set of dry clothes in panier. Wet, stunning, wet.
Relax: Massage -  any type, anywhere, anytime, by anyone!
Refreshment: Vanilla milkshake with an espresso shot in it. A life saver in sleep deprived baby days, still a favourite!
Read: The Magus, John Fowles.
Role: Content Manager. Tour Leader.
Want to know more about Isabel?
Isabel was born and grew up in Young, a small outback Australian town. Her first bike memory was learning to ride down the dirt driveway of her family farm. "
When I was losing control I would career off into the orchard to crash on grass and munch on juicy peaches before building confidence to try again.
"
Isabel studied psychology and history at Sydney University and then worked and travelled extensively through Australia, New Zealand, India and Europe, as a teachers aide, in disabilities and training racehorses, before finally settling in London. Here she trained and then worked as a Paramedic for 5 years before returning home to have kids in Australia.
She now lives in Berry, Australia, with her partner and two children, teaching first aid all over NSW and creating, managing and editing the content for Bike Odyssey. If you have any great tour photos, comments or suggestions, please send them to her!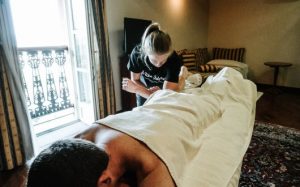 aka: CJ, Doyley
Ride: Col de la Jeoux Vert, French Alps.
Relax: Jogging in the mountains around Morzine.
Refreshment: Water. Totally boring I know, but I love it!
Read: Probably really shows my age, but the Harry Potter series!
Role: Soigneur.
Want to know more about Carla?
Carla was born in Mudgee, rural NSW, but spent most of her childhood in the wilds of Tasmania. Getting her into sport at an early age, she clearly remembers getting an unbearably (only in hindsight) bright pink bike for her 6th birthday. She doesn't remember not cycling, on and off the road, getting right into mountain biking too in her teens. An all round athlete, she did lots of running in high school, but when her running coach said to her
"Carla you are too slow at running, why not be a triathlete
?", she replied,
"Well, I love cycling, don't mind swimming, why not!"
So her career of triathlons began, taking her to two age world championships. When she finished her schooling, she travelled to join a French team to train and be a professional race triathlete with them.
Carla enjoyed and appreciated what massage could do for her body from an early age. As soon as she finished her schooling, she did her Diploma of Remedial Massage Therapy and worked on her team mates as well as the public throughout her sporting career. She now remains in Morzine, France, specialising in Sports Massage Therapy at Mountain Rehab. she works with professional cyclists and triathletes in the summer and skiers in the winter, as well as doing regular injury prevention massage with the locals.
At just 26, Carla is incredibly down to earth, humble of her achievements and a real pleasure to talk to. Obviously full of commitment and enthusiasm as well as raw talent, Carla seems to have envisioned, set and achieved goals with as little fuss as if she were choosing what to wear to bed. She comes across as a girl who has loved life, telling me "I don't do sitting still very well, I have too many fun things I can be getting on with!" She is really about enjoying nature, whether from the bike of a seat, in the pounding of a pair of joggers, or helping others to do the same. She is deep into loving and coaxing the best out of the body you have been given. She knows how to do this, let her help you to achieve the most out of yours on one of our bike odysseys.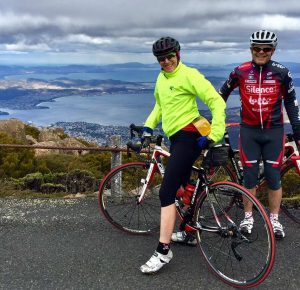 aka... Only known by very old friends! / Half of the DBees
Ride: Derwent Bridge to Queenstown - rolling through the alpine, diving down to rainforest and rivers, across a lake, a short climb … and a downhill rush to finish. What could be better? / McKenzie Country between Arthur's Pass and Porter's Pass in New Zealand.
Relax: Legs up, a cryptic crossword in need of completion / Feet up with a book which generally leads to a short nana nap!
Refreshment: White Rabbit Dark Ale / Dark ale or stout when it's hot.
Read:  Atwood to Zola; Shields to Shakespeare; Birney to Blake. Bring it on! / Something from the large collection of books I keep to hand at all times (real or virtual according to circumstance).
Role: UnderDownunder Specialists. These two have ridden every inch of Tassie over the last 30 years and have designed this Odyssey with Sam. They add depth and knowledge into this trip only a true local can do. Wait until you hear the stories...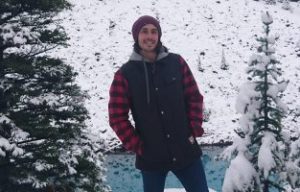 aka... absolutely no nicknames!
Ride: around the turquoise lakes of Jasper at the start of summer.
Relax: in the ocean and sun out the back of a good swell.
Refreshment: a cold cider on a hot day.
Read:  any exploration or travel books.
Role: Soigneur.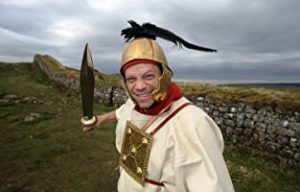 aka: The Roman!
Ride: Cheddar Gorge and Burrington Combe in the Mendips, near where I live.
Relax: Reading a book. Preferably in Croatia. Without the kids!
Refreshment: Depends on time of day: mornings, breakfast tea; afternoons/evenings, a good IPA.
Read: So hard to say, as I have forgotten so many of the books I've read...if I had to pick one, on a desert island say, it would be Lord of the Rings.
Role: Historian. Author. Guide.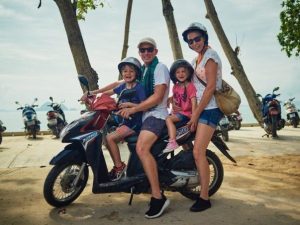 aka... Nicky
Ride: Last time I rode a bike was on my paper round as a kid!
Relax: I'm a weekend away master!
Refreshment: One or the other - champers or a nice cup of English breakfast tea.
Read: Give me a book, I'll read it.
Role: Administration Manager.
Want to know more about Nicky?

Nicky was born and grew up in Wiltshire, England. After doing a BA (Hons) in Business Studies at Brighton University, Nicky set off to travel the world extensively. Exploring and hitch hiking all over Europe, India and Central America, she then made her way south to Asia - Thailand, Malaysia, Indonesia, Philippines, Vietnam and Cambodia. This girl takes everything in her stride and her gorgeous outgoing and friendly nature bubbles forth, endearing her to people all over the globe. Hence her weekends away - always lots friends to catch up with!
Reaching the Antipodeans, Nicky settled in Sydney for a decade or so, enjoying the weather and beach life style of the East Coast. "I love all the fresh Asian food here - Japanese, Vietnamese, Thai, Chinese, Indian, but deep down in my roots of comforting English food, I have to admit I always love a roast dinner!!!" In Brighton and then Sydney, Nicky gained a wealth of experience in admin, in roles such as Executive Assistant, Office Manager and Bookings Manager.
Nicky moved to Berry, Australia, to escape the city bustle. With her partner and two children, they are building their dream home on acres of rain forest in the beautiful Bundewallah Valley. She has been working with us for nearly 3 years and is an absolute administrative guru. She is efficient, loyal, exceptionally organised and will bend over backwards to get whatever you want done. When you need a question answered about any aspect of Bike Odyssey, Nicky is "your guy". She will either know the answer or know where to get it.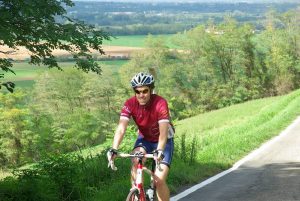 aka... Woody, The Bank
Ride: Mount Ventoux. 3rd time I did it was the hardest, as I had one arm in plaster!
Relax: The moment the baby is asleep. Doesn't matter what I'm doing, I'm relaxed!
Refreshment: There is nothing so effective and satisfying as a coffee.
Read: Recently, The Handmaid's Tale, Margaret Atwood.
Role: Technology.
Want to know more about Ben?
Ben was born in Shoreham-by-Sea, England. After doing the first 2 years of primary school in England, his family moved to Newcastle, Australia. Ben completely took to the outdoor sporty Australian life, exploring his new hometown by cycling the myriad of storm water drains. Through this crisscrossing maze with his mate Tim Lees (both age 10) was their mode to get to school, training and see friends: Ben's lifetime love of cycle adventuring was born. He also became a keen athlete in soccer and cricket and would go on in later years to play Grade cricket in Sydney and semi-professionally in England. Known as "The Bank" as he never dropped a catch.
Ben breezed through school and then did a double degree studying between Sydney University and University of California. Getting a Bachelor of Arts and Bachelor of Science majoring in History, Maths and Computer Science. Ben has traveled extensively, living in London for a decade working as a software developer, doing projects from non-profit academia to high end businesses in London, Sydney, Kansas City and Barcelona.
Ben is now living in Barcelona with his Spanish partner and two children. After quite a pause, Ben answered my simple question of what he liked most about this stunning city, with "I love walking my daughter (5) up into the hills to school every day". I think Ben really is an Aussie country kid at heart!
For Bike odyssey, Ben is responsible for technology on and off the bike. From the website to navigation and guest tracking he is a machine at researching and programming the best possible way to support our riders. Read on our website about industry leading way he is going to navigate you across continents from the extremely user friendly technology . You will not only find what he makes a pleasure to use, but it is made with safety features such as we are able to track each guest as they are on their bikes. So don't be afraid about losing your way on our epic adventures, because we won't lose you!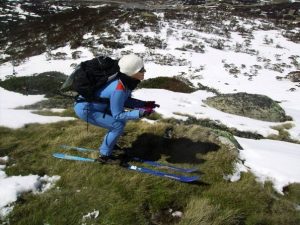 aka... Gwena, Nena
Ride: From west to east along the Pyrenees.
Relax: By the sea listening to the waves.
Refreshment: A nice lemony cold water.
Read:  I can't choose between The Count of Monte Christo, Alexandre Dumas and The Hobbit, JRR Tolkien.
Role: Graphic Designer.
Want to know more about Gwena?
Gwena was born in Chateauroux in the center of France. "I don't know this town at all, my parents just chose this place because there were a very famous natural birthing thing going on there! Otherwise I grew up in Orleans, on the top of the river Loire. Orleans is very very famous because it was delivered from the English by Jeanne of Arc, a pure virgin of 14 years old who apparently was convincing enough to drag a lot of people and could carry a sword herself. Anyway Jeanne of Arc was on my side all my childhood." Being at one with her surroundings started at an early age for Gwena.
"Around 10, I have a memory of rolling for 4 km down hill, through the forest, to go for a swim in a lake everyday, and cycle back up at the end of the day. With my sister the challenge was to go down the whole way without any hands, including the sharp turn to the forest and out! " This started her love of cycling which has been in her every day life since, whether to traverse the Pyranees or ride her boys to the beach. Gwena has studied all over France, building a wealth of knowledge to compliment her natural creative talent - History of Art in Toulouse, Photography in Nimes and Graphic Design in Metz. Making contacts through her work and travel, she is a very busy freelance Graphic designer for clients based in Sydney, Newcastle, Paris and Brusells and Barcelona.
Did Gwena travel much to end up in Australia? "I traveled the world - Italy  Spain, Portugal, England, Ireland, Germany, Switzerland, India, Nepal, USA, Canada, New Zealand, Croatia obviously in Australia and France!" A modest answer, as Gwena didn't just travel the world, but fully emersed herself into cultures. A friend describing her as "A minute girl with a massive personality", explained how Gwena dived into their communities head first, learning their languages, working in their systems, making friends and living life to the fullest. She has deeply touched people all over the world with her vitality, fun, enthusiasm and laughter, loved as family to many.
Gwena worked in Italy and Australia for years at a time, fluent in all and easily switching between them when needed. "With my partner an Australian, we were intrigued to see whose native language our first born would use first: French or English......unbelievably his first word was pizza - Italian!!"
Gwena is now living in Newcastle Australia, with her Australian partner and two children. What does she love about living in Newcastle? "The community minded spirit, the sea, the openness of mentality, pretty good looking!"
Bike Odyssey has the facts of our tours, Gwena infuses structure, unity and beauty into them. Through our maps, website and documents you will see her work in the ease and pleasure it gives you to read them. Take a look at Bike Odyssey's maps and get excited by the bigger picture of where you will be exploring on one of our tours.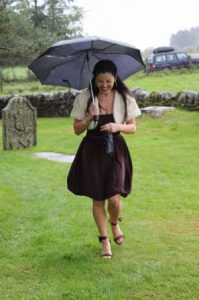 aka: Hell, Hels, Garfield, Helenker
Ride: A loop through the weir and skate park with my little boy (3).
Relax: Yoga, but I'm very sore, not sure it's actually relaxing!
Refreshment: Oh no, I couldn't possibly choose! Well maybe pisco sour, you must discover this in Chile.
Read: Any by Osho, Jodorosky, I.Allende
Role: South American Hotels Manager.
Want to know more about Helene?
Helene was born and grew up in Santiago, Chile. One of her earliest memories of being on a bike was when she was about nine. "It was my first big bike and my Dad put it together for me. It had a basket, was blue & very flowery, but my dad was not such a practical person and forgot to connect the brakes! I climbed to the top of a hill in the very poshest suburb in Santiago and let fly down between a beautiful avenue of trees. when I realised I had no brakes, I felt I had no option but to aim for one of the trees. After this nearly deathly experience, I learnt how to fix my own bike!"
Helene worked as a personal assistant to an architectural firm in Santiago for 7 years, all the while learning accounting and English. Partying as hard at night as she worked in the daytime, Helene is known and loved by a huge group of friends as the life of the party. One of them tells me "Helene was prepared for any fun after work, with her car boot full of outfits ready to go, straight from work to party, or from party to work!" When she met a rather characterful Aussie boy on the dance floor, Helene found herself travelling all over the world; cycling through Europe, United Kingdom and Scandinavia, before finally settling into a life shared between Chile and Australia.
Helene juggles an array of skills in Australia, from being a Barrista in cafes, to Zumba instructor, to doing Respite Care for people with disabilities. The deeply personal connection, compassion and effort she makes with everyone she meets makes her much loved in her community wherever she is. If Helene is making you a coffee with a monkey in the froth (how does she do this??) or teaching you to move your hips like she naturally does (now really, how does she do this??) she brings smiles aplenty to people's lives.
Bike Odyssey's South American tour following in the footsteps of Che, promises massive adventure. In the course of this we want you to have massive comfort. Helene confirms each and every fantastic place we have planned for your trip.