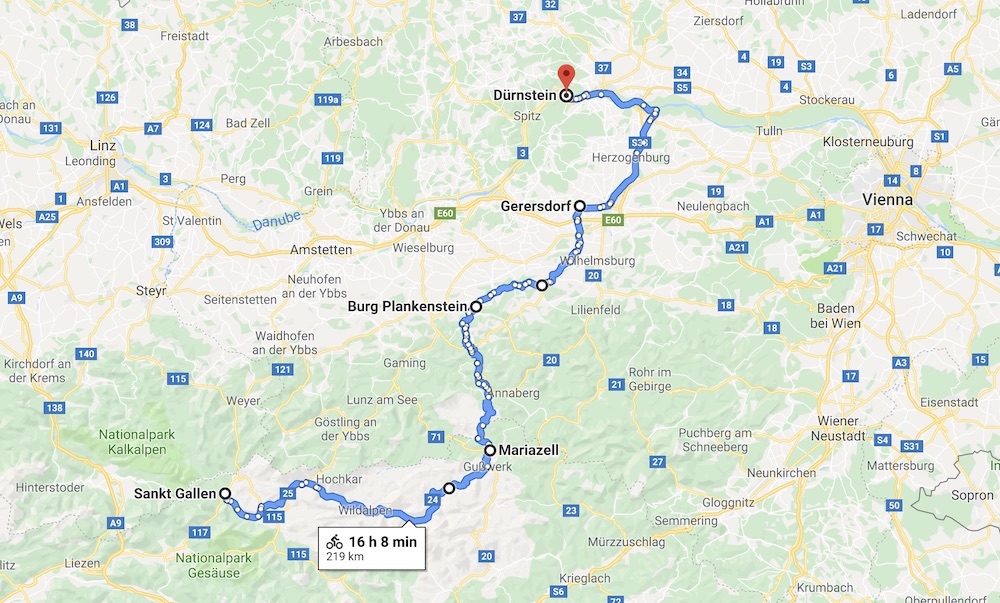 Two days of riding from Sankt Gallen to Durnstein
So, if we can count our romantic hunting lodge at Sankt Gallen as a castle (it certainly had the proportions to qualify) it's four nights in a row from Sankt Gallen to our departure after a rest day here in Durstein with castle accommodation. More on that later. Here's the story of our past couple of days riding.
(Before I forget to mention it yet again, this blog would not be worth looking at were it not for the pictorial contributions from fellow riders. Not only do they fill in all the graphic gaps I have missed, they add a different perspective, so thanks to everyone whose photos appear in these pages.)
Sankt Gallen to Burg Plankenstein
The day's stats at a glance ~
distance: 127 kms
total elevation gained: 1950 metres
 We kicked off with birthday wishes for Sharon, who is a stalwart of epic cycling adventures with Sam Wood, the owner/operator of Bike Odyssey. Here she is relaxing with Di before jumping on the bike …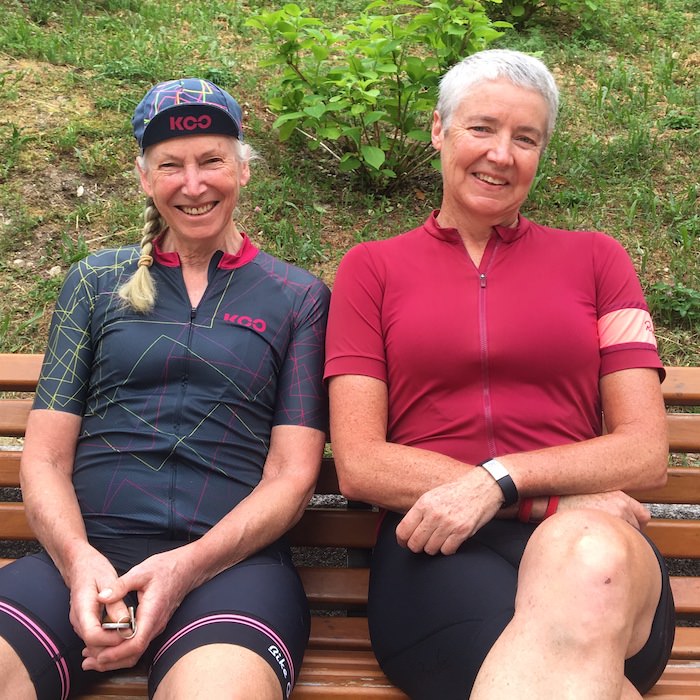 Our day on the bike began with a pleasant downhill swoop for 5 kilometres to a river before we gradually started to ascend beside it. There was only one real hill – and it wasn't really big – over the next 65 kilometres or so but we were gradually gaining height all the time. Here are some images from early on in the ride …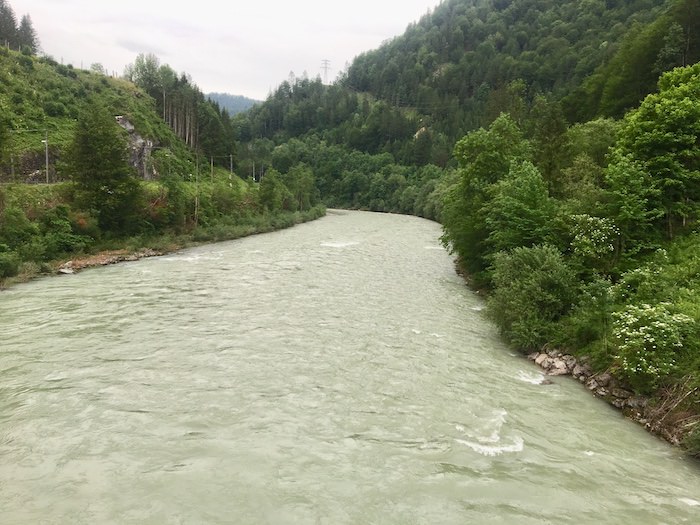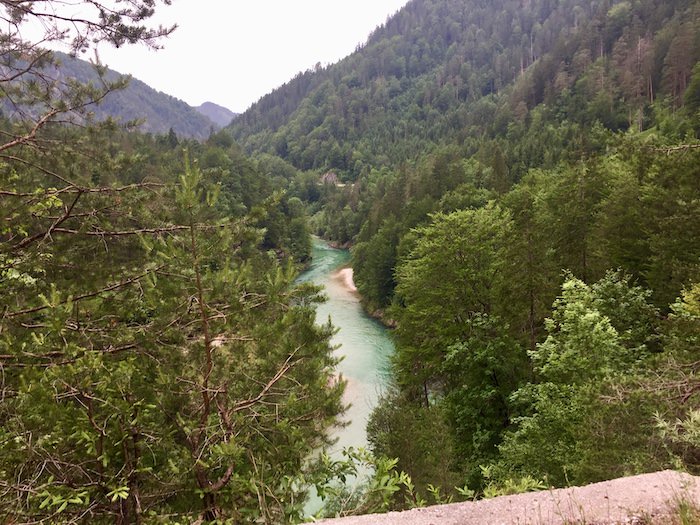 Now that the tour has been underway for a while it's probably about time that I shared a bit more information about the makeup of our group. Our three guides come from Australia, Italy and England. We the punters come from England, the United States and, mostly, from Australia. And then we've got two Electrified Ladies of New Zealand. I call them that because they are riding e-bikes – and having a very good time as they cruise past the rest of us while we struggle up the hills!  Here for example is one of the Electrified Ladies sashaying past Sharon on one of the little hills before our morning coffee stop …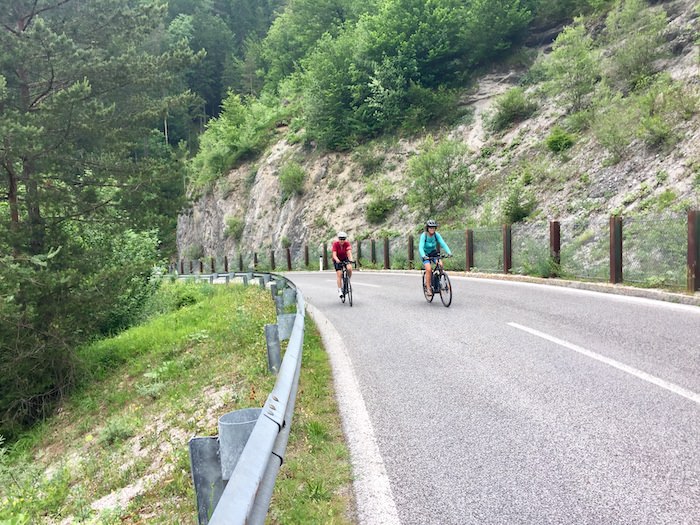 There will be more about the group as we progress further into the tour. We have some very interesting characters on board and I hope to tell a little about some of them.
Today we had an early coffee stop at Wasserlochschenke …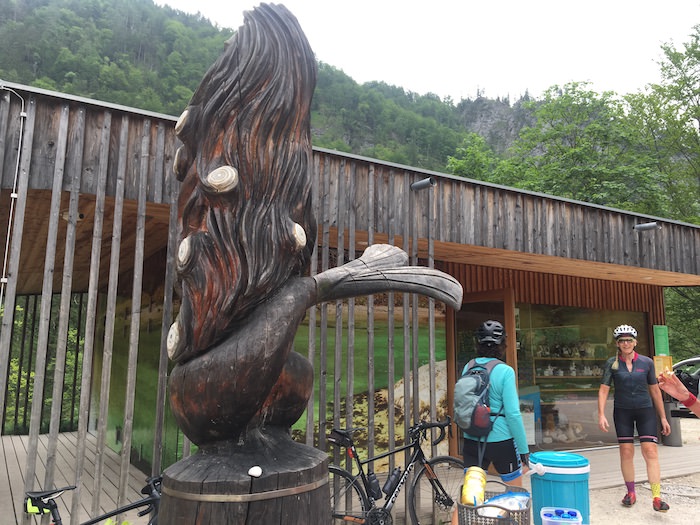 … where there is a great lookout and a suspension bridge over a gorge …
By this time we'd already had 15 kilometres of beautiful riverside riding but that would continue for another 50 plus kilometres, partly through an area with the enchanting name of "Wildalpen" …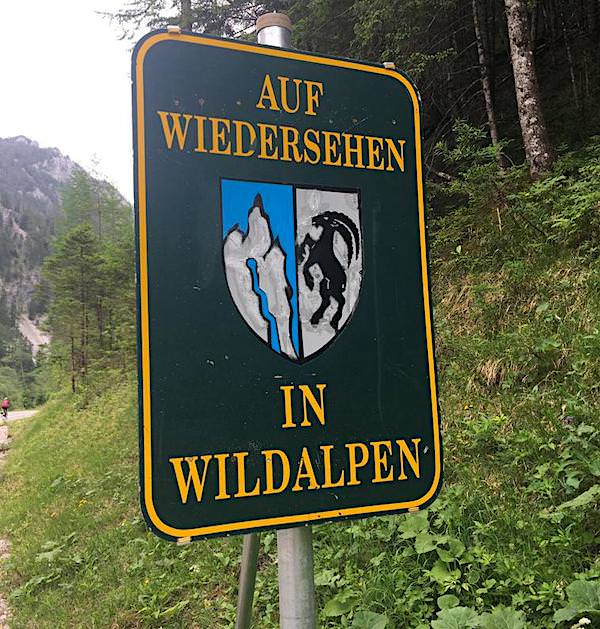 Here are a couple of photos from that section of road …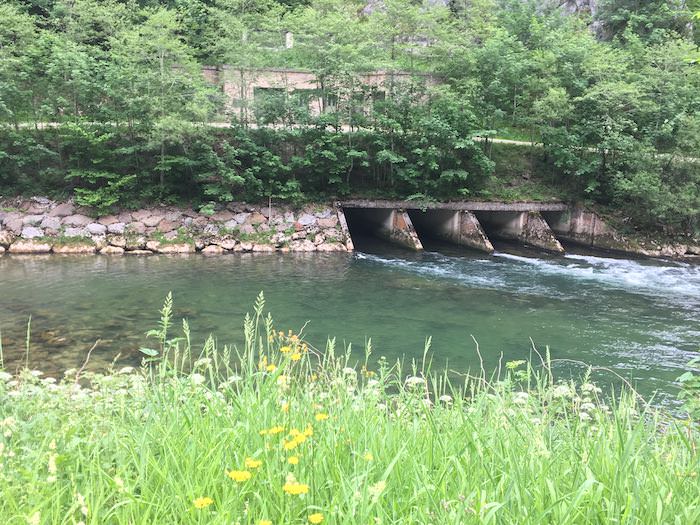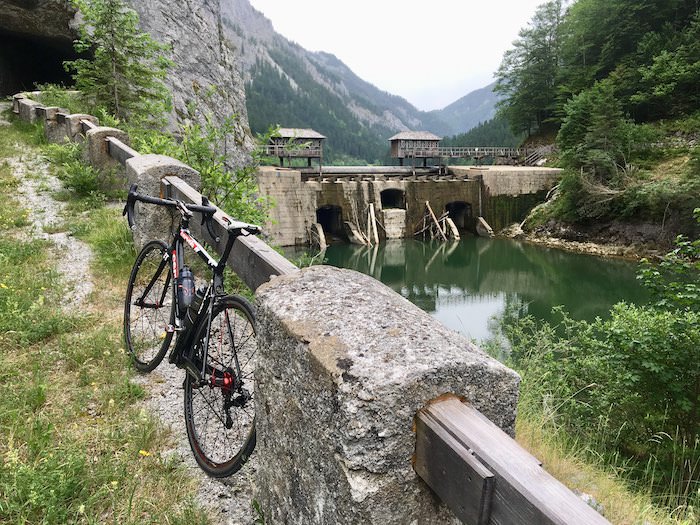 There were numerous spots along the river where rafters and canoeists were either commencing or finishing their communing with the waters. Here's an example …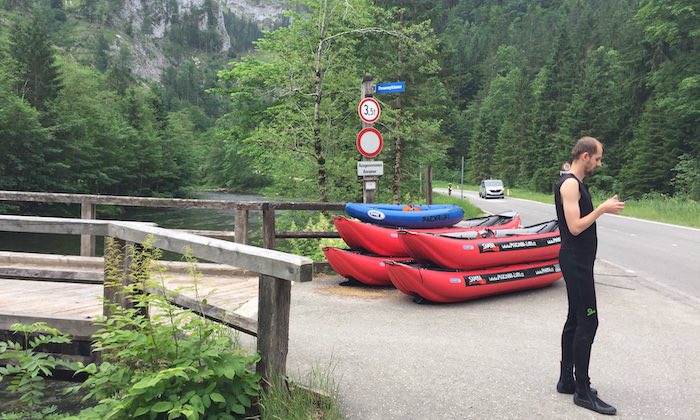 This long, long section of riverside riding contained quite a few tunnels, some of which were skirted by bike paths. Very considerate of cyclists, I must say. But most of us were especially impressed when we came to this spot where there was a separate tunnel just for cyclists and pedestrians …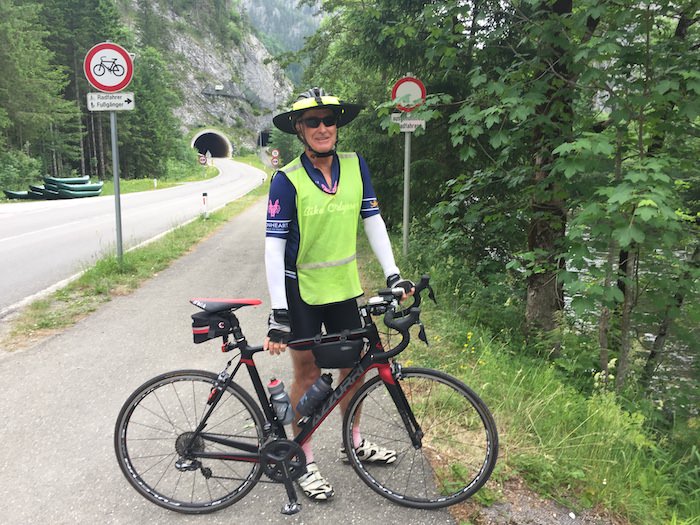 At one point we passed a small cemetery, although there didn't seem to be a settlement there. I suspect there might have once been a village of construction workers and their families  involved in the hydro- electric project.
We left that long, glorious section of river riding to climb up into the town of Mariazell for lunch. Here is a photo Di took of Sharon, with Jo in front, looking ahead at some road works along our route, with the road blocked off, and wondering where they should go …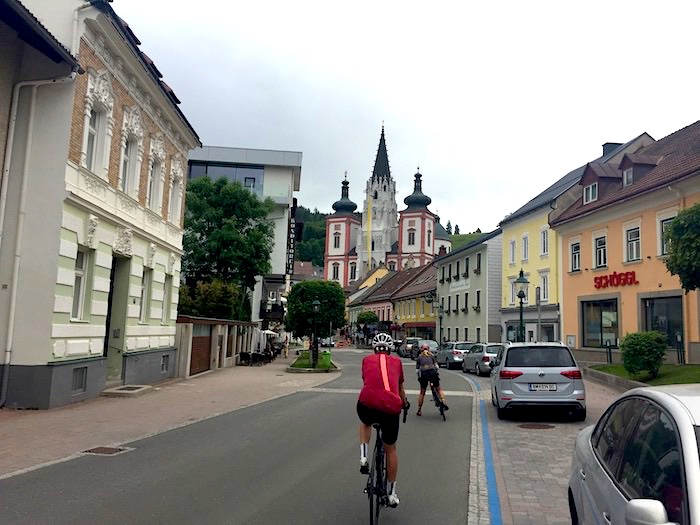 Luckily Fantastic Francesca had found a great little spot in a carpark just off our route …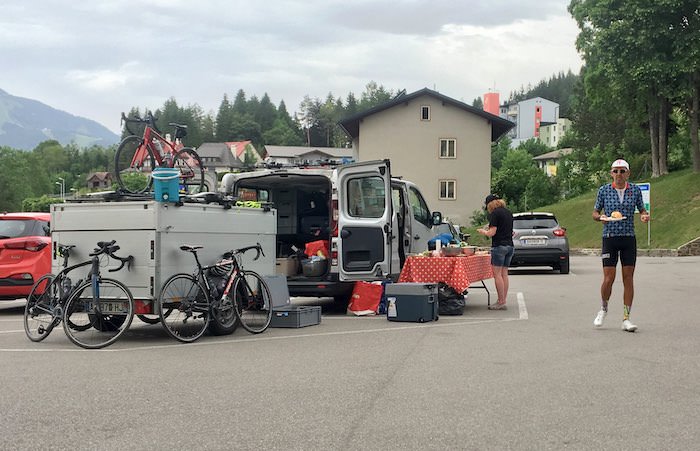 … and set up what was a fantastic picnic lunch to sustain us through the rest of the day …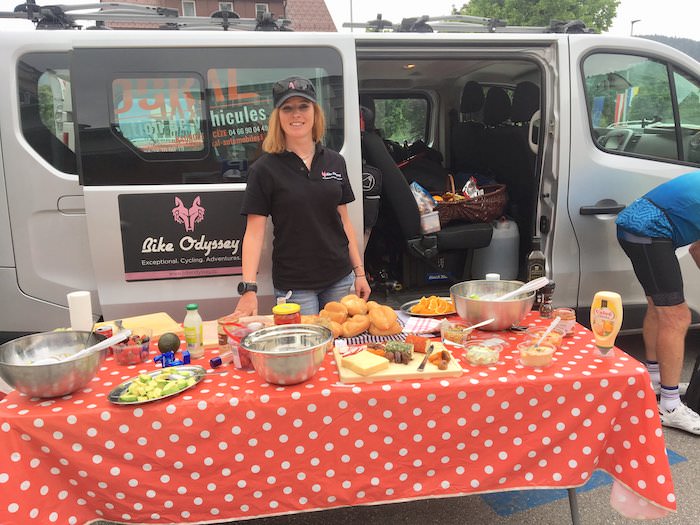 I had got myself fed and moved on up the road when I saw Di and she persuaded me to pause amidst the roadworks so she could take this photo …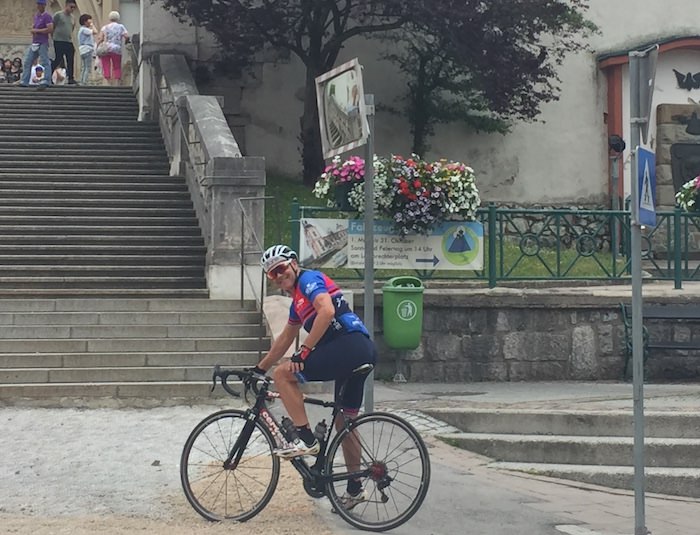 After lunch the road climbed over two hills that  successively stepped up from about 700 hundred metres above sea level to 1100 metres. On that last hill Jose the hotshot climber streaked past me, then stopped at the top to take my picture as I struggled past …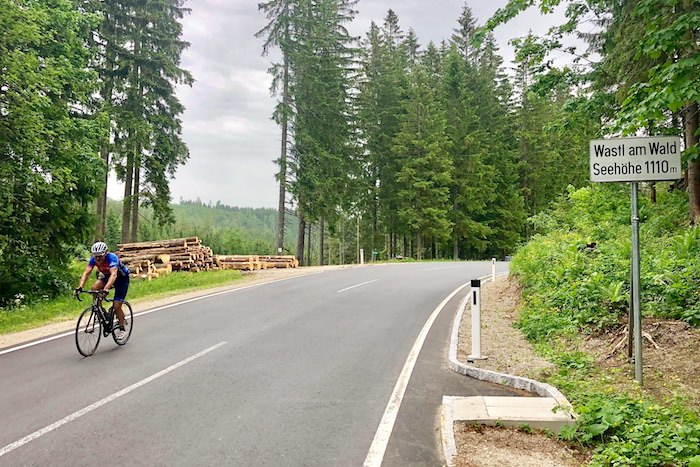 Oh, and there is another very good lean, mean climbing machine from Melbourne by the name of Tony. I was sure he would power past as well, but he must have been in cruise mode after lunch. Check out how relaxed and comfortable he looks on the bike …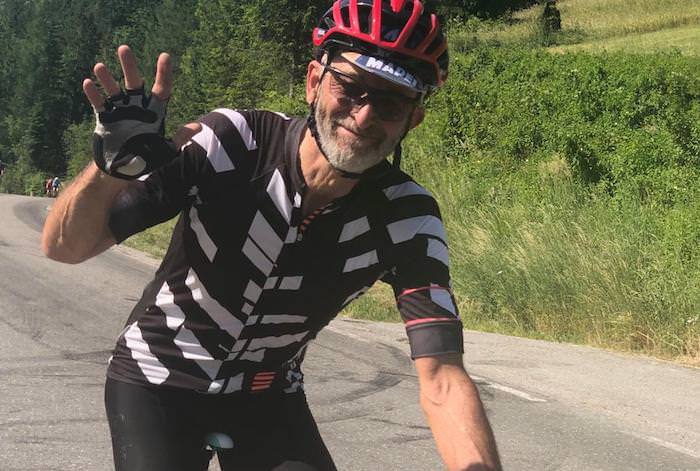 Despite knowing there was still a fair bit of climbing to come, I was rapt to know that this was the high point of the day. Whatever lay ahead it wouldn't take us above this elevation.
From this high point the road tilted downward at a very pleasing angle, descending for fifteen or sixteen kilometres. I was in heaven. The ride down was so good I must have gone into some sort of trance, because I rode right past an important sharp right hand turn …
Yep. I was really enjoying this descent. But then it slowly dawned on me that I'd been going down for quite a while. When I finally looked at my bike computer and saw that I was getting further away from my next turn, the penny didn't so much drop as come crashing down. As it turned out, I'd gone eight kilometres past the turnoff before I realised my folly. And, more to the point, I'd descended an additional 315 metres! Still, I had to chuckle. While I wasn't looking forward to climbing all that way back up to the turnoff – especially when I knew there was still a fair bit more climbing to come afterwards – it really was a fantastic fun ride down.
Unfortunately there was a bit of bad to come. After I'd climbed up to the turn I missed and got back on route, I got a puncture just as I made the next turn – which was just at the start of quite a steep hill. And, for once, I was not carrying a spare tube. Luckily Sharon the birthday girl arrived almost immediately and loaned me a tube. And then the van came by with a good shop pump which enabled me to re-inflate my tyre relatively quickly and effortlessly. Just as well, because the hills kept coming – some of them with quite steep pinches in them. It was beautiful countryside though, with lots of rolling pastures. Here's an illustration …
Thankfully I had some company to stop me from getting too demoralised in this last bit of the ride. Sweeper Sam came by and gave me something to chase up each hill. Eventually we rolled into Burg Plankenstein, our accommodation for the night, which dates back about 800 years …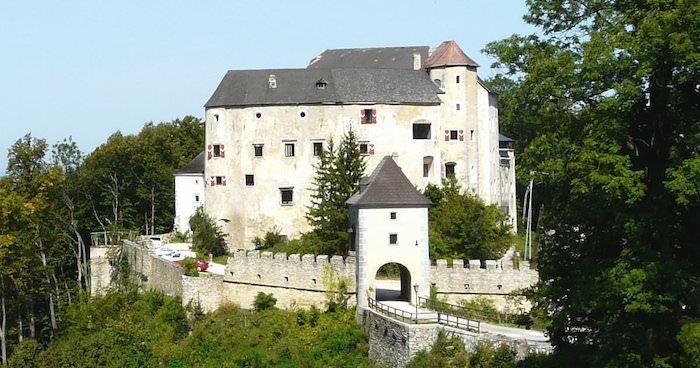 Thankfully for all of us, the day had been much milder than predicted. It remained fairly overcast throughout most of the day and never got really hot. Had it been so, I would have really struggled with the extra elevation and distance that I imposed upon myself. People were starting to wonder what had become of me so it was nice to give everyone a chuckle with my tale of waywardness.
An evening of merriment
Our group had decided to make a real (k)night of it by donning medieval costume. We congregated in the courtyard for some pre-dinner drinks and nibbles …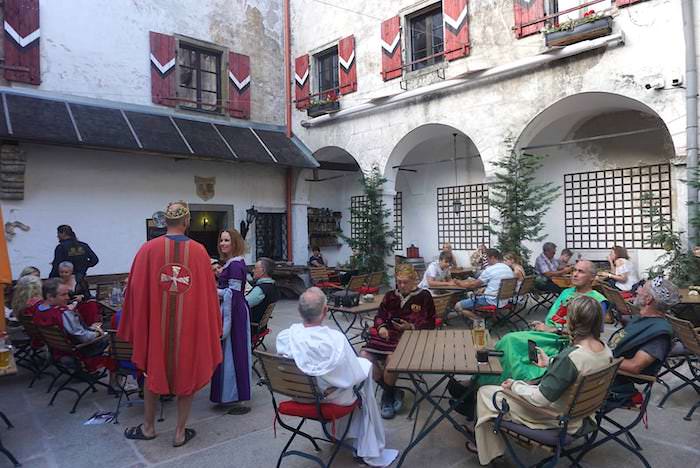 Here are Francesca and Enrico striking an attractive pose …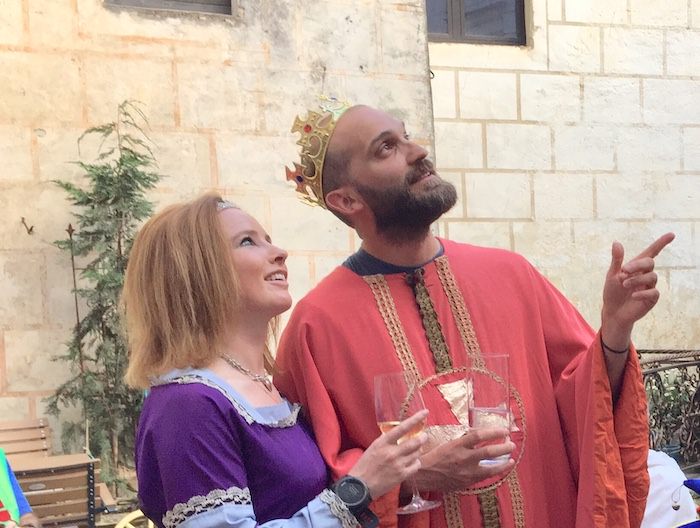 … and Jo and Jose looking most medieval indeed …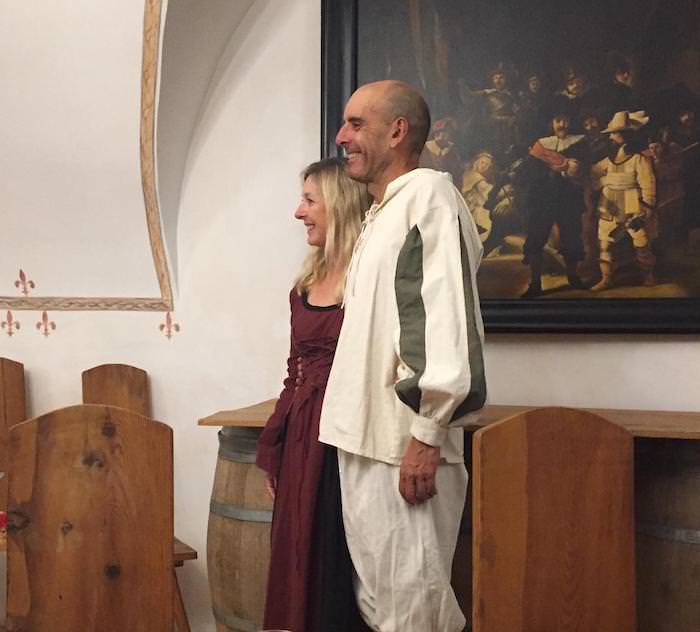 After foolishly flying past that critical turnoff and then getting a puncture it seemed appropriate that I wear the jester's costume while enjoying Lady Di's company …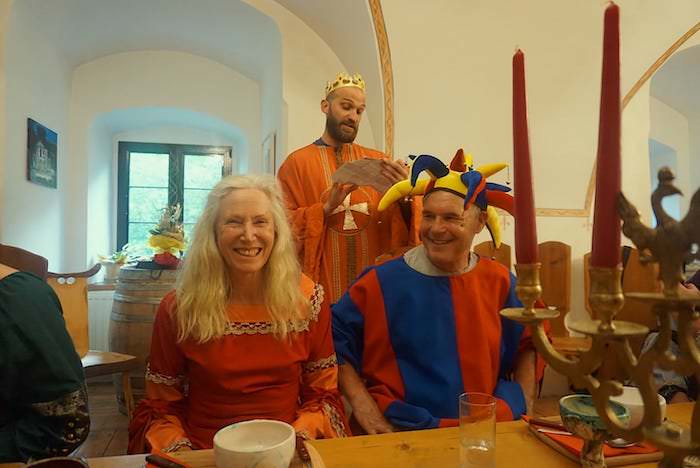 But best dressed for the evening were affable King John …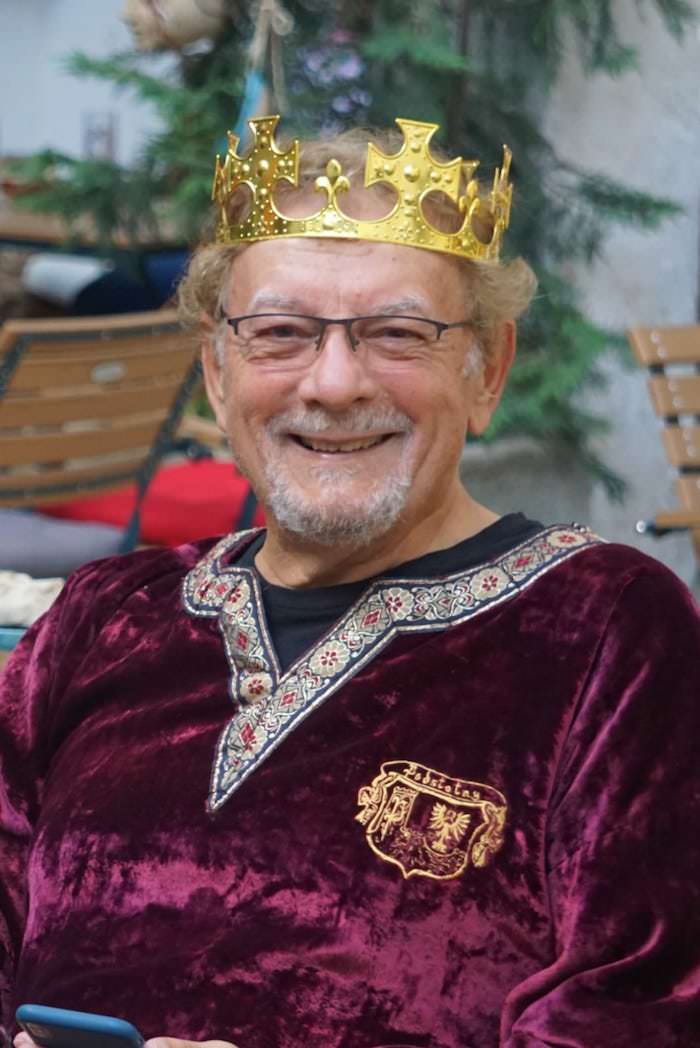 … and the would-be intimidating (but not quite managing it) Queen Sharon: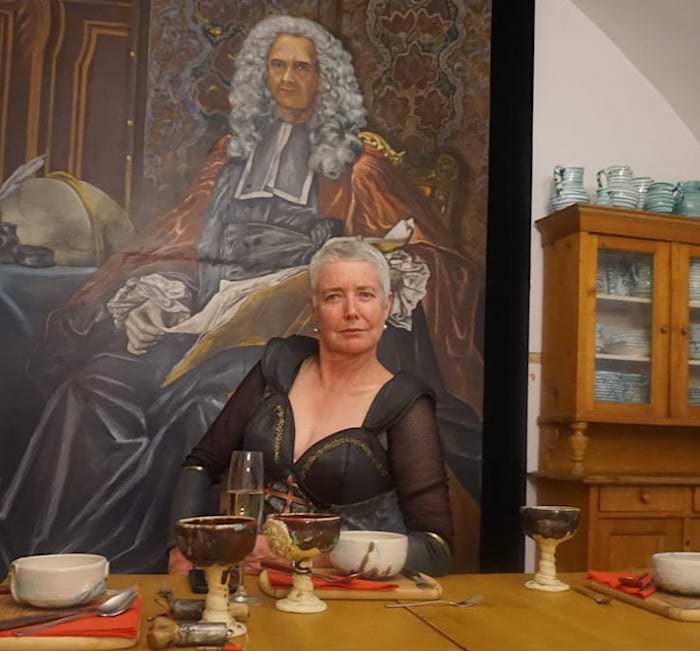 Thus ended for all of us a most memorable day on tour.
Burg Plankenstein to Durnstein
The day's stats at a glance ~
distance: 73 kilometres
total elevation gained: 650 metres
For the first time since leaving Zell am See we awoke to cloudy skies. Just about everyone decided to don at least arm warmers and gilets, and some of us even opted for rain jackets. Di bid farewell to the dark knight guarding the entrance to Burg Plankenstein before we set off together …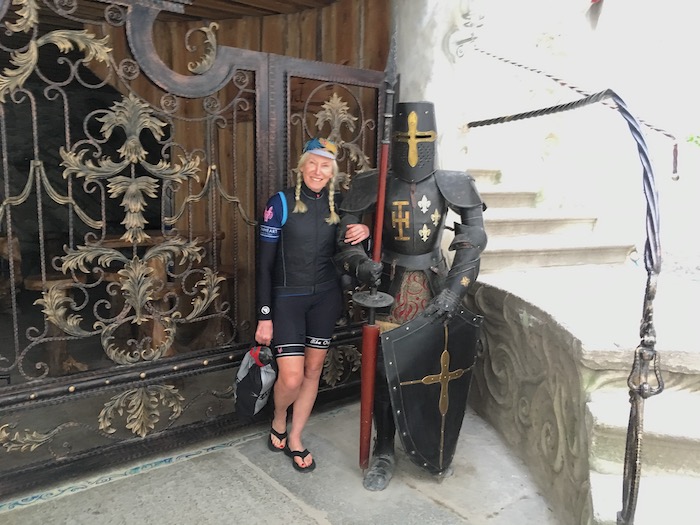 Our reward for enduring a tough day in the saddle yesterday was a much shorter stage today with relatively little elevation. Once again we had a downhill run to begin, but this time we all went a little more cautiously as light drizzle started to fall shortly after we set out. 
The conditions were not overly conducive to stopping for photographs along the route today, especially during the first half of the ride. The light wasn't that great although we road through beautiful agricultural land. Francesca did get a photo of John enjoying giving his rain jacket a run …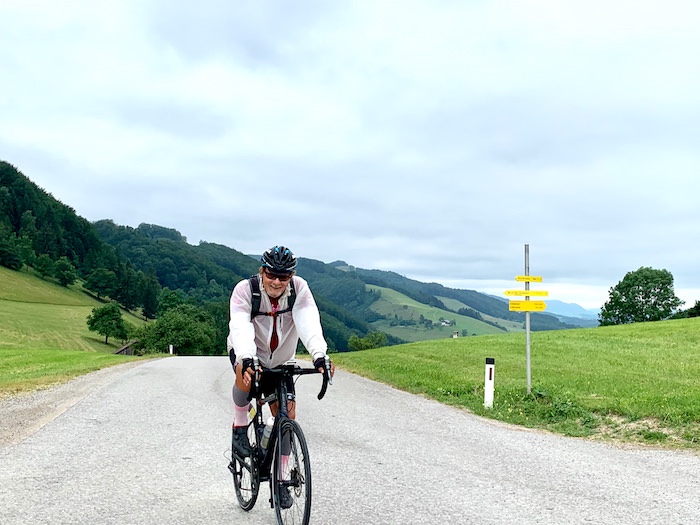 Much of the landscape that we've ridden through here in Austria is farmed, but if anything this part of the country is more intensively cultivated than what we've been through up to date. We passed cherry and other stone fruit orchards early on, as well as a strawberry farm and what I think was a large blueberry farm – although there weren't yet any berries on the bushes. I believe The Two Electrified Ladies of New Zealand paused though and partook of some strawberries on offer.
What this area is most renowned for of course is the wine growing. Here's a glimpse of some grapes growing alongside the Danube …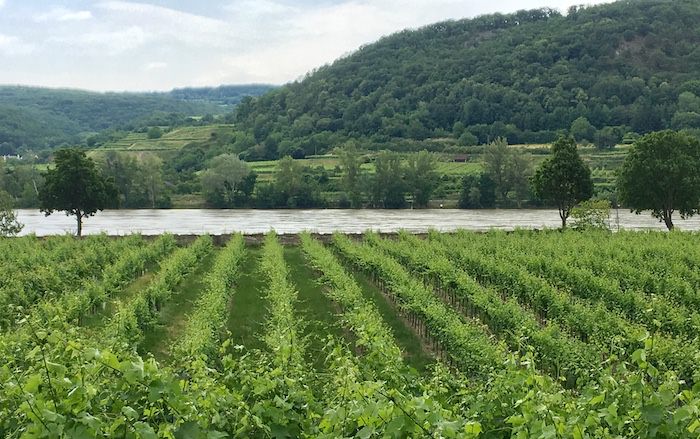 With the wind pushing us along this morning we made good time to the morning coffee and snack stop at 40 kilometres. The clouds had thinned considerably too by then and it was warm enough for most of us to peel off the extra clothing we'd put on before leaving this morning. 
With a relatively short ride on the agenda and a group lunch booked for early in the afternoon we were all pretty much on a mission to get to Durnstein. However, crossing the Danube was an important milestone to record …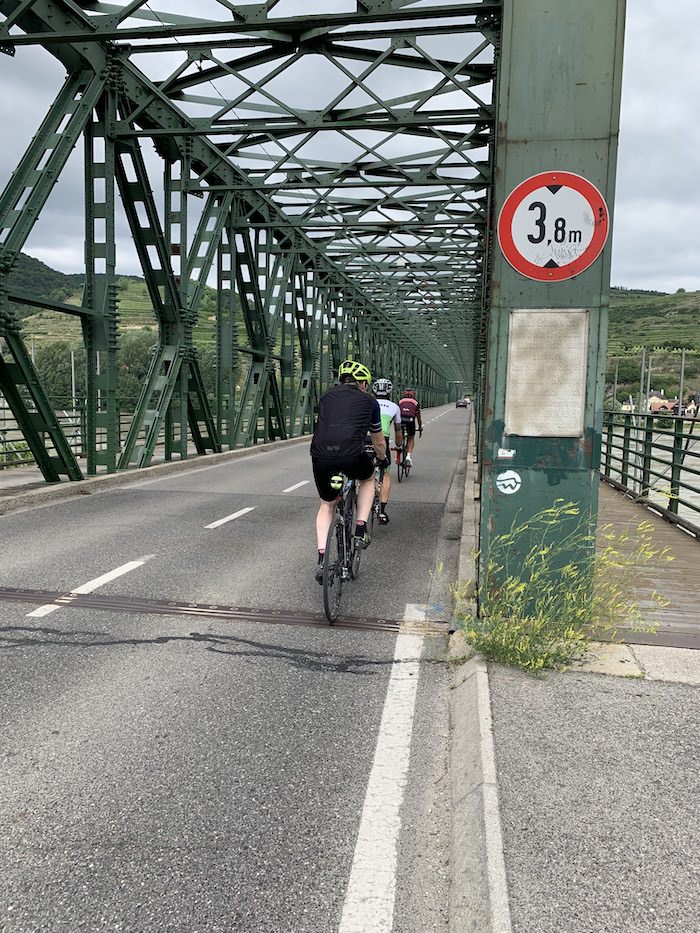 Shortly after crossing the river I took this photo of a small chapel …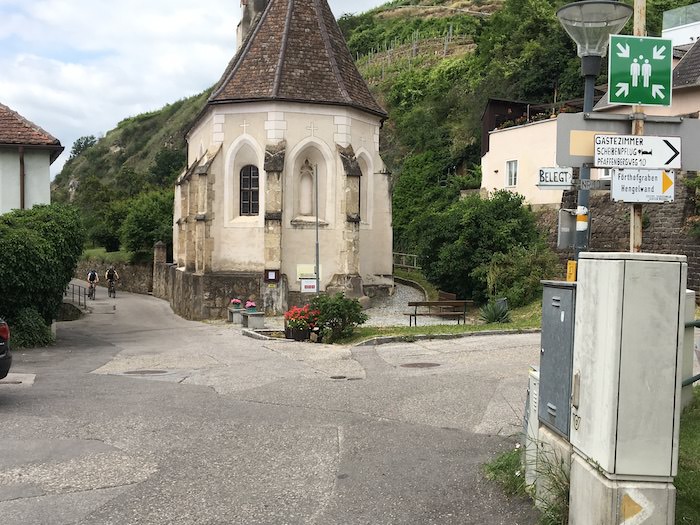 … and then a little further on this icon caught my eye …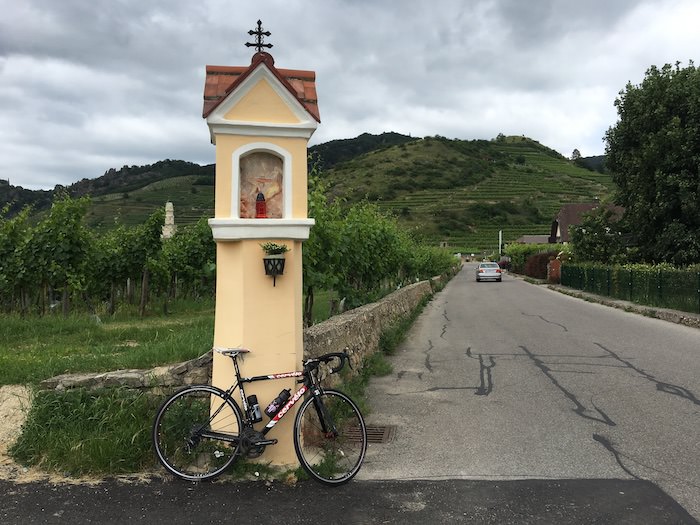 Durnstein is quite a small village with some impressive wineries close by and at least two very significant hotels. It seems to generally owe its existence to the fact that Richard the Lionheart was imprisoned here for about a year until an exorbitant ransom was paid for his release. The place we are staying in for the next couple of nights is a castle called the Hotel Richard Lowenherz, and a part of it is formed by a small castle. Durnstein castle, now in ruins but where Richard was actually held captive stands above the city and Dianne and I plan to find the time to visit it tomorrow.
Here is a taste of what the history of this place is like however, with these old fortifications toward the top end of the village built into the fabric of the main street …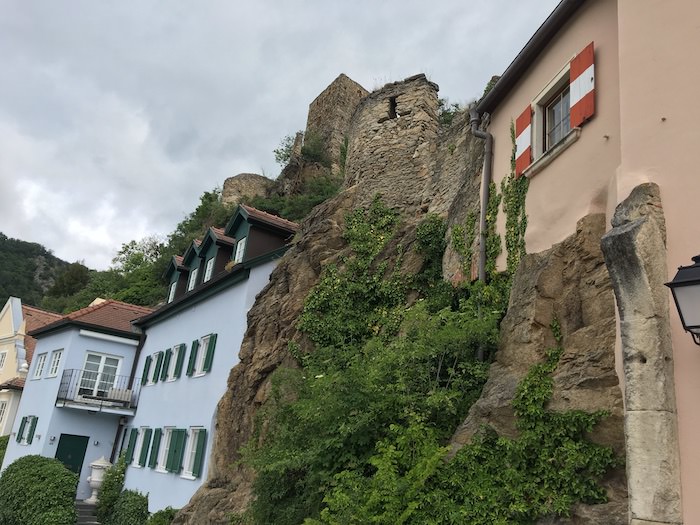 Some of our group are heading into Vienna for the day tomorrow, but I think most of us are taking the opportunity for a good lie in before exploring this charming – if rather touristy – village and the history associated with its most famous visitor – especially Durnstein Castle.