Another Awesome Day of Cycling in Austria
Ramsau am Dachstein to Sankt Gallen: the basic stats
105 kilometres
total elevation gained: 1020 metres
A-hunting we will go …
We began the morning by riding back the way we came into Ramsau for about 600 metres before hanging a right under the nice peaks we'd been looking at from our hotel the day before. A very pleasant beginning for the day indeed! And even better, after only about 2o metres of ascent in the first kilometre and a half we headed down another terrific fast hill – mostly in the shade – for almost 10 kilometres.
Di was keen to stop and take a couple more photos so I did the same …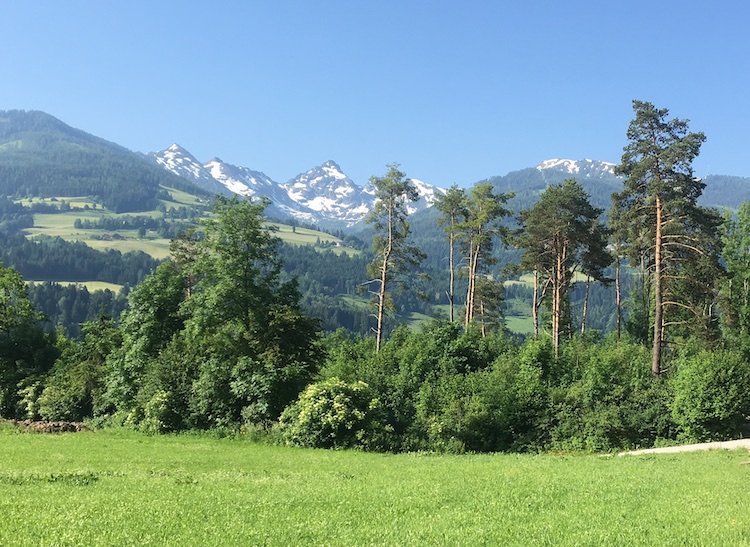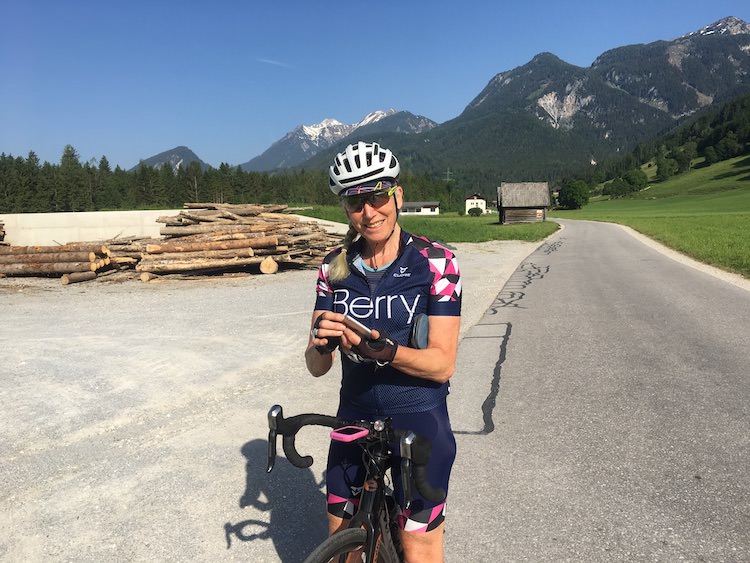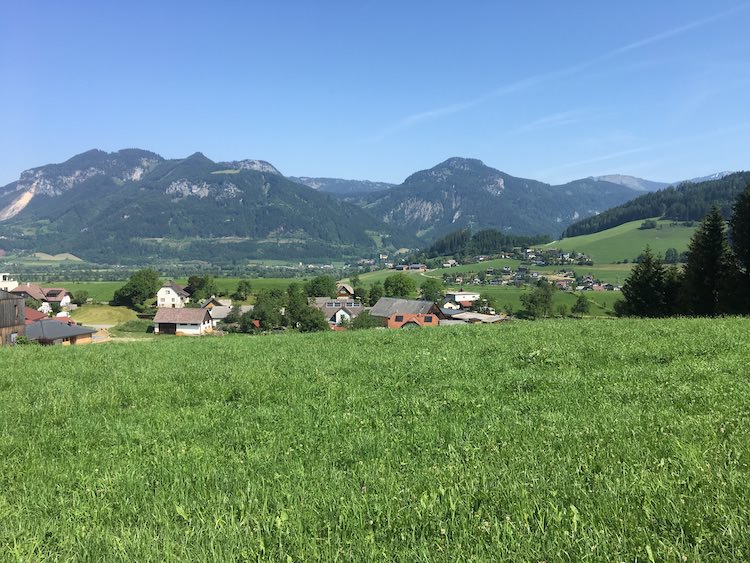 The temperature was just right for riding this morning and there was little wind during the short time it took to catch up to Sam and the van at the morning coffee in a lovely village called Öblarn at the 30 kilometre mark. With a net descent over almost exactly 500 metres over that distance we got there in just on an hour even with photo stops and being in cruise mode.
The village was lovely …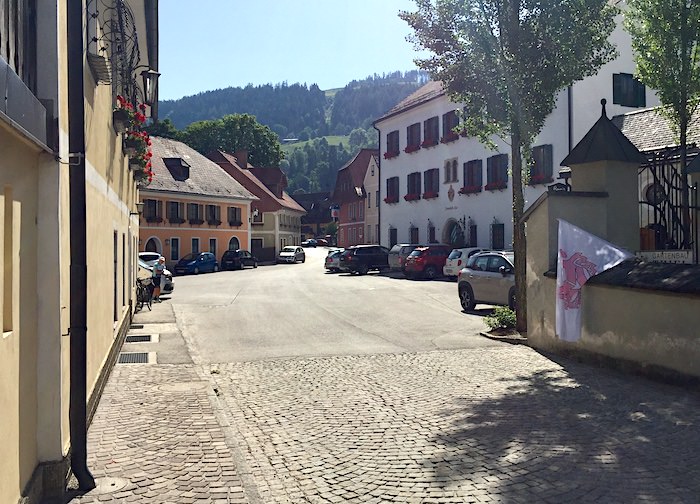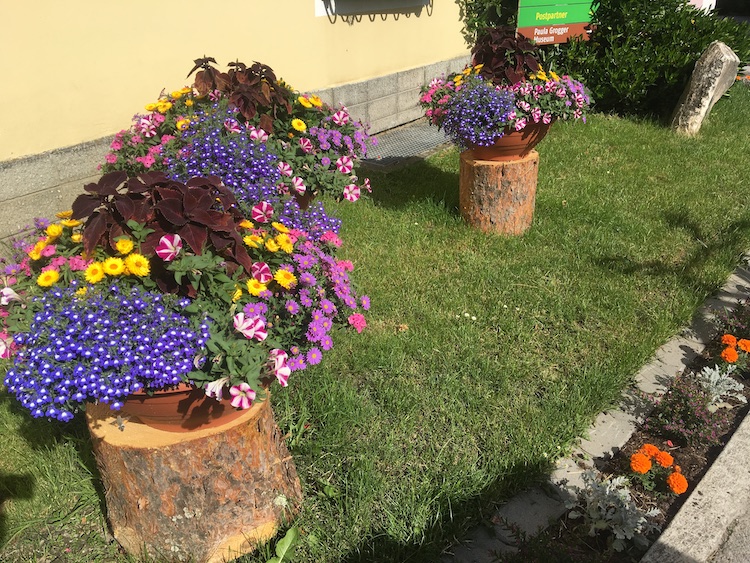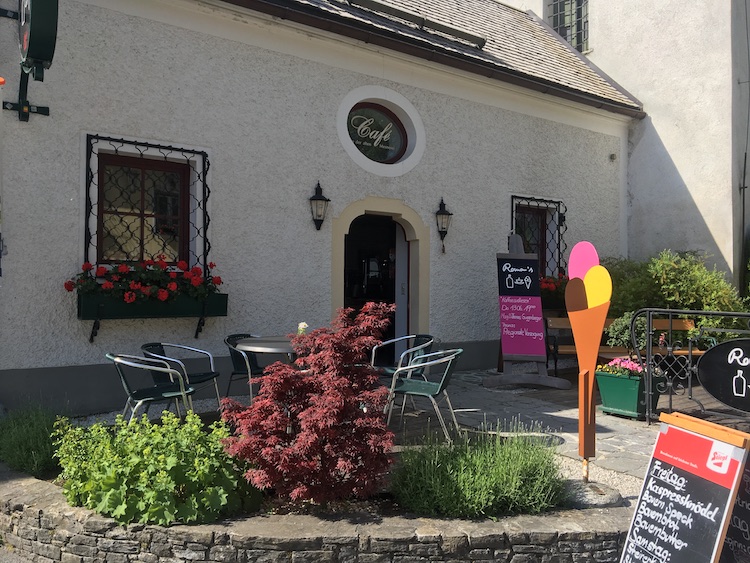 … but with a forecast for temperatures building up into the high twenties and low thirties and sensing that the light headwind we'd experienced along the valley floor was gradually increasing we decided not to linger.
Back on the road our sense that there was a bit of a headwind along the valley floor was confirmed but it only increased very gradually for the next 50 kilometres of fairly flat riding to the town of Admont. Along the way we passed an imposing castle up on a hill …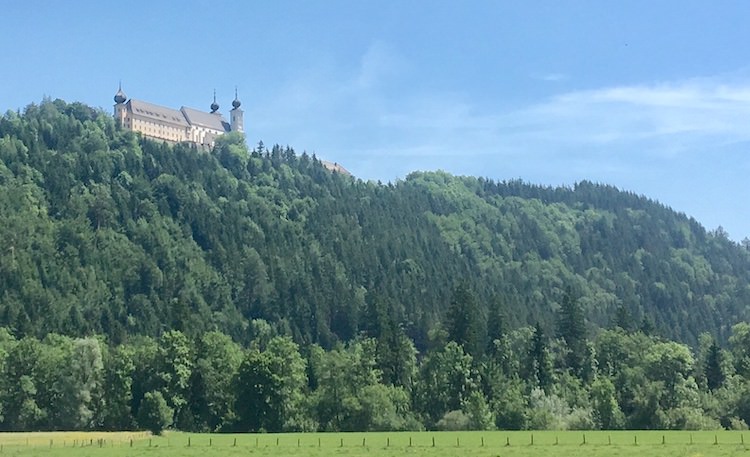 As we neared Admont I stopped for a photo of the famous abbey that houses an important historical library …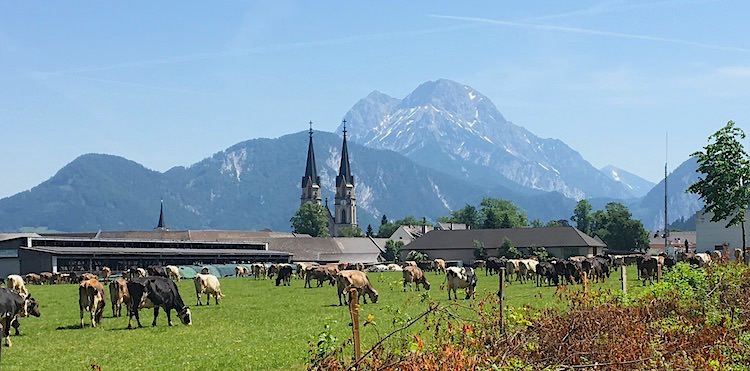 This town was our scheduled lunch stop but Sam and Enrico had to do a detour to get new brake pads for the van so he wasn't going to be there by the time many of the group would be arriving. Luckily there are a number of good cafes in this historic town. Di and I had something quick and light and once again got back on the bikes relatively quickly in our efforts to beat the heat.
A few kilometres out of town the road starts to rise at an average of about 6.5% for three kilometres, or just enough to get one sweating quite well in temperatures around the mid to high twenties. We both like to go at our own pace up hills like this so I went on to wait for Di at the top, where I took a photo of some pretty contented looking cows. They weren't in clover but they might as well have been …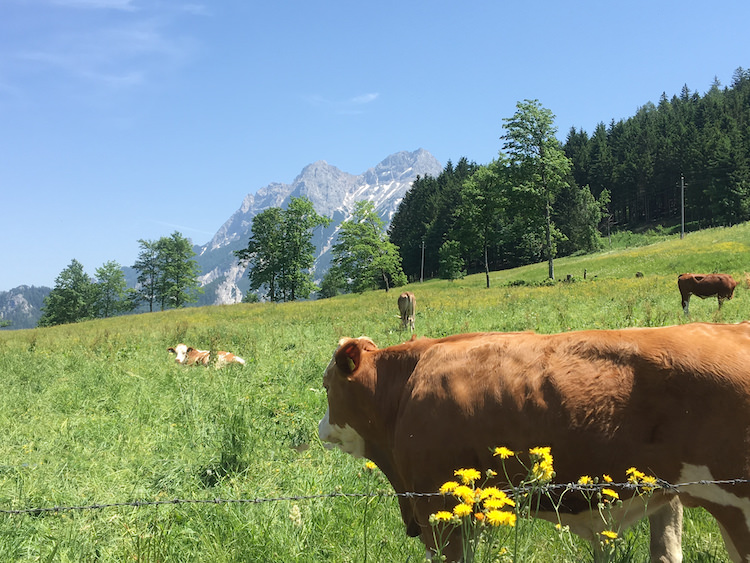 We were really looking forward to another nice long descent of about 10 kilometres or so. At first it lived up to our expectations but about three-quarters of the way down there was a long delay due to some roadworks …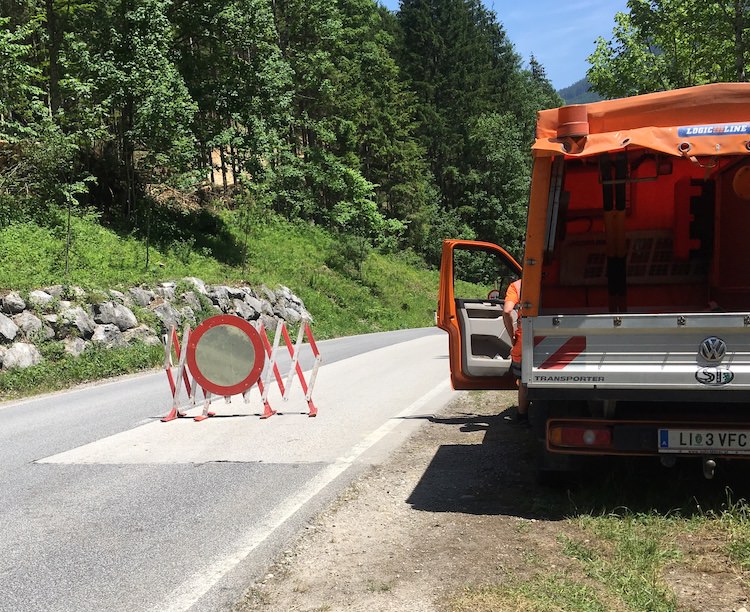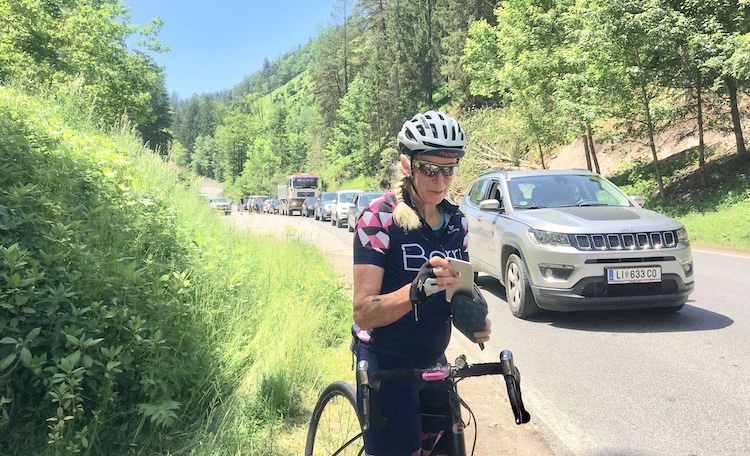 Eventually when we got back on our bikes we had a section of dirt about 2 kilometres long to traverse before getting back onto pavement. (Memo to self: drivetrains will once again need cleaning.) A little more descending and we were back on flat ground, thinking that was what was on our plates for the last part of the ride. We came past an old farmhouse which I paused to photograph because of the extensive renovations occurring, with all the windows being replaces …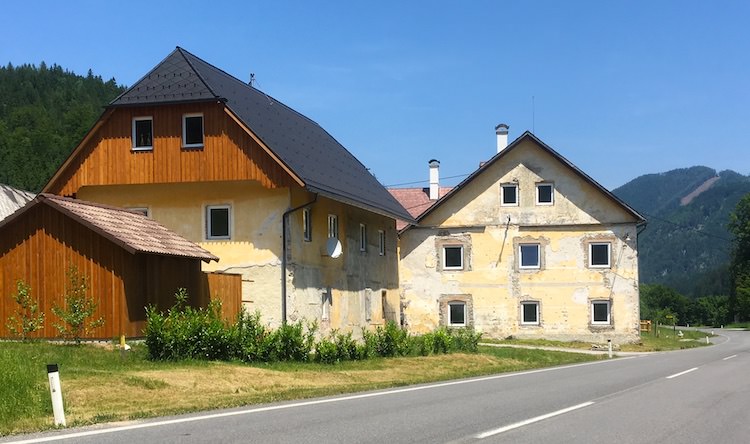 I stopped again when we spotted yet another castle …
Another kilometre or so along we were surprised to discover the road rising. Hmmm, we thought, this isn't on the route profile. It wasn't a big hill but the gradient did rise to nine and ten percent for a while, and even touched on 11 percent. In the afternoon heat it was a little more taxing than it would have been in the cool of the morning.
Happily as we reached the top of the hill our accommodation – in the form of an impressive hunting lodge – came into view …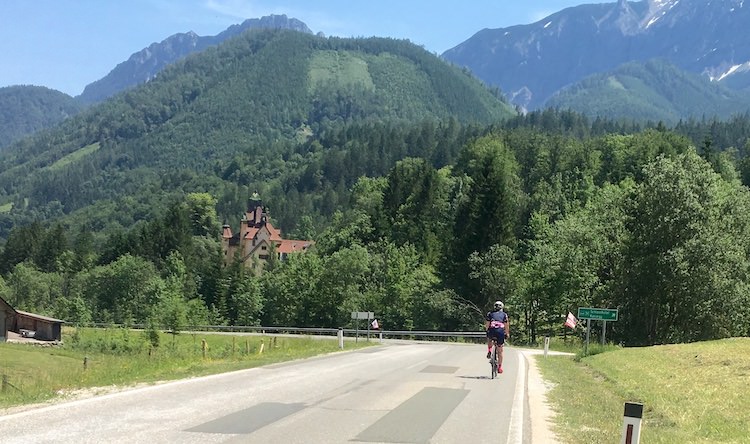 Here's another view from the parking lot …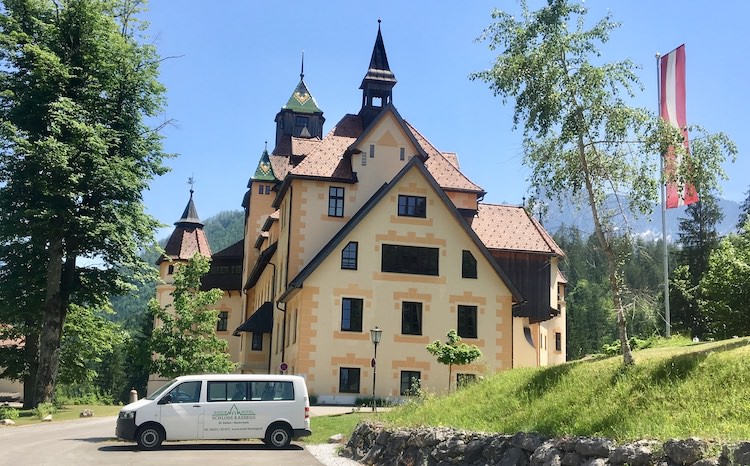 The first thing we did when we climbed off the bikes was to cool our heels in the pool of a deliciously cool water point …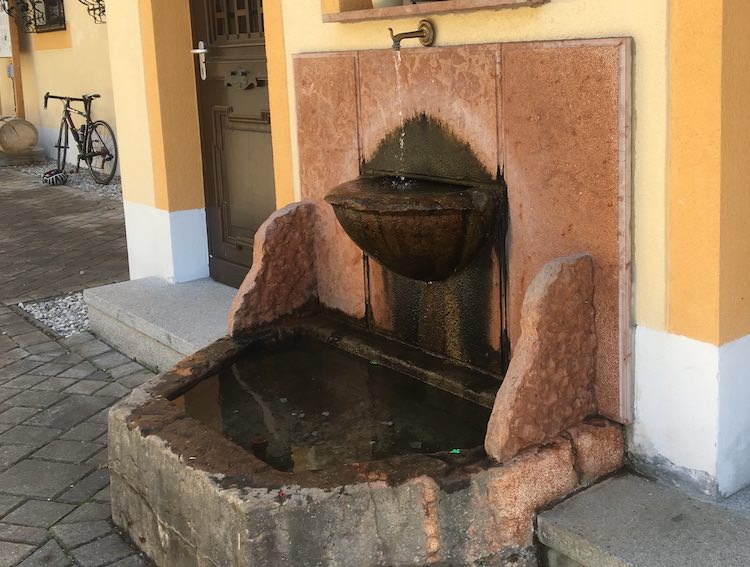 The second thing we did was order a couple of cool tall ones …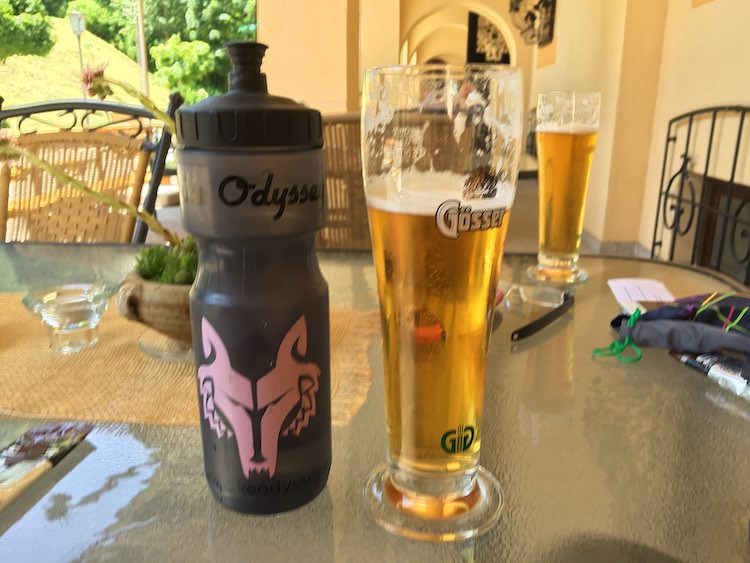 Here's a photo of the front entrance …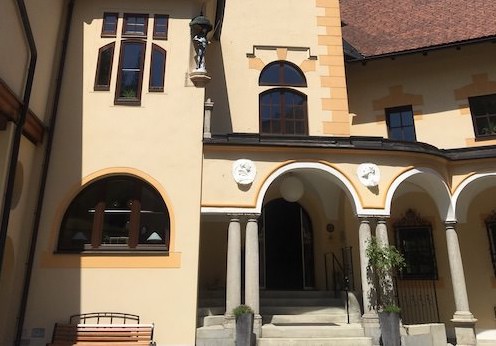 It's a pretty neat place to stay. The window of our room is the one with the circle around it …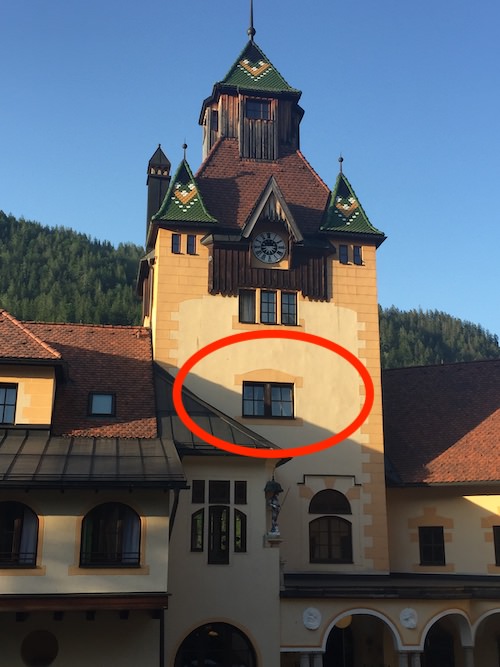 I thought it might be instructive to add a map showing – roughly – our route over the past three days …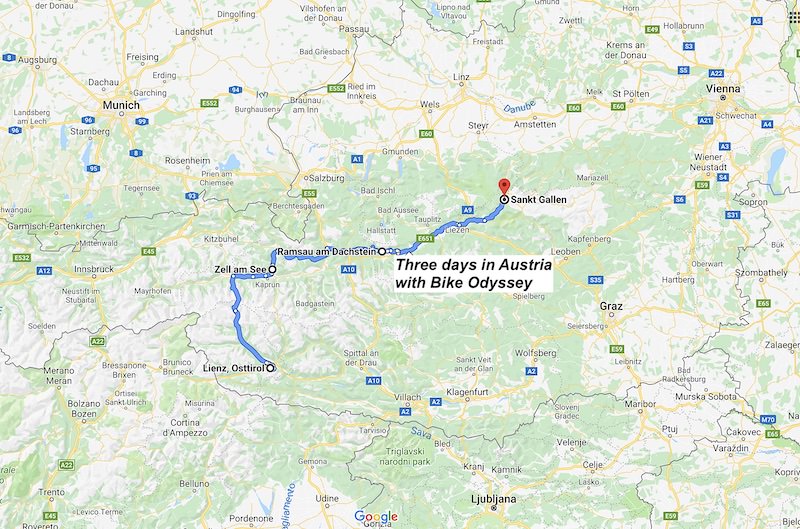 We've got quite a long day tomorrow in what will probably be quite hot conditions, so I might not get another post done until the day after, when we have an easy day into a town not far from Vienna. There's a castle there named after Richard the Lionheart where we're staying and … dressing up in chain mail for dinner. Should be interesting.