While a long day in the saddle with some ups and downs is what I like more than anything else, sometimes a shorter ride with less elevation can be rejuvenating. Today was such a day. With only 82 kilometres to cover and about 600 metres of climbing it has the least elevation and is one of the shorter rides of the tour.
Here's a look at today's route, with the elevation profile at the bottom …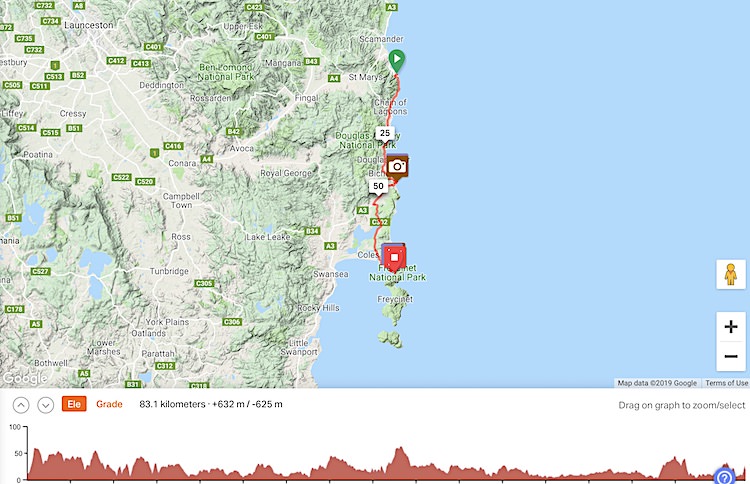 As you can see, the maximum elevation for the day is just over 50 metres. (Although it looks a bit bumpy in fact that is simply GPS mapping weirdness.)
After a wind-tossed night, the morning greeted us very benignly. There was a gentle northerly blowing, which was ideal as we were heading south. The only downside was that there was quite a lot of cloud cover, so colours were a bit muted and the scenery not as spectacular as it so often is. Still beautiful though, as I hope the following images taken between St Helens and Bicheno will attest …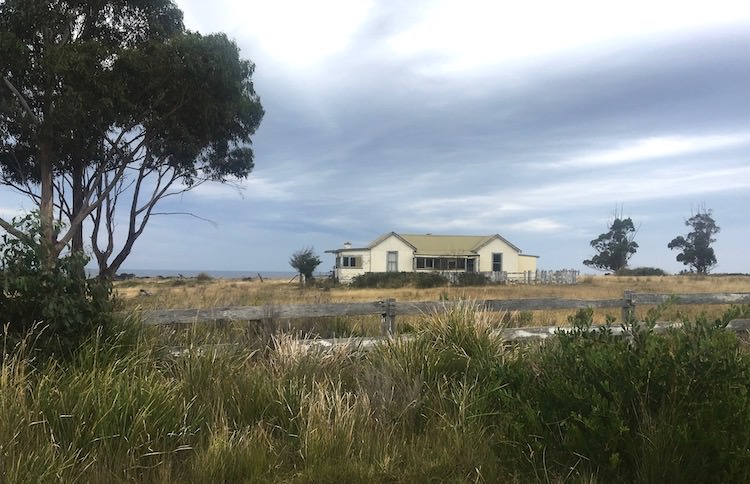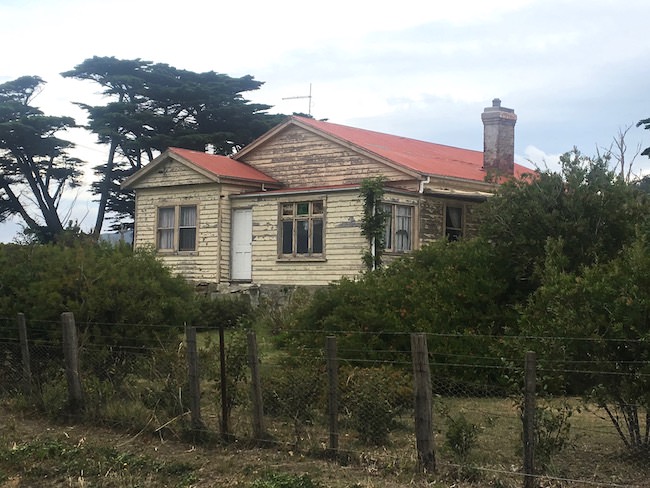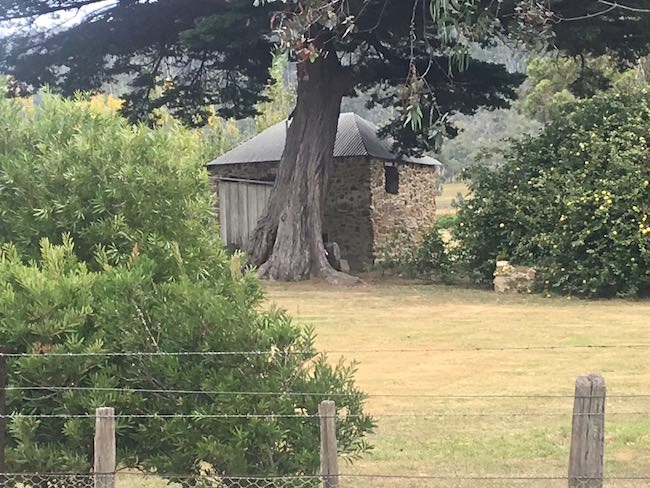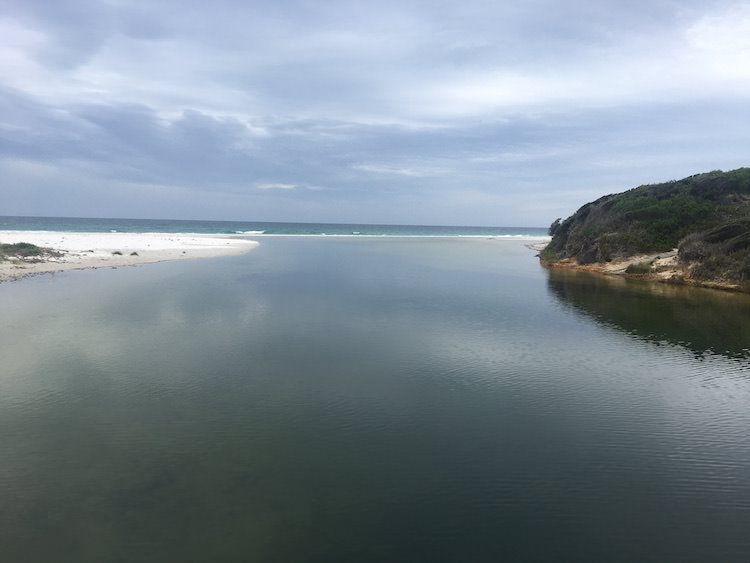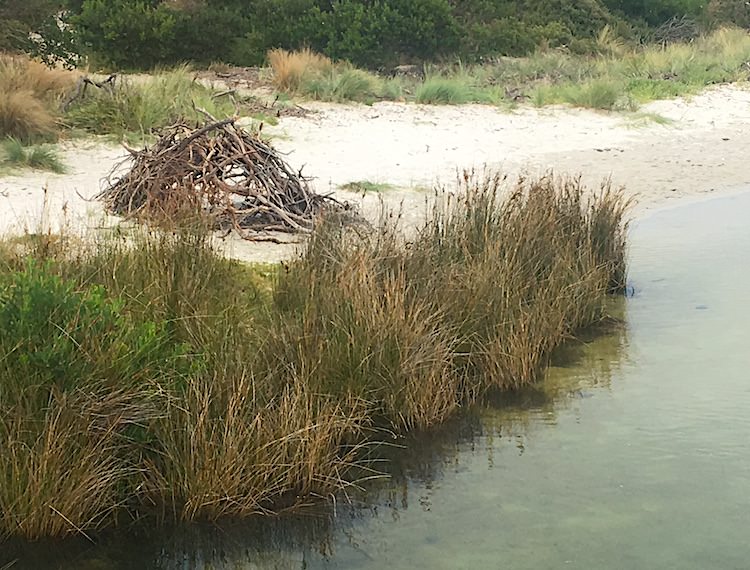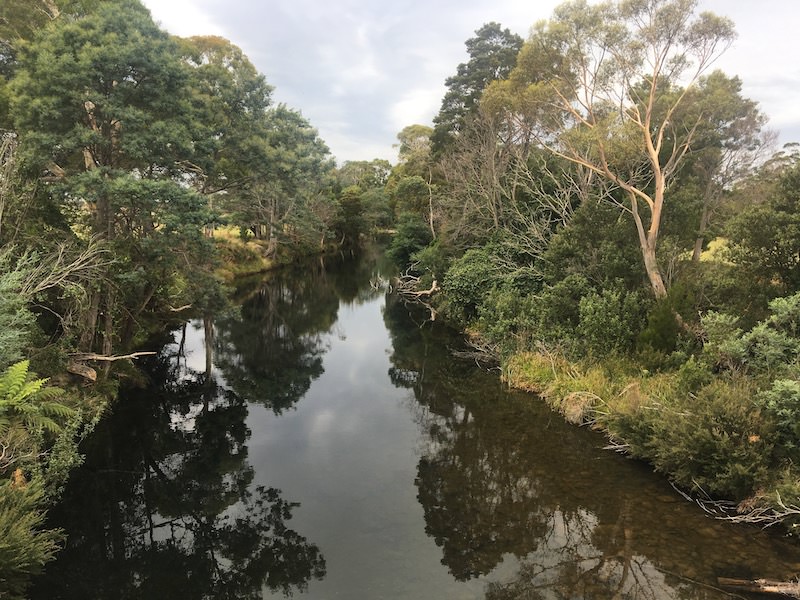 Bicheno is pretty much spot on 40 kms from St Helens, it is flat and we had a gentle tailwind so there was no need for a morning stop to refill water or eat snacks. (Incidentally, the name "Bicheno" apparently is an ancient heraldic name derived from the Flemish 'Bechenhove' which itself is a developed form of the German 'Becher' and the French 'Bichet'. This fits with the fact that the French explored and mapped this part of Tasmania before the Poms got worried, pretended that all of Australia was uninhabited, claimed it for their crumbling empire and imported masses of convicts in chains to build a far flung colony.)
When planning the route for the tour I thought that the ideal place for lunch on this day would be the cafe at The Gulch, around on the Esplanade. It has an all-Australia top 10 rating for its fish and chips. The cafe is operated by Tasmanian Coastal Seafoods and all the fish is fresh off the boat.
I arrived with Peter and Andy and had to get a photo of this cray boat, stacked up with its pots as it was …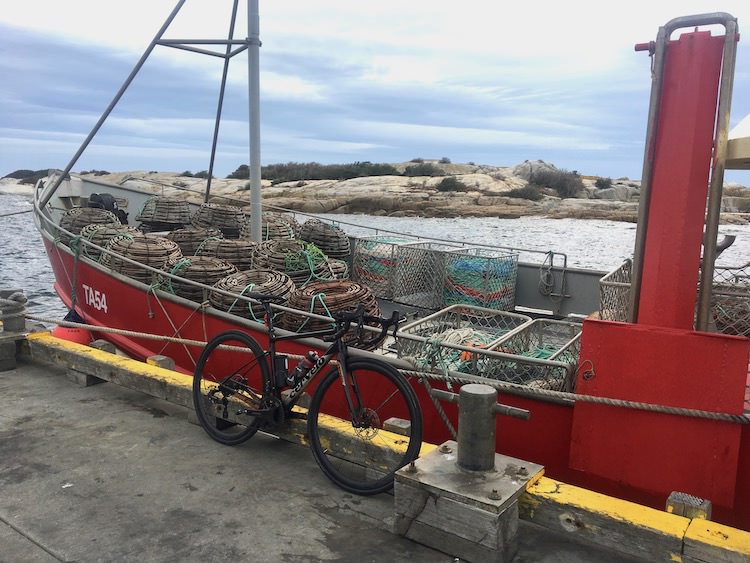 I had been a bit worried with the weather, because it can be pretty cool around there when the breeze is blowing and the seating is – or so I thought – all outside. As it turned out, it was quite still at the Gulch and in fact now has indoor seating has been added since Dianne and I were last here. Almost everyone on our tour decided to stop here rather than in town and I think everyone was pretty pleased they did. We were very comfortable outside. The fish of the day was whiting, which had just come off the boat that morning and still waiting to be filleted.
I am a sucker for a good seafood basket so I ordered one, and shared it with Di when she arrived just after my order was placed. There were so many chips that Peter, Andy, Di and I could not finish all of them without making ourselves uncomfortable when we got back on our bikes. Just get a gander of this …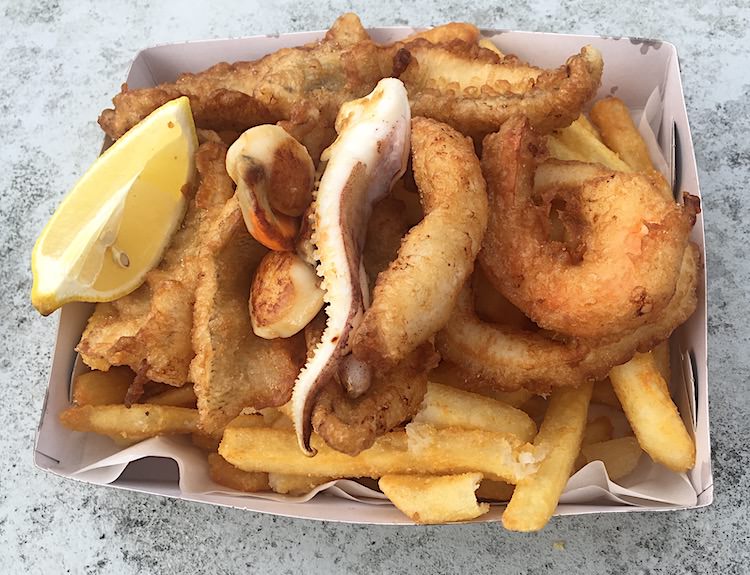 Here are a couple of shots of some of our riders chowing down and enjoying the view …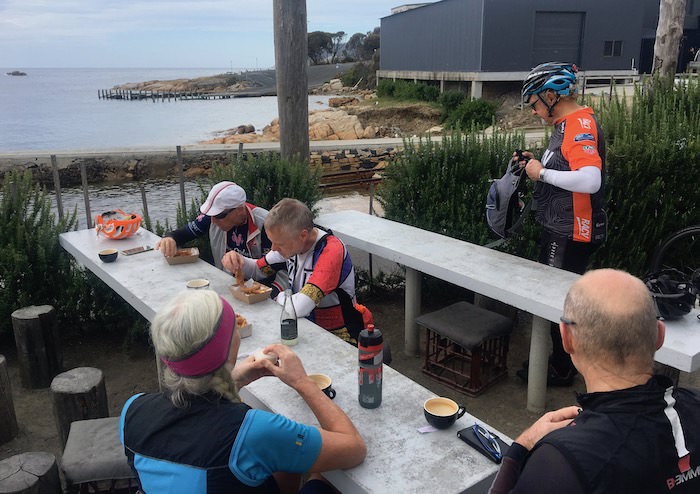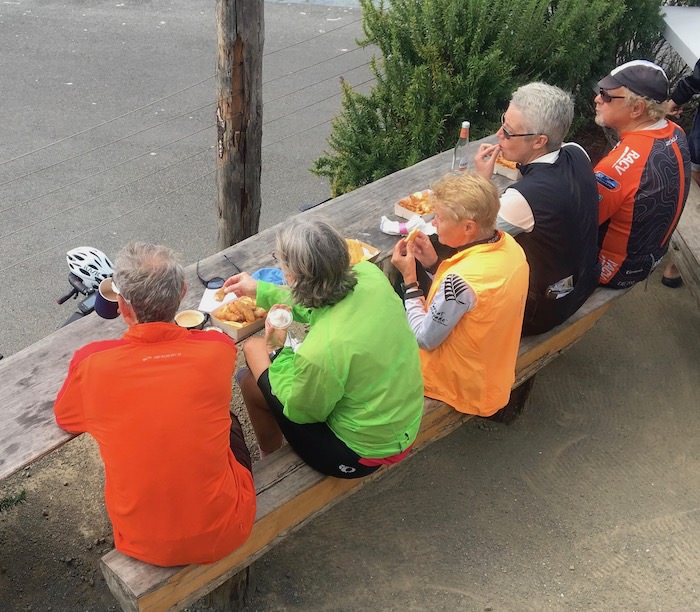 As I was readying to leave I noticed this plant growing out of the retaining wall and thought it looked kind of cool …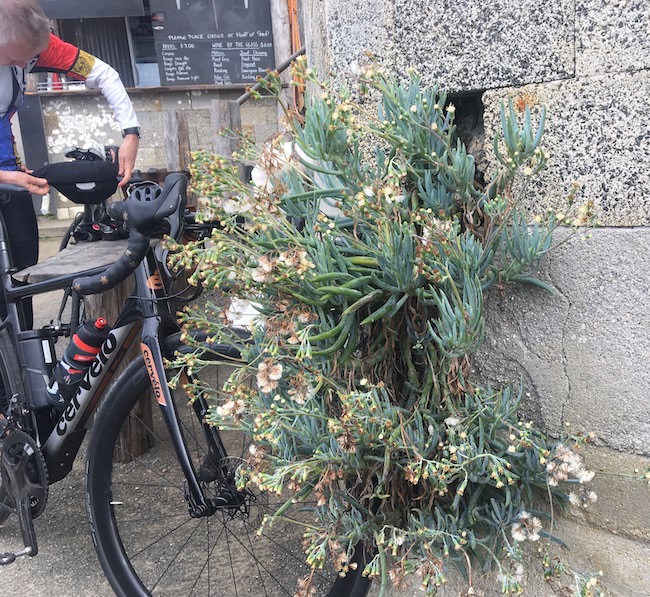 Dianne and I set off from lunch together for the even flatter second half of our journey. We rode about half of that in tandem before she sent me off on my own. When I arrived at the waterfront at Coles Bay I had to take a couple of snaps of the Hazards. Sorry, I couldn't decide which was the better photo so you've got two …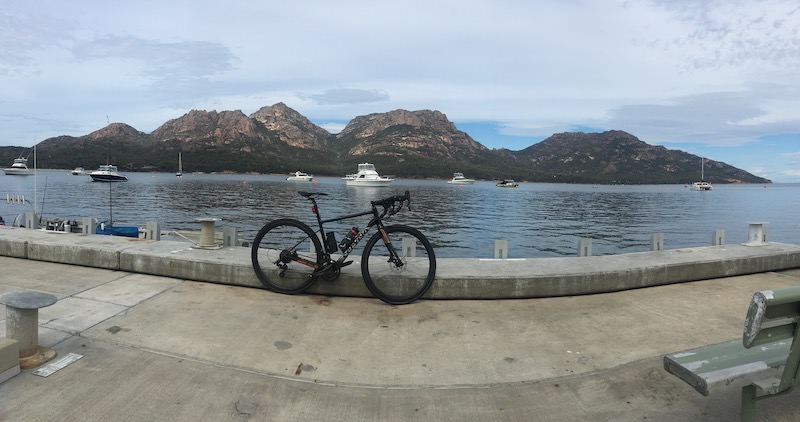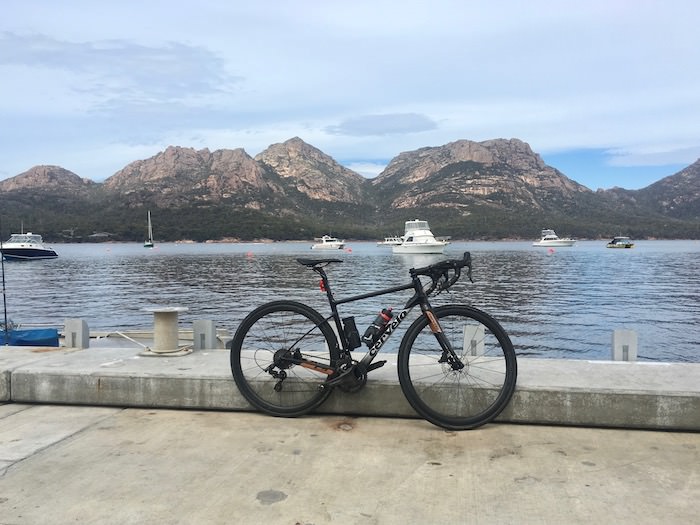 Di, Andy, Peter, Kay and Sharon soon arrived and we all enjoyed brilliant ice creams together at the new ice creamery.
This lovely break gazing out at the Hazards couldn't go on for ever, so Dianne and I climbed back on our bikes and rode through to Freycinet Lodge, where we are spending the next couple of nights. All of us that is except George and Margot from Boston and David from Newcastle, who leave us tomorrow.
The best way to finish a ride is generally with a nice cool beverage …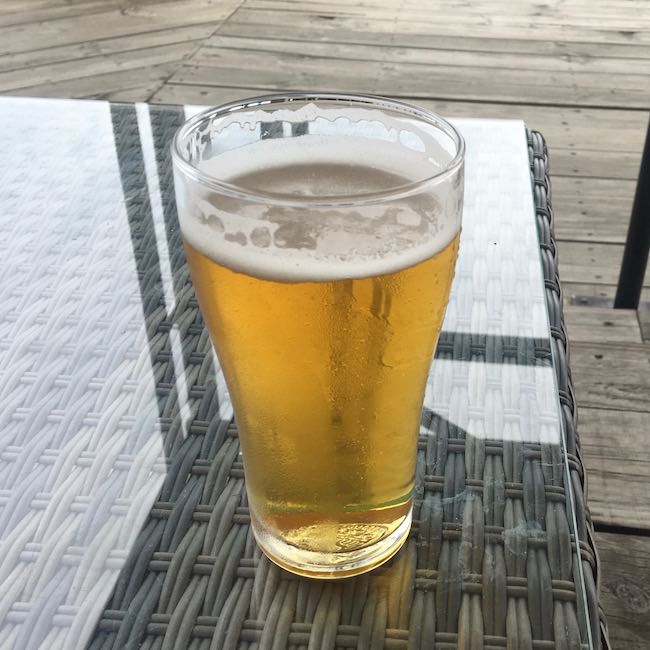 … especially when you have a view like this to look at from the verandah …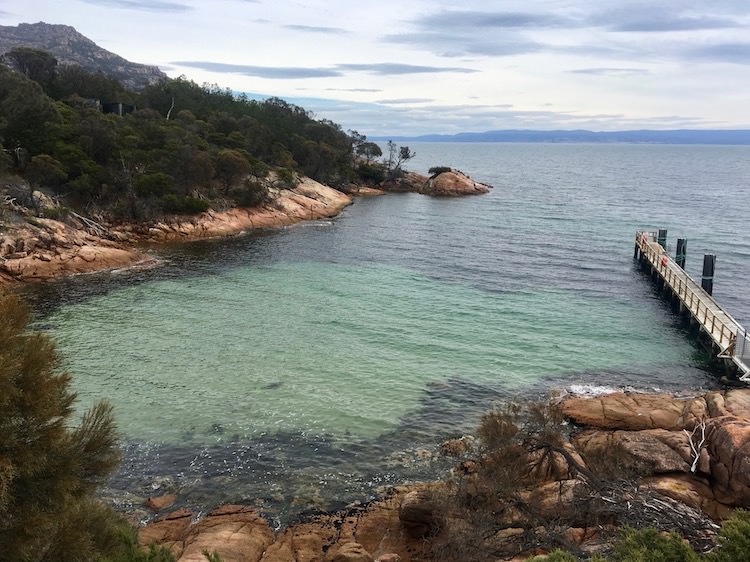 Tomorrow we catch up on our laundry, maybe go for an easy walk and generally recharge the batteries for the last week of the UnderDownunder tour. Stay tuned …