The last three days have seen us cover approximately 325 kilometres, with a bit of that entailing some ducking and weaving to take in a few special Tassie highlights. We could have come more directly from Rosevears to Ironhouse Point, but that would not have been quite as interesting. Here is a look at a rough approximation the route over  the past three days: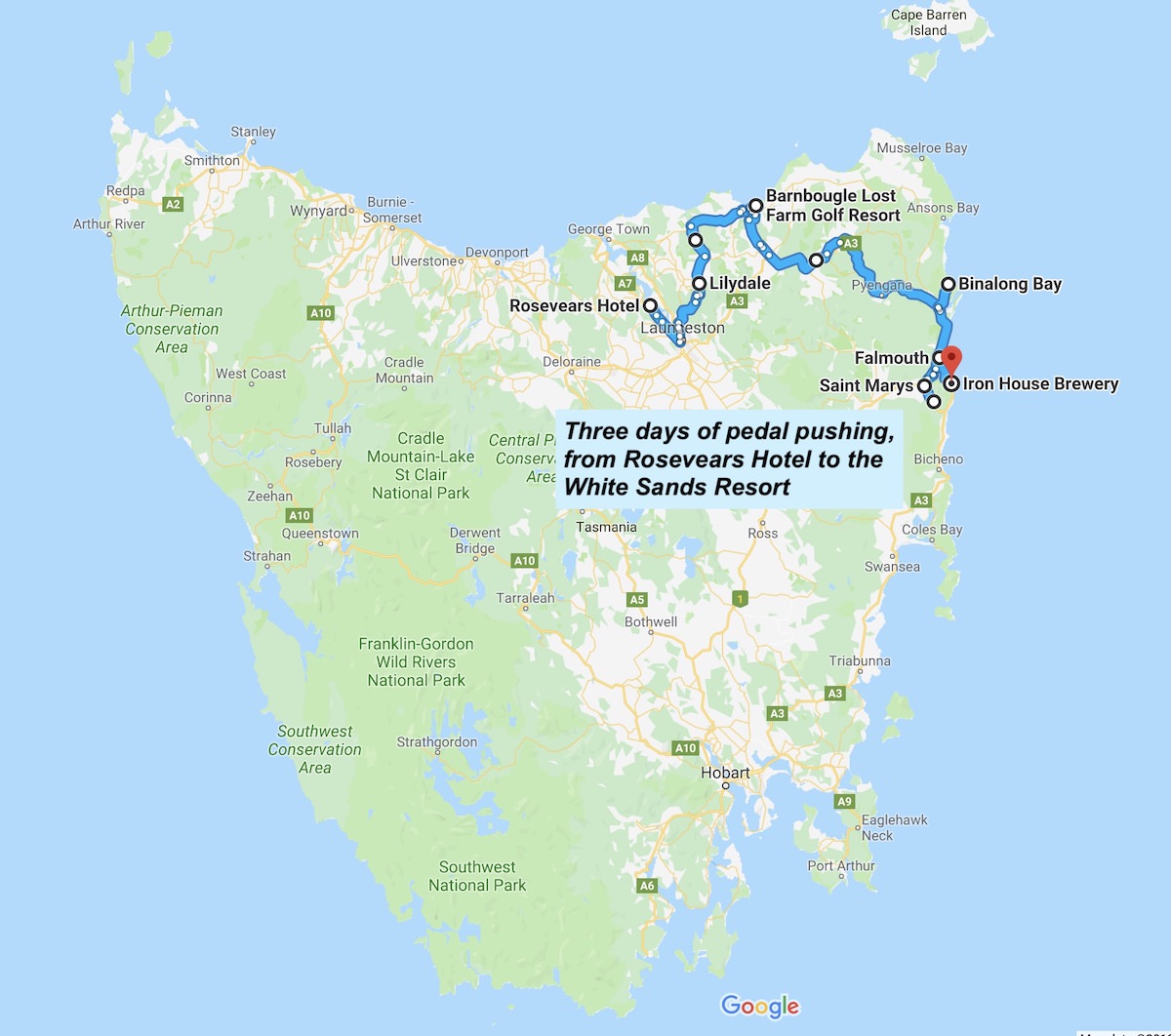 Rosevears to Barnbougle
Those of us who chose to ride from Rosevears rather than get a lift for part of the route were led out of the hotel by Cam because of some traffic concerns. Here's what our group looked like travelling along the shoulder of the West Tamar Highway …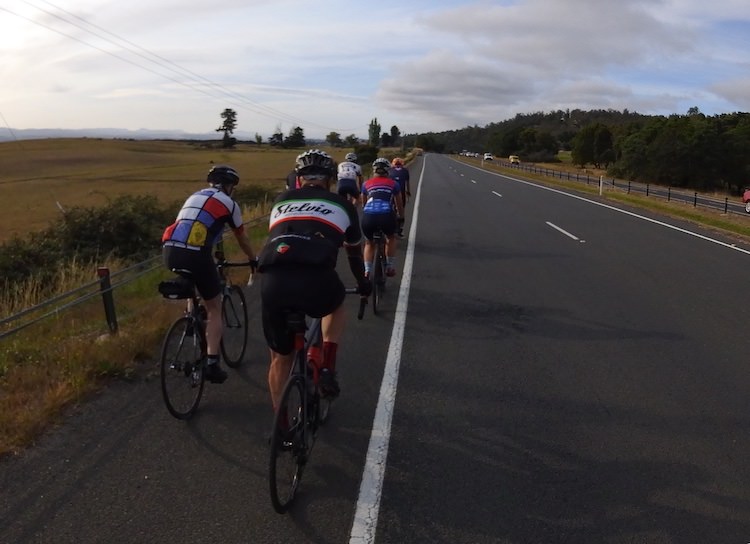 After we turned the toe of the Tamar and headed north for about five kilometres we were free to go at our own pace. Morning coffee was at the historic town of Lilydale where there is a pretty good coffee shop. (Sorry, no photos.)
One aspect of cycle touring in Tassie is that there isn't always an ideal distance between places to stop for having a coffee and refuelling. The highlight of the day – apart from the riding of course – was our lunch stop at one of leading sparkling wine producers in Tasmania – and indeed Australia,  Clover Hill. Here's an image of the sort of food we were served …
But the real highlight was the setting. Here's an image showing some of the vineyard …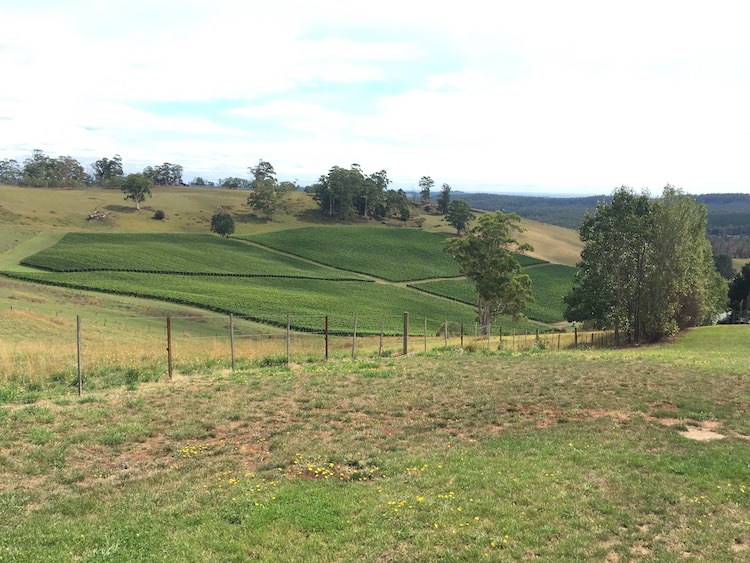 There were some lovely sculptures scattered around the grounds, including this one as we came into the winery …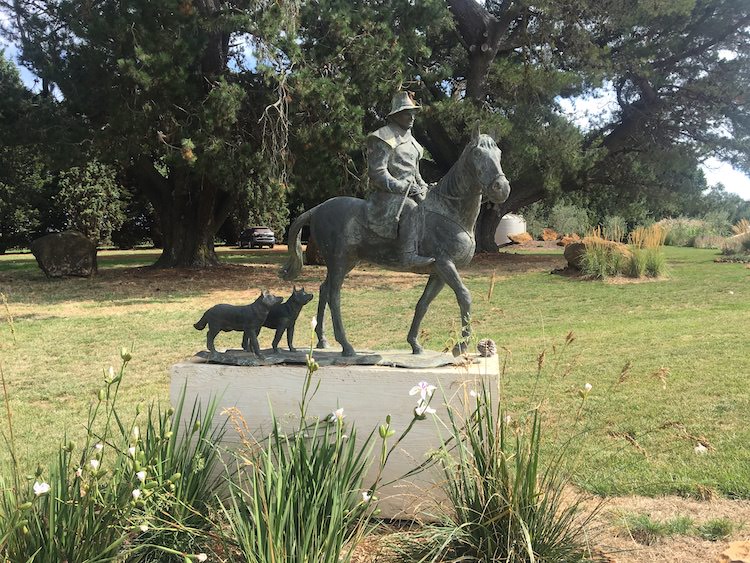 and another of a Tasmanian Wedge-tailed Eagle …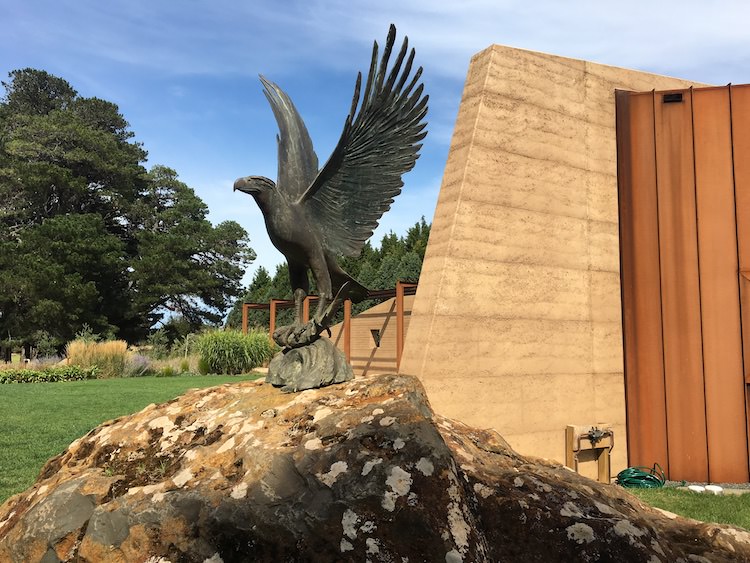 From there it was a very pleasant ride through wine growing country, forest and pastures and then along fairly ground enclosed by more forest. Along this last section we enjoyed a great tailwind which blew us into Bridport where most of us stopped for an ice-cream …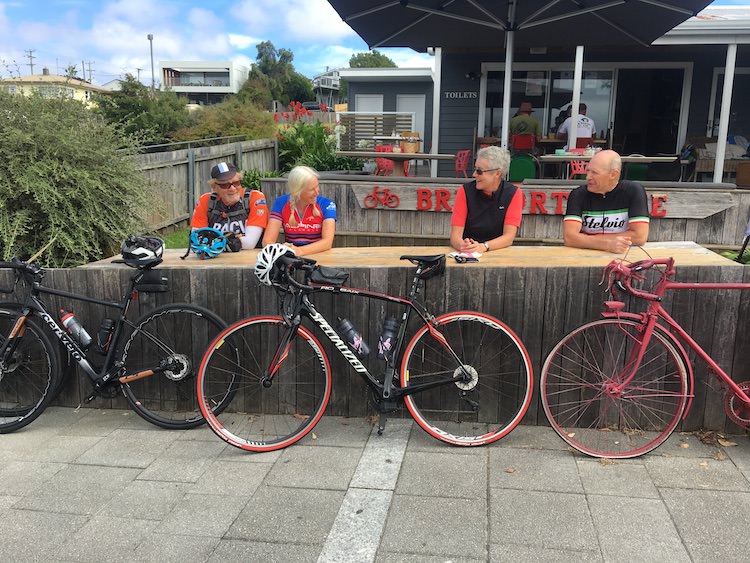 … before making our way to Barnbougle, a world-class golfing complex that also just happens to have a restaurant with a grea view over Bass Strait and very comfortable accommodation.
Barnbougle to St Helens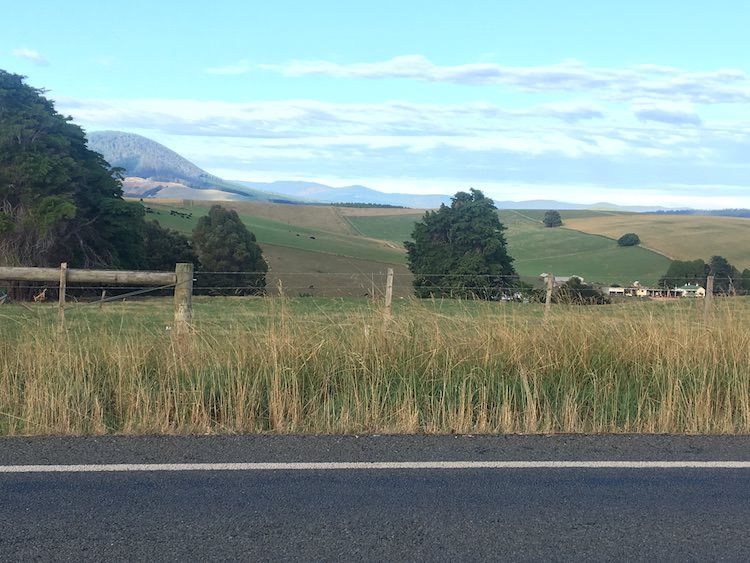 Yesterday was the longest day of our tour, covering approximately 140 kms, with 1900 metres of elevation. We were lucky to have a tailwind most of the way. The road took us through extensive areas of cropping (potatoes and onions), hayfields and plantation forests. We also passed through Branxholm, an outlier for the hops industry in Tasmania. But the most notable farming in this part of the state is the dairy industry. More on that later.
One of the significant early hills that we went over had the quaint name of Billycock Hill …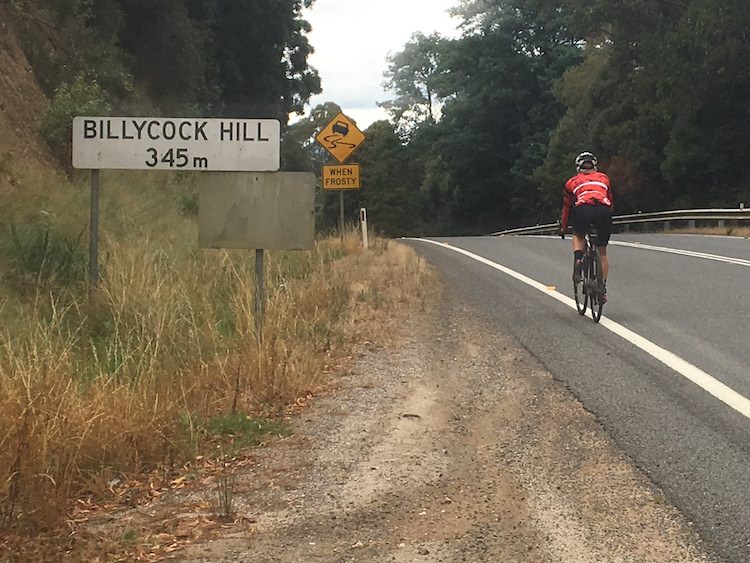 For those contemplating doing this tour in future years there is now a Strava segment from the top of this hill to the almost defunct settlement of Legerwood, which was once a centre of the dairying industry here in Tasmania. What Legerwood is now know for is its memorial to soldiers lost in the first World War. Here are a couple of images to illustrate …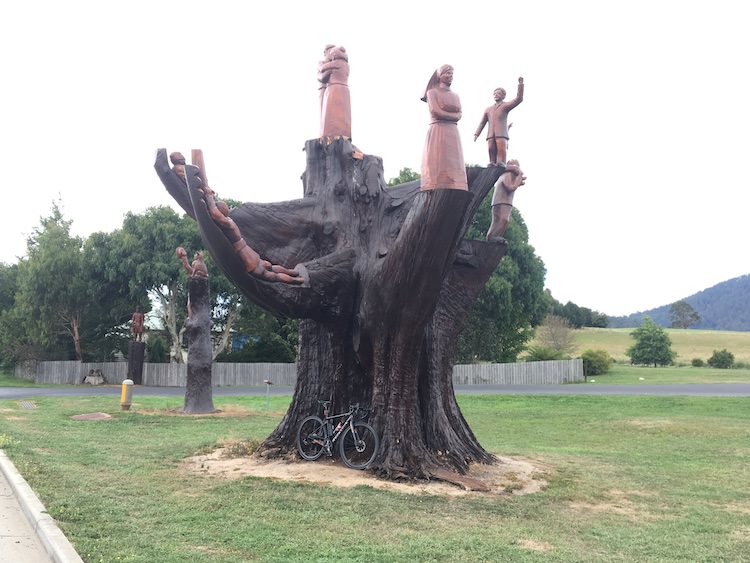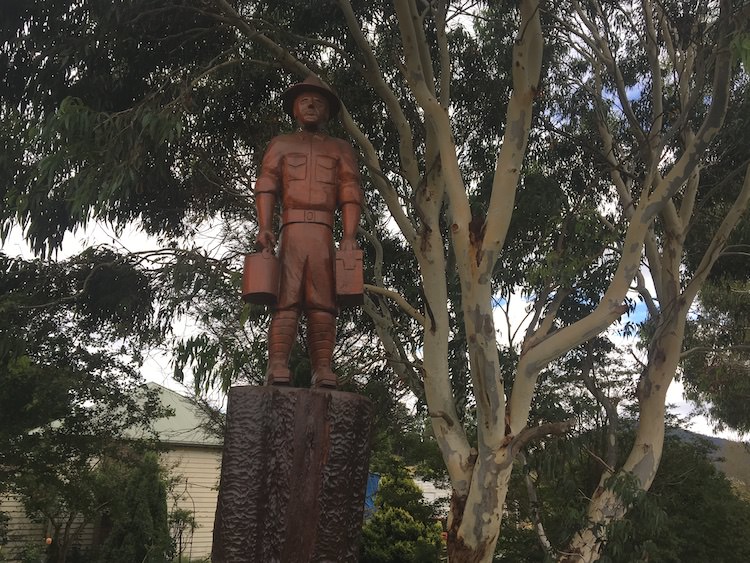 Our lunch stop was in Derby, an old tin mining town that had almost died before a mountain bike park was built there. Now the town is booming and to signify its revival, spread regularly along the highway through the town are sculptures like this one …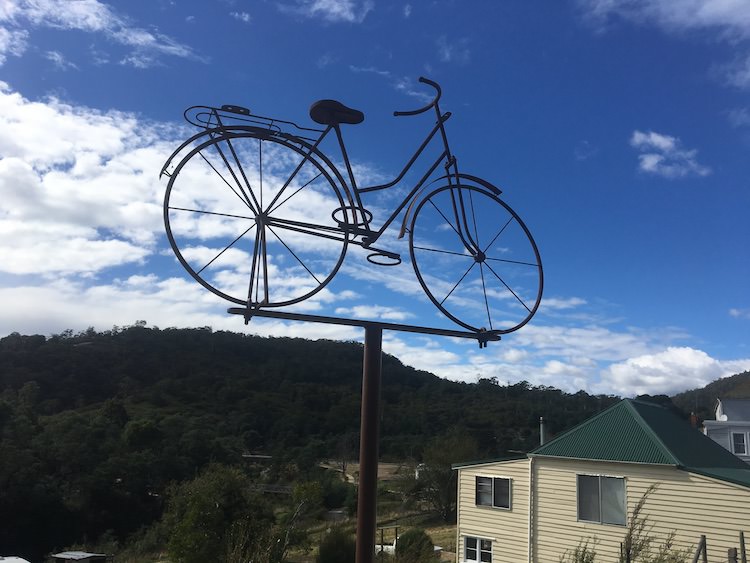 We knew we were nearing our destination when we left the Dorset municipality behind and crossed into Break 0'Day …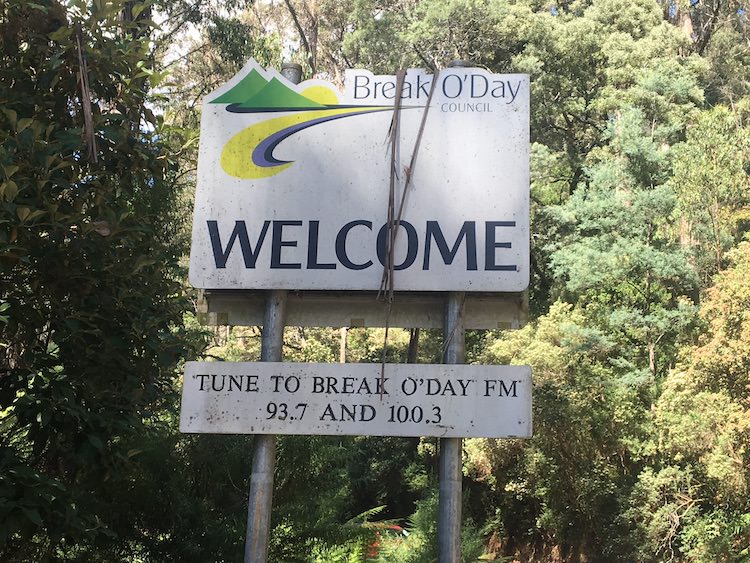 It was here that we saw the greatest number of dairy cattle …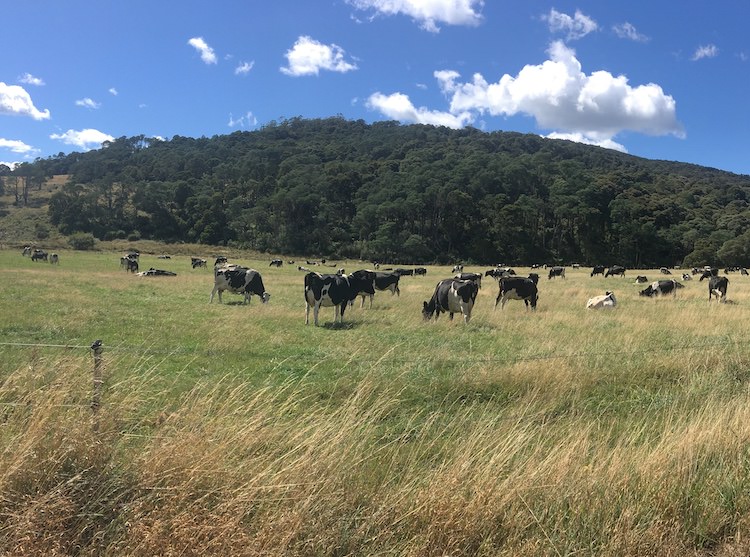 They were  present in huge numbers both before and after we crossed, Weldborough Pass, at 600 metres the high point of the day's ride. At the top I detoured off the road a little way to take this photo …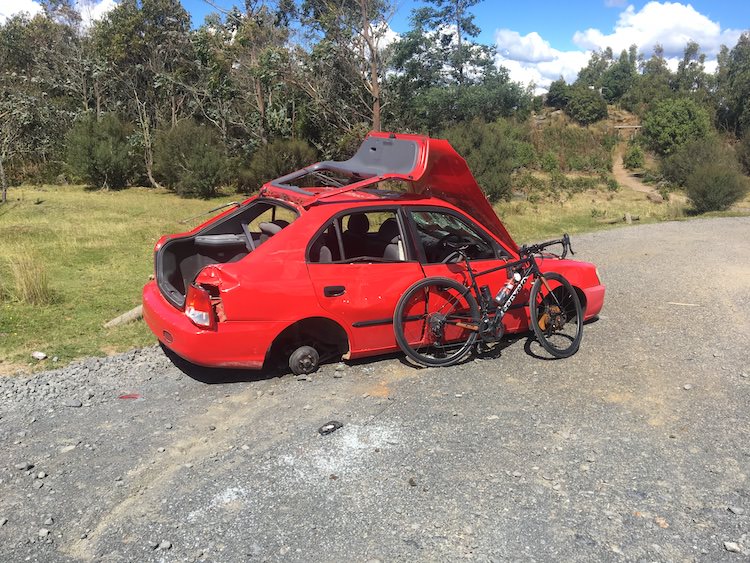 Most of us chose to ride a kilometre off the road to visit the Pyengana Dairy Farm Cafe …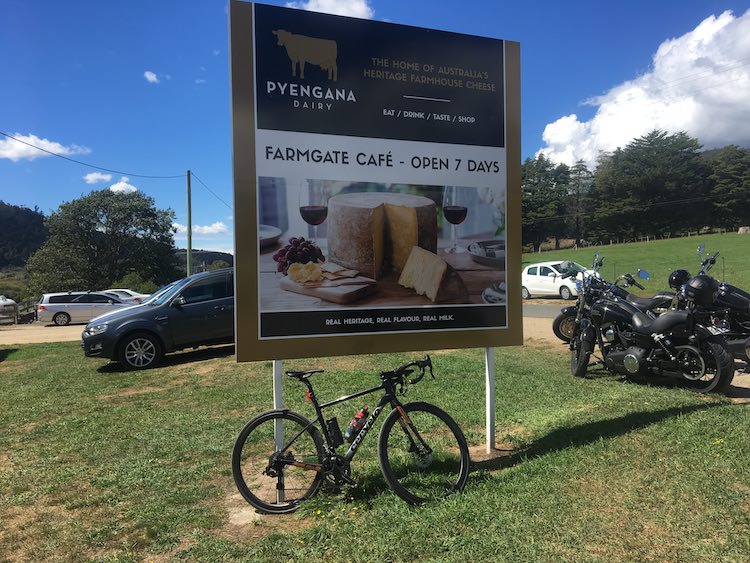 … for a last pick me up before riding the rest of the way to St Helens.
This is where the "happiest cows in the world" live …
Dianne and I shared a dairy farmer's lunch for one, which was more than enough for the both of us …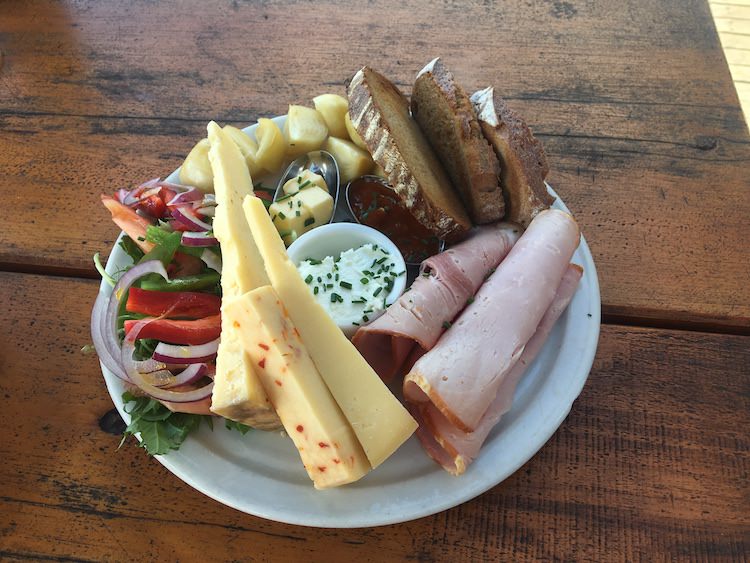 I took a little detour a little further up the road to call into one of the oldest licensed pubs in Australia, the Pub in the Paddock …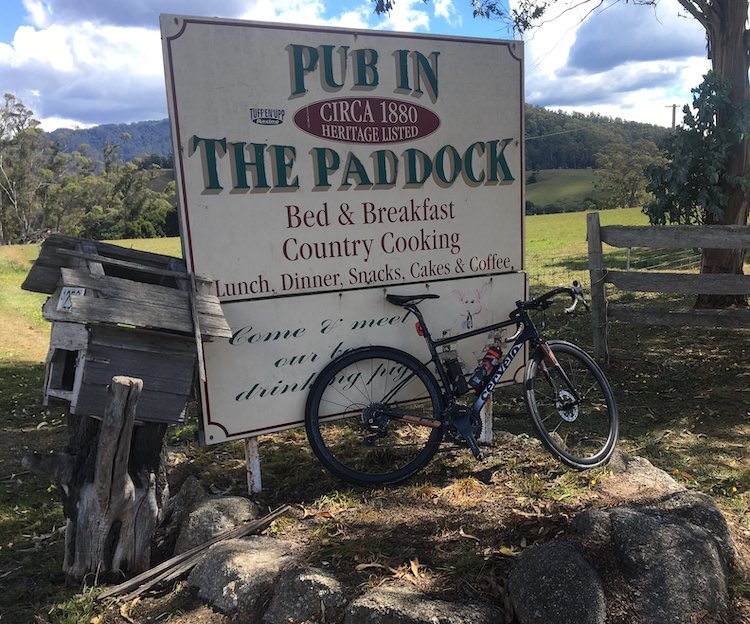 … and see if I could get a photo of their resident beer-swilling pig. It was pretty fat from all that beer drinking …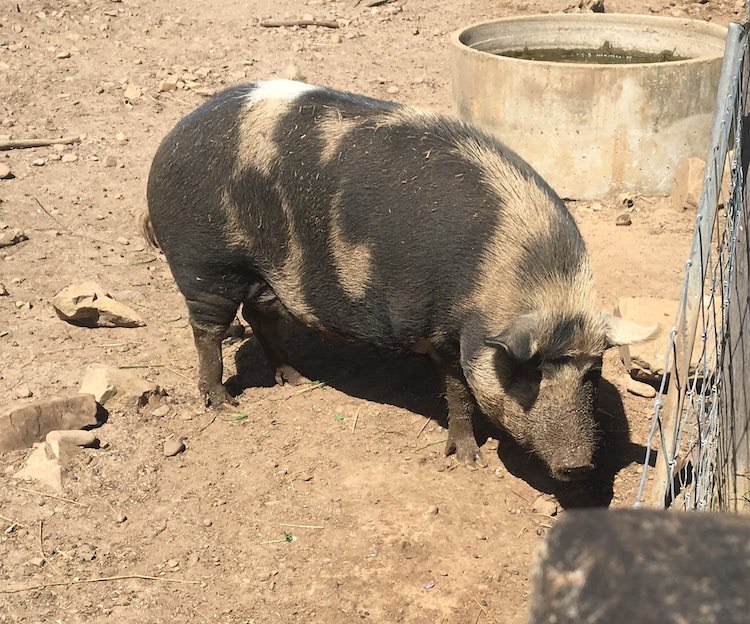 Most of us managed to get into St Helens without getting rained on, but a few got a bit damp on the top of Weldborough Pass, but it was unanimous that it was a great day's riding.
St Helens to Ironhouse Point
A group of eight decided to set off early and ride the 10 kilometres out to Binalong Bay to see the sunrise over the Tasman Sea. We got there just in time …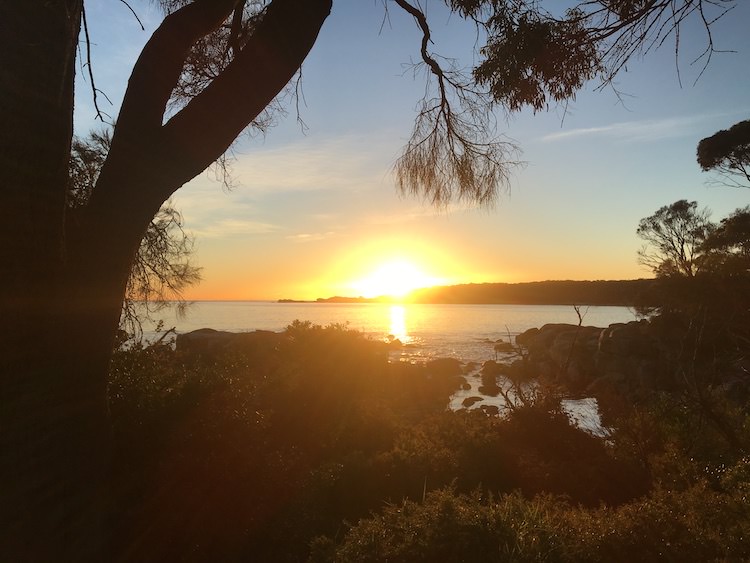 Binalong Bay is a the southern end of the fable Bay of Fires. What was once a very sleepy little shack town has gone upmarket, with a cafe and some very expensive holiday homes. On the way back out I persuaded the group to pose for a photo at the statue welcoming people to the town …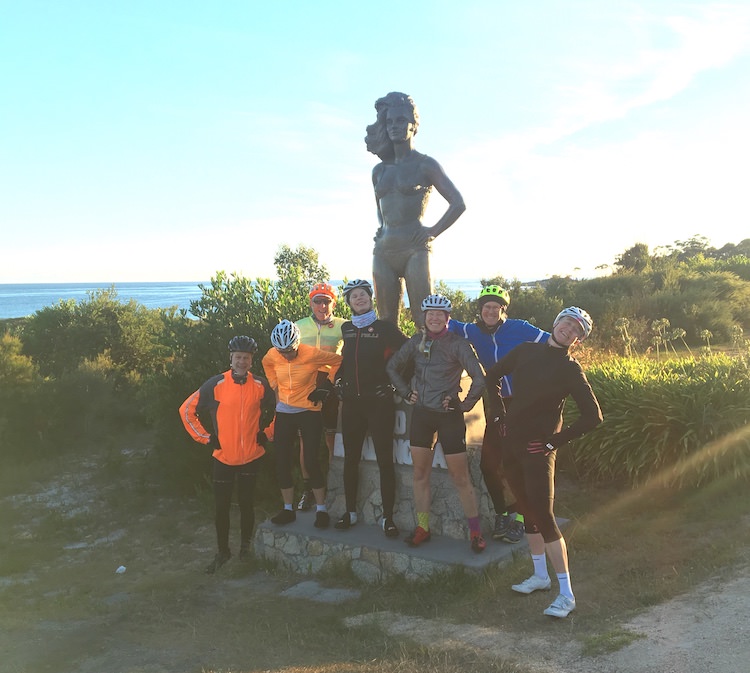 It was quite a cool morning as you can see by the garb our group is wearing so were very happy to get back to our hotel and have hot coffee and breakfast. After this very early start the rest of the day proceeded at a very leisurely pace as we didn't have far to travel, with only one real hill of any note.
The road south of St Helens provides a great bit of riding. I set off with Kay, Sharon and Di …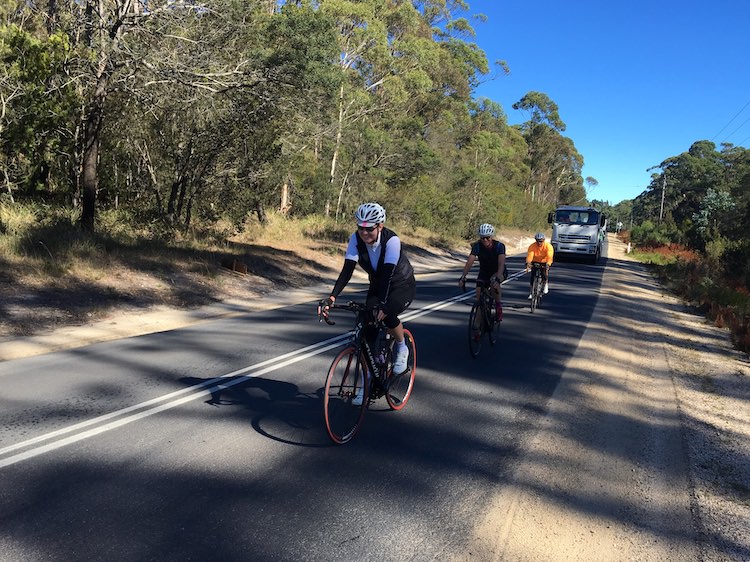 The riding is predominantly along the sea shore …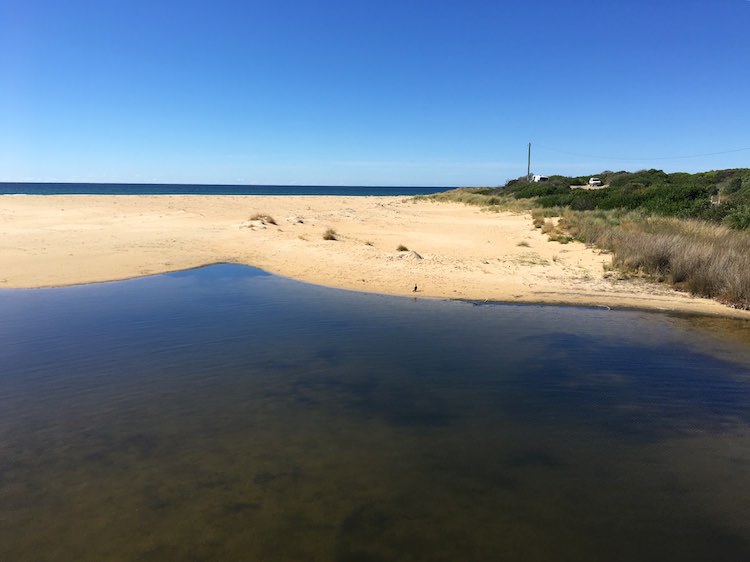 Our lunch stop was really a detour to allow our visitors a chance to see the historic town of St Marys, which was the site of a probation station that housed 300 convicts back in the 1840's.
A great diversion is the St Mary's Cranks and Tinkerers Museum …
…in the old railway station …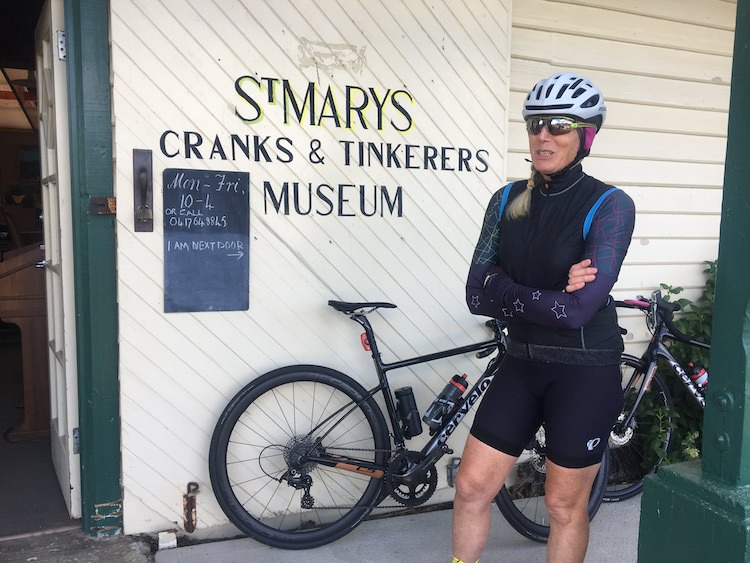 . It's full of fun stuff …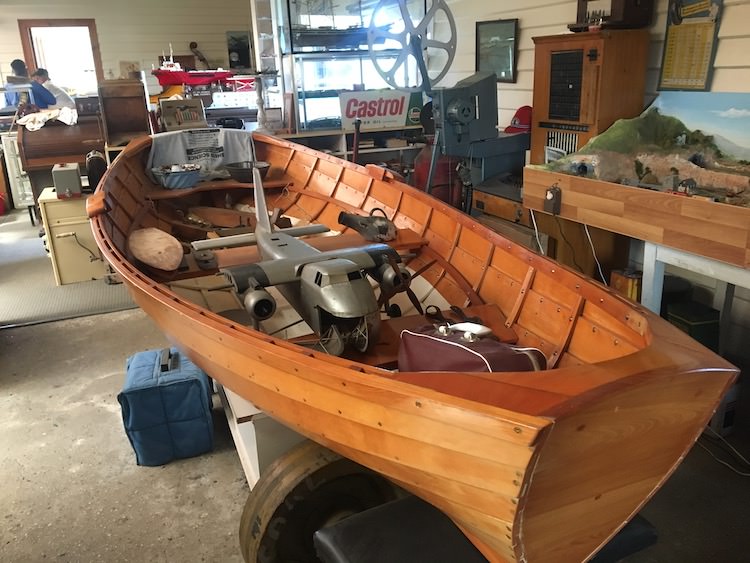 and Ian, the guy who runs the place was happy to play his banjo for us …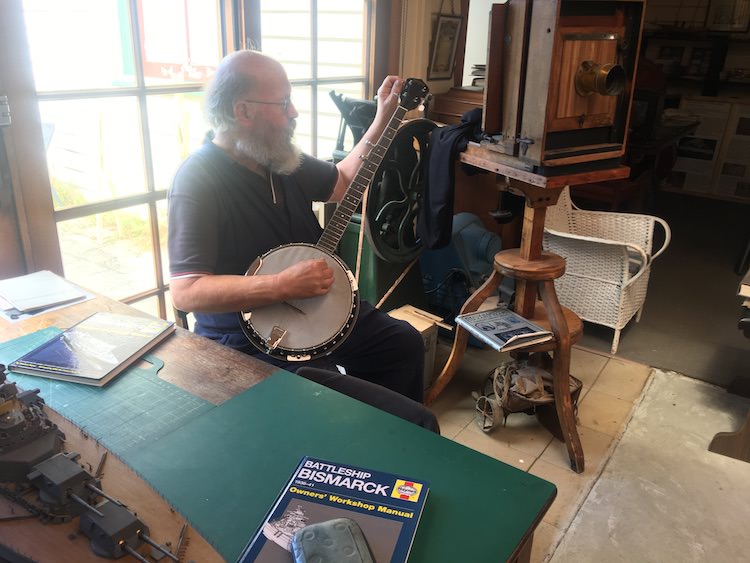 From St Marys most of us made the additional climb up to Elephant Pass where is found the Mount Elephant Pancake Barn …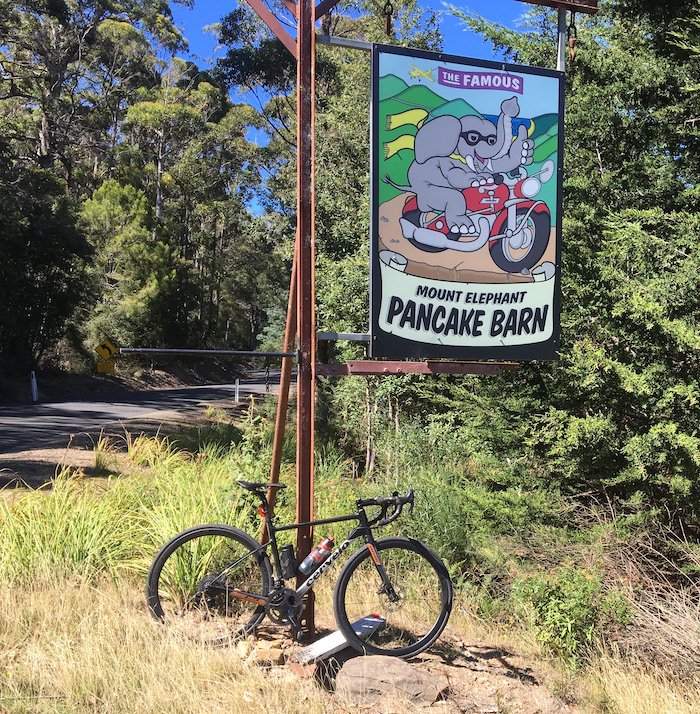 All that was left was to cruise back down to the coast …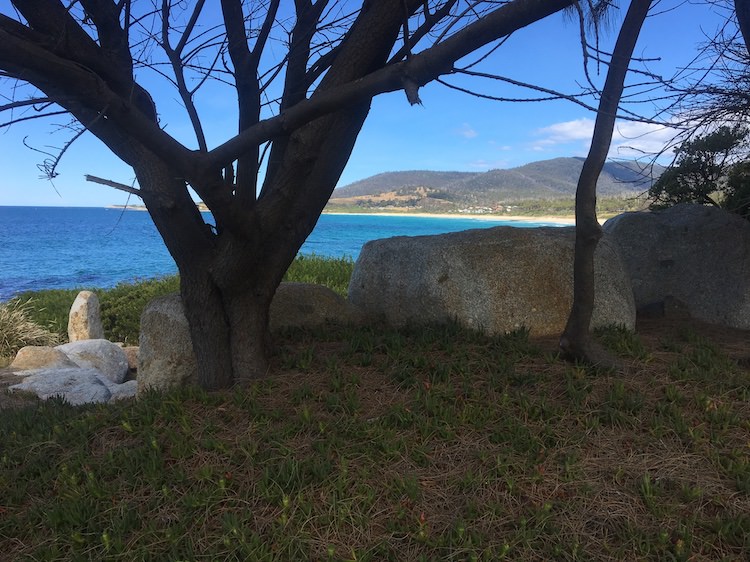 … ride south with a bit of a tailwind for about 12 kilometres and arrive at our destination …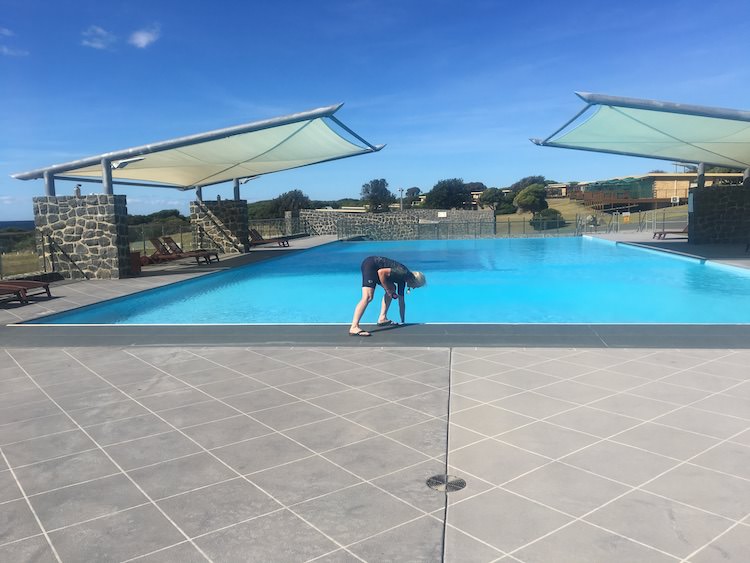 Tomorrow we head south hugging the sea for most of the day. The adventure continues!