During the last two days we have traversed from the Freycinet Peninsula to Port Arthur at the southern extremity of the Tasman Peninsula. Here's what our route looks like in the context of Tasmania as a whole …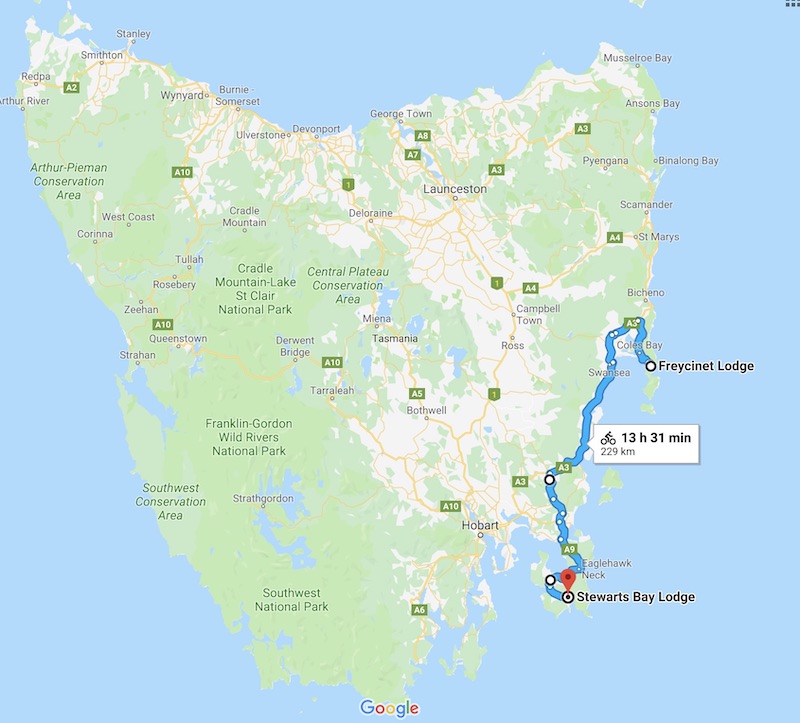 We've almost completed a loop back to Hobart but have some fun flourishes left to finish the tour, which will play out over the next few days.
Yesterday: Freycinet to Louisville Point (116 kms)
Although it wasn't a stellar day for viewing, we only had a light headwind to contend with riding north from Coles Bay back to the Tasman Highway and then it became a tailwind as we turned the corner at 29 kilometres. I left with Dianne and Sharon who stated "I am only going to ride slowly today." Consequently we set out at quite a restrained and very pleasant pace. Here's a photo that I took as we were heading north along the Freycinet Peninsula Road, when the sun was shining at its brightest …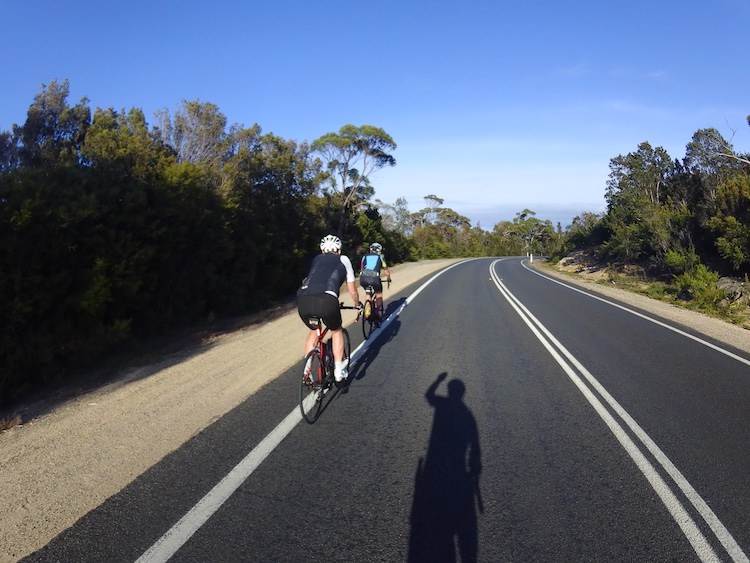 A side bar on the name "Freycinet". The peninsula and national park are named after the Freycinet brothers who were senior officers on the French explorer Baudin's expedition of 1802/1803.
… and here's another not long before Swansea at one of our favourite spots along this part of the Tasman Highway …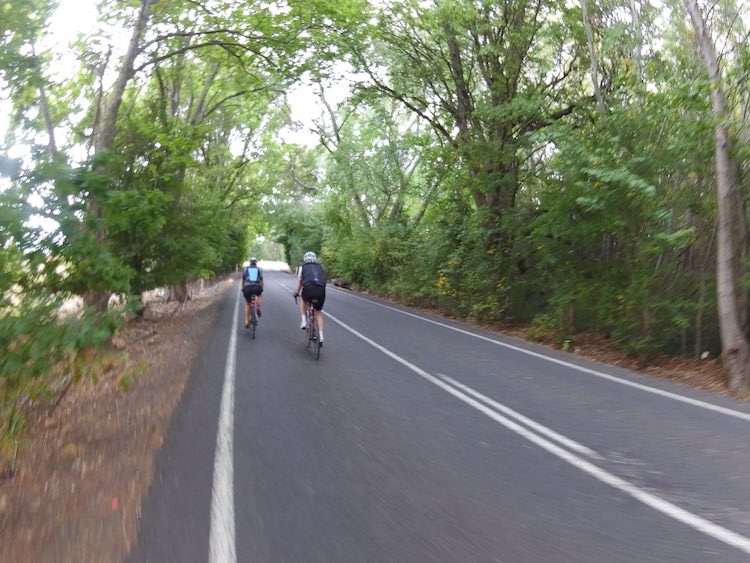 The van hadn't arrived by the time that we got to Swansea and a fairly cool wind was blowing so Di and I headed across the road to share a panini. There was a mix-up with our order and by the time it finally arrived and had eaten, Sharon had continued south on her own. Di and I initially set off together but Di soon sent me off on my own so she could cruise along at a more moderate pace.
I took this photo along one of the nicest stretches of coastline, but unfortunately cloud cover had built up so the scenery wasn't so stellar as it usually is …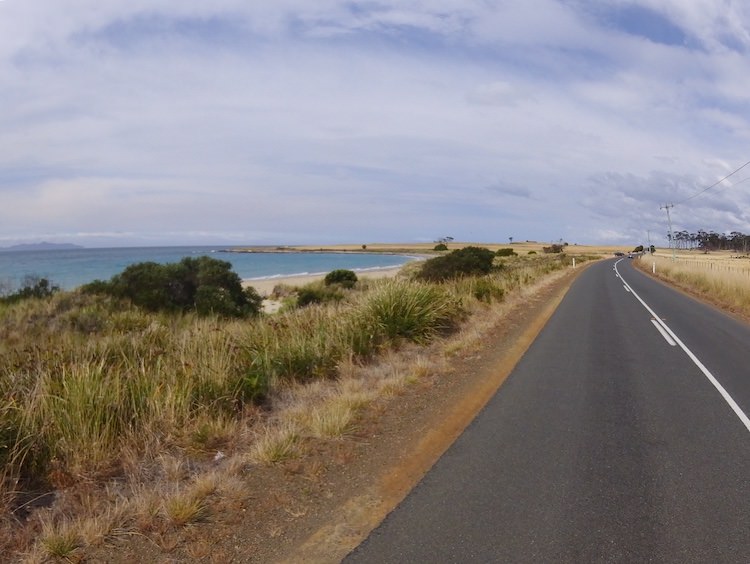 I never did catch Sharon before the turn-off into Louisville Point but I did detour into Triabunna (for those who might not be sure how to pronounce thise it's Try-a-bun-a) to get a drink and to see what was happening on the wharf. There was a squid boat …
… and a cray boat …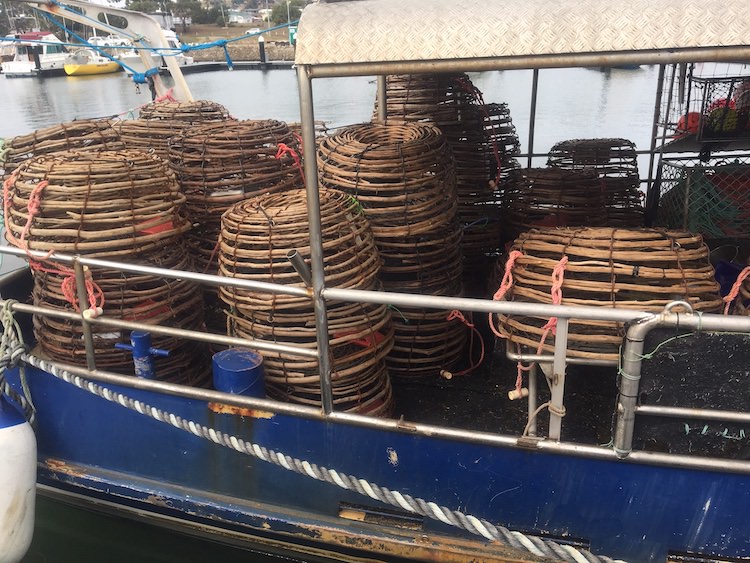 I thought that as today's ride was relatively flat and just a few kilometres short of my next major target for my Eddington Number, I might as well go on to Orford for an ice cream before returning to Louisville Point, our destination for the day. I was able to achieve two objectives with this exercise in that I chose a Maxibon ice cream to honour my mate Max who, unfortunately, is not here to share the joy of pedalling this wonderful journey around Tasmania …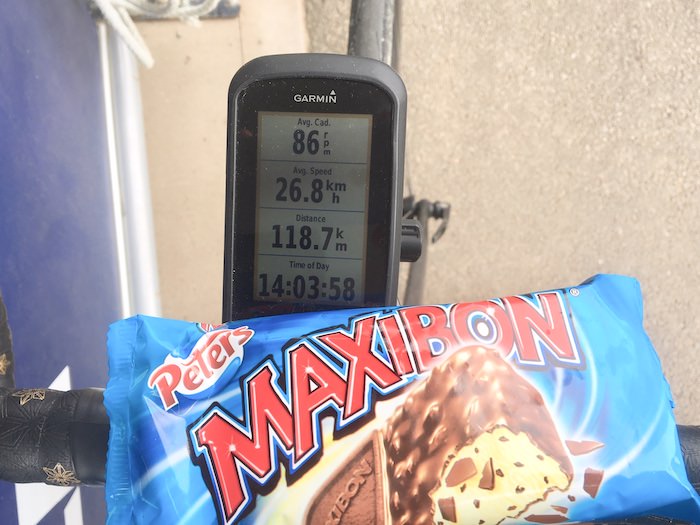 Back up the little hill between Triabunna and Orford, down the little hill into Louisville Point and I found that a few riders had arrived and the rest soon rolled in. A very quick dip in the (still unheated) pool for the legs and then a shower and off to the bar and then dinner to celebrate another great day on the road in Tassie.
Today: Louisville Point to Port Arthur (118 kms)
After a bit of pondering and scouting of the road through Nugent where the plan had been to shuttle people through the 22 kilometres of dirt, it was suggested that it would be okay for those comfortable on gravel roads to ride. Sam asked Di if she would drive the van around to transport those not wishing to ride the dirt so both he and Cameron could support those keen to ride. Di, Sharon, Kay and John opted for the van and enjoyed a coffee in Sorell at a new cafe that they discovered, which Di said is a must stop for us the next time we are passing through. They all enjoyed the ride from Louisville Point to Buckland before getting in the van, and then resumed riding at Copping.
The rest of us set off at intervals. Mark cunningly opted for the e-bike which no doubt would have been brilliant for riding up the long hill on the dirt section what with its power assist, suspension fork and wide tires. I am interested to hear how Andy fared with his relatively narrow tires and not such a low gear as the rest of us. He's a lean and wiry one so probably powered up the long hill on the dirt without any issues.
I was keen to get away early so I could mosey along at my own pace, but still left after Wayne who I saw exiting the coffee stop at the brilliant lookout over Pirates Bay just as I was arriving. Here's the view …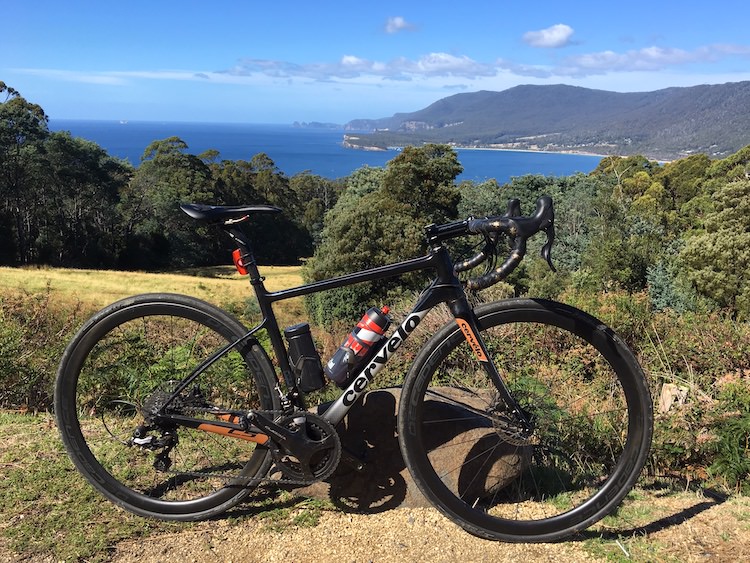 And the coffee van of Cubed Coffee …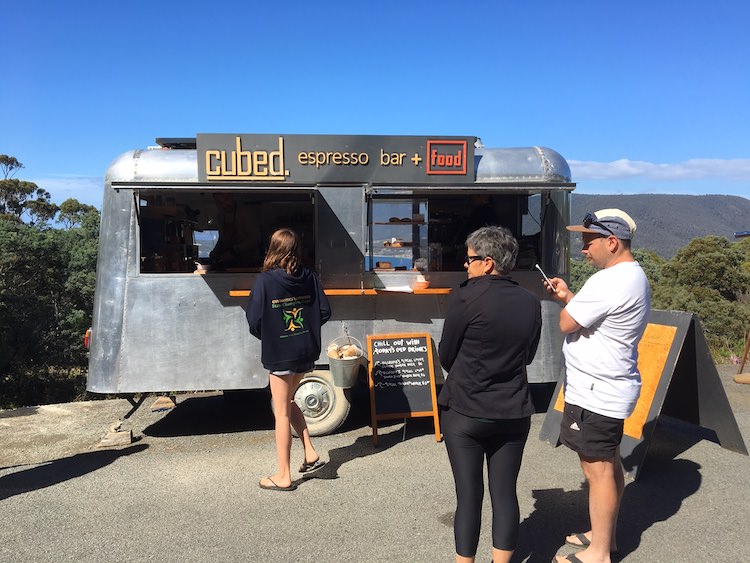 … which was doing a roaring trade. When I arrived there was a queue just to place an order (even though this photo – taken when all those who'd got their order in before me had been rewarded – suggests otherwise). The coffee was really good (Peter said it was the best coffee he's had since he's been in the state) and well worth the half hour wait. I was so hungry by this stage that I couldn't wait for my coffee to eat with h the chocolate chunk cookies I got when I placed my order and gobbled them both before the coffee arrived.
Back on the bike, I really enjoyed the spin along the flats after Eaglehawk neck and then the hills around the west side of the Tasman Peninsula. I made one  more stop –  at Nubeena to refill my bottle – before arriving at Port Arthur and celebrating another great day in the saddle in the best way possible …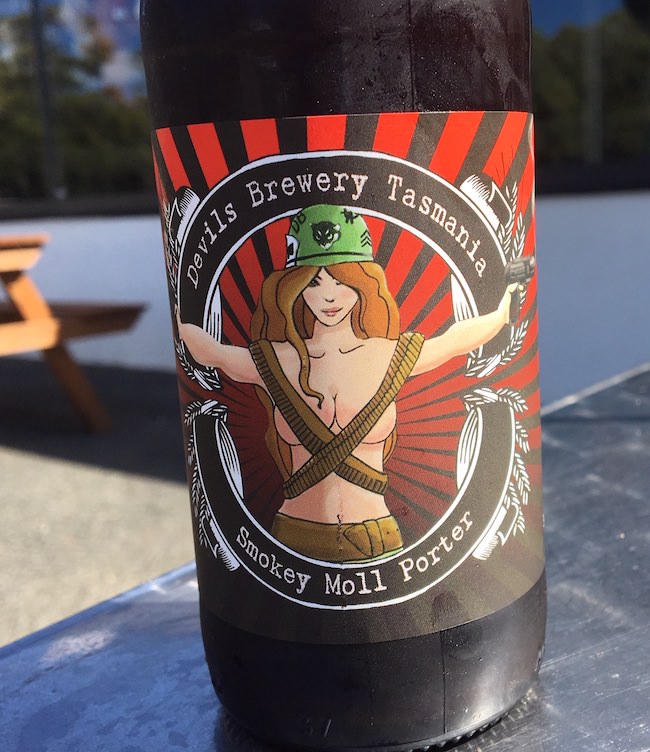 Tonight we're having dinner at the Port Arthur Historic Site. Afterwards there is a ghost tour on the agenda where some of the nitty gritty of the convict era will be explored, but it might be a bit late for me. I will have to get the good oil from those with more Staying Awake and Alert Stamina than I've got. It's meant to be an excellent tour so hopefully our group will get a bit more insight into the days of the penal colony here at Port Arthur, a World Heritage site which in its heyday was designed as "a machine to grind rogues honest".