Cradle Mountain Lodge to Hawley House
Today was just so much fun that – believe it or not 😉 – I am struggling to find words that adequately describe the outing. Basically, we all just had a superb day of FUN! Here's a map showing the route we had ahead of us when we set out from Cradle Mountain Lodge …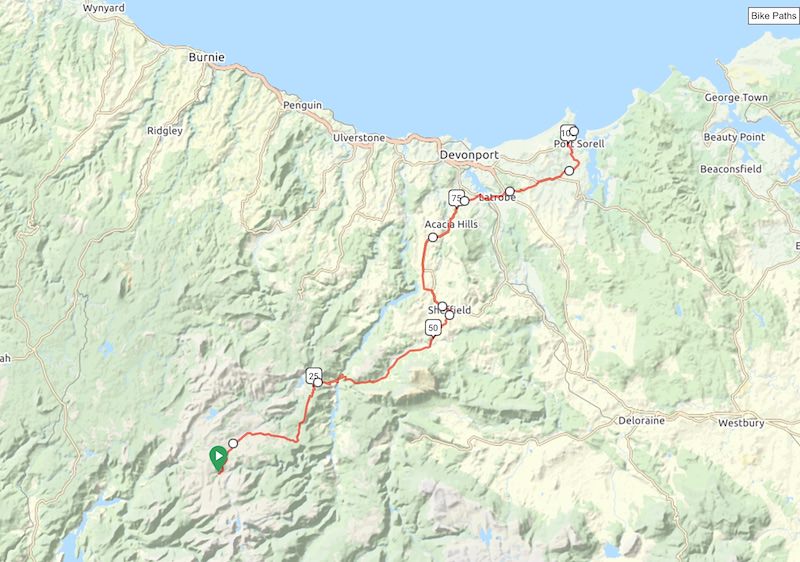 It was a journey of 102 kilometres and 1285 metres of elevation. Significantly however, we went from 800 metres above sea level down to the Bass Strait on the central north coast which really added to the enjoyment of the day.
Before coffee …
The early weather conditions were a bit gloomy – but after a great day of R&R at Cradle Mountain the mood of the group definitely was not. It was overcast and a bit showery to start but not cold. John and Margot were first out of the blocks, and the rest of us followed in dribs (what are dribs anyway? but not drabs. I set off with Di and Sharon. Following are a few photos that show what conditions were like up on the high ground out of Cradle – known as Middlesex Plains – starting with a couple of" rainy day women" …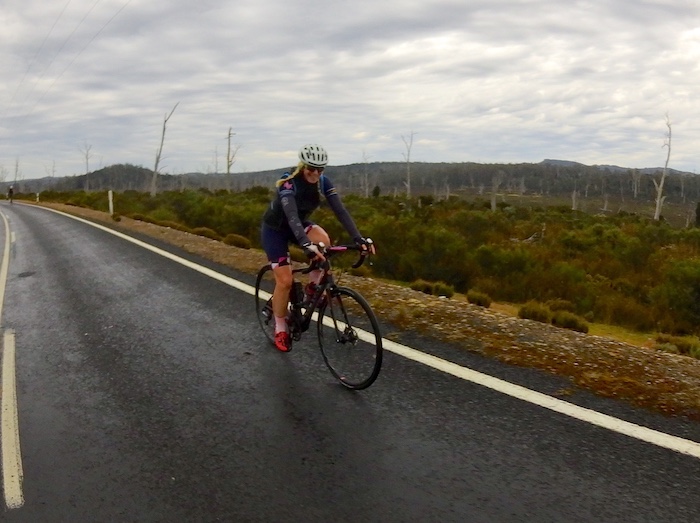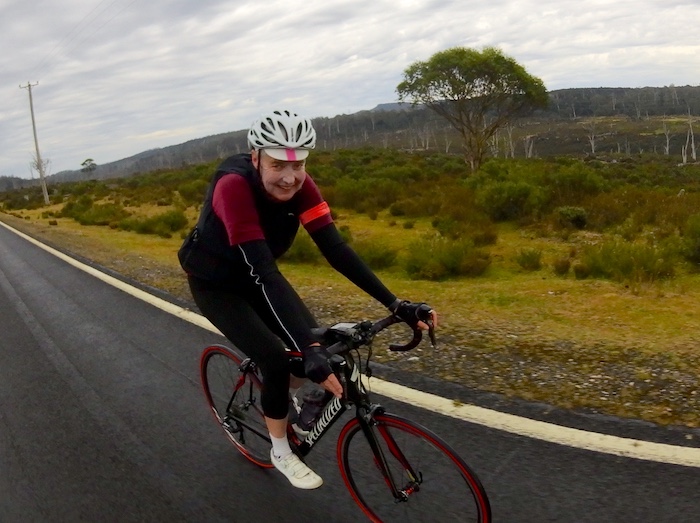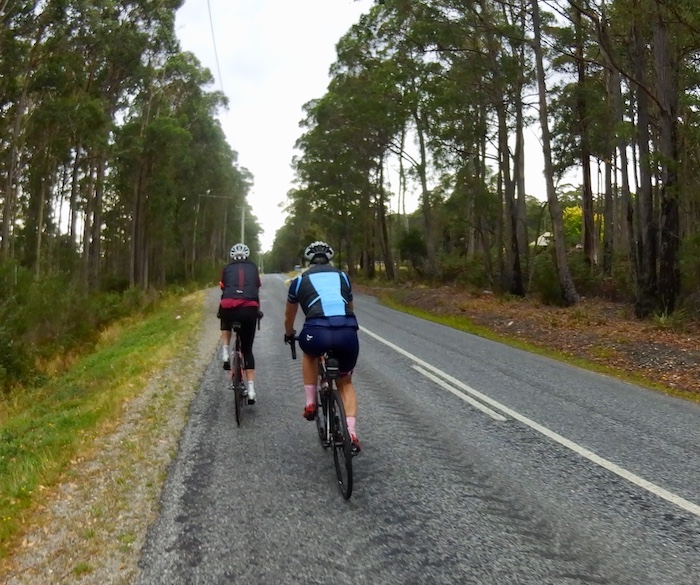 Cam took this lovely shot of David trucking along the high road …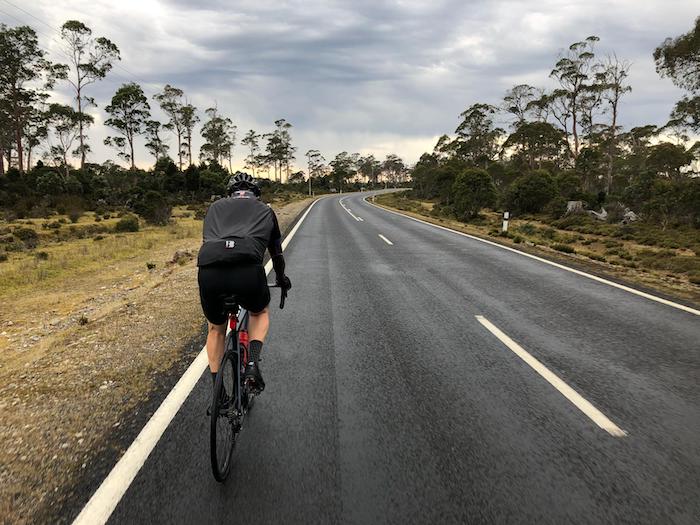 … and then Sam popped up with this real cool photo of Cam and David …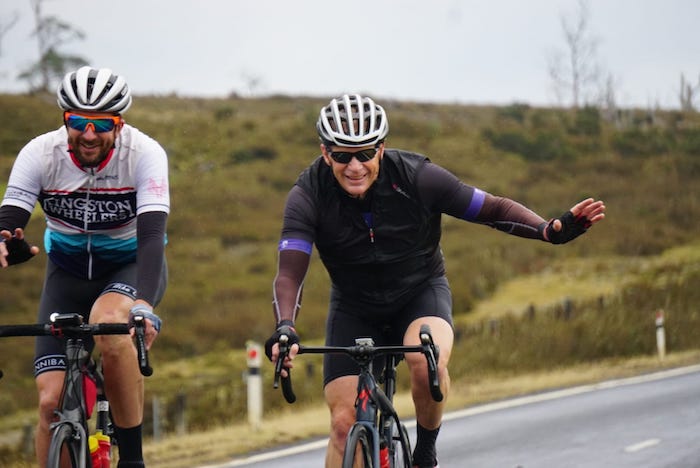 A bit further along Mark stopped and took this great shot of the road leading into the forest …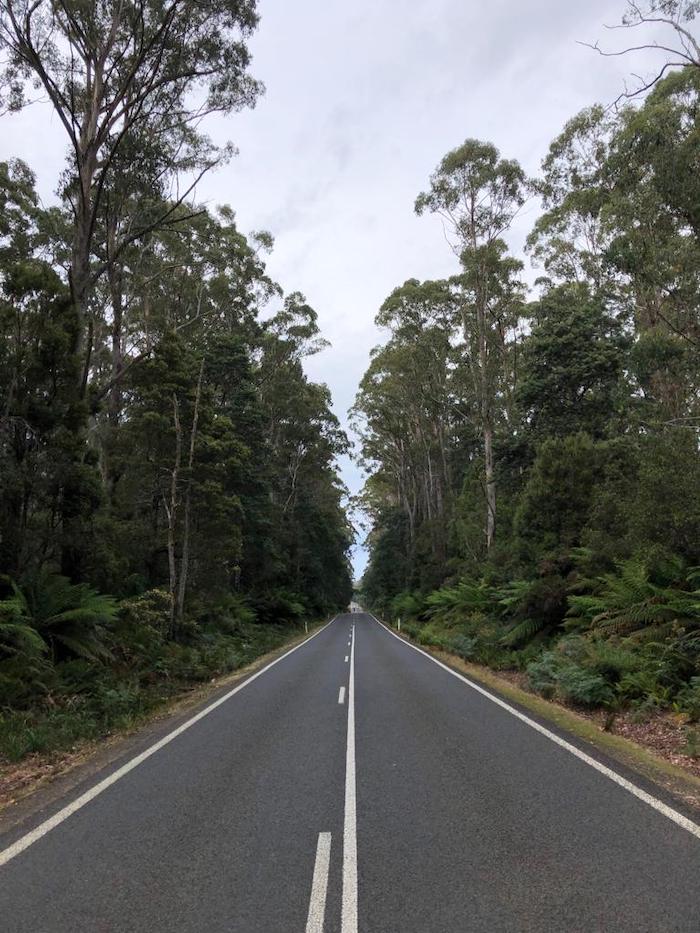 When we reached the T-junction with the Cethana Road we turned right and plunged down to the Forth River crossing. People who didn't feel they needed to maintain their momentum for the climb up Round Hill, a pause at the bridge provided a photo opportunity …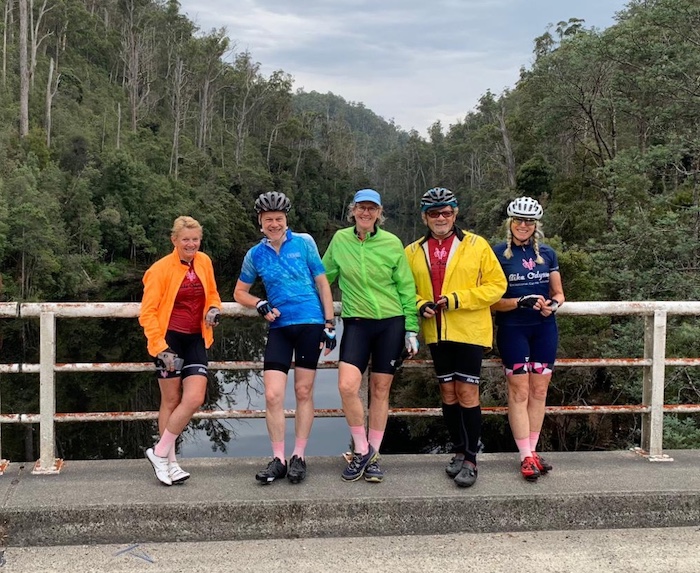 While Di had to ask the question, "Why did the cyclist cross the road?"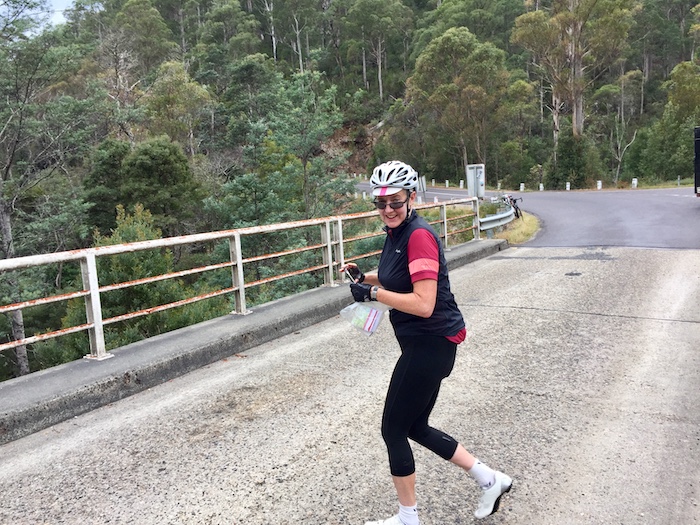 At the top of the hill everyone regrouped at the Round Hill Cafe where the coffee was good and the raspberries (from the  Christmas Hills Farm Cafe) that Sam distributed were excellent …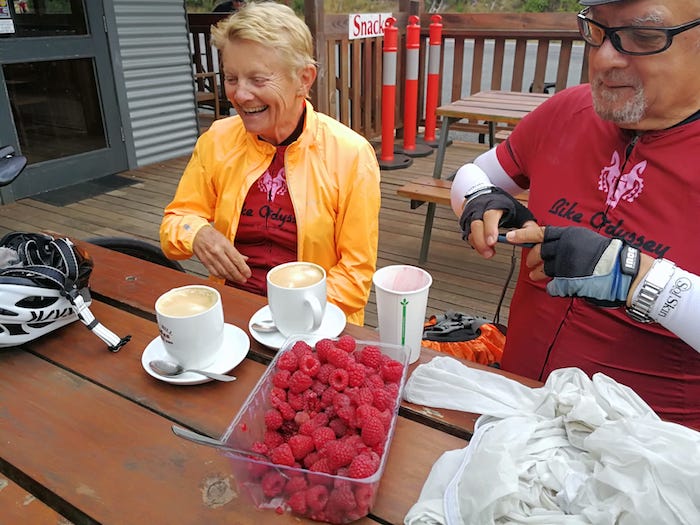 The Titanic had somehow found its way to the top of the hill …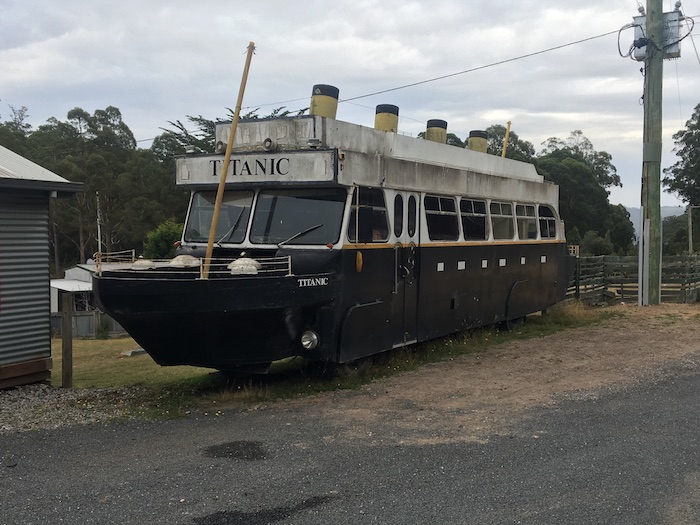 … but our van and trailer setup probably got there more easily …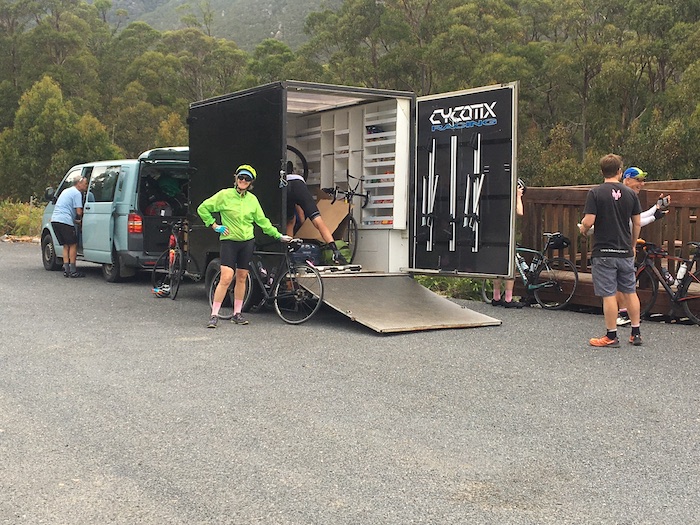 With about half the climbing already done so early in the day, coffee and conversation were enjoyed in a leisurely manner …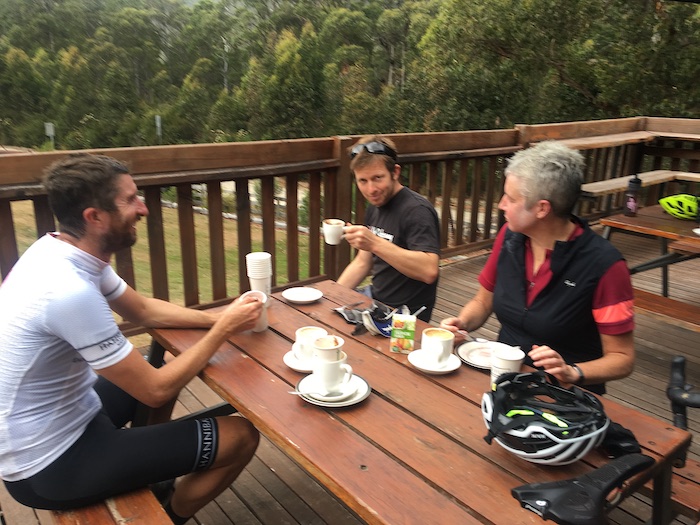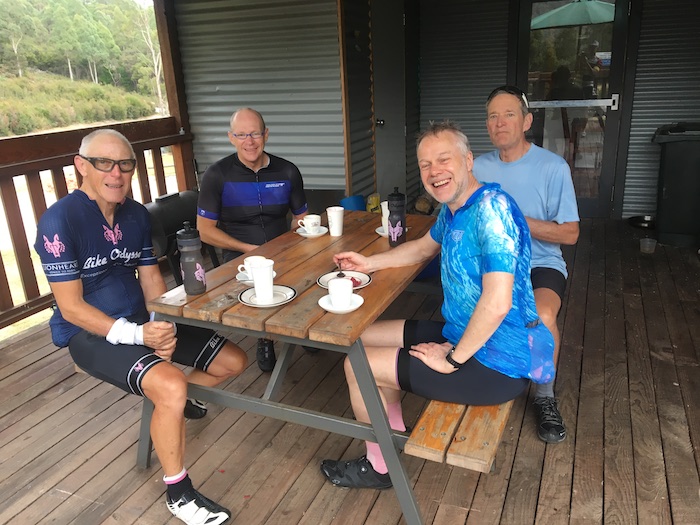 After coffee …
… Sharon, Di and I set off with Andy. We had a delightful rolling descent that brought us from the top of Round Hill down to lower ground and past the beautiful Mount Roland …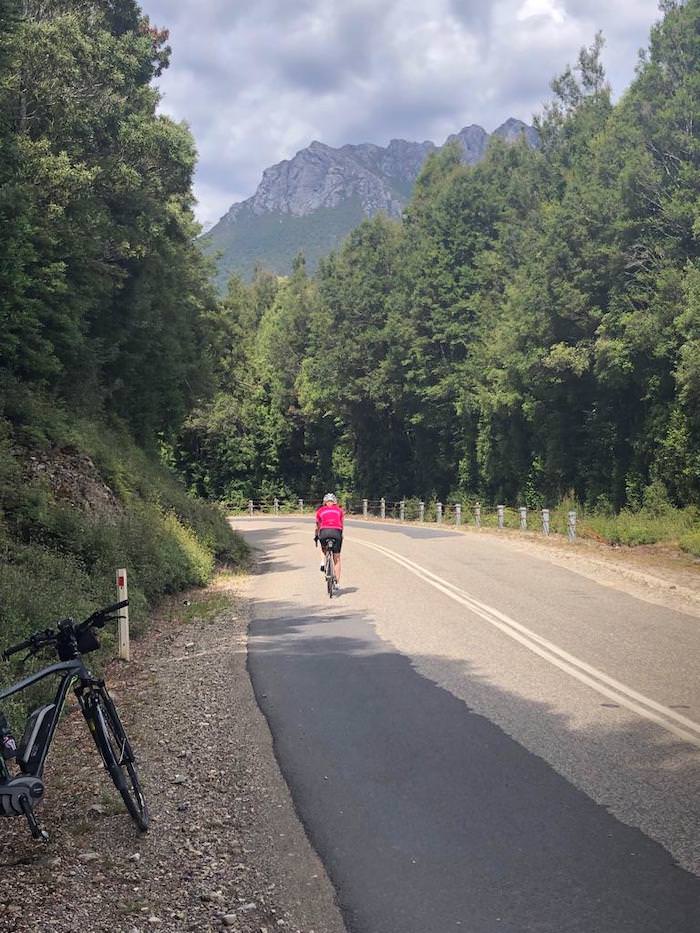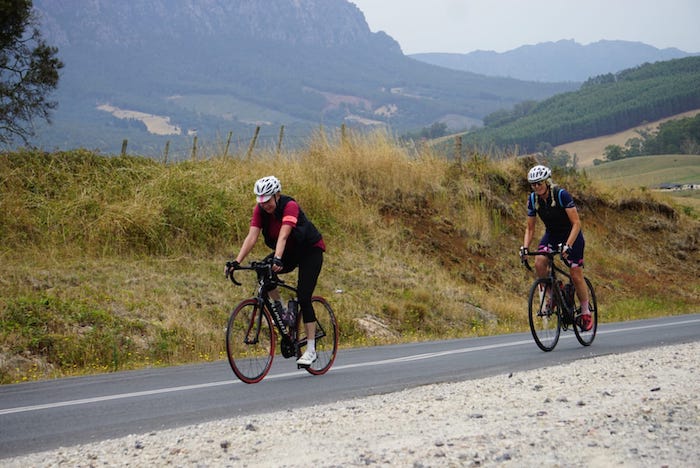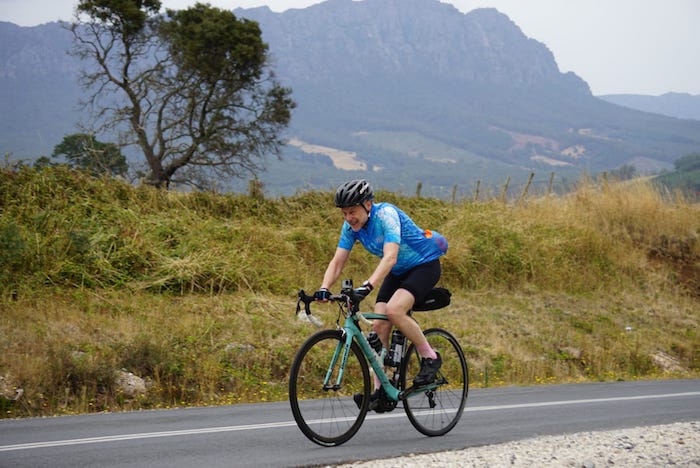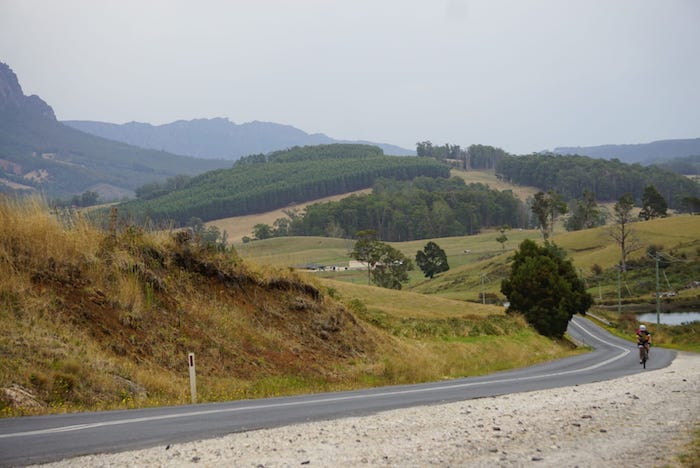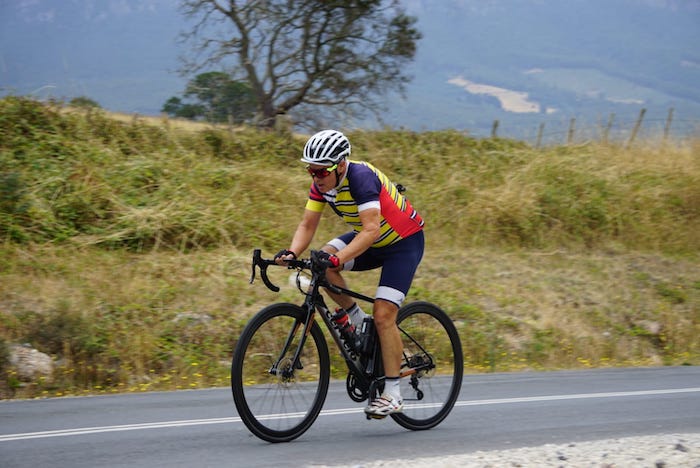 A little further along Andy was arrested by the sight of highland cattle (which aren't completely uncommon in Tasmania …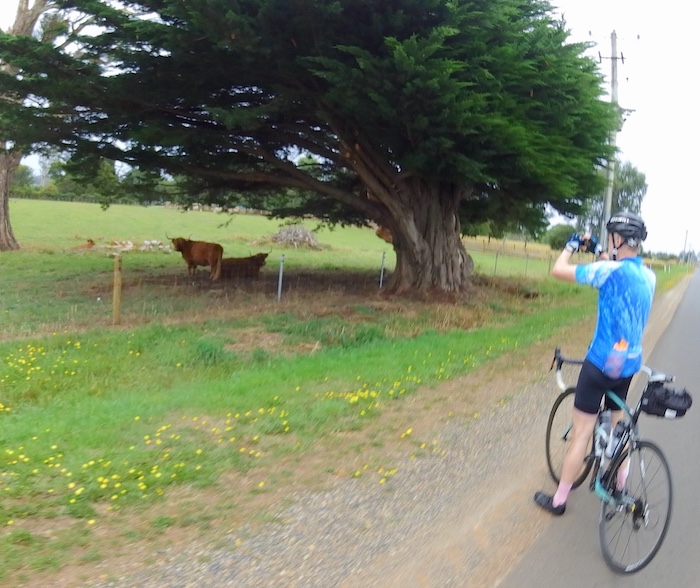 Sheffield for Lunch
Inspired by the town of Chemainus on Vancouver, some decades ago Sheffield reinvented itself as Tasmania's Town of Murals, and it holds a mural festival every year at Easter. Here's an example of the many murals scattered around town …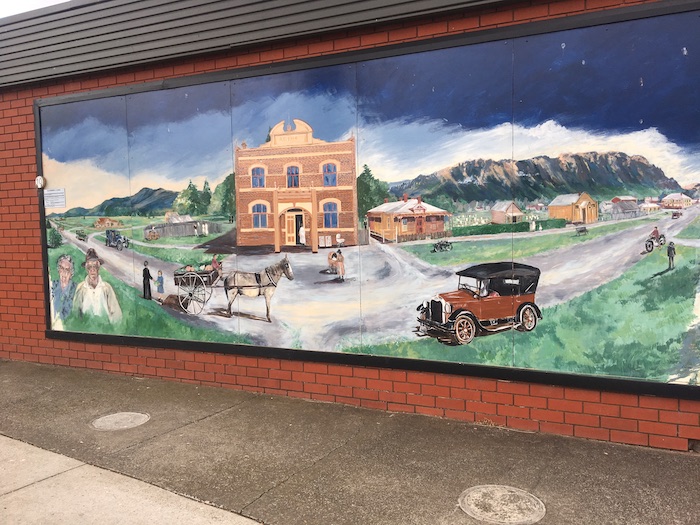 Our focus was on lunch, and by consensus we ended up at Bossimi's Bakehouse and Cafe because Kay noticed that they had scallop pies – a delicacy endemic to Tasmania – on the menu. Here's a photo of most of our riders chowing down, many of them sampling a scallop pie for Bike Odyssey's Roving Scallop Pie Research Project …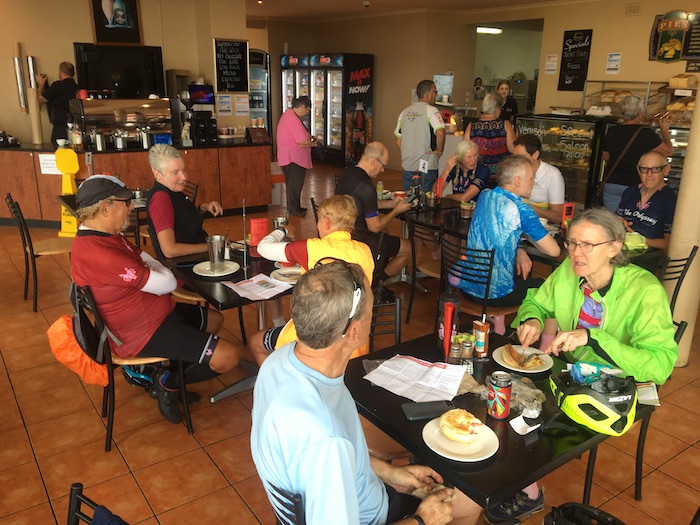 Generally most samplers thought that Bossini's pie rated about 7 ½ – so pretty darn good without being brilliant.
On to Latrobe and beyond
From Sheffield we had easy riding ahead of us, and there was no point in arriving at our destination too soon so another coffee stop was scheduled for Latrobe, particularly as they have a brilliant cafe called The Crowded Lounge that is welcoming to cyclists …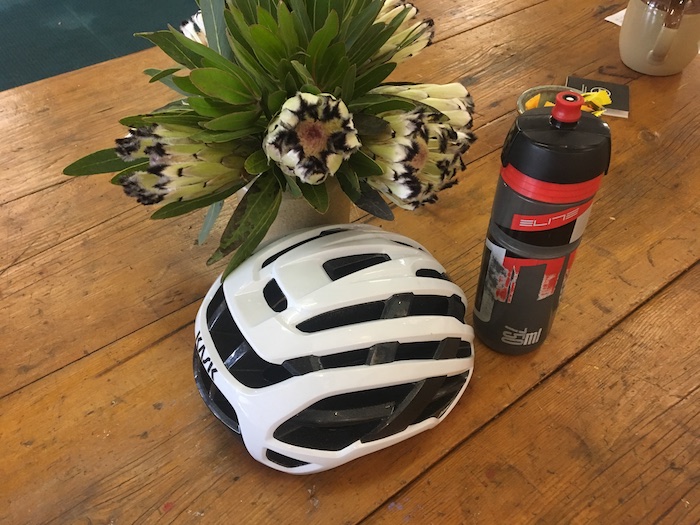 We all loved it. If you are ever in the neighbourhood – or even passing by Latrobe on the Bass Highway – it's well worth a detour if you want a good coffee, great snacks and a funky, relaxed atmosphere.
The final part of our ride took us up over a couple of small hills before a nice descent and some flat riding into the seaside town of Hawley Beach. Andy was feeling the pull of the finish line …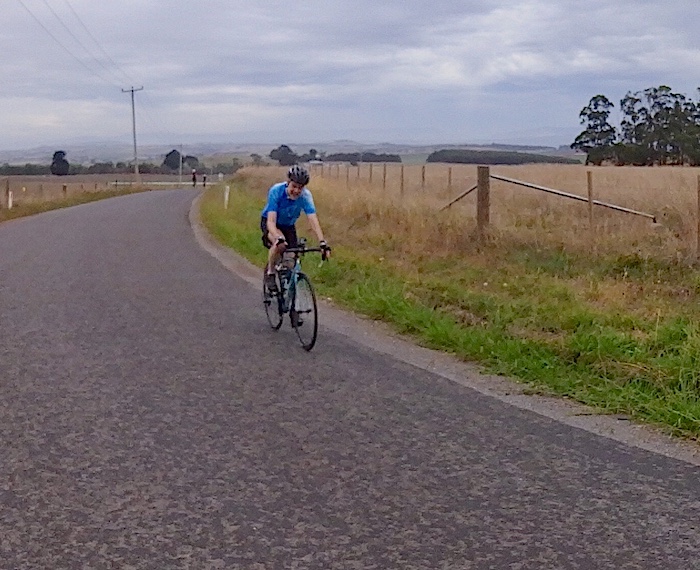 … but I managed to calm him down and we waited for Sharon and Di to catch up again. Just after that we came down towards an extensive raspberry farm, its rows covered with polyethylene tunnels …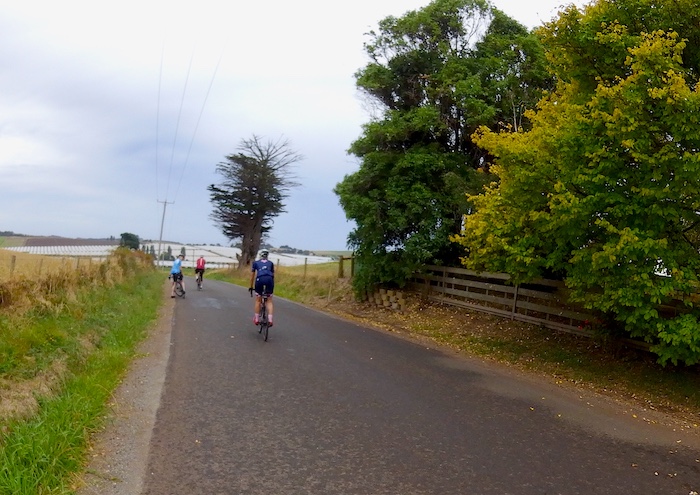 Our last little spot of interest came just as we were rolling into Hawley Beach. There was a gaggle of geese behind a fence that we stopped to have a chat with …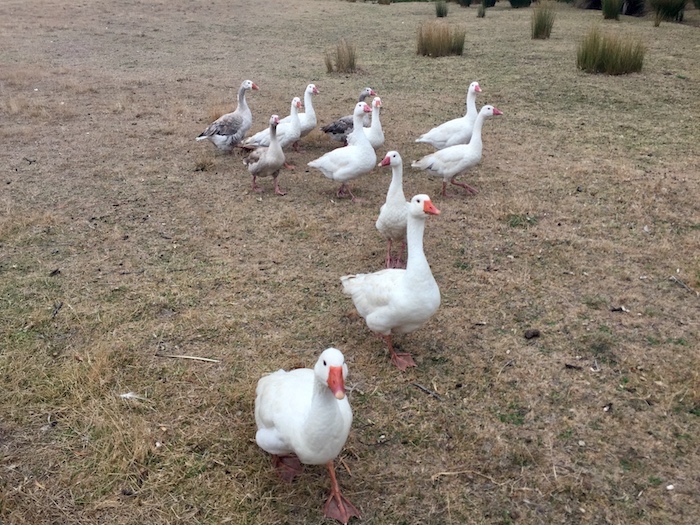 Hawley House
Arriving at our destination capped a perfect day on the bike, a day that had I almost didn't want to end. This image expresses my thanks to the companions I had for most of this most enjoyable day …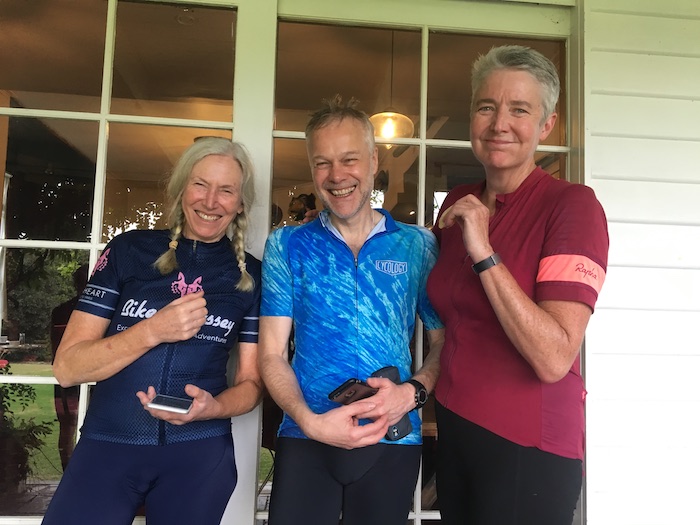 A not insignificant aspect of this tour has been to find destinations that are off the beaten track and representative of Tasmania's historical and more recent culture. Hawley House fits that criteria perfectly. It was built in 1878 and has extensive grounds and even its own chapel …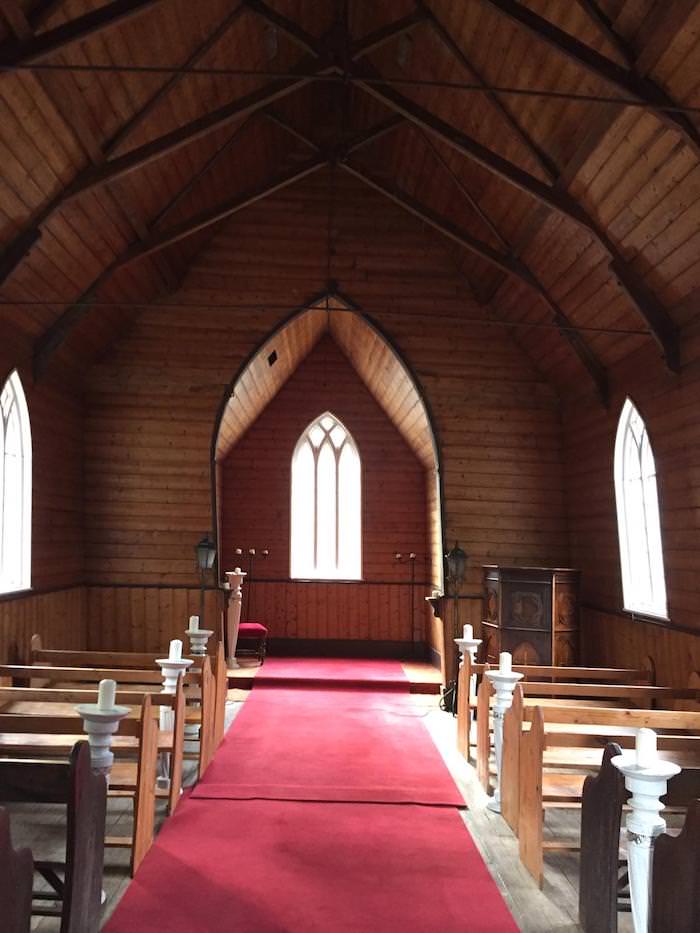 The house itself is quite beautiful …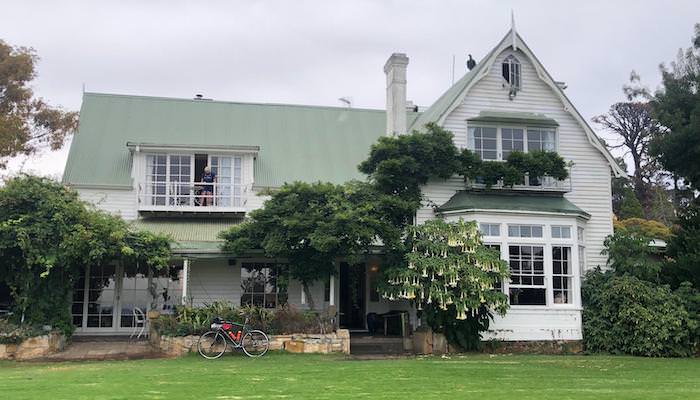 Outside, Di was taken with the herb garden …
… and I had to get photos of more turbo chooks, who were surprisingly unconcerned about how close I was getting  …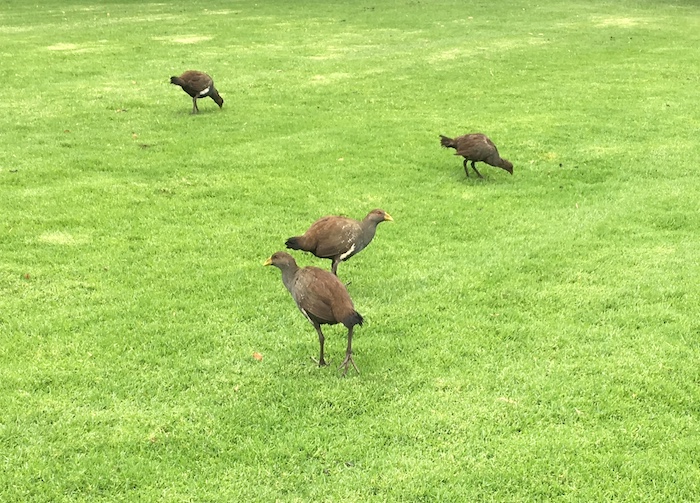 … especially this specimen …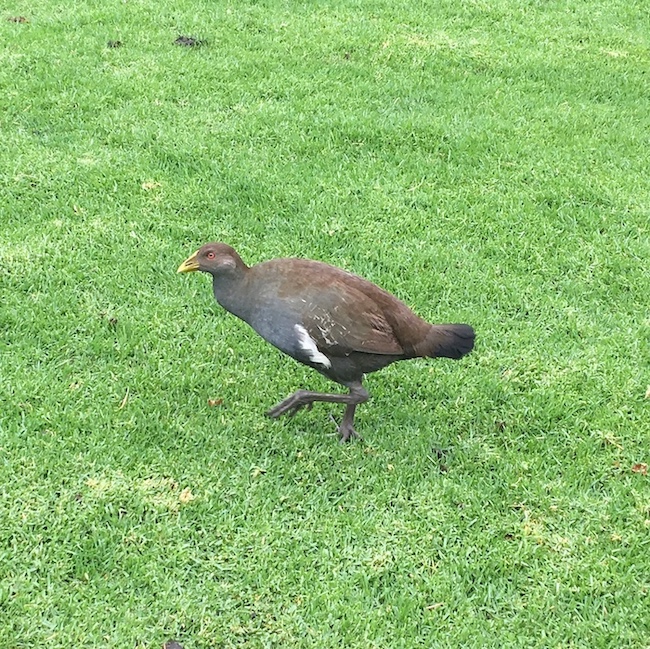 Just by the entranceway is a magnificent Angels Trumpet shrub which was covered in flowers …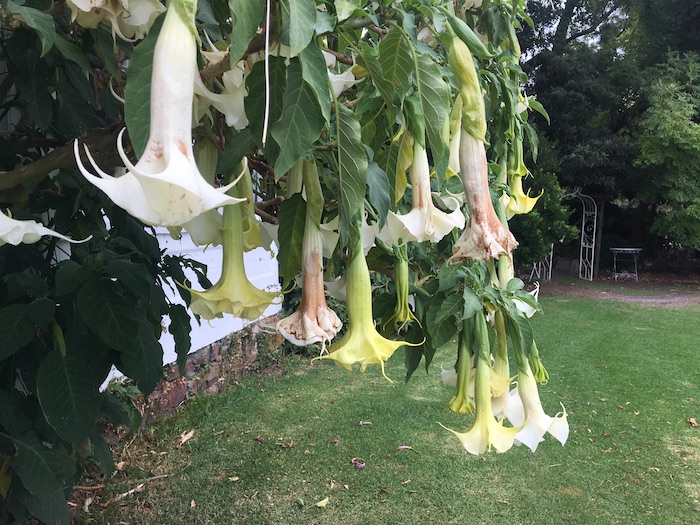 Dianne and I scored an upstairs bedroom at the front of the house which has a lovely balcony …
Inside, the house was at least as wonderful as outside. Here's Sam relaxing (well, working actually) in the foyer …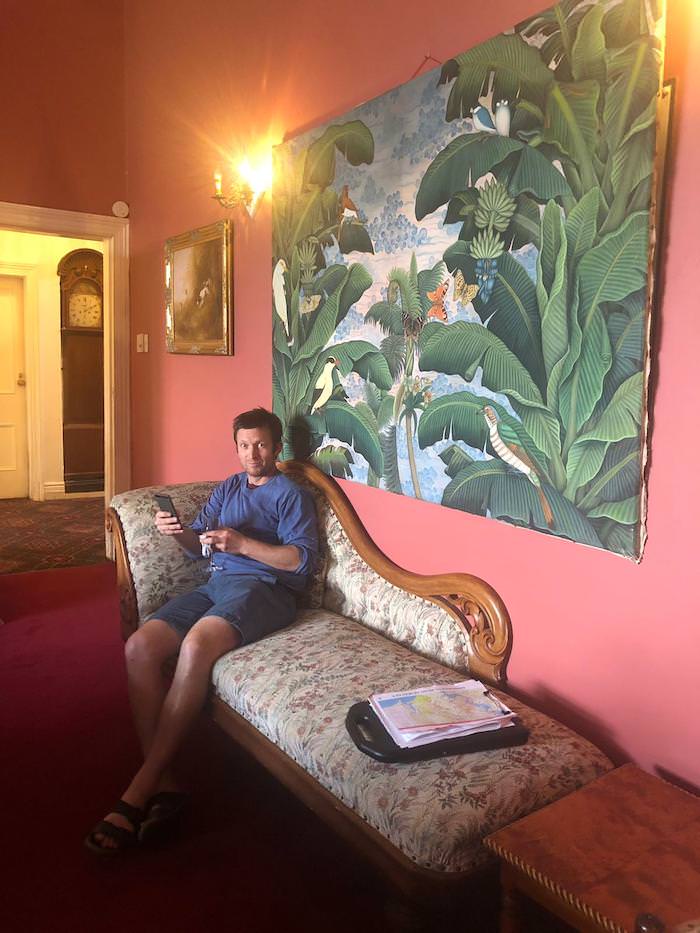 There is fantastic dining room, complemented by the wine cellar …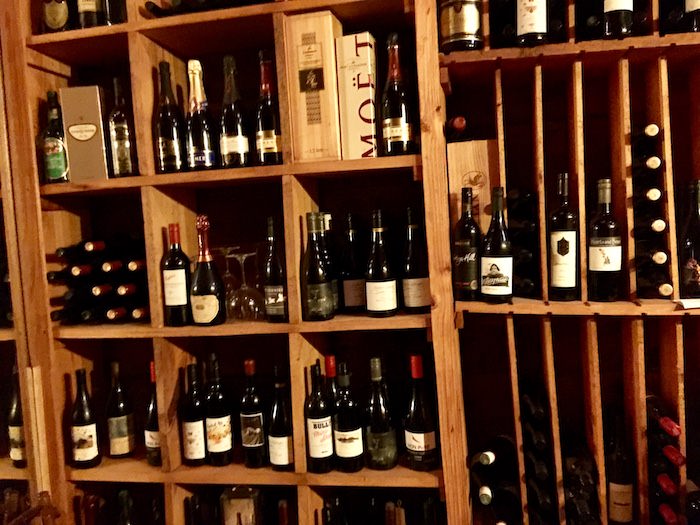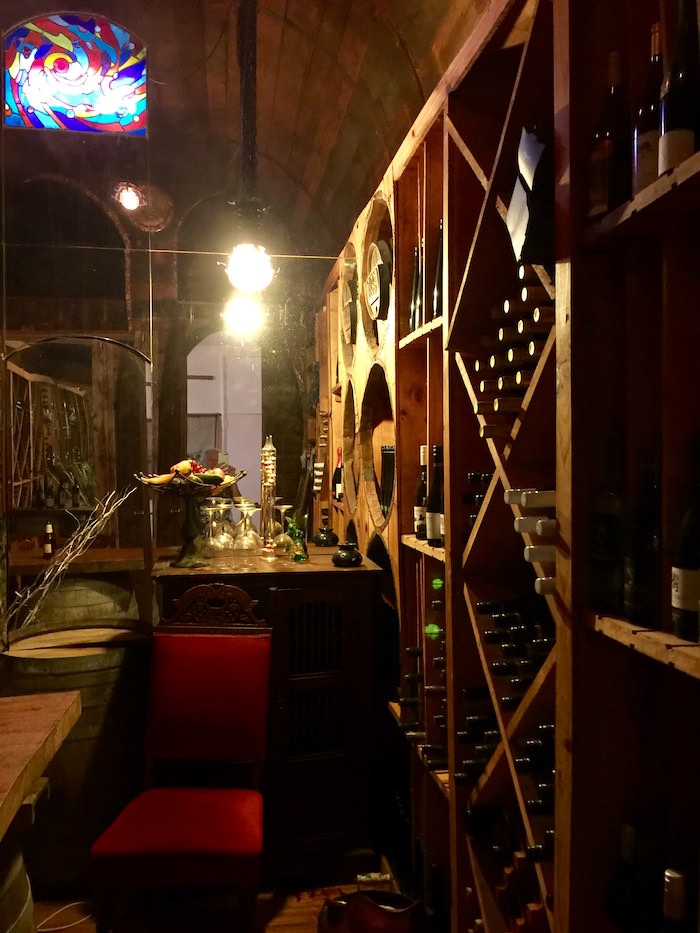 Here's an image looking out the French doors from the dining room …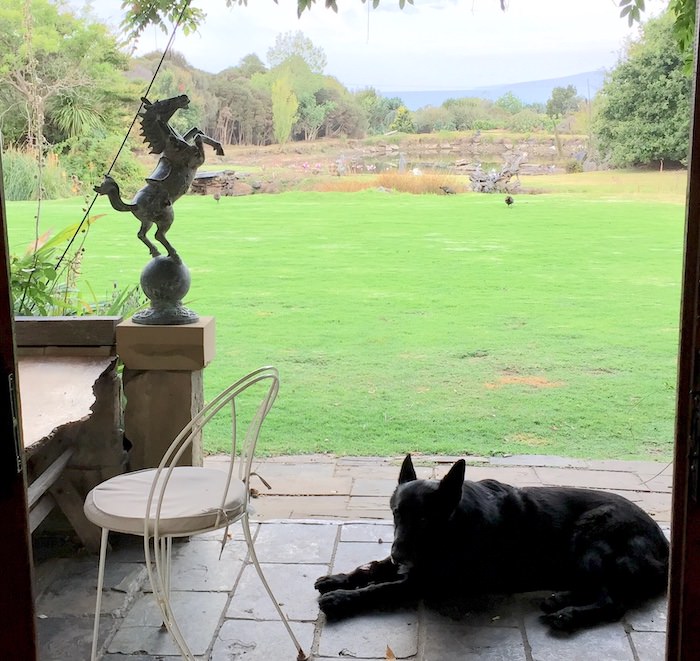 And a photo that Sam took of us all having dinner together around the big dining table …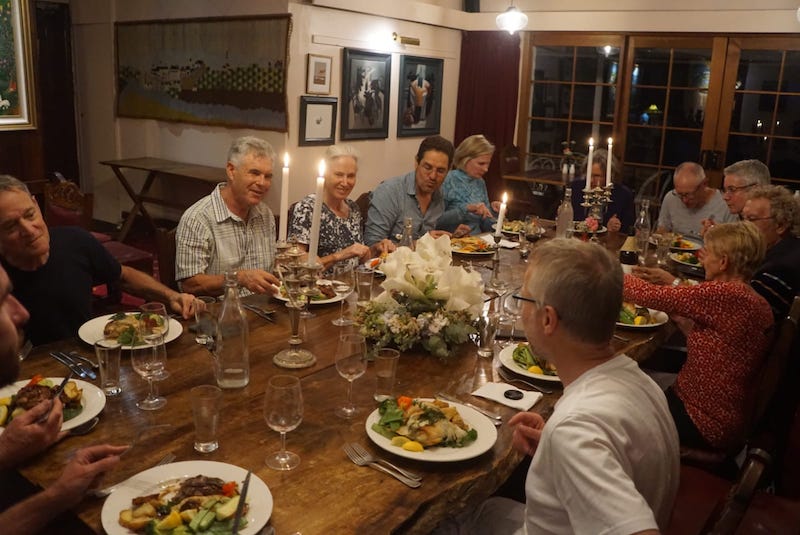 Dianne and I felt that it was probably the best meal we've had so far on tour. Although all the group meals have been terrific what set this one apart was the full plates of fresh, perfectly cooked vegetables to go with the meat of choice (or the spanakopita for the vegetarians). Just check out the plates on the table for an illustration.
And I've got one last image to share before I sign off for the night. Mark found a feather while he was perambulating about the park-like grounds of the house. Can you please identify it for us?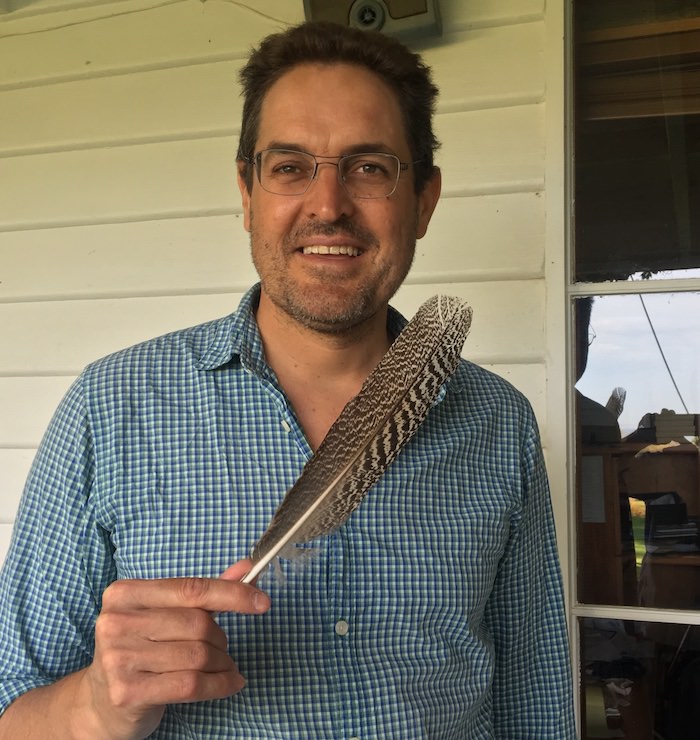 If you're getting the idea that we're having a great time you'd be right.
Tomorrow we set off on a ride which will be different again from any of its predecessors. I am sure our coterie of riders is going to enjoy riding through to Rosevears on the west bank of the Tamar River. Stay tuned to find out how we fared.