The title of our Lionheart blog may have resonated with readers of a certain age who have some sense of musical history. There is also a stunning New Zealand film referencing the song that inspired the title of this blog – which is actually a sequel to another brilliant film (New Zealanders sure do know how to make great movies!).
A really great thing about doing an epic bike ride with a bunch of people – many of whom you're meeting for the first time – is the bonding forged over a fairly short period of time. Only a couple of days into this trip I was talking with Mark from Florida about things in general. He is an inspiring fellow who mentors young men who want to change their lives. And he has a sense of musical history. He twigged straight up that there was a reference to the wonderful tune "What Becomes of the Broken-Hearted" …
What does this have to do with cycling I hear you ask? Well, it's all about persistence and perseverance (especially for us older riders! 😉). Just think about these lines:
"I'll be looking everyday, I know I'm gonna find a way
Nothing's gonna stop me now
I'll find a way somehow"
Once Were – and Still Are – Warriors!
Most of the crew that set off from Venice on the first Lionheart epic cycling adventure are of mature age. Maybe all of us even – except of course our young, vital guides. (Where would we be without them?) And as far as I can tell most of us – if not all – have suffered some significant physical trauma as a result of our athletic adventures. Young Aaron O'Grady is about to join the caravan but even he has had a hip replacement as a result of a bad bike crash. His participation in Lionheart means there will be almost a half a century spread in ages of riders on tour. The eldest – our beloved Brooks – is nearly eighty. He decided to mark his 80th year (which of course he is already partway through) by challenging himself with this significant undertaking. Here he is with his bike, ready for another day of action: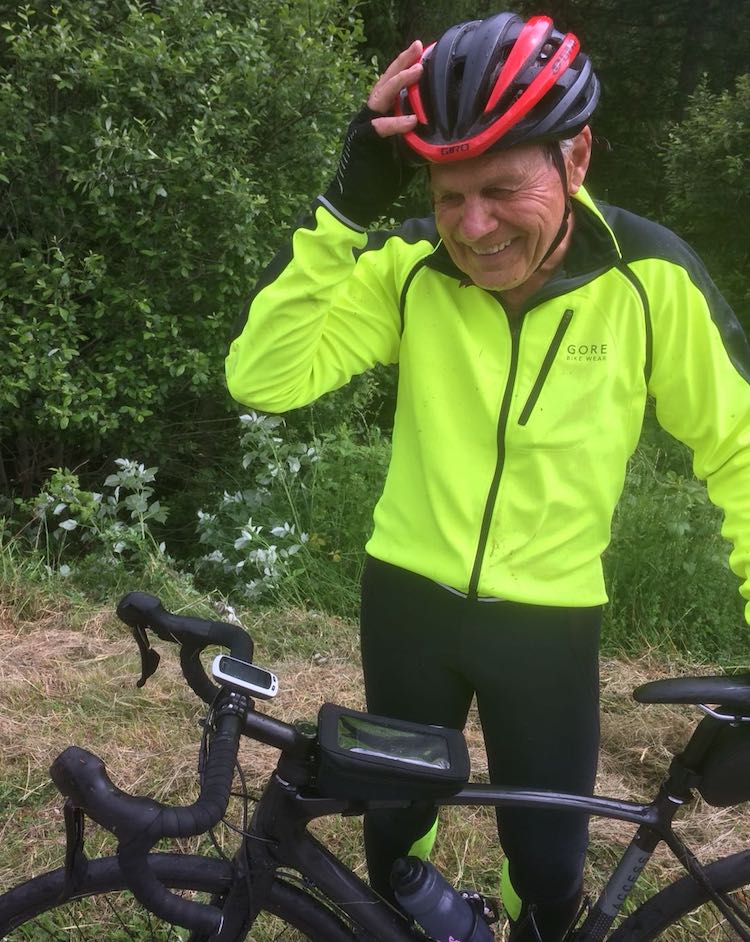 Brooks has some great tales to tell and hopefully we'll hear more of them down the track.
Realising a Dream
One of the major attractions for doing Lionheart for Dianne and me was the prospect of climbing the Grossglockner. This climb, being in Austria, is not nearly as well know as the famous cols that feature regularly in the Tour de France. However, if you ever go there, it's one of the most challenging and satisfying climbs you'll ever do. And the descent … oh yes, yes, yes!
Here's what the climb looks like from a cyclist's perspective: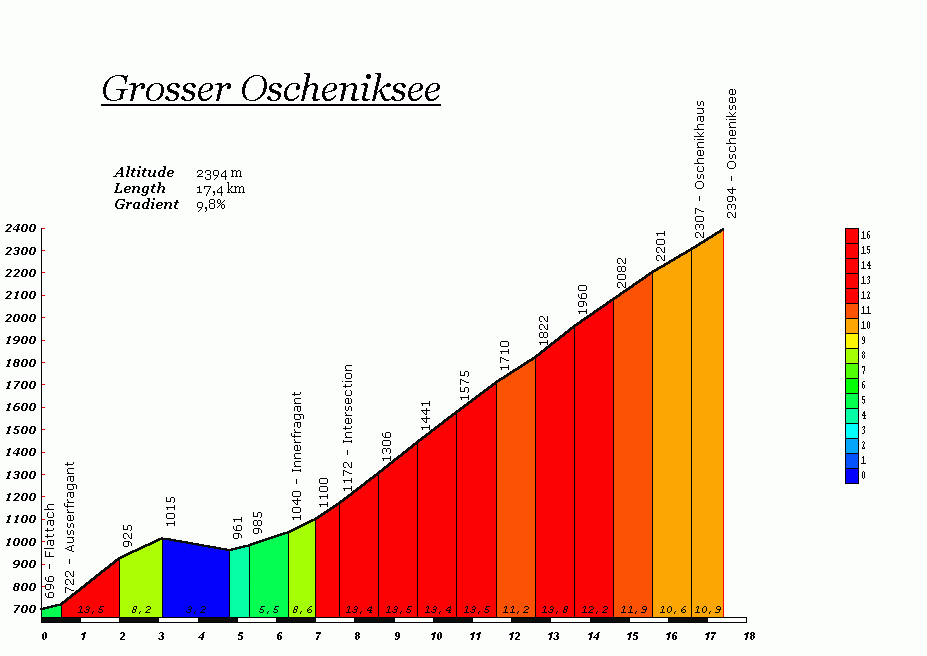 For those of you who like moving pictures to illustrate such things, here's a link to the Col Collective's take on the thing. All of us except Brooks and Dianne, our two oldest participants (who both demurred due to injury) decided we'd like to have a go. Our day took us from Lienz to  Zell Am See, a journey of 95 kilometres with about 2800 metres of climbing. Before the brutality began thee was some nice riding to coffee …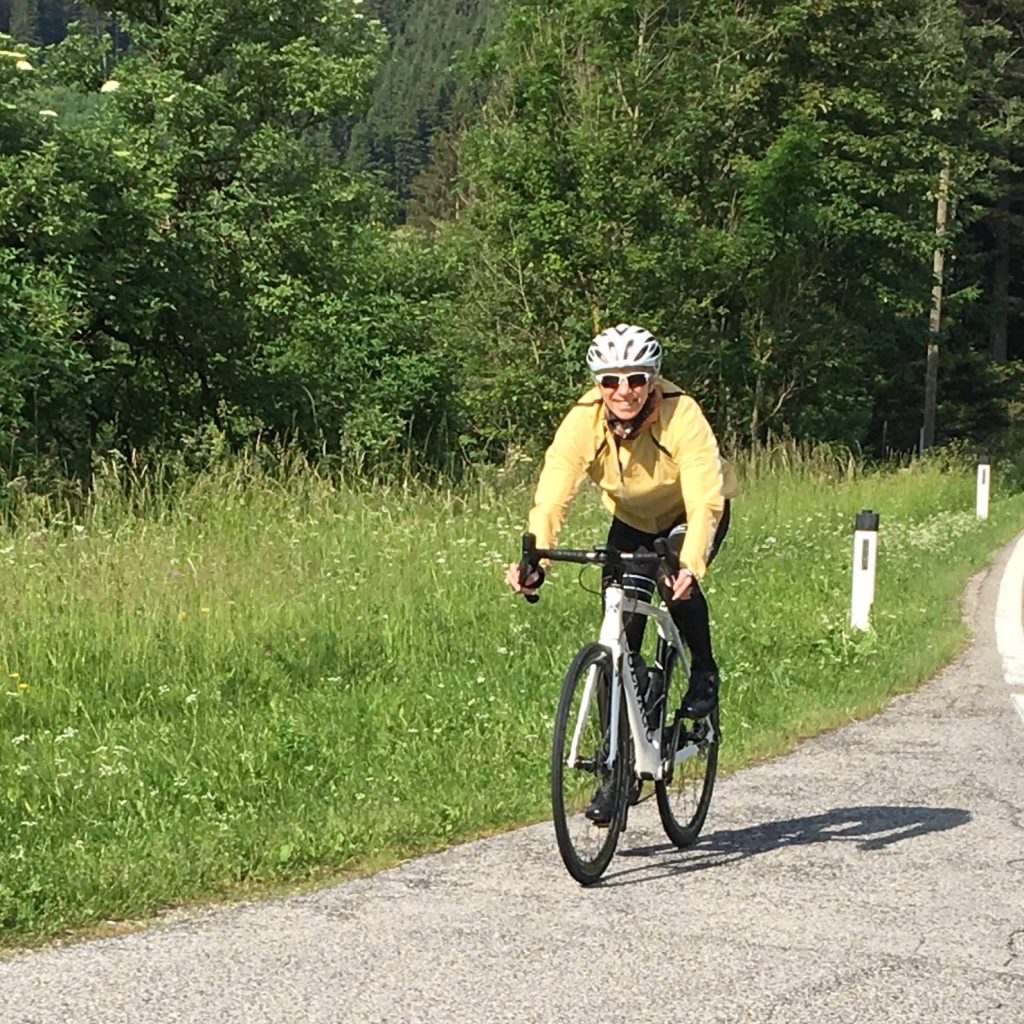 Louise is one of our crew who has experienced severe physical trauma resulting in long term discomfort. She had a an airline hostess drop a pack on her head which resulted in chronic neck pain for years. Happily, she is now recovered and climbing hills faster than most of us. She turned 60 the day before riding the Grossglockner. Big Kudos, Louise!! 👍👍👍
And here is Michael, Louise's other half powering to the top of the first hill with his arm warmers rolled down …
Michael has been riding brilliantly, given that he had surgery to repair a ruptured Achilles tendon in January playing volleyball. (Lesson Michael: at your age you are too old to be playing volleyball with its sudden impacts: stick to riding and hiking!)
Another star of our show is young Ellisa. She happened to turn 50 the same day as Louise turned 60. Here she is powering along towards the Grossglockner …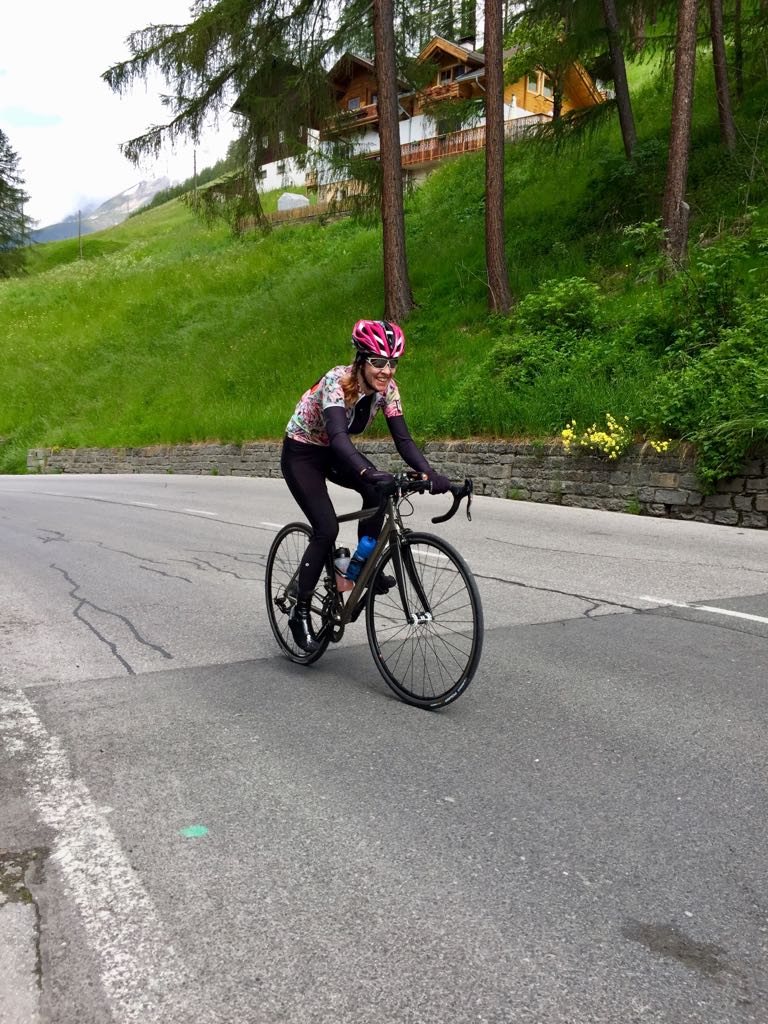 As you can probably tell, it was a cool start to the day. We arrived at morning coffee where there was a beautiful waterfall as a backdrop …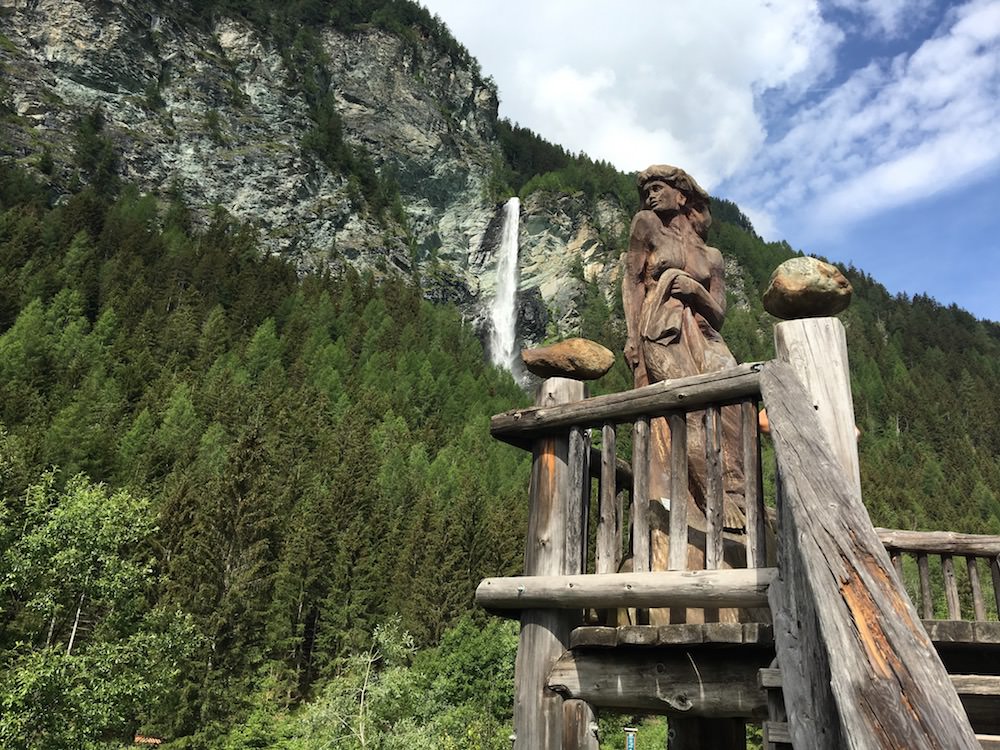 It was warming up, so we stripped down a bit for the section after coffee …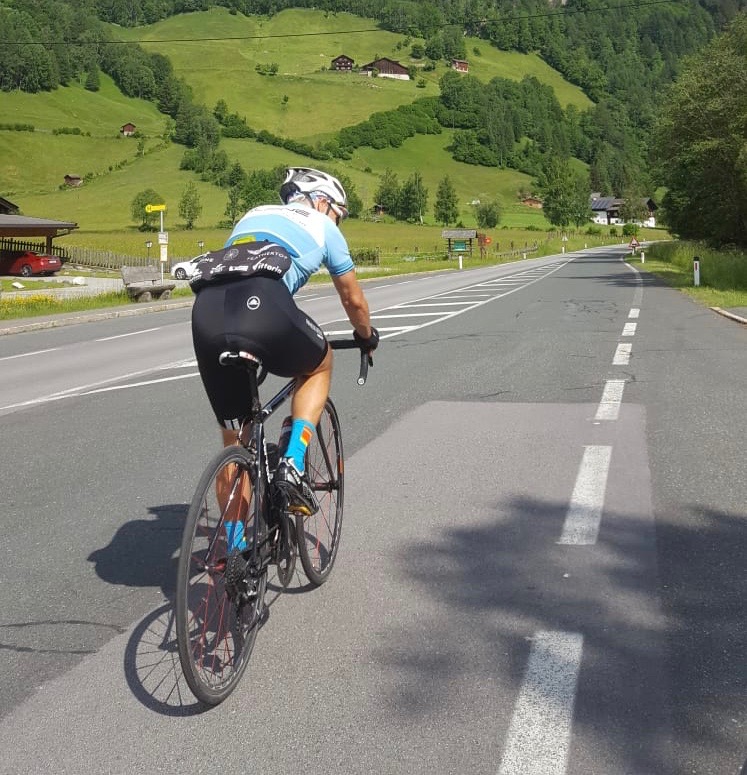 Remarkably, most of us were able to ride relatively lightly dressed all the way up the hill. As we got higher the skies closed in a bit but there were still great panoramic views …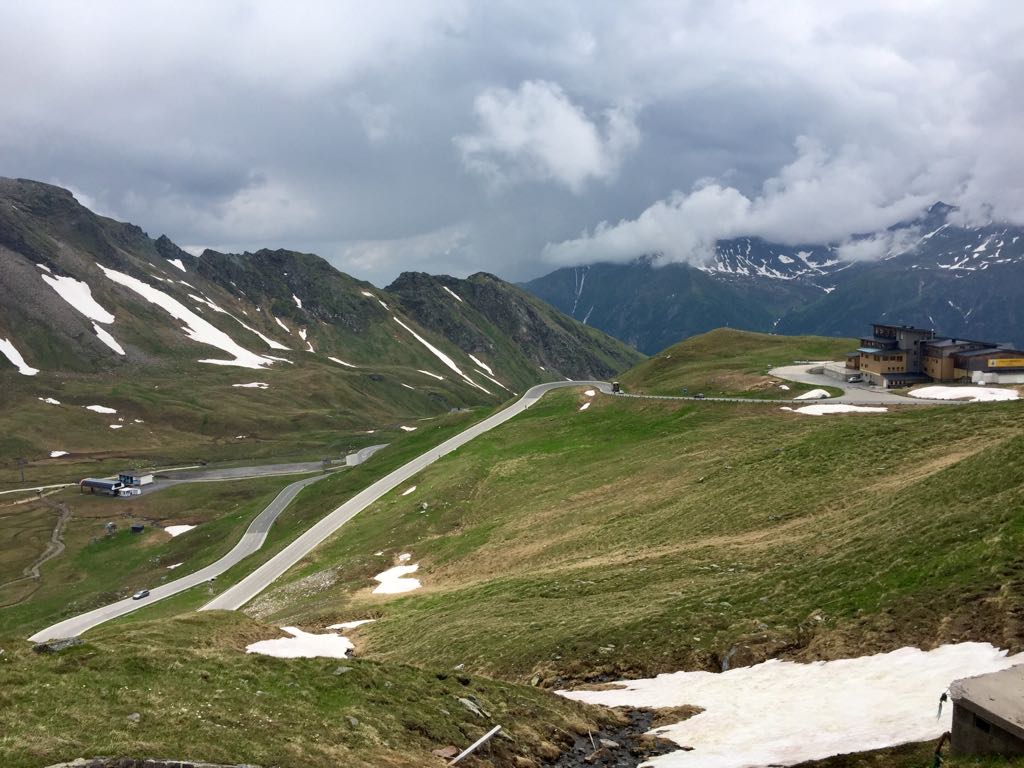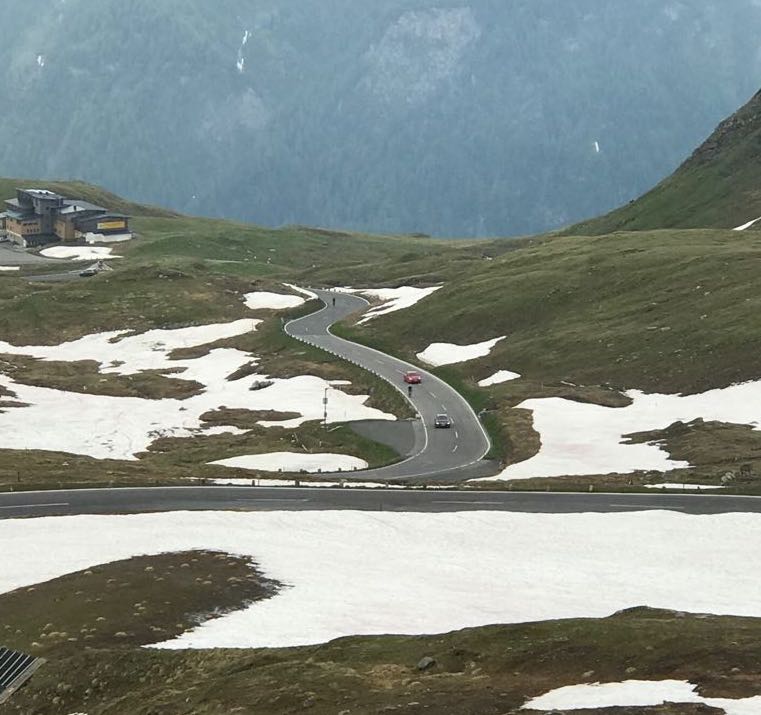 As usual, the mighty Wayne led the way to the top. Here he is arriving …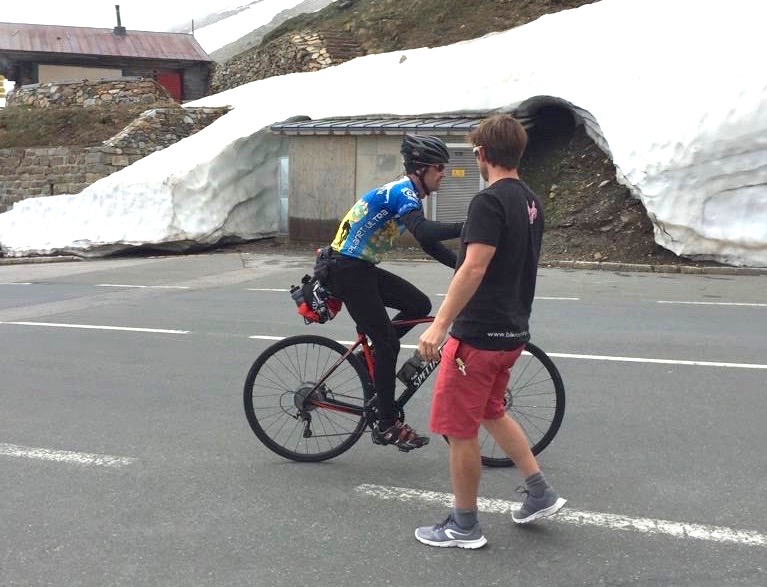 I rolled in sometime later and shortly after Peter arrived …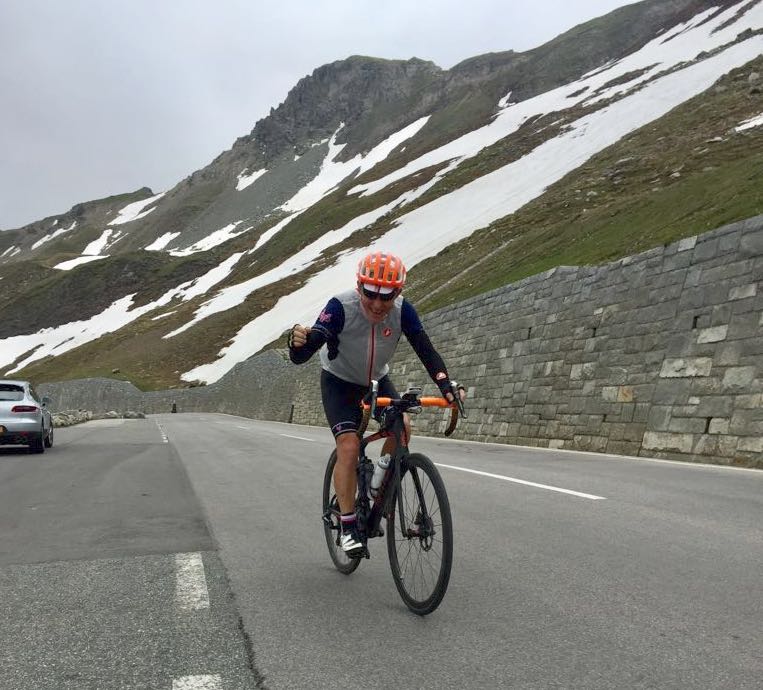 At the top it, if you don't want to carry your bike up and over a hump it is necessary to pass through a tunnel before descending the other side to a great cafe …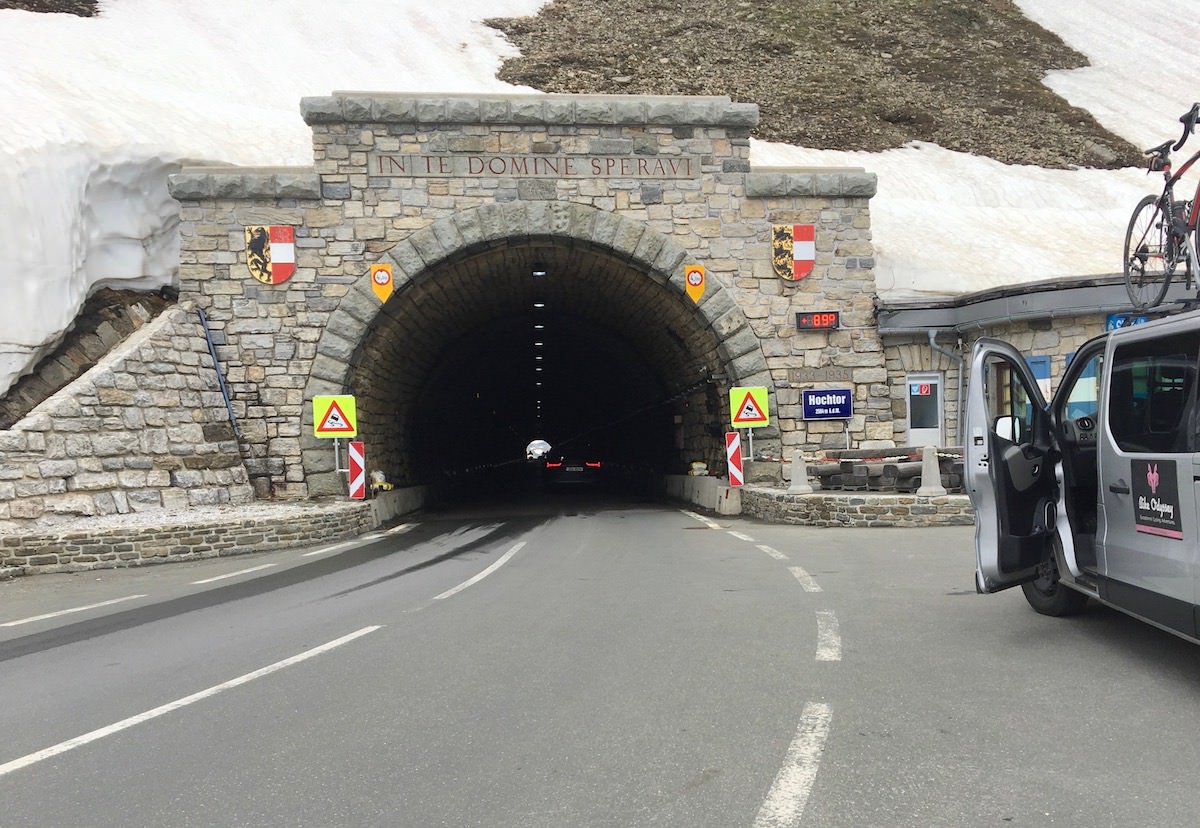 Peter and I had a feed together, got rugged up for the descent then posed for a hero shot with the giant marmot …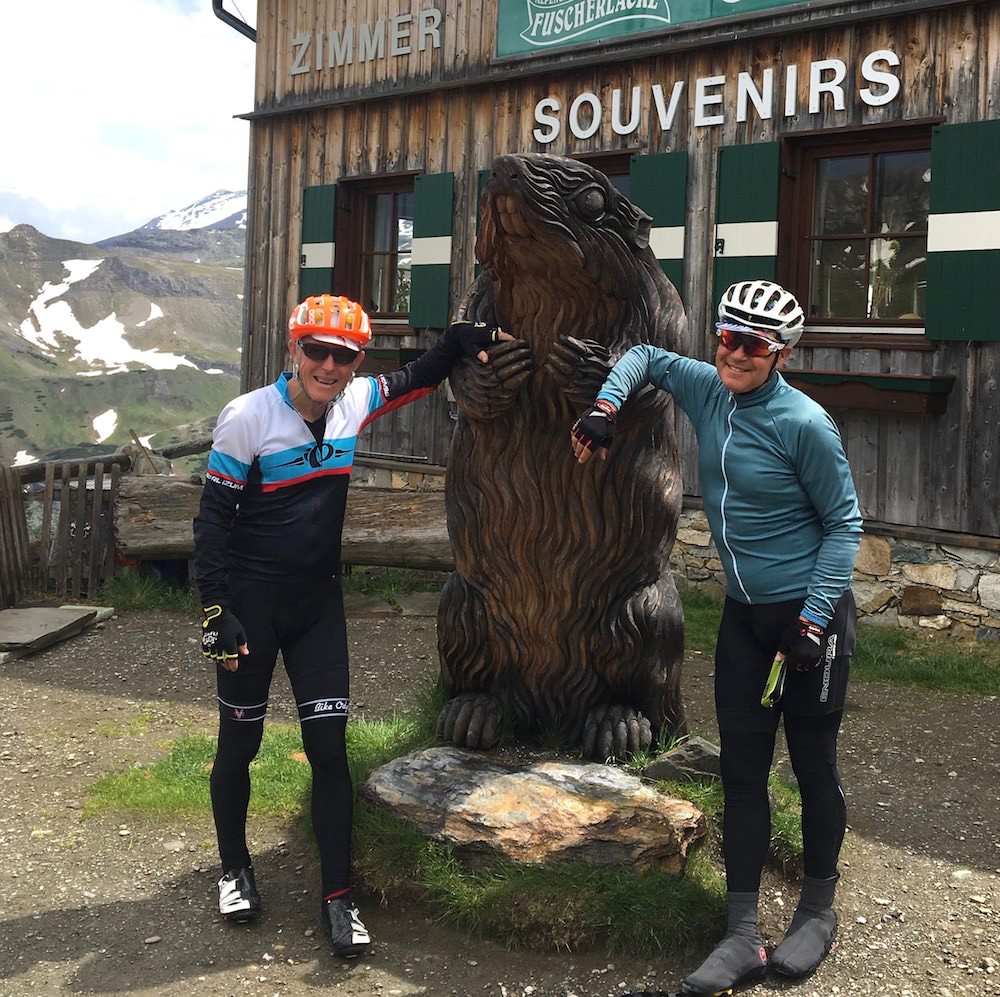 The view from the summit was pretty good despite cloudy skies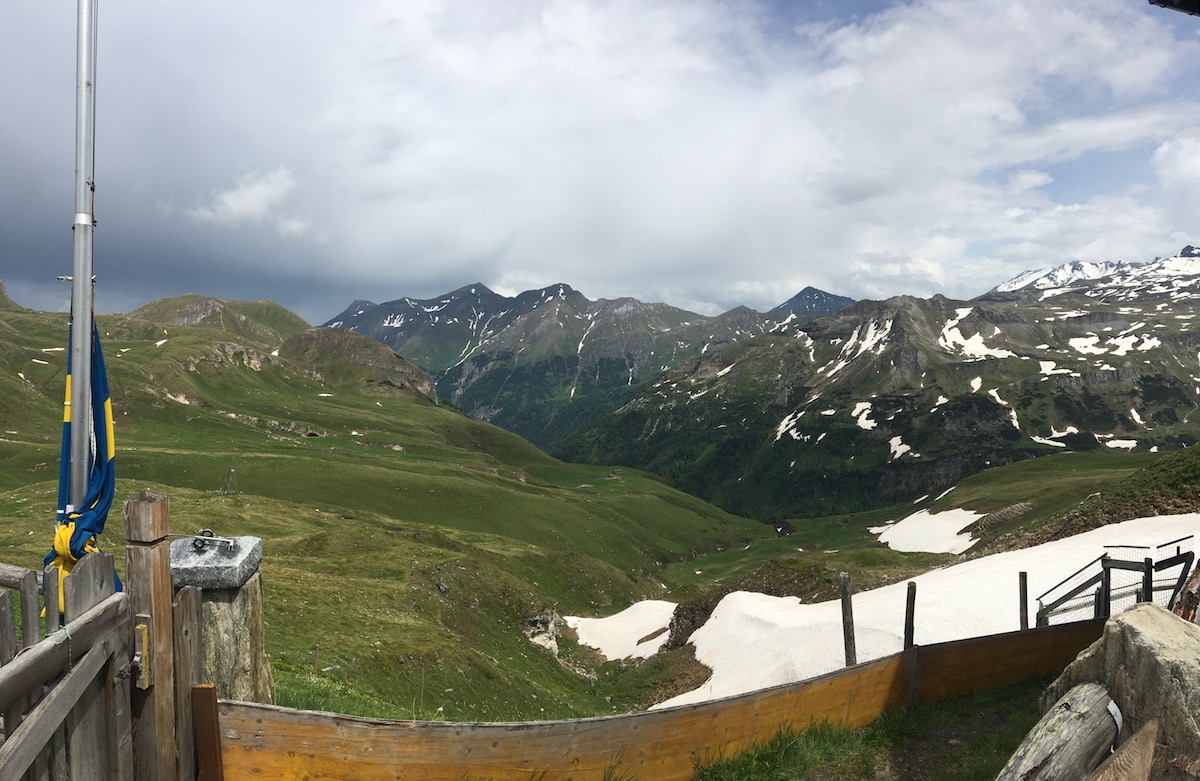 Everyone who challenged themselves on the road this day achieved a sense of success, riding hard and long up that mighty mountain. Most were happy with that but a few of us felt we needed the ride down to finish the day. Peter and I snuck in just before the van arrived and here Peter is celebrating our arrival at the hotel …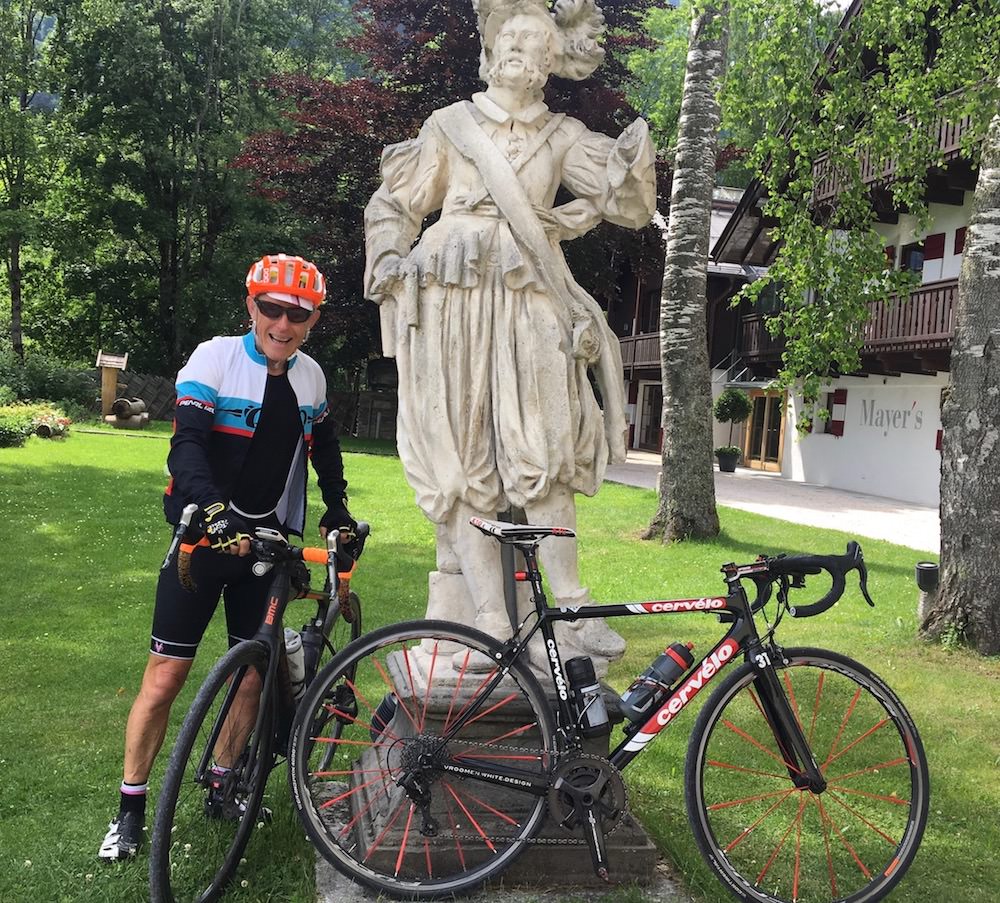 The hotel is in a great spot and we thought we should celebrate the Bike Odyssey's team accomplishment  with a photo …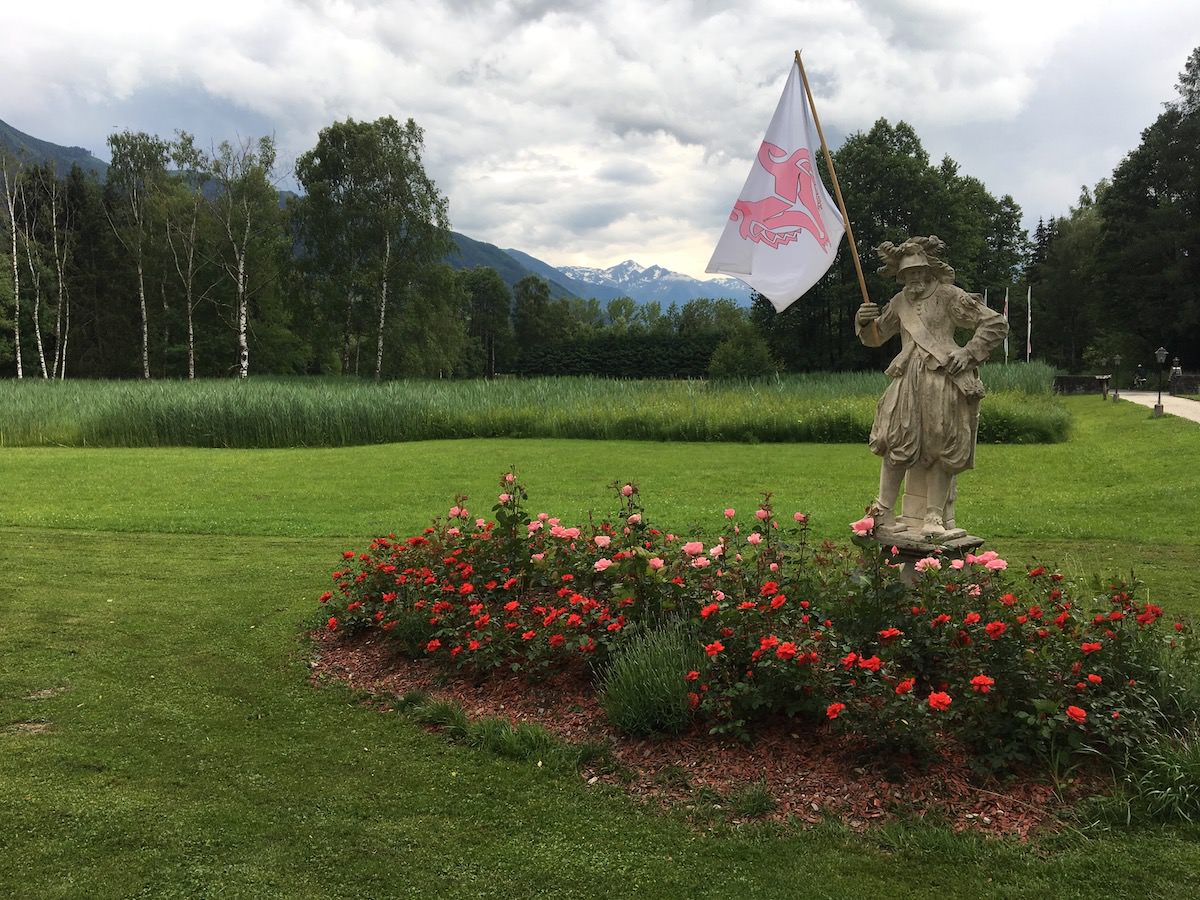 I thought I'd slip in a few photos of the crew …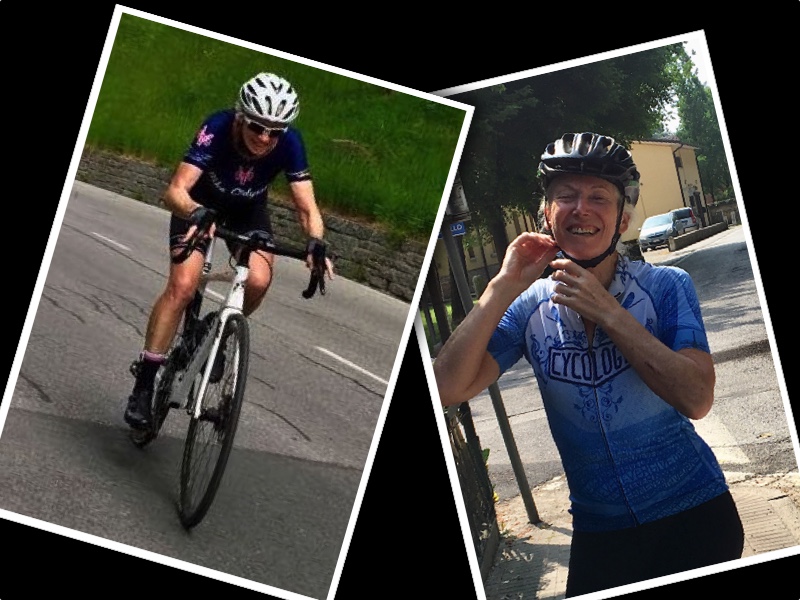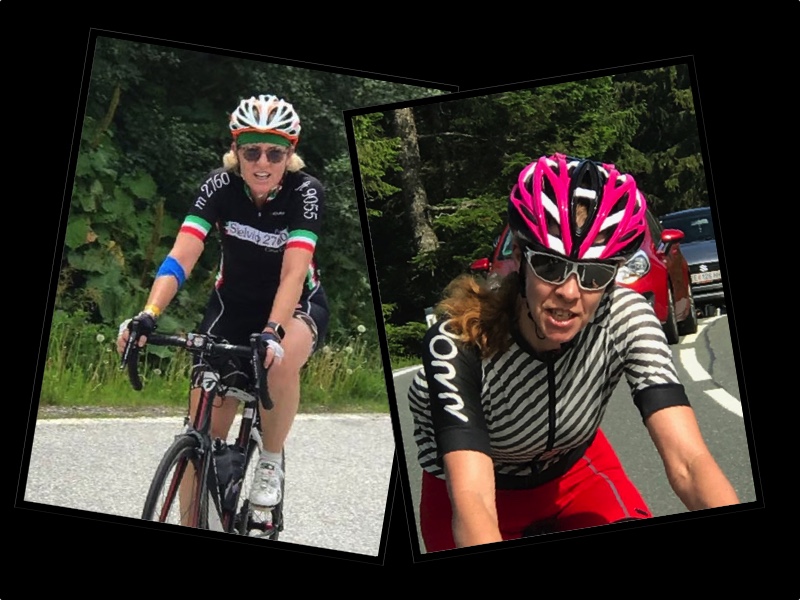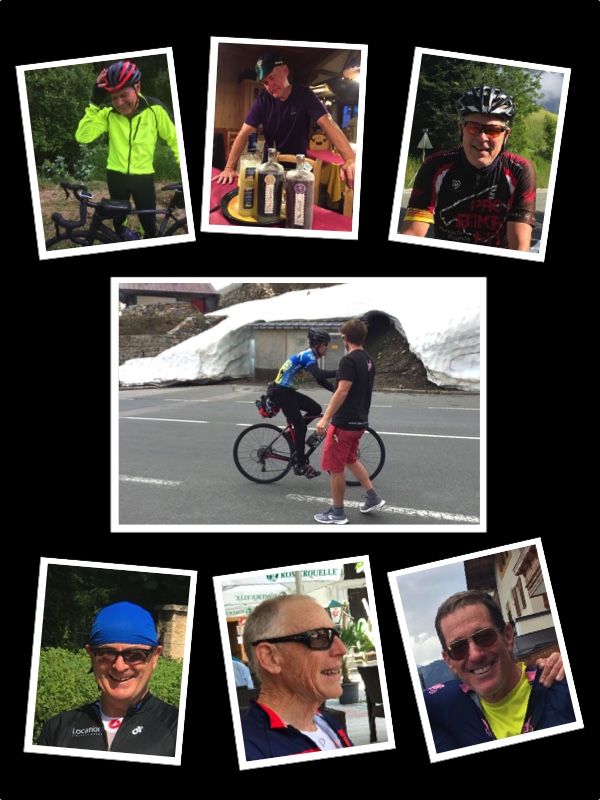 A special mention has to go to our support crew. Here's Bruno, our brilliant mechanic. Note the Campagnolo T-Shirt. Bruno is a man with a sense of history …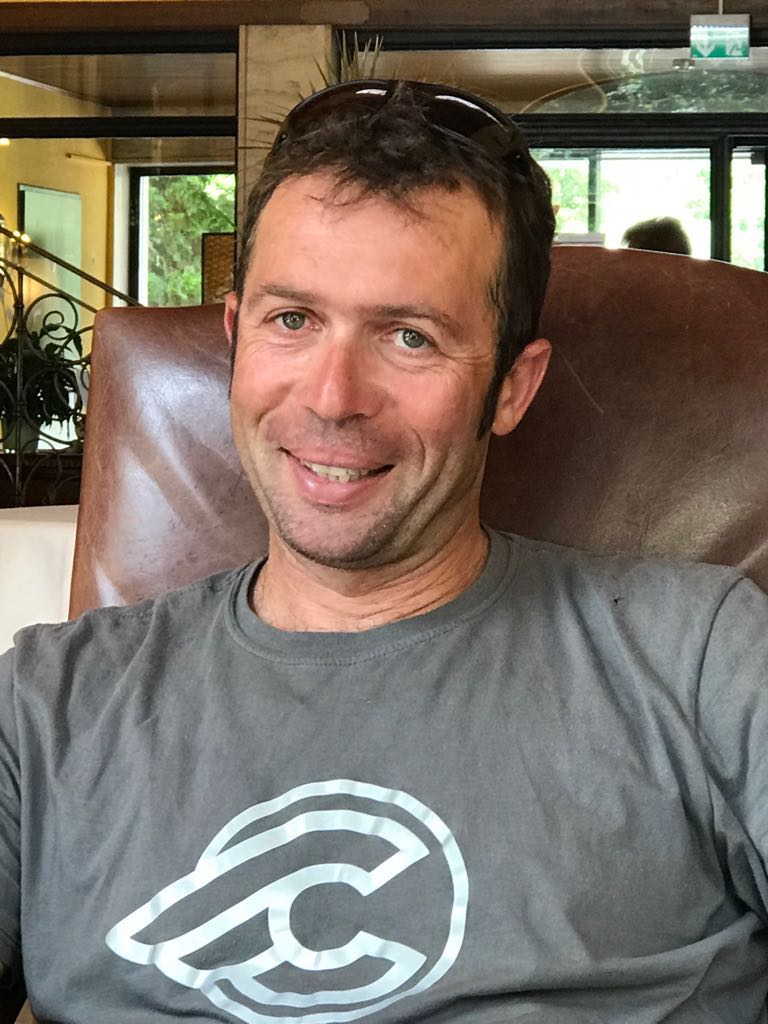 And our choirmaster Sam, who makes the music ring loud and true ..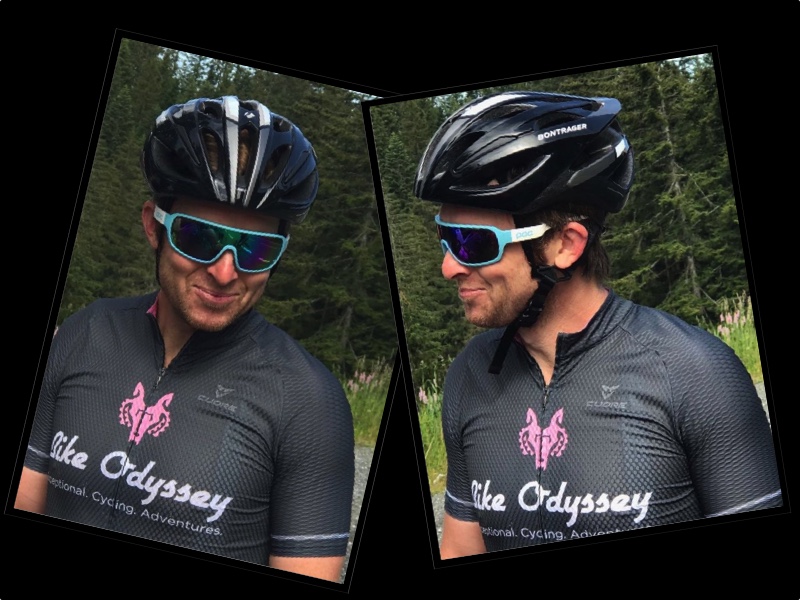 Riding On
Anyone who has challenged themselves in any sort of physical activity over a period of time will have had setbacks. Torn muscles. Broken bones. Chronic injuries Illness. And, for cyclists:  body-breaking bike crashes.
We – Dianne and me – are on our way home. Di had a crash on her bike two days before Lionheart started. At first we thought it was just one of those things one shakes off. Di rode on, and stoutly so. But she was still feeling pretty sore and decided once we got to the pretty little resort town of Zell Am See to get checked out in hospital. It turns out she sustained a spinal fracture in that fall. Advice was that she had to go home and avoid "sport" for 12 weeks, Initially she was quite devastated as no doubt you can imagine. But a champion recovers herself.
Here's the physiotherapist telling her what she can and what she should not do …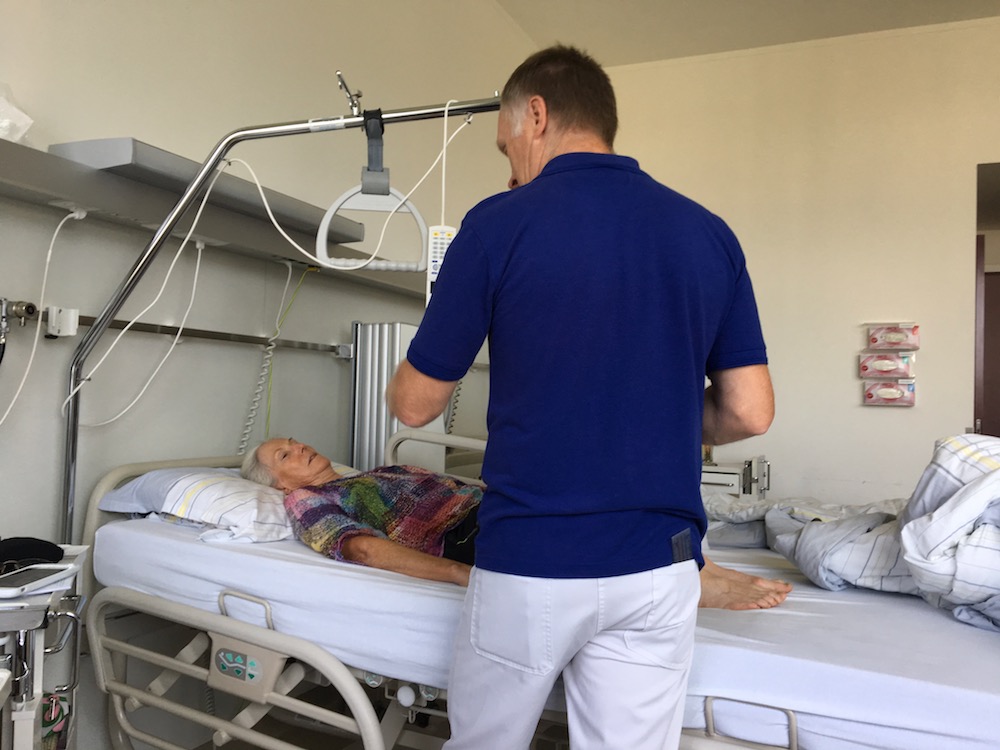 … and shortly after feeling a bit better for the advice and reassurance that she will make a complete recovery …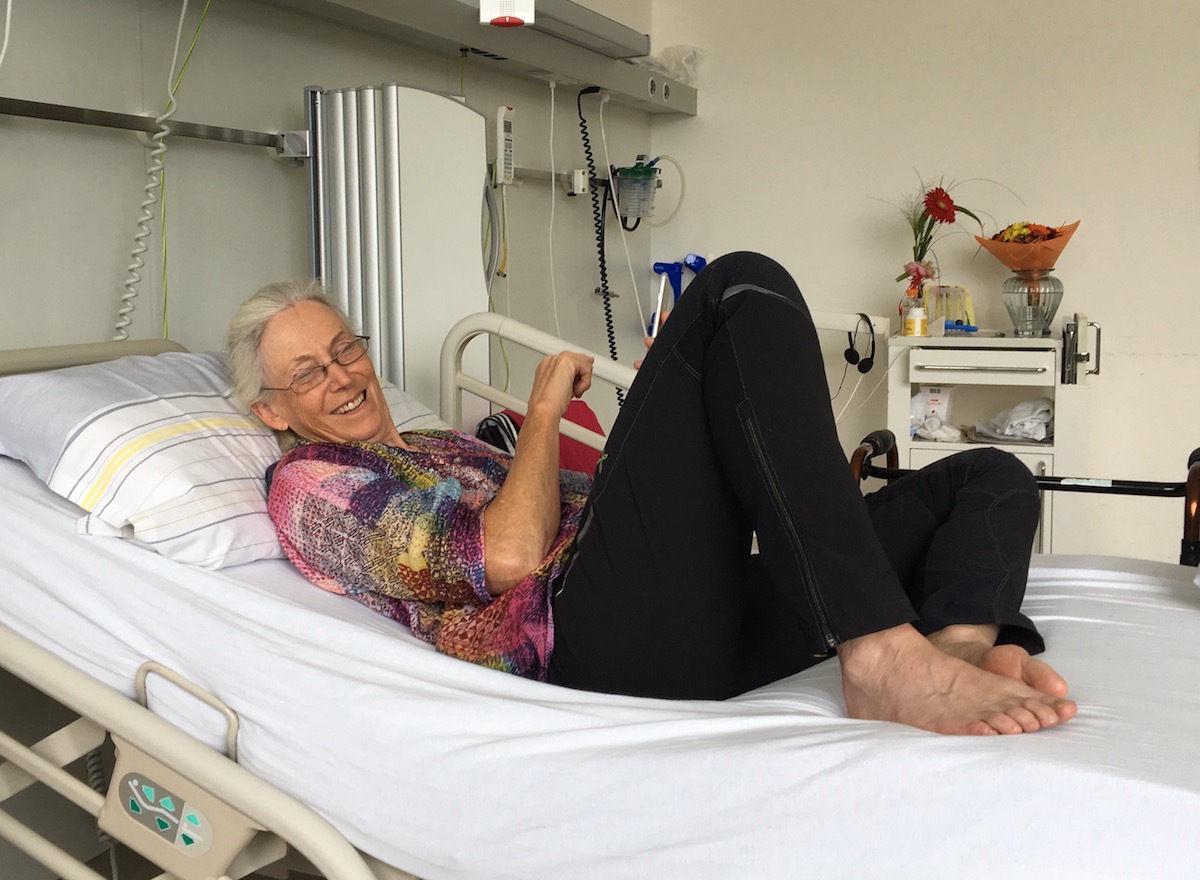 Di is sure to be back on the bike before she knows it and more great cycling adventures await.
Holy smokes! Our plane is about to leave Dubai for Melbourne so I guess I should get on board. Apologies if there is a bit of untidiness in this post. I'll try to clean it up when we get home!