From the Dolomites into Austria
But, before we start:
Over the first days of our tour our group has formed very strong bonds. And for that reason it was sad to farewell Mark yesterday, who had to return home for personal reasons. Mark came on tour with his cousin Brooks – who by the way is 79 years old! Brooks is planning to ride with us all the way to Paris, but more of that later.) I wanted to share a photo of Mark and Brooks before I moved on to today's ride …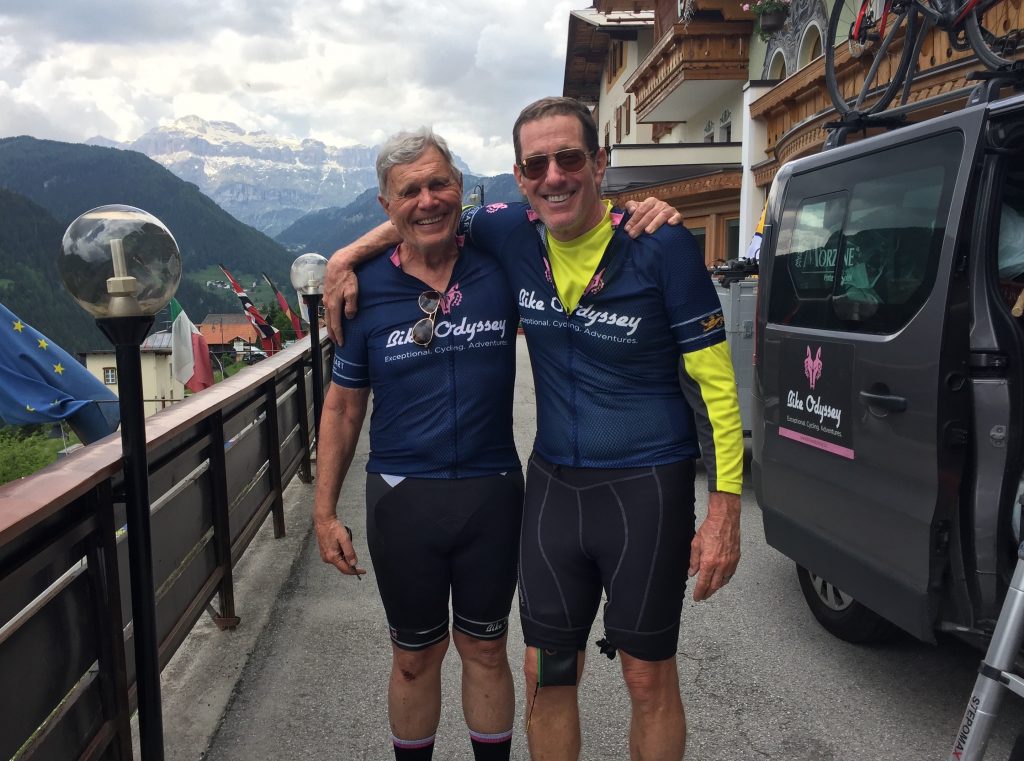 I am sure I speak for everyone in saying I hope we meet you again on another bike tour, Mark. You were great company and we were all looking forward to getting to know you better.
So, to today's ride. Here's an image showing where we travelled from the Dolomites into Austria, with an elevation profile for good measure: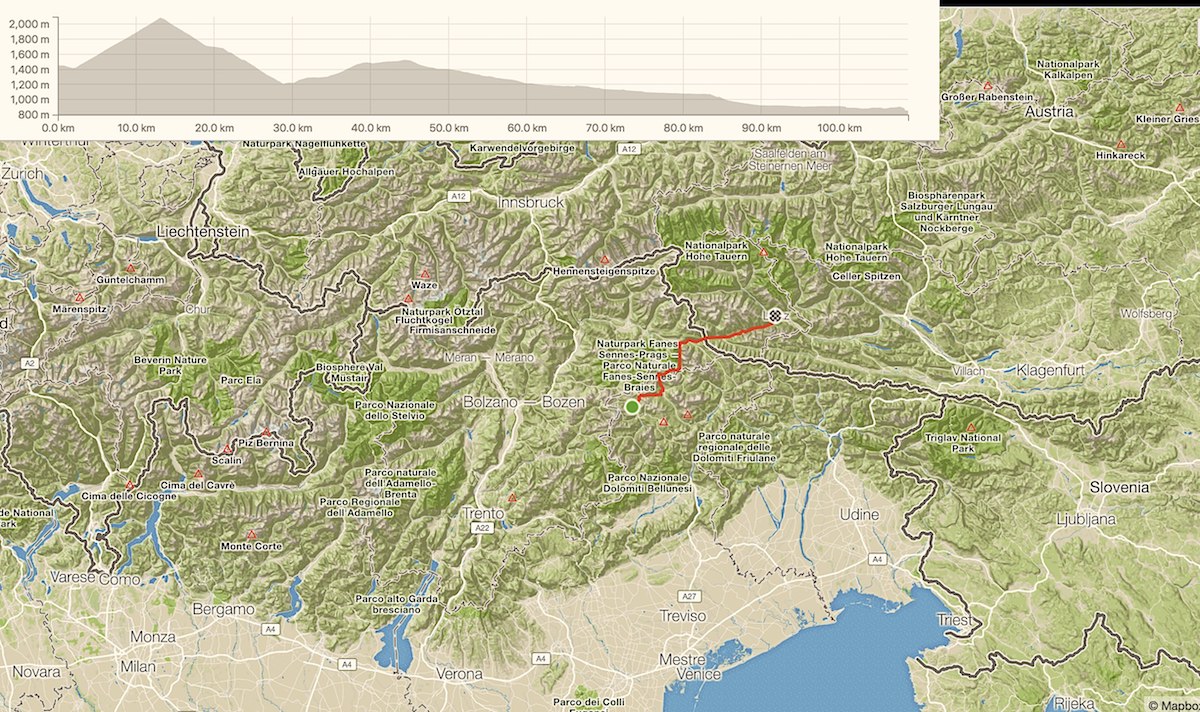 (And if you're interested in watching a little computer-generated movie of our travels through the mountains you can go here.)
One good climb and then mostly downhill
Many members of our party have shared photos of our journey, so I'm going to let them do most of the talking, with just a few words here and there from me.
As the profile in the image above shows, the day started with an ascent, which is a category 1 climb.Despite a bit of dampness in various parts of our journey it was a really fun ride, with lots of downhill cruising.
On the way up our big climb for the day, a number of us stopped to take a photo of a ruined castle perched on top of a rocky protrusion in the landscape: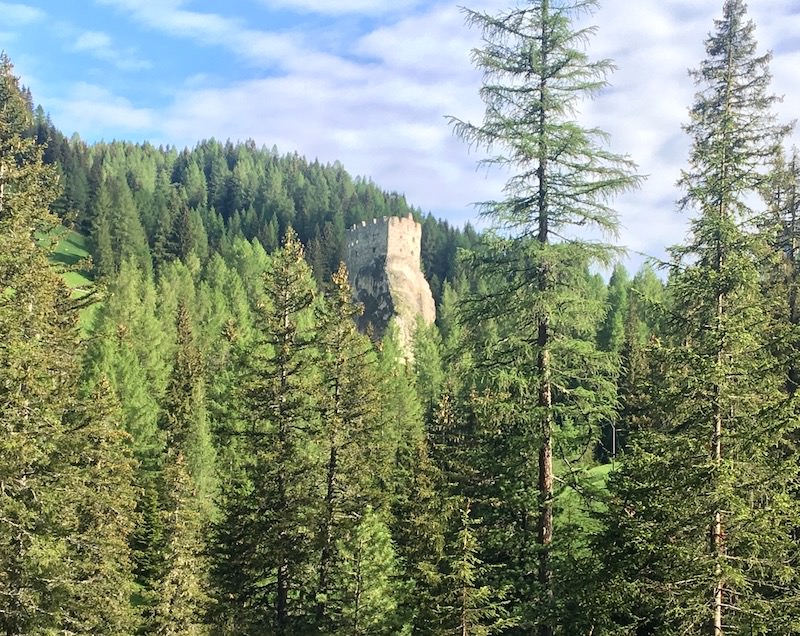 Dianne and I started early because we wanted to have a fairly sedate journey. About halfway up the climb Wayne came up behind …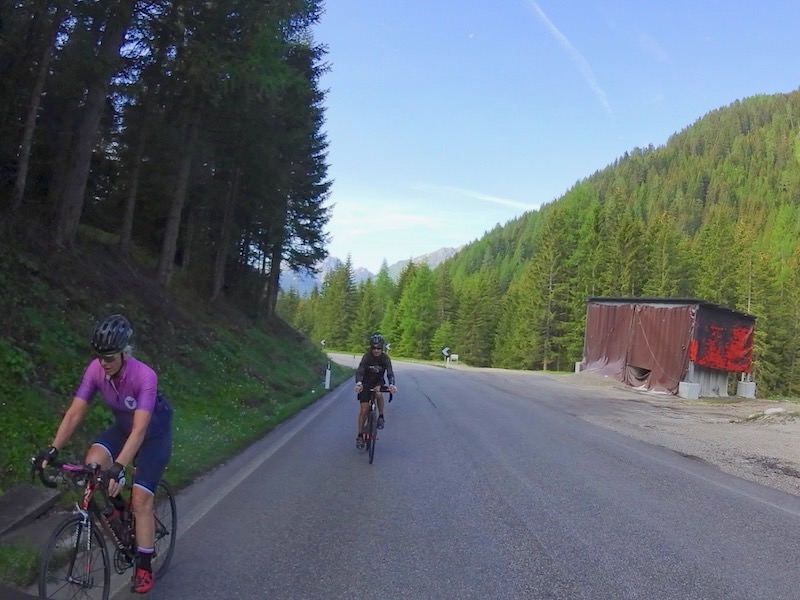 … and soon left us in his wake.
I spotted a bit of colour alongside the road and paused for a photo …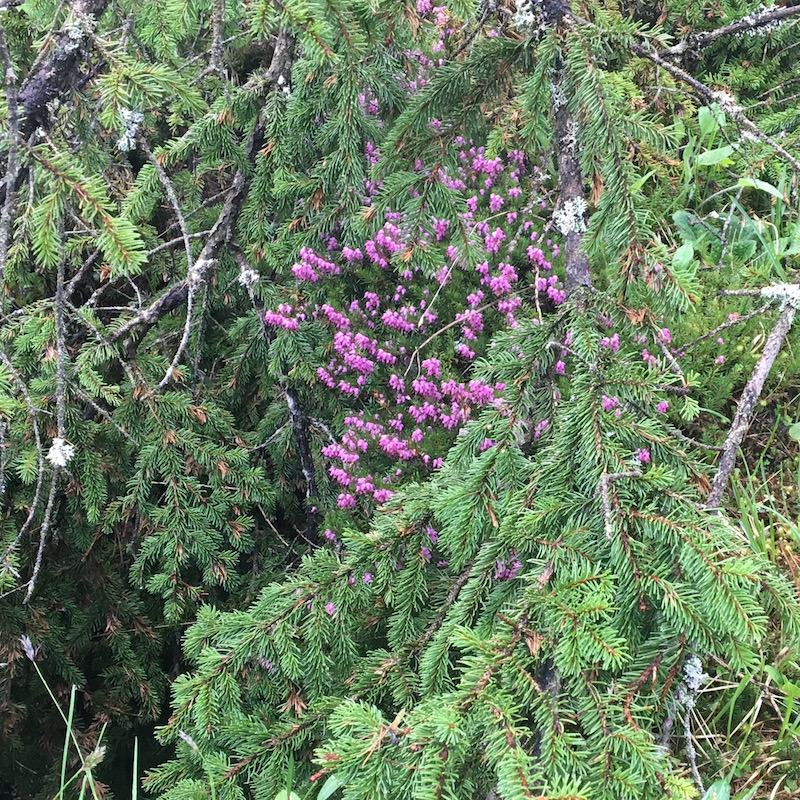 It would be fair to say that the scenery was brilliant. Here's a photo of Di out of the saddle as we got closer to the top …
Louise and Michael had a nice chat as the rode the upper slopes of the climb …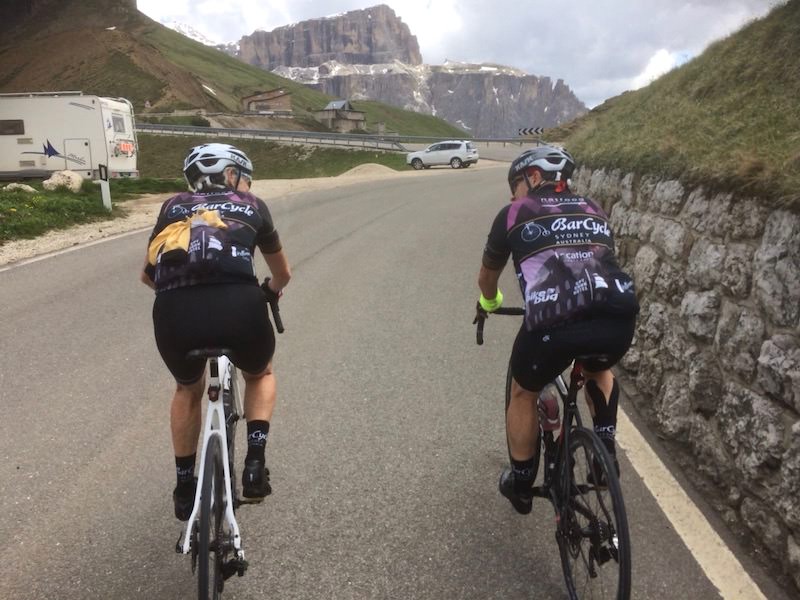 Not far from the top – Passo Falzarego – we passed through a long galleria which was quite neat …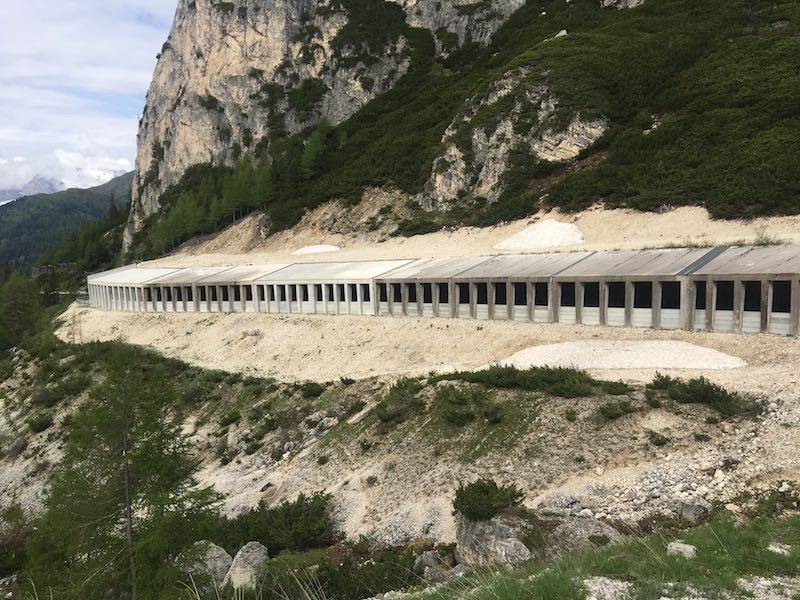 It was cool on top so none of stayed too long even though the scenery was pretty good …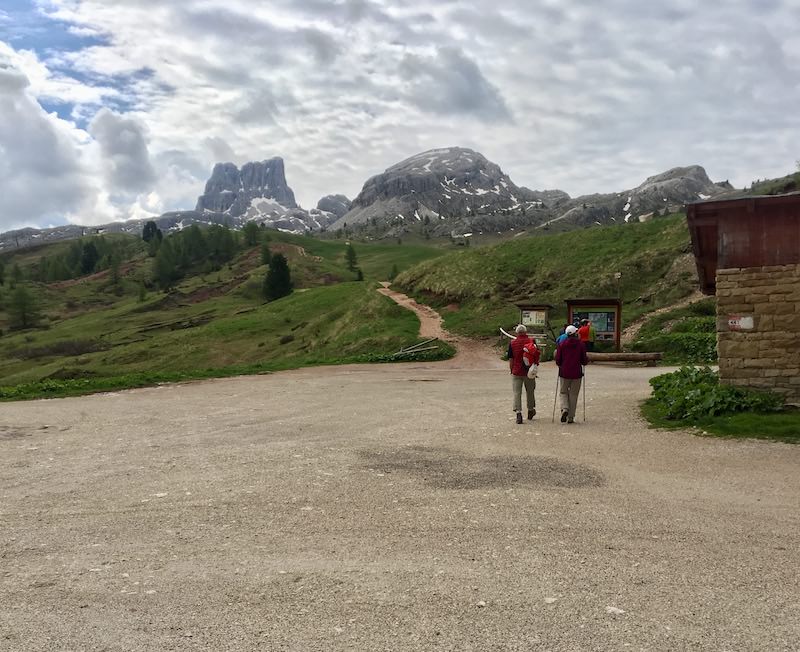 It was still fine at this stage and Peter and Louise posed for a photo …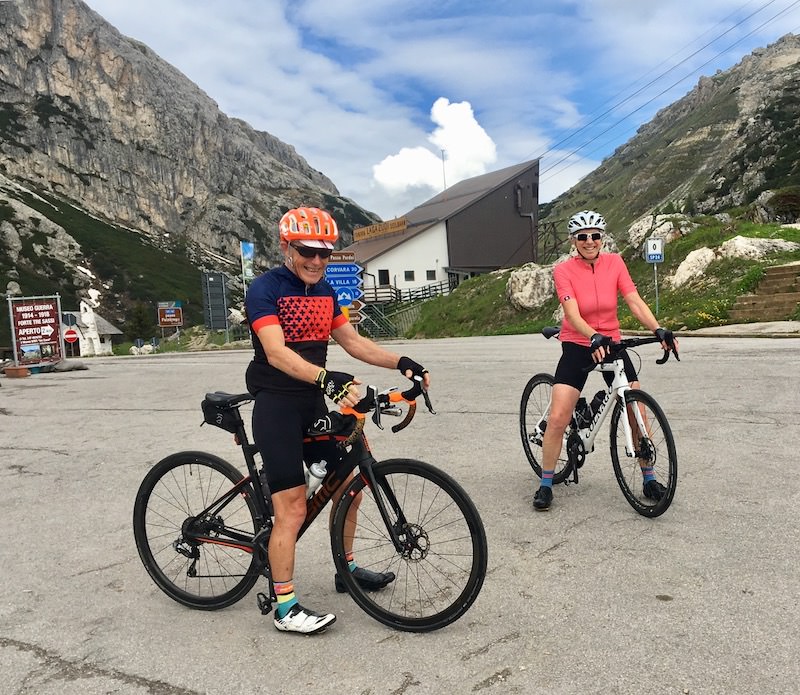 The sunny conditions were starting to leave us on the wonderful, fast descent into Cortina d'Ampezzo …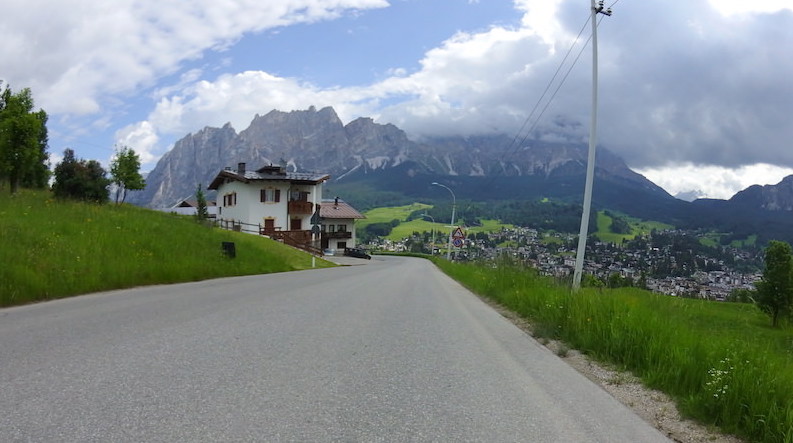 … but when we got there the sun came out again so we could enjoy a coffee …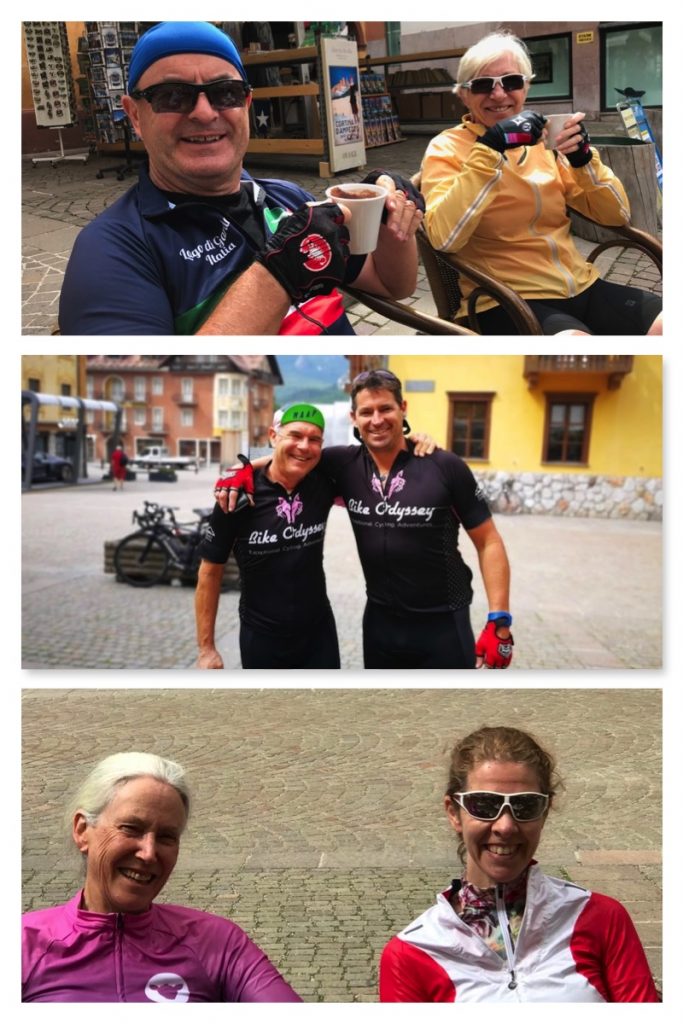 After leaving Cortina we had a bit of flat riding …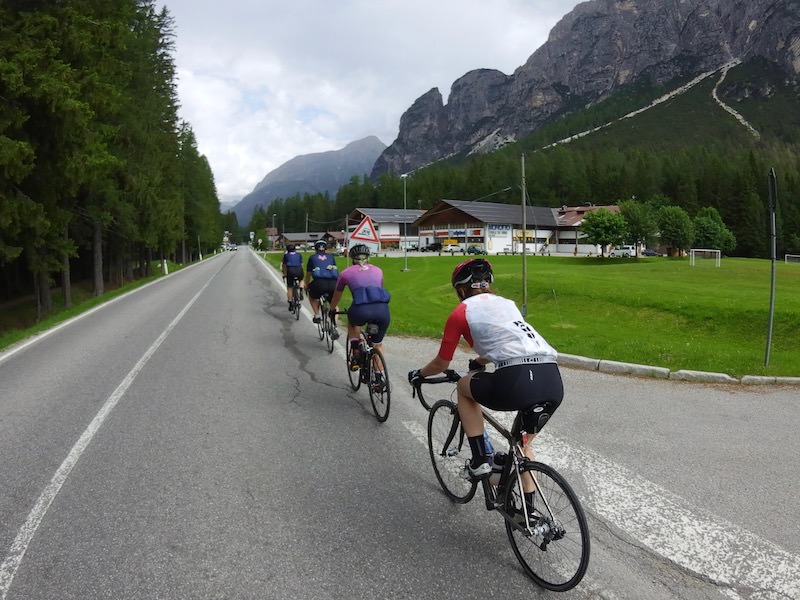 … before climbing over a little bump – where we started to get a few showers. Luckily, they cleared away again before lunch …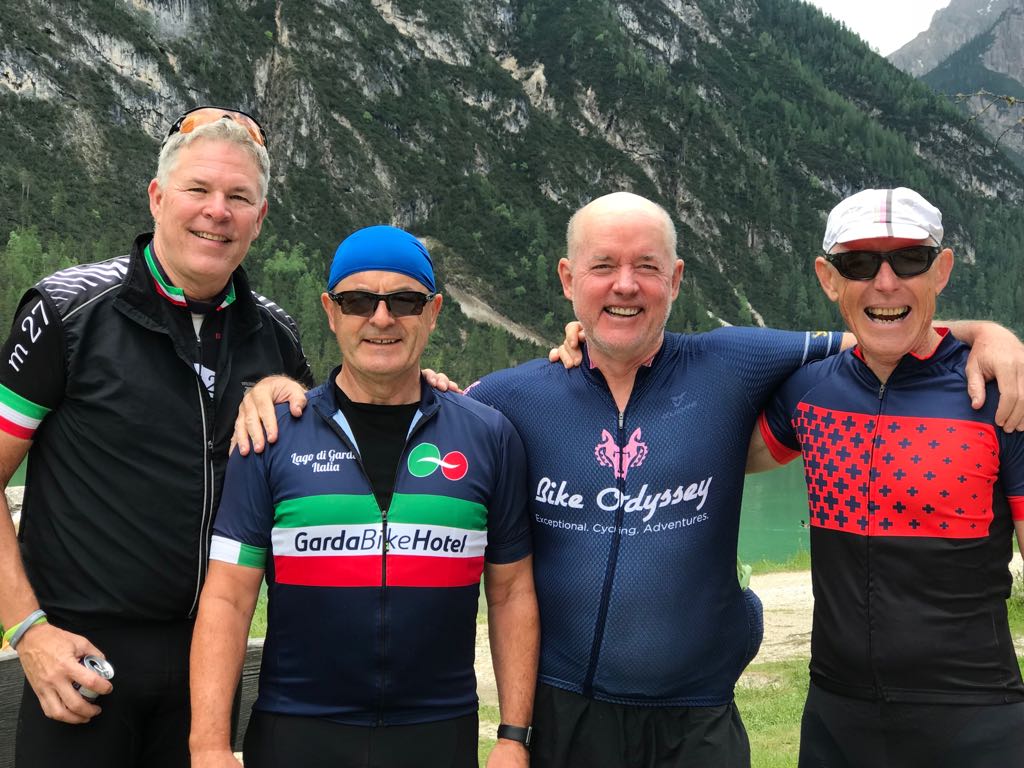 It was a great spot between two lakes, with a cafe serving fantastic coffee, but the best thing about it was the great mountain scenery  …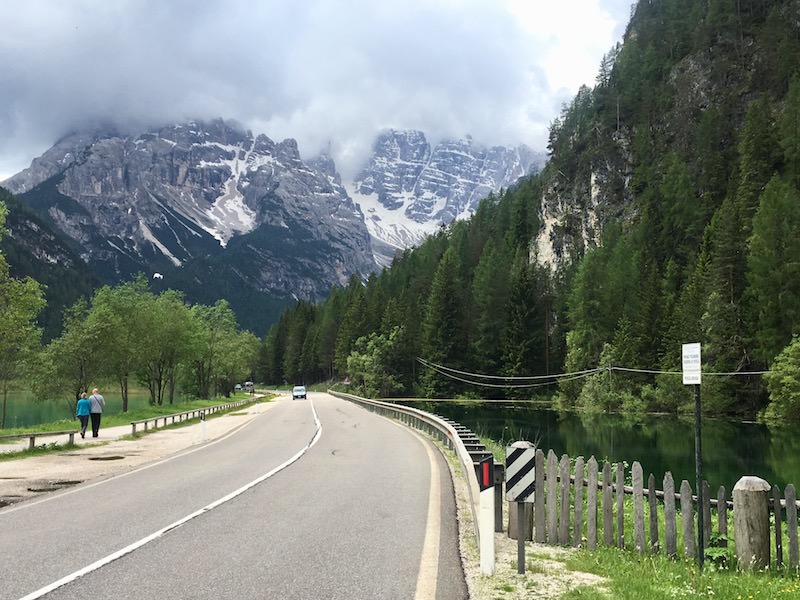 Moving on down the bike path
From lunch, we had a nice downhill run into Dobiacco, our last town in Italy before we headed off on a wonderful bike path and into Austria, which ran for about sixty kilometres. Actually, I should qualify that slightly: the bike path in Italy was good; it became wonderful when we hit the Austrian border about five kilometres after leaving Dobbiaco. The skies began to darken as we proceeded along the path, trending slightly but constantly downhill towards Lienz …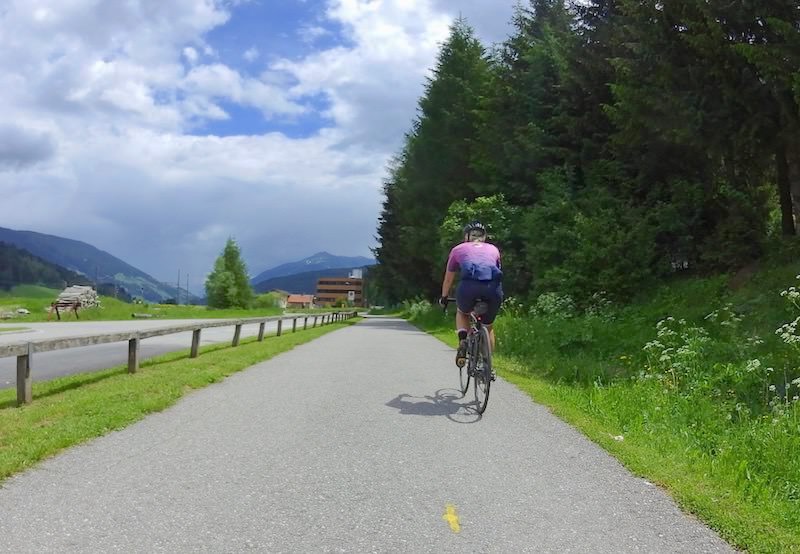 … but the scenery continued to be excellent …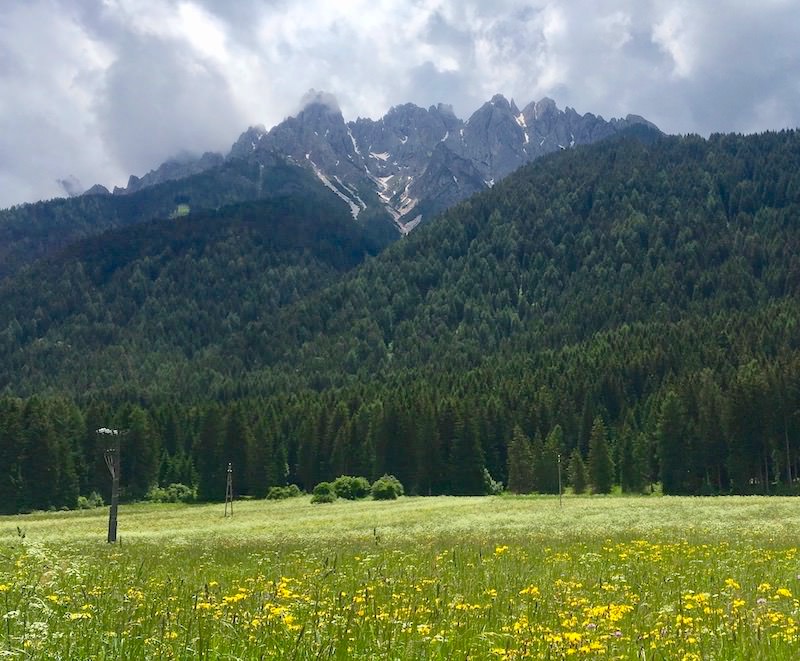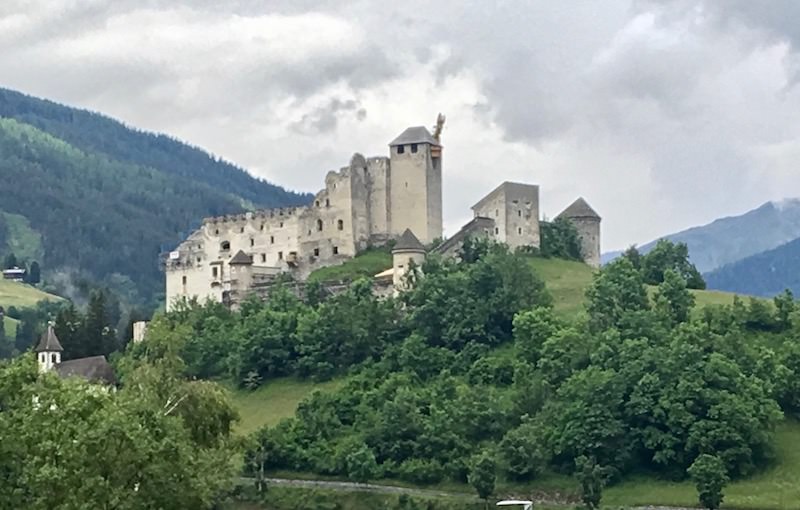 As we followed a fast-flowing river the rain started to fall properly and by the time we rolled into a cafe alongside the track the lens of my action camera was starting to show it …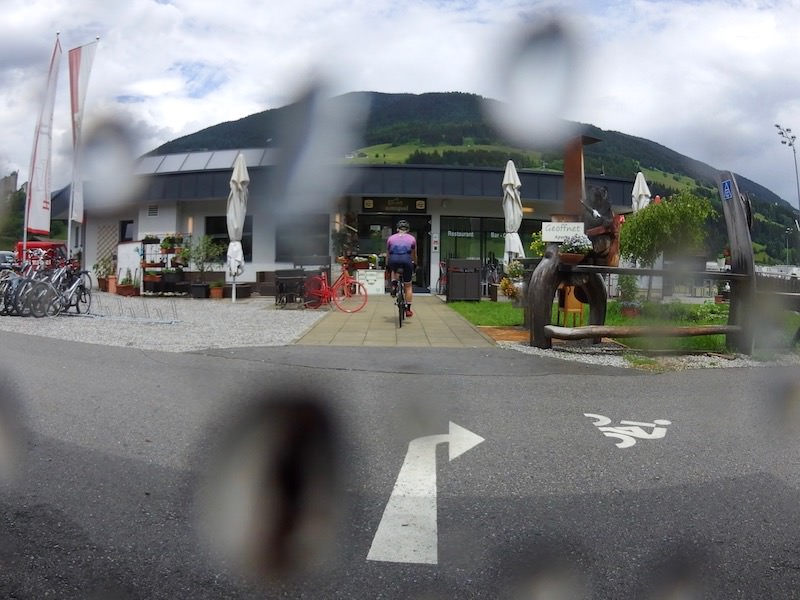 The view in the men's toilets was one of most interesting I've encountered: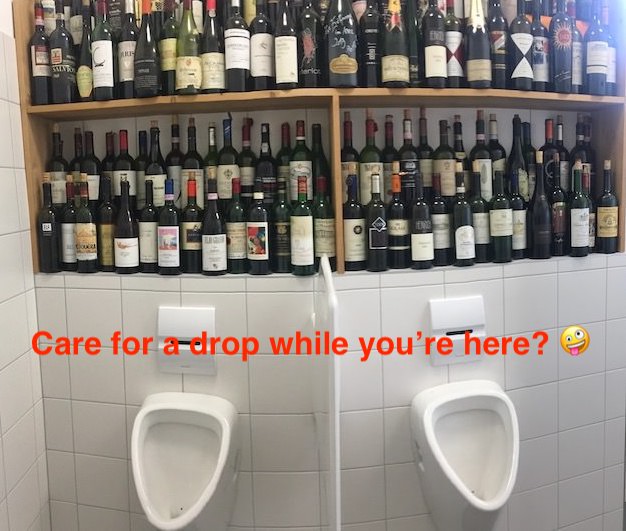 It was a distraction I were able to avoid. Sam was riding with Dianne and me by the stage and although he eyed off the goods on offer he too abstained.
After a quick coffee it was back on the bikes and more rain …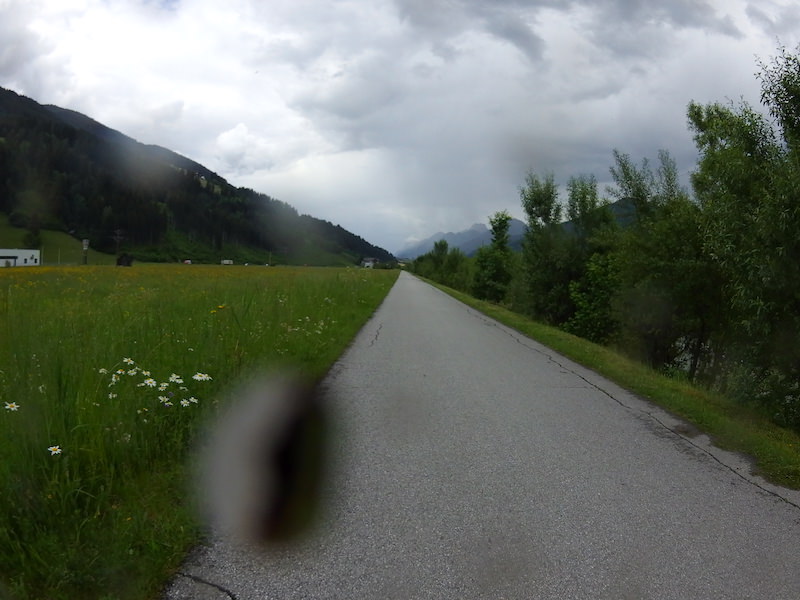 … which in fact was like water off a duck's back for us, after such a wonderful day of riding! Tomorrow is a big day, so I'll leave it there and get some shuteye.