Adventure Bay to Hobart
We awoke to a cool but clear day at Adventure Bay. This photo from Sam taken at the Neck looks back at Fluted Cape on the left and the wonderful bay we are leaving behind …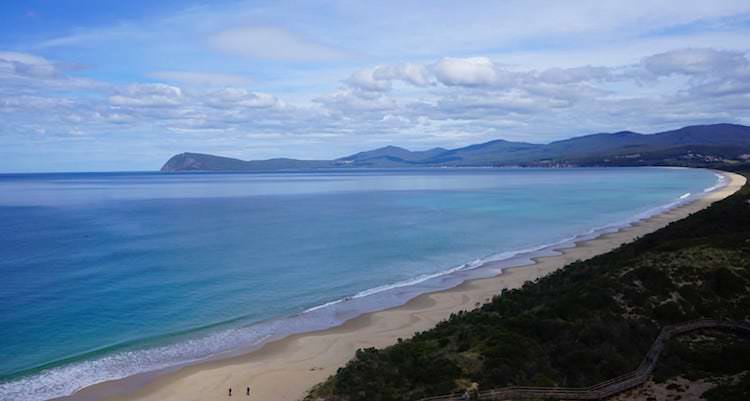 So beautiful, isn't it? No wonder this became favoured as a watering and stopover spot for early mariners.
A few people wanted to have more time in reserve for the trip to the ferry so our scheduled departure was moved forward by half an hour – which allowed for another stop at the Bruny Island Cheese Company for a coffee at about halfway. There wasn't a lot of traffic on the road and we were, thankfully, all at coffee – or in the case of Kay and John, already departed – before two busloads of Pennicott tourists arrived. Rob Pennicott's wonderful cruise experience has been a major boon to tourism on Bruny but you don't want to arrive at a coffee shop just after his buses: best keep going in that situation!
Sam was out with the camera along the route as we were riding up Bruny and took several photos of riders making their way north to the ferry. I decided to include ones exclusively of the ladies still left on our trip. I hope they won't mind me thinking of this section as "In Praise of Older Women" …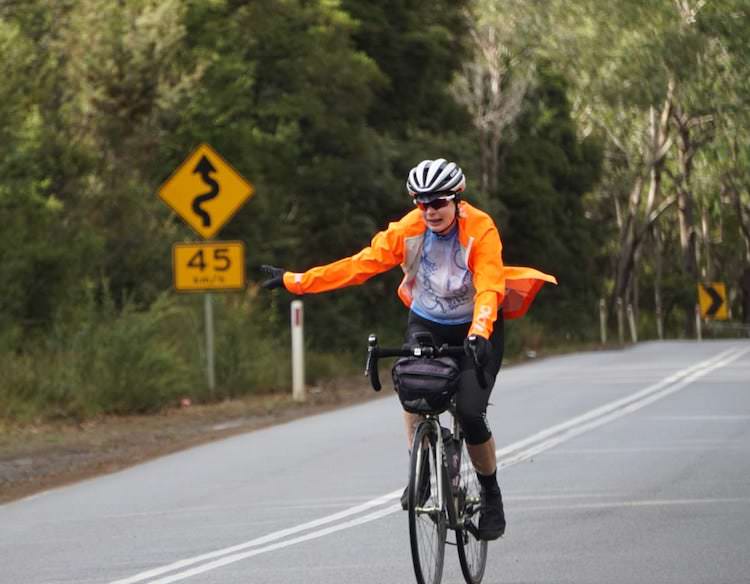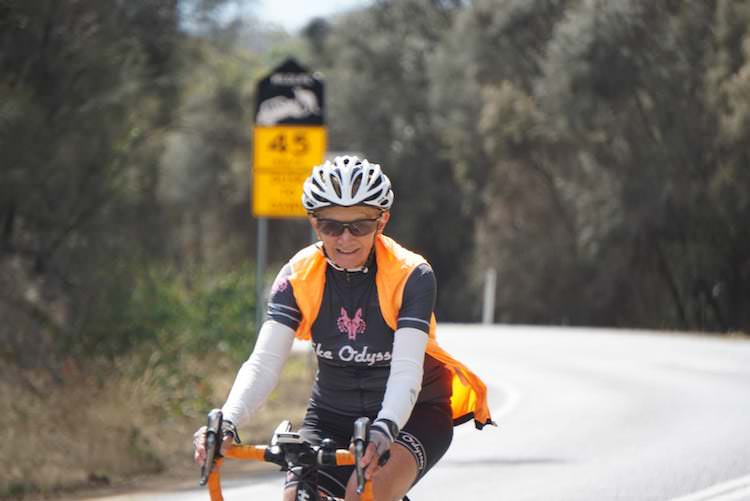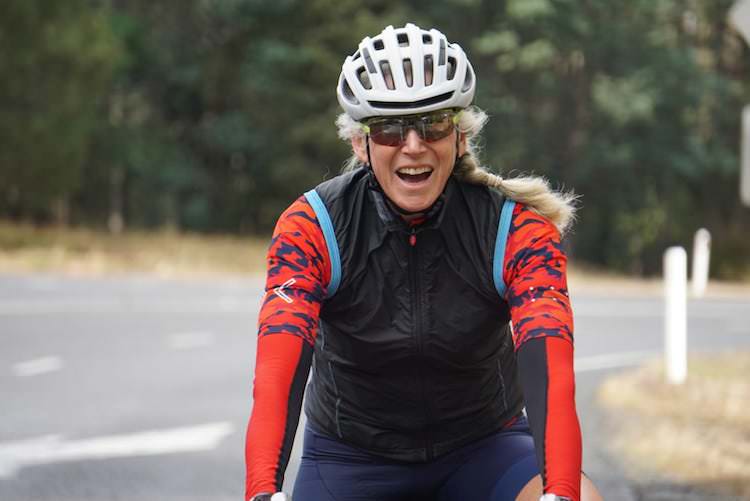 We were lucky in that there was a slight tail wind pushing us up island and we all reached the ferry in time (Di and me by the skin of our teeth) for the 11 o'clock ferry. Here's a photo from Sam of the crew just before disembarking …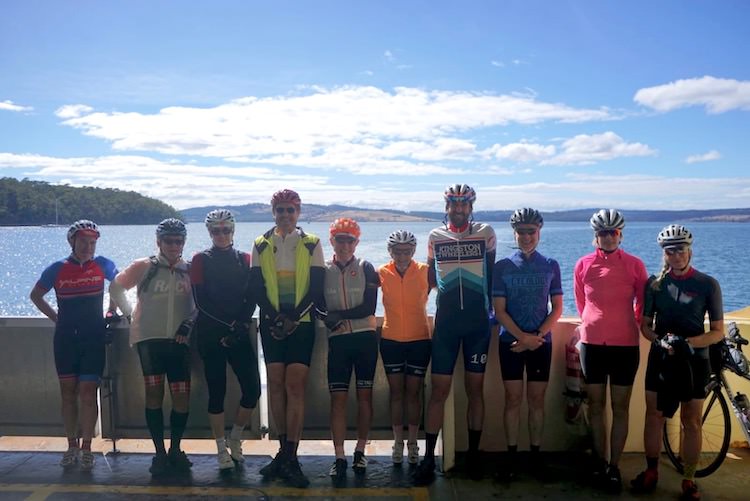 This photo would be more complete for all of us if George, Margot and David had still been with us. They were great company for the time they rode with us and were in our thoughts right to the end of the tour and beyond. (I for one would have liked to see George charging up kunanyi with his high cadence, enthusiasm and determination.) One good thing about the photo though is that it shows Andy with definite signs of tanning after having arrived from Yorkshire looking like Casper.
Back on the mainland it was pleasing that the traffic on the Channel Highway wasn't too heavy. I didn't think it was going to be, but I had warned people the 15.5 km stretch of road from Kettering north to the Howden turnoff would be one of the least fun parts of our tour. There is a good shoulder for most of the way but folks heading north towards Hobart along this road tend to be in a bit of a hurry.
The best thing about riding north along the Channel Highway is that it led the group to some of the most fun cycling of our tour. Here's a video I made that better explains that riding than my words can …
The day had turned into such a sparkler that I decided to add extra topping to my ride by detouring around via Tinderbox. There's a bit of dirt along the way and more hills, but this route takes one very close the north tip of Bruny Island …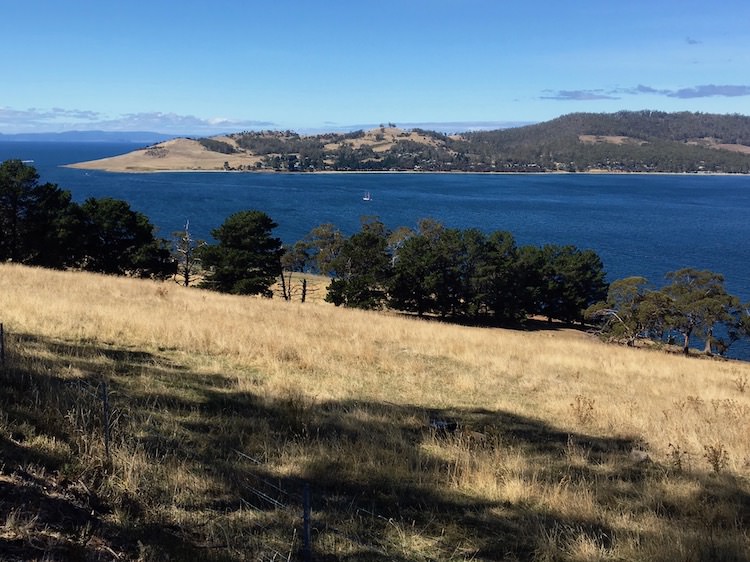 … and past the Tinderbox vineyard …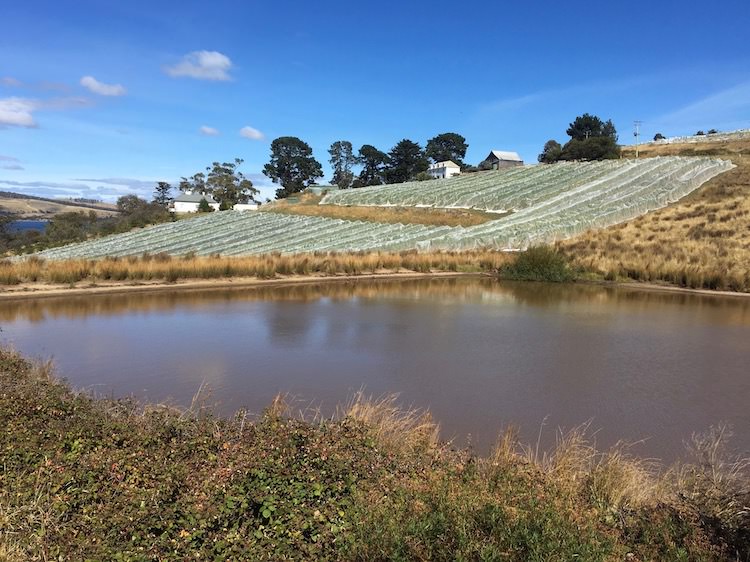 I thought the extra 12 or so kilometres of hilliness would make me too late for lunch so I kept riding. Here's what I missed out on …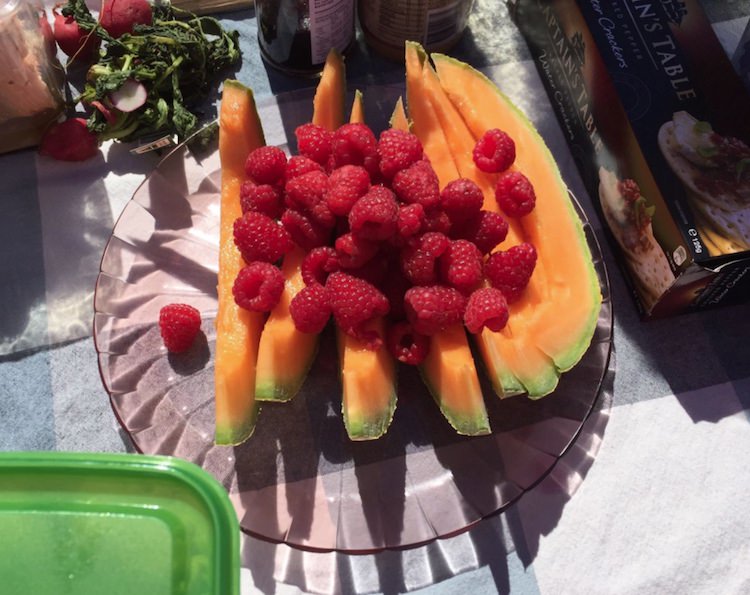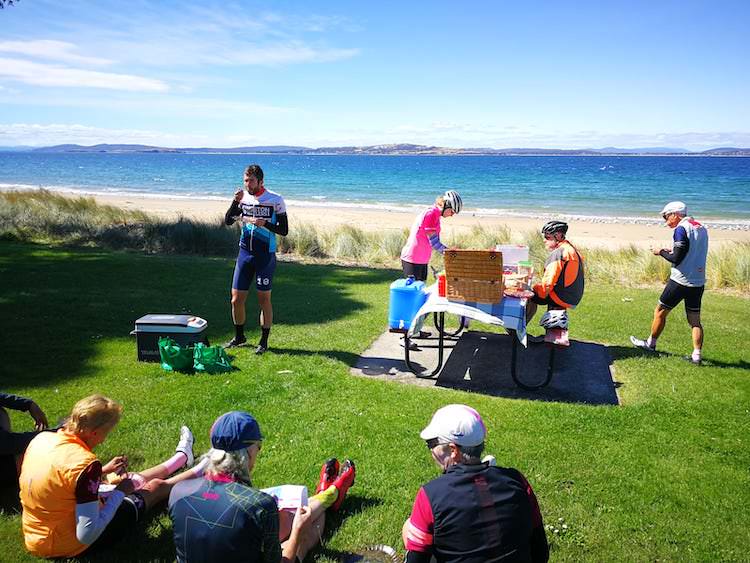 Looks great, doesn't it? But you know, sometimes I just like to get on my bike and keep riding!
As it turned out, I pulled into coffee and a snack (I was getting a bit peckish) at the Picnic Basket after descending The Bonnet – our last real hill for the day – and most of the other riders soon followed. After that it was on to Salamanca Square for a cold and frothy beverage …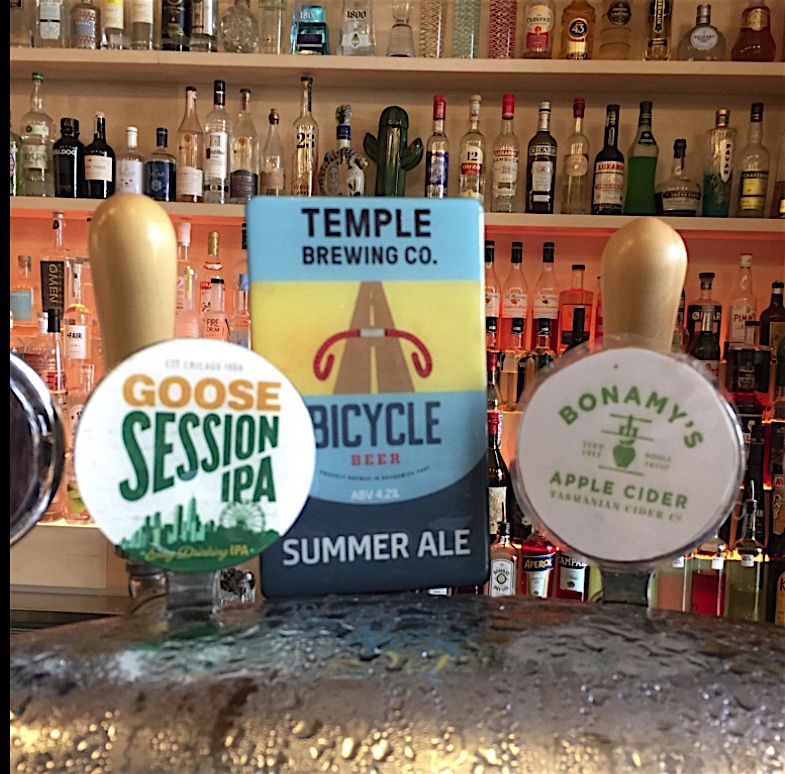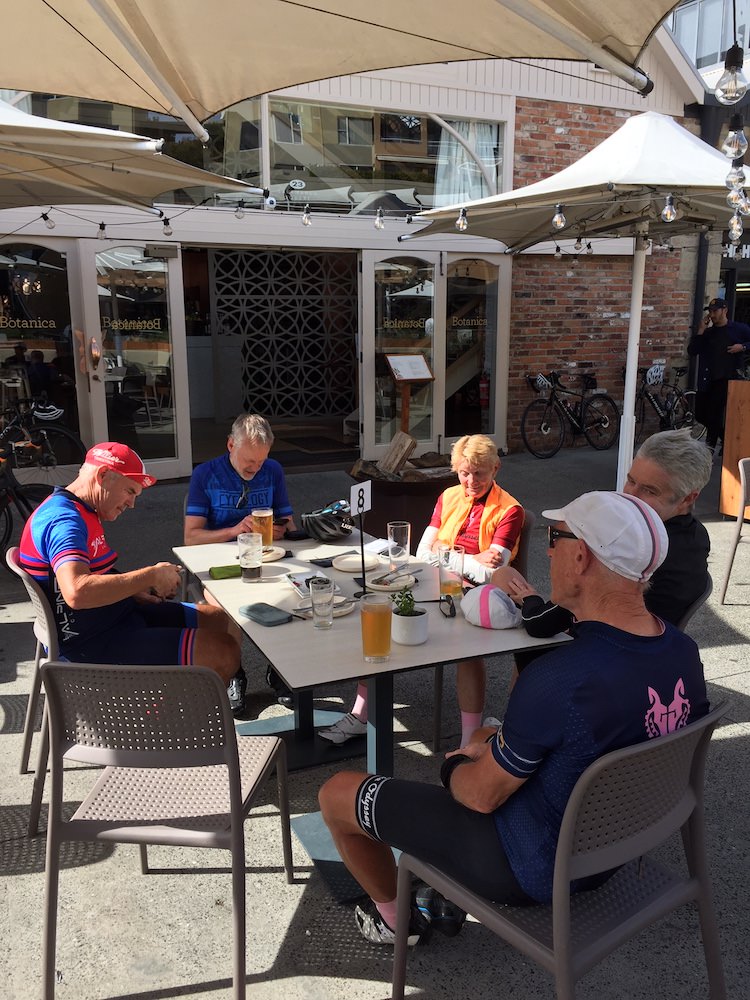 Mark, newly shod after visiting MyRide in Sandy Bay, arrived just as Sharon, Kay, Di and I were leaving. and clearly enjoyed his Bicycle Beer …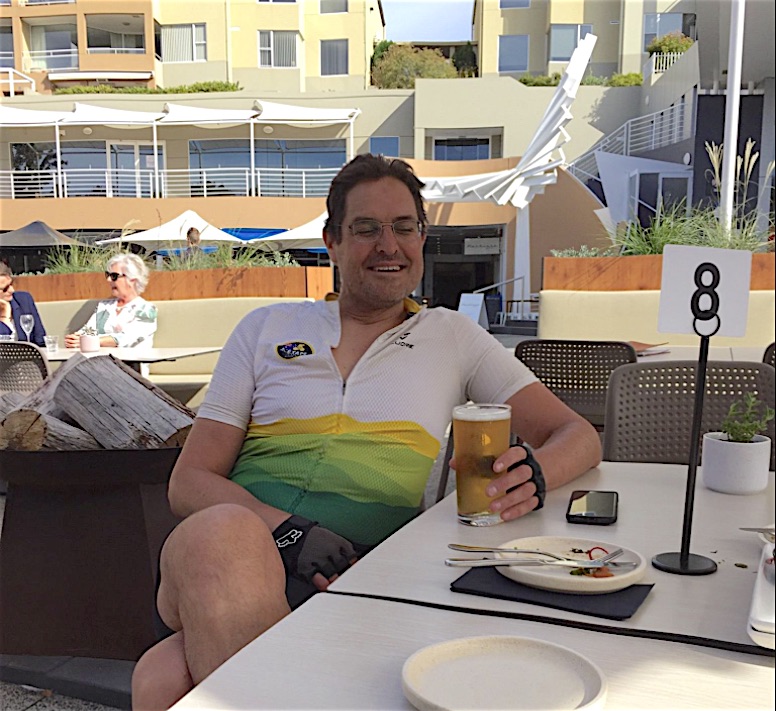 Di and I rode with Kay and Sharon around to MacQ01 as Di had calculated that the extra distance before turning for home would push her up to the Strava March Distance Challenge (the things we do …). That brought to an end the last "official" day of UnderDownunder, leaving everyone with a great sense of accomplishment and enjoyment. It was wonderful to finish in sunshine and relatively light winds but wait … there's more!
To the Mountaintop!
We cyclists here in Hobart are extremely lucky. We are blessed with a climate that allows us to ride year round, there is interesting and varied terrain to explore, our roads are generally well made without too much traffic and motorists are becoming increasingly considerate of two wheelers. But on top of that we have an "hors categorie" climb right on our doorsteps. I don't think there are many capital cities around the world that can claim such a treasure.
The summit of kunanyi/Mt Wellington – 1270 metres above sea level – is only 22 kilometres from the waterfront. Our little hill out the back of the city is rated by The Climbing Cyclist website as the 4th hardest in Australia. When I put together the route for UnderDownunder I proposed to Sam that he offer an ascent of kunanyi as an optional bonus for departure day of the tour. He readily agreed. My only caveat was that conditions on the mountain can be anything at any time of the year and might not be suitable for an ascent. In fact, just after I first arrived in Hobart in February (late summer) of 1979 the mountain looked pretty much just like this …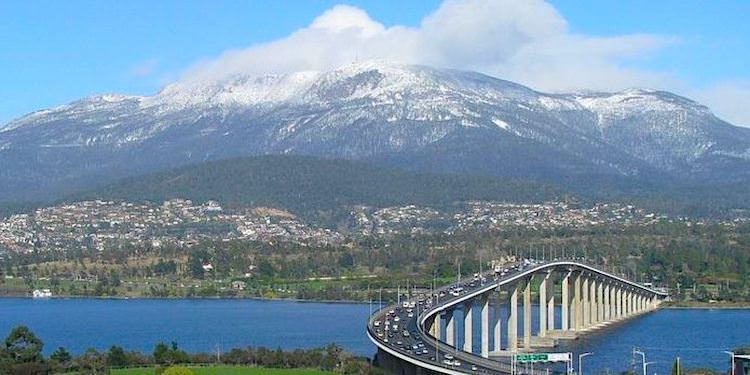 As it turned out the forecast was excellent and six of us decided to venture out early. Here are four of us waiting patiently for Kay before setting off together as a group …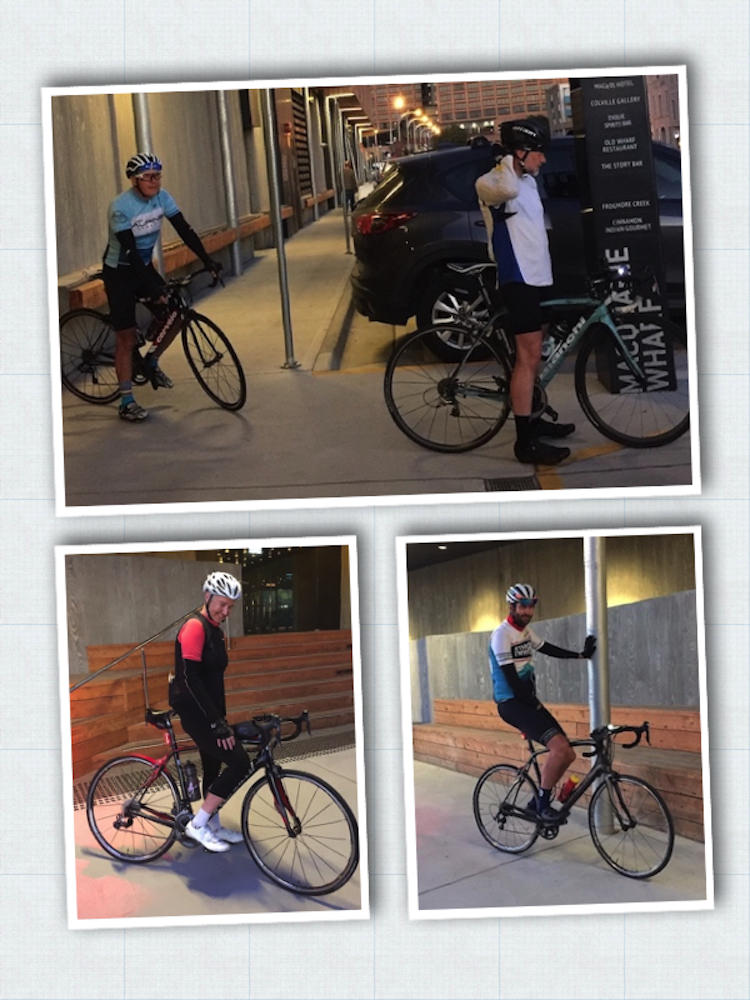 Wayne of course had already set off. The rest of us were given a wonderful send-off by Beth on her balcony. Thanks for the encouragement Beth!
If you're leaving from MacQ01 there is flat riding for about 500 metres before the road begins to gradually rise. Up until the Cascade Brewery the gradients remain moderate. The real climbing starts here, and gradients very rarely fall below 6% for the next 17 + kilometres. However, there is nothing that is extreme with the maximum gradient at any given spot being only 12 or 13 percent. It's just a matter of plugging away at one's own pace. And that's what we all did.
Here are some photos Di took of riders coming up the last little bit just before the summit …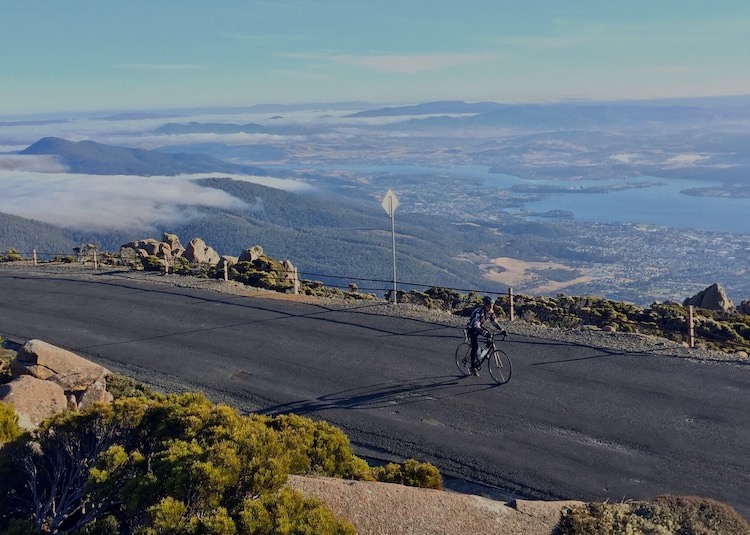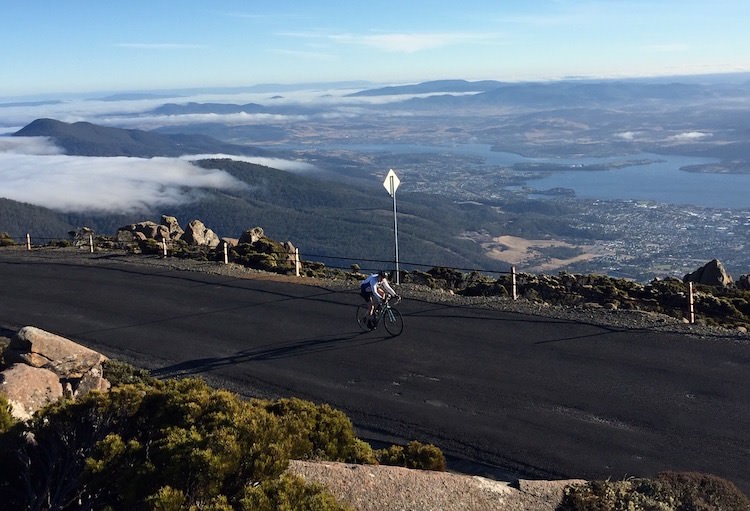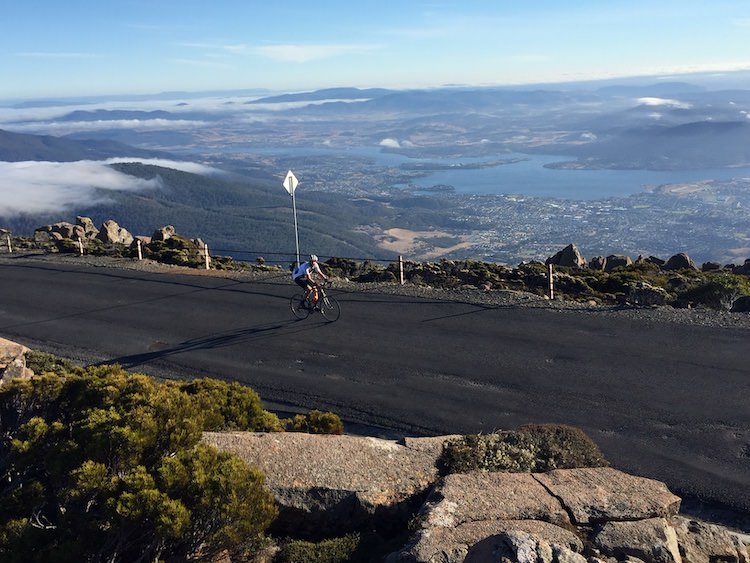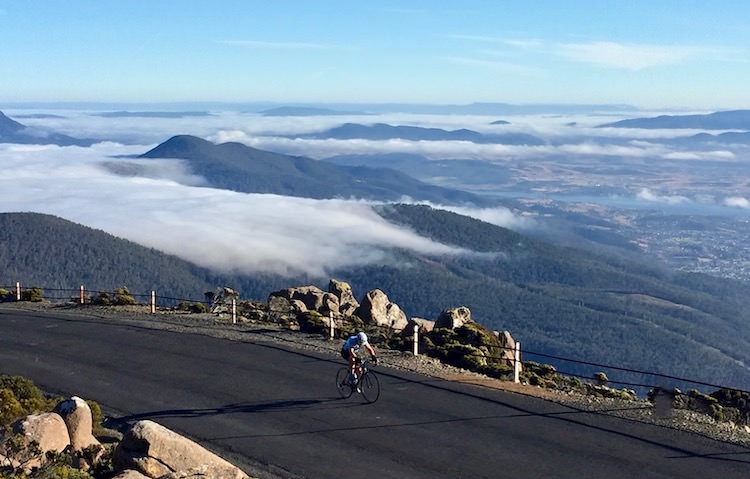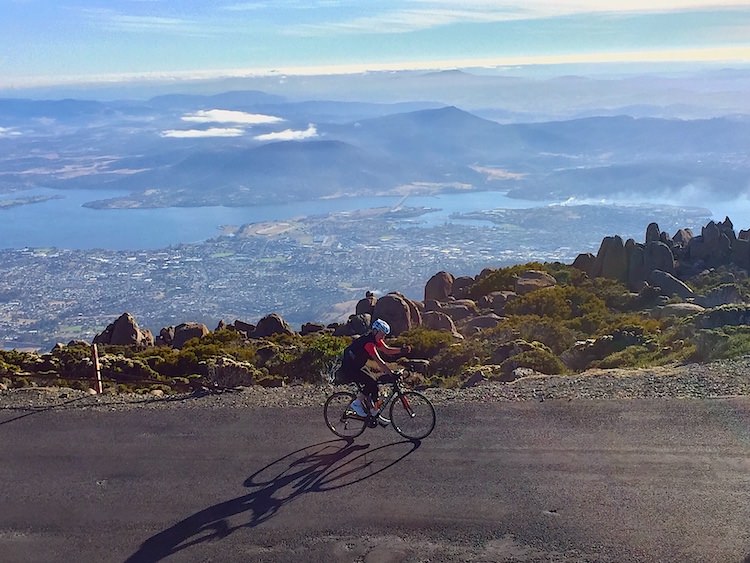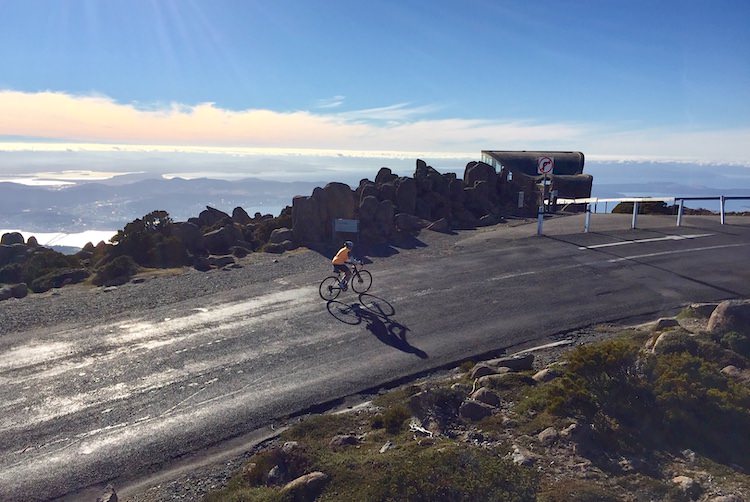 And here's a photo Andy took of our photographer …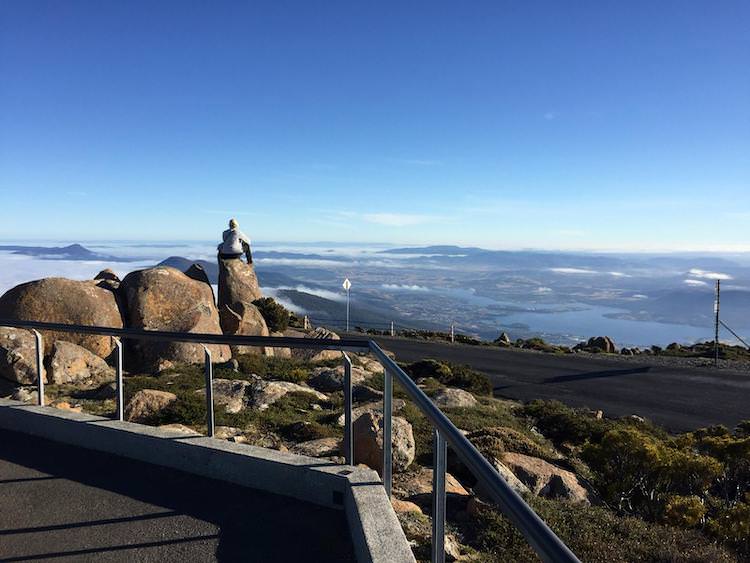 On this particular day we were extremely lucky with the conditions. In fact I've already told many people via Strava that the weather we had was the best I've ever experienced for a cycling ascent of the mountain. It was cool riding up but there was no wind. And, the summit, bathed in sunshine, was quite warm. I couldn't believe how still it was at the top and was in no hurry to leave.
I rode my bike down the ramp to the main outdoor viewpoint …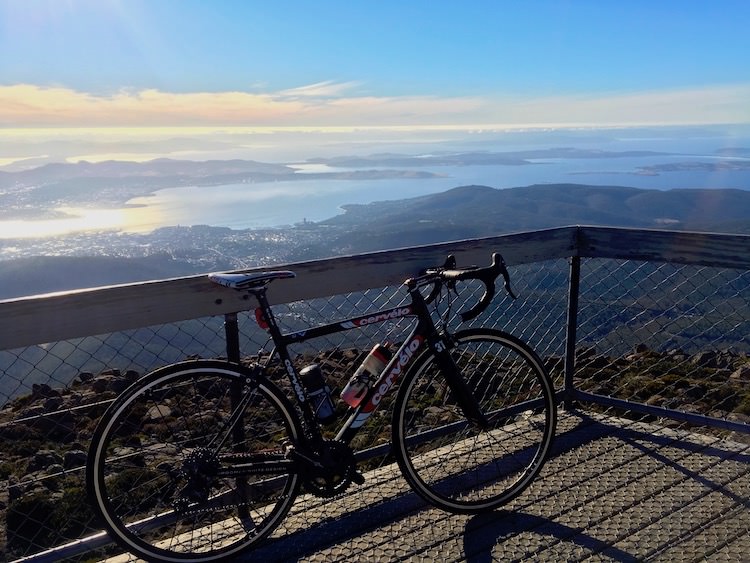 … and then clambered up with it to the actual pinnacle …
… where I then hoisted it so Di could record the moment from her vantage point …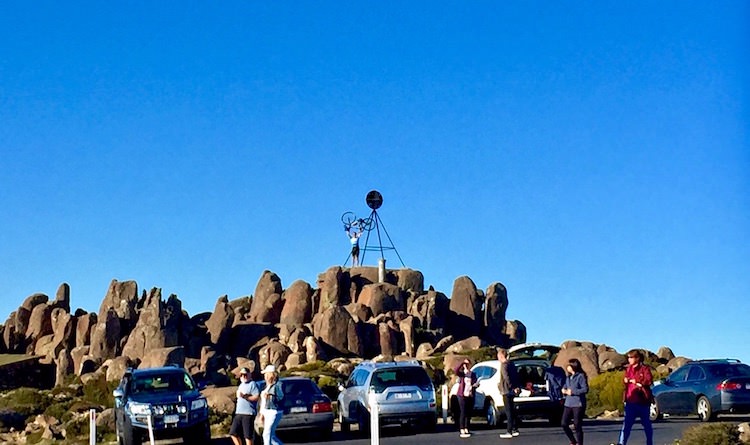 Cameron and Andy were desperate to get back to MacQ01 before breakfast finished at 10, but I was pleased that Kay and Sharon were happy to explore the summit area …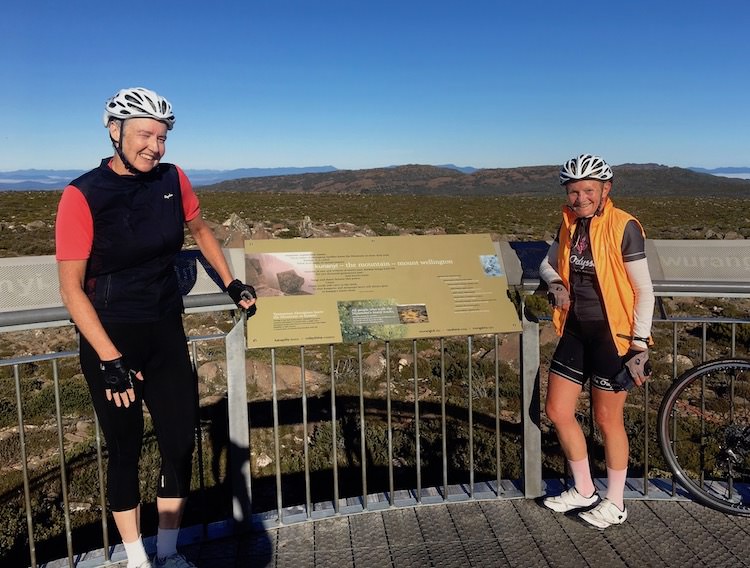 After we spent some time savouring the views it was time to go down! I'm a pretty pedestrian climbing but I love riding up hills so that I can ride back down them. The road down from the mountain is fairly narrow and a little bumpy so it pays to be relatively circumspect. But hey, I still like to have fun. Here's a video I shot a few months ago when riding from the pinnacle to the Springs …
Kay, Sharon and I regrouped a number of times while Di drove the car down. We managed to luck into a table at Bear With Me, a cafe in South Hobart where we gobbled up a delicious, well-earned breakfast …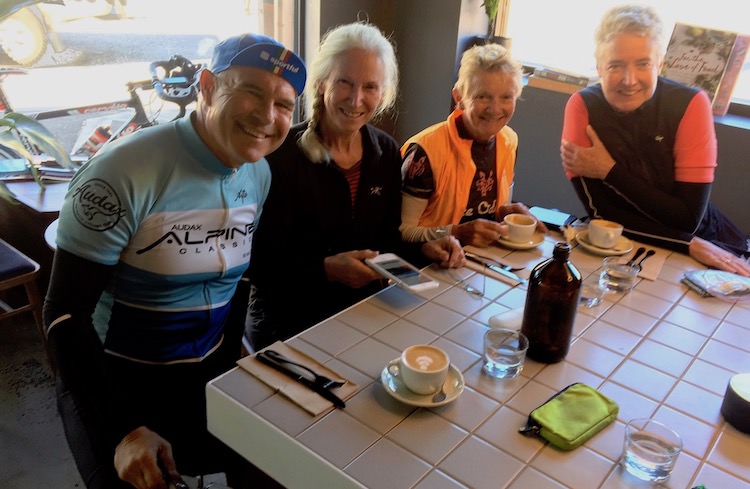 I accompanied Kay and Sharon back to the tour hotel for a sense of closure and then I put my bike on the car and Di drove me home. The best news of all after all of us riding around most of Tasmania is that no-one had a crash or sustained an injury. There were only a couple of flat tires that I was aware of, and no-one got sick. Pretty darn good, eh!
And that's pretty much it. I want to thank Sam for going with the proposal I put to him to set up a bike tour in Tasmania. I love this adopted home of mine and believe it has some the best cycling anywhere, and that it deserves to have a higher profile in the world of cycle tourism.
Mostly though I'd like to thank Di, who has been a sounding board right from the start, through the process of designing and then tweaking the route and hours of proofreading and critical assessment of material for Sam's website and the blog. Her support was personified the day from Louisville Point to Port Arthur, when she agreed to Sam's request to drive the van and trailer around the long section of gravel so that both he and Cameron could ride through Nugent to keep tabs on those of us who were riding. And then of course, she drove our car up the mountain yesterday providing encouragement and taking photos at the top. You're brilliant, Di Batten.
This blog will now go into recess until the Lionheart tour starts in June, when it will revert to its original name "Whatever Happened to the Lionhearted". Until then … great riding everyone!