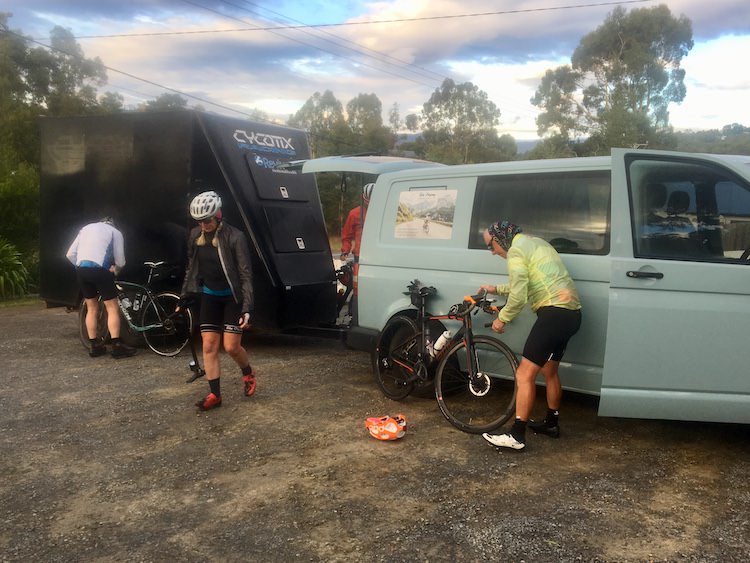 When I was in my early years of teaching I worked in a school in the Derwent Valley. Quite a few of the kids there used to have shacks down on Bruny Island and often when I asked what they'd be doing over the weekend, or during holiday breaks the answer would be simply "Goin' down Bruny". And why not! It's a delightful place, perhaps a little too polished and commercialised for some of the people who've been holidaying here for generations but still a great getaway. I was very keen to bring the inaugural UnderDownunder tour here because it is so special, and it's very much off the beaten track for most bike tours. Locals love it – in fact a bunch that Dianne and I often ride with were on the island with their bikes today. We glimpsed a couple of them (Bill and Julie) in the flesh and saw the rest on our Strava feeds. They must have been on the ferry that crossed with ours out in D'Entrecasteaux Channel. Anyway, I better get onto the ride itself otherwise this blog will never get finished.
Part 1: Kermandie to Kettering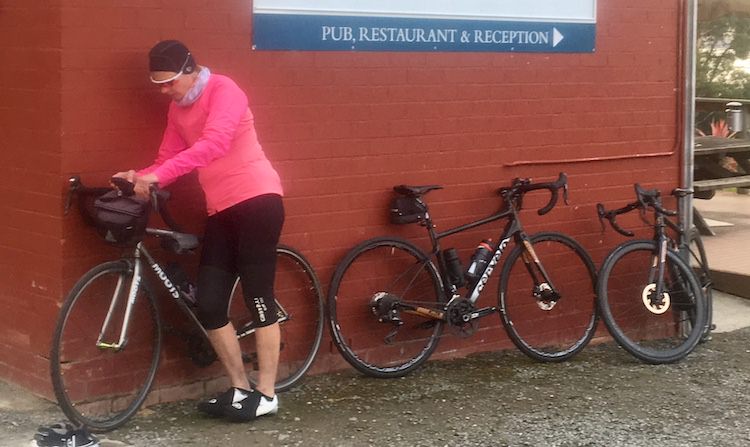 Another cool start this morning. After Kay's remark at last night's briefing about me never seeing anybody because I am always out the front, I was determined to ride at or near the back for at least part of the ride today. That was made easy by the fact that I missed Sam's amendment of our departure time, which was moved forward a half hour to 8:00. I was stunned when Di told me at about five to eight that that was the (new) plan. I was almost ready at the appointed hour but then Di extracted her valve core while attempting to inflate her front tire. That held us up another few minutes, by which time the last four other riders (Beth, Andy, Peter and Cameron) had departed. Di and I finally set off and caught up to the other four just as we were coming into Franklin …
We sat on for a short while but I thought it was too annoying for motorists going by to have a string of six cyclists moving at a fairly moderate pace taking up so much room so I went by. It turns out that Di felt the same way and she also forged on ahead on her own towards Huonville and beyond.
Eventually I caught up to Kay and Sharon and slotted in between them for few kilometres …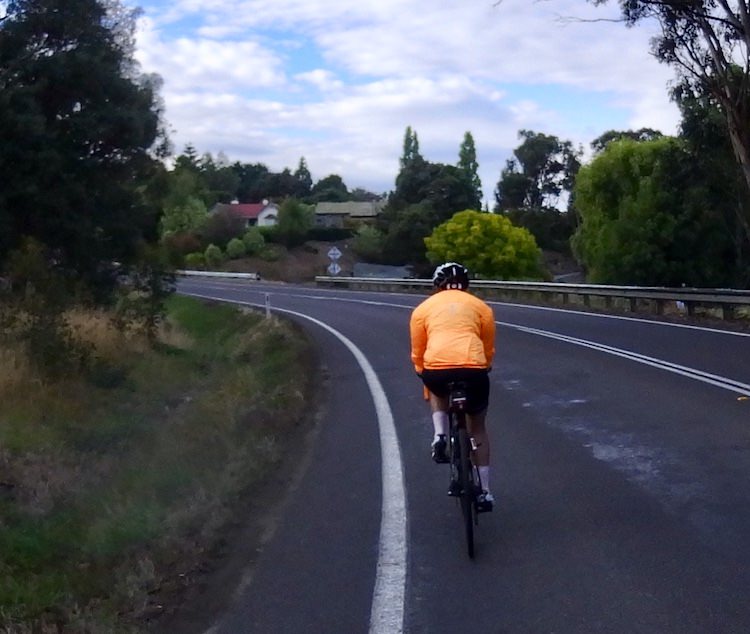 Before long the other four tacked on to the back of us and we rolled along together. There is a very good shoulder along this section of road so there was no problem.
Before we knew it we were in Cygnet for morning coffee. This arty, alternative little town has a plethora of cafes. My current favourite is the Cygnet Bakehouse. Here's what they had in their sweets cabinet this morning …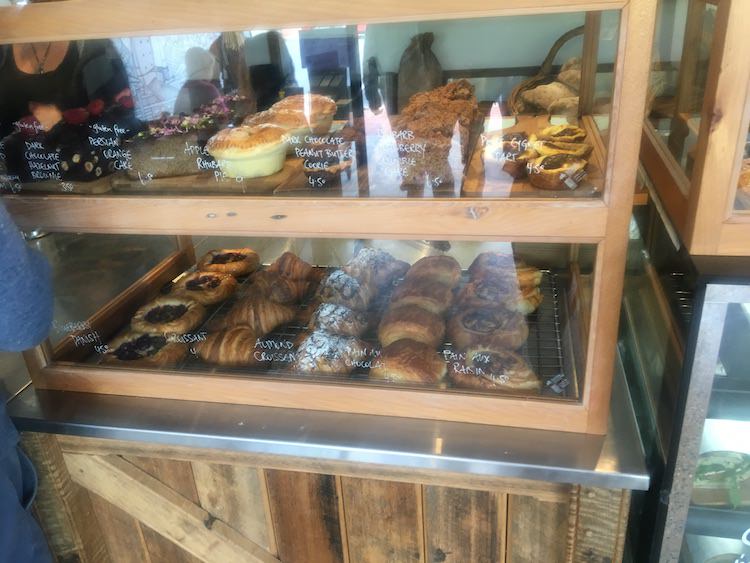 After a brief struggle I opted for a pain au raisin to have with my flat white …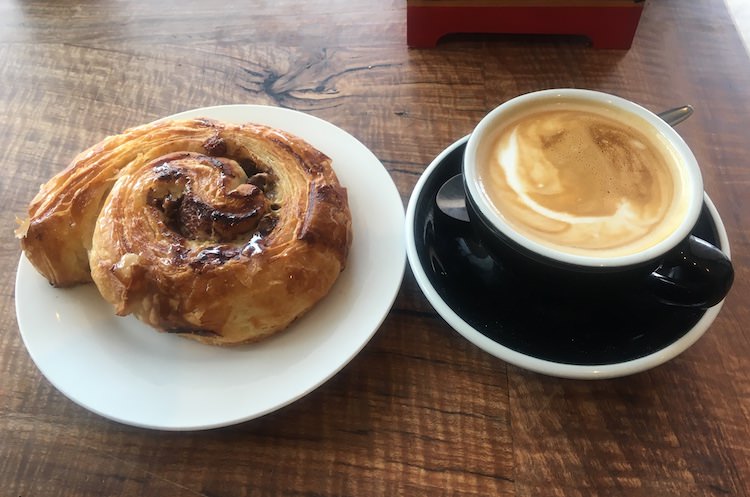 Di did the same, then Peter and Beth turned up and made their choices …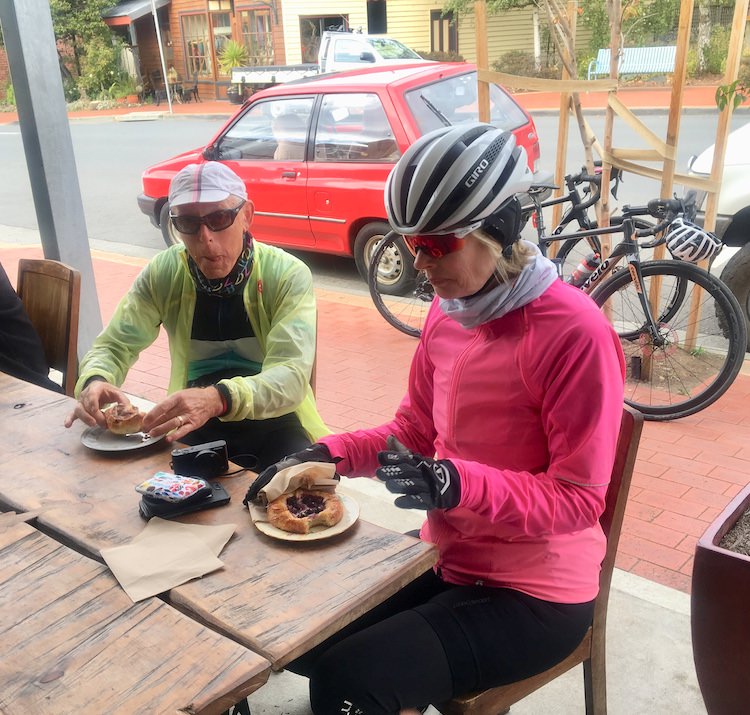 Refreshed, off we set again for the section between Cygnet and Kettering. This is great riding. It's not far once you've turned off the coast road …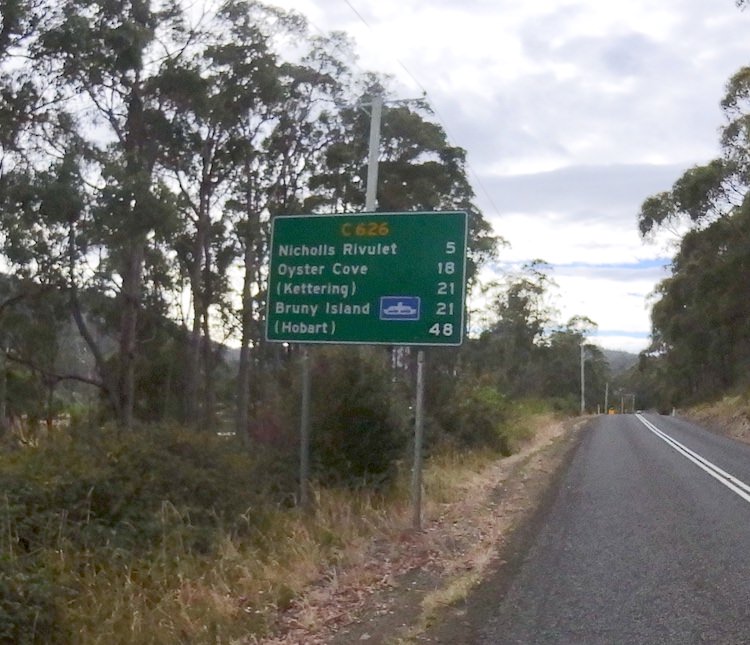 … but the terrain is terrific with orchards along the first few kilometres …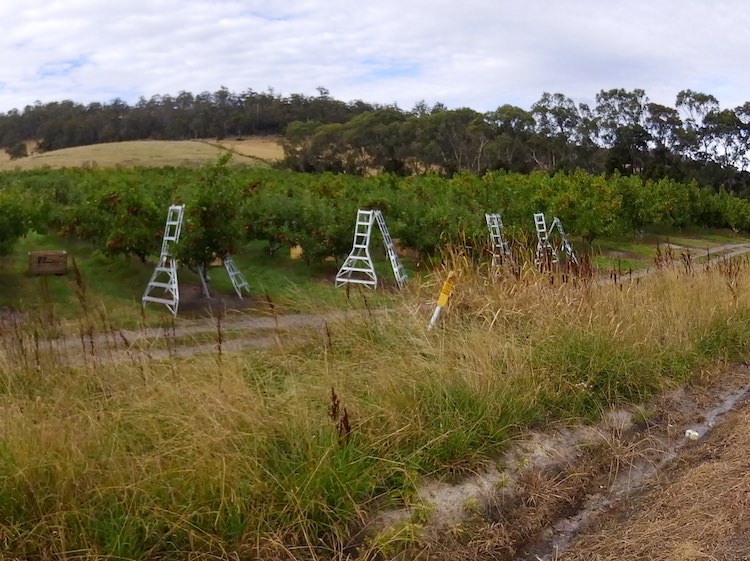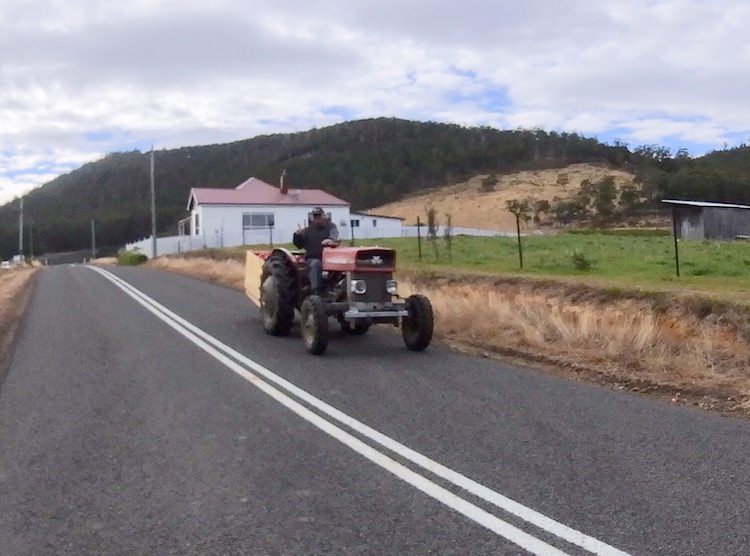 The road ahead rolls gradually up to about 100 metres before climbing steadily to 300 metres. At the top I often stop to get a bit of cosmic goodness …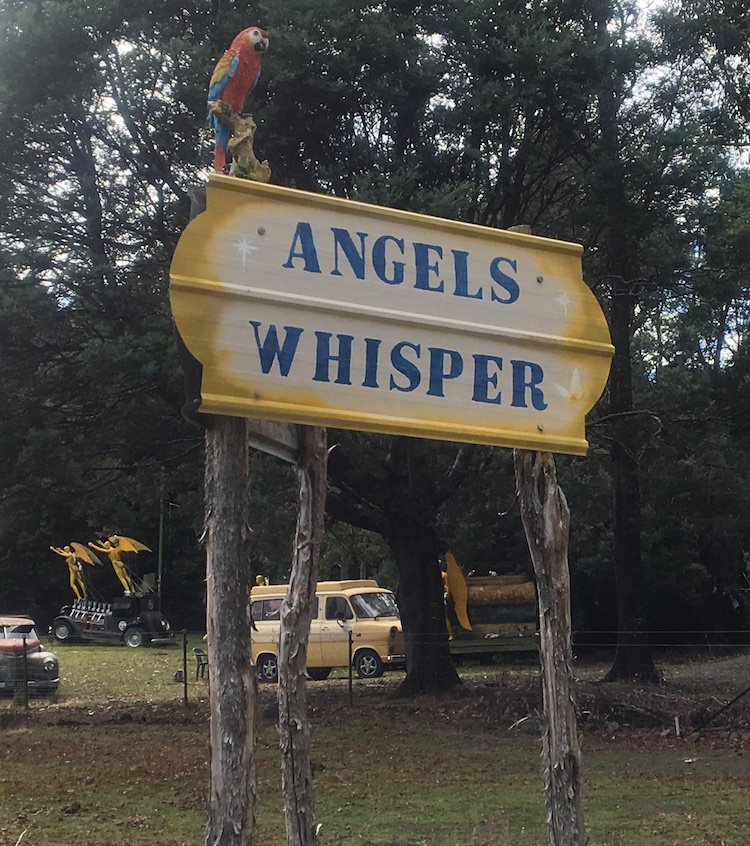 It's a speedy descent to the Channel Highway from the top of the hill, then a sharp little climb before another fun run down into Kettering and on to the Bruny Island ferry turn-off. Sam was there waiting with some great sandwiches and fruit to eat while we were waiting to board. Everyone was there in time for the 11:30 crossing, but it was actually late getting away giving us more time to eat our lunch.
Ethical Stravarians stopped their GPS units here and then loaded the second half of the day when we got over to the ferry terminal on Bruny. Here's a shot of us departing the Tasmanian mainland …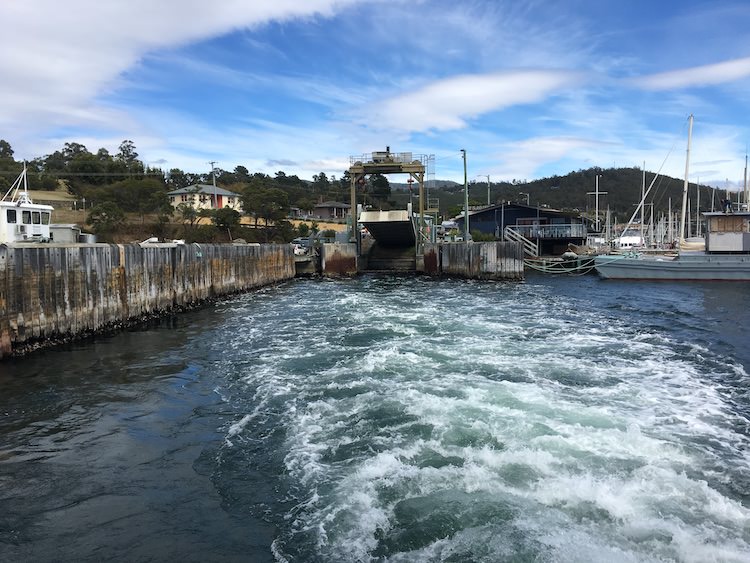 and one of our bikes stacked up on the ferry …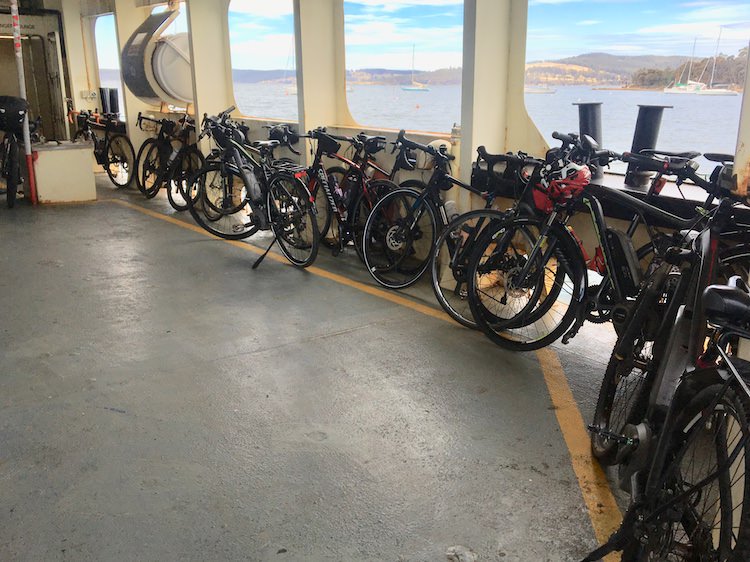 Part 2: Down to Adventure Bay
Leaving the ferry today was a bit different from what Dianne and I had been used to in the past. Consequently I inadvertently found myself where Sam had stopped the van at the top of the hill but separated from the rest of the group. This provided me with the perfect opportunity to snap photos of riders powering up past me …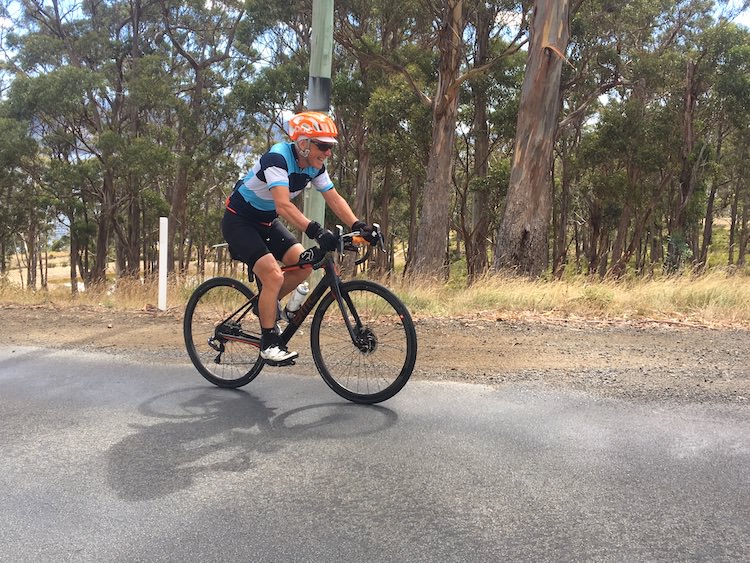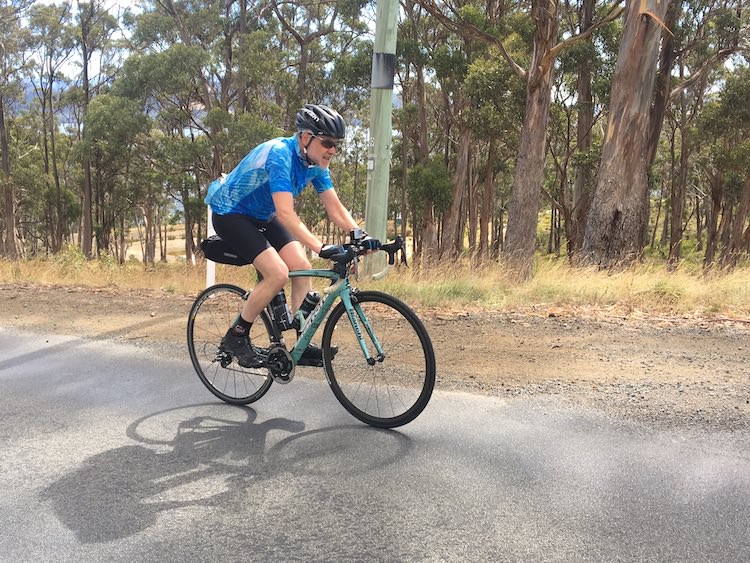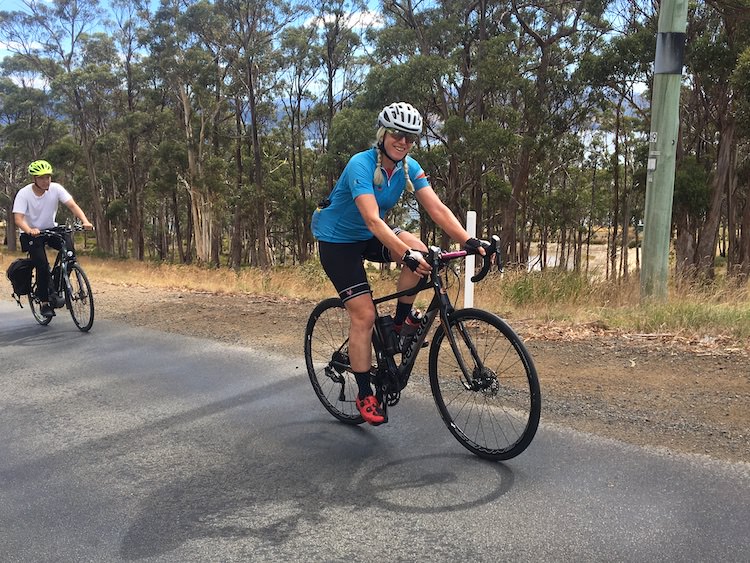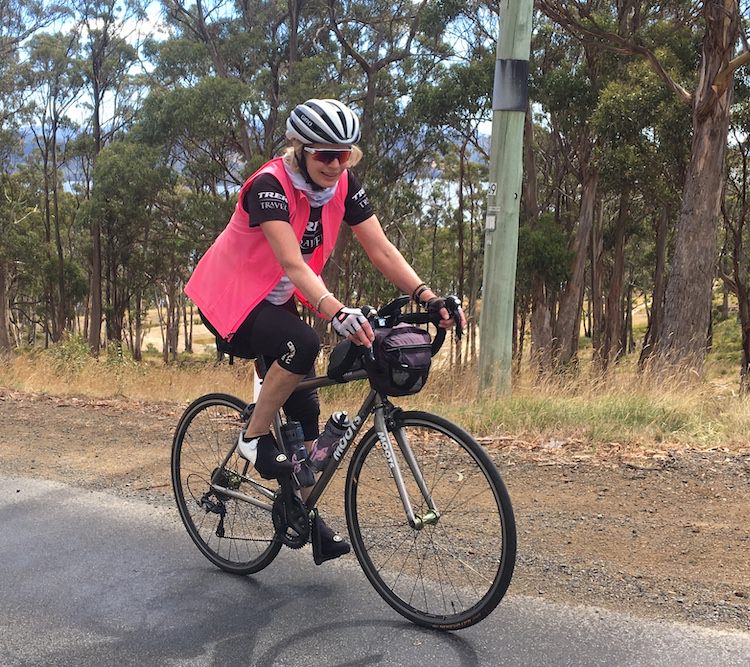 Being on Bruny means that there are lots of temptations and distractions. Even before Sam had pulled into the Bruny Island Cheese Factory …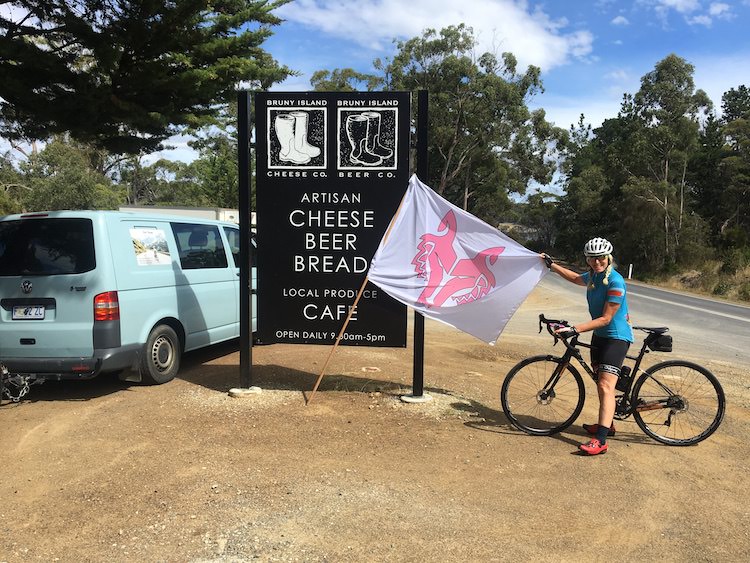 … Di and I had decided that would be our stop of choice too, eschewing the temptations of the the Get Shucked Oyster Shed. (With 20 kilometres still to ride, a belly full of oysters and a stout or two didn't seem like a good idea, even at the time.)
John came in too …
… as did Kay and Sharon, Kay having been unsuccessful in persuading Sharon – who does not eat oysters – from stopping at Get Shucked …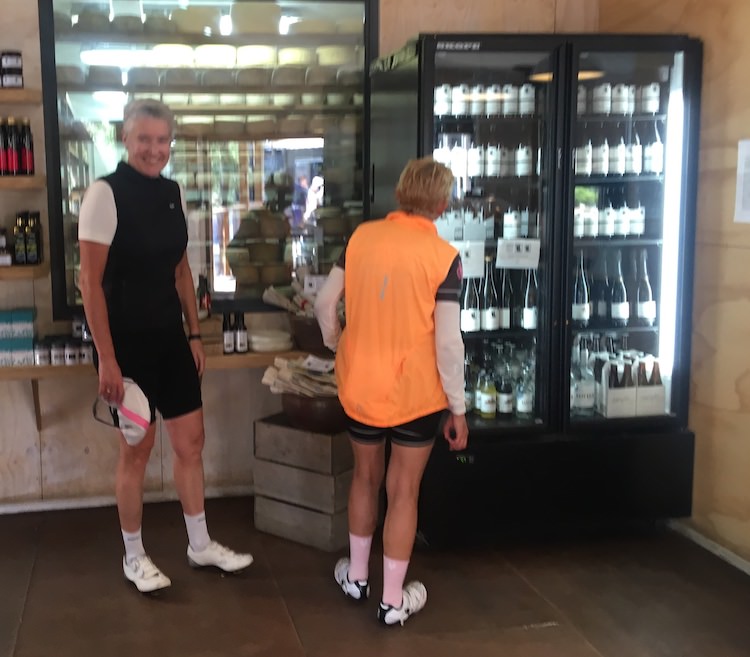 Peter, Cameron and Andy sat down for a break …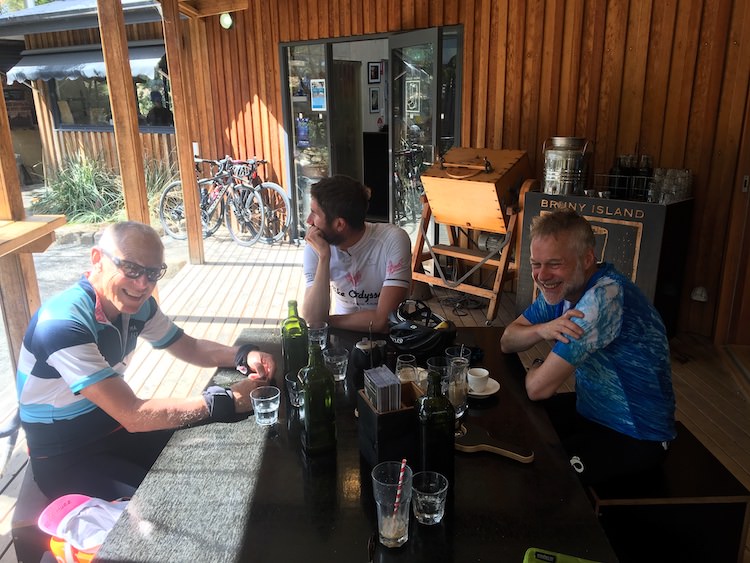 … but Mark isn't in the picture because he's choosing cheese to incorporate in tonight's dinner.
A few of our group stopped at The Neck where the works on the lookout and the new toilet block had been finished … but most of us just felt like making our way on to Adventure Bay.
There were two stops on the agenda just as one is entering Adventure Bay. Unfortunately the Berry Farm with its wonderful ice cream was closed! The other stop, just over the road is the historic Two Tree Point and Resolution Creek. Here's a couple of photos I took …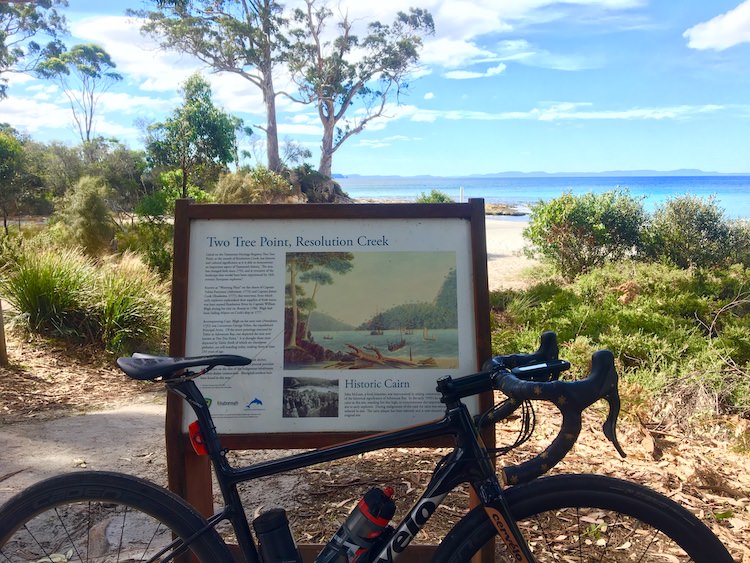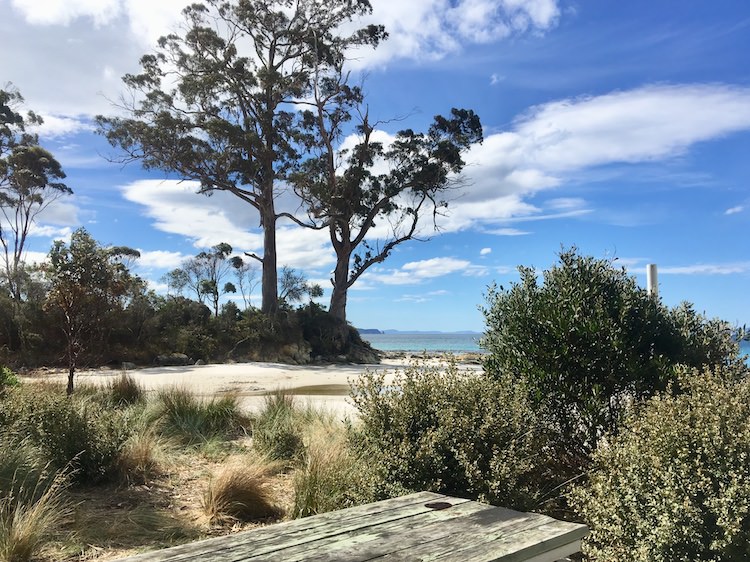 From there I did my customary thing of riding to the end of the bitumen, this time adding a detour into the new restaurant that Rob Pennicott has built to serve customers of his cruises. I wanted to share some of the art in the place …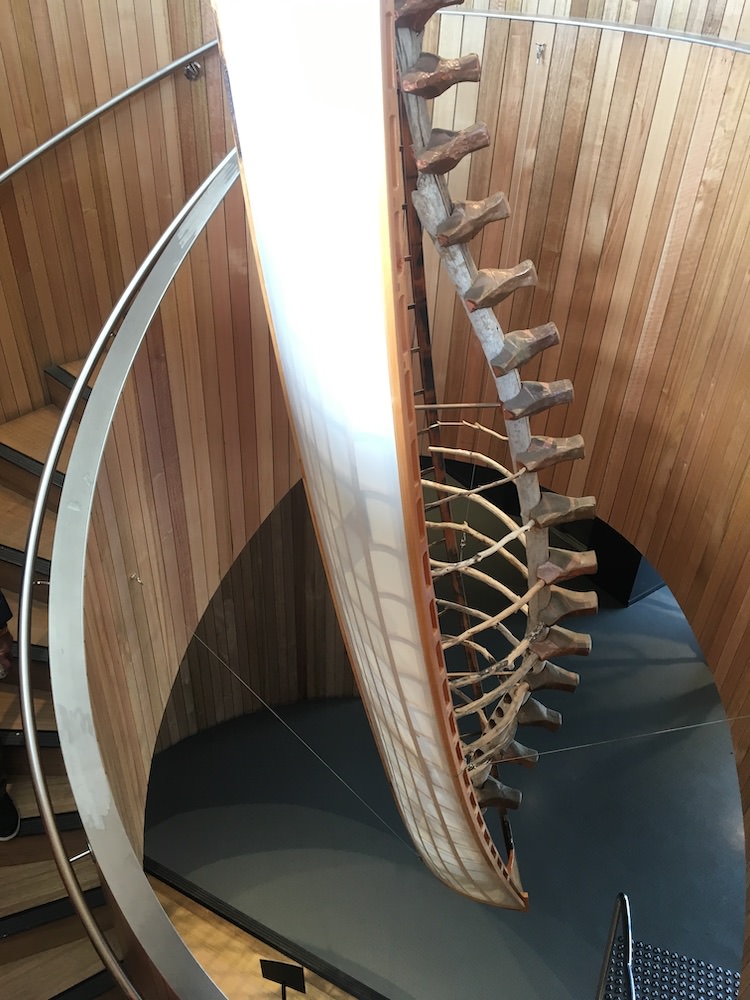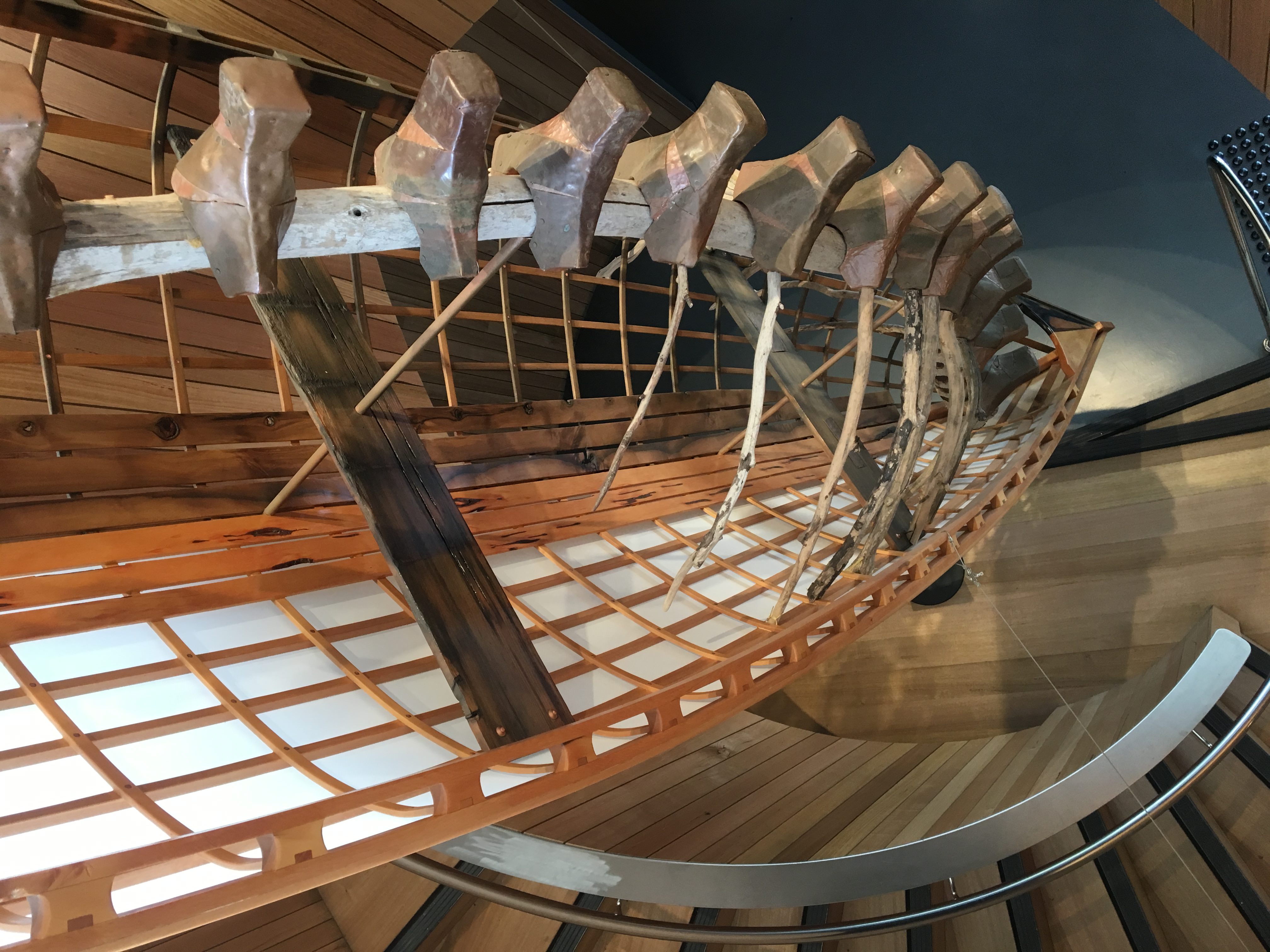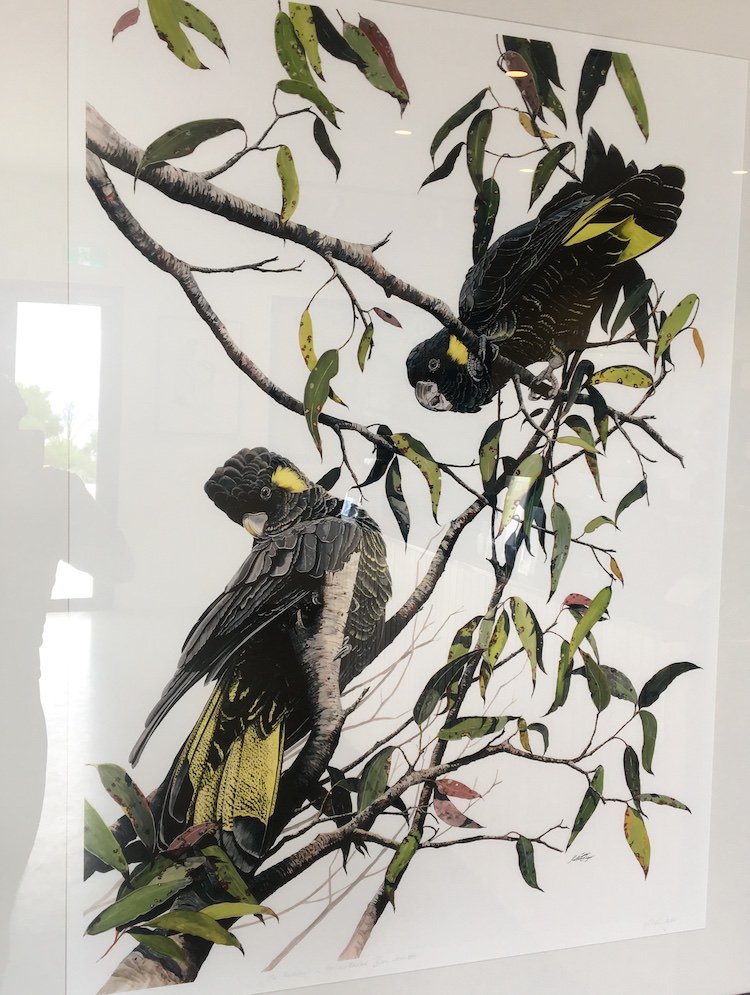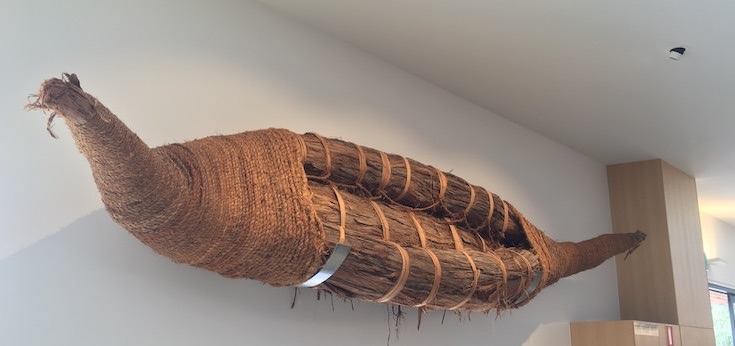 On the way back from Pennicott's place I stopped at a couple of properties to record their take on greeting the the world outside their fences …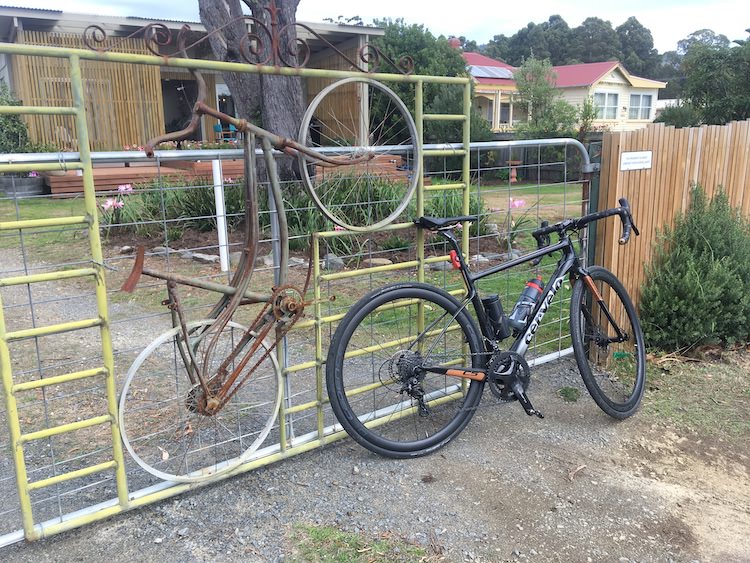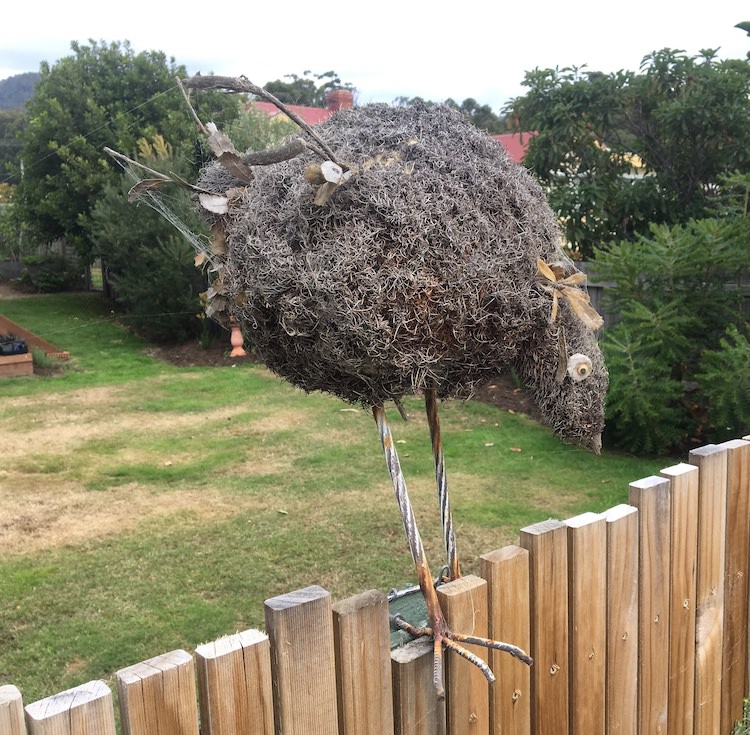 And then I went to the cafe for a beverage and a bite. Waiting there for me where these three characters …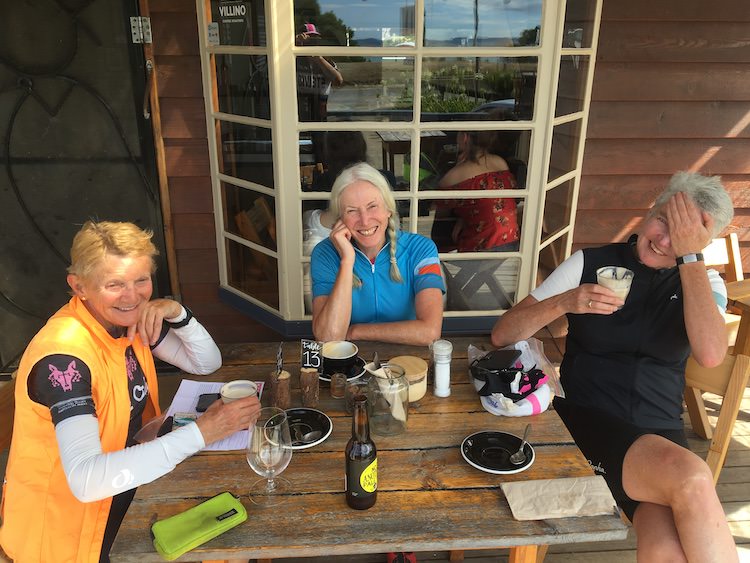 We've just returned to our accommodation after enjoying a wonderful meal masterminded by our guest chef Mark, aka "The Tall Happy Man" and his two able assistants Sam and Cameron.
Here's a photo from Kay of all of us in awe at the spread in front of us …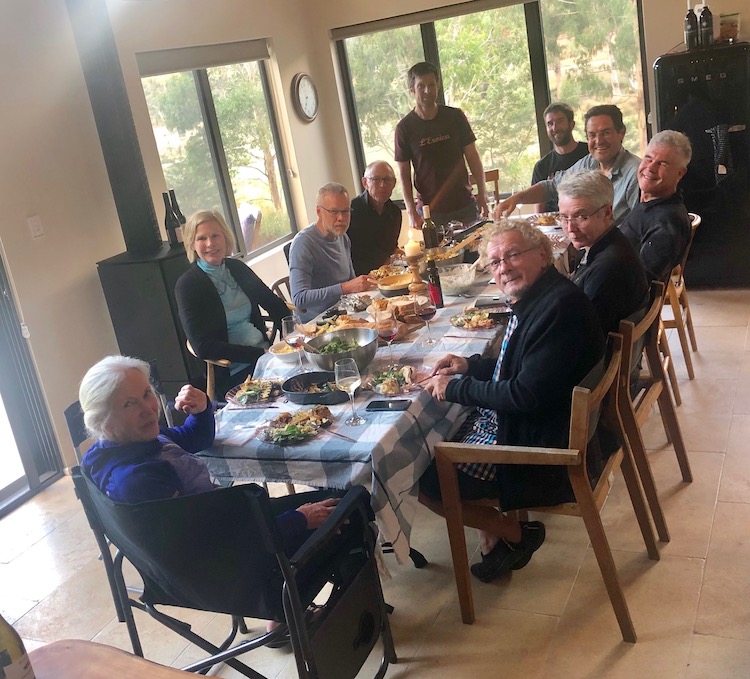 Well done team!
All in all, it's been another terrific day. We finish the inaugural UnderDownunder tour tomorrow, and if all goes according to plan we'll be enjoying a celebratory beverage in Salamanca Square mid afternoon.