Eguisheim to Villersexel
This will be a short blog post. Dianne and I rode together in stinking hot conditions and didn't stop much for photographs: our goal was to try to minimise the amount of time we'd have out in the hot conditions. More on that soon. First up here's a look at the map showing where we went, as well as the route profile and the statistics.


Stats at a glance ~
distance: 131.5 kms
total ascent: 1913 metres
It was a very pleasant start to the day and we managed to get over the high point and down to morning coffee before the temperatures got too hot. The biggest climb for the day provided a lot of shade which was much appreciated by everyone and, as it turned out a number of the climbs between 50 and 80 kilometres had some shade. Here are a couple of photos taken in the first 20 kms or so …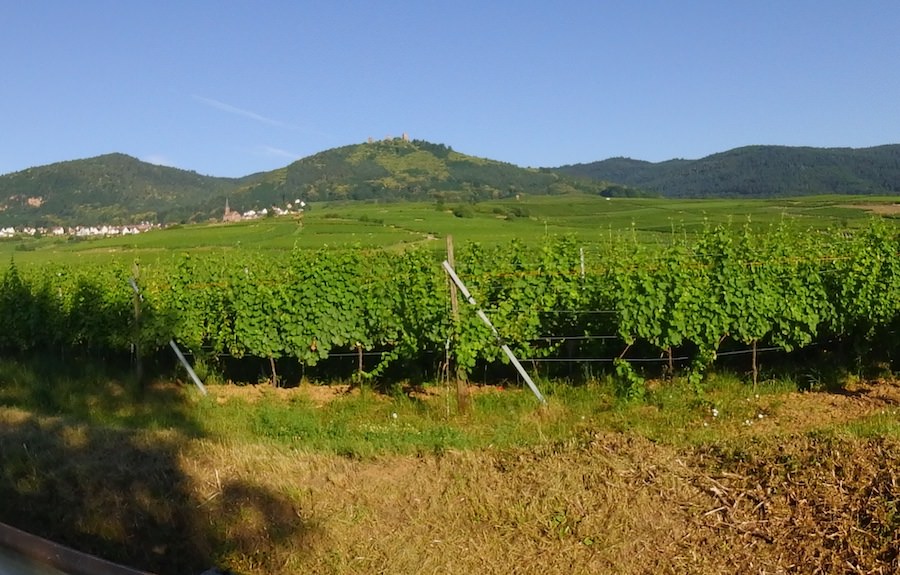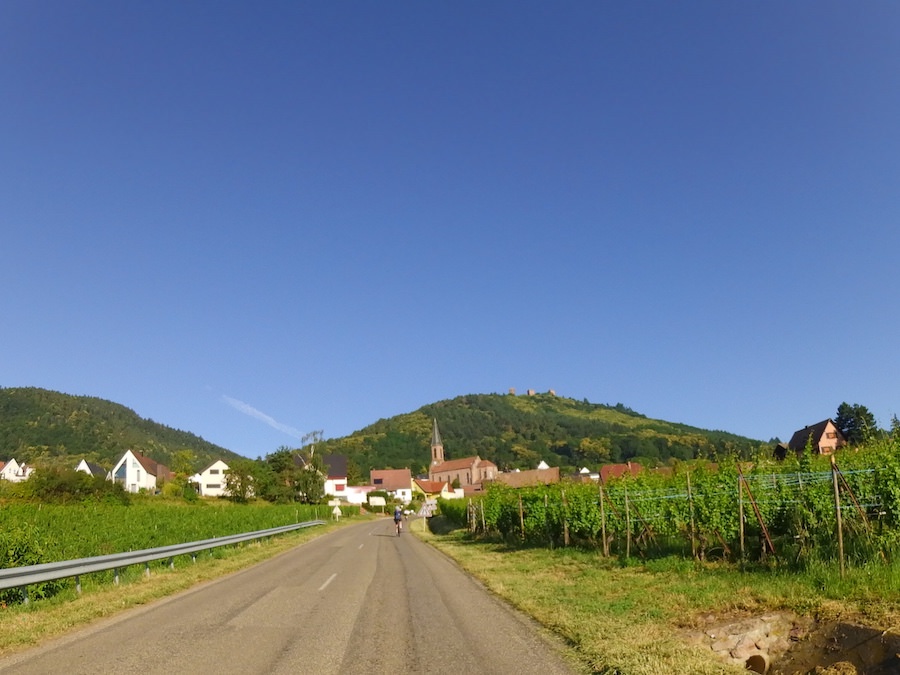 We sidled along and through some low hills early on, traversing through a number of small villages. Here we are approaching one of them …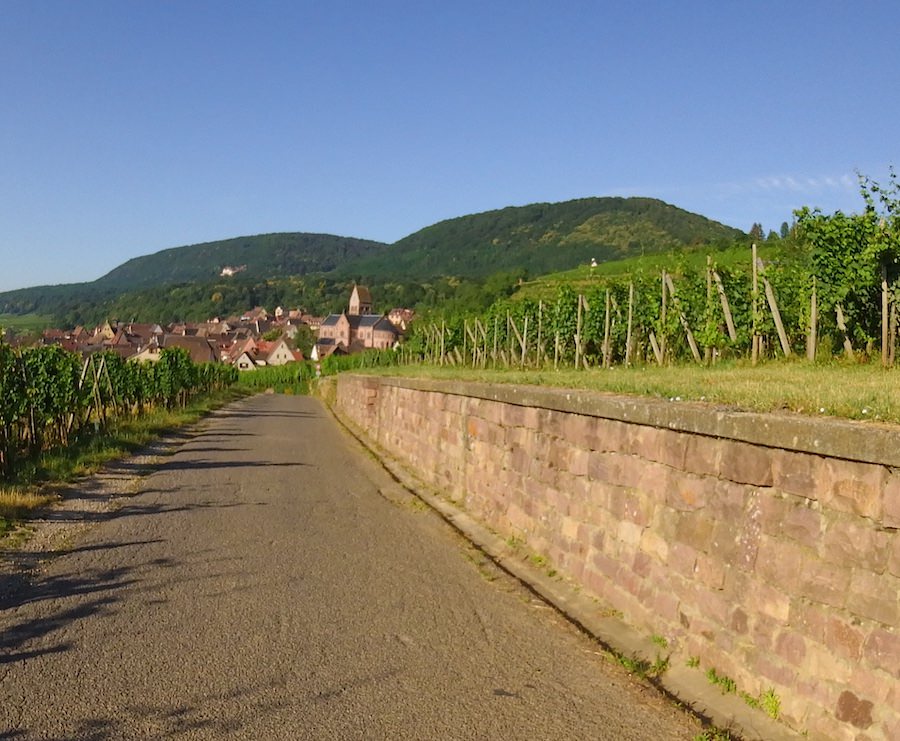 Past that village Dianne and I caught up with Louise and Michael …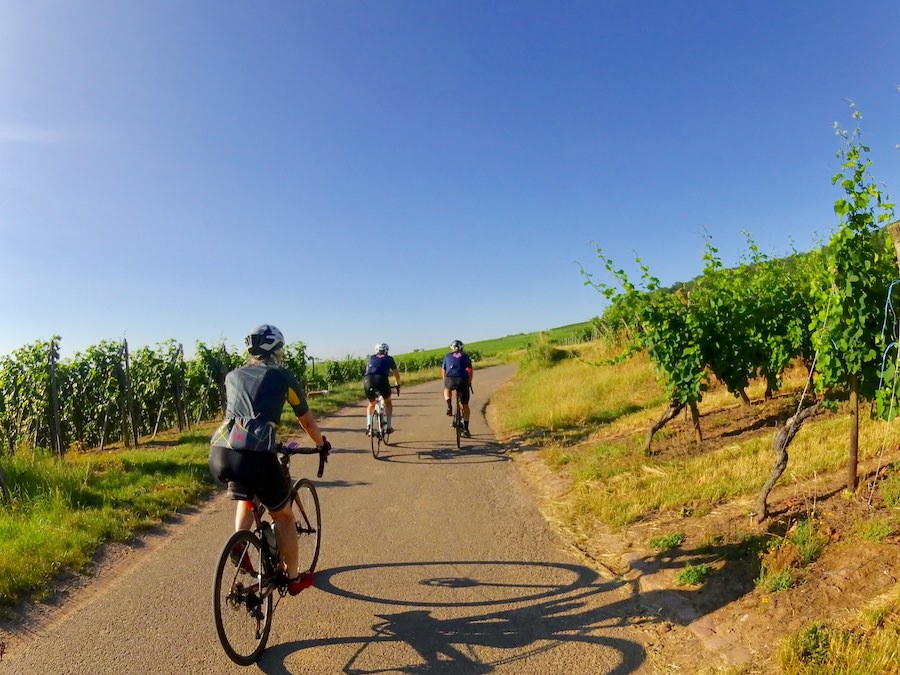 In order to save energy we were riding downhill relatively quickly and trying to maintain our momentum on the flats and up gentle gradients without expending too much effort. Alway foremost in our minds was the forecast for a hot day.
That forecast proved spot on. While I don't have much faith in the accuracy of a GPS device mounted on the front of a bike in terms of measuring temperatures it is salutary to note that my Garmin said the average temperature for my ride was 30 degrees C, but that the maximum was a whopping 42 degrees. In a number of places the tarmac on the road was melting. At one particular spot the road surface got quite tacky under our tyres.
Now I am sure that there will have been no weather station along our route that would have recorded that maximum, but I reckon it did get into the high thirties. We were very thankful for that early shade on many of the hills: no doubt they helped a lot in stopping us getting too hot.
One fun kind of thing about being back in France is that I can resume my "roadside icon of the day" feature. Today's icon is not that great but it is what it is. I did see some superior specimens later on but by that time I was just thinking about turning my pedals over with the least amount of effort as possible and maintaining forward progress. In any case here's today's offering …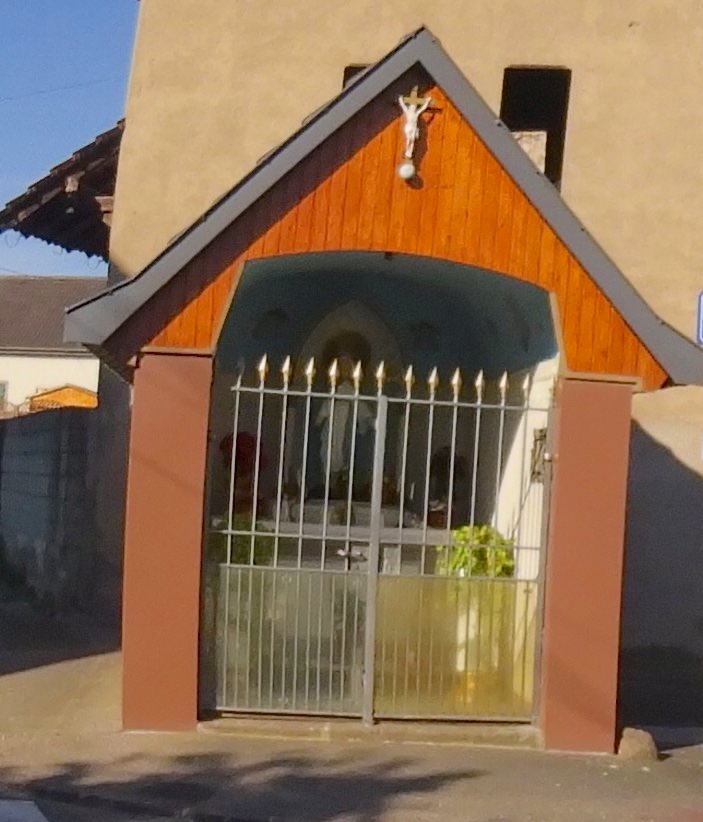 In the latter part of the ride there was not many open vistas to photograph, but I did like the look of this tower in one of the settlements we passed through …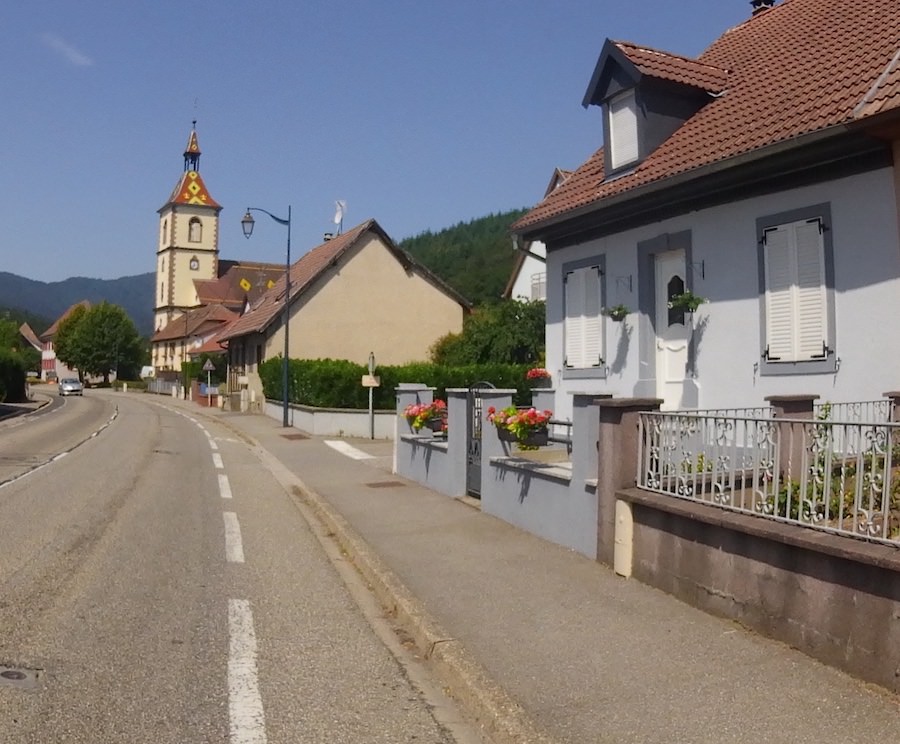 And a bridge we crossed not long before lunch offered a reasonable opportunity for the Cervélo to show off her lines …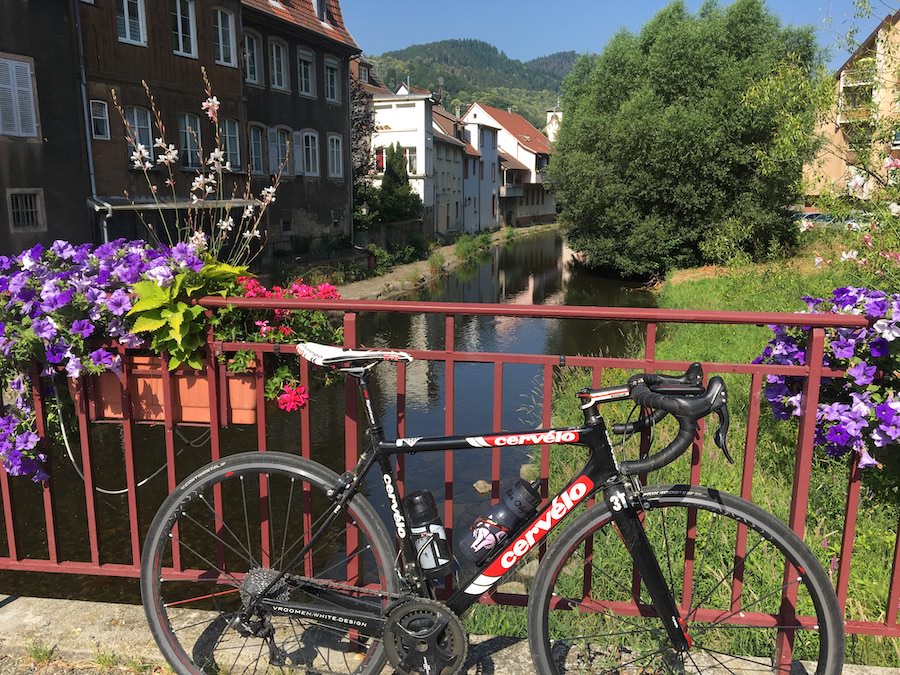 While waiting for Dianne in the shade at the top of one hill I thought this road sign was kind of interesting …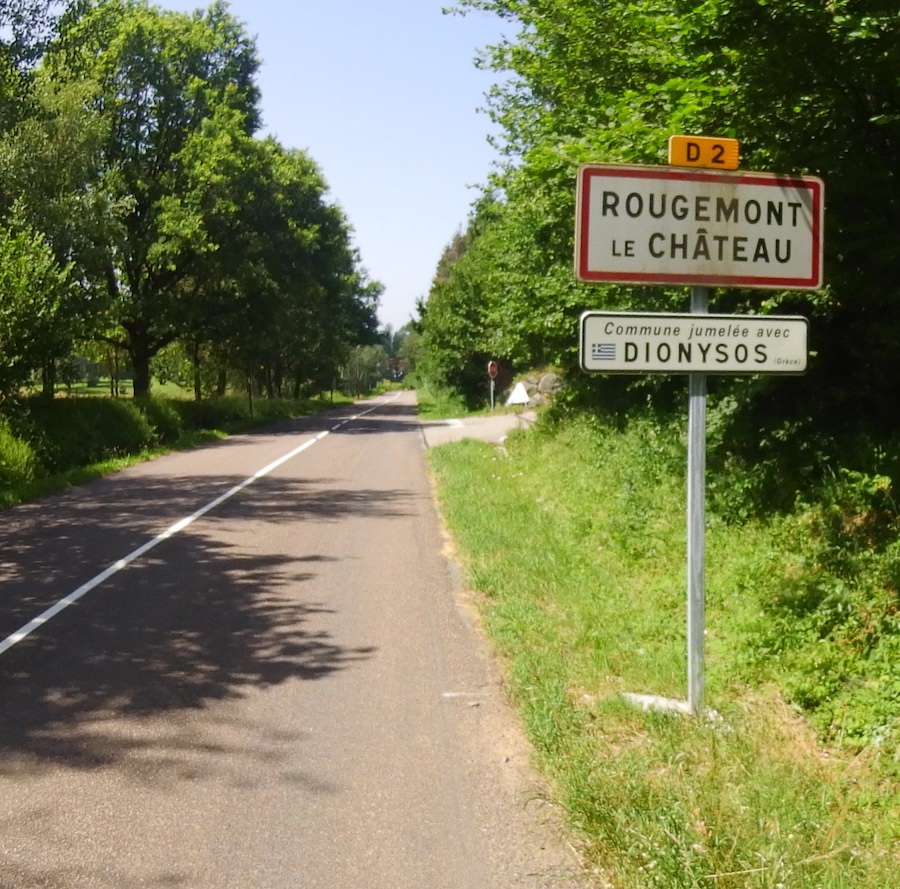 After the great spread that Bruno presented for lunch at the 90 kilometre mark it was pure survival cycling for Dianne and me. with 20 kilometres to go, at the entrance to quite a small village we found this fantastic cold fountain to climb into and cool our legs …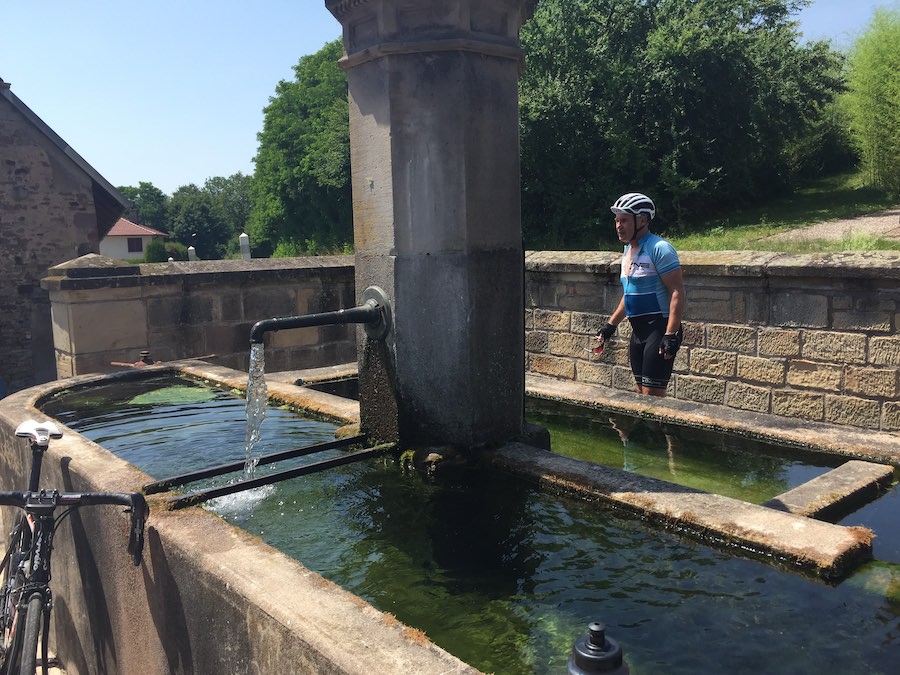 We also filled our cycling caps with water and poured the contents over our heads before putting them back on. Brilliant! The water coming out of the pipe was quite cold so I drank half a bottle then refilled it, put it on the bike and climbed back on feeling so much better. And with just on 10 kilometres to go Bruno came past, pulled in and gave us both another cold drink from the cooler, which was a great refresher.
We arrived here at Villersexel, a town famous for quite quite a bloody battle between French and Prussian troops in 1871. We are staying in the Chateau Villersexel tonight. The place is immense, but rather run down. It must be very costly to stop a place like this from falling down, let alone make sure all the furnishings are up to scratch. Nonetheless it is a pretty interesting place. (Most of the others in our group are off on a tour just at the moment, but I really wanted to get this blog done before dinner tonight.) Here are a couple of photos from the outside …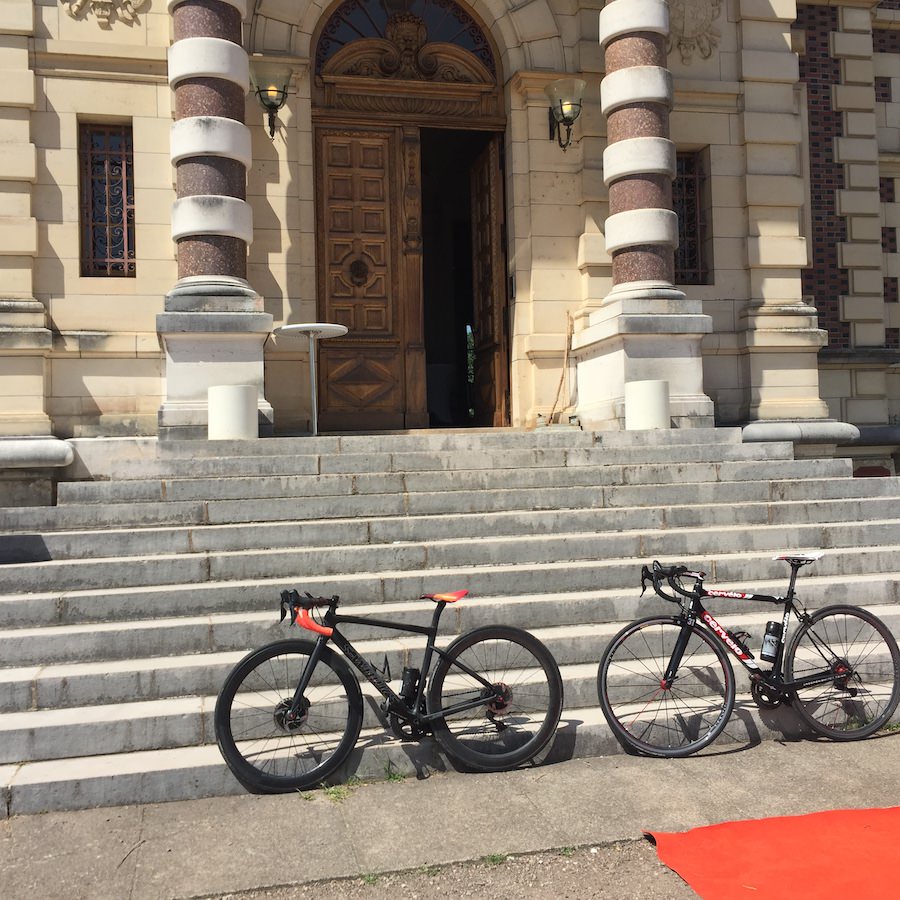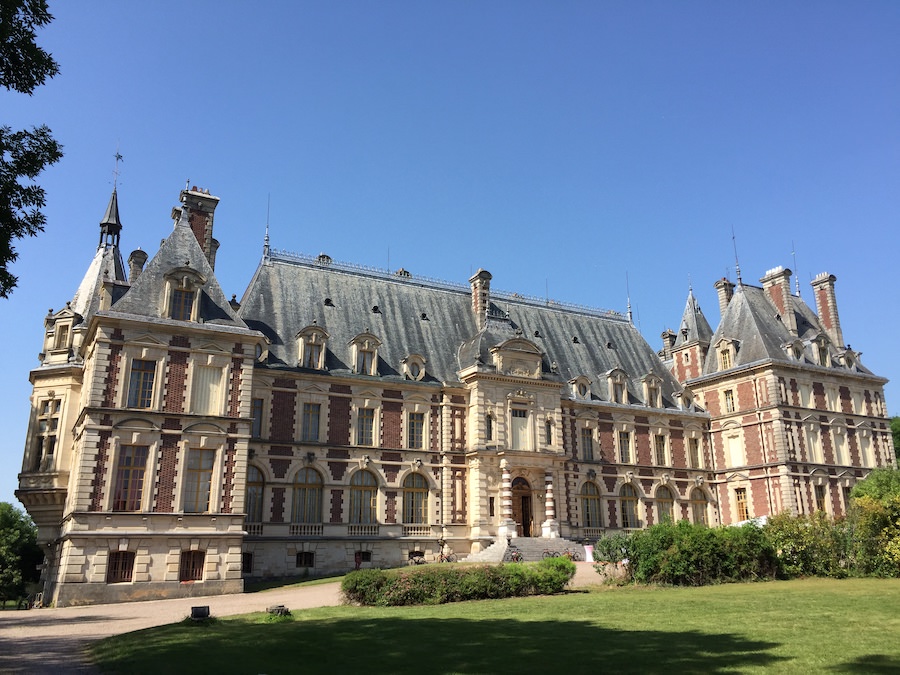 Tomorrow's ride is longer than what we covered today, but the forecast is for cooler conditions and much less elevation, so although it will be a long day in the saddle, hopefully we'll arrive in better condition. And that it's for now.