If you're Australian you will most likely recognise the title straight away. If you're not and that phrase doesn't strike a chord there's much significance in it. More about that later. In the meantime, to our first day of the Lionheart tour.
As ever with these epic tours, we started with a gentle beginning. A short ride down the Lido de Venizia and back again. very pleasant. I made a little video to show just how sedate and pleasant it was …
Not bad for a Saturday afternoon just a stone's throw away from the zoo that Venice is in the heart of the tourist season, eh!
For people wanting to holiday in this part of the world and perhaps visit Venice, the Lido is a very quiet place: basically a sandbar island that forms part of the outside edge of the lagoon. Here's an image to illustrate …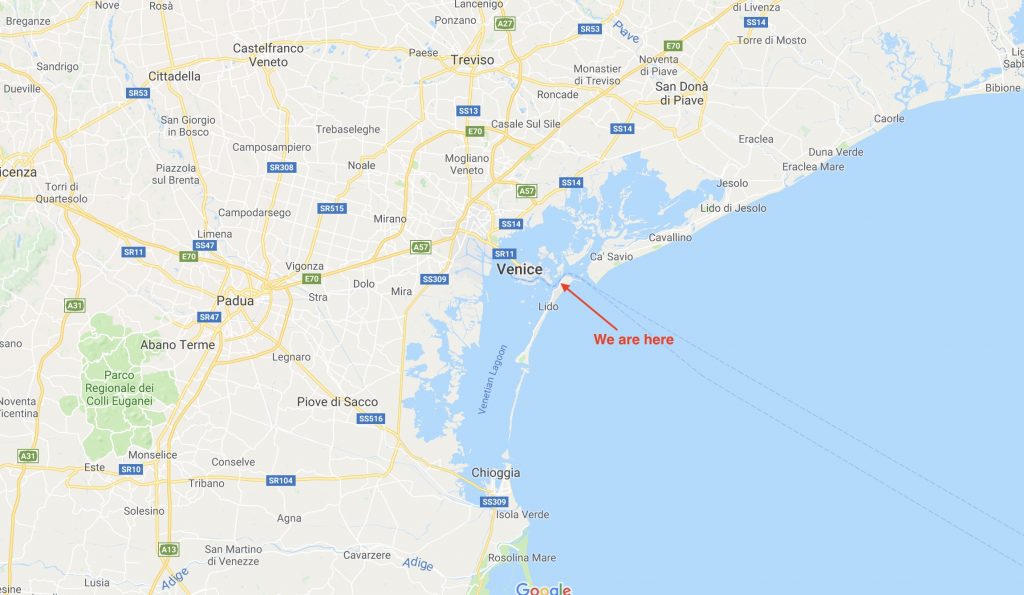 It is a short vaporetto ride across to the Eternal City, allowing those who wish to partake in the pleasures of the Venice without being totally immersed in the bustle 24/7. (There is in in fact a gorgeous, smaller canal city by the name of Chioggia at the southern end of the lagoon that is very pleasurable to visit. Highly recommended as a place to wander around for a couple of hours and have lunch on the piazza.)
Of course with everyone having travelled from various parts of the globe, before we set off there are invariably some tweaks needed to a bike or two. Here's a photo of Max (henceforth to be known by various monikers but most often as "Maxibon") making sure things are ticky boo …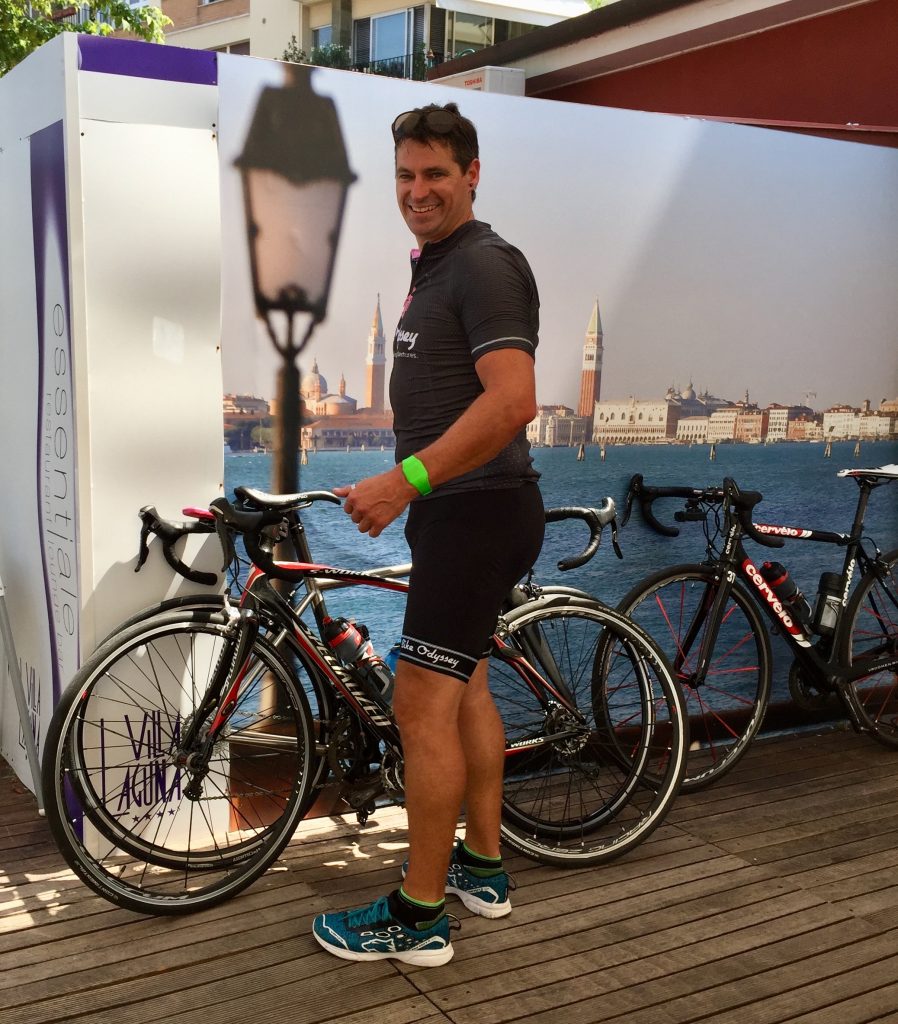 New riders are always full of questions. Here's Michael and Louise from Canberra/Sydney checking a detail or two (I really only took this picture because I lust after their bikes: Colnagos, both of them!) …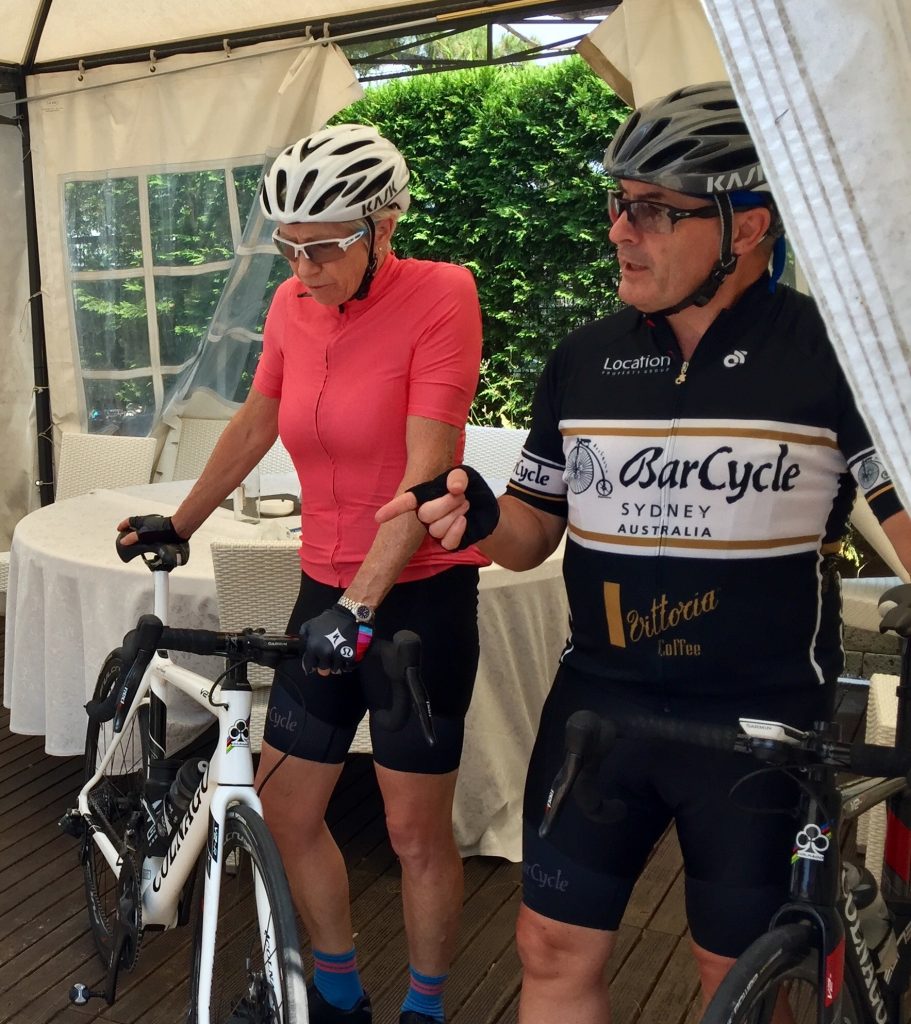 Michelle from Connecticut was just ready to go and waited patiently for all the questions to be finished so she could just get on her bike …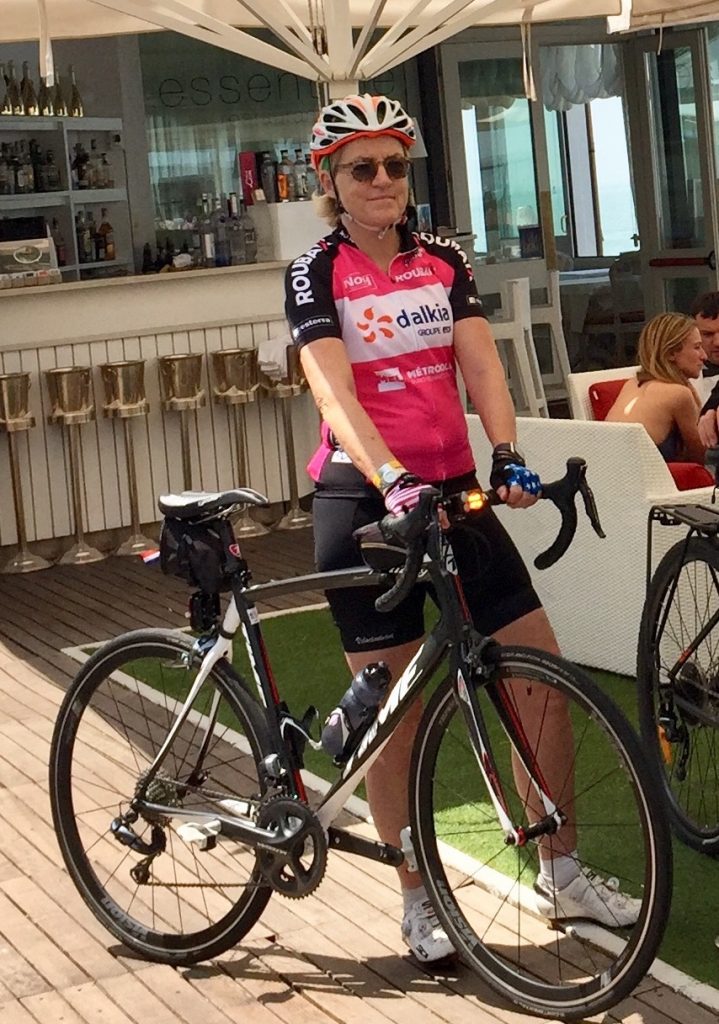 We are all Australians or Americans on this, the inaugural Lioneheart. That's except for the lovely Eva, who is our charming Russian/Italian guide. Here she is at lunch explaining to Sam that it's all about the accent when you're in Italy …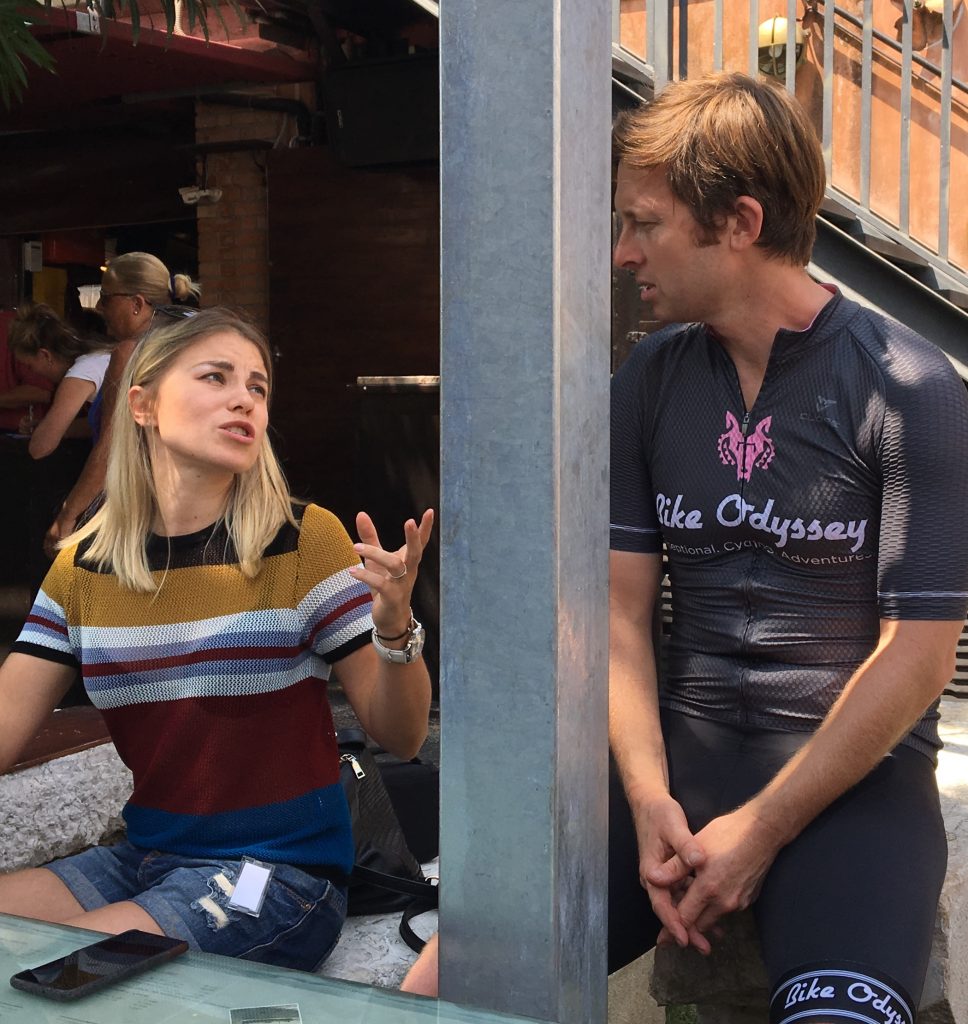 Does Sam get it? I'm not sure …
As you could see from the video above, it was a very sedate journey, really about having a short jaunt together, making sure everything is working properly and getting to know one another a little bit.
Lunch was lovely. As ever, Max was one of the main sources of enlightenment and entertainment …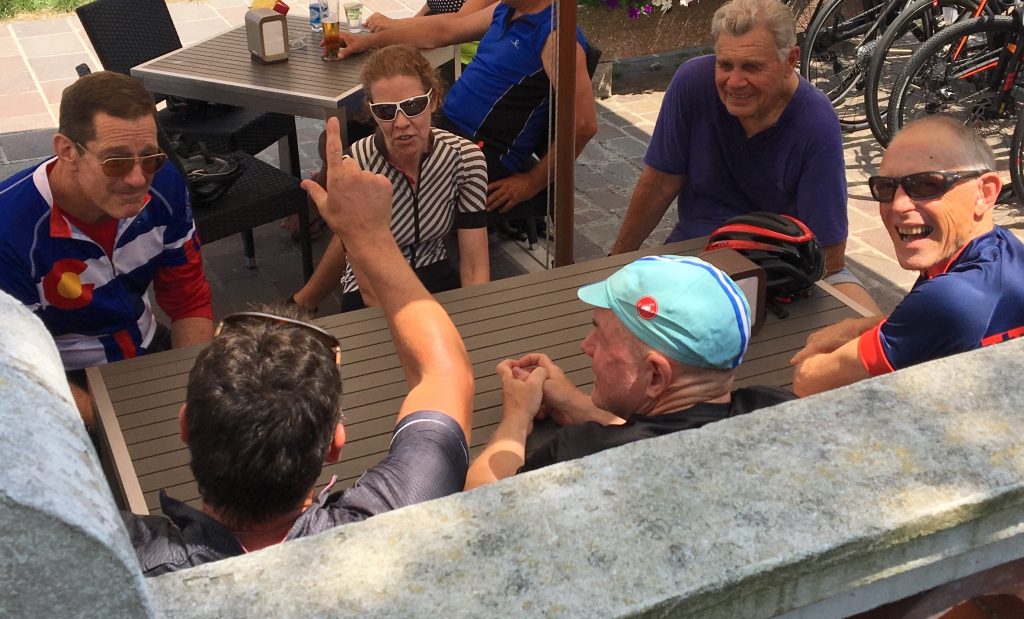 After our nice easy ride, settling into our rooms, sorting gear and strolling out for an apertivo we had a wonderful dinner at our hotel. My coup of the evening was getting this photo: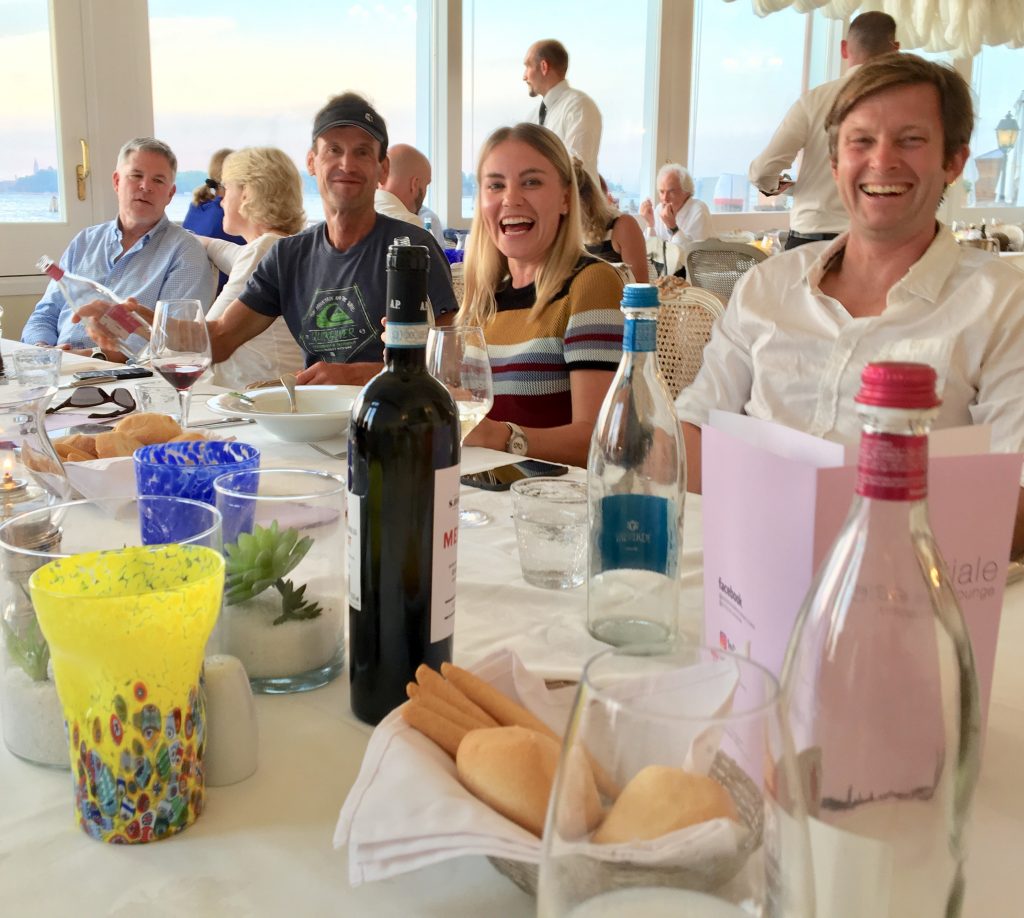 The reason why Sam and Eva are laughing is that I have obtained clear evidence that we got Wayne – he's the one slightly left of centre – to join us for dinner. Wayne is a purist: he's here for the great cycling that these epic tours offer, not  the luxurious aspects like apertivos and gourmet meals. We'll see him in the mornings but not much during the day as he'll be off the front flawlessly turning pedal stroke after pedal stroke as he watches the scenery pass smoothly by. I wish I could ride like him but I don't have the dedication.
That's about it for today, except to take you back to the title. We have a national treasure in Australia by the name of Paul Kelly. Some time ago he wrote a wonderful song about the first significant steps made in the achievement of land rights for Aborigines. Here's that song covered by Archie Roach and others on RockWiz…
(And apologies for the amateurish way I've inserted these two videos. I've forgotten how to do the embed thing so they fit better. I'll try to get it right next time.)