After a wonderful evening at Castel Brando, today we entered the Dolomite Mountains.
A commanding view from the parapets…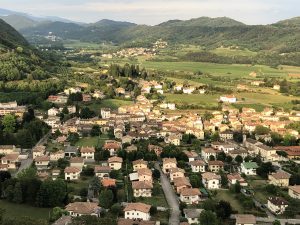 preparing for the day in the courtyard…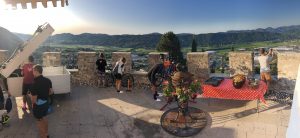 Breakfast…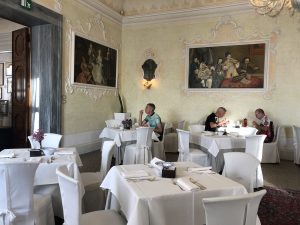 The grand entrance…or in this case exit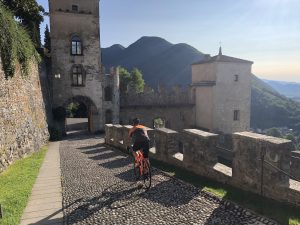 Scotty leaving with Castel Brando in the background…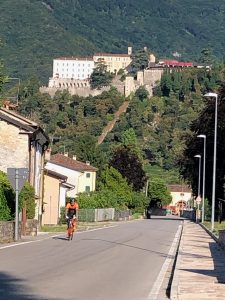 But within the first 10 km we encountered San Boldo a brutally magnificent climb – it appears impassable until the worm holes appear at the cliff base. It is one of southern Italy´s most iconic ascents, taking us through a series of tunnels and stoplights and is a must on any cyclist's bucket list.
The Lionheart fieldnotes say During the First World War this road was built to replace a path leading up to the col. Historically it is fascinating and rather horrible: as between February and June 1918, the Austro-Hungarian army forced 7000 prisoners of war – mostly women, children and the elderly – in the area to work day and night to build this strategic access road for refueling during the Battle of Piave (which they actually lost badly to the Italians). They built it so quickly it became known as the "100 days road". Despite the topographical conditions and luckily for cyclists the slope could not exceed 12% for the passage of heavy vehicles and artillery!
The road is beautiful. It includes 18 numbered switchbacks, 6 of which are tunnels! The road is one way at a time too, controlled by lights.
Its a pretty, but tough climb…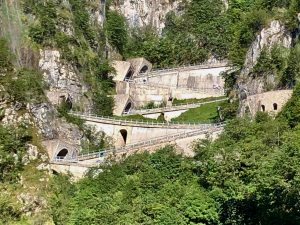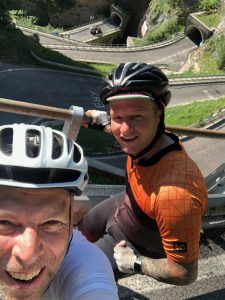 A thrilling descent takes us into the Belluno Valley before starting our journey into the Parco Nazionale Dolomiti Bellunesi. We ride under the shadow of Monte Civetta and towards the infamous Col di Lana – both fundamental theatres in the war with Austria in WWI.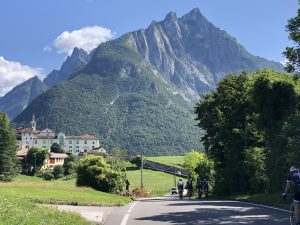 Welcome to the Dolomites!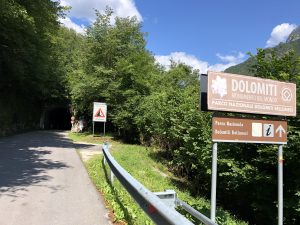 Sarah and I left morning tea early because everyone is going to roll past us anyway…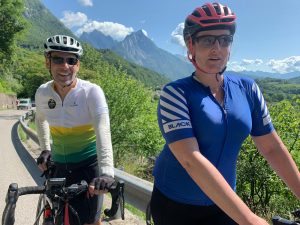 Max going through one of the many tunnels…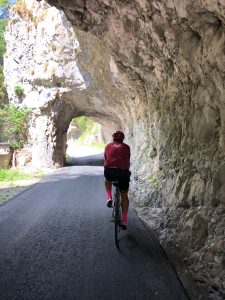 Awesome spot for a rest stop…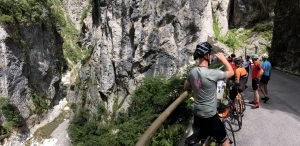 We stop in Agordo for a lunch in the main square before tackling the last few kilometres up the emerald-lakes pass.
Agordo…

View from the main Square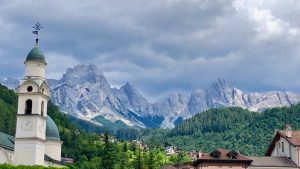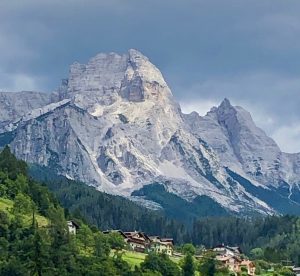 We climb between the gigantic rock statues, following the stream to its source with a tough finishing ascent to Cesa Padon (our hotel for two nights). Here the family atmosphere is relaxed, the food delicious and the liquid sustenance extremely well deserved after such a thrilling and challenging day on the bikes!
A good wheat beer , yum yum…