By far, today the hardest working people in our group were Manuel and the guides. Their mission: tuneup and clean 22 bikes.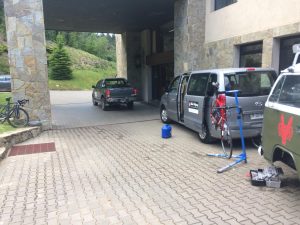 Man-City, aka Manuel's Hideaway, #lovemywrench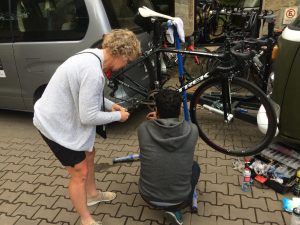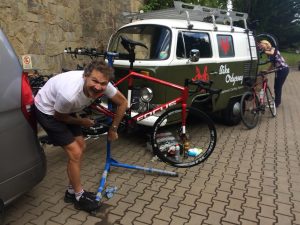 The rest of us slept in, had a sumptuous breakfast, used the super fast internet, then headed for town (the resort is 15km from town so one of the guides shuttled us there). I had another excruciating but much welcomed massage fro our masseuse Shaun. Kudos to Shaun and Sam for shuttling us in and out of town.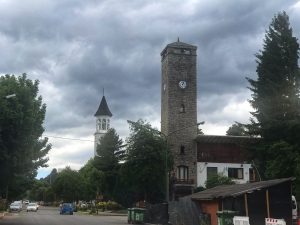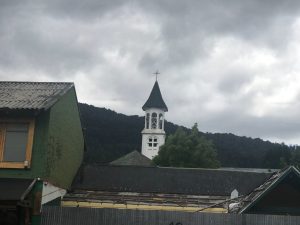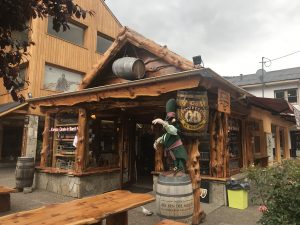 As you can see, the weather has finally changed. When we arrived in San Martino it was 32C and sunny, today cloudy and 18C. I guess the warmers are coming  out tomorrow!
By the time we got to town, all the shops were closed for the day except for the cafes. Weird since it was Saturday morning n a touristy ski town. So after walking around for a while the 3 teammates I was with decided to have a coffee and something "light". We found a recommended cafe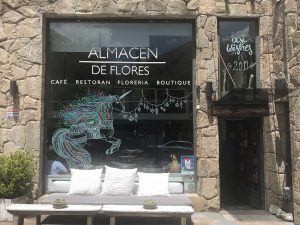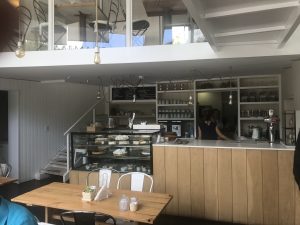 and this is what we had.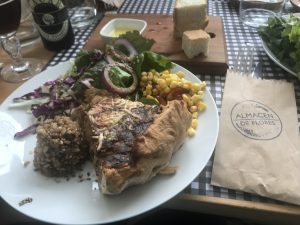 Carmelized onion and gruyere cheese quiche, wheat berry salad and green salad, washed down with a local craft Amber. Delicious and filling. Bill was 200 Argentine pesos, or about $8.00 CDN….."light" on the wallet maybe!
More walking around window shopping past closed shops, a good way to save money, until we got to the shore of Lago Lácar.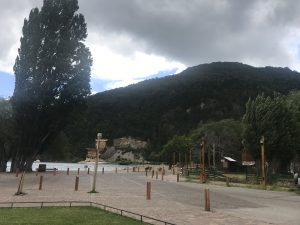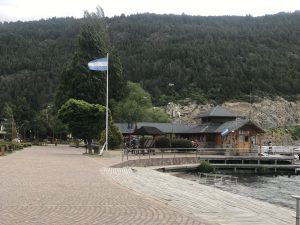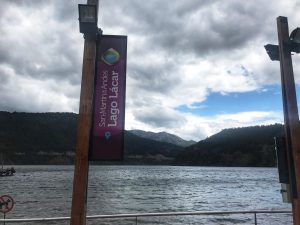 At this point someone decides the cool weather needs us to get another cappuccino and a "biscuit"…..remember, I am travelling with Aussies! lol. So we duck into another nice cafe. We order, unbeknownst to us, something off a special menu. It said we thought, a choice of coffee or tea, and a choice of 4 desserts. All for 110 Argentine pesos each. Of course after we ordered I remembered to use my Google Translate app, and discovered we ordered off the breakfast special menu! This what we got….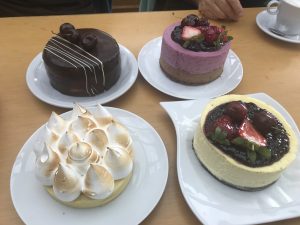 These puppies were 3 inches high and the size of Ian's hand….individual helpings!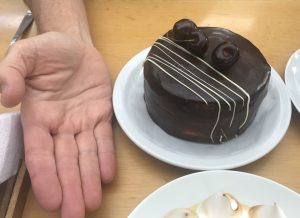 We worked our way through two of them and brought the rest home to give to the guides. Two local women sitting next to us must have seen the look on our faces, and just cracked up laughing!
The town was getting ready for some kind of festival in the main town square park. At each corner we're piled rocks to build bonfires, and local merchants had their makeshift wood fired grills out to slow cook beef and pork to sell later. Note the guy's grill; two pieces of corrugated metal roofing sitting on the ground, nice wood fire just ready to throw the meat on the racks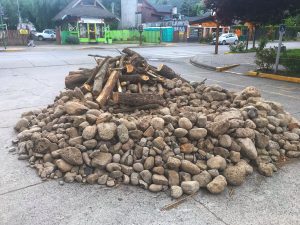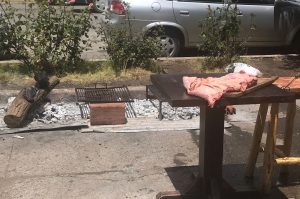 A quite talented school aged band was playing Argentinian music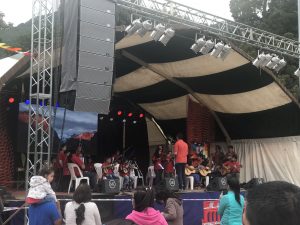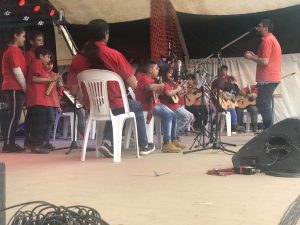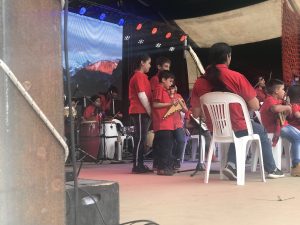 I was too full to eat dinner tonight which was on us anyway, but I sat and had another craft beer and chatted with 3 other teammates who did dine. Seafood risotto, river trout on risotto, and walnut green salad topped with a slab of warm Brie. This was proceeded by pumpkin soup and onion soup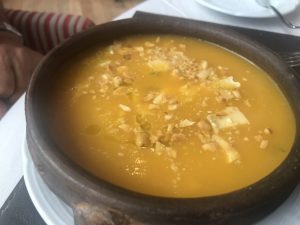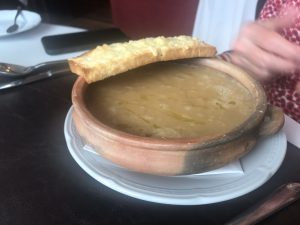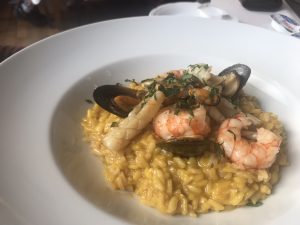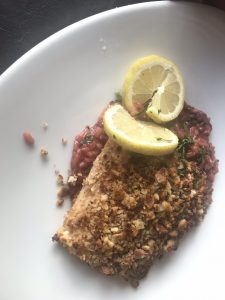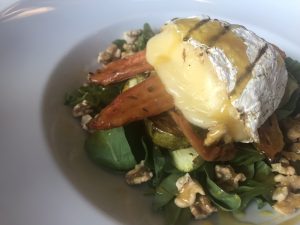 I resisted the temptation but did have a liquid dinner,  a quart of Patagonia Pale ale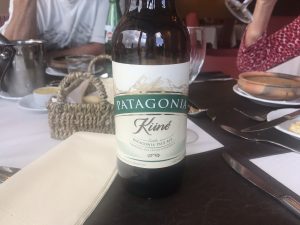 Later, sommelier Fernando dropped by to give us a shooter of the official liquor of Argentina, which had a hint of anise and fruit, it was quite tasty.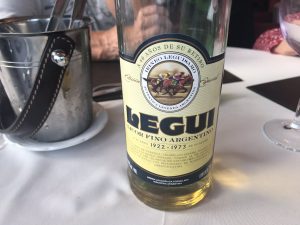 Rested, fortified, hydrated, bikes tuned up and ready for the last week of the trip with 5 arduous climbing days through the Andes!……(and all caught up on these blogs!)
Please support The Allie Sunshine Project's initiative Biking4Benches
https://www.gofundme.com/biking4benches
Ola!
Cycletooth