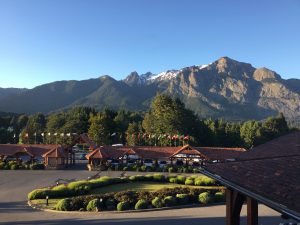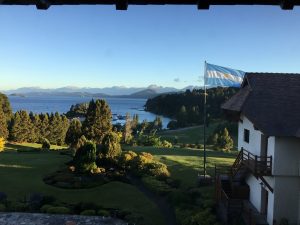 I awoke to the most beautiful crisp morning, and like most of the last 28 days, not a cloud in the sky.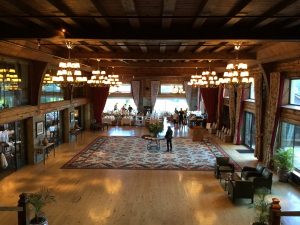 How is that for a dining room!
After breakfast, while waiting for our shuttle to the airport, I had a chance to explore this hotel.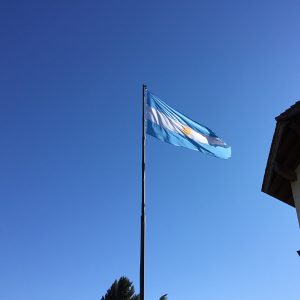 The Llao Llao Hotel sits high on a hill overlooking Lago Nuahen, and has a gorgeous golf course. It reminds me of one of the Fairmont 'train' hotels like Banff Springs or Chateau Lake Louise.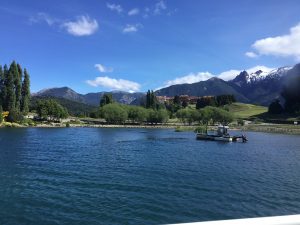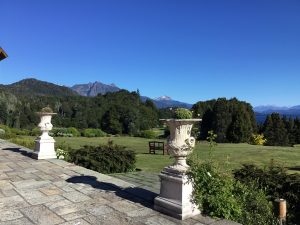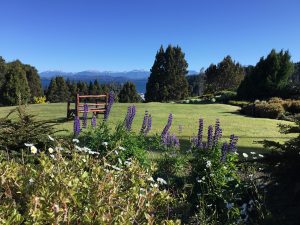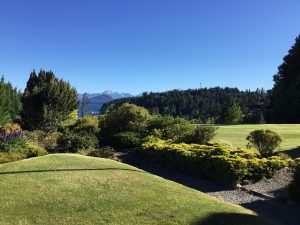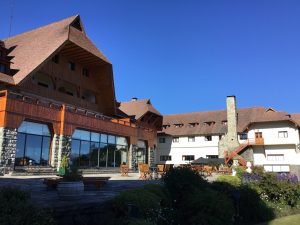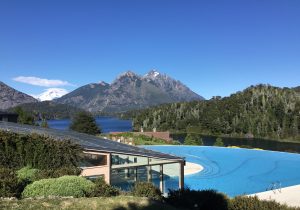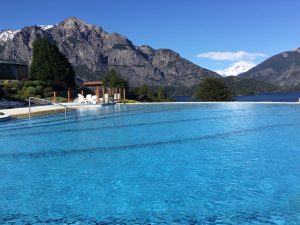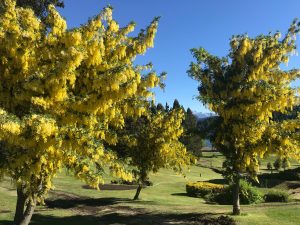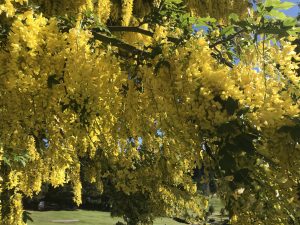 Some of our ride group had to leave early for a 5 hour shuttle to Ponte Monte for a flight to Santiago, Chile and then to Australia. A few others were staying on a couple more days (lucky them!). And some others were travelling on to Southern Patagonia for some hiking. Safe travels to all and au revoir!
For co-rider Professor Harold from the University of Georgia (Go Dawgs!) and myself, we had a nice one hour shuttle drive east to the city of San Carlos de Bariloche, and its airport.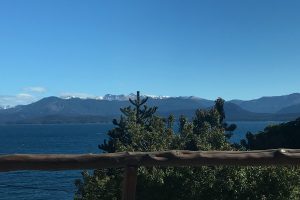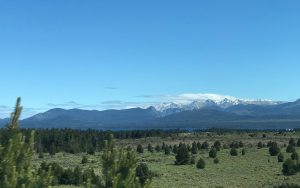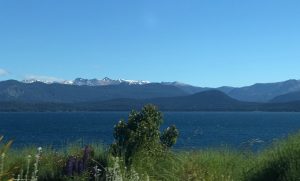 San Carlos de Bariloche (pronounced Bare- ill-low-chay) is a city of over 160,000, and is the gateway to the mountains and ski resorts of Argentina. Our driver, who spoke excellent English, told us that real estate is very expensive, with a 1/4 acre unserviced lot costing about $100,000 USD.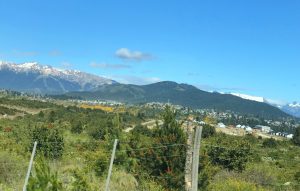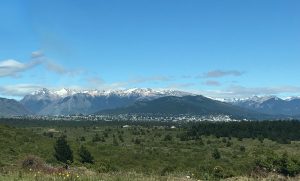 I am flying Aerolineas Argentinas to Buenos Aires before connecting on Delta to Atlanta (with Harold), then on to Detroit for me.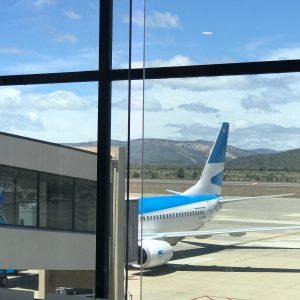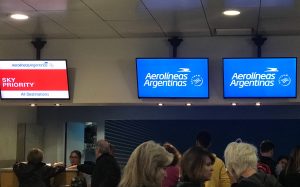 The airport check in process is somilar to the Chile- Argentina border crossing process!
How do I describe this bike trip?
It was simply an amazing and challenging 4 weeks. A huge take away though were the bonds I made with the Australians and Chileans who made me feel so comfortable. They are free spirits, love adventure and laughter. They are also great riders. It was such a wonderful hiatus from the daily goings on of Trump World!
I really hope I can ride with all of them again. However, an online course in the Australian language is mandatory lol.
Last night at dinner I introduced a few Canadian phrases to the Aussies  and recited the 'My name is Joe, And I Am Canadian' rant……and after a few Pisco sours, Patagonia beers, and bottles of wine,  I played Spirit of the West's classic, 'Home For A Rest' on my Bluetooth speaker!
I can highly recommend
 

Bike Odyssey for cycling adventures.

 

First class all the way, from corresponding with Nicky and Sam at head office, to all the day to day logistics by our guides Max, Bruno and Sam. Our Chilean mechanic Manuel (photo below) might not know English but he sure knows bikes….kudos to him.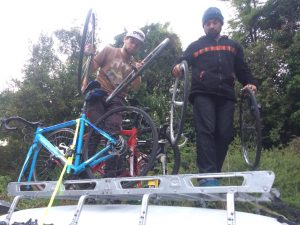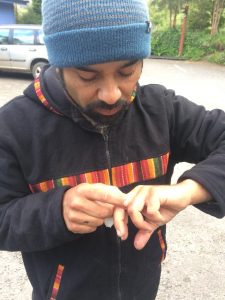 And masseuse Shaun, he made me cry during every 30 minute session, but also made my body feel so good when in the saddle. And a shout out to Sam's brother Ben, who really helped get this blog effort off the ground!
This was the inaugural Che trip for Bike Odyssey, and I think the longest cycling tour of South America offered in the industry. Because of that, there were a few bugs to work out, but to us riders, we hardly noticed. In fact, it just made for a more fun time!
Like all Bike Odyssey trips, they are constantly tweaking the itineraries so as to always improve the quality of the experience.
I want to take part in another of their trips!!
It was so good to reunite with my long distance friend Rai Cekanaukas. We laughed and cajoled for 4 weeks. After getting off to a slow start and a later groin injury, he showed glimpses of his cycling power and strength. A special person is my 'mate' Raimondo!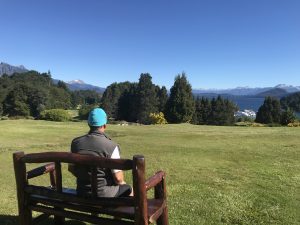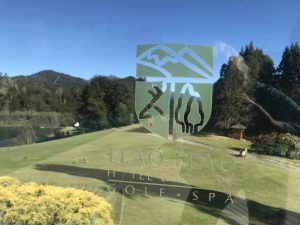 Postscript
We searched for Che. Observing life in rural Chile and Argentina can make one understand the passion of this man in his desire to make the world a better place for the oppressed people of these countries. We may not agree with his ruthlessness, but his unending commitment was resolute. ( I spoke a little about Che in an earlier post….for more info, the biography of Guevara by Anderson is recommended).
This part of the world is a magical place. The culture, language, the untouched scenery, food and aah, the wine, makes this an incredible place to visit or live. 
And if you can, visit sooner than later, because once North America finds out about these areas, it will probably be spoiled in many respects.
So as the song says, " Don't cry for me Argentina, the truth is, I never left you".
I will always remember my short time here.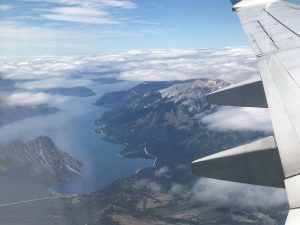 M
Now back to reality, snow and the excitement of the holiday season hanging with my family and friends.
Ive done my thing, now maybe you can do yours!
PLEASE SUPPORT THE ALLIE SUNSHINE PROJECT'S INITIATIVE BIKING4BENCHES!!
https://www.gofundme.com/biking4benches
Every Freaking Inch
Ola!