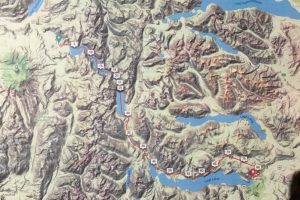 As mentioned in my last post, today was a 'moving rest day'. The bikes were racked. We shuttled by mini-bus 4km to the shore of Lago Fuy and boarded a car ferry for a 2 hour boat ride. As you might tell on the route map above, we sailed through this long narrow fjord-like lake.
We (Sam) fill up at breakfast and bid adieu to one half of Team Waggans, Chris and Roberta. It was a pleasure meeting and riding with you.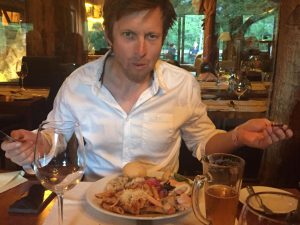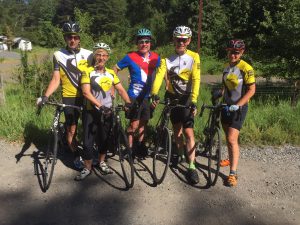 Don't Cry For Me Argentina….unless you want to
We are on our way to our first visit to Argentina and our first pass across the Andes.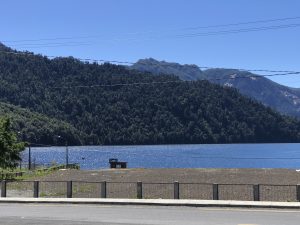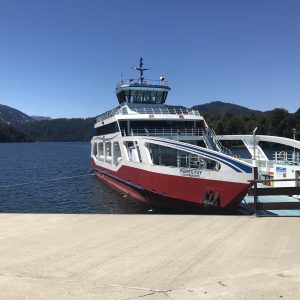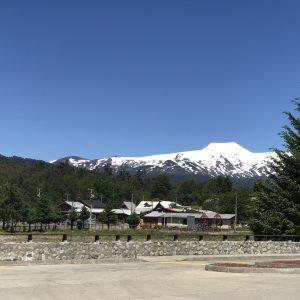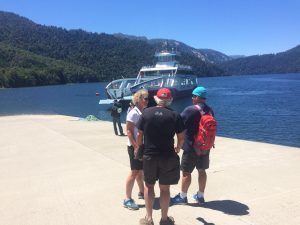 Met a group of Chilean buddies who were out on a daytrip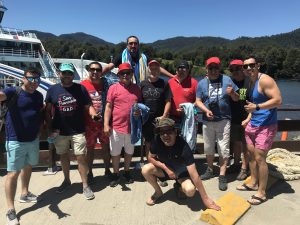 A traditional Chilean snack lunch was prepared by Manuel and he showed us the proper way to assemble it. It is Sopaipila, and even though you can put anything on it, the traditional topping is a layer of guacamole, then an onion/cilantro/oil purée topped with tomato.
671A8984-F806-4802-A27F-53A9DABAC233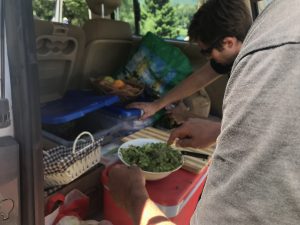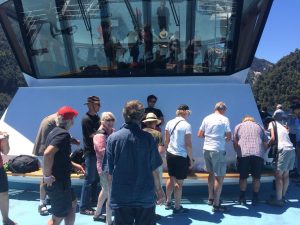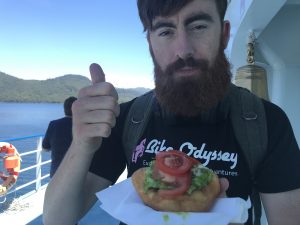 Jesse likes it! And check the chin salad he's got going on!! Awesome!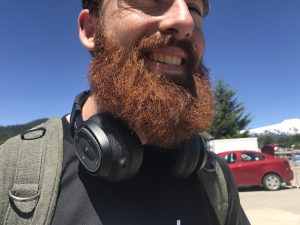 All Aboard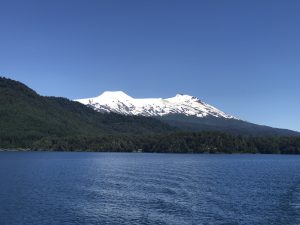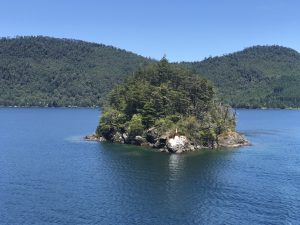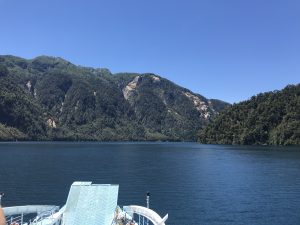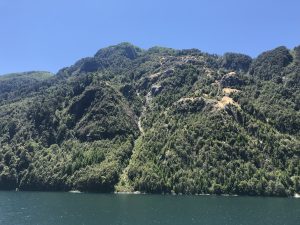 Jesse and Dad John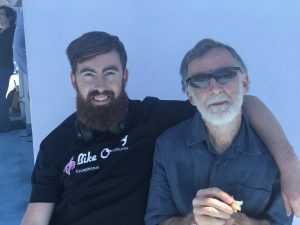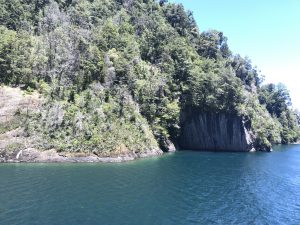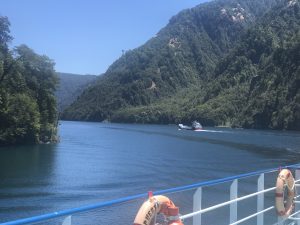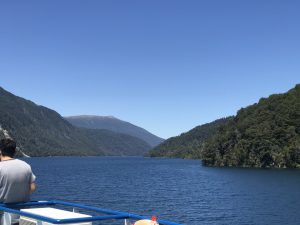 See the donkey?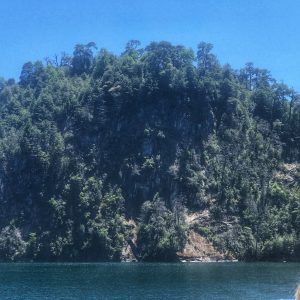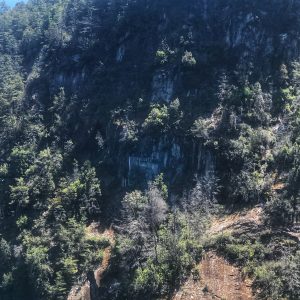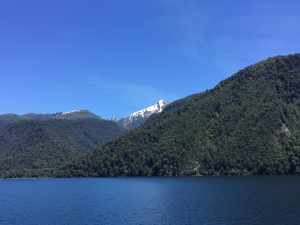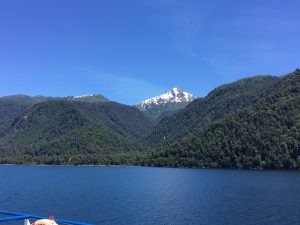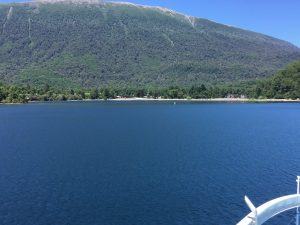 Disembarking the ferry, we shuttled along a gravel road fo 10 km to the Chilean Customs Checkpoint. We all had to get out, show our passports and surrender our visitors visas. Back on the shuttle for another 10-15km of 'no man's land' or neutral zone, we reached the Argentina border.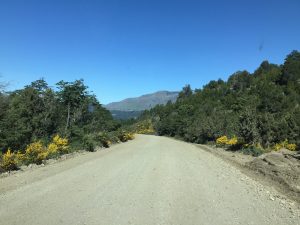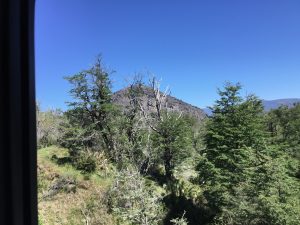 We again had to pass through customs. Both of these checkpoints were just little remote buildings with a gate. Max and Manuel were detained with our bikes and luggage for a couple of hours while everything was searched. Our shuttle bus cleared immigration and we continued on for another 30km, finally back on pavement. We arrived in the beautiful ski town of San Martino de Los Andes, Argentina.
Having been  told how terrible the Argentine economy was, I was pleasantly surprised to see this upscale mountain town.
We are now solidly in the mountains of northern Patagonia!
We are staying at this pretty high end, gated golf resort on the edge of San Martino, the Loi Suites at Chapelco. The shuttle bus driver had to check in at the gate. We saw armed security and police cars. It so happens the President of Argentina is staying on the property in a separate villa. So security is tight! We are pretty confident all the bikes are safe on the support vehicles for the next two nights!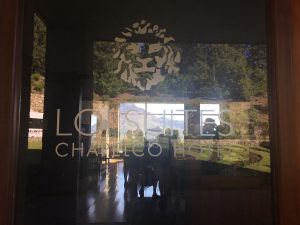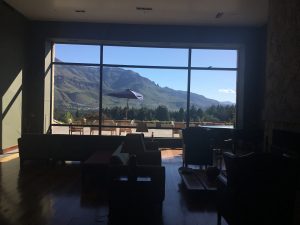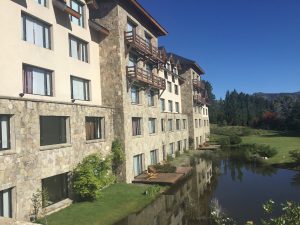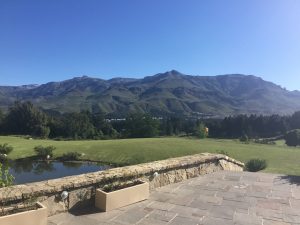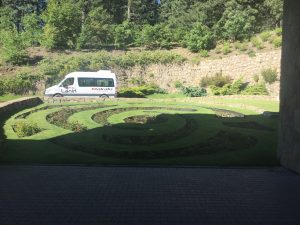 We Dine & Learn
And of course, we ate! During dinner we had a wine seminar by Sommelier Fernando.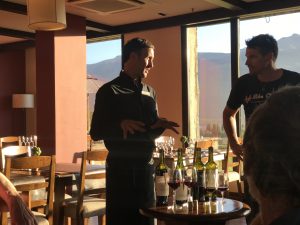 He spoke about the grapes of this region of Argentina. Mostly Malbec and Merlot grapes grown in this area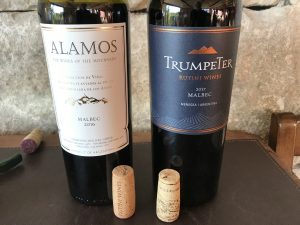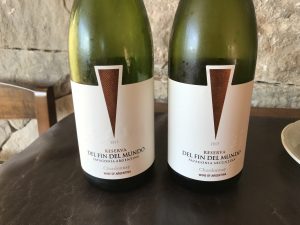 (these wines are pricing out at $60USD/bottle)
Because the farther south (north back home) we are, there is less sun and water, so the grapes are not as sweet. The roots also do not grow deep and stay at or above surface level to absorb early morning dew. They do not irrigate! The 'New World' Chilean And Argentinian wines are quickly gaining traction around the world. We have noticed the vast differences and varieties of wine as we have travelled north to south. Fernando, being proud of his country and maybe a little biased, thinks that South American wines are much better than the French wines.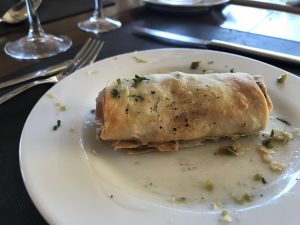 Argentinian burrito but using a phyllo type wrap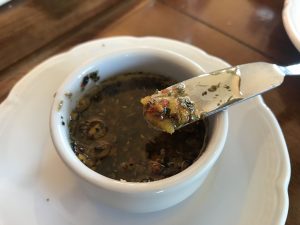 Chimichurri with orange for dipping or as a sauce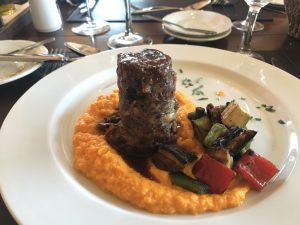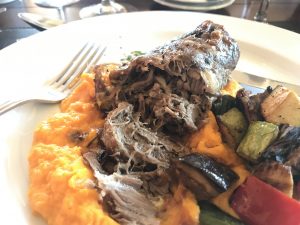 Pulled Lamb shoulder with squash polenta and grilled vegetables
 Walnut/ mushroom/ cilantro risotto and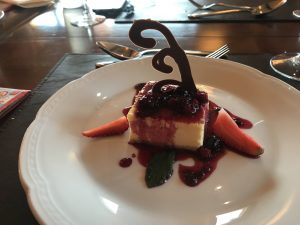 blueberry cassis cheesecake!
Rest
Tomorrow  is a full rest day for us, but the guides will be busy cleaning and tuning all 25 bikes.  And I am scheduled for another massage! Woot!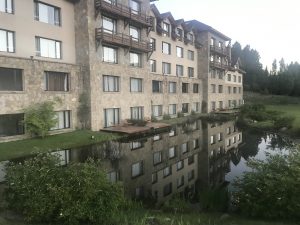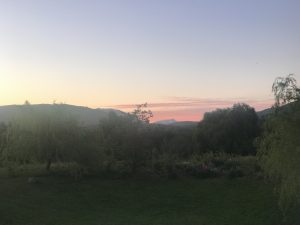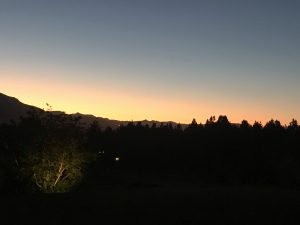 Please support The Allie Sunshine Project's initiative, Biking4Benches
http://www.gofundme.com/biking4benches
Ola!