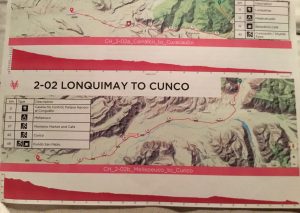 A very interesting start to Stage 2. As can be seen on the route map above, we had two 50 km rides and both predominantly Downhill. Why two rides? Because the road at one point was impassable for road bikes. As one of our experienced mountain bike rider guides explained, this stretch of road would be an extremely difficult and technical mountain bike ride for the best of mountain bikers!
So in the town of Curaucatin, we regrouped and racked the bikes, all 22 of them, and jumped into a rented shuttle bus for a 42 km ride. While we waited, we found these local women making and selling a common local drink. It was a peach flavoured liquid with barley and 2 whole peaches, quite tasty and only $1.00.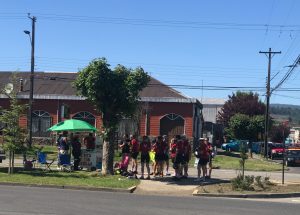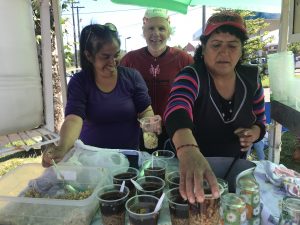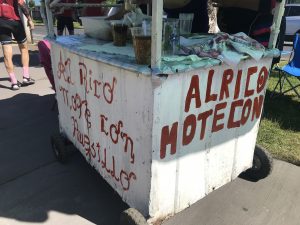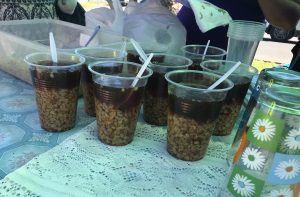 A Long and Wnding Road..
This was good and bad. The bad part was we could not cycle uninterrupted. BUT the good part was we got to be in the middle of the Llaima volcano field as we drove through the Parque Nacional Conguillio.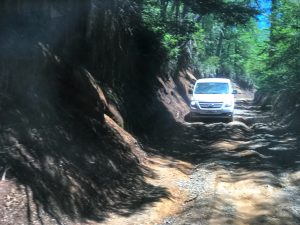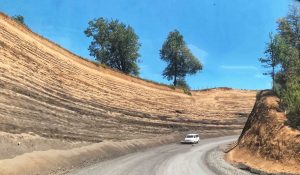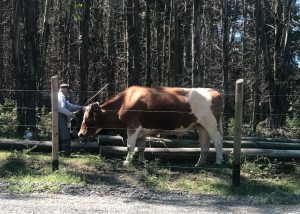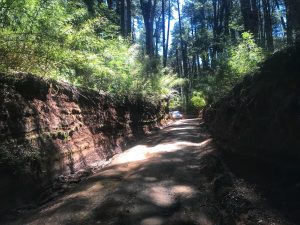 We came across this couple and not only did they have like their life's belongings onboard, they also had a small baby!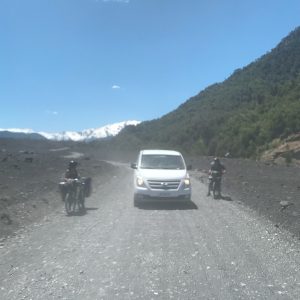 The road took us back up in elevation to set up our 2nd downhill 50 km ride. And what a geat experience this national park was!!
Parque Nacional Coguillio
This park is located in the Andes in the provinces of Cautin and Malleco in the Auracania region of Chile. Conguillio is a Mapuche word meaning"water with Auracaria seeds". Among the attractions is the mighty 3565 metre or approx. 10,000 ft high Volcano Llaima, the Sierra Nevada, and wild landscapes characterized by islands of vegetation surrounded by vast areas of lava flows. Extensive forests of Auracaria and Nothofagus trees are dotted with beautiful blue/green crystal clear lakes. The area is also known as " Los Paraguas " (the umbrellas), due to the shape of the Monkey Puzzle trees. The park was used for the BBC documentary series Walking With Dinosaurs.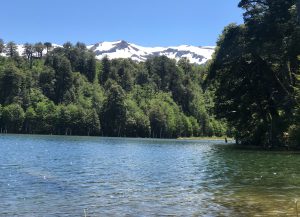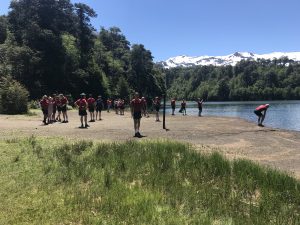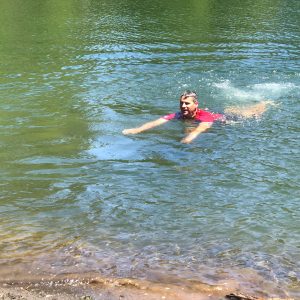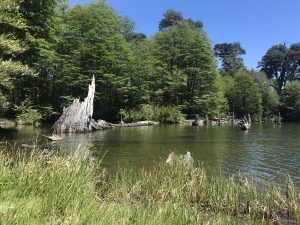 In this area, they use Volcano risk signs rather than forest fire risk signs!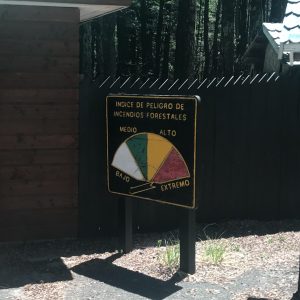 And to the Llaima volcano fields…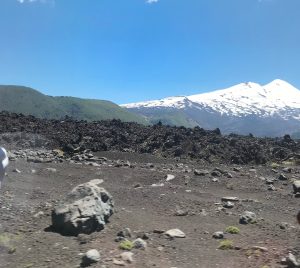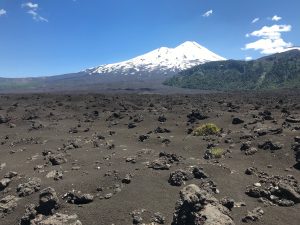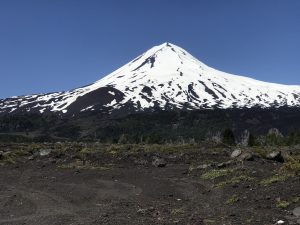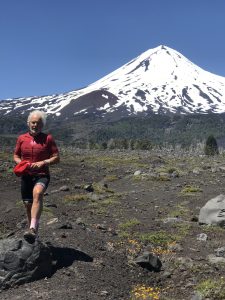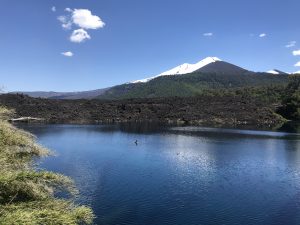 Leaving the area of the park where lava from the 2010 eruption did not reach, we saw spectacular mountain lakes.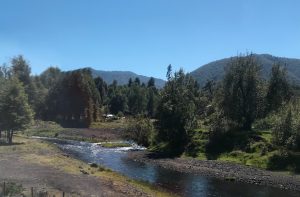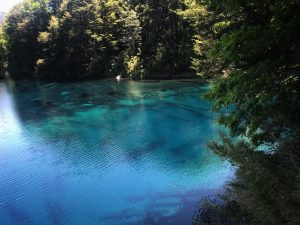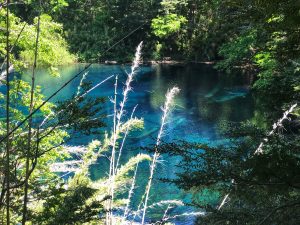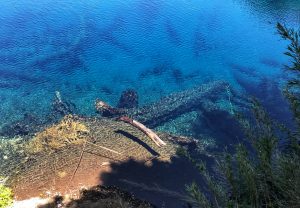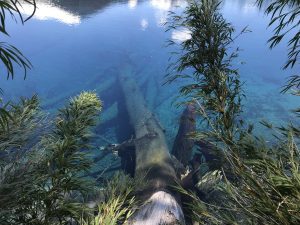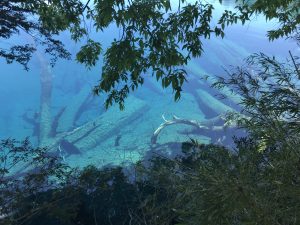 We retrieved our bikes for the second 50km ride of the day but before that we had a picnic lunch at the town park in Melliepuco. The local school was next door and a teacher had a class outside for a lesson. These kids were super excited to see our nice road bikes. We let them sit on them and we tried to tell them some English words…..we all had fun! There are tens of thousands of stray dogs in Chile, abandoned after numerous volcano eruptions and earthquakes. They are hungry yet docile.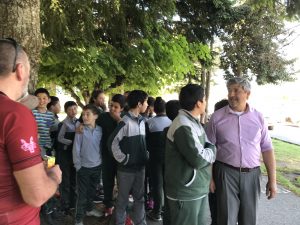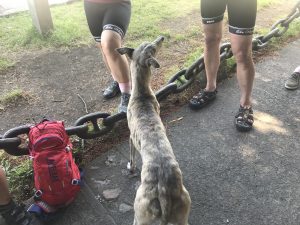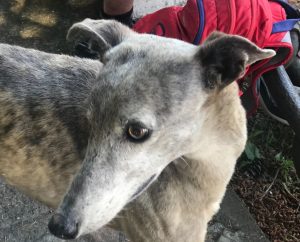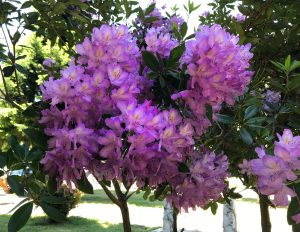 Another one night stand
Our hotel tonight was a little more basic cabin compared to the luxury of the last two days. After a swim and hearty meal, we got to bed early for the start of a few big rides tomorrow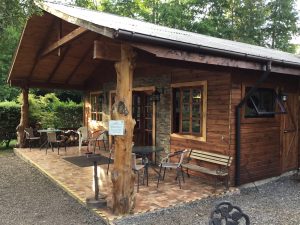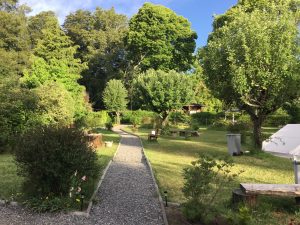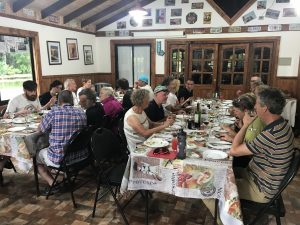 As you might have noticed, the frequency of these blog posts diminished. We have been in an internet blackout in these remote areas. We are now in a place with great internet, but I am ahead of myself!
Please support The Allie Sunshine Project and the Biking4Benches initiative.
Ola!
http://www.gofundme.com/biking4benches