This morning's sunrise on our cabin block was a beautiful start to the day. We are quickly getting into the daily routine. Wake up and kit up, get our bags to the van, check the bikes over, fill the water bottles and go for breakfast. After that we get our daily team meeting with guide Bruno, to discuss today's road conditions and tell us where the rest stop and lunch will be.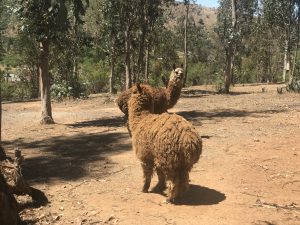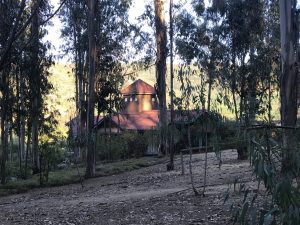 P
Cuncumen to Mantazas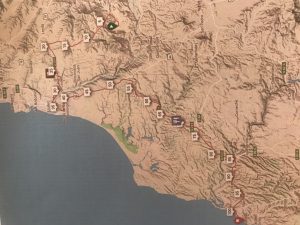 Another 100+ km ride with over 4000 ft of climbing. With just 3 km to loosen up, we climbed a 15% grade for 4km. This was a return through the valley we rode in on yesterday but in reverse. At some point we turn away from where we were yesterday and head southeast toward the towns of San Antonio and Santo Domingo. We rabbited our way onto Coastal Route 66. I didn't get a photo but had to veer to avoid running over 2 'sunrise pollitos' (little chicken tarantula spiders). They are about 3 inches in circumference!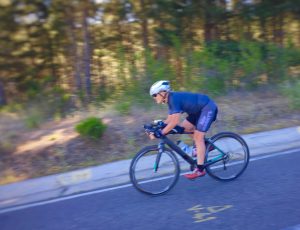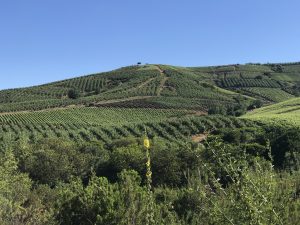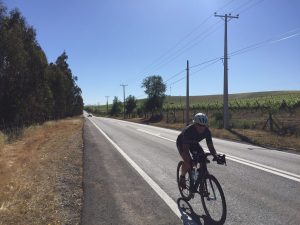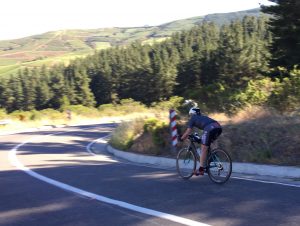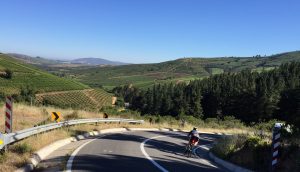 In 2012 there was a large earthquake in Chile, here is an example of the damage. We rode across the replacement bridge in Santo Domingo, that you see in the background.
I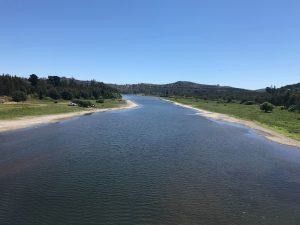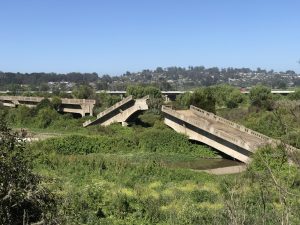 Revolution
Our morning break was nothing special but our picnic lunch was!! Close to the summit of our 2nd big 15% climb, we pulled in at Parque Bucalemu and La Casa Balmceda. Built in 1610 by the Jesuits who were subsequently kicked out of Chile in 1775 and the land was taken over by the President of Chile. His heir and future President inherited it and he built a magnificent botanical gardens. It has been the retreat for 5 Presidents, most notably President and Dictator Pinochet. He led a revolutionary coup d'état which overthrew a corrupt regime, and gave the common people the services they deserved. At the same time, the place was given to the army, and since Pinochet was the head of the army, he took it over. In fact he lived in exile at the Casa in 1994 for 4 years. The earthquake of 2012 did extensive damage and is no longer used as a presidential retreat. The gardens and historical statues are cool and a multitude of screeching peacocks abound, running free! Roberto, the grounds keeper for the last 29 years, befriended Max and Bruno while the guys were scouting the trip and allowed us to lunch here.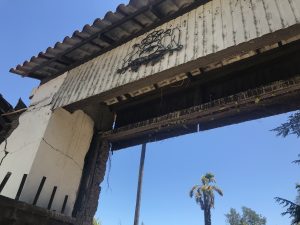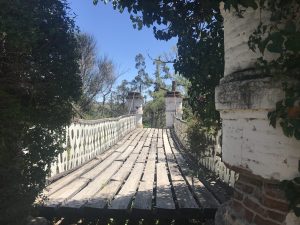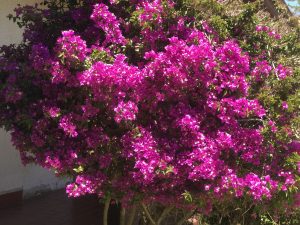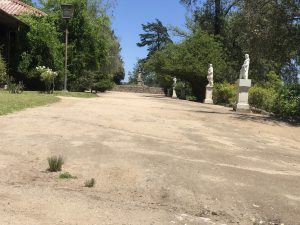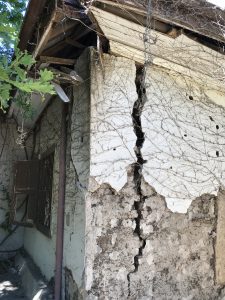 Earthquake damage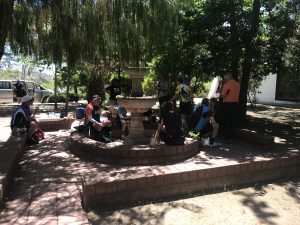 picnic lunch and historical talk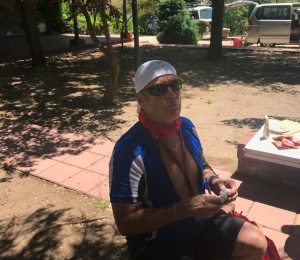 My buddy Rai chillin'…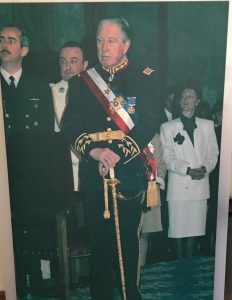 Pinochet
Wind!
From here we cycle south and east climbing 4 shorter hills of 8% to 11% grades on our way to the ocean coast. We rode through the town of Navidad and a few of us sang Feliz Navidad to the locals as we passed through…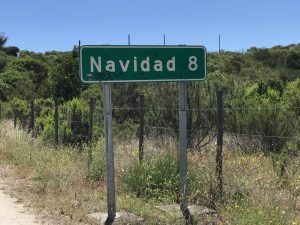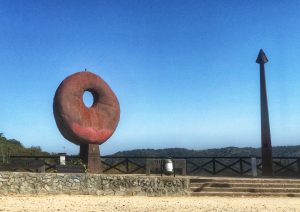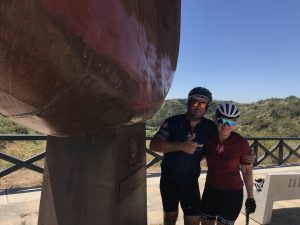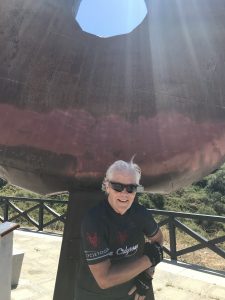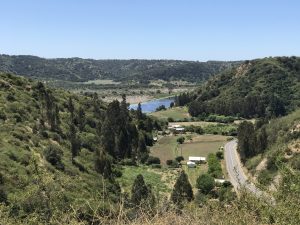 the view from the 'donut'…
As we headed closer to the coast the temperature cooled a little and prevailing west wind continued to strengthen.
The final 8 km were in a dead headwind of Gael force strength, at least 45 km/ hour, as we inched our way along the cliff side to the Hotel Saroza in Matanzas.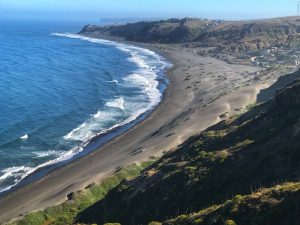 But oh what a destination!!
The Road Ends at the Sea
The Hotel Sarazo in Mantazas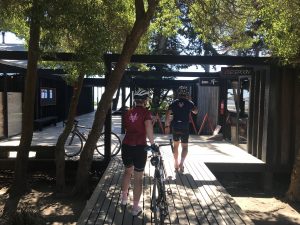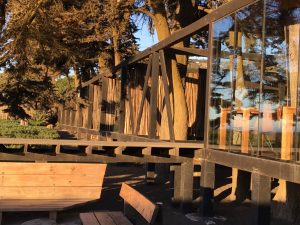 The patio of our room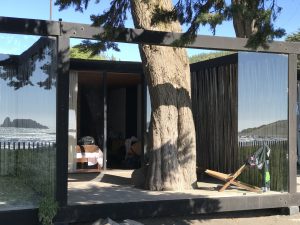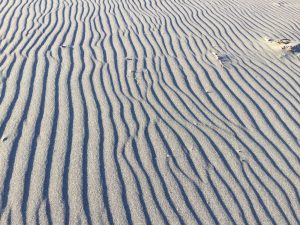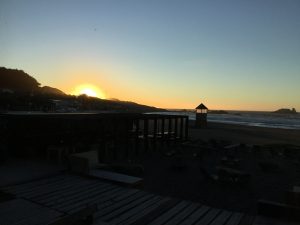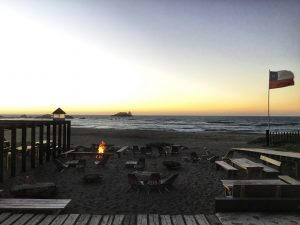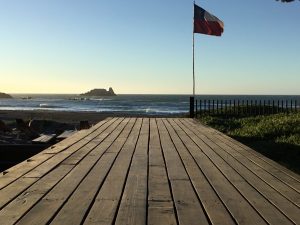 I stand corrected as there is a good beer in Chile, a full body amber.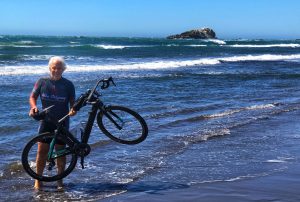 Food of Course!
And dinner was again outstanding…..mushroom 3 cheese pizza, mushroom risotto, beef tenderloin and fish with polenta.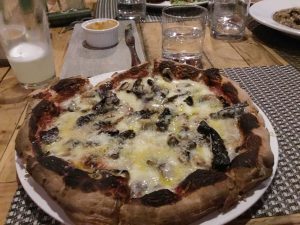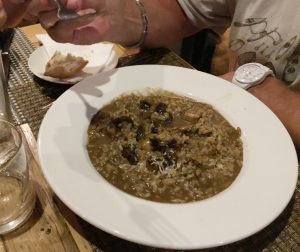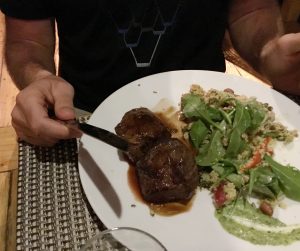 All the riders in this group are great people who I have become friends with….here is my roommate, David 'Fox' Ducovney, aka James. We are getting along well.
4 days of cloudless hot days….
Biking4Benches…..Allie's Sunshine Lives!
Ola!