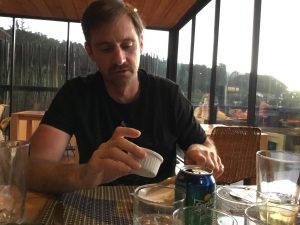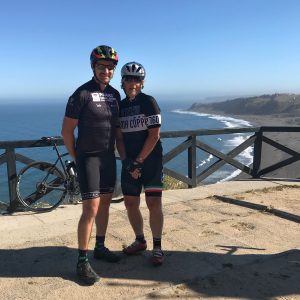 Note: I inadvertently left you guessing on my last post as I did not include a photo of my roomie James, aka Fox Ducovney….here it is above.
And while visiting Surazo, fellow rider Jane helped some local kids with their English skills and they all had fun with her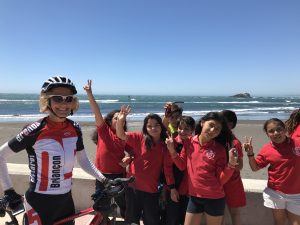 Surazo to Matanzas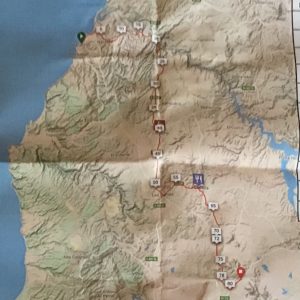 Matanzas is at the end of the road so to speak, that is, there are no roads south along the coast for some distance….So we leave the cool breezes and head back to the heat of the upcountry. Following the same road we came along the cliff side for 15 km, we immediately do some serious climbing. And to bring some memories of the sea until we see it again in a few days, Guide Max has packed a surprise for our lunch!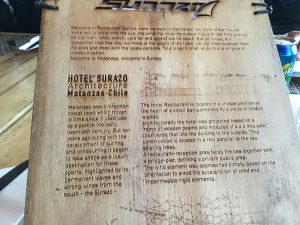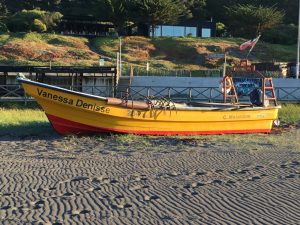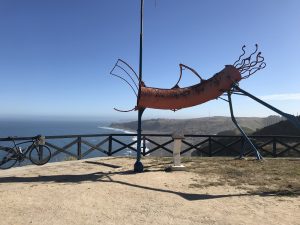 Burning  the energy of our breakfast on these early ride climbs brings us into another lush valley of almond fields, olive groves and pine forests. Savannah-like steppes give way to Mediterranean style countryside.
Snow covered peaks are the seemingly artificial backdrop as the mighty Andes beckon our momentum building quads!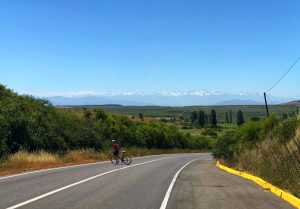 Many of the roads we are on are limited to 70km/hr making for little traffic and Beautiful for riding….this one ramps up to the top of this hill at about 8.5% grade.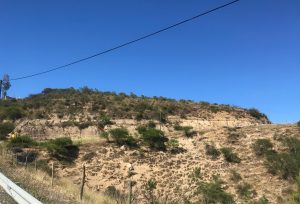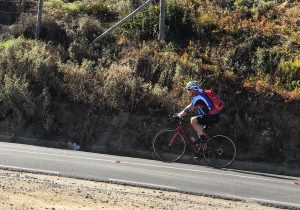 My buddy Rai gets around!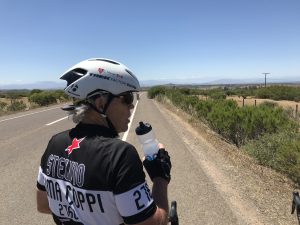 A Nice Break
Morning break is in the village of Litueche, for coffee and water bottle refills. And with strawberry season in full swing, a lot cal cafe has fresh strawberries and strawberry frappe's for us…..blended strawberries and ice….can you taste it??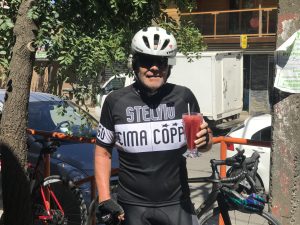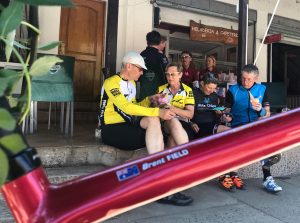 On from there we ride until lunch and Max and team have prepared an awesome picnic lunch in a tiny, shaded town square named La Estrella (the Star). Fresh Chilean ceviche, made with shrimp and salmon, lime and onion! …..the best ceviche I've ever tasted. Accompanying this were chicken, corn and black olive empanadas and fish and mussel empanadas, fresh from the local bakery….I mean, come on!!…it doesn't get much better than this!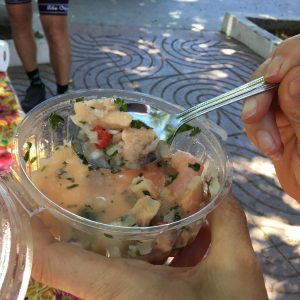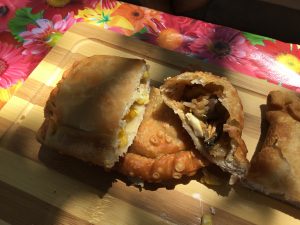 The locals didn't quite know what o make of us but they were quite friendly, even this guy…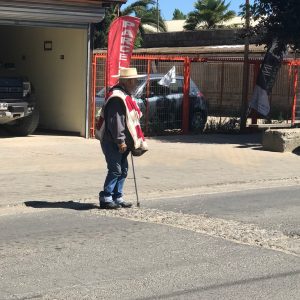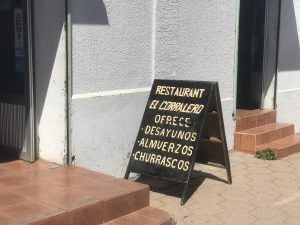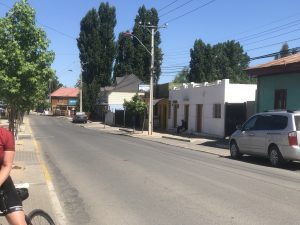 Time to Kick Back!
After this lunch siesta we ride on to our final destination for the day, Marchigue, and the Hacienda Historical resort. What a gorgeous old place! First settled in the 1760's and built in 1770, it was a large farm, giving work, food and a home for the locals. Fast track to  1993 when it was sold to a philanthropist of sorts, who in 2012 turned the estate into a resort hotel, with many original antiquities.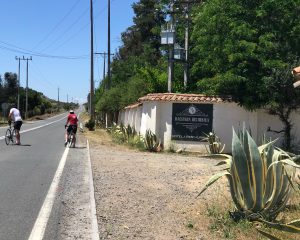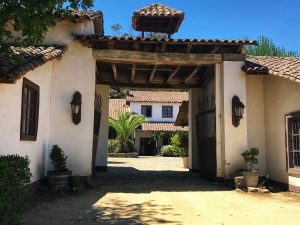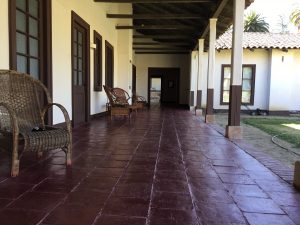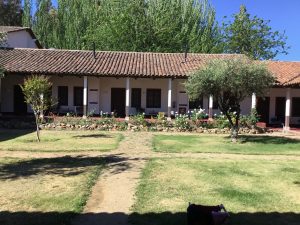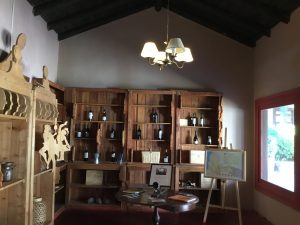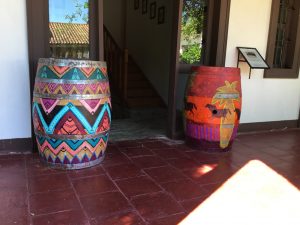 Swimming pool, spa, horseback riding for us to enjoy.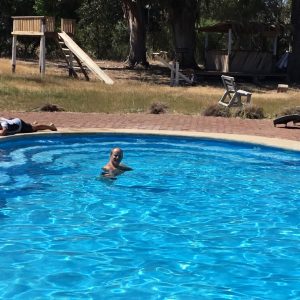 Rai, first one in the pool!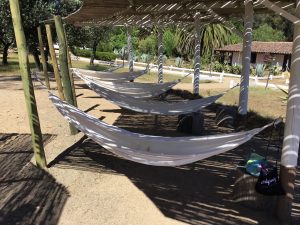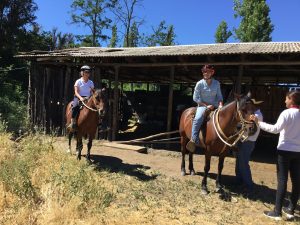 Belinda and Roberta go for a ride….note they are wearing their bike helmets!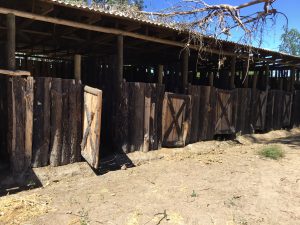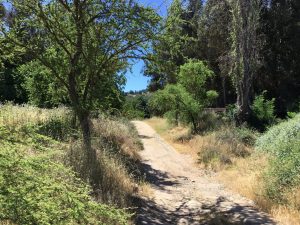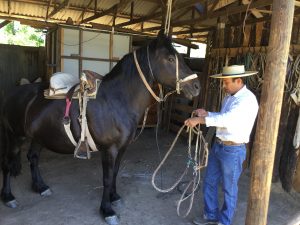 Ring the Bell, School is In!
At Happy hour in the bar today we had our first of a series of Spanish lessons, given by Profeesor Max Hofman….we now know 10 pick up lines when frequenting bars and can count to 10. We gave our trusty mechanic Manuel some lessons in English too.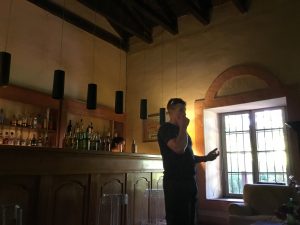 But the major event of the evening was a fabulous wine tasting seminar in the hotel's underground wine cellar, presented by our guide and sommelier  Bruno Romain of France. The wines showcased tonight were Chilean wines handpicked by Bruno. And of course the wine tasting continued at dinner! (Bike Odyssey includes wine at dinner in the trip price).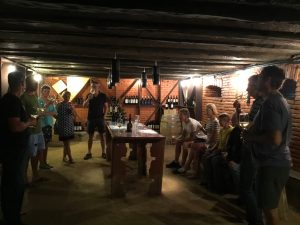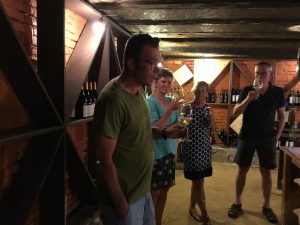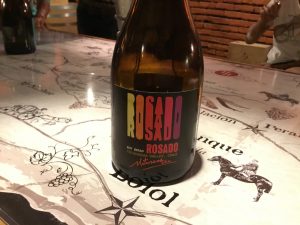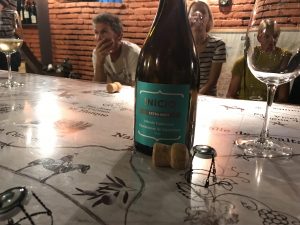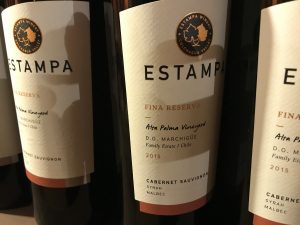 And You Thought You Would Not See Dinner!….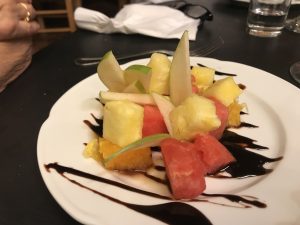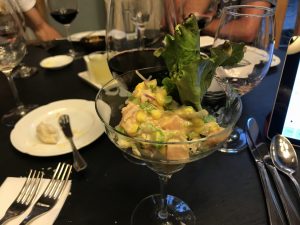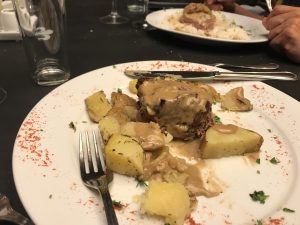 More ceviche and beef tenderloin….
This was not an exceptionally long riding day but it was challenging with climbing and hot sun. Everything else was exceptional however!!
Biking4Benches or in Español, 'cyclismo para bancos'
Ola!