Internet access has been patchy over the past couple of days so it has not been possible to blog. Consequently we have a massive post today with three days of catching up to do.
Although we have travelled significantly less distance since we left Queenstown on Wednesday than we covered in the two days up to there, we have ascended quite a lot more: just a shade under 3700 metres according to my Strava feed.
Here's a graphic to show our route over that period: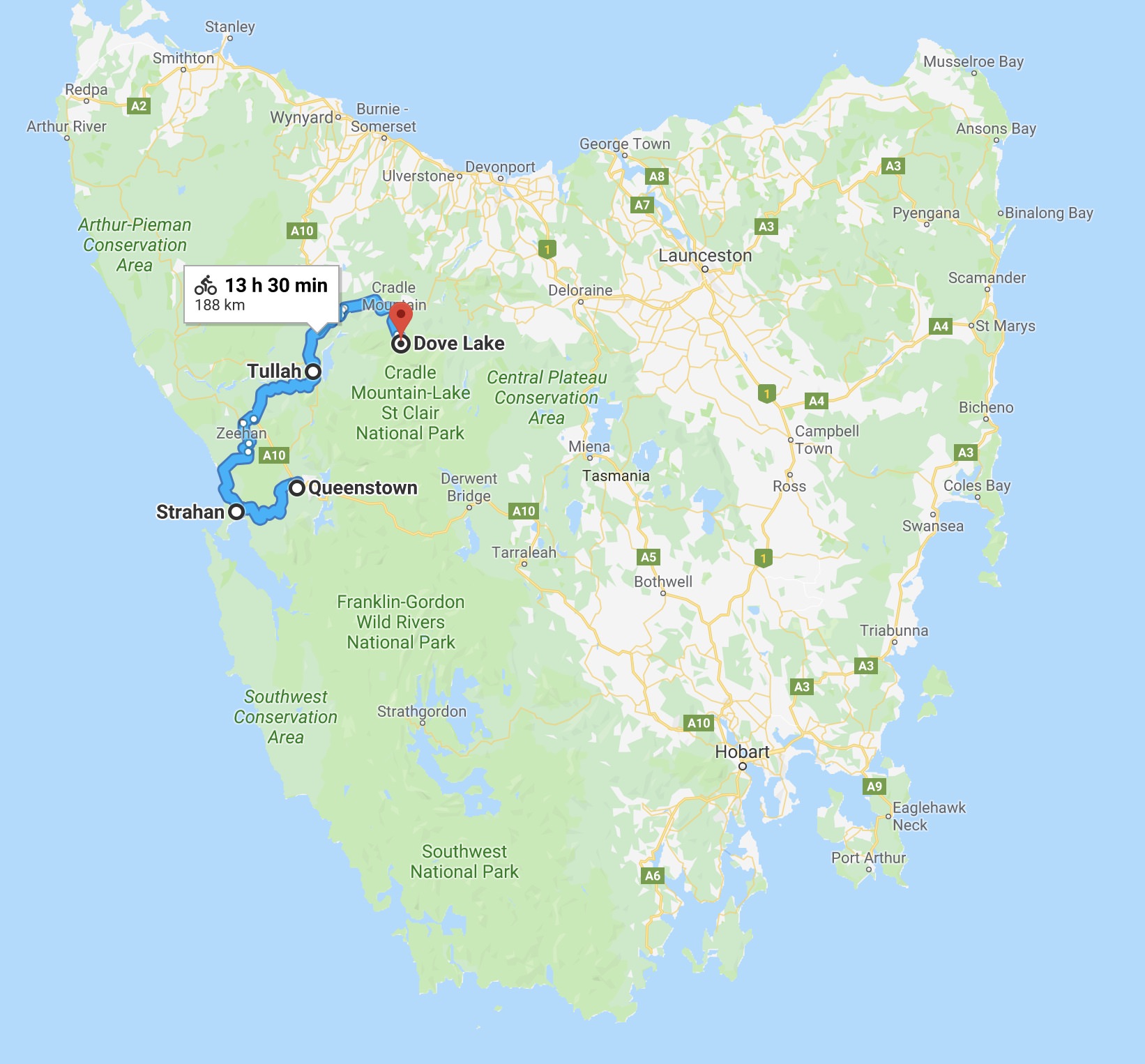 Queenstown to Strahan
When designing this tour we wanted to give folks the opportunity to ride on the West Coast Wilderness Railway, and allow them to choose whether they did the half day return journey from Queenstown in the morning or from Strahan in the afternoon. The short journey from Queenstown to Strahan (~41 kms with just under 600 metres of elevation) allowed us to do that. There were eight takers out of twelve. Dianne, Mark, Andy and I settled on cycling in the morning and riding the train in the afternoon, whereas Kay, John, Sharon and Peter opted to get on the train in the morning. Here are the morning crew …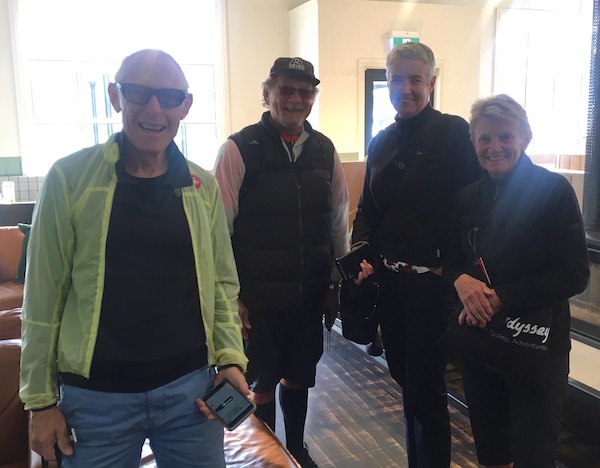 … waiting to board the train. I went around and took a photo of the old steam locomotive that would be on duty that morning …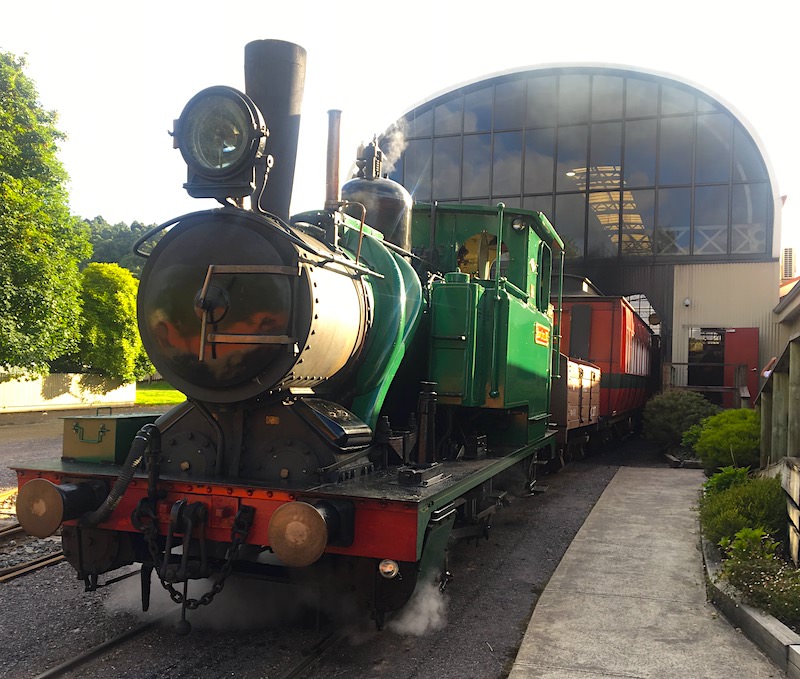 Queenstown is quite a funky old mining town with lots of interesting things to look at. On the way to the railway I spotted these three vans patiently awaiting whatever fate is in store for them …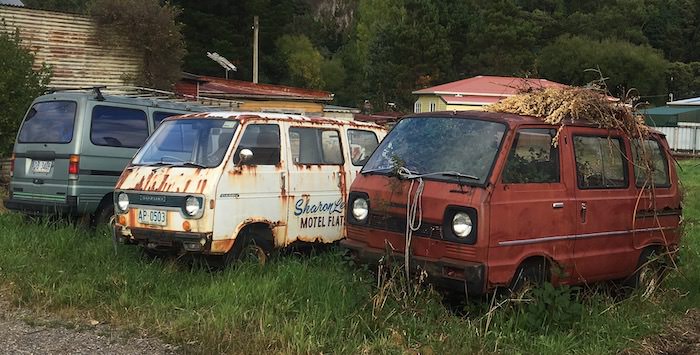 Initially on the way to Strahan you must exit town the way you came in and then turn left …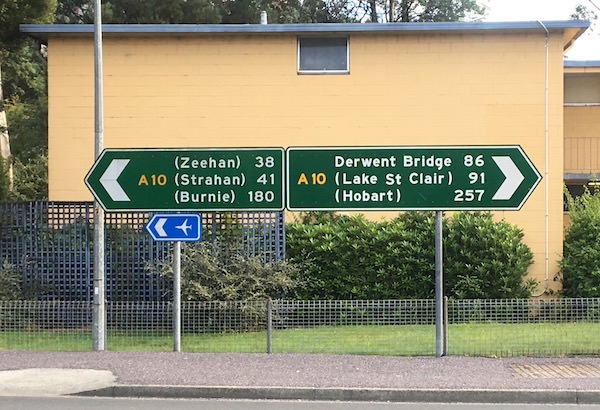 It's only a short distance and there is not a lot to look at along the way – in fact most of the views worth looking at are back over your shoulder, but it's a real fun ride. This sign gives some hint as to why …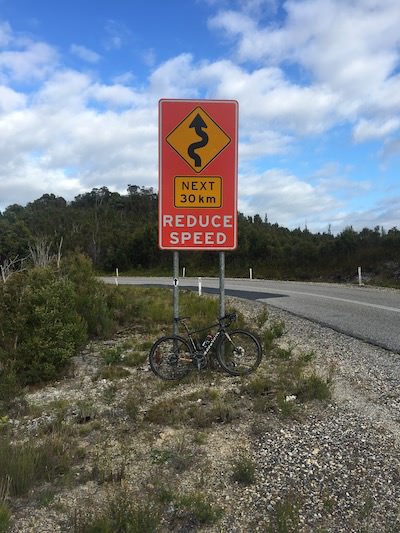 There are lots of twists ups and d0wns. Not so much fun for motorists but motorbike riders and cyclists love it. For us cyclists there are quite a few places where you can go faster than someone in a car, albeit briefly.
Although there is not a lot to look at, here are a couple of early views that are quite good …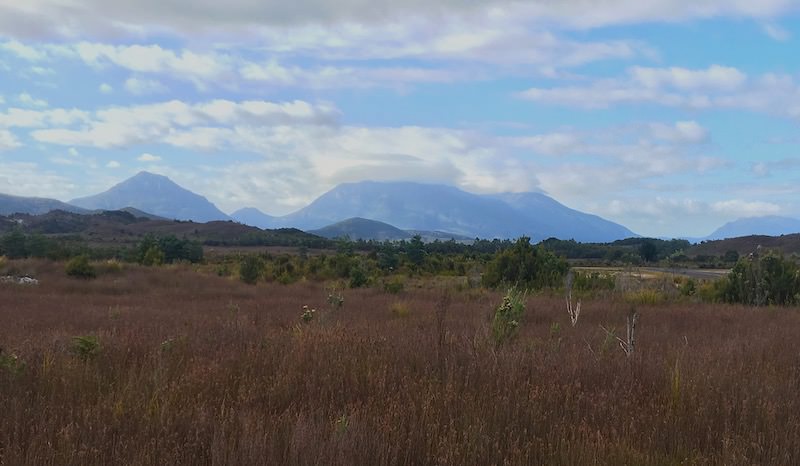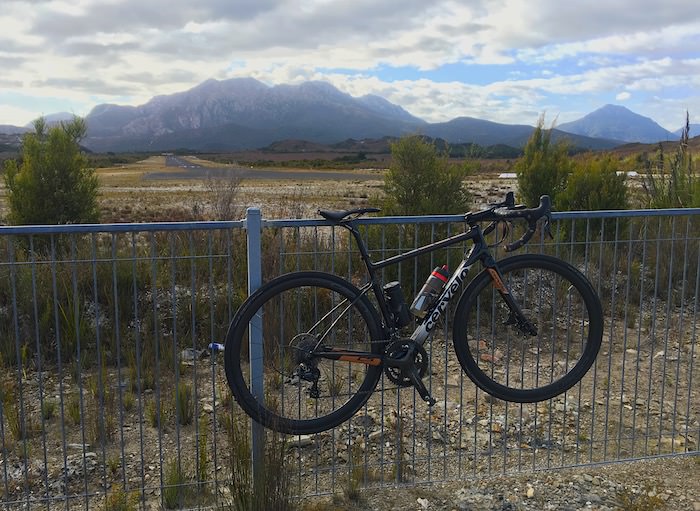 With quite a bit of time up our sleeves to catch our train, we had a coffee then pottered over to the station to make sure we could get tickets. On the way I stopped to take a picture of this guy tidying up his yacht …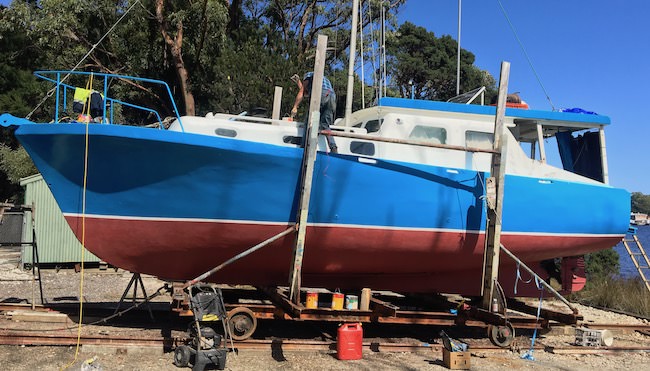 At the station I took a couple more photos while Di bought our tickets …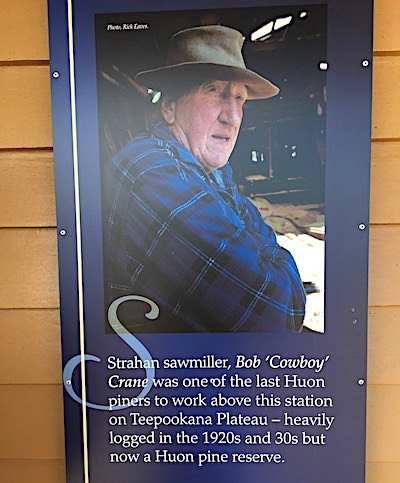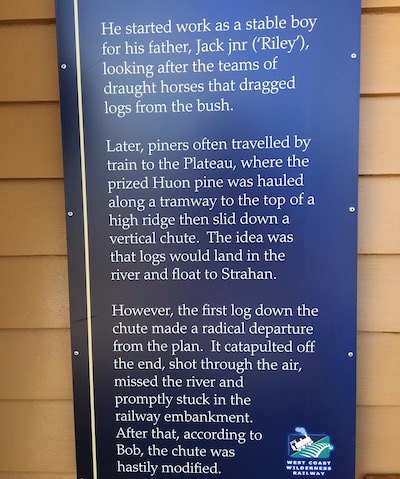 Riding back towards town I stopped again to photograph this old piners' punt …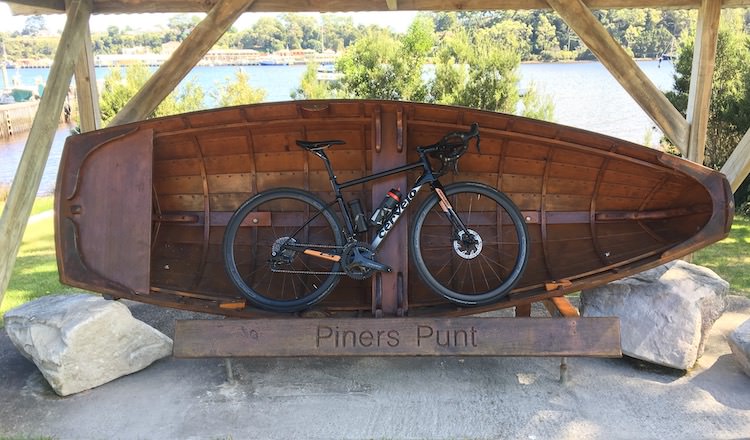 … and then we went to Risby Cove for a spot of lunch …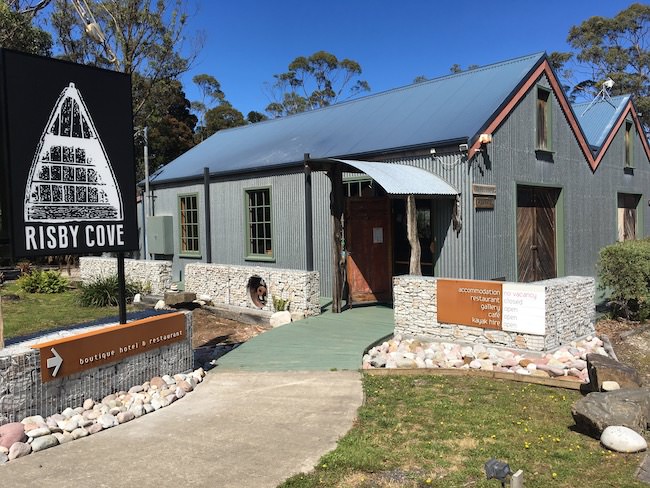 … where I couldn't go past this opportunity for a photo, which just seemed to compose itself …
Oh yeah, a bit earlier when I was down on the docks with Mark we saw some abalone fishermen unloading their catch …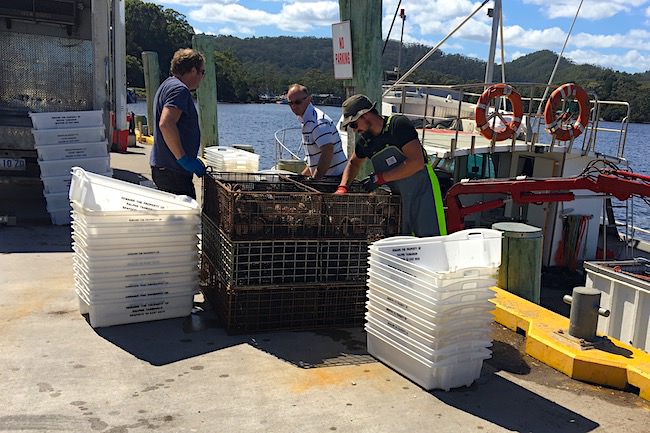 … and here's a close-up of some of that epicurean gold from the sea …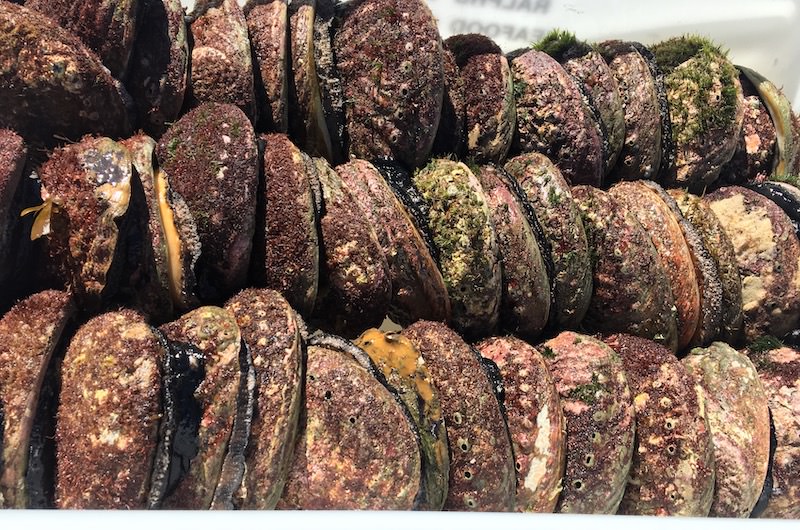 Our rail journey up to Dubbil Barril – an important station on the line – and back was great fun, and very educational. It was great watching the driver and fireman turn the train at the turntable there. Our guide gave us great commentary all the way there and back at important points.
We finished just in time for the evening briefing and walk to Ormiston House for a flash dinner.
Strahan to Tullah
The day's summary: ~ 90 kms with ~ 1300 metres of climbing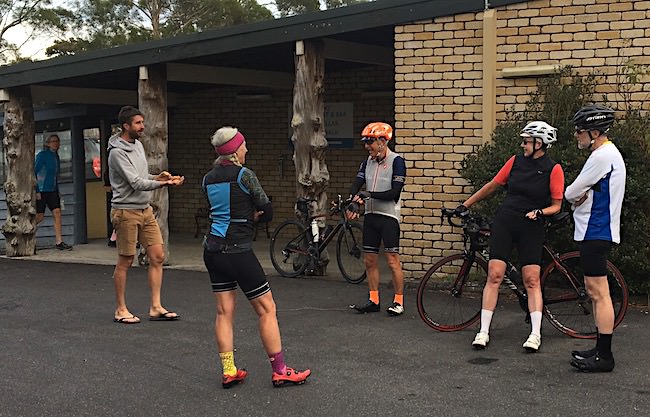 Maybe the best thing about this day is that it started nice and gently – not that it wasn't another lovely ride, but it was great for the legs to begin the day without a hill early on. There was a section of almost 20 kilometres with very little elevation gain. The people in the little group I set off with were able to spin along in a relaxed fashion, chatting and enjoying the coolness of the morning. And maybe the second best thing was that the elevation gain was about 200 metres less than we were expecting.
The vegetation in this area would have all been native myrtle forest, but what is there now is all regrowth. It's got quite a mixture of trees, ferns and shrubs and makes for pleasant viewing …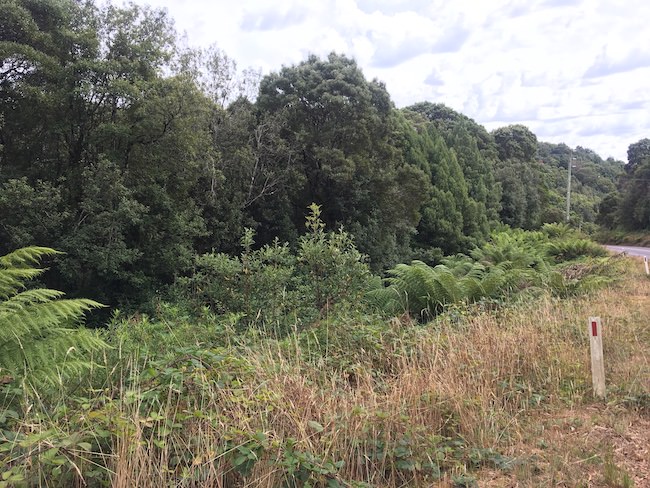 Everyone was still pretty happy and fresh when we got to coffee in Zeehan (or, as Cam would have it: Zeehan) but quietly anticipating the start of some climbing. By now rider groupings had dwindled into pairs and the "Hot Three" of Peter, Andy and Cam pulling them along. Di and I set off together and I got this nice photo of her coming up to the top of one of the many short hills between Zeehan and Rosebery …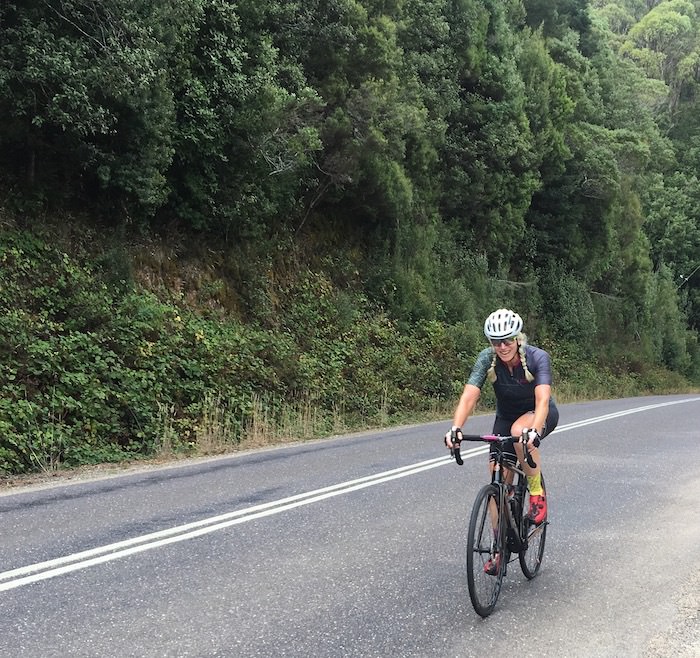 Just a couple of kilometres before lunch in Rosebery – a great picnic in the park, largely of Tassie produce – at the turnoff to the Montezuma Falls walking track (#27 in the list of 60 Great Short Walks) there is this neat sculpture honouring the early miners and the horses they used to pull their ore carts …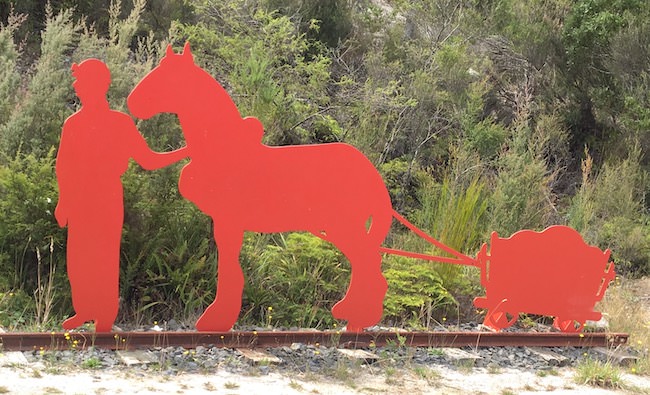 While we waited for lunch Peter told us all about the marvellous speeds he and Andy were achieving by sticking like glue to Cam's back wheel …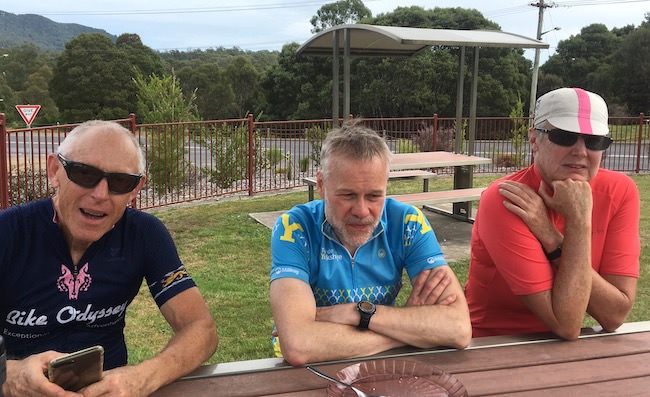 Just out of Rosebery the road starts to climb again and head over towards the mountains …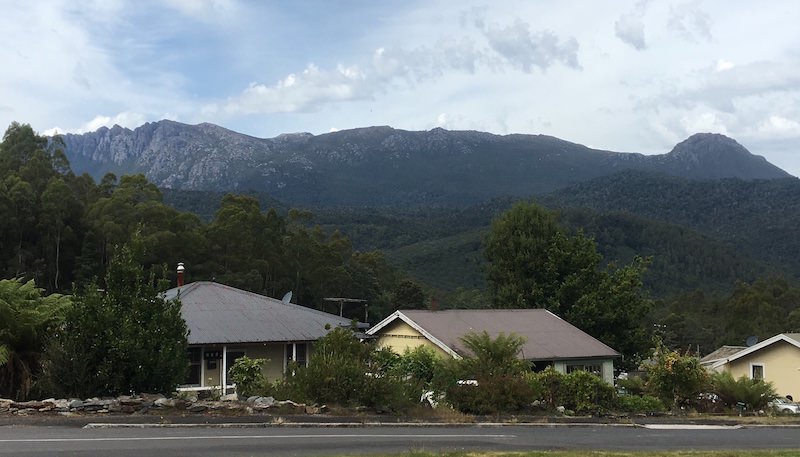 There is a pretty good hill to climb and then it's down onto the flats and just a few kilometres of easy riding into Tullah (apart from the strong headwind that was blowing yesterday!).
I paused to look back and was rewarded with this view …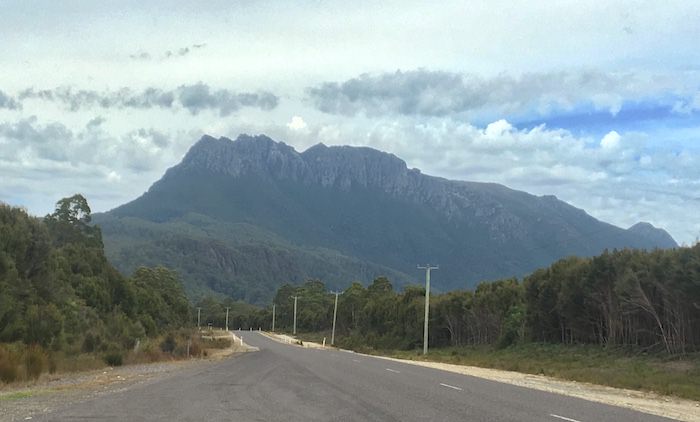 Before heading to our accommodation for the night I decided to explore a road that led off to the right and discovered a network of overgrown roads like this one that must have had houses along them during the major dam building period on the west coast …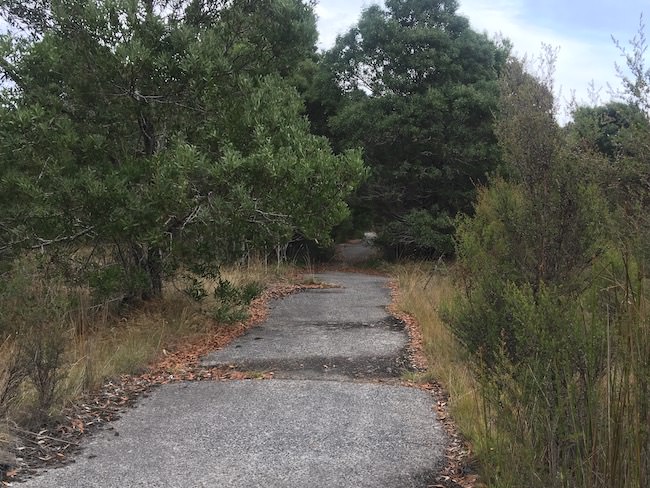 So, back towards the Tullah Lakeside Lodge I went …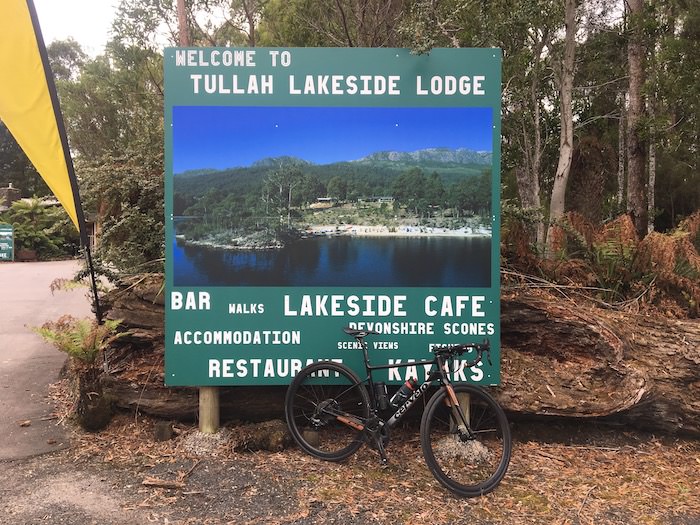 … where the rest of the group was starting to settle in. The lodge was formerly an extensive facility to house hydro workers. While we were there it had a roadworks gang staying and we were informed that they were doing resurfacing work on a hilly section the road ahead, which made us wonder what it was going to be like riding our bikes the next day.
Tullah to Cradle Valley
The forecast for the day ahead looked like this …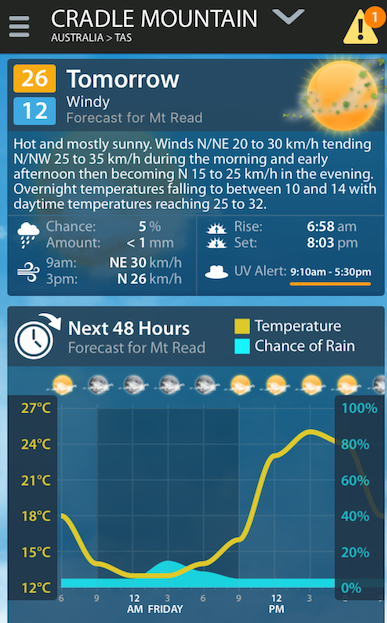 … so wind in our faces for much of the ride. The distance we had ahead of us was not large but the amount of climbing would prove to add up to as much as the two previous days combined. Solo man Wayne happened to drop by while we were having our briefing and he just shrugged his shoulders …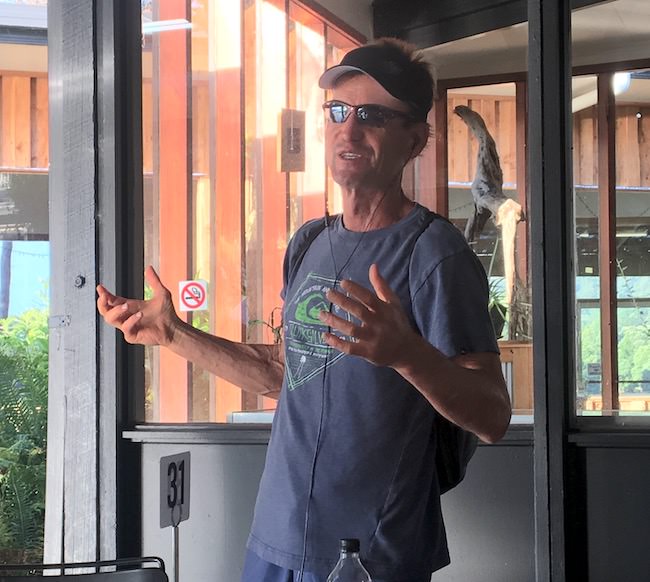 …and said, "Hey man. It'll be what it'll be. No problem.", which seems to be typical of his approach to life. No fuss, just gets on with it.
As it turned out, all the fresh blue metal that had been put down on the road had been brushed so the surface was good and solid for riding. Which was a good thing because there was a lot of climbing. It seems that everyone was pretty relieved to get to the top of the long steep slog up to the first major viewing point at 900 metres above sea level and look across at Cradle Mountain.
From that point the climbing eases right off until arrival at Cradle Valley, before some more ups and downs and ups lead to Dove Lake and this view …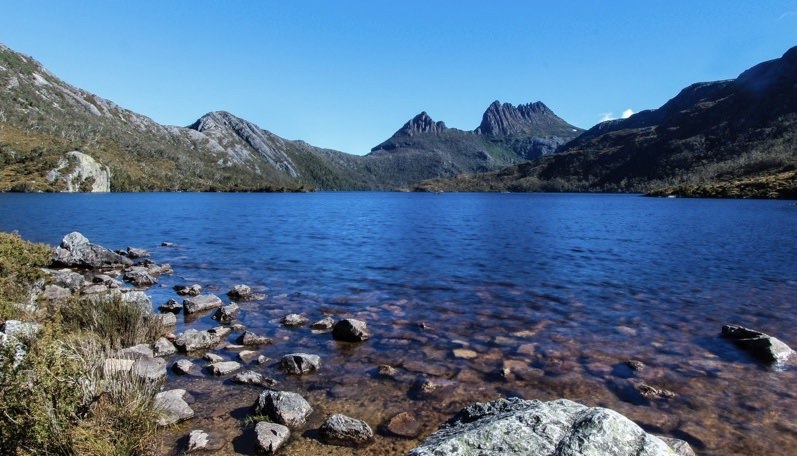 The last bit of the ride is just superb. Here as some images from my fellow tourists …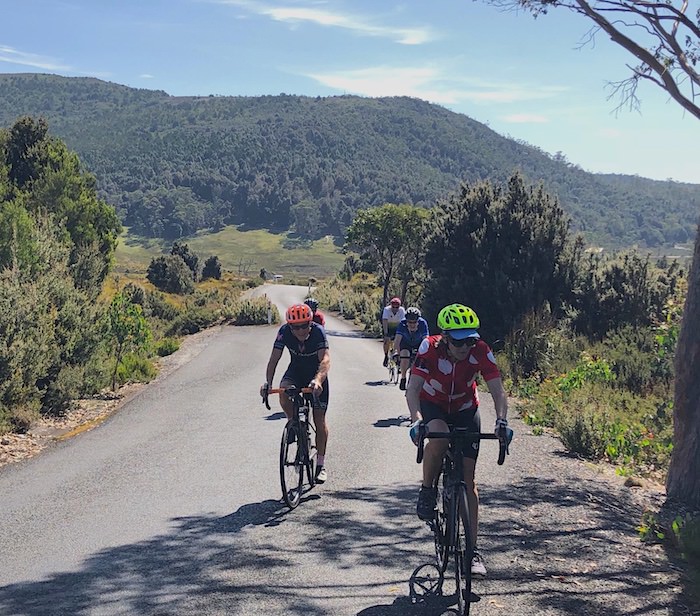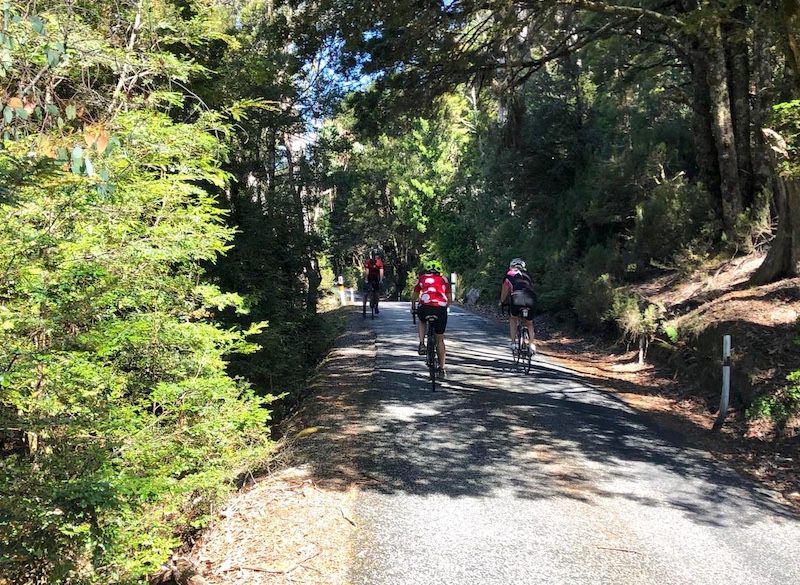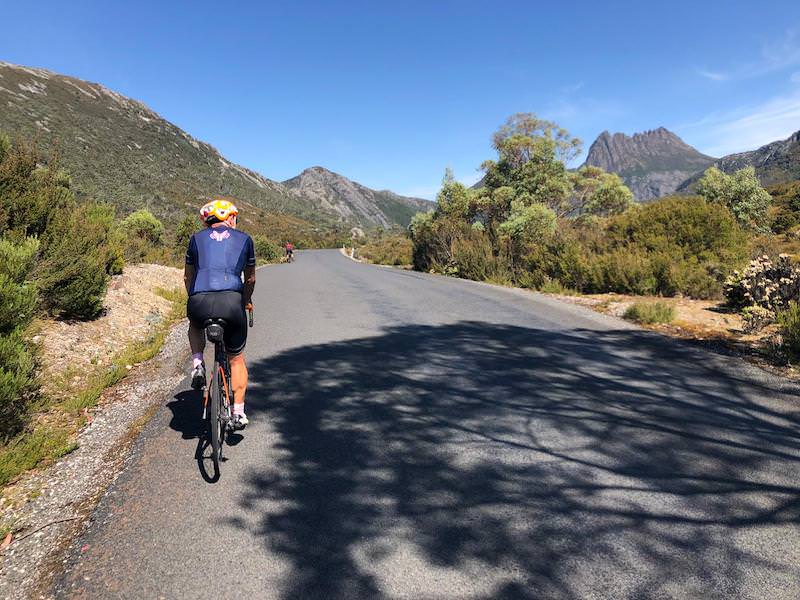 Conditions had become pretty warm by the time this lot got themselves to the lake so most of them had a dip. Here's Sam and Peter's bike testing the water …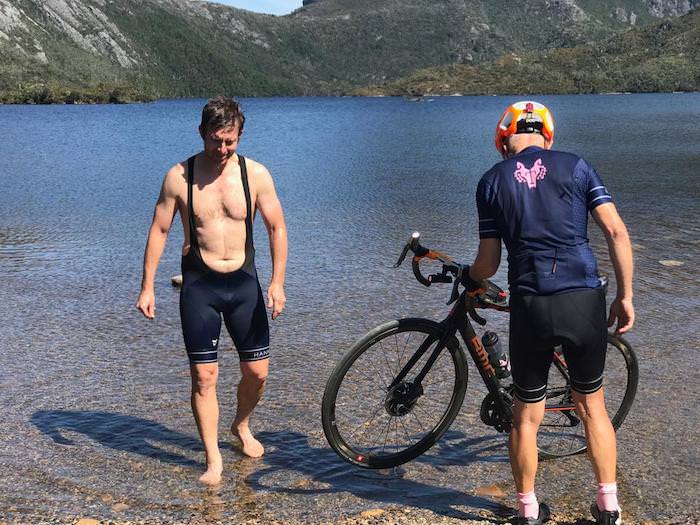 We've got a day here tomorrow to enjoy the environment. There are lots of animals around, such as this wombat that Wayne snapped while he was out walking this evening …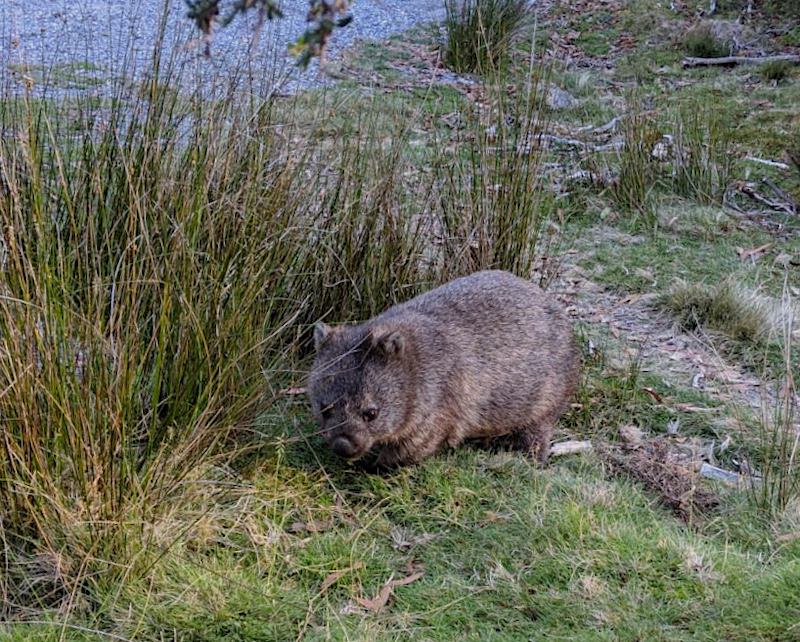 As I sit here this evening the currawongs close by are clinking away in the background. I just love their call.
The vegetation here is so rich and varied that people are bound to be captivated by it. Here's a picture of a mountain rocket plant that I took just outside the door to our cabin …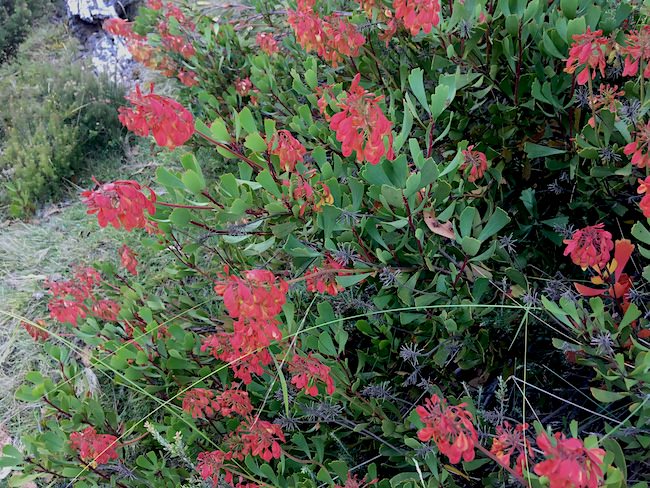 Tomorrow looks like being another fantastic day of weather so the punters should get a great look at the place. And with that I'll end this rather lengthy post.