So much riding to be done …
There is always another road to be ridden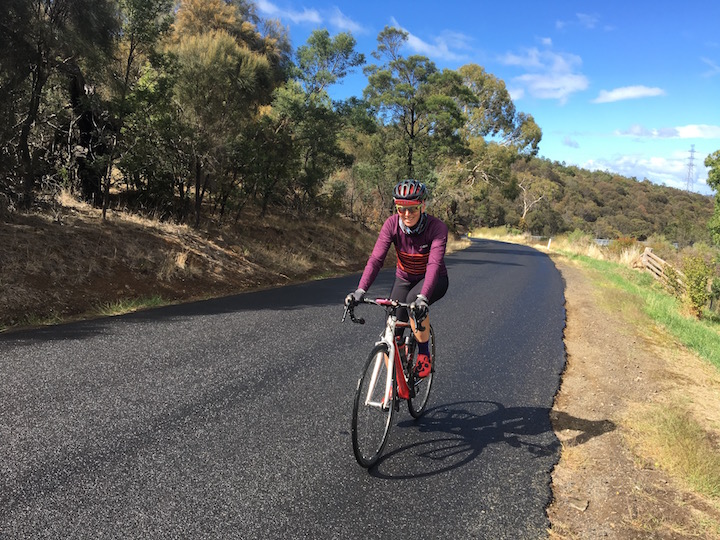 While our eyes are firmly fixed on the upcoming Lionheart tour, Dianne and I are also making the most of riding locally around Hobart. And we are so looking forward to sharing some of that riding with the first cyclists to embark on the inaugural Bike Odyssey Tasmania – UnderDownunder tour early next year. There is a huge amount of lovely biking to do around the place, some of it little known or visited. Here's a secret bit of riding to get onto if you come to Hobart for the tour, or some other cycling adventures. It's possible to do a great ride of 80 kilometres or so from downtown Hobart with less than a quarter of that on busy roads.
Recently we ventured out onto Cove Hill Road for the first time in about six months. It's a neat little connector taking one away from main roads, but had been out of commission for a while due to the replacement of the rickety old bridge over the Jordan River. The bridge was due to be finished a couple of months ago, but these things often seem to take a little longer than planned. I had been wondering if – along with the bridge being replaced – the road would be resurfaced. Once the bridge is crossed, there is a good hill with expansive views of the valley below. Over time the surface of the road had become a long bitumen quilt of patched potholes. Not so nice for trying to keep a rhythm going when pedalling uphill! It was great to see that the whole section of Cove Hill Road from when the bridge is crossed to where it meets Biggs Road has been resurfaced.
Once on Biggs Road a short bit of downhill allows one to escape to Baskerville Road, another little-visited but highly rewarding byway. Here's a photo of a shy kunanyi/Mt Wellington snapped along the way …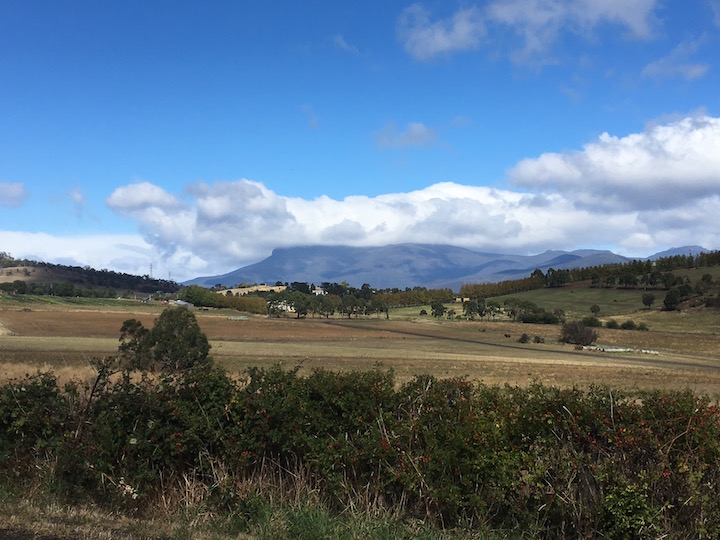 If you do come to ride Tasmania – UnderDownunder with us it would be well worth coming a week early, or staying on for an extra week to explore the local environs. It's a long way to get here and back if you're coming from overseas. You might never return. Even if you're from the North Island and visit regularly there are lots of great roads that would escape your attention. And Dianne and I are always happy to show visitors the cycling sights.
A Tassie treat of a different sort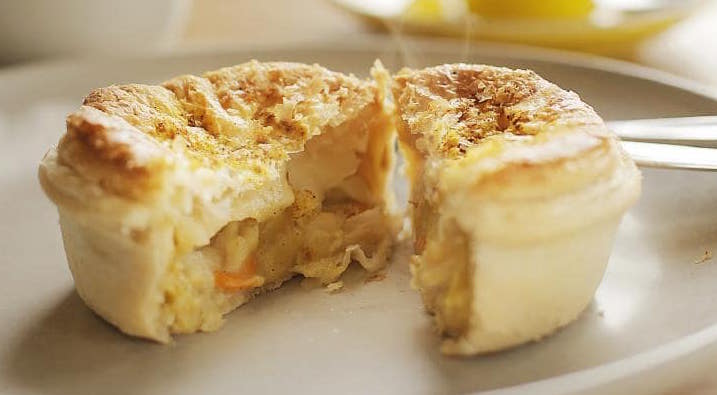 Google "scallop pie" and see what you get. And, what you'll get is a Tasmanian icon. We are the home of the scallop pie. We don't like to brag, but we think that our scallops can't be beaten. And since forever Tasmanians have been putting them into pastry. Di loves to reminisce about the days her Dad would come home from the pub on a Friday night with a billycan full of scallops. While those days are gone, there are still lots of scallops in the waters around Tasmania and the scallop pie has become an esoteric art form.
There was an article in the local newspaper recently, entitled "Five of the best scallop pies". One of the places mentioned, the Harbour Lights Cafe, is only a five minute stroll from where Tasmania – UnderDownunder will start. This is what The Mercury had to say about their pies: "The original owners of Harbour Lights were pie-oneers of the scallop pie about 45 years ago. The original recipe, using Tasmanian scallops and a mild curry sauce in crispy pastry, remains a feature of the cafe menu and a favourite for seafood lovers abroad. Termed the Yachtie Scallop Pie, the hearty dish is famed among sailors who dock in Hobart's harbour. The cafe's owner says the pie is a piece of history that will never leave the menu."
Two of the other pie makers mentioned in the article are along the route of UnderDownunder: the Dunalley Bakery on the Tasman Peninsula and the Blue Edge Bakery in Bicheno. And another source of this delicacy mentioned in the article is Brighton's Best Bakehouse, which is an occasional stop along one of our favourite rides. And here's what The Mercury has to say about their scallop pies: "Quality ingredients are key to the success of these award-winning scallop pies ($7.90). The creamy curry sauce complementing the seafood is made from quality, authentic spices from Spice House and the pastry margarine used is the best money can buy. The pie took out the Best Seafood category at the Tasmanian Bakers Show and has been a successful entrant in The Great Aussie Pie Competition."
Come to Tassie. Ride with us and eat our Scallop Pies. We're here waiting for you!
Cheers
Doug and Di