Three days have passed since we racked our bikes for the last time on The Odyssey, we followed Odysseus, the Big O, had a wonderful farewell dinner and said goodbye to our excellent guides Yashar, Alex, Aris( and in Turkey can't forget Marjolein, Gujon and Osman), and of course Sam! What an amazing trip he put together, 4 years in the planning, taking us back to where civilization as we know it started, and where he spent many memorable working years in archaeology! He could not have chosen a better lead guide than Yashar.
As with all inaugural trips, there is bound to be some quirks, but this trip seemed to flow almost seamlessly, despite the logistics of multiple shuttles and ferries to get us where we had to go. Turkish and Greek Customs are what they are, just had  to roll with it and laugh!
But if there was one wrinkle in this trip that might need ironing out, it is the final hotel, the Kefalonia Bay Palace. It has the potential of being a 5 star hotel, but it is tired in many places and needs a few amenities, like an elevator to all floors. It was not Sam's first choice of hotels and there aren't many to choose from to accommodate a large group. But having said that, the hotel has a superb view of the sea, Ithaca and Mt Ainos, cool breezes on the terraces, spacious rooms, magnificent huge pool and steps from the beach…..just a little hard to get from my room on the 4th deck to the pool(135 stairs and one lift), another 26 stairs to the road, which is on a 6% incline and sketchy! Not so bad going down, but coming up, especially after a few ouzos etc., is a little tiring. When someone complained, the manager said, "come on, you are fit cyclists, you should have no problem!" lol
And in retrospect, I would stay here again…the hotel is spotless, quiet and peaceful, staff friendly and the view is magical. Just have to be ready to climb stairs!
So as I sit on the terrace awaiting my shuttle to the airport, 1hr or so away, a cool breeze refreshes me while sailboats go to and fro in the bay, and I realize all good things must end. In the past few months I have had the opportunity to swim in the Mediterranean, the Aegean and Ionian seas, and ride my bike in Spain, Turkey and Greece… all great!. But also I have lost a brother and a father(in law) in that time,  and have not been able to share these wonderful memories with my wife and family, except by photographs. This makes me pause to reflect deeply on that.
But The Odyssey, rated by Sam as a 3 banana, was in reality closer to a 4 banana. It challenged physically and enriched us in so many ways, rekindled old friendships, deepened others, and met new friends that I hope to meet again…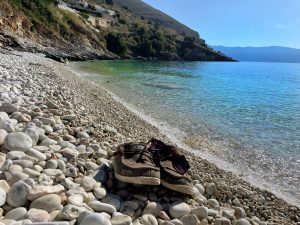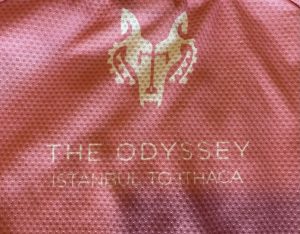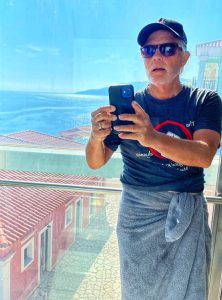 Life is good…wherever you are!