the Road – Distance 49km / 30mi | Elevation 625m / 2051ft
Please watch my Relive video here: https://www.relive.cc/view/vPOprWyWREq
Another quick exit from town on a straight but quiet road had us heading through orange groves,  corn fields, vineyards and berries towards our first sight of the Ionian Sea.
Today was logistically a little different as we had a comfortable ride this morning which took us to Astekos for the ferry across to the island of Kefalonia.
With two small bumps 4km @8% and 3km @ 5% (small compared to previous days), we were be there in good time, with just over an hour to wait for the ferry.
The car ferry took 2 1/2 hr and we cruised past many of the Ionian islands in the Ionian Sea. We got our first glimpse of Ithaca, Odysseus' home. A local fisherman pulled up and sold fresh fish from his boat.
From the ferry we got back on the bikes and rode along the Kefalonia coastline 12km to our hotel, the Kefalonia Bay Palace. The hotel is perched on the side of a mountain requiring a lot of walking stairs before and after a short elevator ride! But the view is outstanding! I am here for the next 5 nights.
We were supposed to ride to a beach and some caves but the weather changed once we checked in, a thunderstorm and a full double rainbow…so we will incorporate that into tomorrow's ride.
We walked about 1 km down to dinner at a local restaurant
Dinner was outstanding with multiple local appetizers, grilled sardines and grilled swordfish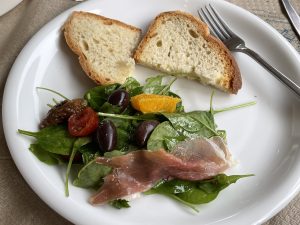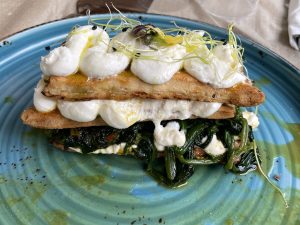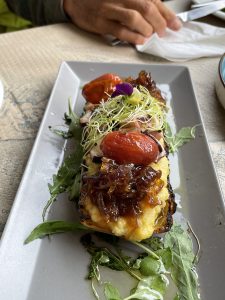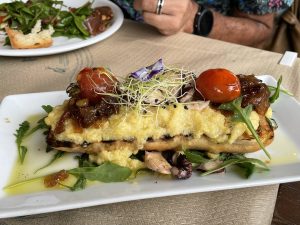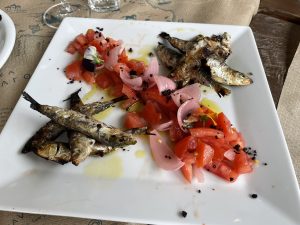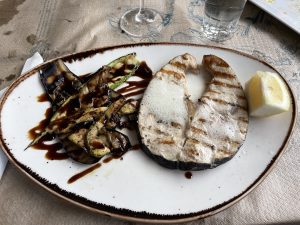 A nice uphill stroll back to the hotel
Big ride ride tomorrow!
Life is good on Kefalonia…