On the Road – Distance 54km / 34mi | Elevation 1528m / 5013ft
Please watch my Relive video here: https://www.relive.cc/view/vMv8gVNGDNq
ITHACA!
It has all led to this… and to be fair, what a ride! It had  private speed boats, spectacular scenery, challenge, culture, perfect surfaces and more. It genuinely will be up there in one of my  greatest rides ever! No wonder Odysseus yearned and toiled to return!
From our hotel this morning, we jumped  in speed boats to dash directly across the Ionian Sea to Ithaca landing at Pisaetos.
From our first pedal stroke the scenery was spectacular and there were challenges to take on! As we crossed  the isthmus and begin climbing and traversing the East side of the island (8km@7%) the blue seas stretched  out all the way back to mainland Greece.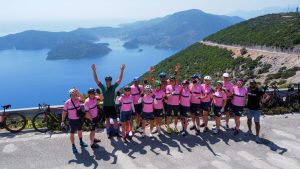 We genuinely felt  on top of the world as the road hung on the edge of steep rocky hills skirting north towards our historic destination – Odysseus' home and palace!
His choice of location for his home is spectacular( although very little of the ruins remain, a model depicts what his palace may have looked like) and after we wandered  around the remote archaeological site we headed  back along the west side of Ithaca, with again spectacular views across to Kefalonia.
The riding was genuinely amazing and this being our last day on the bike we headed into Ithaca's capital, Vathy, for a beautiful relaxed lunch on the bay.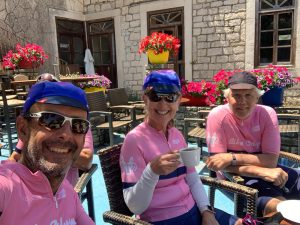 From here it was a short, but steep 6km back to our dock where the speed boats awaited  to take us home
for our final celebratory dinner together. (multiple Greek style salads, beet root taziki, avocado & sardine toasts, deep fried prawns, lamb shank, sea bream, and of course plenty of wine, poached apple and ice cream,  with a little mastica for digestion)
The Big O
Ithaca, the home of Odysseus (probably!)… and what an island it is. Odysseus' returned here disguised as a beggar. His dog Argos was the only one to recognise him. He found his way into his former palace where the suitors to his wife ate his food and insulted his family. They competed for his wifes hand. The suitor that strung Odysseus old bow and fired it through 12 axes would marry Penelope that day. As they demeaned and berated Odysseus the beggar as they tried and failed to string the bow, Odysseus got his hands on it and….
In spite of their jeering, Odysseus gathered his wits
As he eyed his bow closely and hefted it, getting the feel—
Then quick, like a minstrel, a master of playing the lyre
Who easily stretches his sheep-gut up over the crossbar
And wraps it around in a fresh roll of oxhide to hold it,
So did Odysseus string the great bow, with effortless ease.
Shifting the grip to his right hand he tested the string
With a pluck: it twanged, shrill, like a twittering swallow.
The suitors fell silent, aghast, then their faces turned pale
As the deafening boom of a thunderbolt sounded above them—
Zeus, son of Crooked-Mind Cronus, was sending an omen
To splendid, enduring Odysseus. He listened, smiled,
And still sitting down, he picked up the one naked arrow
Eumaeus had left on his table; the others lay quiet,
Waiting, still in the quiver—but not for too long.
The suitors would sample them soon. Resting the shaft
At the grip of his bow he nocked it, drew back the string,
And aiming it closely, he fired: the bronze-heavy arrow flew
All the way through, clean, without even grazing
The tips of the handles. He instantly called out, Telemachus!
….then the slaughter began…. and the suitors wasnt the end of it!
Happy Trails!
And so ends my following of the Big O, Odysseus….he struggled for 10 years to go from Troy to his kingdom of Ithaca, to be with Penelope and Telemachus, but we also struggled ( and lived the high life) for 29 days to achieve the same! I don't know how many times I or others uttered the words "wow, amazing, beautiful, fantastic" to the point that we needed to find synonyms for these reactions and emotions!
Odysseus' Palace
Archaeologists believe they have found the palace of Odysseus, the legendary Greek king of Ithaca and hero of Homer's epic poem. They believe that the 8th BC century palace which they have discovered here in Ithaca proves that he was a real historical figure. Amazingly, it is the only one of the palaces mentioned in Homer's epic poems that hadn't been found.
Now these excavations are very recent and there is a bit of controversery in regards to their discoveries. However it is a great rough ruin to explore and where better on our final day than the potential home of our hero?